My sister in California recently sent me my niece's wish list for her 10th birthday.  As they live not far from the beach I wasn't surprised that a volleyball was at the top of the list. Combined with my niece's emergence as strong swimmer and her attendance at Surf Camp earlier in the year, beach volleyball is a natural progression for this young lady.  She is certainly growing up to be the classic California Girl (cue Wipeout and run the Gidget clip).
Of course, I wanted to make sure that my niece hits the beach with a bit of style and flair.  Therefore, as I went online to look for a volleyball I wanted to see if I could get this piece of sports equipment in her favorite color – pink!  Fortunately I was able to find the following at SportsAuthority.com for only $14.99.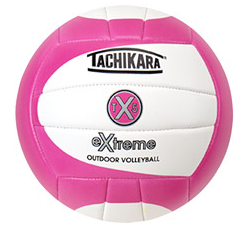 As I mentioned in my last post, making this purchase through an online shopping portal and using a rewards earning credit card will enable me to earn points for the transaction.  In addition, using the right portal and card can earn me a significant multiple above the base purchase price of the product.  However, given the various options for shopping sites, how do I make a decision on which portal to use?
For situations such as these, I find EVreward.com to be a very helpful resource. The site is a directory of online shopping sites that allows you to make side-by-side comparisons of your various rewards options.  For example, a search for The Sports Authority reveals the following earning opportunities: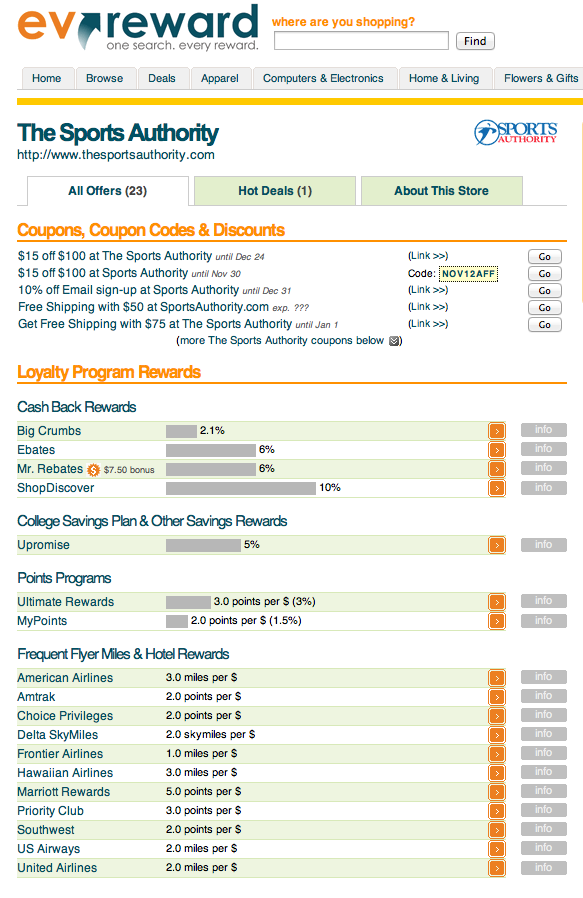 My primary frequent flyer program is United and, as you can see from this chart, I can earn 2 miles per $ by using the MileagePlus Shopping site.  However, I also use the Chase Sapphire Preferred Visa which earns me Ultimate Rewards points which can be transferred on a 1:1 basis into the MileagePlus program.  By making this purchase through the Ultimate Rewards Mall (note: You need to be a card member in order to use the site), I can earn 3 miles per $.  This in fact, is what I did and I earned the following which was calculated on my $14.99 base purchase price.

However, what is interesting about this transaction is that even though I need the Chase Sapphire Preferred Visa to access the Ultimate Rewards Mall, I do not have to use this card in order to pay for the purchase.  Instead, I opted to use my Chase United MileagePlus Club Visa which earns 1.5 miles per dollar.

As a result, I earned 45 Ultimate Rewards Points along with 35 MileagePlus points for a total of 80 points.  If I had made the purchase using my Chase Sapphire Preferred Visa only, my overall point total would have been 68 points.
As you can see, it's worthwhile to do a little bit of comparison shopping before you launch into your online shopping. By using EVreward.com you can do some reconnaissance into the best way to maximize your reward points totals.  Which reminds, I'm starting to run low on toothpaste and laundry detergent.  I think it's time to head over to Drugstore.com …