The year is drawing to a close and I'm starting to contemplate what my New Year Resolutions will be. Of course, as they do every year, such standard goals as "Lose Weight," "Get More Exercise" and "Learn a Foreign Language" make it on to my list. As I work towards becoming a "better me" in 2013, I've decided to tackle what I consider to be the least painful of my Resolutions.
Given that F and I will be going to the Amalfi Coast this Summer, I've decided to study Italian. Fortunately, I discovered that United's MileagePlus Shopping Portal is offering the following special deal.

In addition, Rosetta Stone is offering some great discounts off the purchase price of their language courses.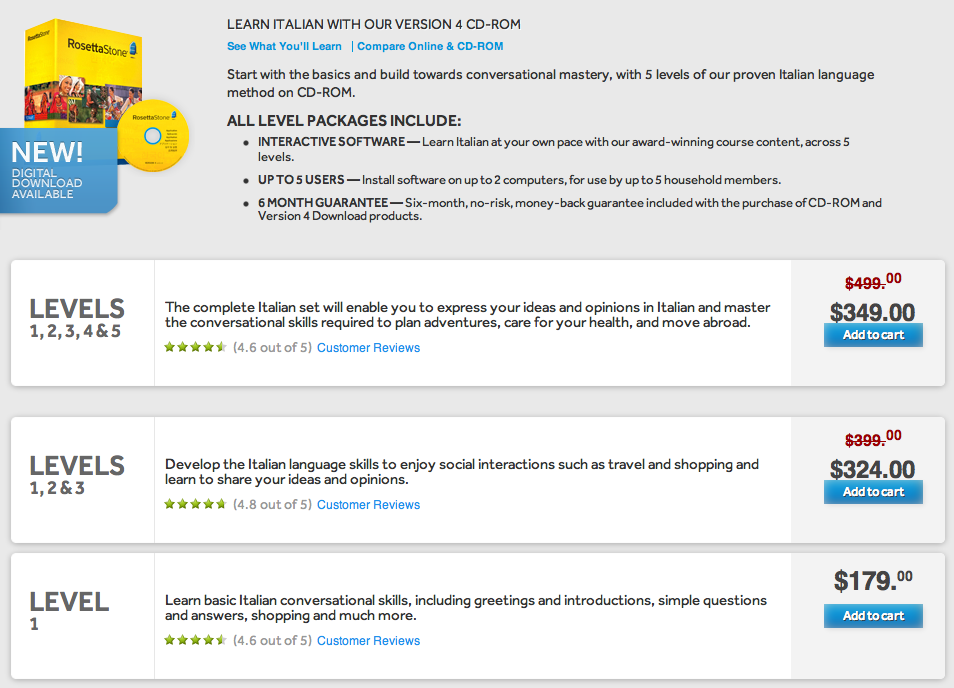 As I indicated in an earlier post, Online Shopping Portals are a great way to earn bonus miles for purchases that you were planning on making anyway.
I've taken a Rosetta Stone course before and enjoy the company's approach to learning languages. I'm eager to learn Italian and hope to fully partake of the culture and engage with the locals.
More importantly, our trip will coincide with the country's annual Summer Sales period.  By the time I hit Italian shores, I want to be able to confidently stride into a store and, with my head held high, confidently inquire whether the pair of trousers I'm interested in comes in a Men's "Husky" size.
Sigh. Then again, I should probably focus on the "Lose Weight" and "Get More Exercise" portions of my New Year Resolutions list as well …