United is my hometown airline.  The carrier is my primary Pointing vehicle (see my earlier post on What Kind of Pointer Are You? for what this means) and its MileagePlus program is one of the most useful and versatile frequent flyer programs in the industry. Over the past year I've flown quite a bit with United and have been able to experience all three of its service classes (First, Business and Economy).
On New Year's Eve I flew from Chicago to London in BusinessFirst (Business Class) and on the way back in Economy.  This past June, I "turned left" and was able to try out service in GlobalFirst (First Class) from Chicago to Frankfurt on our way to Italy (see my post on What I Did On My Pointing Vacation to see what I … well did).  So how did these experiences compare?
Lounges
I have the United MileagePlus Club Card that gave me access to the airline's lounge located in O'Hare's C Concourse.  You can also use the lounge if you're flying on an international Business Class ticket.  The lounge is huge but can get quite busy during peak travel hours.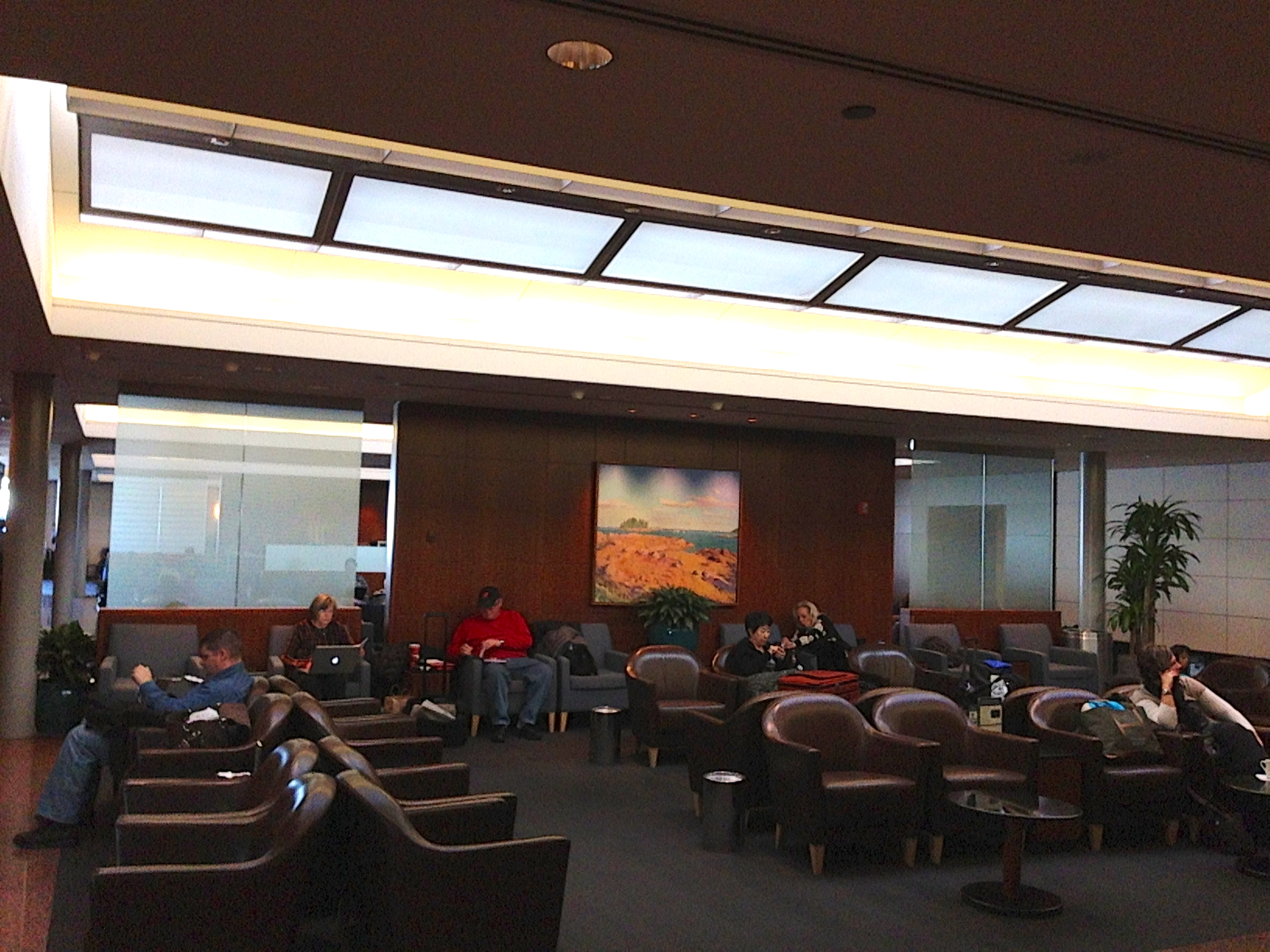 Traveling on an International First Class ticket gave us access to the Global First Lounge in Chicago which has a similar layout and décor but is smaller and MUCH quieter.
In London, we had access to the Star Alliance Lounge which, like the United Club in Chicago, also had a "buzzy" (e.g., busy!) atmosphere.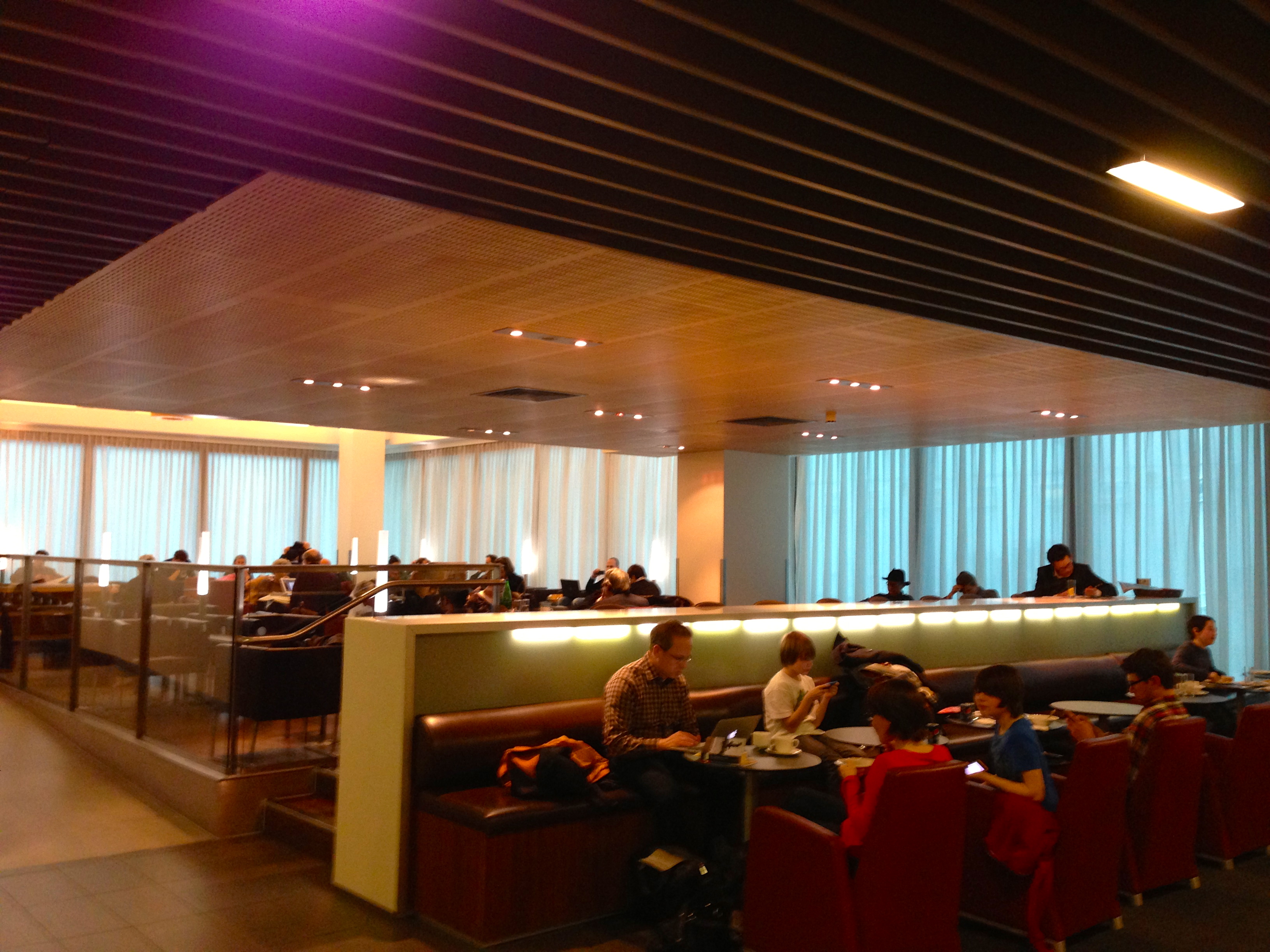 The United Club offers bar service and free beer, wine and basic spirits.  Champagne and more premium options are available for purchase.  On the other hand, the Global First Lounge offers a nice "self-service" selection.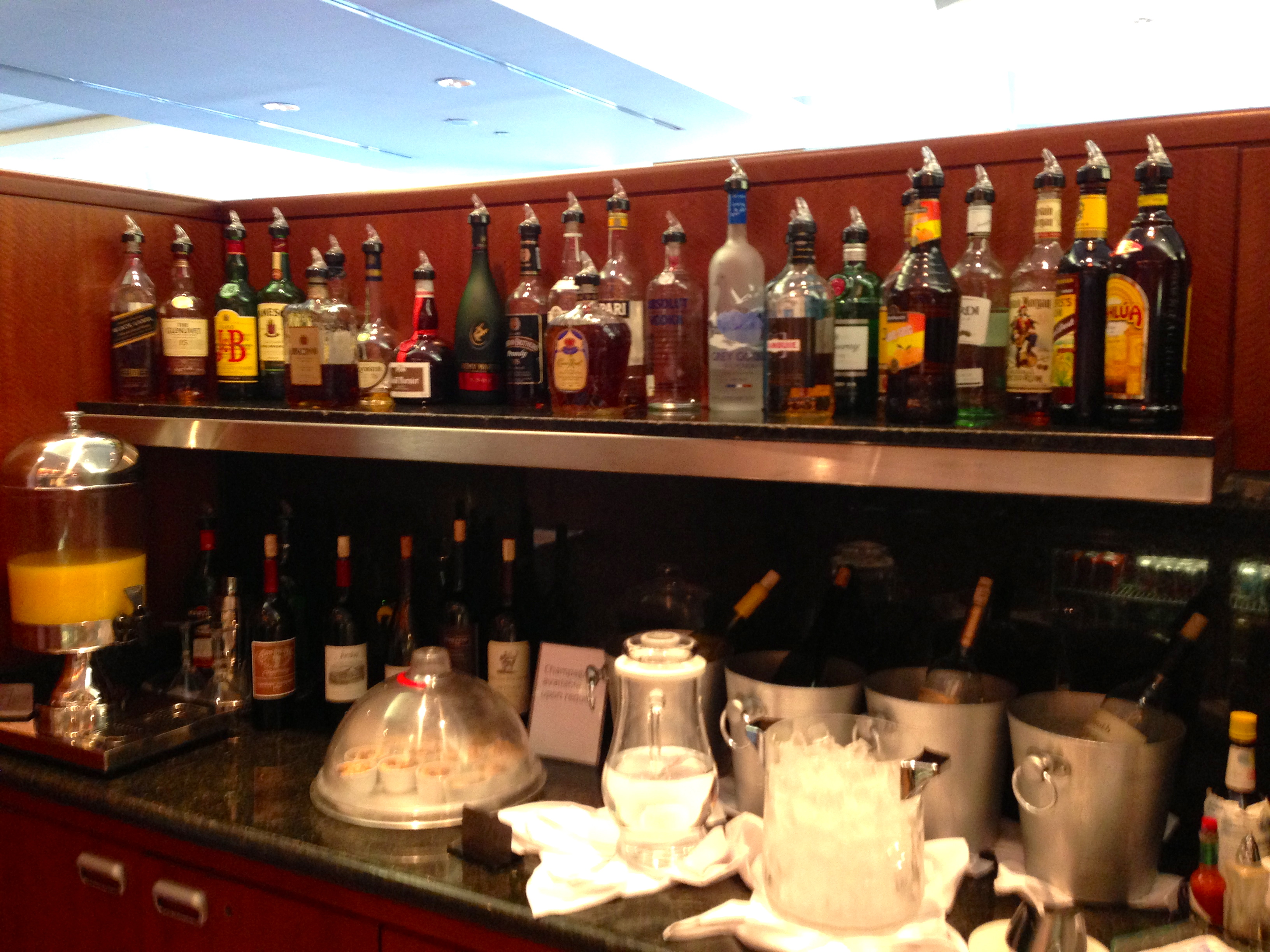 There is similar "pour your own" access in the London Star Alliance Lounge.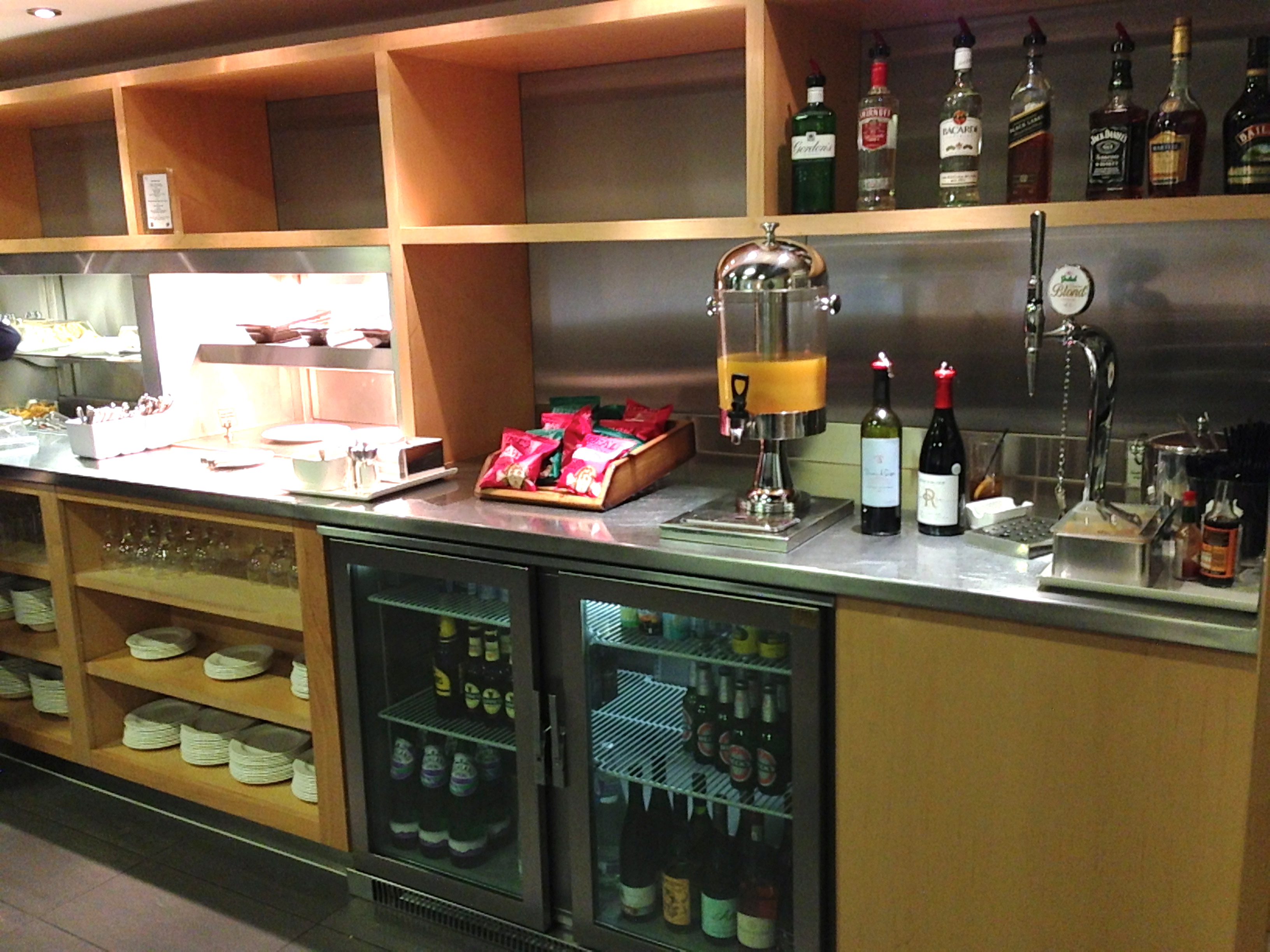 Lounge food options in the United Club usually consist of a simple selection of cheese, crackers and fruit.  Of course, I also manage to sneak a few (e.g. several handfuls) of Pepperidge Farm Milano and Walker's Shortbread cookies into my carryon for a nice mid-flight snack.  My United Club pre-flight meal usually looks like the following …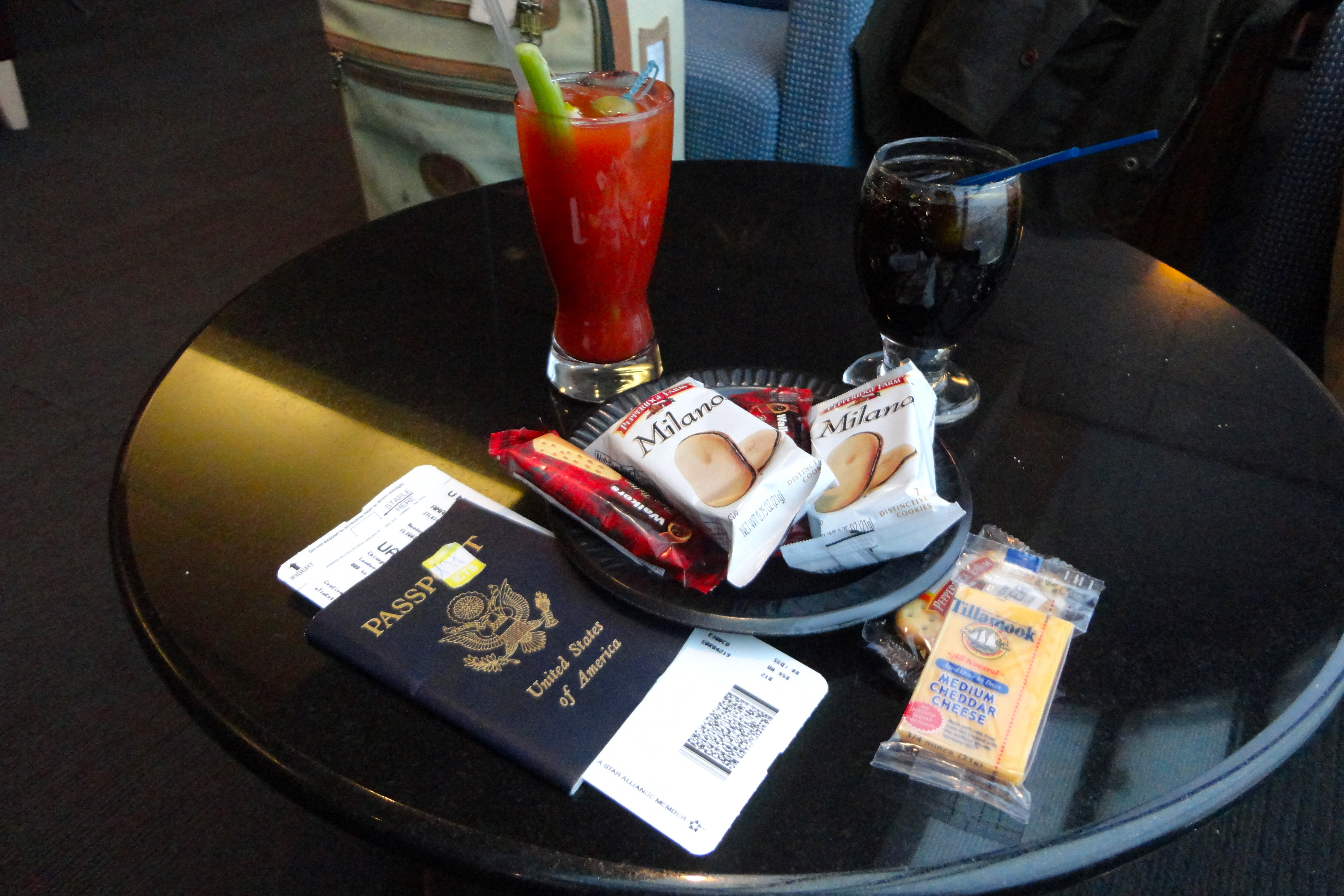 You can find a more substantial spread in the Global First Lounge which includes a mini-Las Vegas buffet style shrimp option …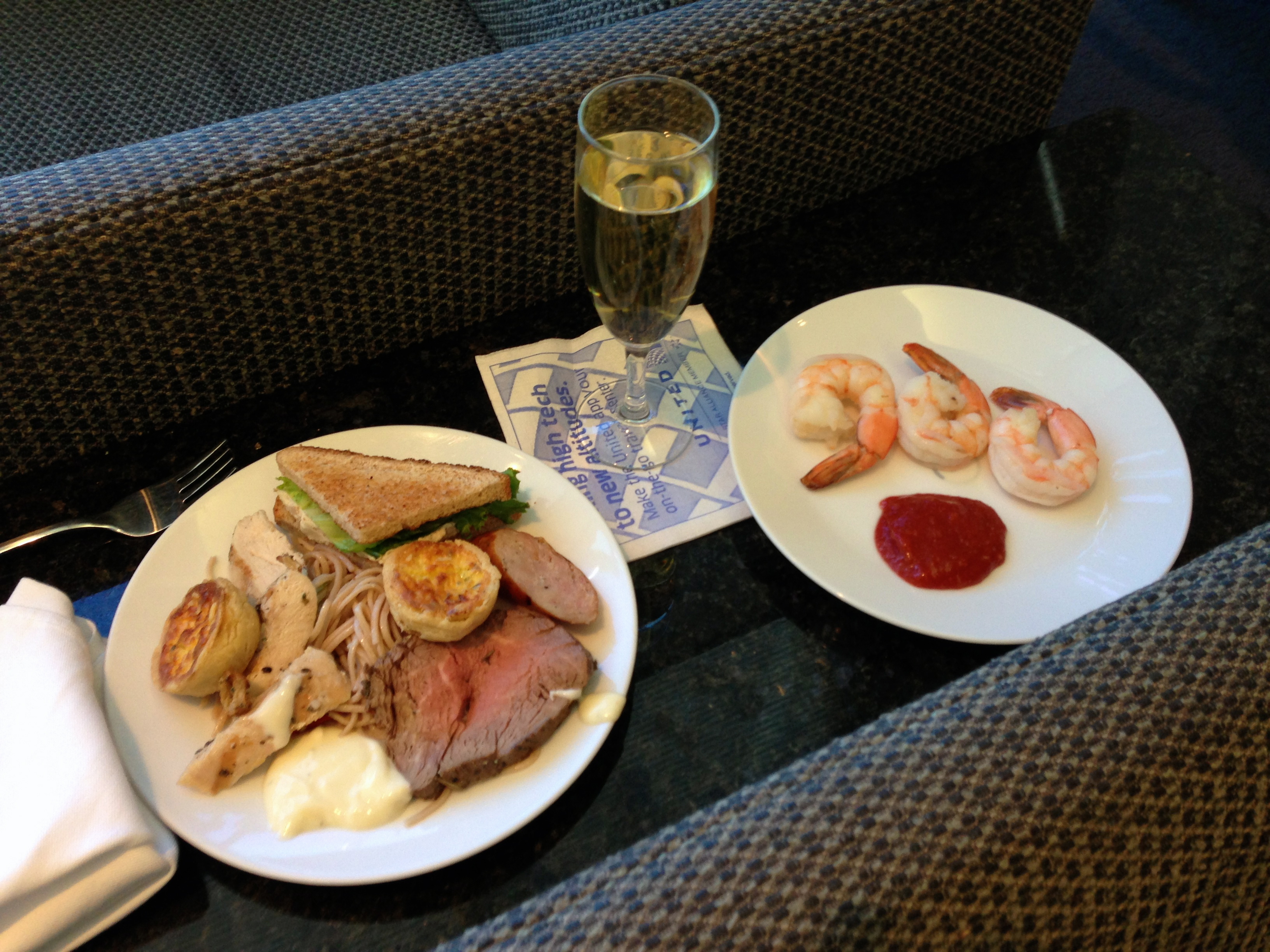 Leaving Heathrow, one nice touch in the London Star Alliance Lounge was the opportunity to partake in a traditional English Breakfast before boarding our flight back to the States …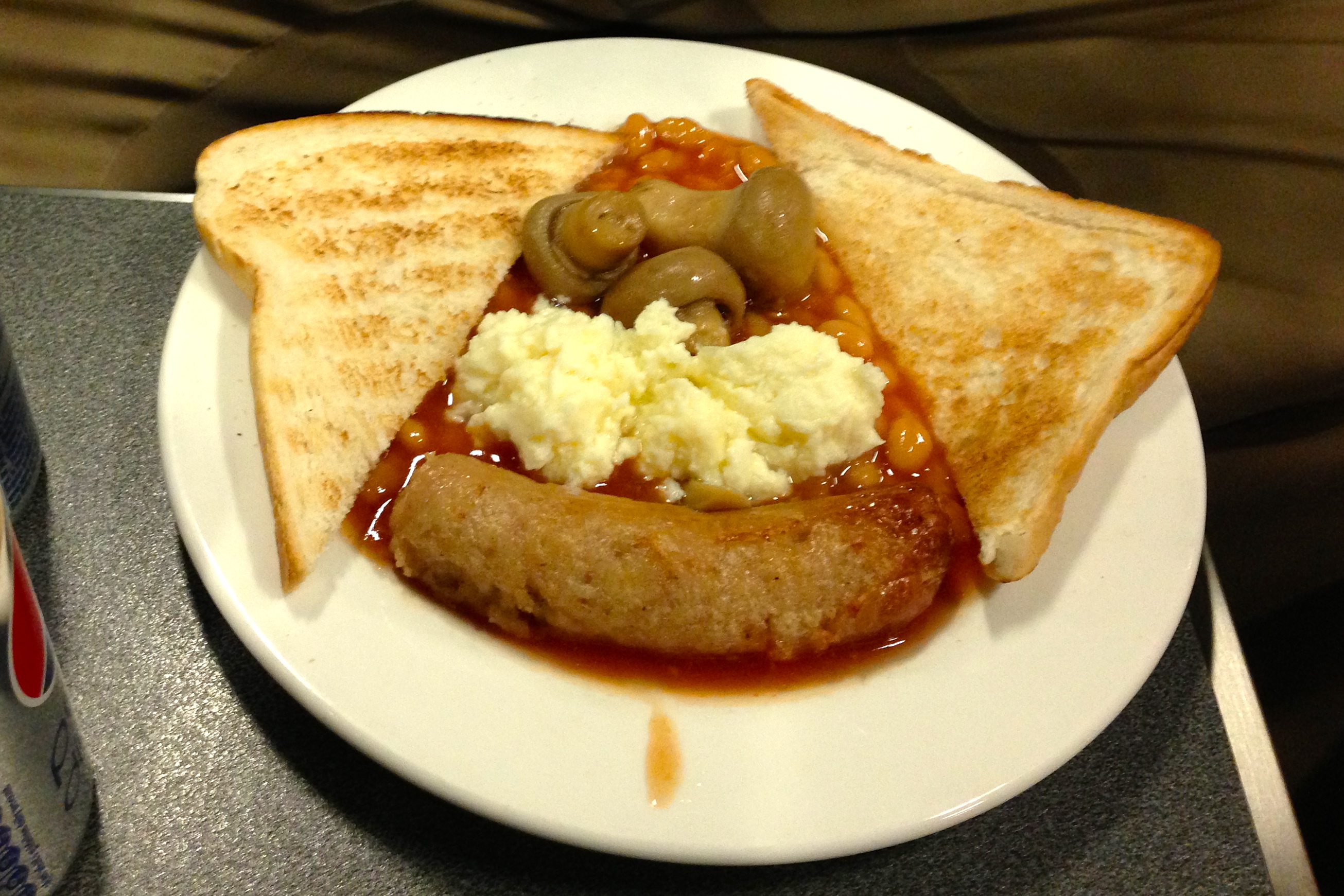 Onboard Seating
After we boarded our 777 aircraft to Frankfurt we settled nicely into our seats. I've flown United's First Class product in the past.  However, this was my first experience with their updated First Class Suite.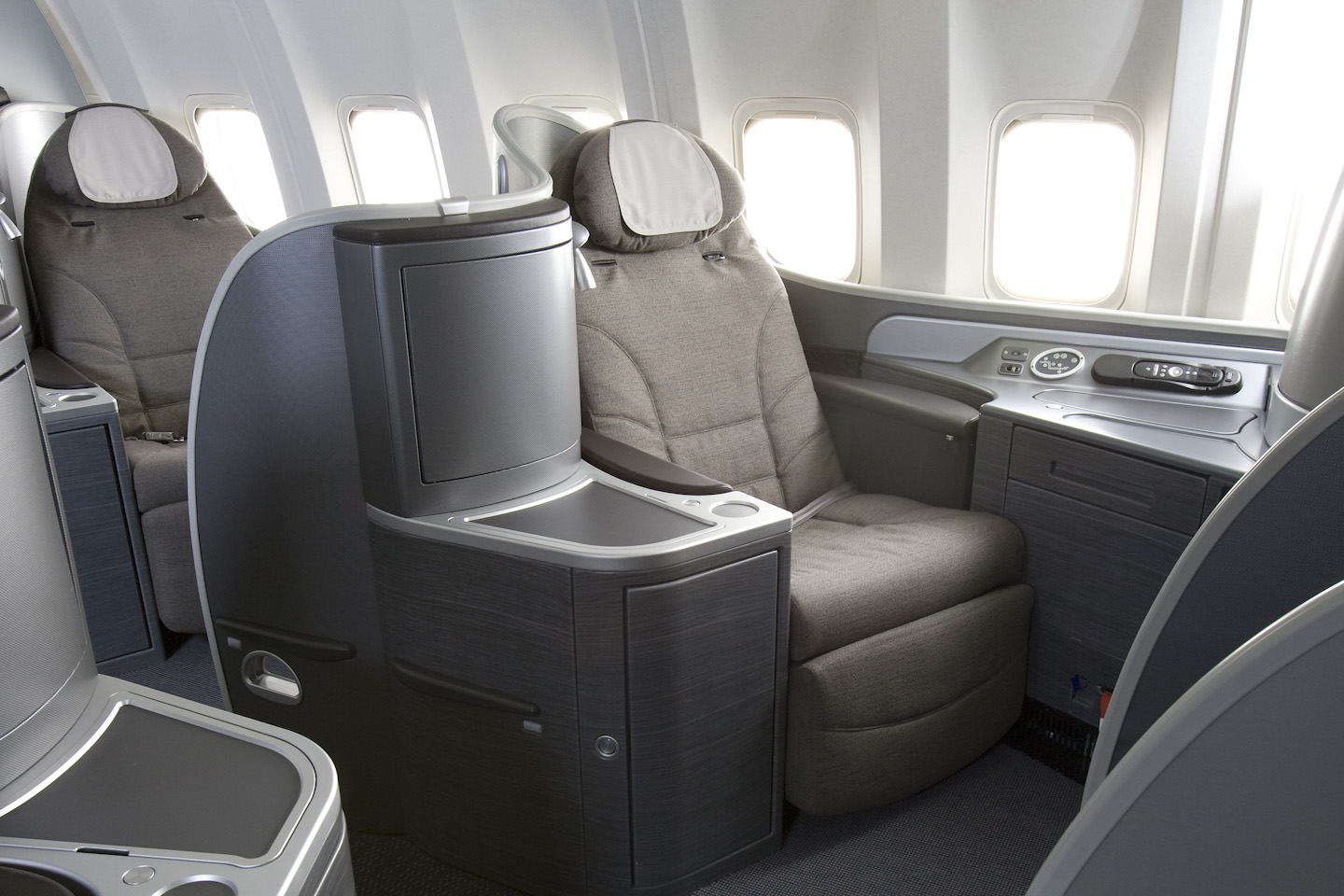 Source: Courtesy of United Airlines
The seat was spacious, comfortable and reclined into a fully flat bed that had some nice storage compartments and power outlets …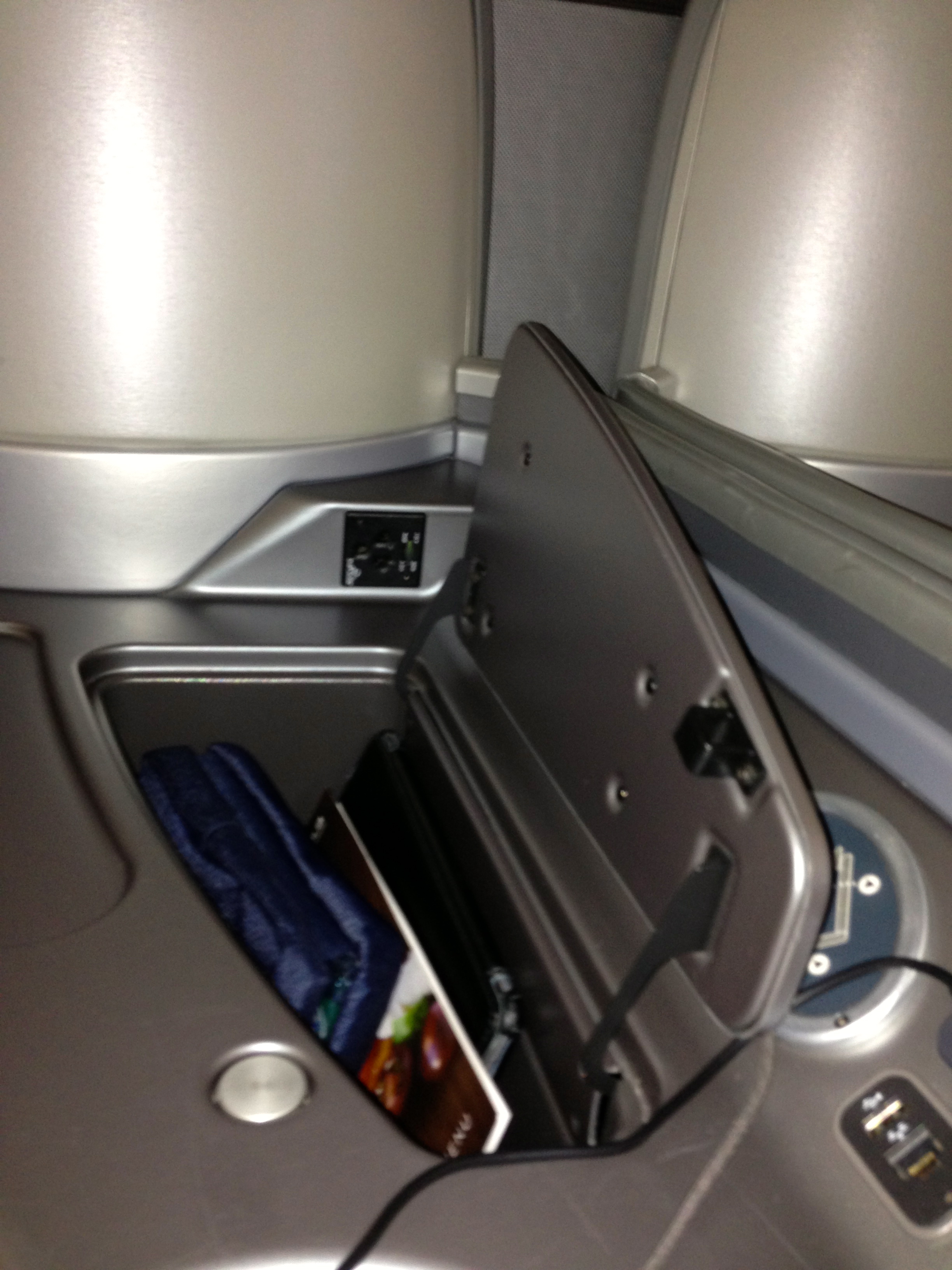 … and a diverse selection of In-Flight Entertainment.  On the way over I watched Roman Holiday with Audrey Hepburn … very appropriate since we were on our way to Italy!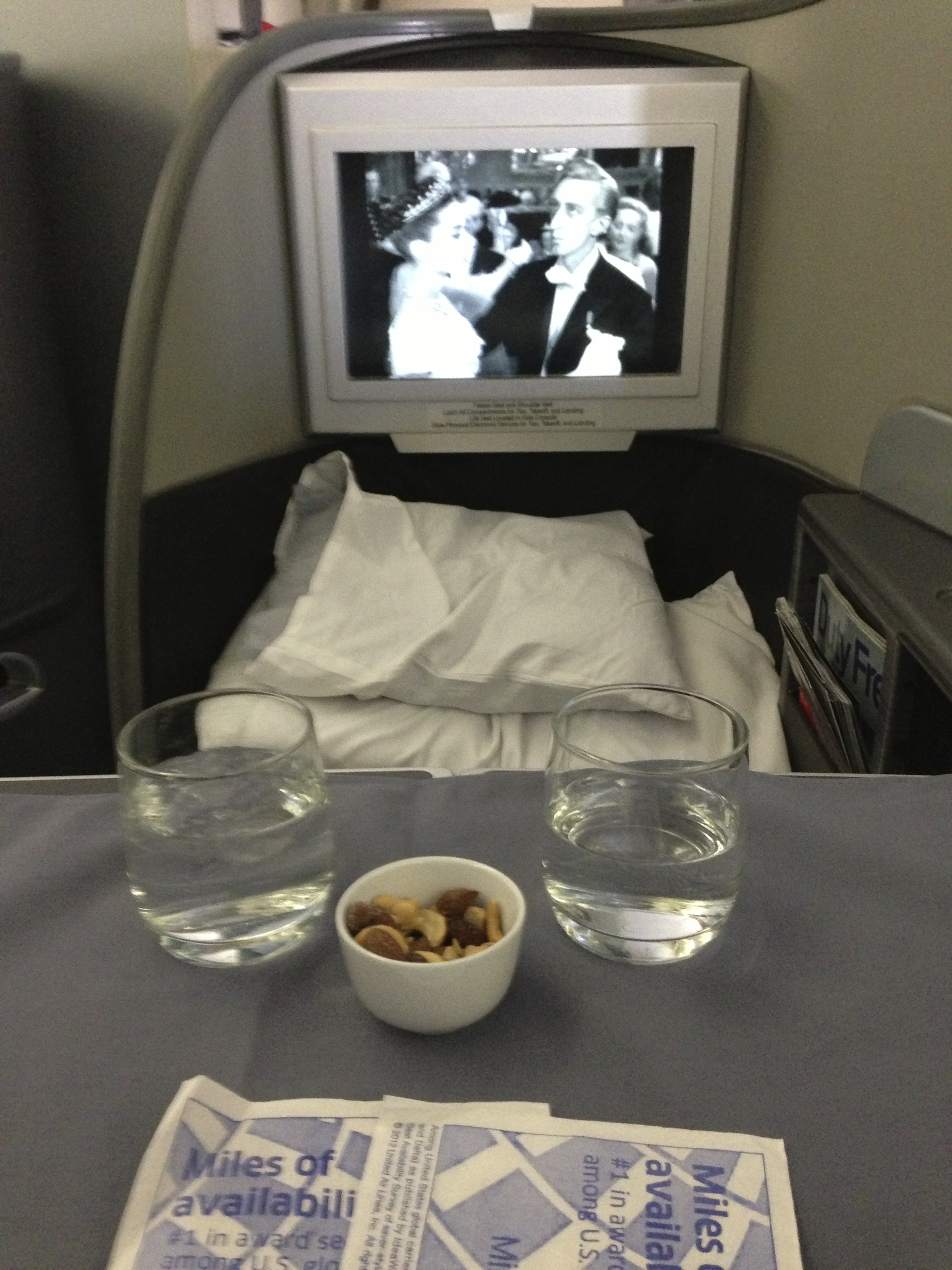 In addition, United recently launched a turn down service in GlobalFirst (see this article for more details) that provides a special sleeping cushion and duvet cover for the flatbed suite.  This service is available "on request" but I was pleasantly surprised when the purser proactively offered to make up the bed for me.  The added amenity of the sleeping cushion certainly did make the seat more "bed like."
Our 767 Business Class flight to London also featured completely lie flat seats.  However, BusinessFirst lacks significant in-seat storage.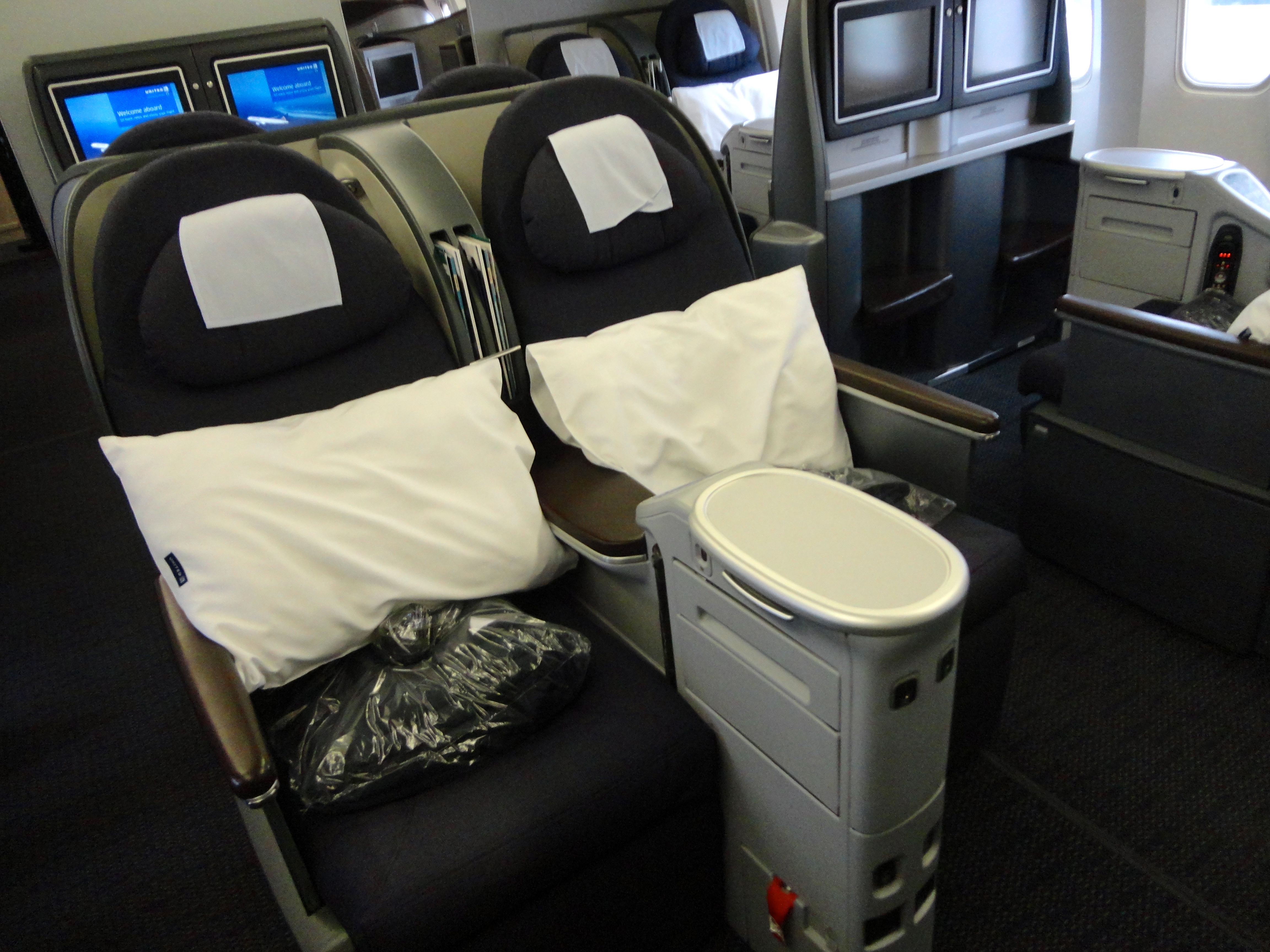 The on-demand In-Flight Entertainment system was similar to the one in First Class although I did like the fact that the screen seemed closer and more accessible to your seat.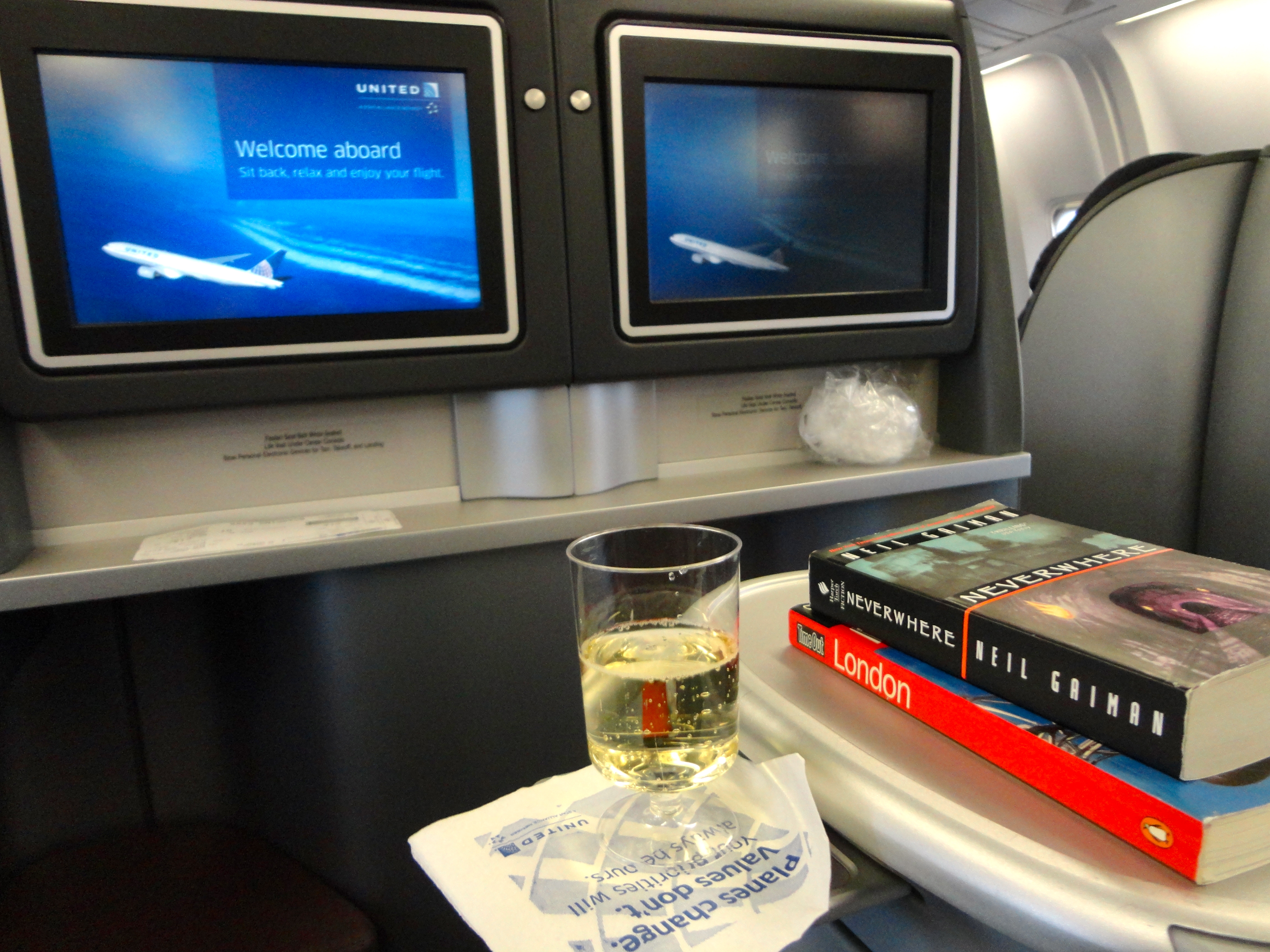 In the fully reclined position the seat felt significantly narrower than the First Class Suite but was still comfortable.  On our transatlantic flight I managed to get several hours of solid sleep.
A lie-flat seat was less necessary on our return home from London to Chicago since it was a daytime flight. Even though we were unable to secure extra legroom Economy Plus seats, the flight was still perfectly comfortable.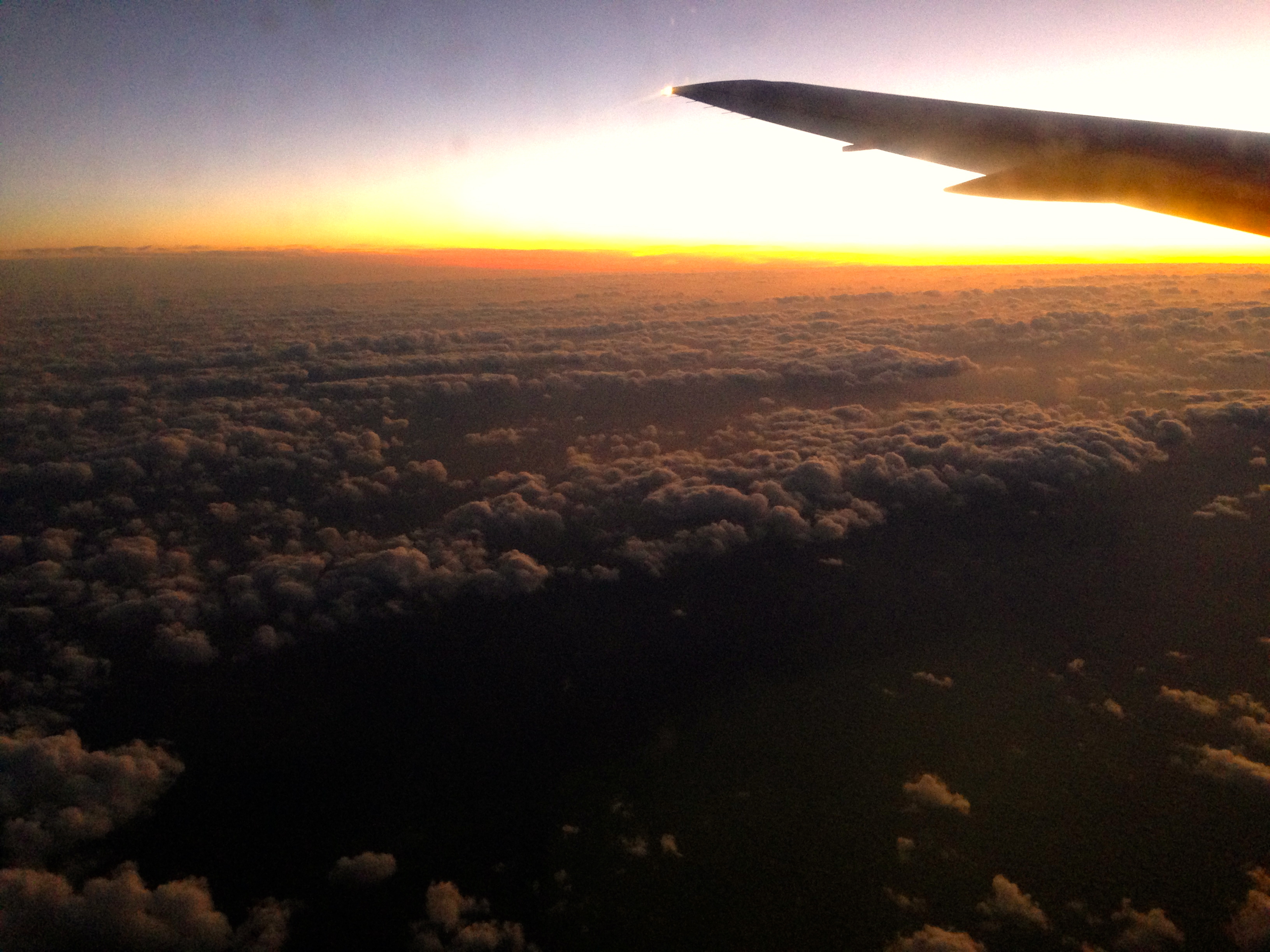 In addition, the smaller seat got me closer to the window where I was able to take in the view.
In-Flight Meals
Even with all of my pre-flight snacking in the lounge prior to boarding the plane, I still manage to squeeze in a full meal on every flight that I take.
United GlobalFirst's dinner service was a multi-course affair starting off with a selection from the bread basket and a coconut crusted chicken skewer and eggroll served with a spicy chutney.  Although "not bad" the quality of this course was squarely in the Whole Foods frozen appetizer category.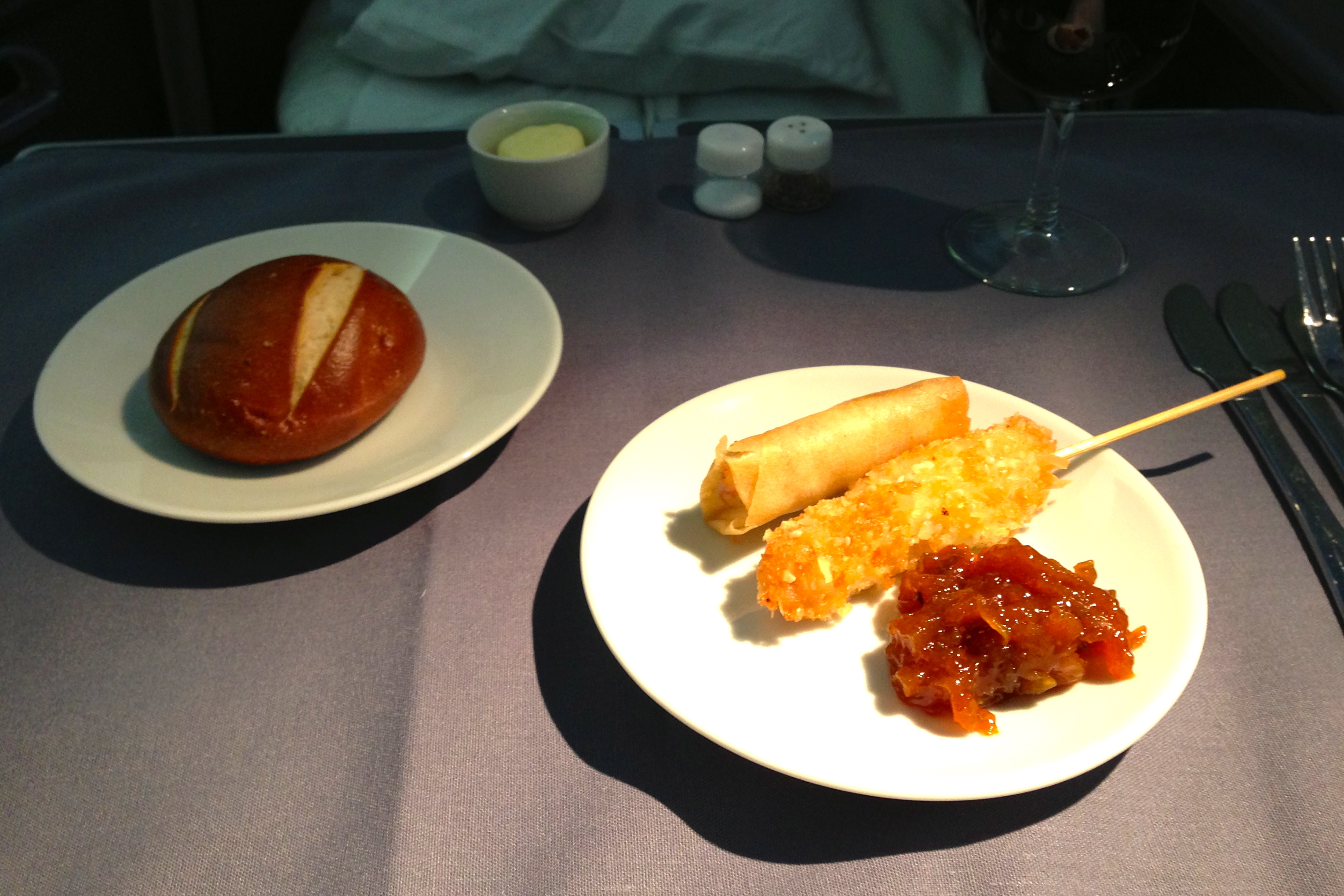 This was followed by a creamy corn chowder which was "tasty enough" but on the thick side.  Let's place this course in the Campbell's Chunky Soup category.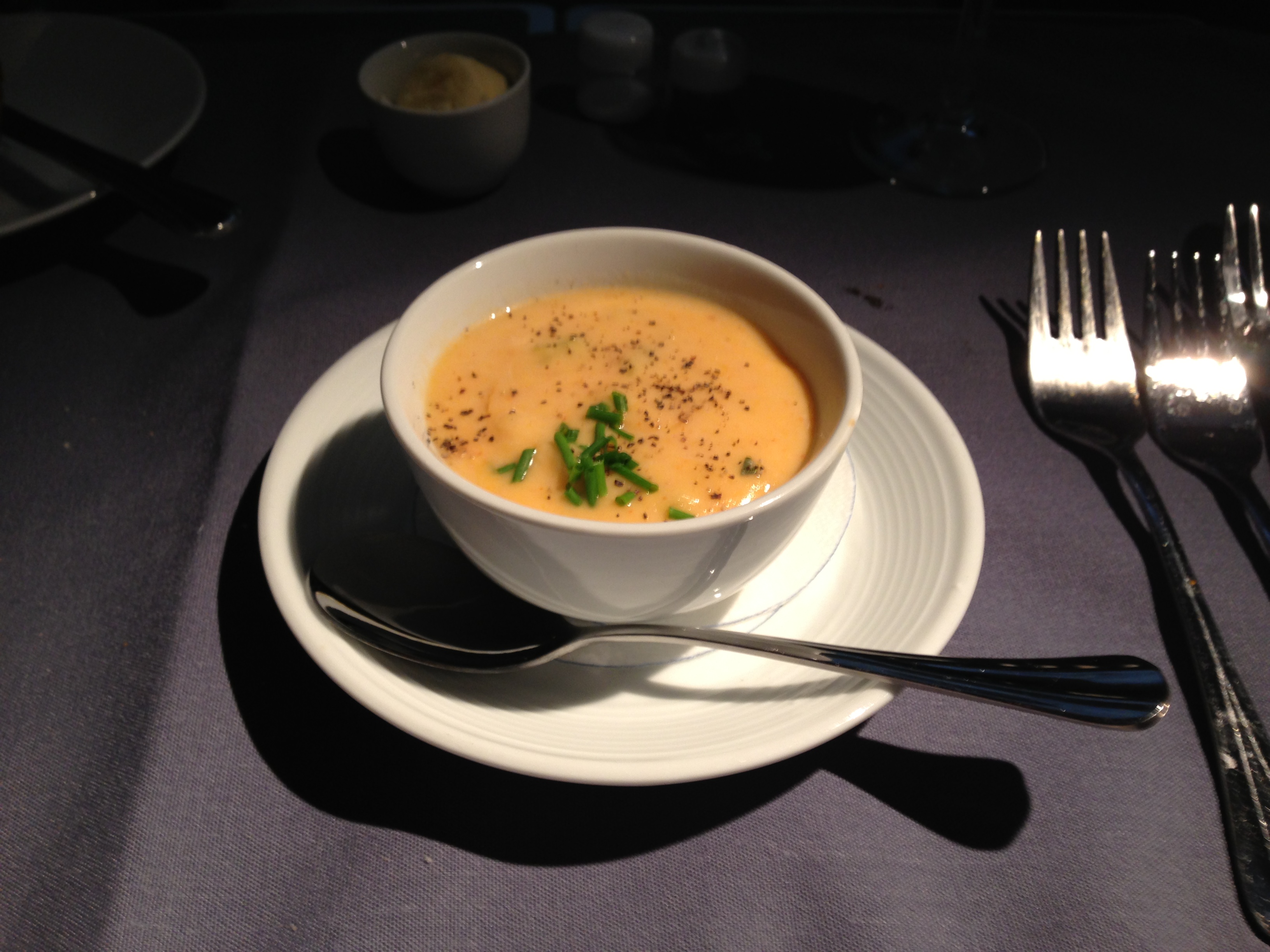 Next up was a nicely prepared salad.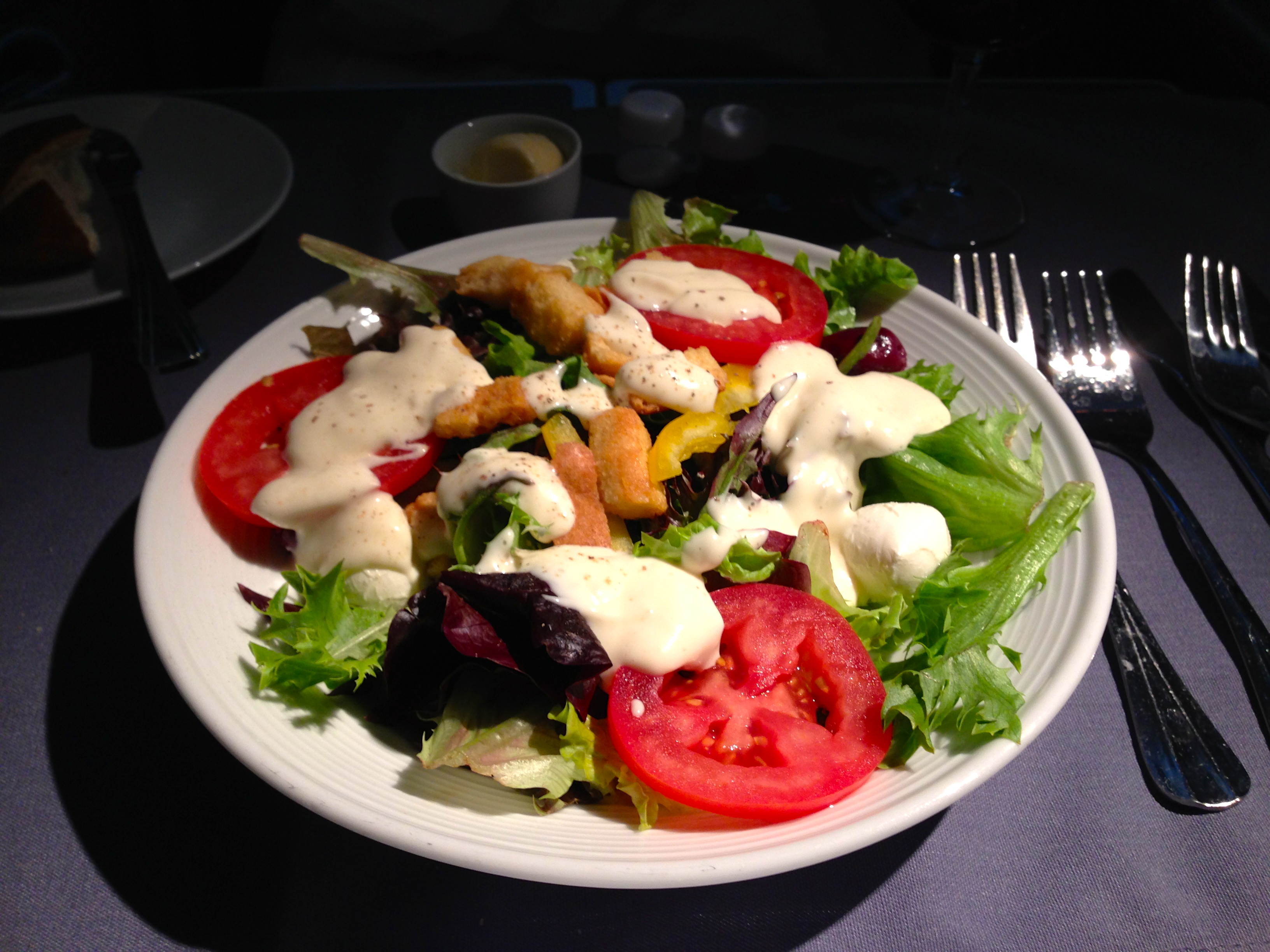 For the main course I went with the beef option accompanied by a slice of garlic bread.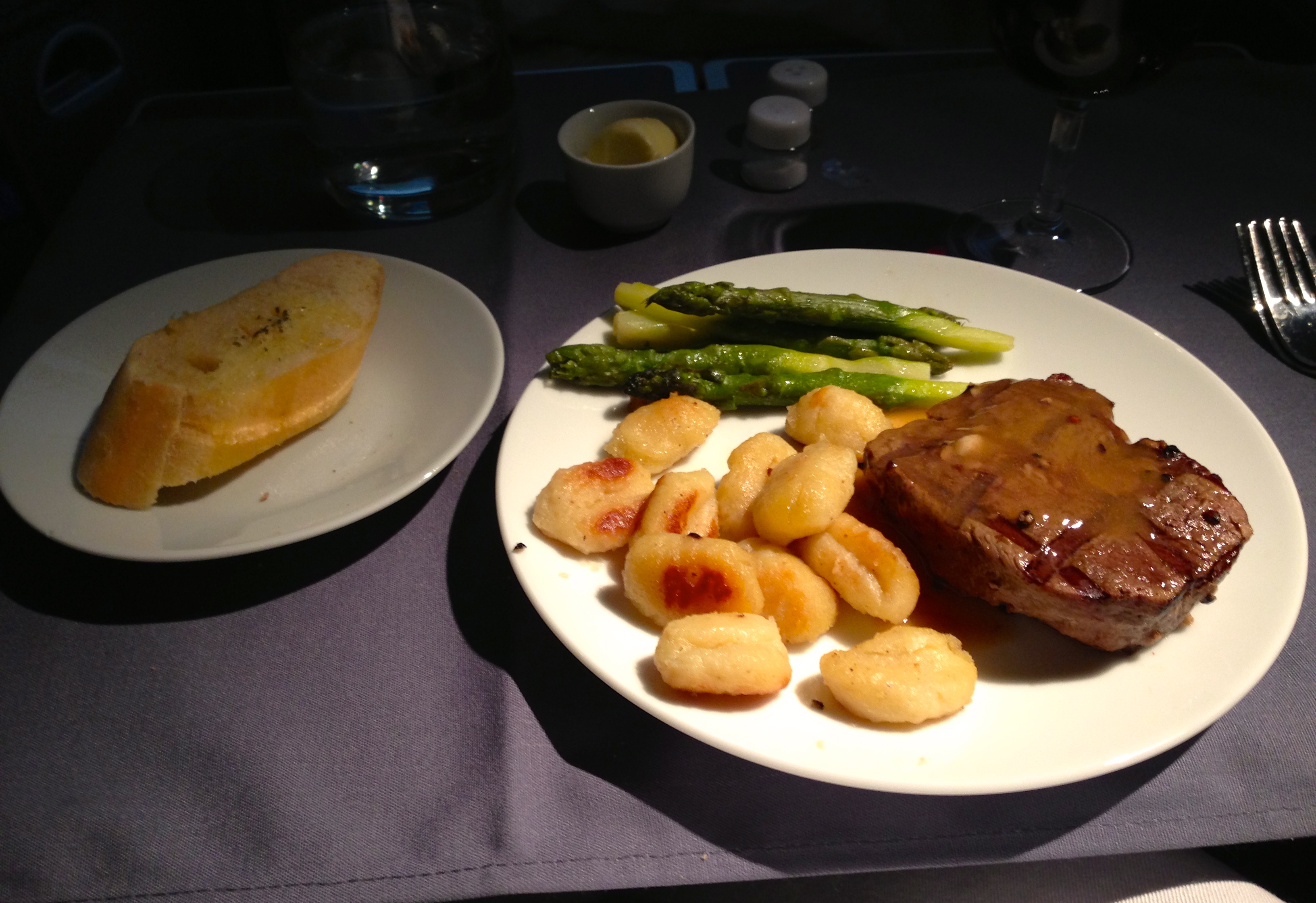 The steak was tender and not dried out while the side of steamed asparagus tasted fresh.  The weak link in the meal was the side of gnocchi pasta that tasted a bit overcooked and "crunchy."
I finished off the meal with a made-to-order ice cream sundae.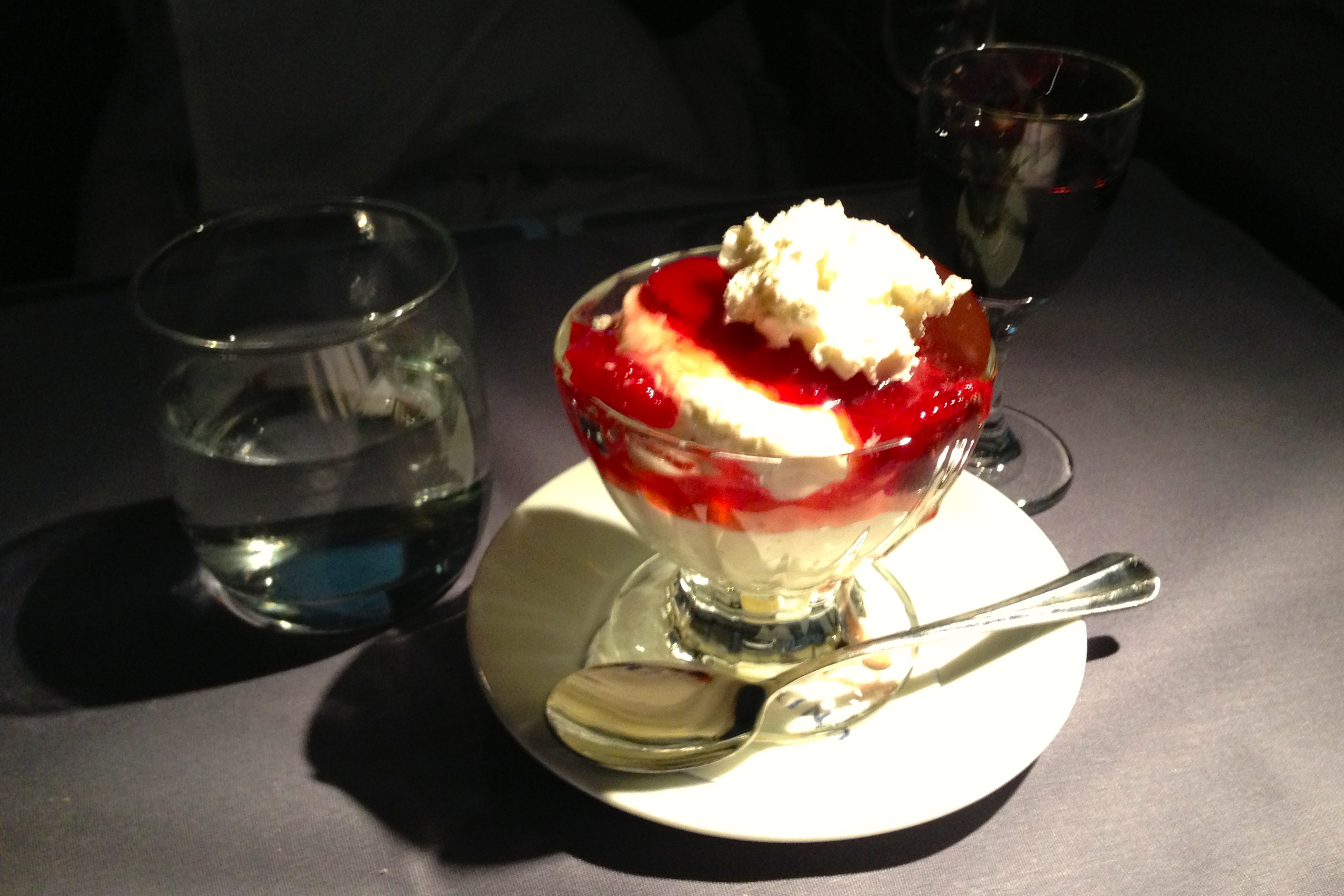 In Business Class, the meal service is compressed with the shrimp and salmon appetizer coming out at the same time.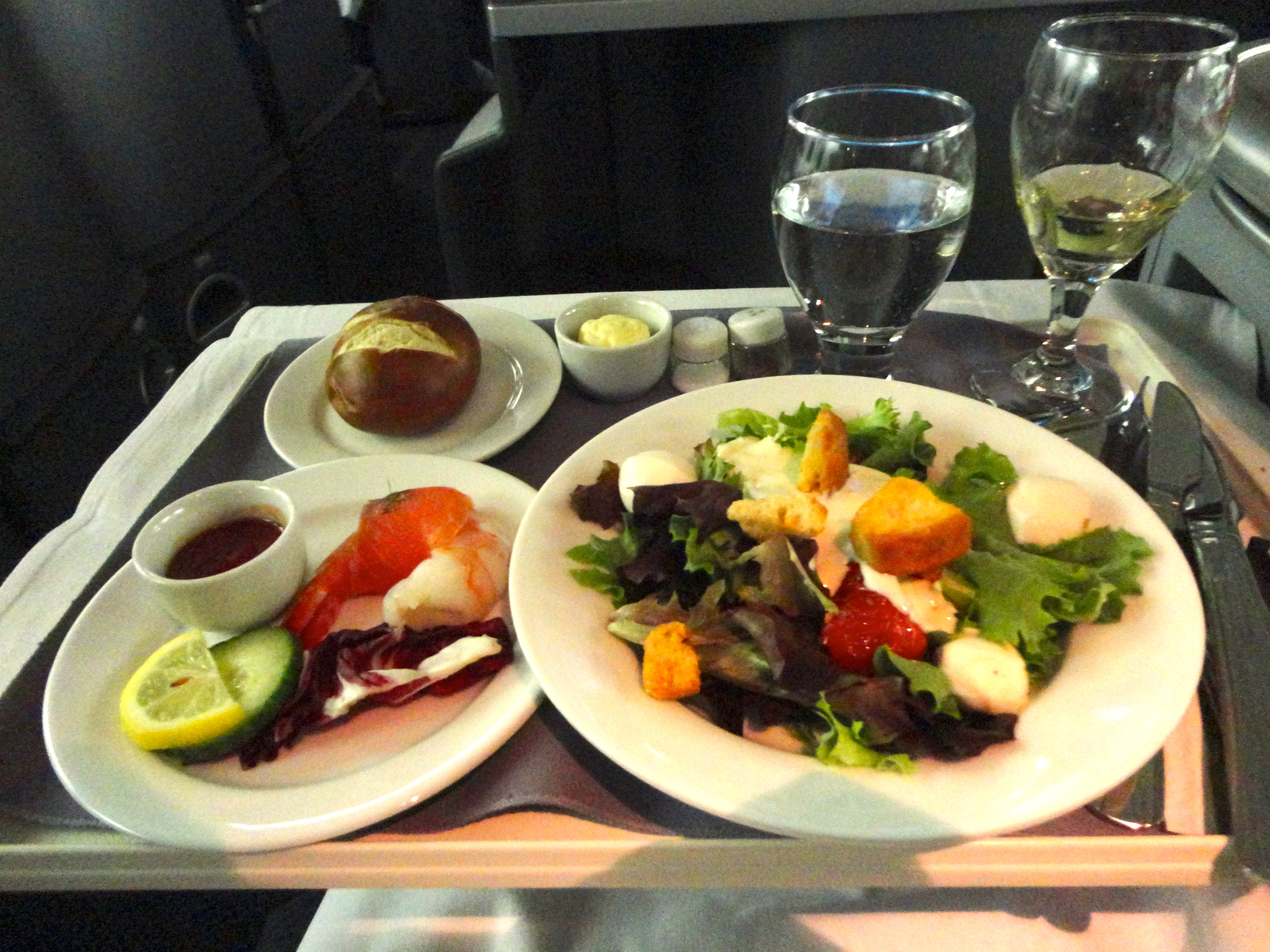 The beef option in Business Class was somewhat similar to the First Class meal although this version sported a nice red wine sauce.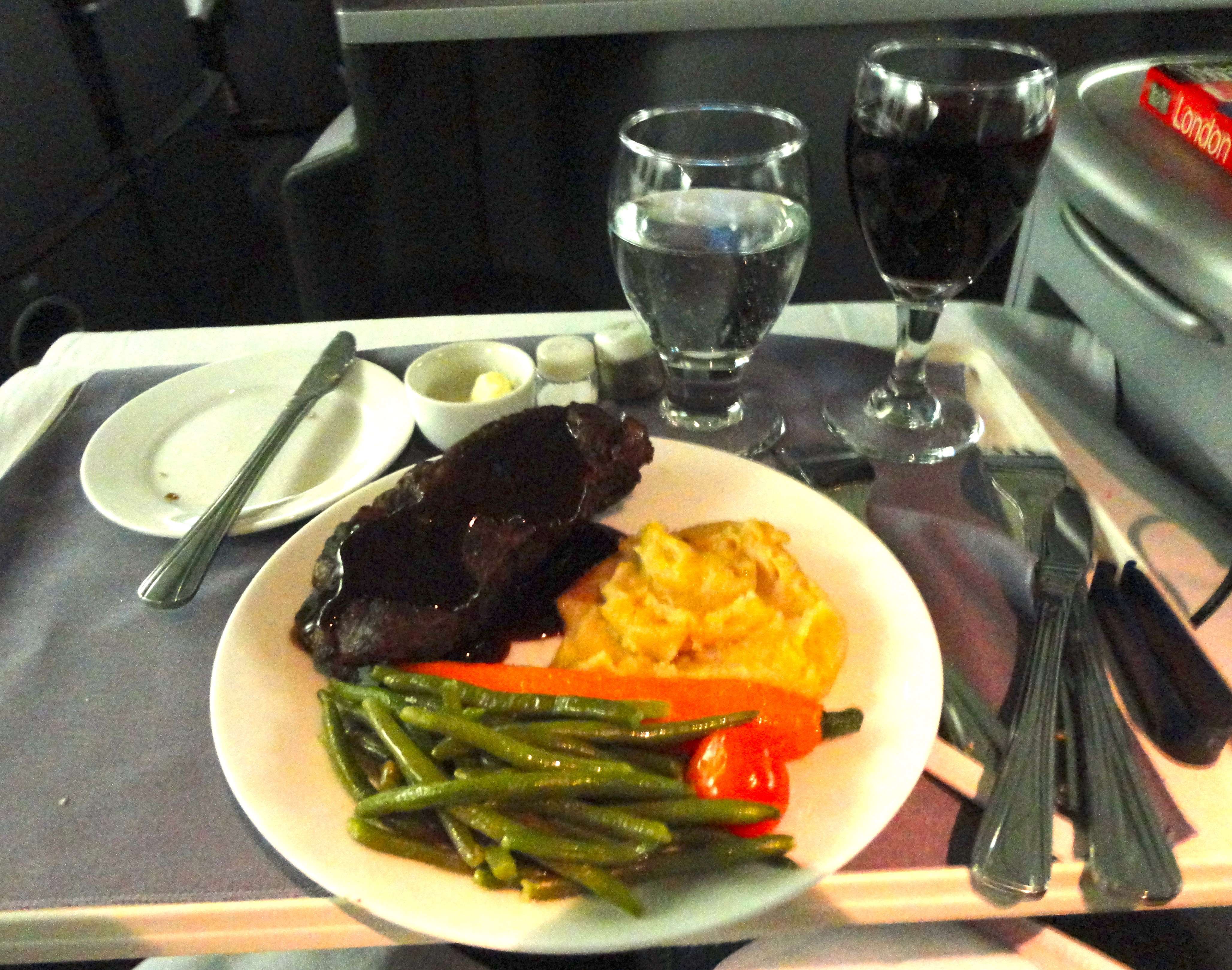 Dessert options included a cheese course (also offered in First Class)….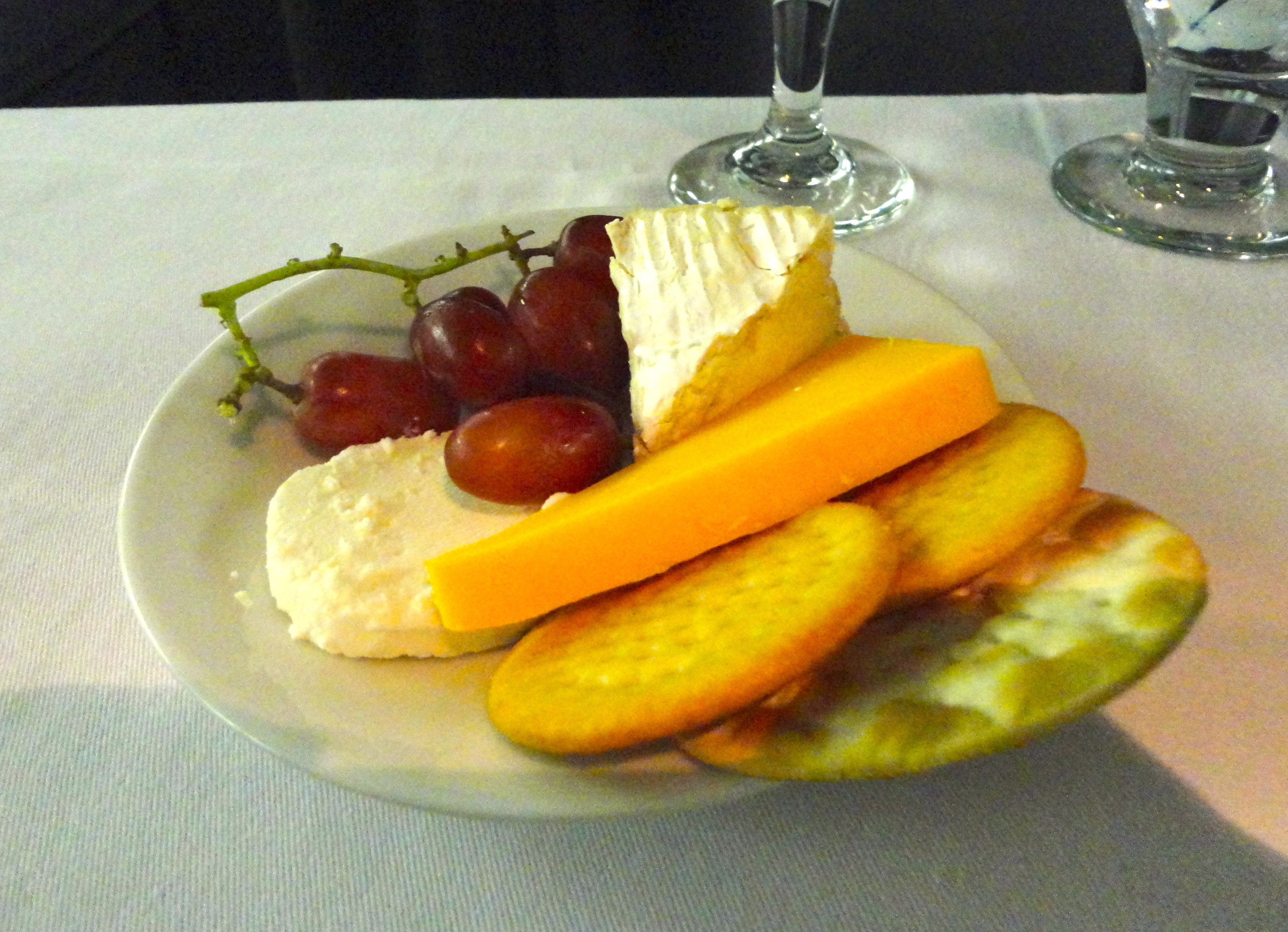 … and the tried-and-true made-to-order sundae.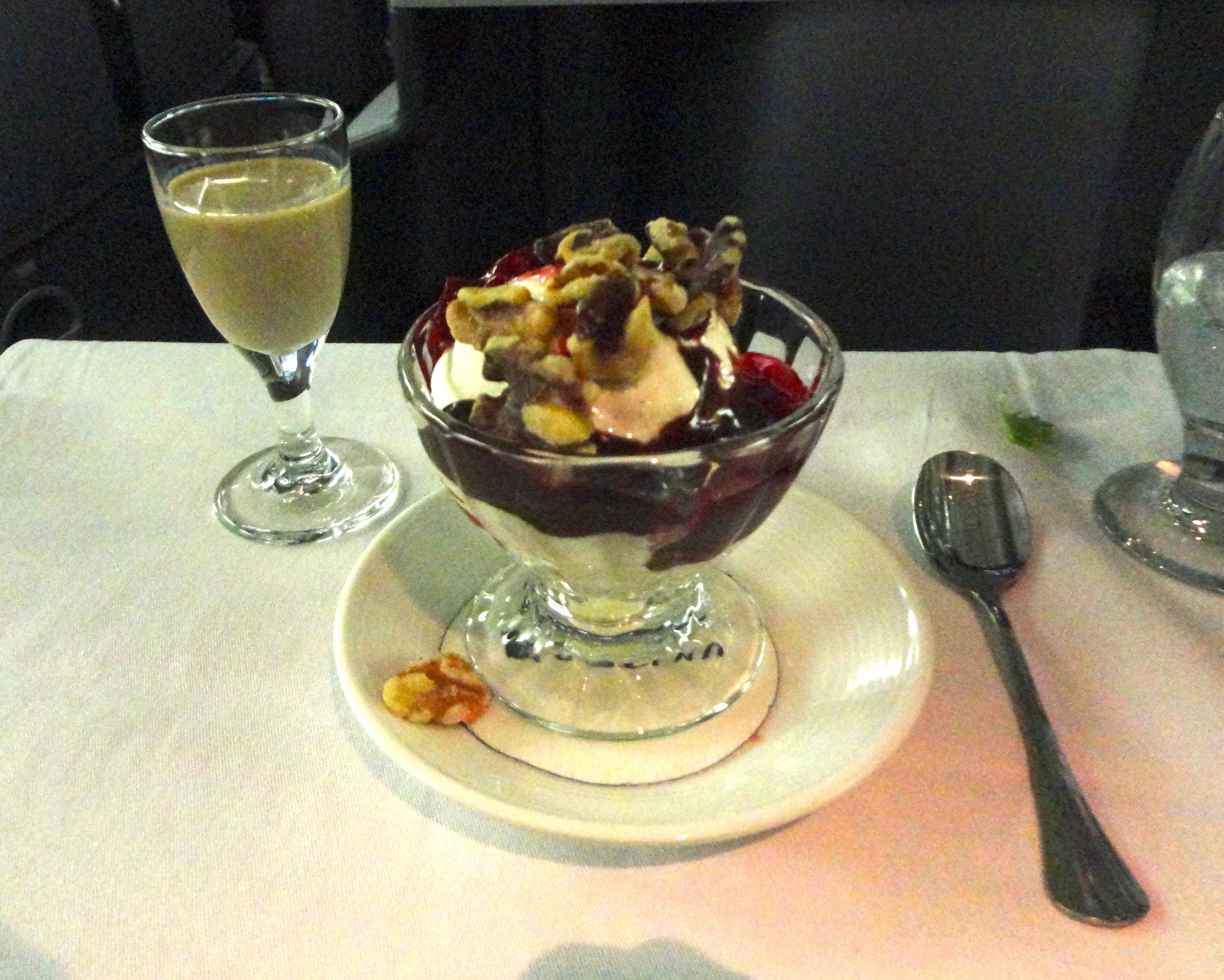 Of course, I had BOTH!
Meal service in Economy was a much simpler affair with everything (once again the beef option) coming out all at once.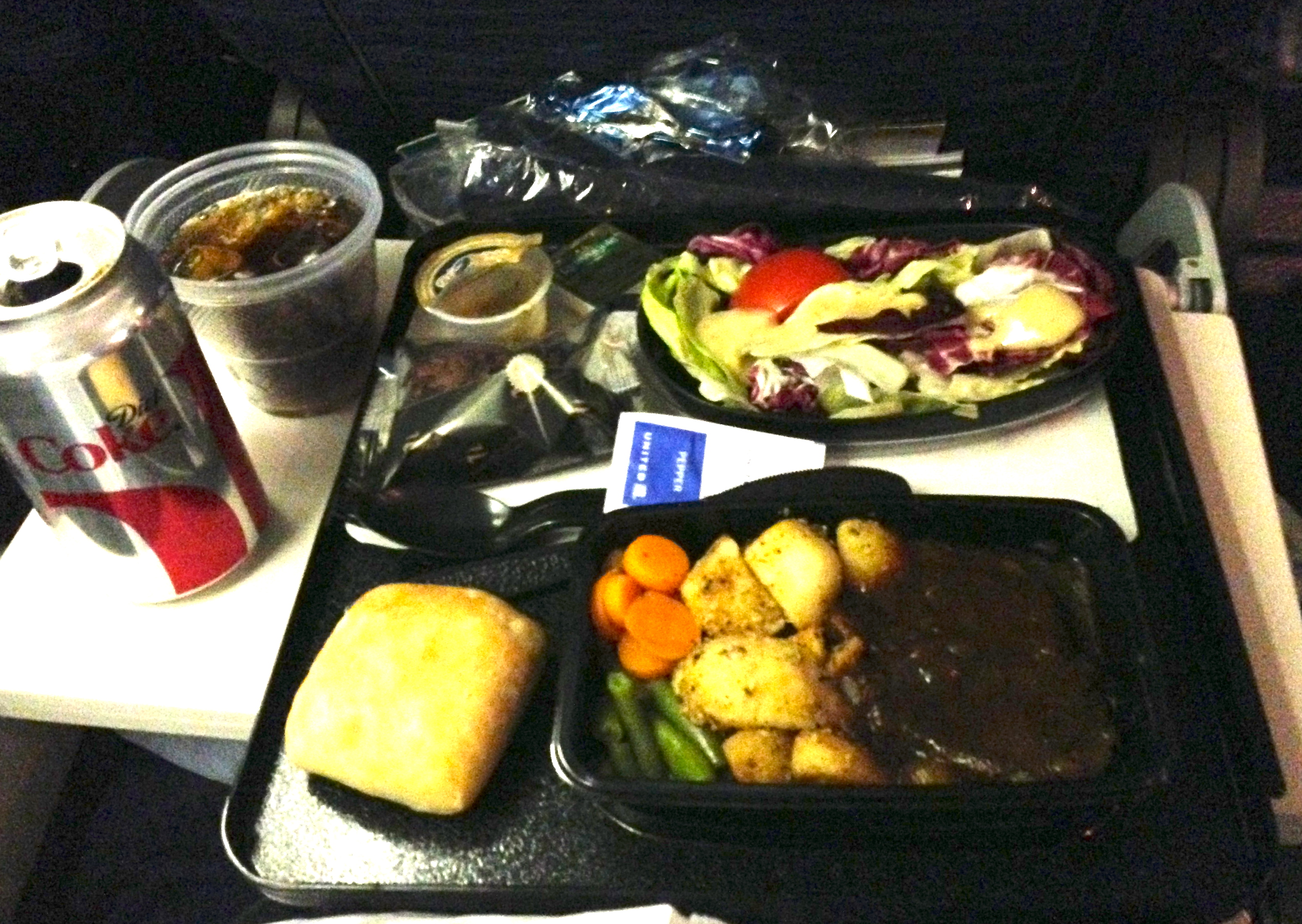 The food was passable though not memorable.  However, my biggest gripe was with the strangely shaped molded plastic serving tray that didn't lay flat. I never was able to figure out the best way position it on the tray table so that it didn't seem like it would accidentally flip over into my lap.  That said, a well-placed, misplaced elbow would certainly have resulted in some interesting Economy cabin aerial acrobatics.
Service
Over the years, I've found the service on United to be hit-or-miss.  However, on this particular set of flights I'm happy to report that I experienced a pretty drama-free service experience.
The First and Business Class service experience was very similar. United's crews on its international routes tend to fall into the "seasoned veteran" category.  Although I found the interaction with the flight attendants to be rather informal, everyone was friendly and seemed to be in generally good spirits.
The real standout, though, was in the service we received in the Economy class cabin.  The London-based British Flight Attendants worked the cabin with a "Lufthansa-like" efficiency (Note: To see what I mean, check out my series of "Love Letters to Lufthansa" here, here, here and here). Special kudos go out to this team who exhibited a crisp professionalism that made sitting in the back of the plane "not so bad."
What's Really Important
I'm glad I was able to experience all three of United's service classes this year.  Comparing United First and Business Class, I have to say that if were to redeem points for future travel, I probably wouldn't "pay" the premium to fly in First Class for a "relatively short" transatlantic 8-9 hour flight. Although the GlobalFirst seats are certainly more spacious, United's BusinessFirst lie-flat seats are also pretty comfortable.  In addition, United Economy flying home on a daytime flight isn't all that bad.  If I wanted a bit more comfort at the back of the plane I'd just pay the additional fee to lock in an extra legroom Economy Plus seat.
Of course, the TRUE test of the quality of an airline's in-flight experience is how good you look in the obligatory pre-flight champagne toast photo.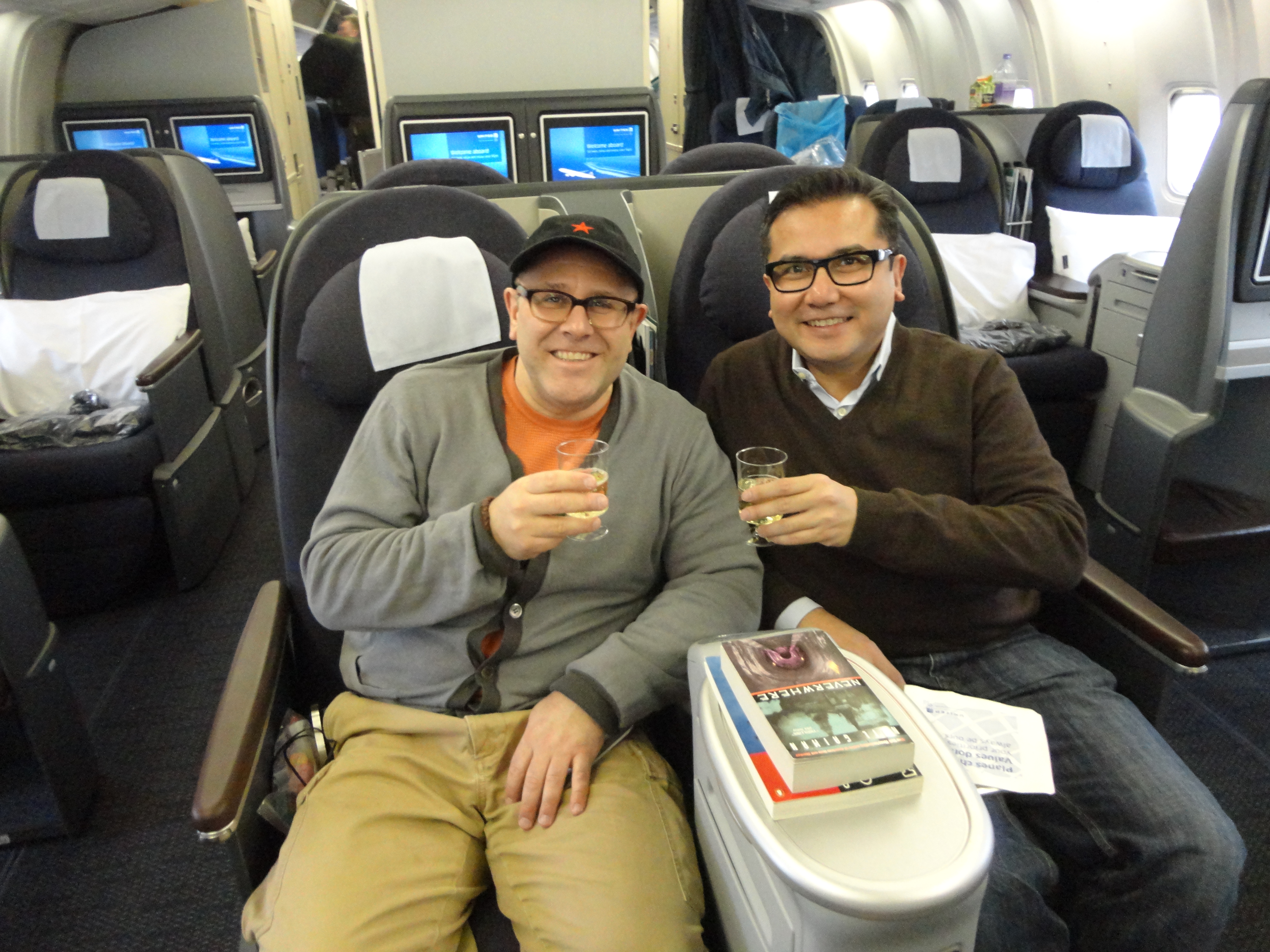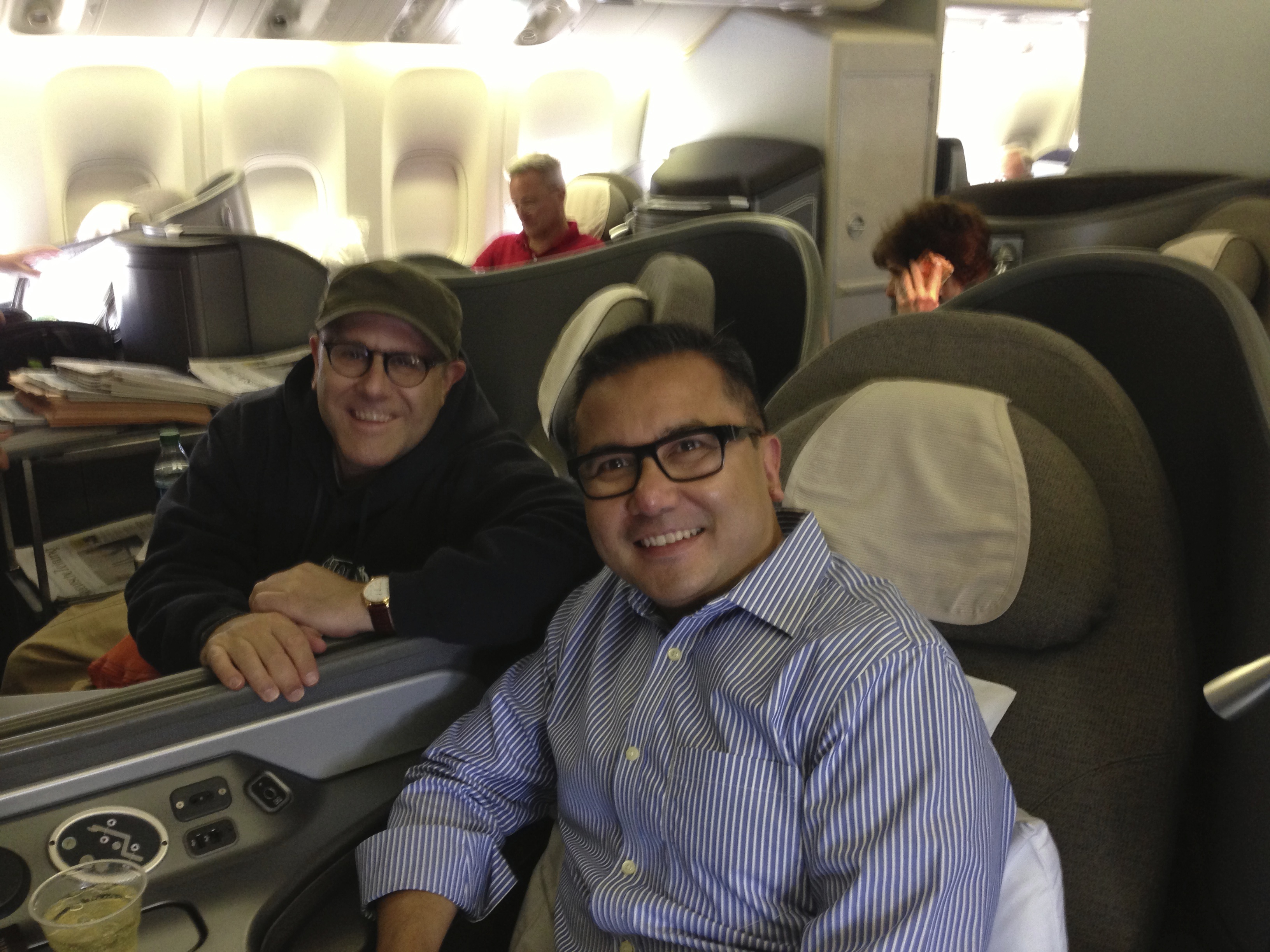 What do you guys think?  Have you flown in different classes on the same airline?  What are your thoughts on the differences between the First, Business and Economy class experiences?