Sometimes who you travel with will define your choice of a hotel. This past May our family traveled to Honolulu to celebrate my father's 80th birthday. Since this would be our first time in Hawaii, we all wanted to stay someplace that evoked a real "sense of place" and evoked a "tropical island vibe."  In addition, since my Dad is known for being well … uh cheap … we required a hotel that offered some good value for money for our six night stay. The Embassy Suites Waikiki Beach Walk fulfilled both of these criteria and made for a very pleasant stay for our family.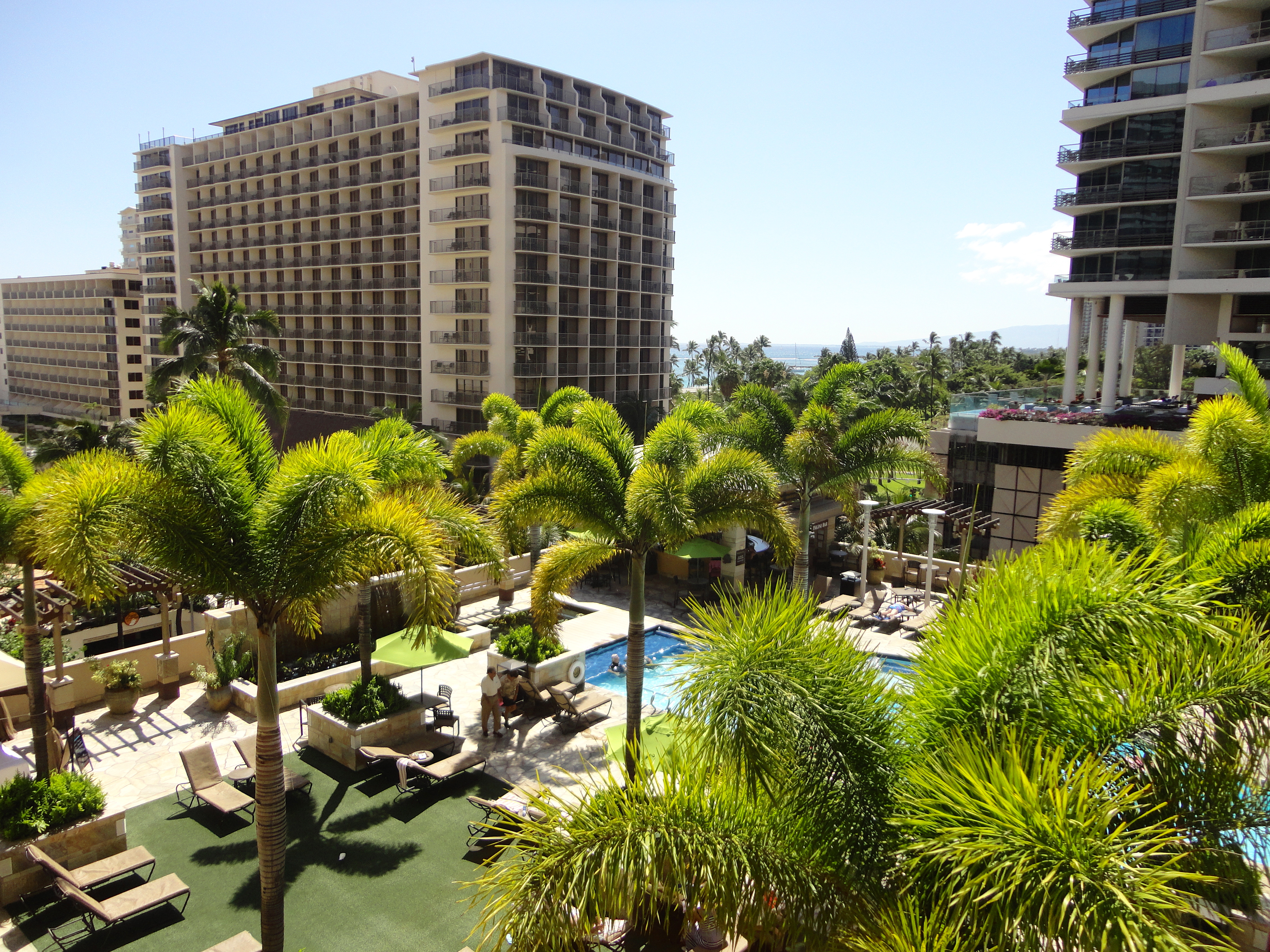 We arrived at the Embassy Suites around 8:00 pm and checked in at the registration desk, which was located in the hotel's open-air lobby and driveway.  Our room was ready and as we completed our check-in arrangements, the efficient and professional staff served our group some fresh, cold guava juice as we waited.  The feeling of warm tropical breezes helped set the tone for our upcoming Hawaiian holiday.
This property is the only all-suite resort hotel in Oahu. Since we were going to be in Honolulu for six nights, having the extra space of a suite to "spread out" made our stay comfortable.  Although hotel prices in Waikiki are generally not cheap, I found that the Embassy Suites offered excellent value for money.  As I comparison-shopped for hotels, I found that for roughly the same rate as a standard room in other nearby mid-range / upscale hotels, I was able to book a suite with a full buffet breakfast included at the Embassy Suites.
The Embassy Suites Waikiki Beach Walk consists of two high-rise towers with an open air Grand Lanai on the fourth floor separating the buildings.  The Grand Lanai is the location of the hotel's pool, breakfast area, bar and meeting rooms. Our room in the Hula Tower overlooked the hotel's pool area and consisted of a living room with a sofa bed …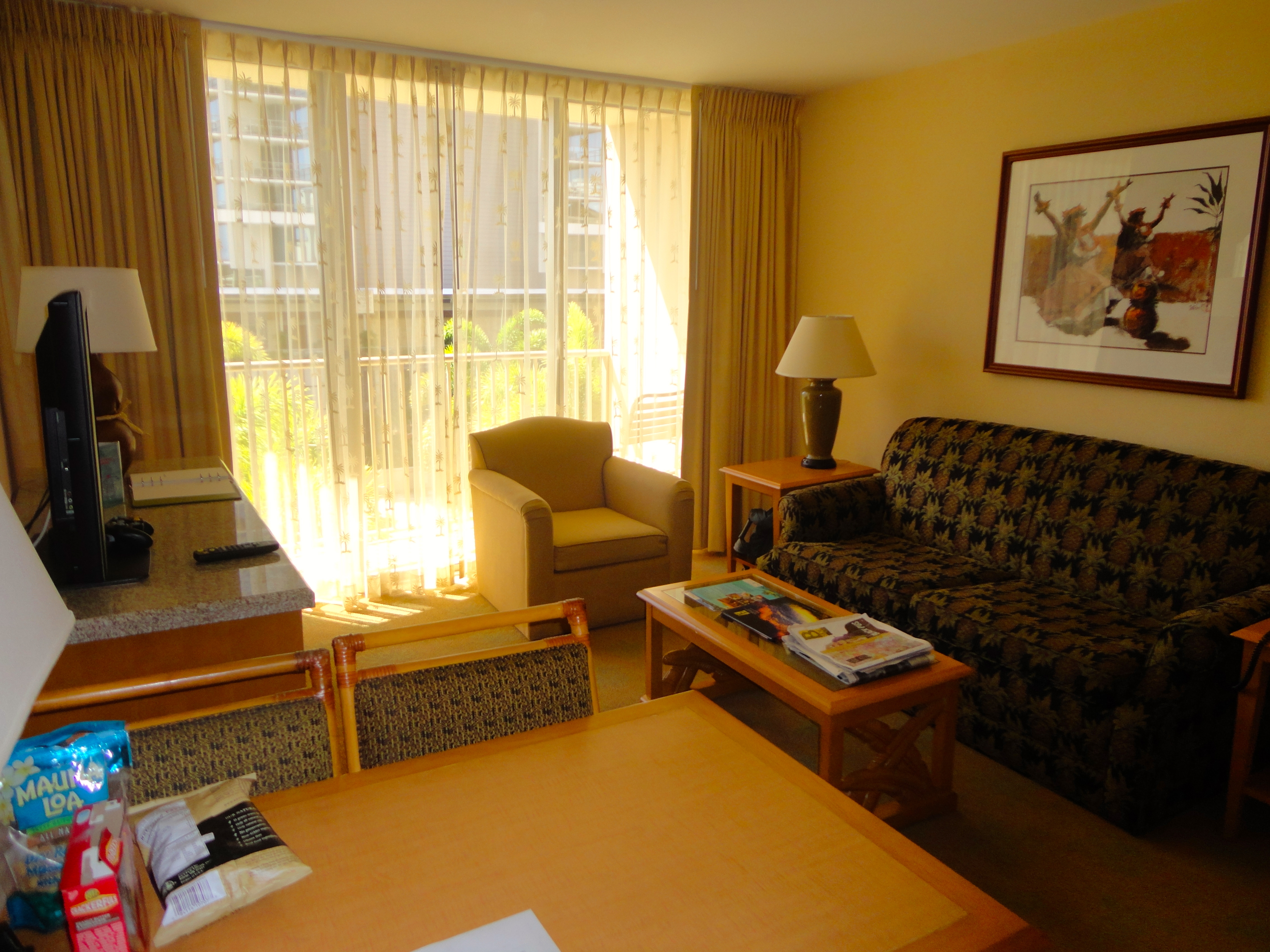 … and a flat screen TV.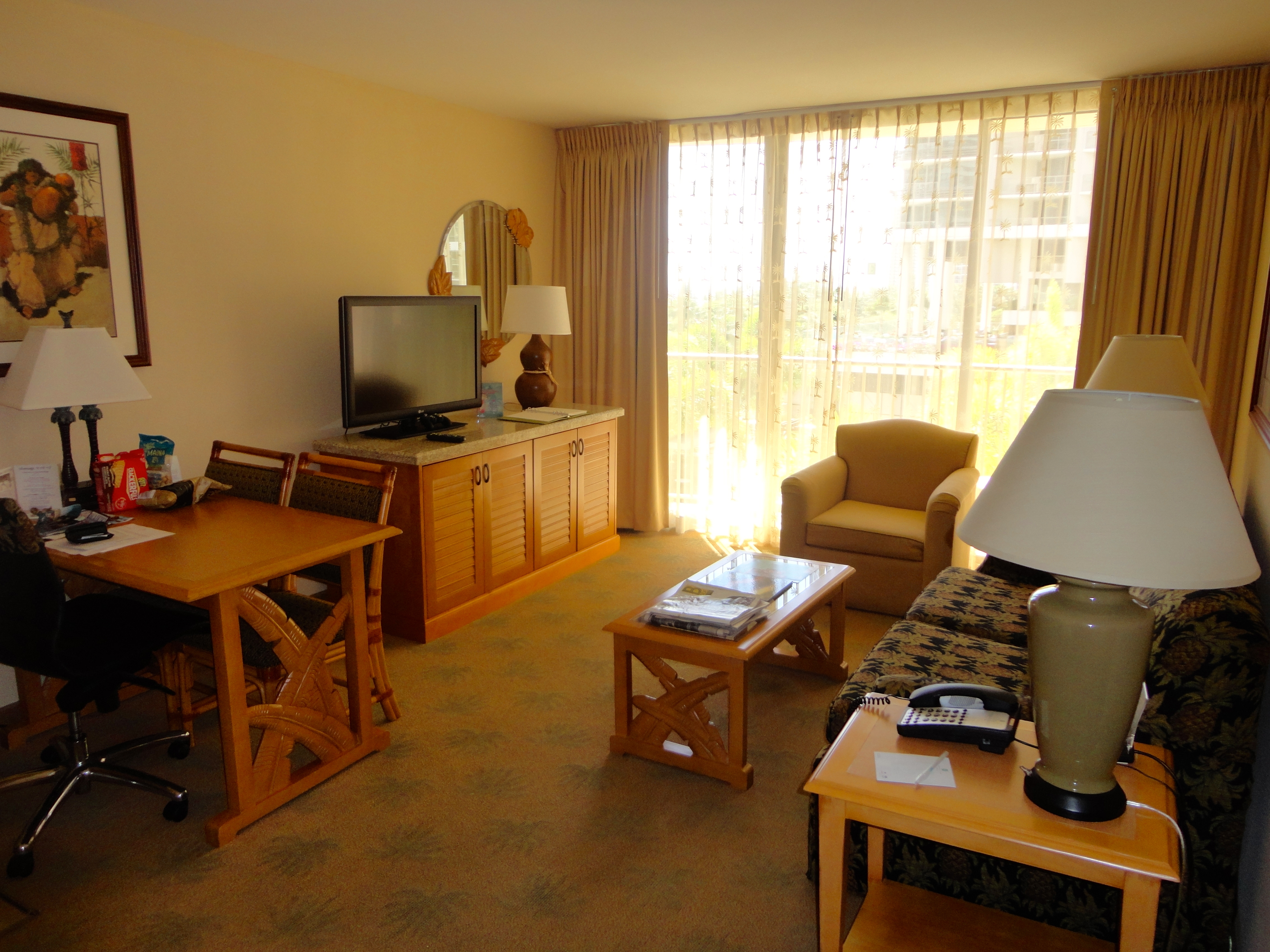 The Suite also included a small dining area that featured a mini-fridge and microwave.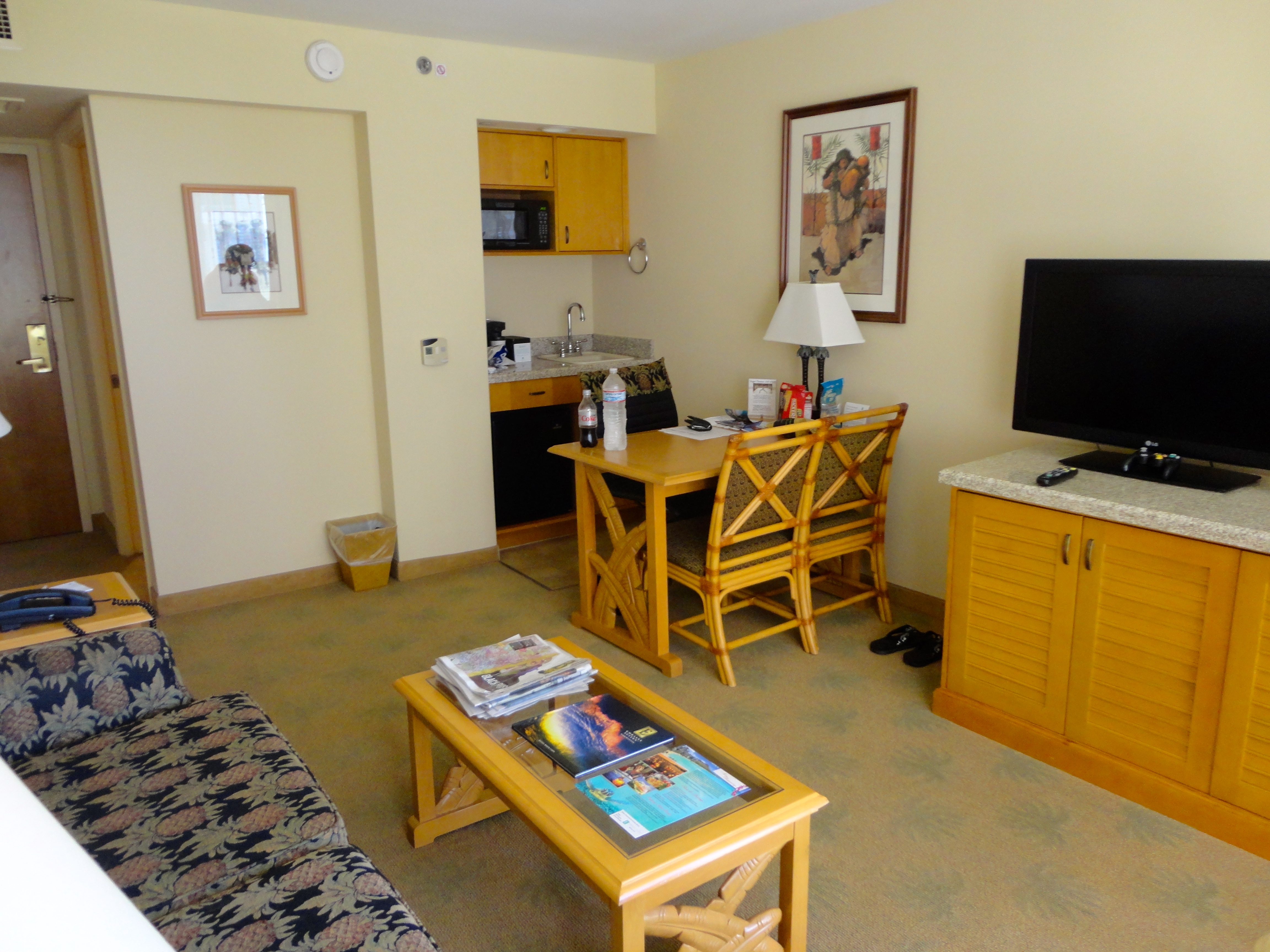 This feature was really convenient since it provided us a place to store cold drinks and snacks over the course of our stay.  We were able to stock up on provisions at the ABC Store located across the street from the hotel.  This branch of the ubiquitous Hawaiian convenience & souvenir store chain (another one was located just down the street about a block away) also featured sandwiches, fresh refrigerated ready meals and hot takeaway options.
The bathroom was spacious and well kept.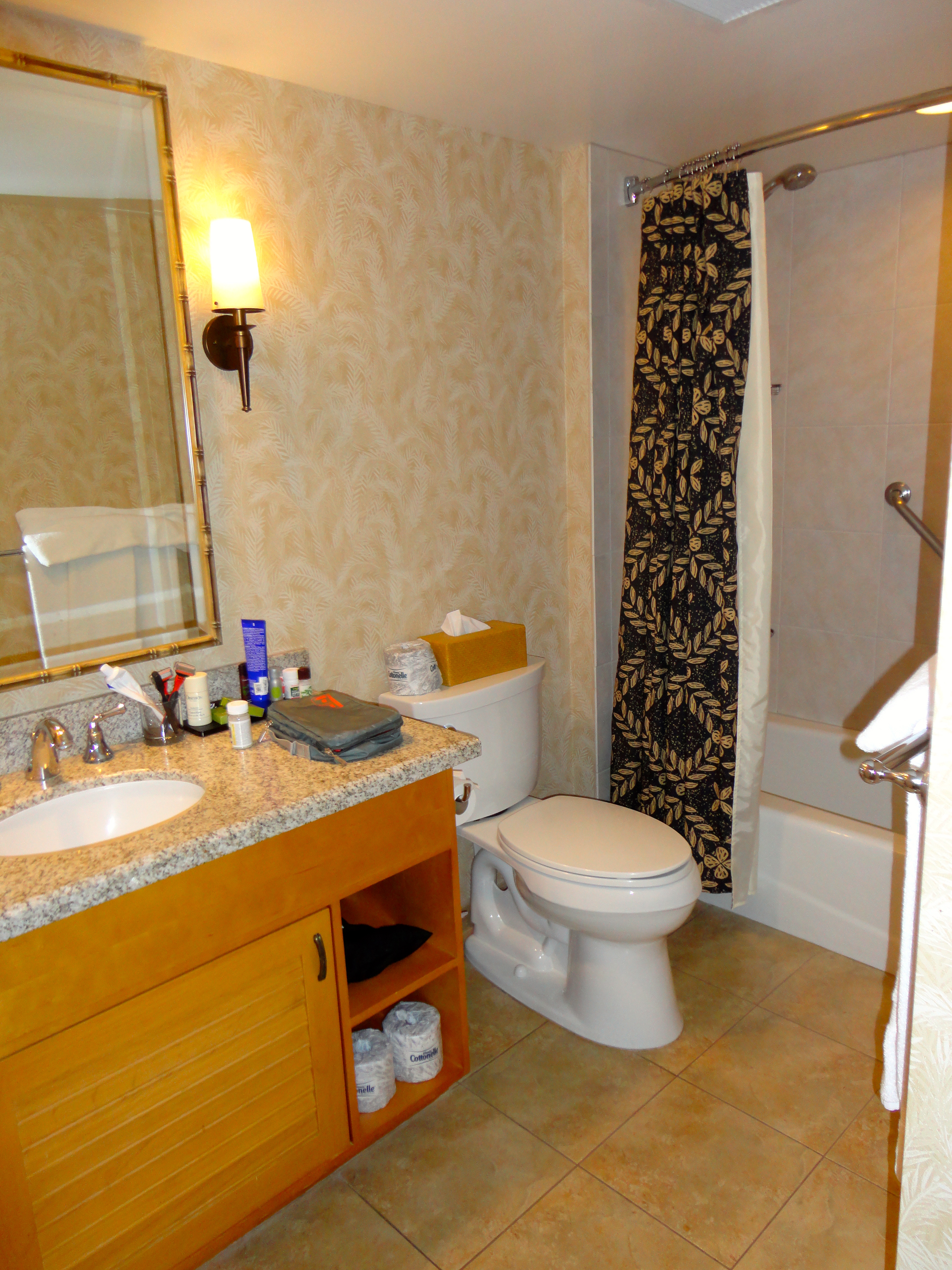 The separate bedroom had a king-sized bed (rooms with two queen-sized beds are also available) …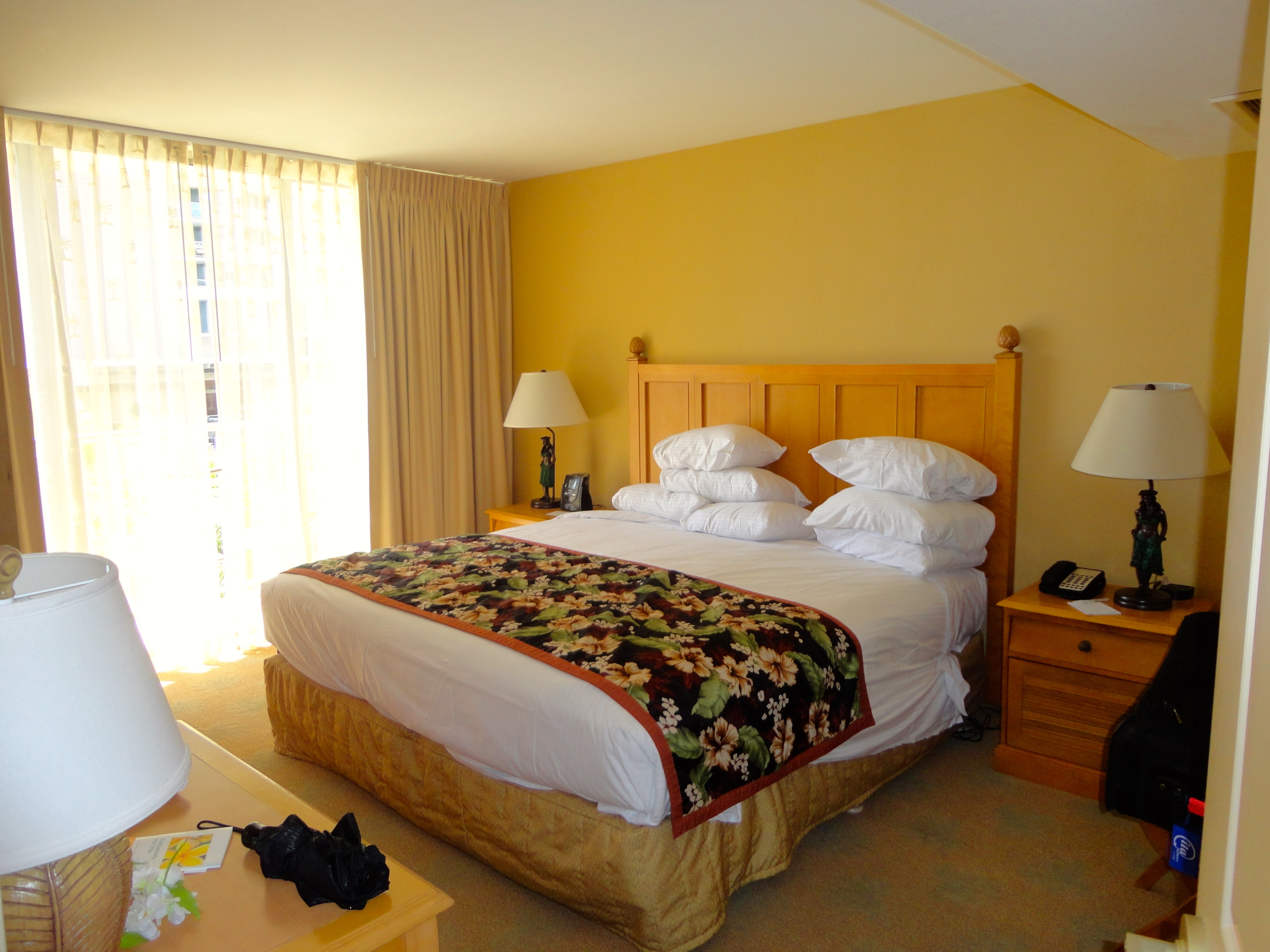 … with another flat screen TV. The room also featured a dresser and armoire.  It was great having the ample storage space for our clothes since a six-night vacation pretty much dictated the need for multiple costume changes over the course of our stay.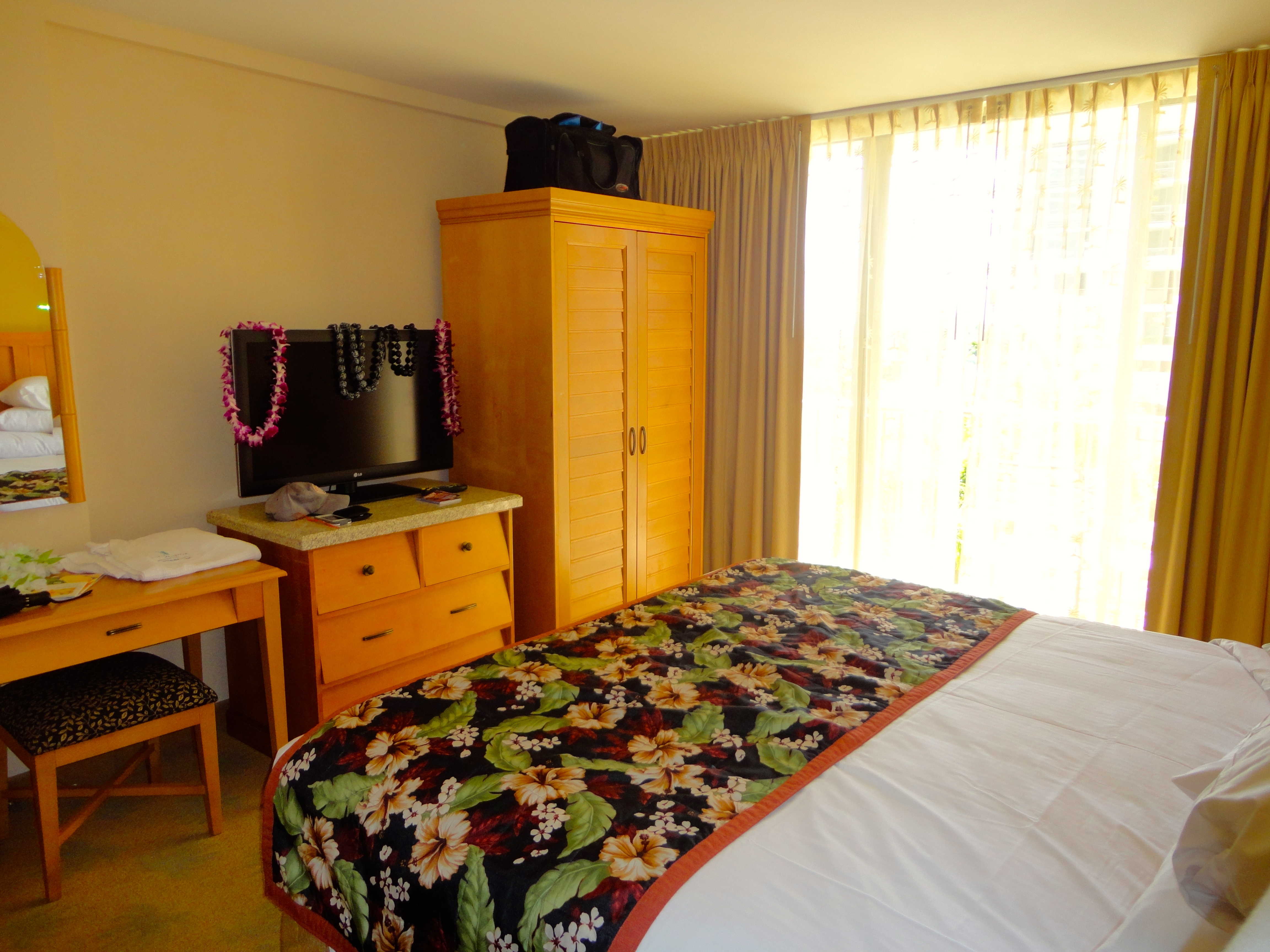 Although we were only located on the 7th floor of the hotel, we did manage to get a peak at the ocean in between the buildings (the Trump Hotel Waikiki is right next door) which made for some great sunset views from the room's balcony.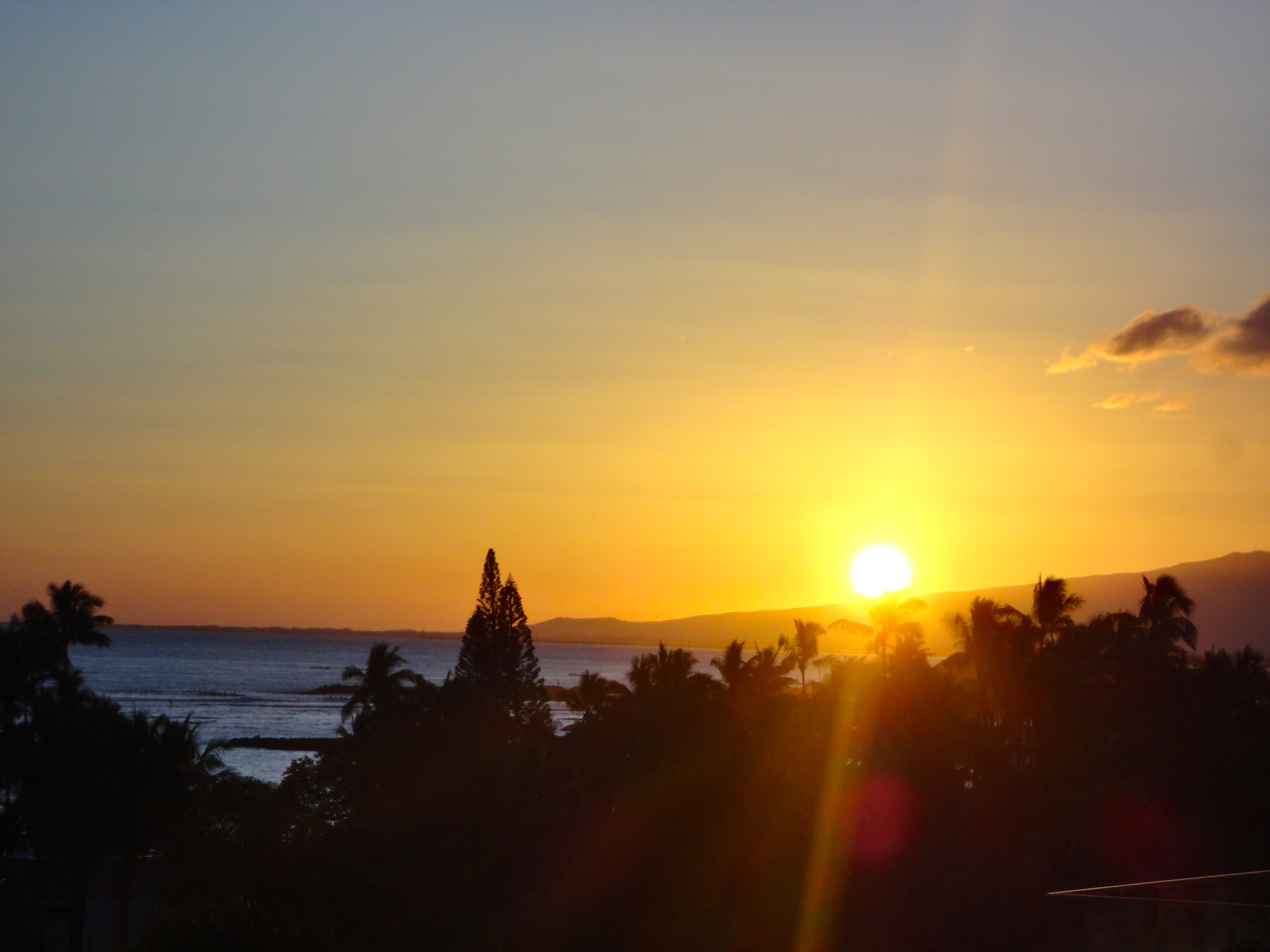 The balcony also featured a small table and two chairs so you could use it as a great vantage point for your morning coffee or a nightcap.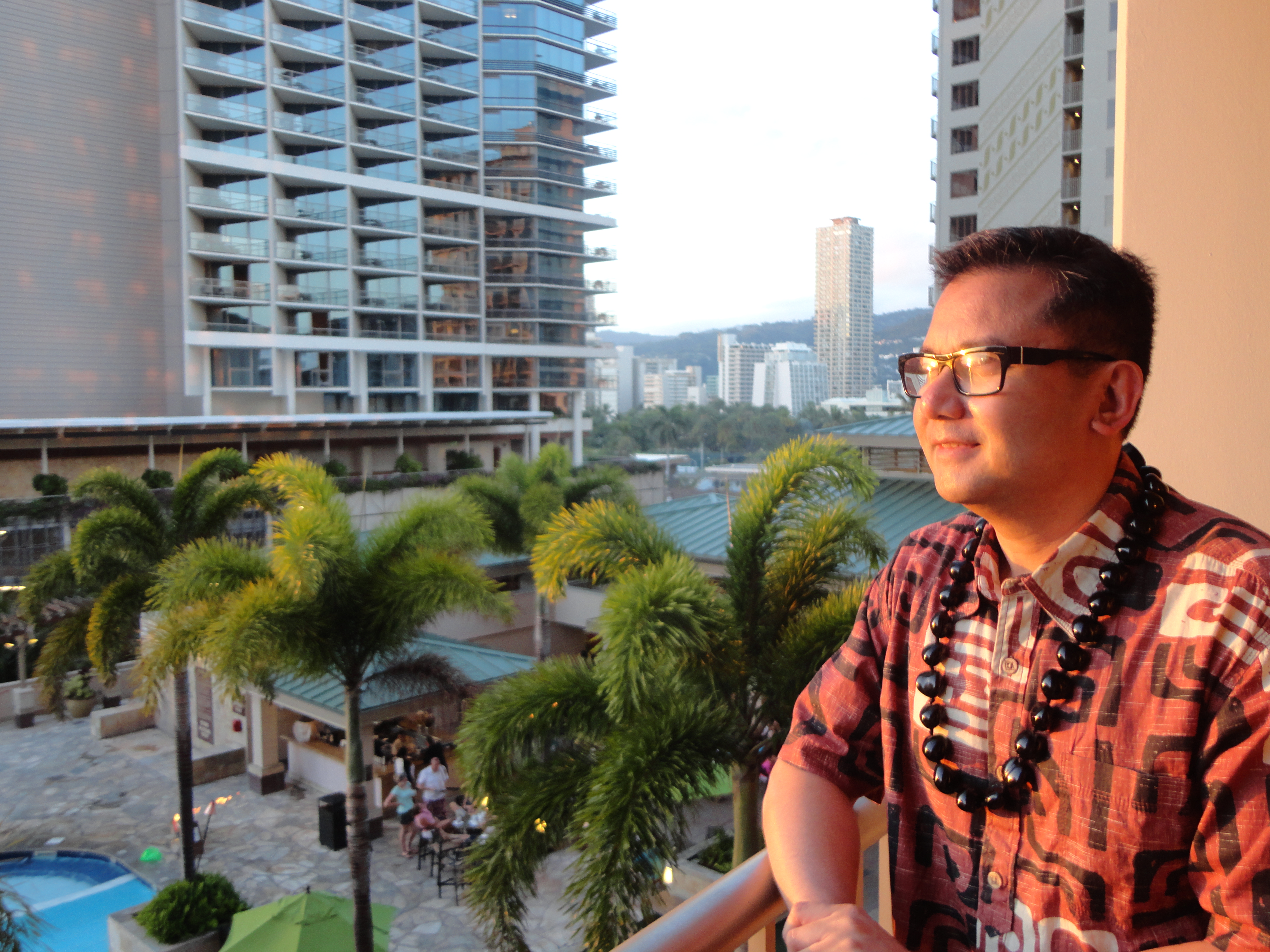 Am I looking "wistful enough" in this photo?
A full buffet breakfast (6:30 am to 10:00 am) is included in the price of the hotel.  The buffet offered a wide variety of traditional morning options including fresh fruit, cereal and bread / bagels.  Hot options such as French toast, bacon, sausage, potatoes and steamed rice were rotated regularly. In addition, a cooked-to-order egg / omelet station was also available.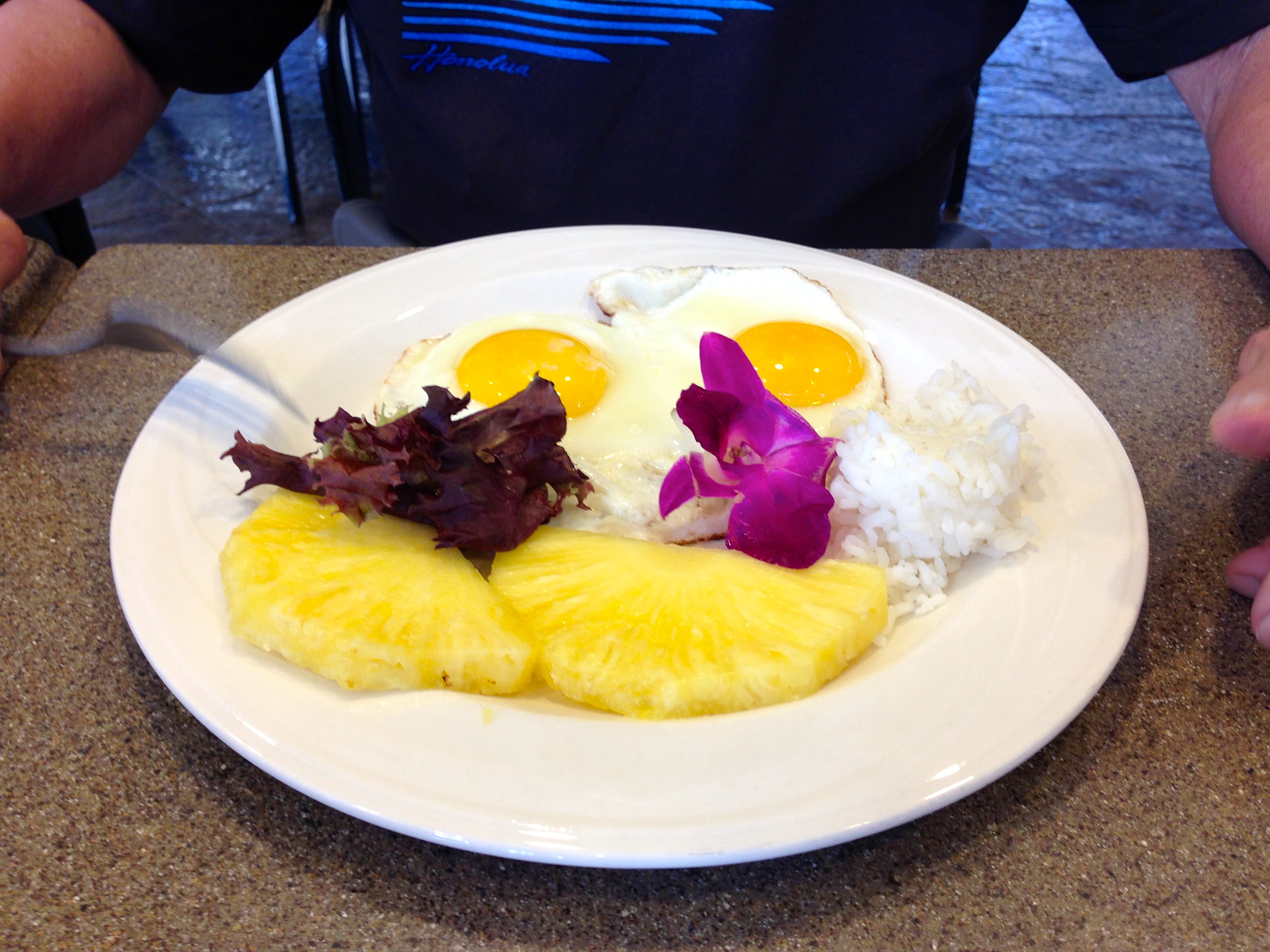 The hotel also features a nightly Manager's Reception (5:30 pm to 7:30 pm) with complimentary drinks and snacks on the Grand Lanai with Hawaiian entertainment on select evenings.  Outdoor morning Yoga Classes are also offered on weekly basis.  In addition, free Wi-Fi, a Business Center and a Fitness Center round out the amenities that are available.
The Embassy Suites Waikiki Beach Walk is very conveniently located.  Although it's not located right on the water, the beach is only about a 5 minute walk away and we were able to incorporate a morning oceanfront stroll into our daily ritual.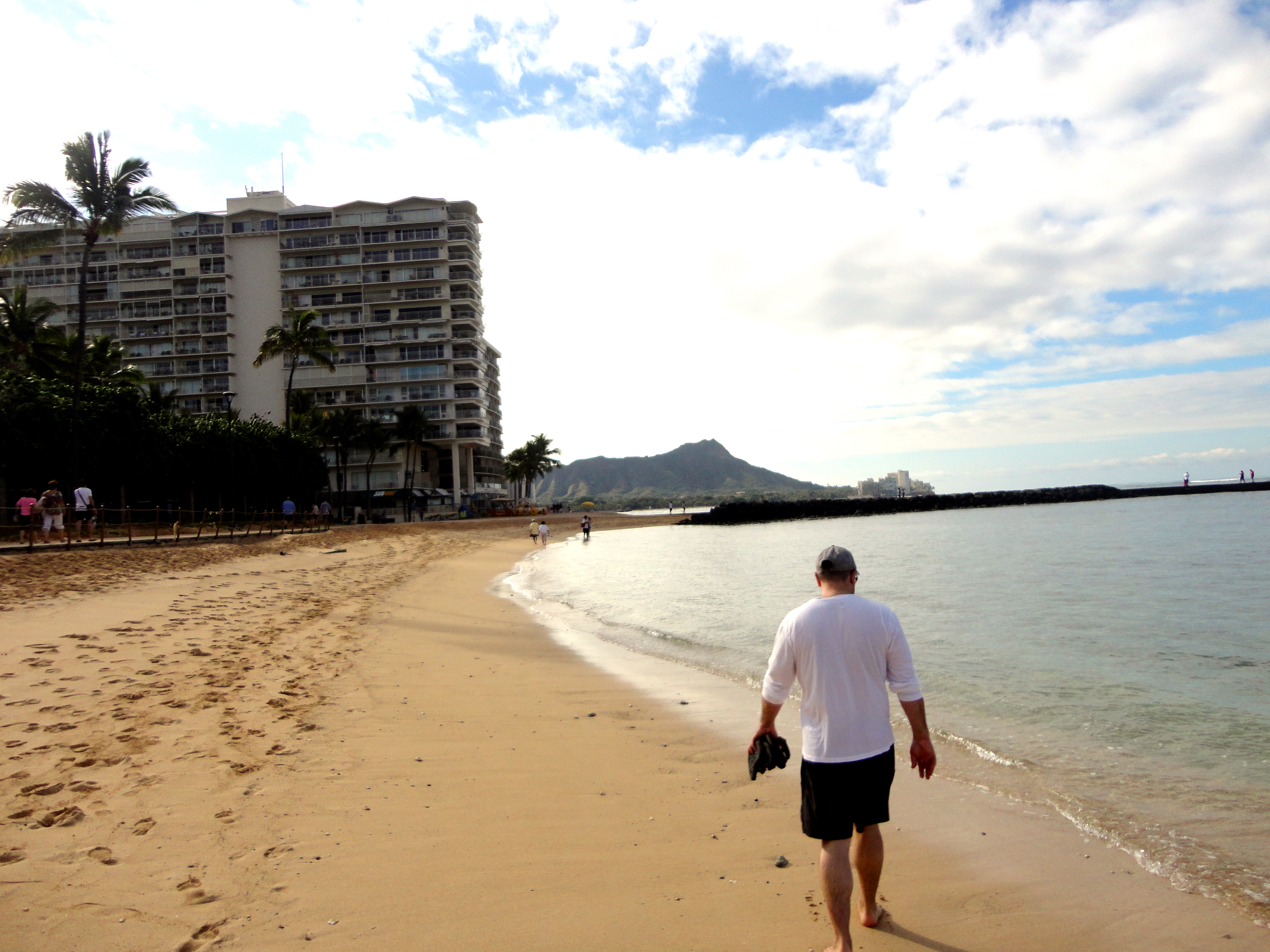 The adjacent Waikiki Beach Walk area features a wide variety of shops (including the two ABC Stores I mentioned earlier) and restaurants within easy walking distance.  Just down the street is Kalakaua Avenue which is one of Waikiki's main thoroughfares and home to most of Honolulu's luxury hotels and designer flagship stores.  Also not far away is the Royal Hawaiian where my Partner F and I had our evening nightcaps (see my earlier post Starwood Starpoints Starstruck – The Mai Tai Made Me Do It for more details) and where we attended our first luau (see my earlier post Royal Hawaiian Luau – Book It Danno! for more information).
Service at the hotel was consistently friendly and welcoming. In particular, the service staff at the breakfast buffet always were cheery and ready to assist.  Their positive attitude really got our days off to a great start.  I was also very impressed that when we were looking for the Business Center (which turned out to be located in the adjacent Aloha Tower), one of the office personnel stopped what she was doing in order to personally escort us to where we needed to go. That type of proactive action went above and beyond the call of duty.
My only complaint with the hotel is that I heard quite a bit of elevator noise (e.g. the mechanicals of the cab going up and down) in my bedroom.  Although a minor annoyance, I didn't find the sound distracting enough to merit a room change.  That said, on any future visits I'll be sure to request a room as far away as possible from the elevator to avoid this problem. While I'm at it, I'd probably also request for a room much higher up in order to improve my (partial) views of the ocean.  In addition, the quality of the wine, drinks and snacks (consisting of primarily of potato chips and pretzels) could also stand to be upgraded.  However, free booze is free booze so I guess I can't complain TOO much!
Although the Embassy Suites is part of the international Hilton chain, the hotel didn't feel cookie cutter.  Hilton made a real effort to infuse local Hawaiian flavor into the décor and atmosphere of the hotel.  Each night, little cards that recounted bits of Hawaiian history (e.g., the origins of the Luau, Surfboards, Lei-Making, etc.) were left in our room.  Hawaiian-themed artwork and furnishings decorated the rooms and public areas.
Of course, what really made our visit complete was the private hula dancer we had in our room …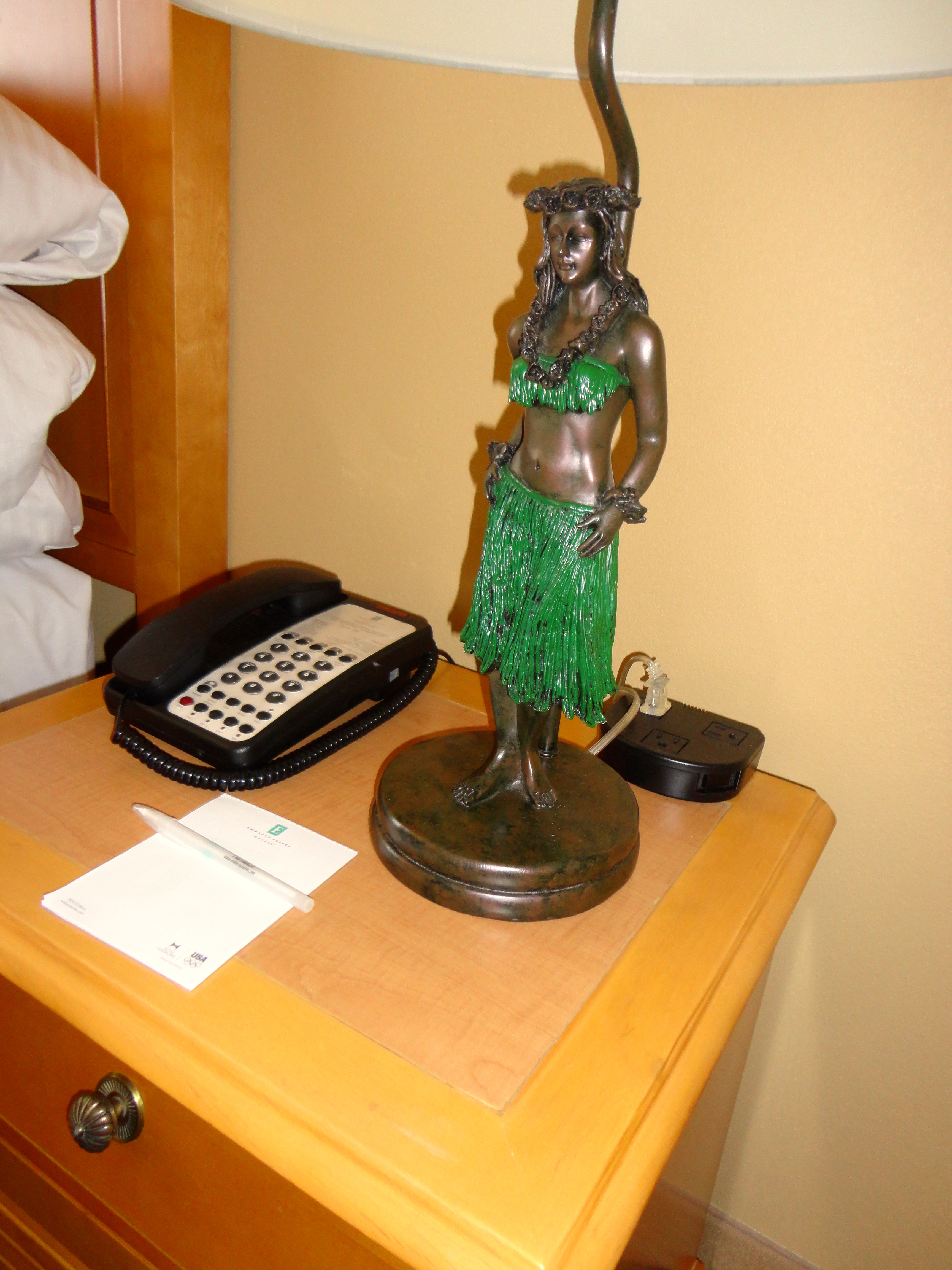 Hey, what's wrong with a little John Waters style kitsch from time to time?
How about you? Do you like a little "local flavor" infused into the style and atmosphere of your hotel?