I've written in an earlier post about the use of the Big Three Points Currencies as a hedge against future loyalty program devaluations. You can use one or a combination of various cards to amass Ultimate Rewards, Membership Rewards and/or Starwood Preferred Guest points through your daily spending. In addition, you can pool your Pointing efforts across multiple programs to accelerate progress toward airline award redemptions. In particular, British Airways, Virgin Atlantic and Singapore Airlines allow for 1-to-1 transfers from all of the Big Three Points Currencies.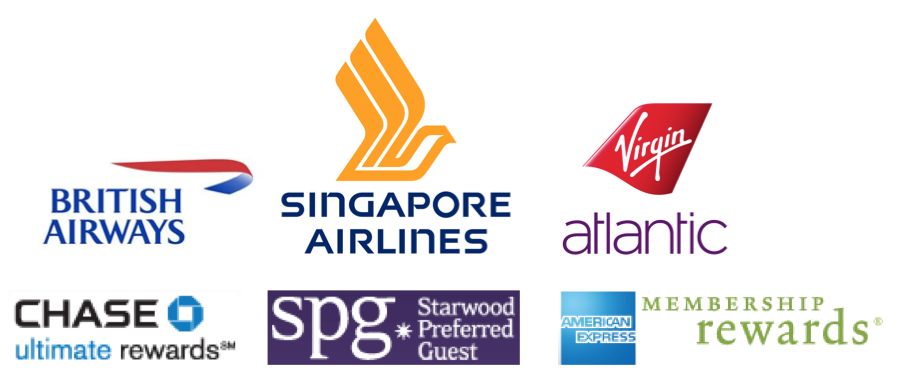 Here's a quick summary of what you can get for your points:
British Airways
British Airways (BA) doesn't publish an actual "award chart" but rather provides an Avios Calculator to determine the number of points required for award redemptions. British Airways employs a "distance-based" formula that requires more points the farther you fly. In addition, BA is notorious for charging very high fuel surcharges on it's own flights. For example, here's how much it would cost to fly round-trip from my hometown of Chicago to London:
Economy:       40,000 Avios Points plus $507
Business:        80,000 Avios Points plus $877
First:               120,000 Avios Points plus $877
However, because British Airways is part of the Oneworld airline alliance, by flying on one of its partner airlines you can take advantage of a number of "sweet spots" on the award chart. Specifically, British Airways Avios points can be a good value when flying on American Airlines / US Airways, Aer Lingus or Air Berlin. Here are a selection of round-trip itineraries on these carriers that are pretty reasonable from a points / fee perspective:
Chicago to New York (Economy):    15,000 Avios Points plus $2.50
Chicago to Dublin (Business):             80,000 Avios Points plus $0.00
Chicago to Berlin (Business):              100,000 Avios Points plus $0.00
Virgin Atlantic
Richard Branson's airline follows a similar distance-based formula as BA and socks you with fuel surcharges as well. Virgin's Spending Calculator prices out Chicago-London fares as follows:
Economy:       35,000 points plus $645.10 to $774.12
Business:        90,000 points plus $1,120 to $1,344
Although BA's fuel surcharges are high, Virgin Atlantic's fee are even higher. At these rates, what you're basically getting for your points is the opportunity to buy a discounted economy class transatlantic ticket (e.g., prices on American and United tend to average around $1000-$1200 round-trip) or a business class ticket for the price of economy (note: Virgin's Business or "Upper Class" costs approximately $5,600 round-trip).
Is it worth all the points and fees for a Virgin Atlantic award redemption? Well, I guess you'll have to judge for yourself how much you value access to an in-flight bar in Upper Class.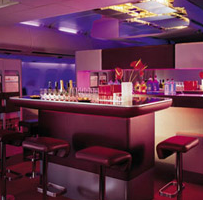 Source: Virgin Atlantic
Singapore Airlines
This past week, the Chase Ultimate Rewards program introduced Singapore Airlines as its newest point transfer travel partner.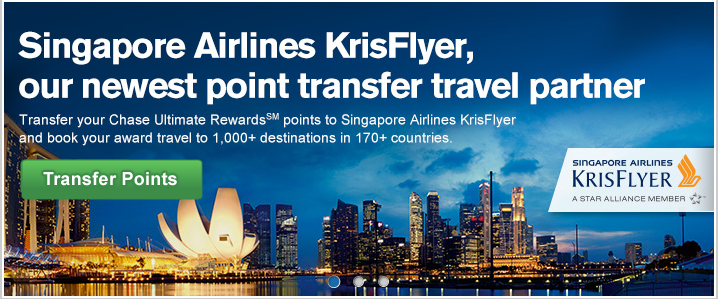 This makes the carrier the third airline to which you can transfer all three of the major flexible points currencies.
Singapore Airline's KrisFlyer Star Alliance Award Chart employs a zone-based system and imposes fuel surcharges on its award tickets. However, the fees are slightly lower than those charged by British Airways. Although you do receive a 15% points discount by booking your award online, any itinerary that requires the use of a partner airline (e.g., United, etc.) must be booked with an agent through Singapore Airline's U.S. call center. Sample redemption rates for a round-trip award ticket from Chicago to Singapore are as follows:
Economy:       110,000 points
Business:        195,000 points
First:               225,000 points
Singapore Airlines charges a hefty premium for travel through its program that rivals the new "Partner Award" rates charged by United following its major devaluation earlier this year. That said, Singapore Airlines is known for its exemplary in-flight service. In addition, the airline's Suites Class offered on it A380 service out of Los Angeles takes the meaning of First Class to a new level.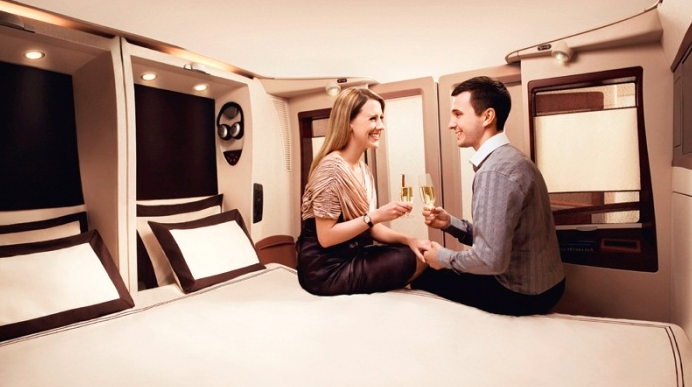 Source: Singapore Airlines
I have to admit that I have weak spot for any airline that offers a bed in the sky.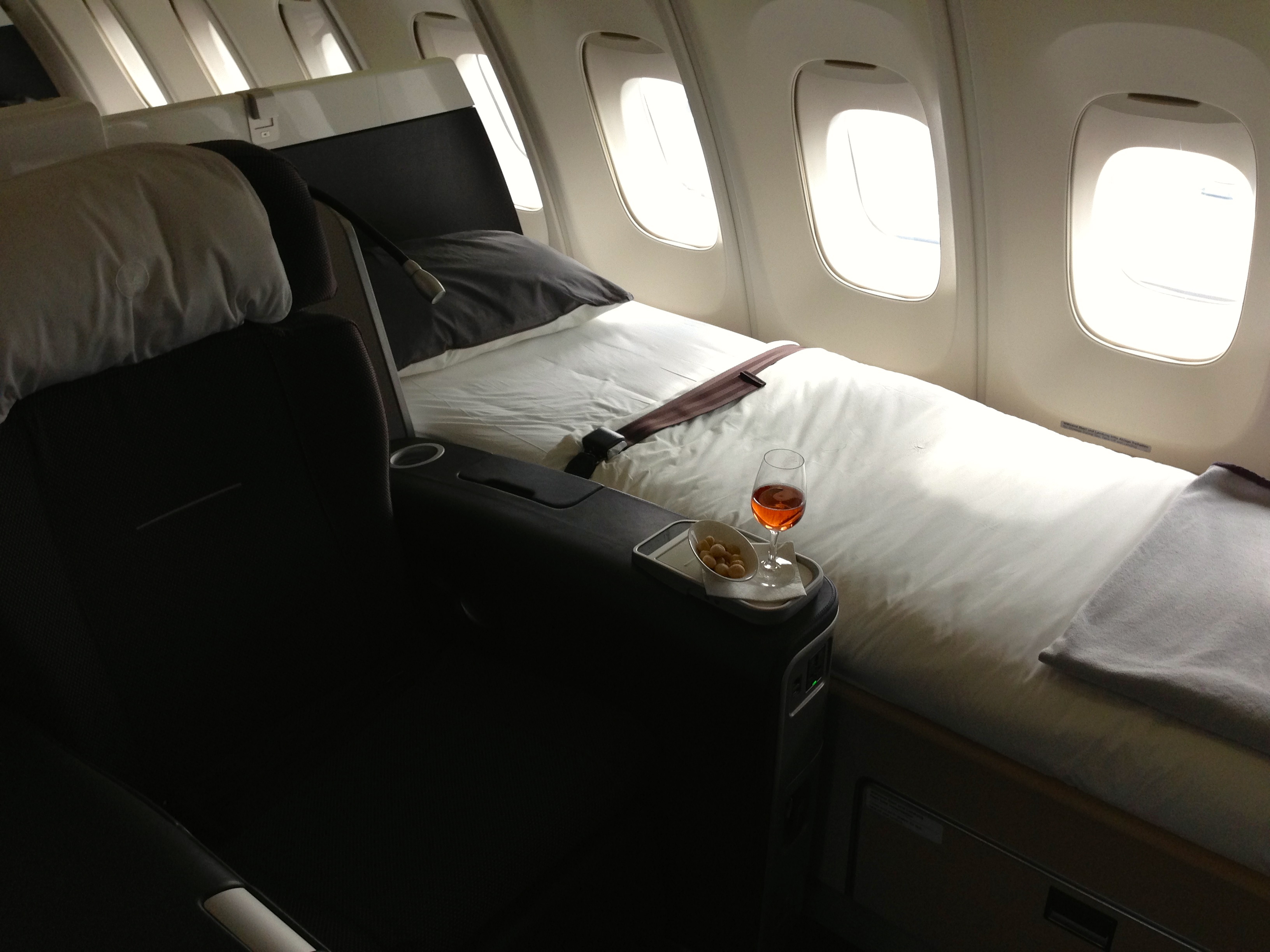 Lufthansa First Class Bed
As a result, a Singapore Airlines Suites Class seat / bed clearly falls into my aspirational "bucket list" award redemption category. It's important to note that Singapore Airlines very rarely releases award space in its premium cabins to its Star Alliance partners. Therefore, being able to transfer points from three different points currencies into the carrier's KrisFlyer program makes a Suites Class redemption so much more achievable.
The ability to "triple dip" from the Big Three Points Currencies into these airlines adds some great options for your Pointing efforts. Have you ever used multiple loyalty programs to redeem a travel award? What has been your experience?