I've never flown on a US Airways flight. It has been two years since I've stepped foot on American Airlines metal.  Why, then, am I collecting miles on airlines that I never fly?
Well, a good Pointer, umm, makes it a point, to diversify their balances across multiple loyalty programs.  I'm already directing my daily spending towards accumulation of the major points currencies. However, another element of my Pointing strategy is to participate in selected frequent flyer programs that align with my broader award redemption goals.  For example, I'm a member of Lufthansa's Miles & More program because I've developed a somewhat unhealthy fascination with the airline's First Class service (oh, and the Rubber Duckies that are available in its First Class Terminal). Similarly, amassing American and US Airways miles provides me a way to access awards available through another one of the major airline alliances.

Most of my awards to date have been redeemed on such major Star Alliance carriers as United, Lufthansa and Thai Airways. However, both American and US Airways belong to the OneWorld alliance whose fellow members include such airlines as British Airways, Cathay Pacific, Japan Airlines and Qantas. In addition, the ongoing merger between American and US Airways has provided a window of opportunity to collect (and eventually combine) a lot of frequent flyer miles pretty quickly.
Citi Platinum Select / AAdvantage World MasterCard 50,000 Bonus Miles Offer
Currently, an offer for 30,000 American Airlines AAdvantage bonus miles (after making $1,000 in purchases within three months) is available through both the American Airlines and Citi websites for the Citi Platinum Select AAdvantage World MasterCard.  However, a better bonus offer is out there! For example, my Partner F recently received a targeted credit card promotion in the mail from Citi that offers 50,000 AAdvantage bonus miles after spending $3,000 within the first three months of cardmembership.  The same offer (along with the full terms and conditions) is available online at this link and a summary is listed below.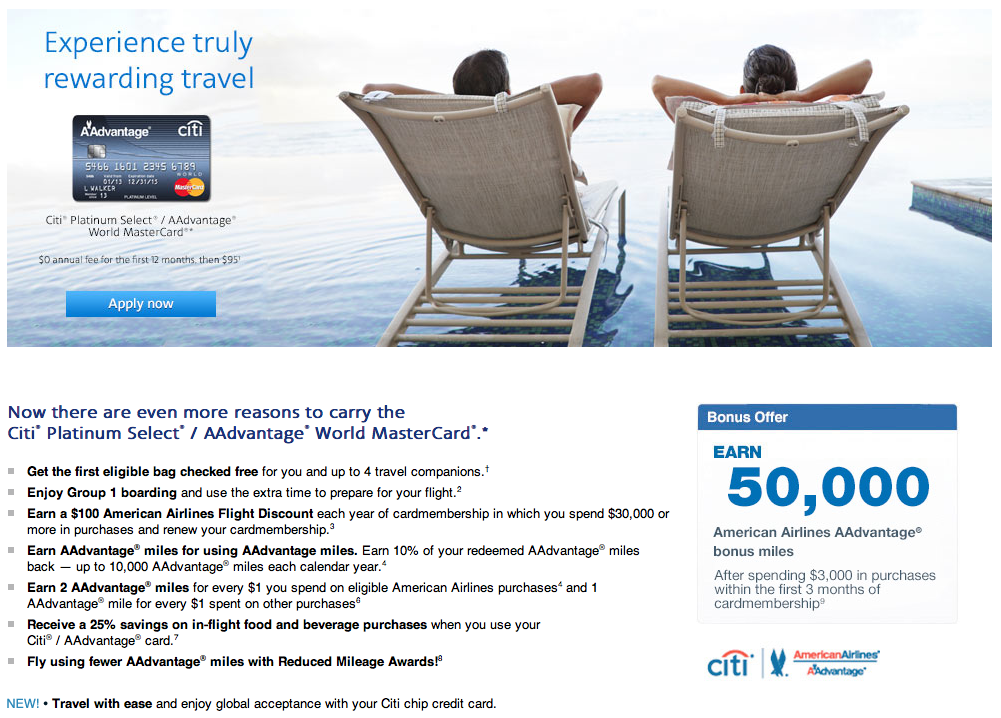 Both offers waive the $95 annual fee for the first year.  You'll just have to decide which of the spending requirements you'll need to meet in order to receive the mileage bonus best aligns with your budget and purchasing patterns.
US Airways Premier World MasterCard 40,000 Bonus Miles Offer
Another Pointing opportunity is available by applying for the US Airways Premier World MasterCard issued by BarclayCard. This offer (along with full terms and conditions) may be found at this link and a summary is listed below.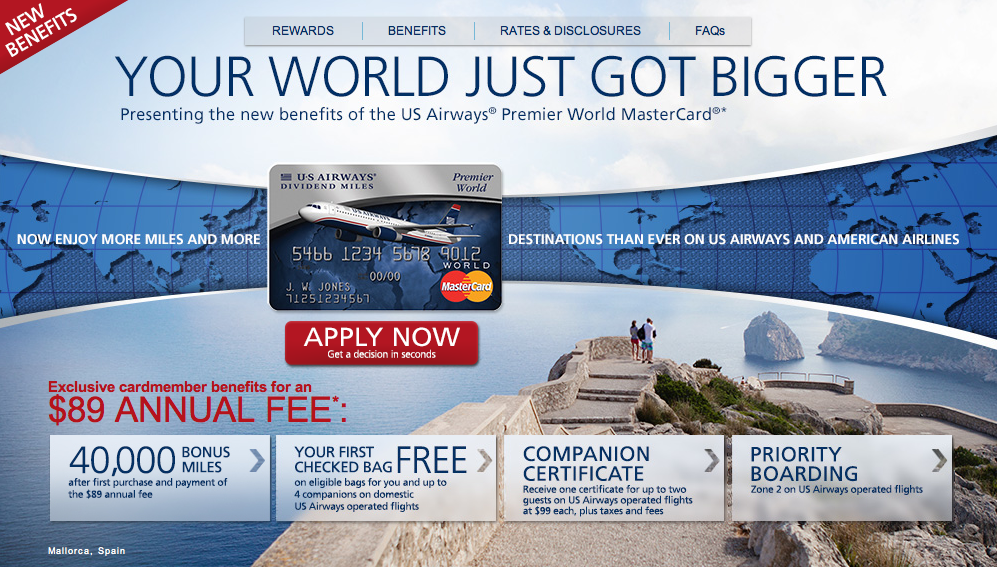 Although the $89 annual fee is not waived for the first year, what makes this offer stand out is that you'll receive your 40,000 bonus miles after only your first purchase.
Why Apply For Both Cards?
American Airlines and US Airways are in the process of merging.  Both carriers have started to align the various elements of their frequent flyer programs.  Although American's AAdvantage program and US Airways' Dividend Miles program are currently operating as separate entities, it's now possible for you to redeem awards for travel across both carriers.  In addition, the airlines are also members of the OneWorld alliance which further widens the award redemption possibilities. However, things start to get even more interesting once the two programs combine.
Given that you only need to make a single purchase on the US Airways MasterCard to receive your bonus miles, this allows you to direct the rest of your spending to meeting the bonus mile requirements on your AAdvantage MasterCard. It's anticipated that the Dividend Miles program will merge with the AAdvantage program in 2015.  Although an exact date has not been announced, many sources anticipate that the consolidation of both frequent flyer programs will occur during the first quarter of 2015. Once this happens, you'll have a nice balance of 90,000 miles in your account.
What Can You Do With Those Miles?
Well, if all those miles are burning a hole in your virtual wallet (and you don't wish to wait for the merger of the programs), you can start redeeming them for round-trip domestic Economy awards for as low as 25,000 miles per person.  Getting to Hawaii on American in Economy is possible for as low as 35,000 miles round-trip per person while on US Airways it will cost you 40,000 miles. In addition, holders of the AAdvantage MasterCard earn 10% of their redeemed miles back while US Airways MasterCard holders receive a 5,000 mile discount on awards flown on US Airways metal.
If you do wait for the combination of both programs, you'll have a great head start toward having enough miles for an international premium cabin award. In addition, both American and US Airways are Starwood American Express transfer partners.  Therefore, you'll be able to turn your Starpoints earned on that card into airline miles should you need to "top off" your AAdvantage and/or Dividend Mile accounts.
For more information on the different award possibilities, check out each of the airlines award charts found in the links below:
American Airlines OneWorld Partner Award Chart
US Airways OneWorld Partner Award Chart
However, a major caveat to waiting for the program merger is that CHANGE WILL BE INEVITABLE.  Although, I'm not expecting a major bloodbath like the United Devaluation earlier this year, it's certain that there will be changes to the various award charts once the programs are combined.
Where Do We Go From Here?
However, it's just this type of uncertainty in the Pointing world that reinforces the need to hedge my bets.  The diversification that I exercise in my various miles & points accumulation strategies not only protects me from future devaluations but also creates options for some really exciting award possibilities.  In fact, in an upcoming post, I'll talk about how this type of "mixing and matching" of award programs allowed me to craft a pretty awesome First Class Round-the World award. Stay tuned and be prepared!
How about you? Have you given any thought to simultaneously applying for multiple credit cards in order to earn the extra bonus miles?
Disclaimer: Please bear in mind that I am NOT a professional financial advisor by any means.  My discussion of credit card strategies or other financial matters are based on my own personal experiences and financial situation. In addition, I am not an employee of any of the financial institutions that issue the cards discussed nor do I receive any compensation for discussing these products. The reader is solely responsible for any financial actions that he/she may choose to undertake. Make sure you read of the "fine print" in the Terms & Conditions for all of the offers mentioned.