We went to Italy last summer and all I have to show for it is a leather man purse … Oh yeah, and some Disco-era swim trunks as well as a jacket that either Johnny Carson or Rodney Dangerfield would have been proud to wear in their heydays.
Some of my best souvenir finds arise from the unexpected. For example, after checking into the Hotel Marincanto, our beautiful lodgings in Positano, my Partner F and I decided to hit the streets of this gorgeous seaside town in order to get our bearings.  A few steps away from the hotel, we spotted the following two gentlemen in a store window: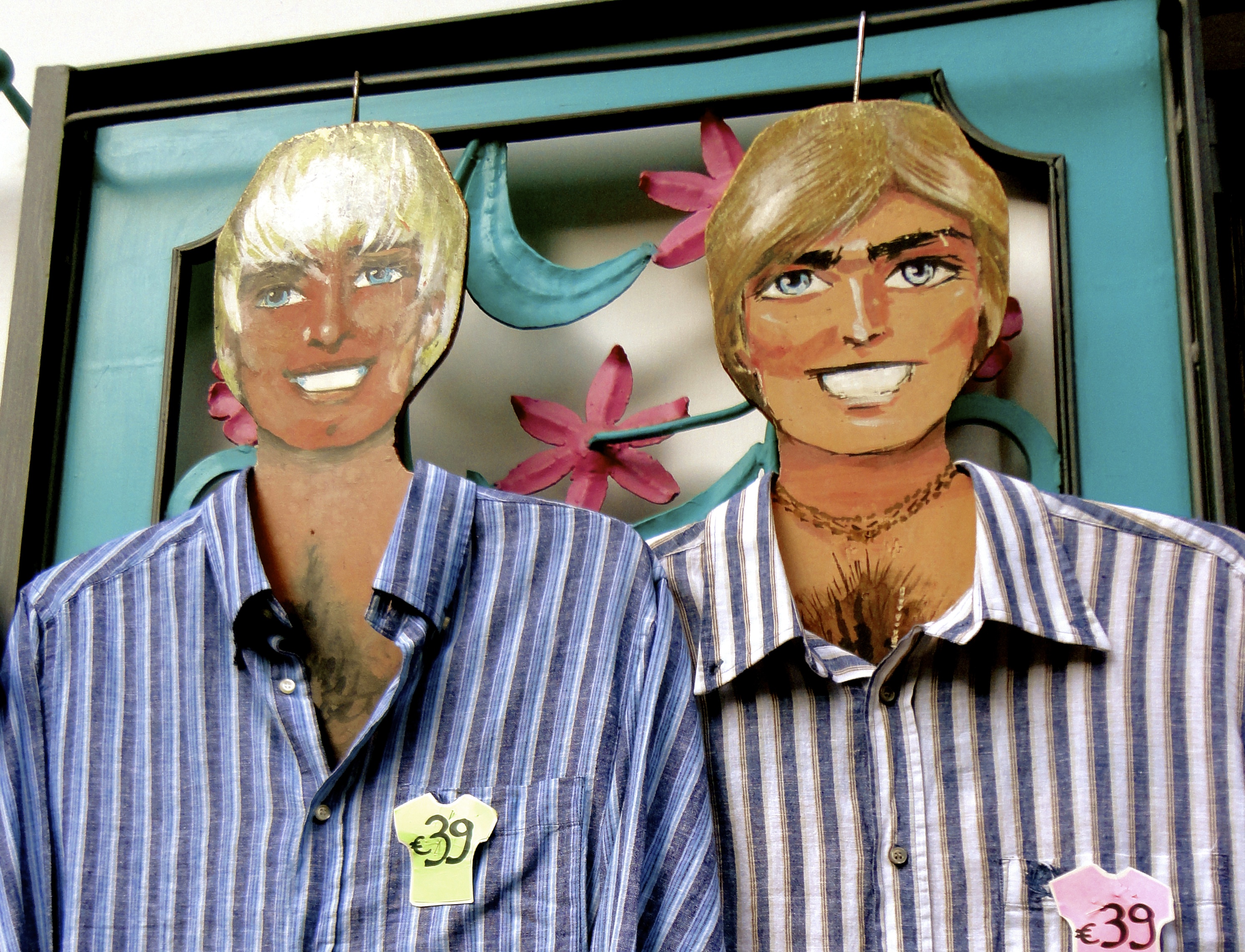 Maria Lampo is the owner of the shop and a longstanding fixture on the Positano resort apparel scene. I'd describe her design style as bold, colorful and harking back to a peasant influenced, Disco-era aesthetic.  In my opinion, the late 1970s will NEVER go out to style.
As we browsed the racks of colorful clothing we noticed framed photos on the walls of the various celebrities who have made their way to this little boutique. In my halting Italian, I asked one of the salespeople whether they carried a particular style of paisley-patterned "disco swimsuit" in a men's husky size. Over the course of our conversation I commented on the familiar faces on the wall posing with the proprietor.  Suddenly, out of the corner of the room I hear a loud and cheery voice exclaim: I AM MARIA!!!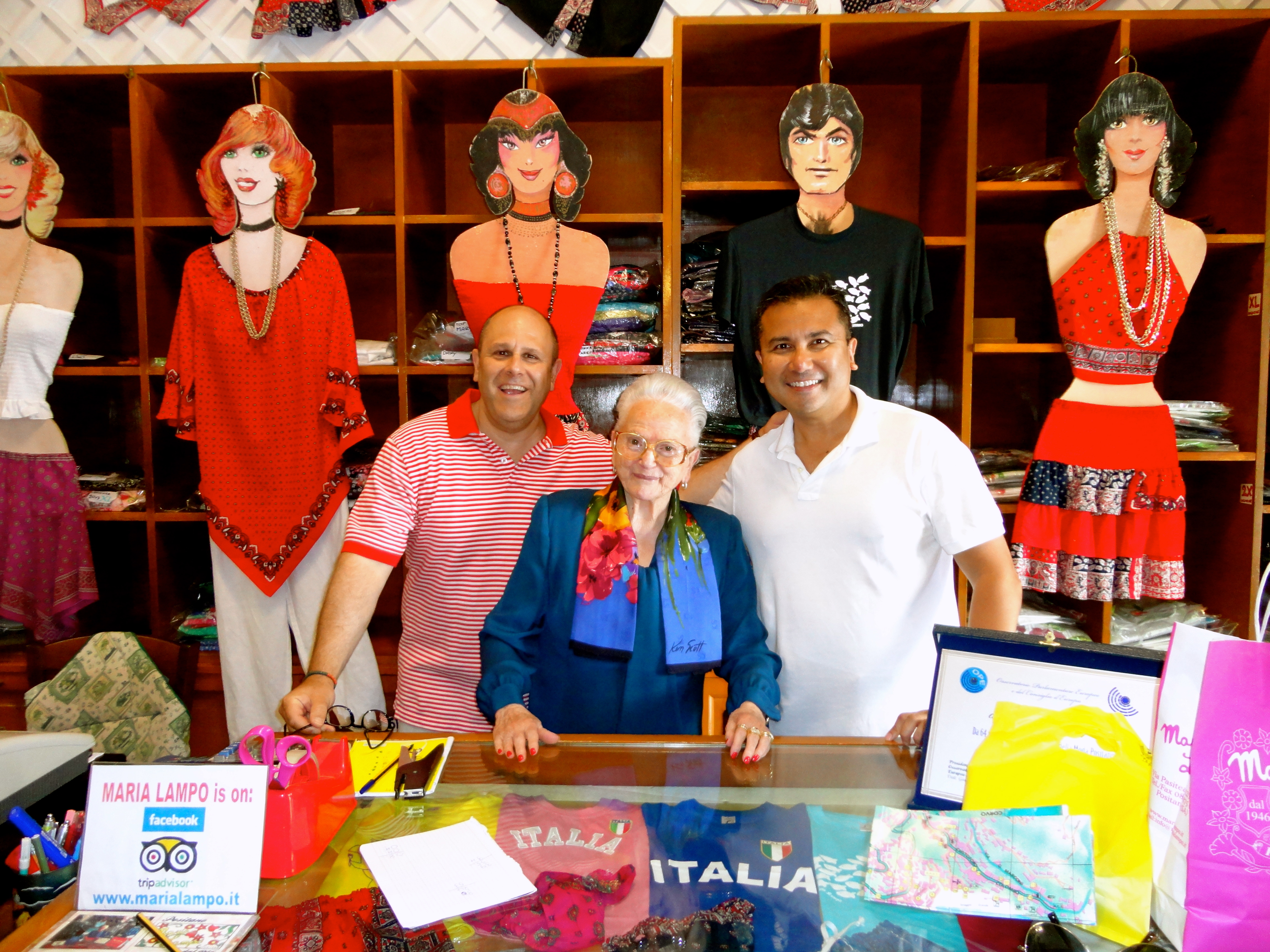 Maria graciously let us take a picture with her and we followed in the footsteps of such stars as Dustin Hoffman, Billy Zane and Colin Farrell. I don't think we'll make it on the store's "celebrity wall."  However, we did receive a lovely red handkerchief as a complimentary parting gift from this very sweet woman.
Maria Lampo
Via Pasitea, 12/14/16
Positano
Website:  www.marialampo.it
Facebook: www.facebook.com/pages/Maria-Lampo/104880459665
Telephone: 089 875021
A few days later, we left the Amalfi Coast and took the high-speed train from Naples to Florence. Florence is one of our favorite destinations in the world.  Once we enjoyed the city's marvelous culture, food, and views, our attention turned towards SHOPPING.
We spent a long morning wandering around Florence's San Lorenzo Market.  After a few hours of exploring the multiple stalls, we were about to reach our "shopping saturation point" when we made one last stop at a vendor of high quality leather goods. Adriano Pelletteria's shop was located right behind the stall and we stepped inside.
I don't know. Maybe it was the thrill of being surrounded by such beautifully crafted leather goods. Alternatively, it could have been the heat of the day that clouded our judgment.  However, after a few minutes in the store the concept of owning a "man purse" suddenly seemed very logical.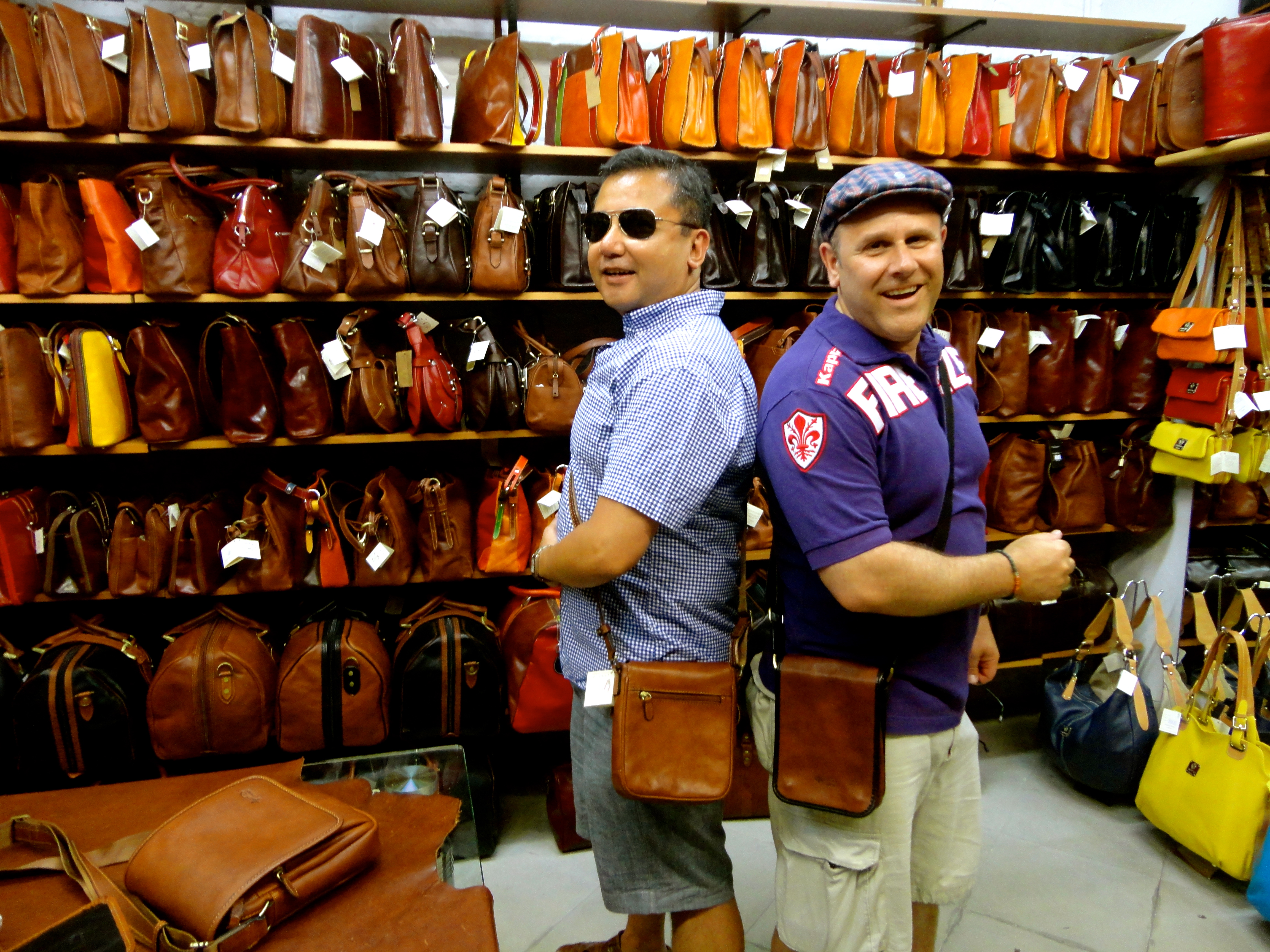 After all, it was big enough to carry our iPhones, guidebooks and spare change so the bag was PRACTICAL, wasn't it?  Plus, there were all those Italian, French and Spanish guys walking around and THEY looked perfectly naturally sporting the bags.  I guess the only question that remained was "Who wore it best?"  (note: Please be gentle with your comments folks!).
Adriano Pelletaria
Stand n. 83 – Via dell'Ariento, 43
Florence
Website: www.pelletteriadriano.it
Telephone: 055 281654
Finally, we were on our way to visit Santa Croce when all of a sudden another bright and sparkly item distracted us. Well, actually in the case it was a plaid jacket that caught my Partner F's attention. We just had to pop into this clothing store for a few minutes …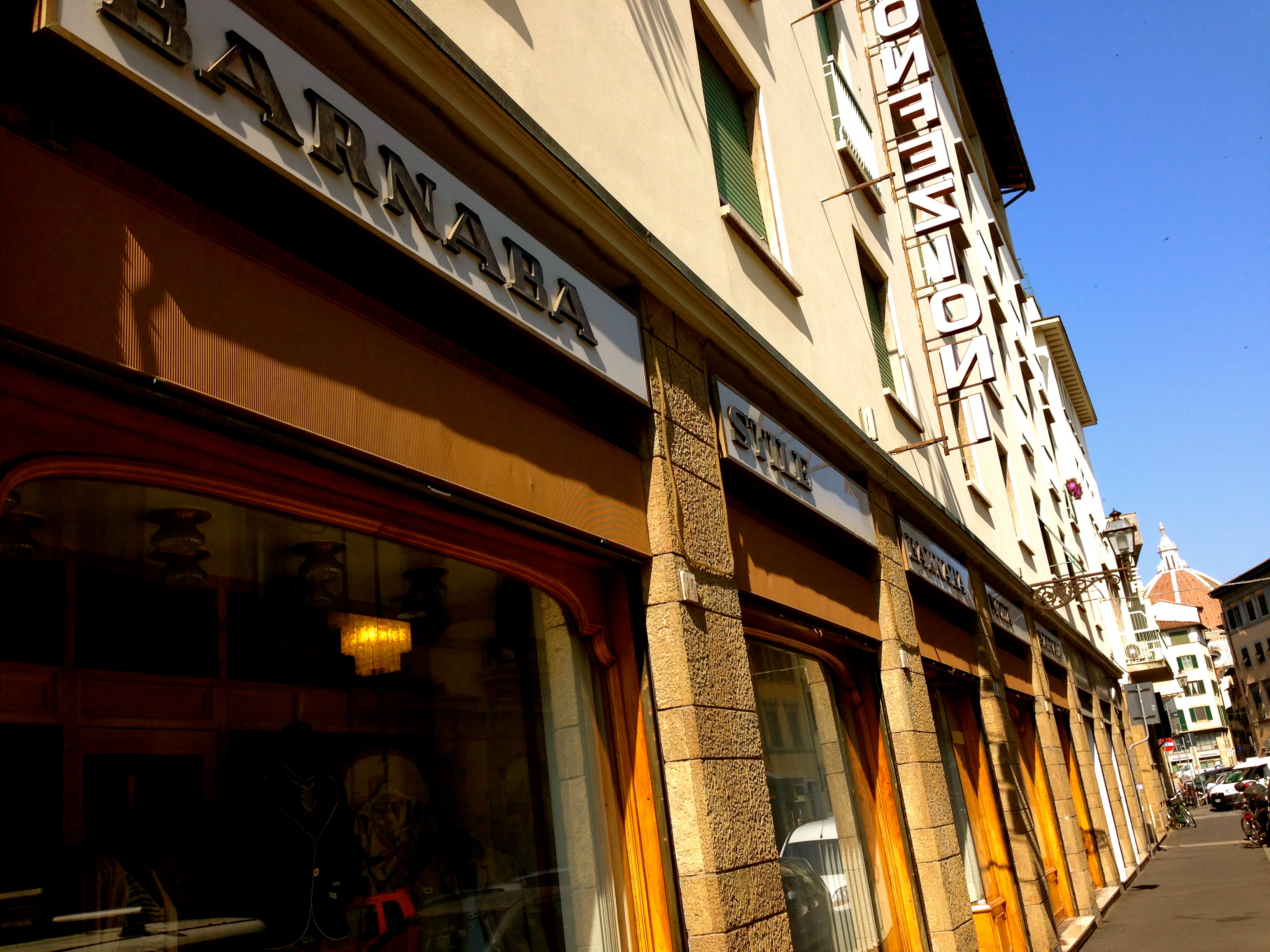 Barnaba carries a full line of tailored men's and women's apparel (much of it with an English influence). It seems like it had been a slow shopping day prior to our arrival.  Once the Americans gushing over "vintage this and vintage that" walked in, the two women working in the shop that day sprung into action and started bringing out various for items for us to look over …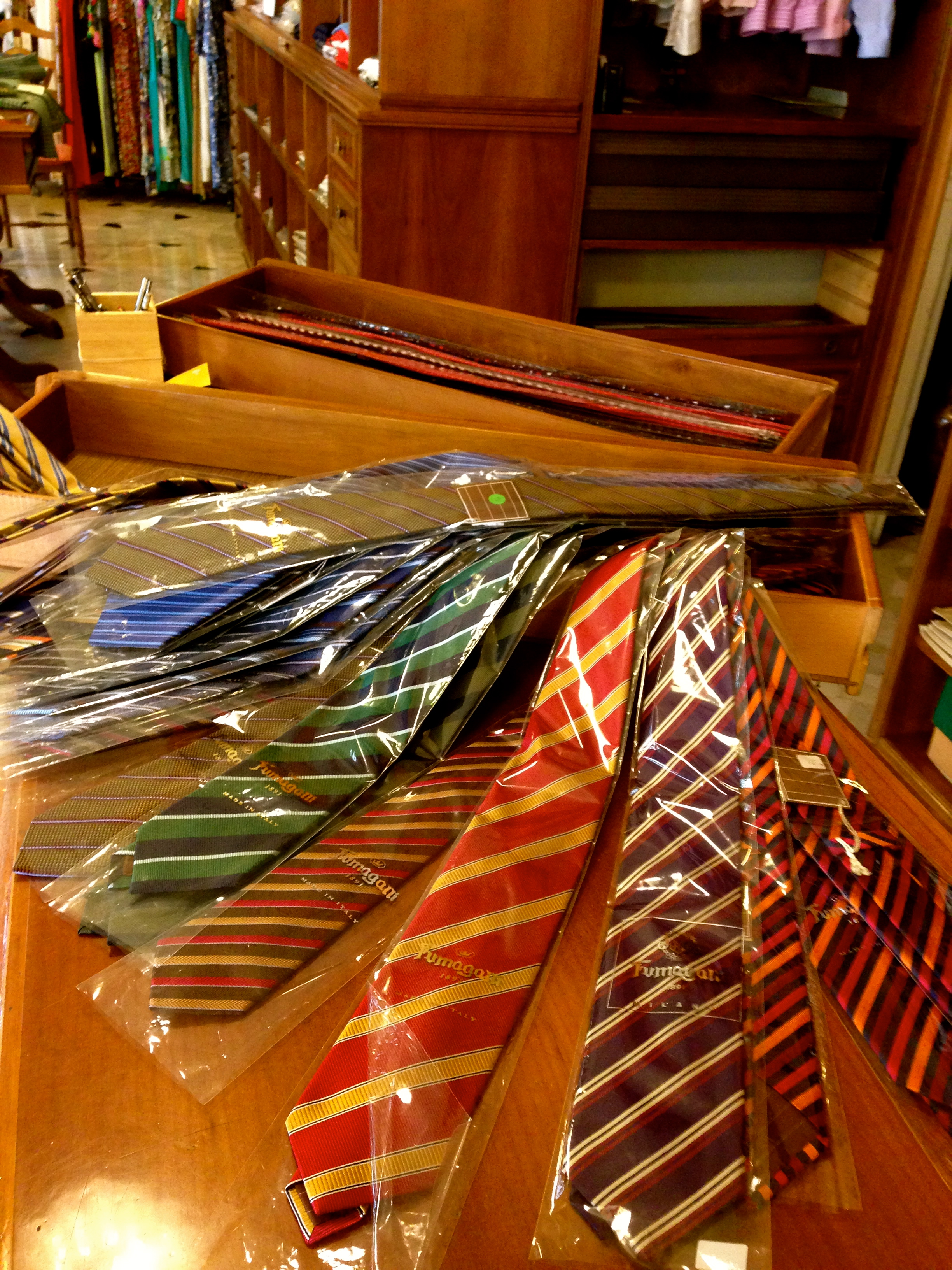 Of course, our main reason for being there were those plaid jackets that we just had to have …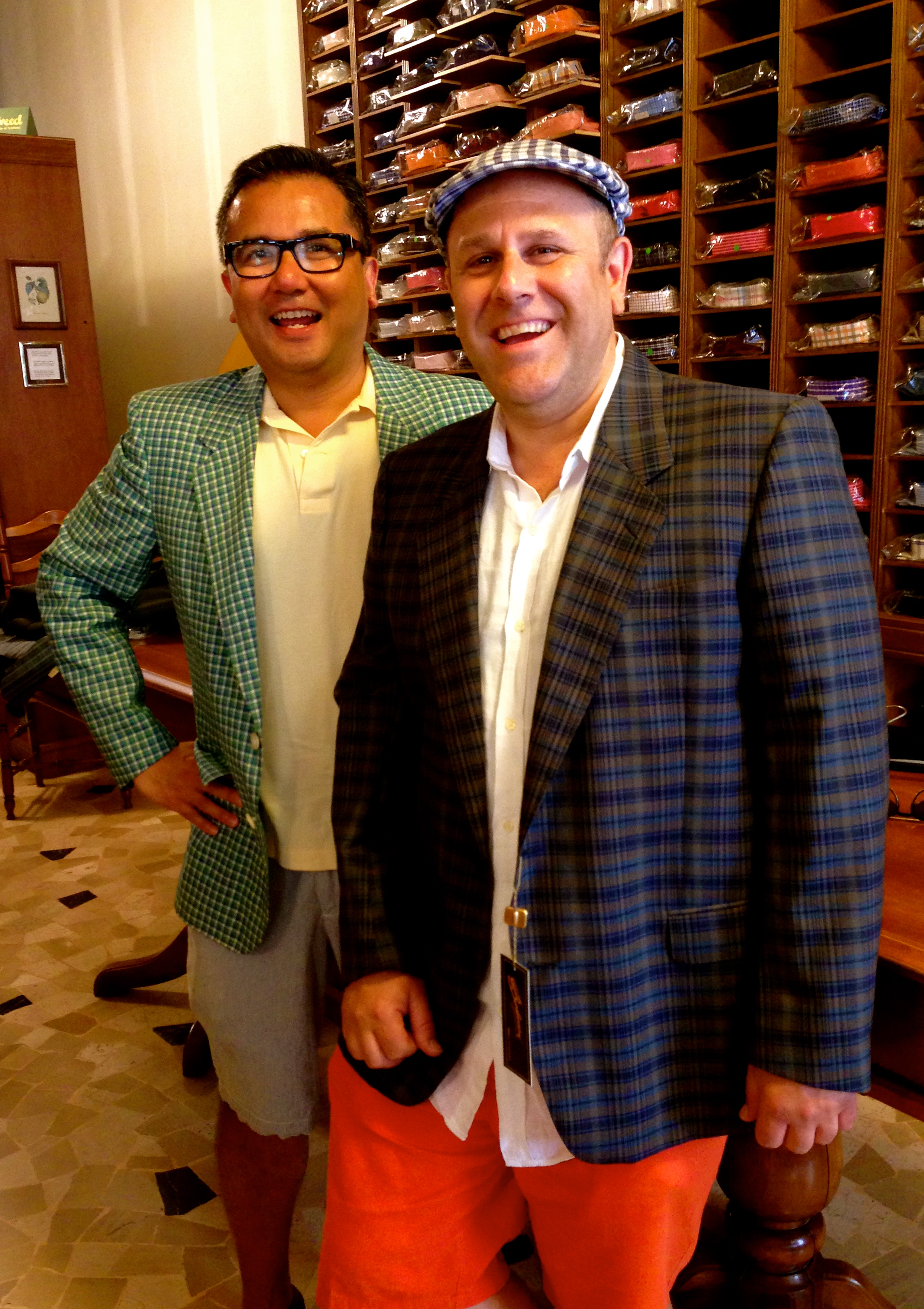 Barnaba
Via Martiri del Popolo, 47-55r
Florence
Telephone: 055 240707
I'll be the first to admit that when on holiday I've been known to suspend any normal sensibilities regarding practicality or taste when I'm in a souvenir-shopping mode.  Therefore, I'll bet you're wondering just how many of our Italian purchases made it out onto the streets of our hometown. Well I did hang out at the pool in my disco swimsuit … but with a towel strategically draped over me most of the time.  Oh, and sadly the man purse is still enjoying a restful slumber in the pretty felt bag it came in.  However, as for that plaid green jacket …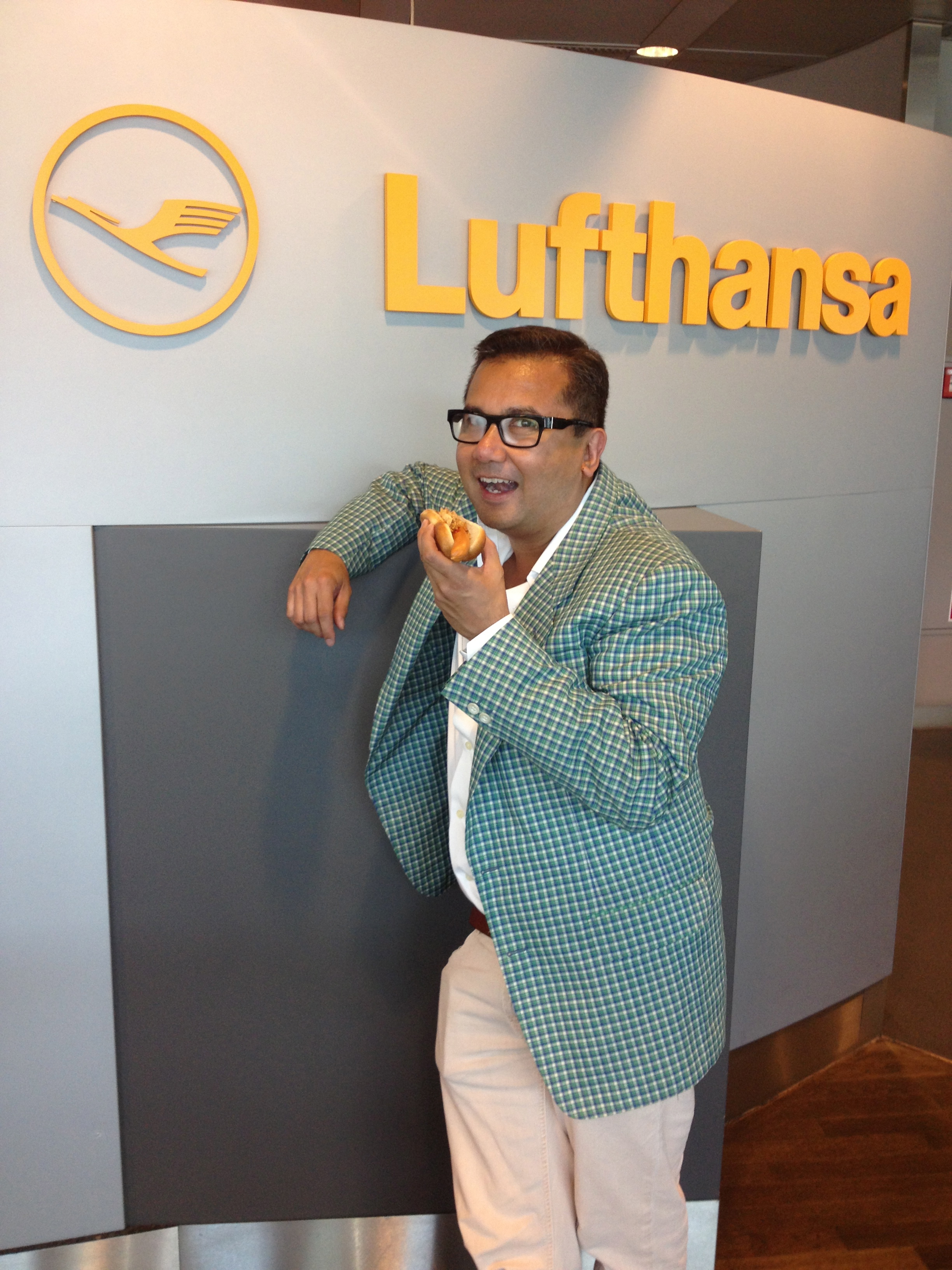 … I come up with any excuse possible to wear it!
Yes, we do tend to "over buy" when we go away on vacation.  However, in addition to coming home with overstuffed suitcases that bump up against most airlines' allotted weight limits, we also return with some fun stories about how we came across those particular souvenirs as well.
How about you? Do you have any "souvenir stories" to tell? I'd love to hear them!