I've been experiencing a bit of premium cabin travel envy lately. By using the bonus points he accumulated during last year's American Airlines / US Airways credit card offers, I recently scored a seat for my Partner F in British Airways First Class for his recent trip to London.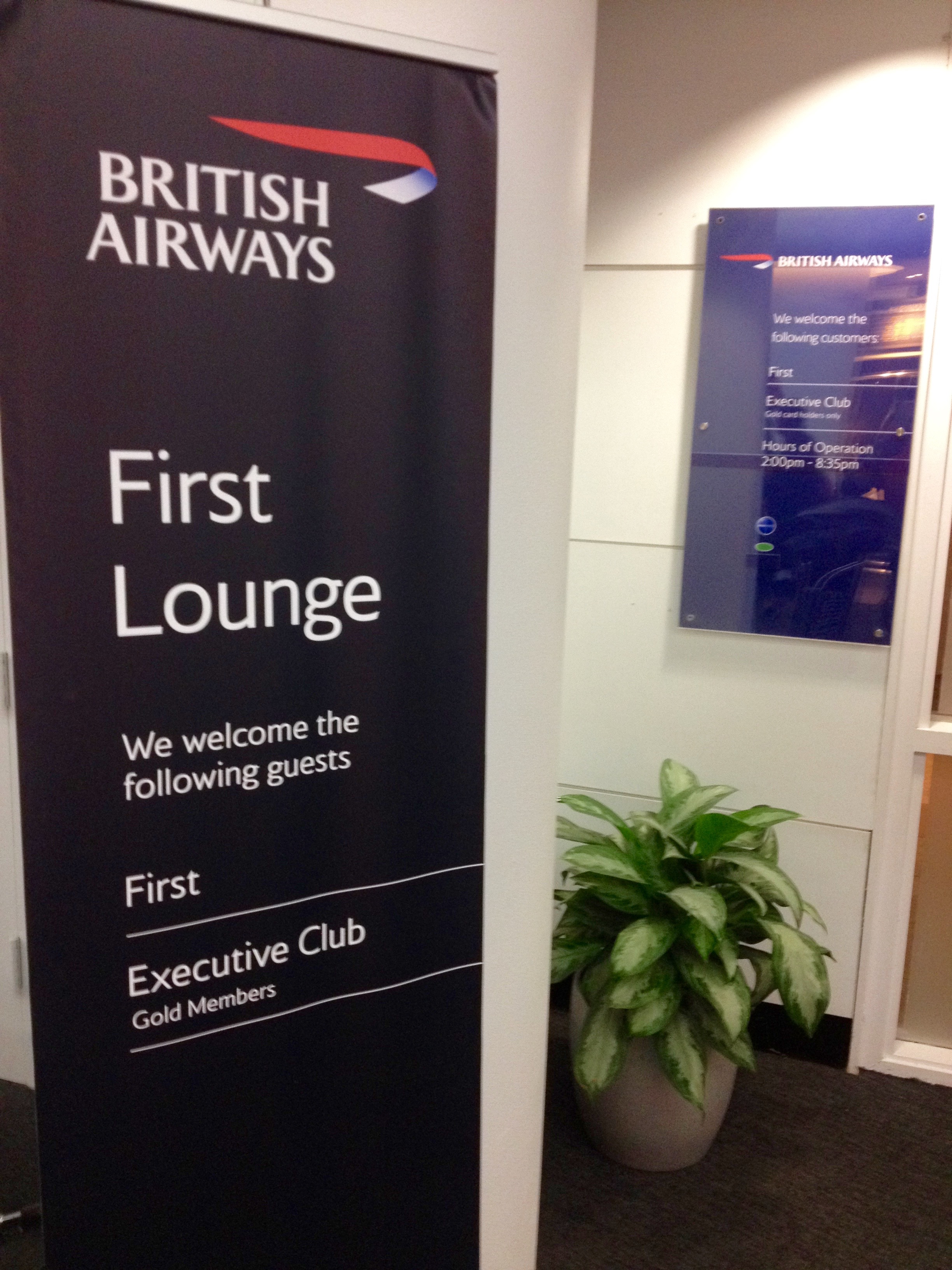 Fortunately, the opportunity to potentially earn up to 100,000 British Airways Avios Points has recently surfaced.

However, are Avios points the best way for me to reach my aspirational Pointing goals? Read on …
British Airways Visa Card 100K Bonus Points Offer
Bonus points associated with the credit card are awarded once you meet specific earning thresholds. The specifics are outlined below: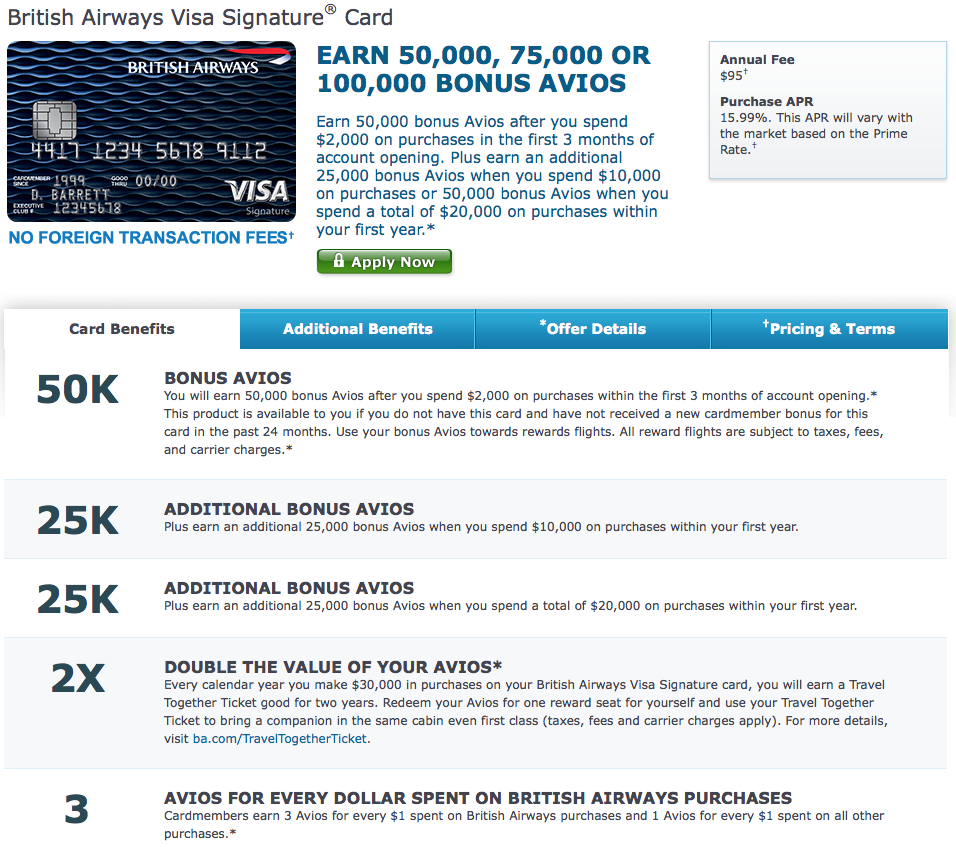 It has been about a year and half since the last time this bonus opportunity was offered so I decided to pull the trigger and get the card. However, although I have my own reasons for getting the card, should you as well? Before you go running out to sign up for this card, it's important to have an understanding of how the British Airways Avios program operates.
Using British Airways Avios Points
When using this program, it's important to note that British Airways employs a "distance-based" formula that requires more points the farther you fly. In addition, BA is notorious for charging very high fuel surcharges on it's own flights.
When booking an Avios award, you're given multiple points / surcharge options. If I were to try and minimize the amount I spend on the surcharges, here's how much it would cost to fly round-trip from my hometown of Chicago to London:
Economy:       26,000 Avios Points plus $701
Business:        100,000 Avios Points plus $1,186
First:                  136,000 Avios Points plus $1,186
Alternatively, because British Airways is part of the Oneworld airline alliance, by flying on one of its partner airlines you can take advantage of a few "sweet spots" on the award chart. For example, British Airways Avios points can be a good value when flying on American Airlines short and medium-haul flights within the U.S.
Chicago to New York (Economy):              15,000 Avios Points plus $11
New York to DC (Economy):                            9,000 Avios Points plus $11
You can also blunt the effect of some of those extra fees by grabbing a seat on such Oneworld carriers as Air Berlin, Cathay Pacific or Japan Airlines.
Chicago to Berlin (Business):                  150,000 Avios Points plus $136
Chicago to Tokyo (Business):                  180,000 Avios Points plus $263
Chicago to Tokyo (First):                           240,000 Avios Points plus $263
Chicago to Hong Kong (Business):      210,000 Avios Points plus $127
Chicago to Hong Kong (First):               280,000 Avios Points plus $127
British Airways also offers a couple of ways for a household to pool their efforts in order to redeem an award. For example, the airline's Executive Club frequent flyer program allows you to set up a Household Account with up to six people who live at your same address. In addition, holders of the British Airways Visa Card who make $30,000 in purchases in a single calendar year receive a Travel Together Ticket. This perk allows the holder to book two seats for the Avios points price of a single award. The Travel Together Ticket is valid for two years but requires that each traveler pay the taxes, fees and surcharges associated with each individual ticket.
Should you sign up for the British Airways Visa Card?
A 100,000 points bonus looks really tempting since those types of offers don't come up too often. However, if you're a beginner to the miles and points accumulation game (what I like to call Pointing), I'd recommend holding off on signing up for the card. There are better loyalty programs and accumulation methods that I'd try to tackle first.
For example, other than the 3X bonus you receive on British Airways purchases, the card only awards a single point for all other spending. As I've written previously, you want to make sure that you're maximizing your points earning capabilities by using cards that provide you with bonuses for your daily spending such as travel, dining, gas and grocery expenses.
In addition, you need to protect yourself against future loyalty program devaluations. Therefore, it would be prudent to understand how the major points currencies operate. As part of your education process, you should evaluate the cards that would enable you to earn those currencies.
So why did I sign up for the British Airways Visa Card?
There are a number of reasons I decided to sign up for this credit card. For example, another way to look at the 100K points bonus is that you're receiving a 5X bonus for ALL of your spending up to $20,000 for the first year that you hold the card. In addition, BA's U.S domestic award "sweet spots" will be great to use for quick short-to-medium haul weekend getaways. Finally, the Travel Together Ticket associated with the card provides a nice way to make an aspirational travel experience more attainable (e.g. you can effectively receive a First Class seat for the price of an Economy ticket).
I consider British Airways Avios a "niche currency" that I'll use for specific types of awards. The program is just one element in my arsenal of Pointing tools. What's your view of taking advantage of the British Airways Visa 100K Points Bonus?
Disclaimer: Please bear in mind that I am NOT a professional financial advisor by any means. My discussion of credit card strategies or other financial matters are based on my own personal experiences and financial situation. In addition, I am not an employee of any of the financial institutions that issue the cards discussed nor do I receive any compensation for discussing these products. The reader is solely responsible for any financial actions that he/she may choose to undertake. Make sure you read of the "fine print" in the Terms & Conditions for all of the offers mentioned.