In advance of last year's major devaluation of United's MileagePlus program, My Partner F and I raided our Household Points Kitty for a New Year trip to Amsterdam and Paris. In addition to ringing in the New Year in view of the Eiffel Tower …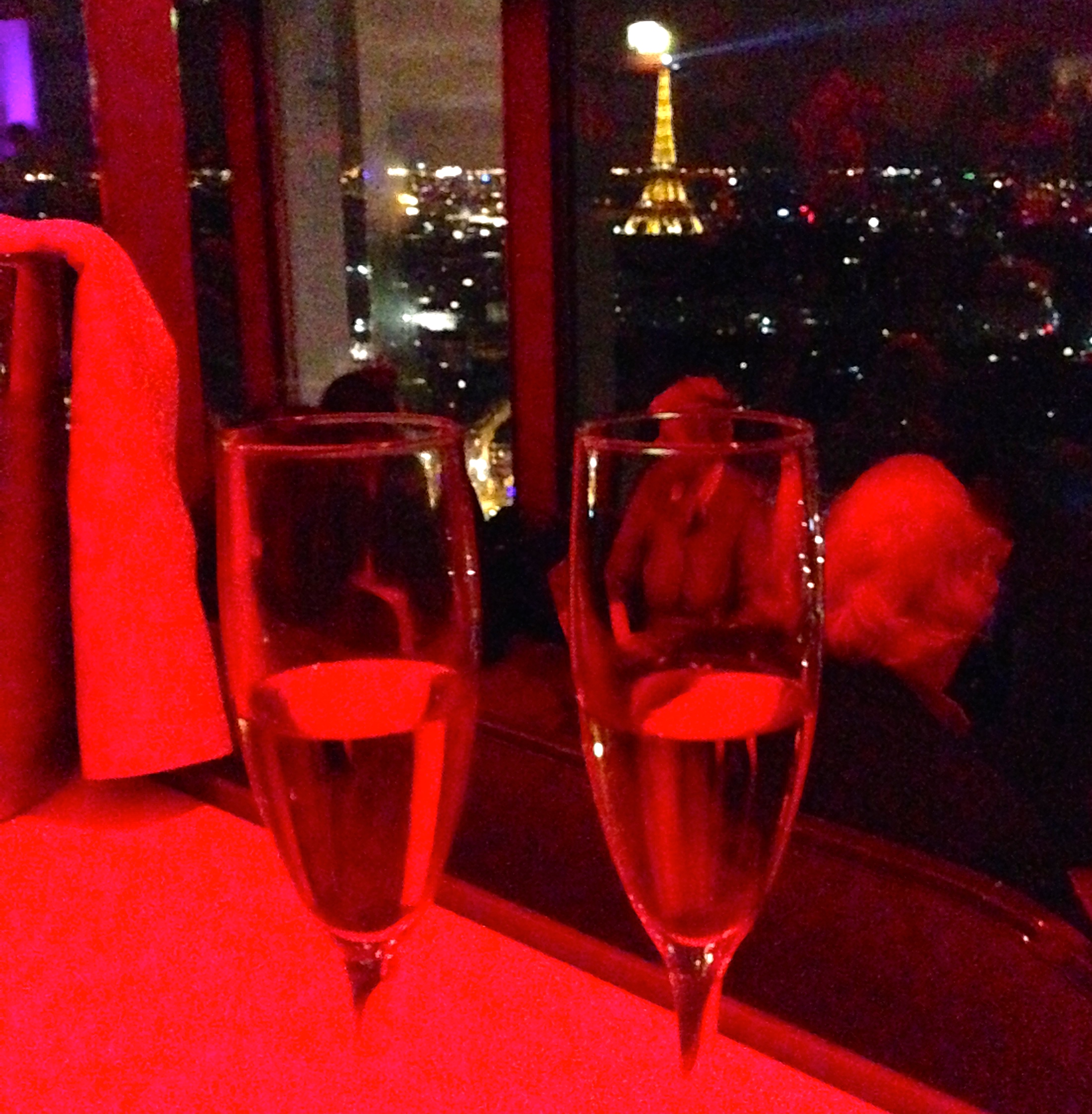 … we scored a couple of Business Class seats to Europe before the cost to redeem our miles shot up. You see, when you play the Miles and Points "Game" (what I like to call Pointing), you need to constantly be mindful of the principle of Earn and Burn.
United is my longtime "home airline. However, after a taste of luxury in Lufthansa's Frankfurt First Class Terminal and stretching out in a private bed on upper deck of one of one its 747s …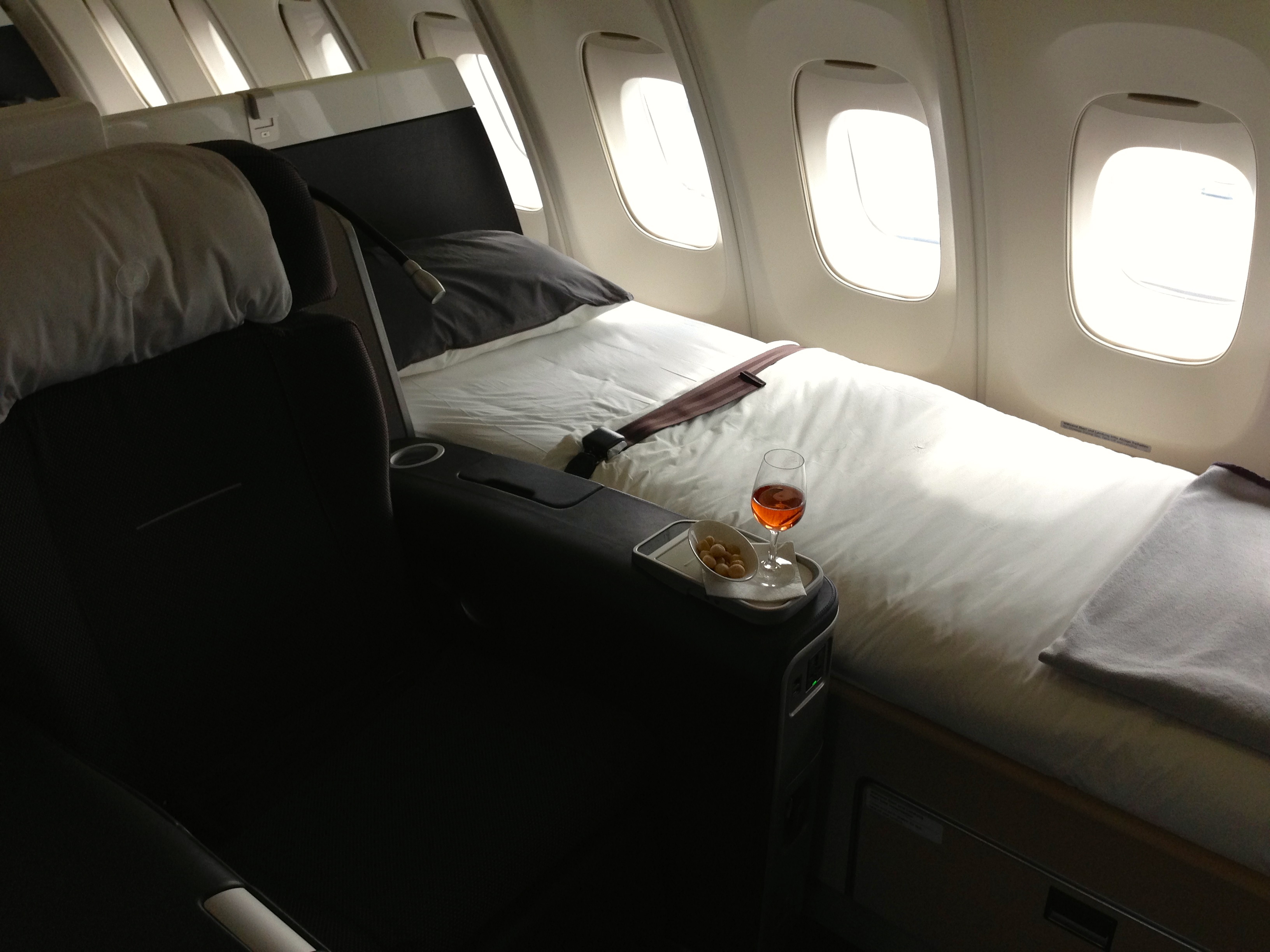 … I've developed a bit of a crush on the German carrier. Fortunately, my Pointing hobby enabled me to compare the two airlines on the same trip. So how did Lufthansa and United compare?
Comparing Lufthansa and United Airlines Pre-Departure Service
The boarding of our overnight United flight from Chicago to Amsterdam was a bit rushed. We received a quick yet professional "welcome aboard" as we cleared the jetway and entered the BusinessFirst (what United calls International Business Class) cabin.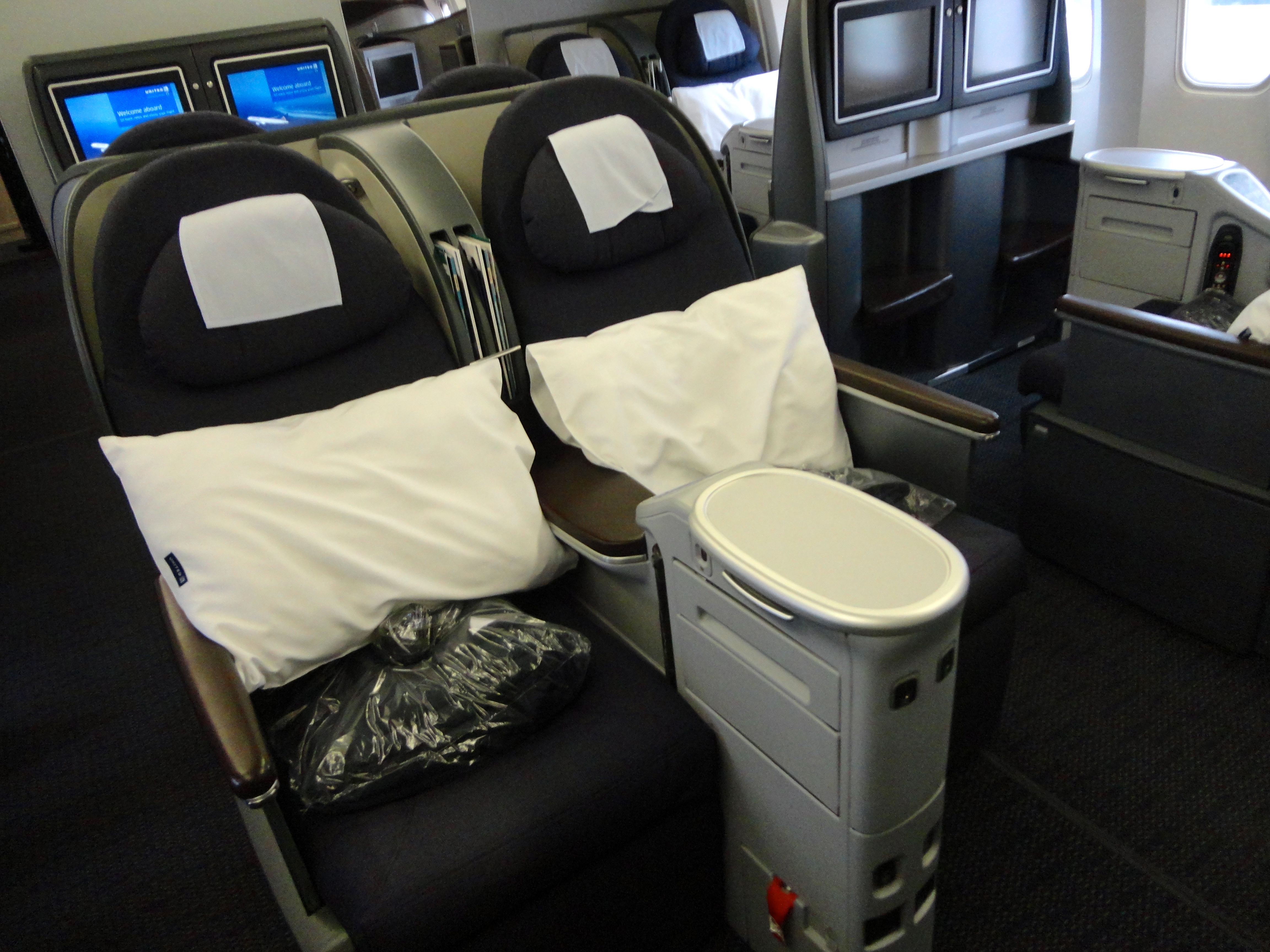 It took awhile before someone offered to hang up our coats. However, once we were settled we were served a pre-departure beverage and I opted for some sparkling wine. Having something to wet my whistle was a nice touch. However, serving my drink in a plastic cup knocked some of the "ambience" out of sitting in a premium cabin.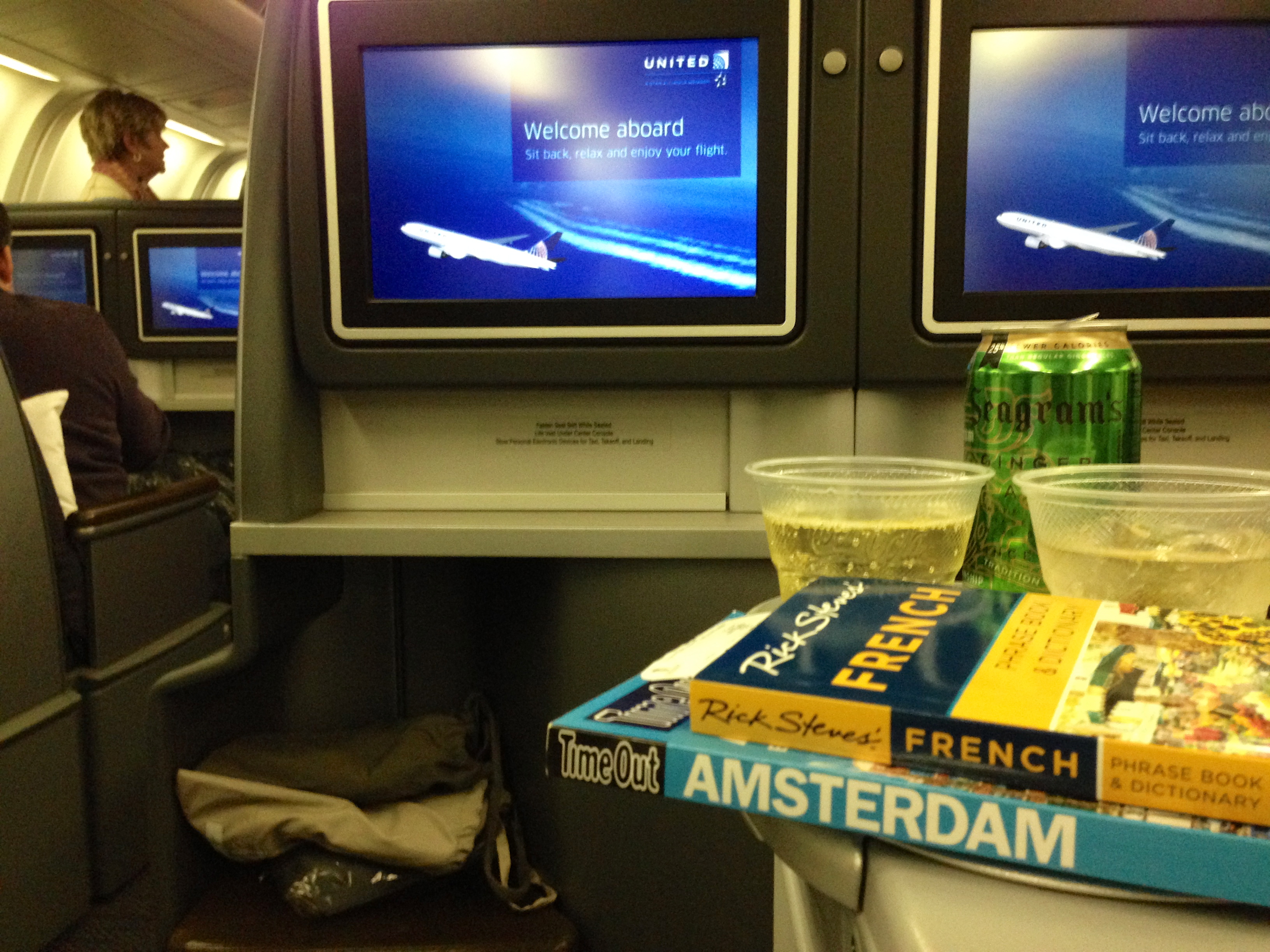 On the way back, we flew home from Paris via Munich. I've written previously about Lufthansa's Intra-Europe Business Class Service so I'll skip the details for now about our pleasant but uneventful Paris to Munich segment. For the purposes of this blog post I'll focus on our experience on our Munich to Chicago flight.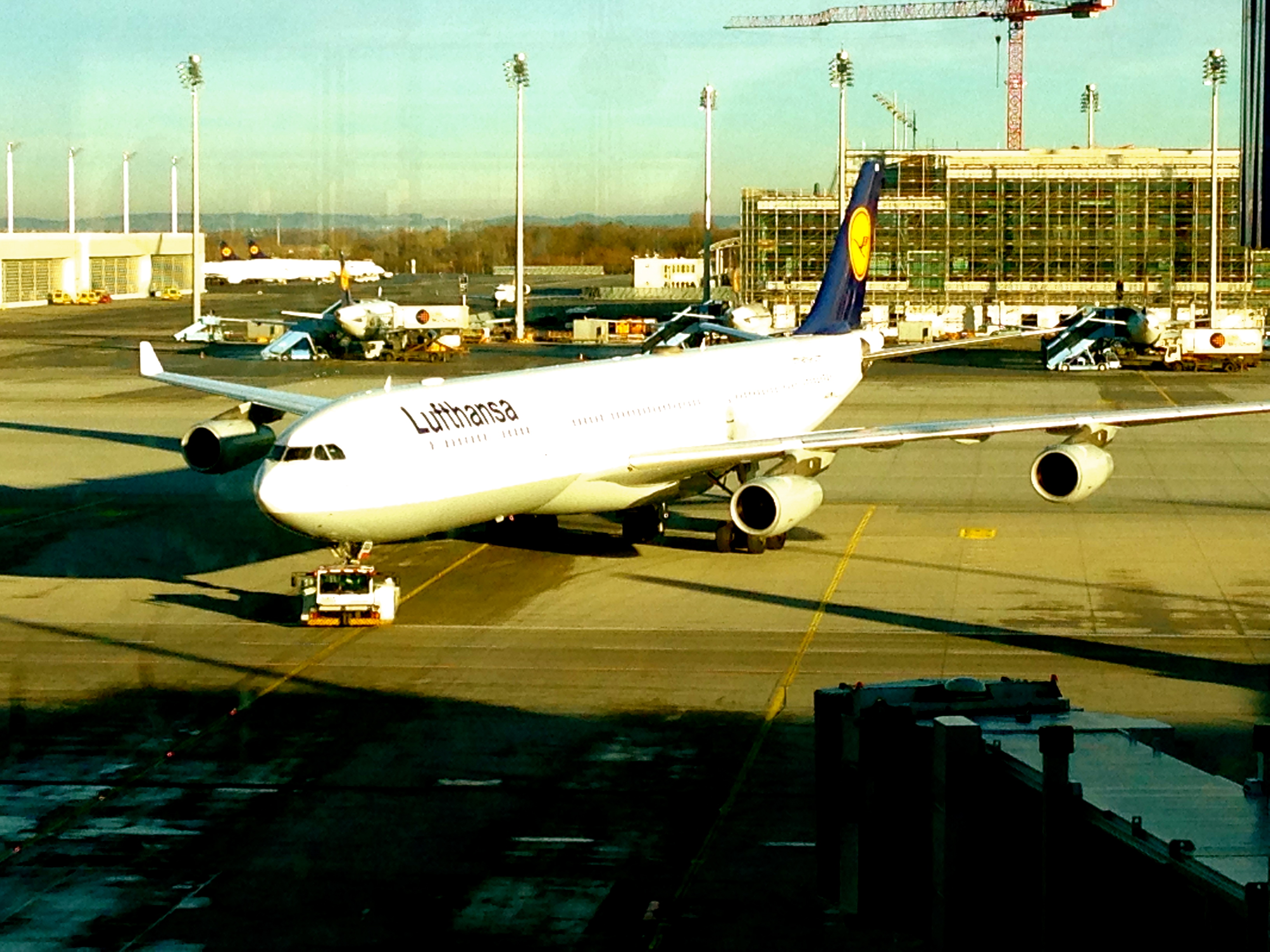 Our flight out of Munich was delayed about an hour. However, once boarding commenced we found that the Lufthansa crew greeted us with friendly smiles and immediately took our coats once we reached our seats.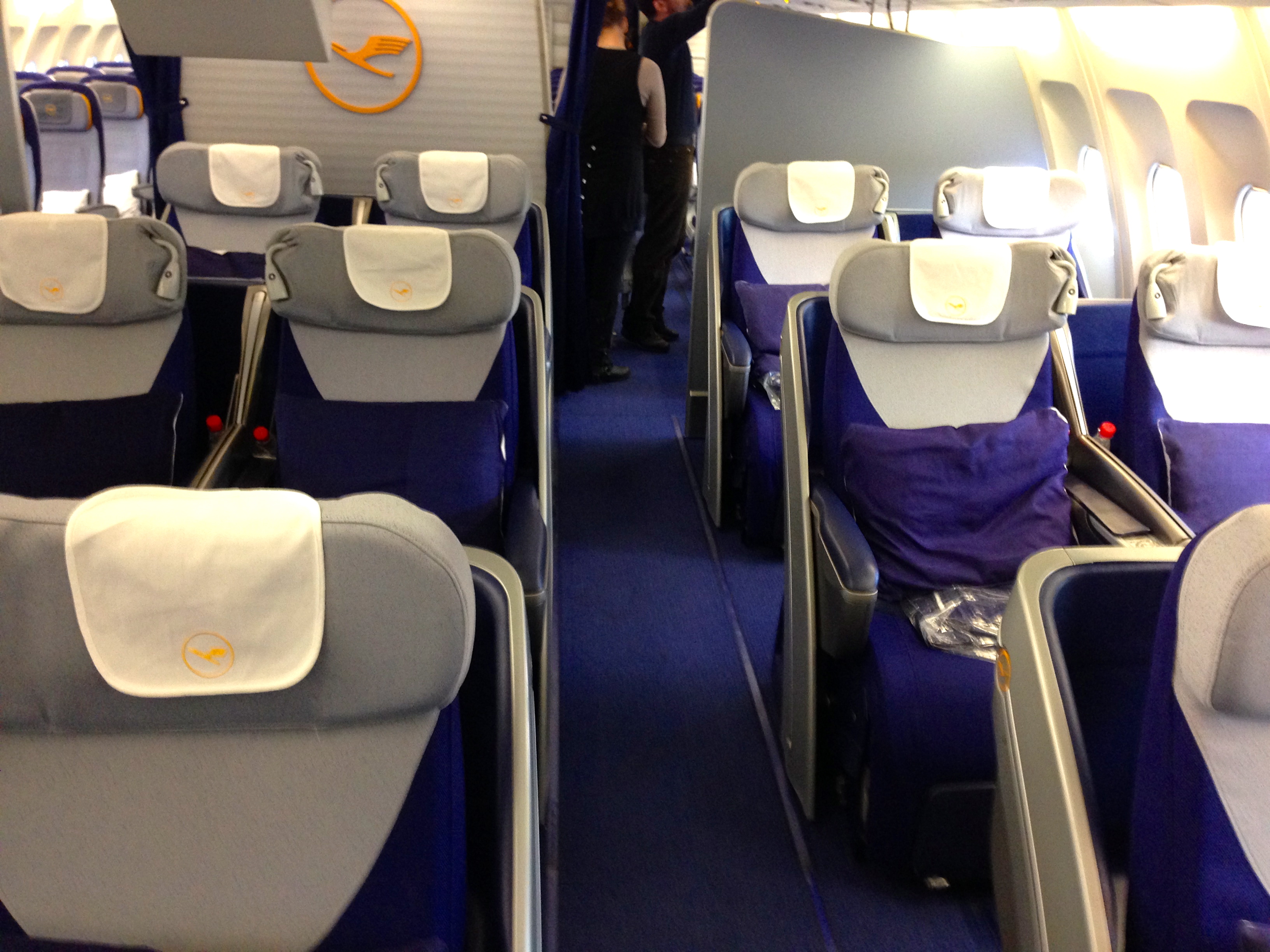 Although champagne wasn't offered, the crisp white wine I chose as a pre-departure was served out of true glassware …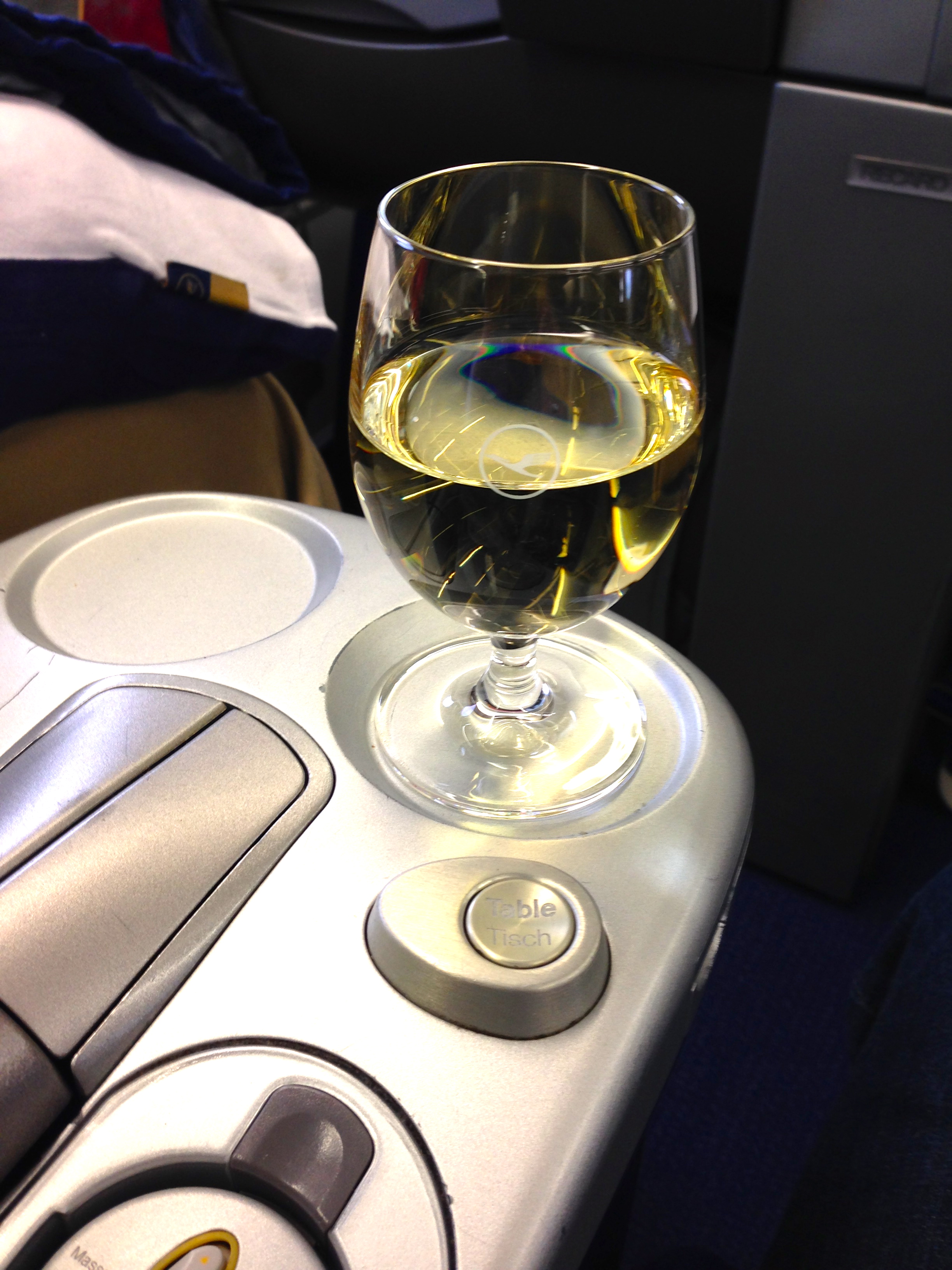 … and set more of an upscale tone for the rest of our flight.
Comparing the Lufthansa and United Airlines Business Class Seat
Awaiting us in our United Airlines BusinessFirst seat was a pillow, blanket, headphones and amenity kit.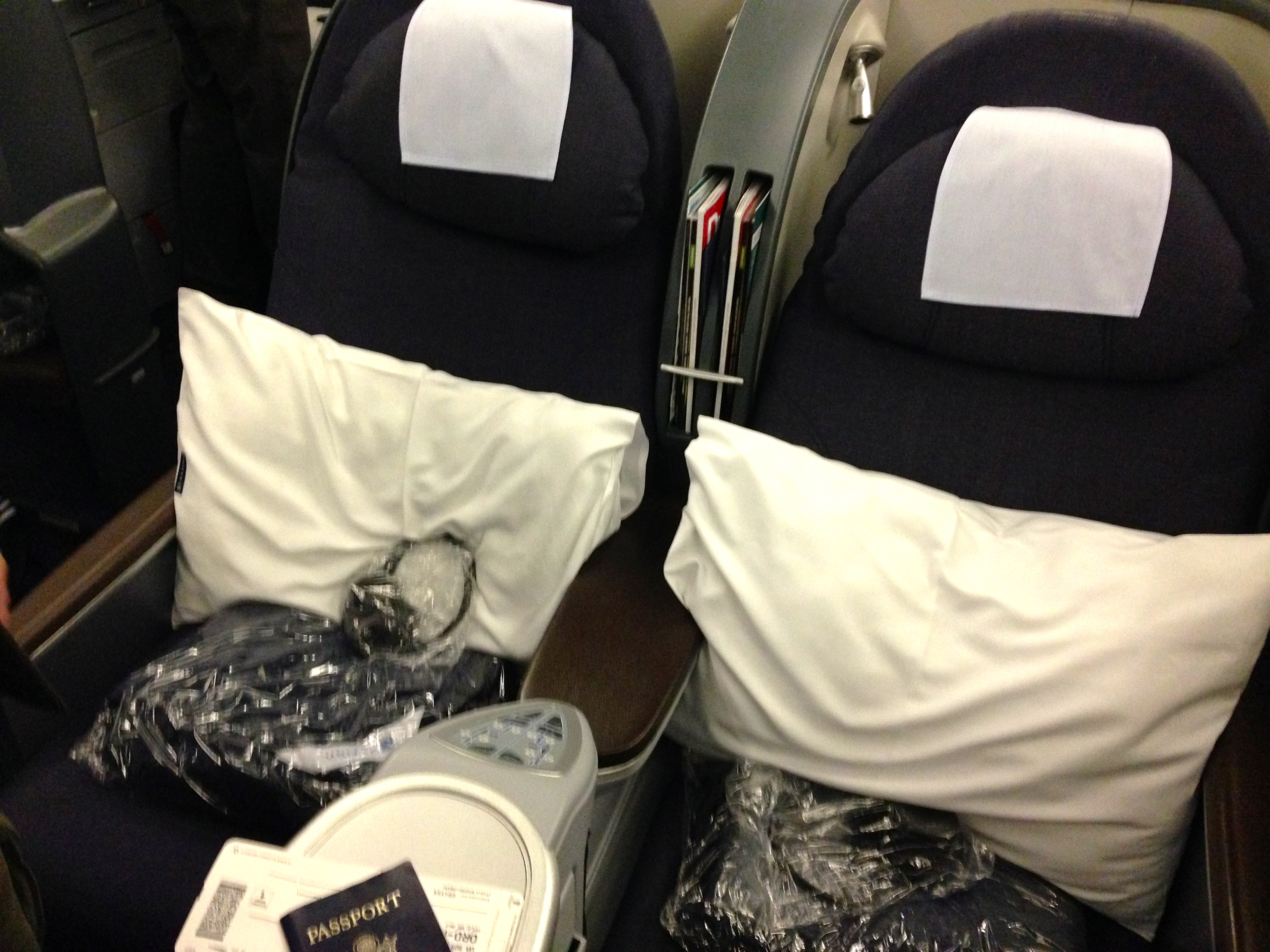 The seat was comfortable and reclined into a fully flat 180-degree position. Although the compartment felt a bit narrow and "coffin-like" at times, I have to admit the privacy afforded by this seating configuration was appreciated and allowed me to get a solid block of sleep on our transatlantic flight. However, one minor gripe is that there really isn't a lot of storage space available at you feet so you'll have to stow your gear for takeoff and landing.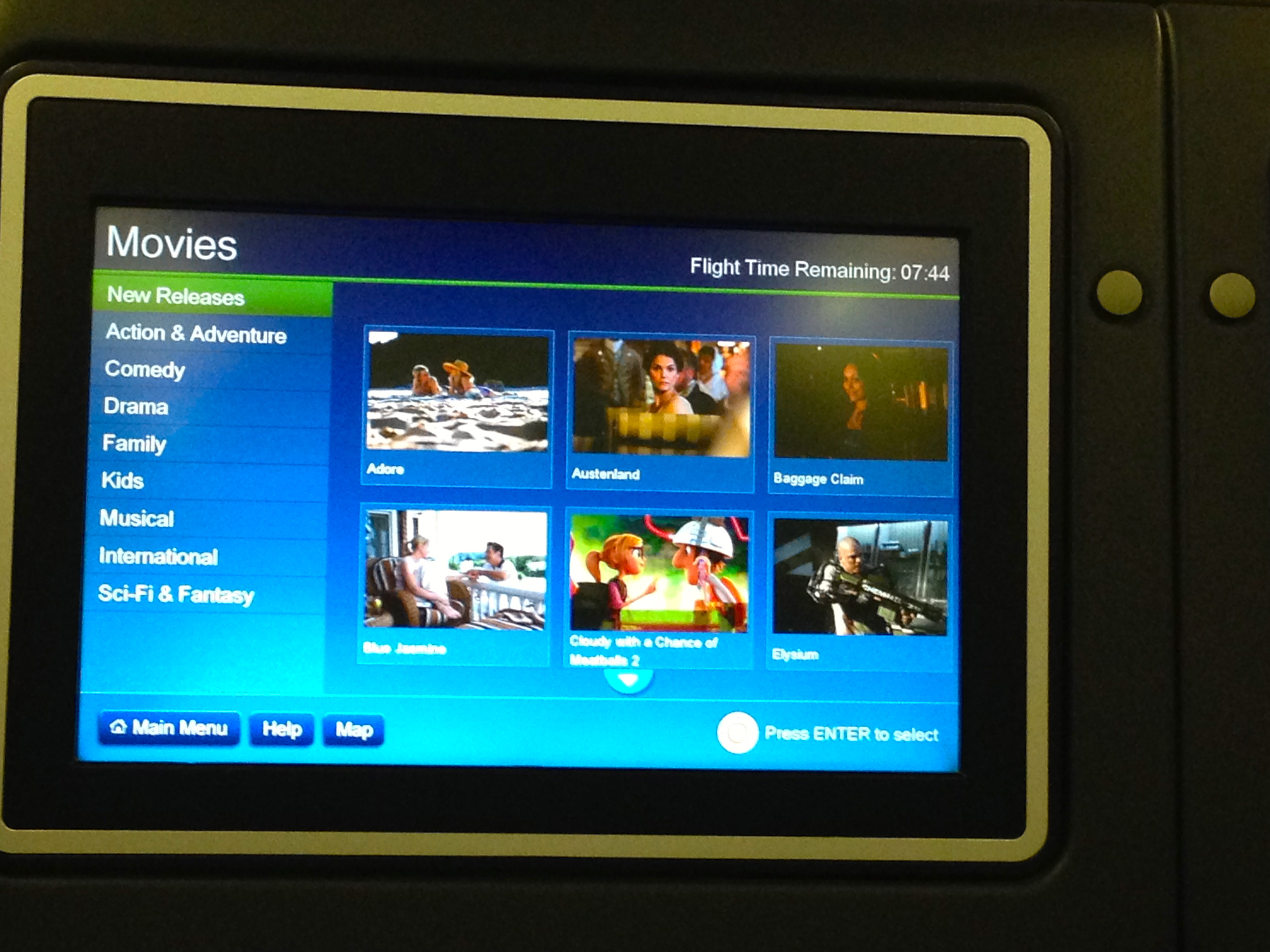 United's In-Flight Entertainment options were plentiful and the video screen was large and easy to navigate / operate.
I found the Lufthansa seat to be fresh and modern looking. That said, this is their "old" business class seat and a new version is currently being rolled out across the fleet.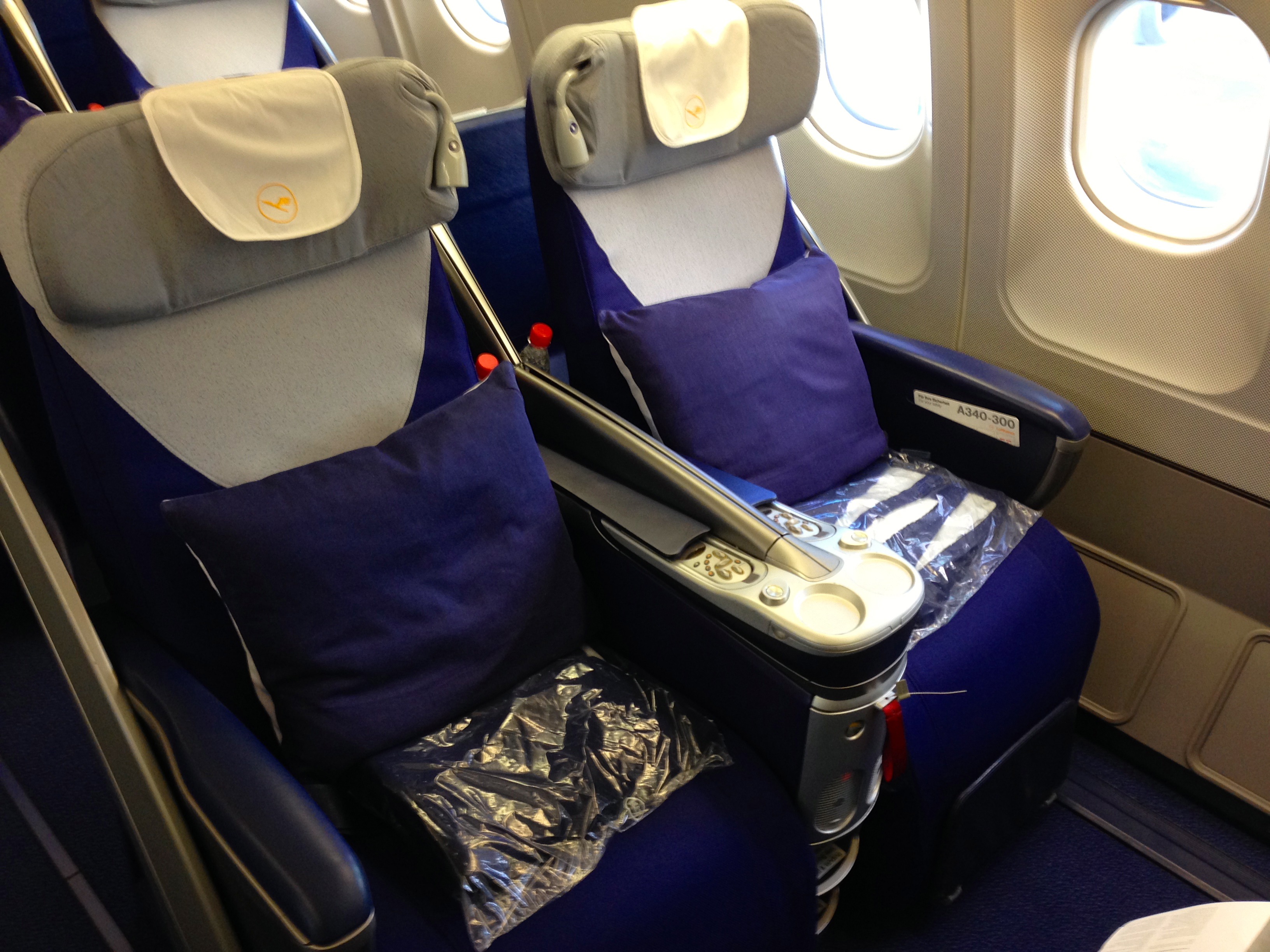 Once again, we found the standard pillow, blanket, headphone, and amenity kit combination waiting for us on the seat. A bottle of water was also ready-to-go in a small nook to the rear of the armrest. Lufthansa's seat is more open and lacks the privacy you may want if seated next to a stranger for a long flight. In addition, although the seat reclines flat, it does so at an angle. As a result, you may find yourself sliding down the seat when trying to get some shuteye.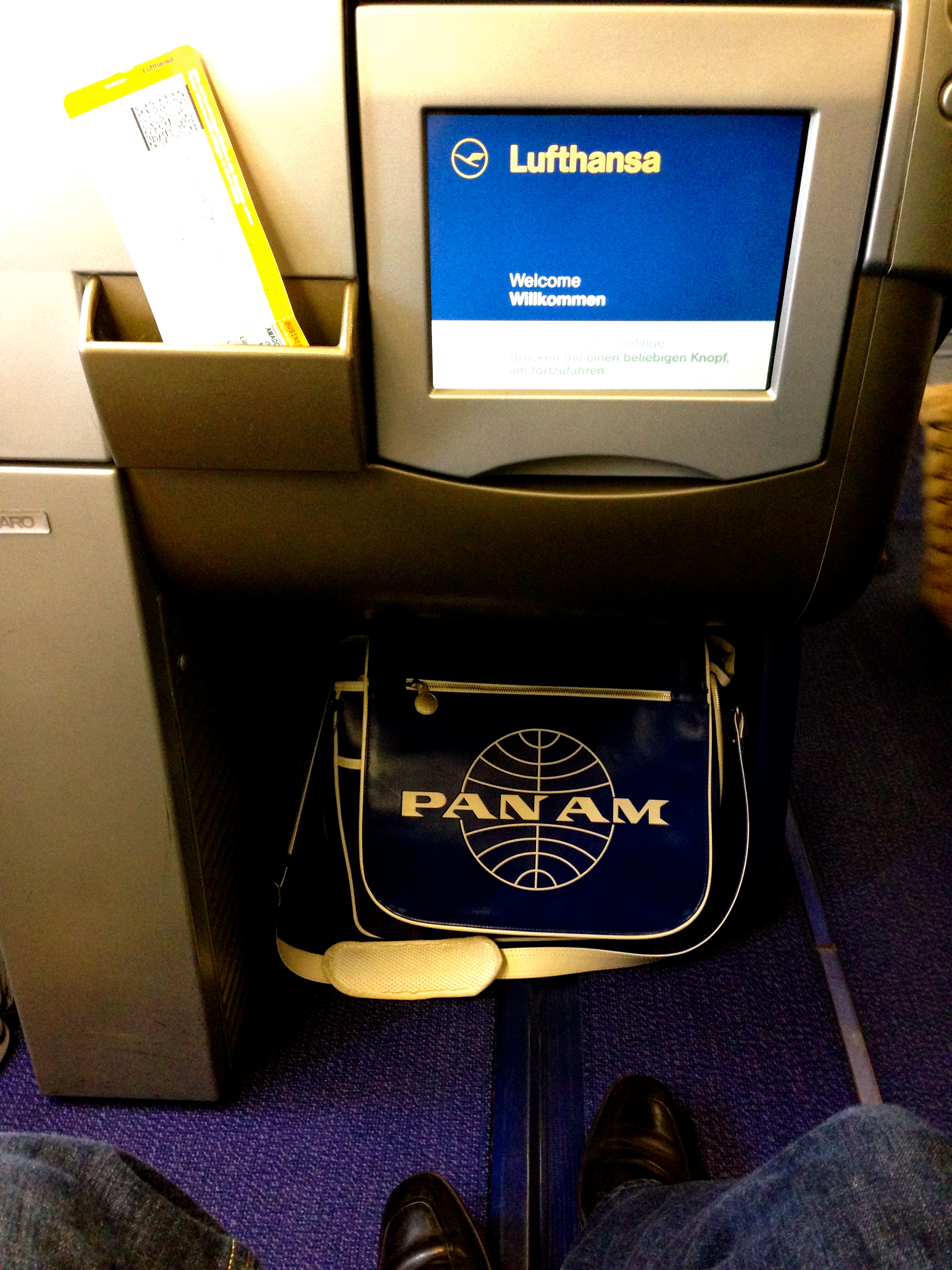 I did appreciate that the seat featured more ample storage in front of you. However, the In-Flight Entertainment screen seemed smaller and less sharp than its counterpart on United. In addition, the system's offerings were more limited and its navigational controls were a bit clunky.
Comparing Lufthansa and United Airlines In-Flight Meals and Service
Once we were settled in our seats, the United Purser swung by to take my dinner order. She was gracious, polite and referred to me as "Mr. A." Subsequent interactions with the Flight Attendant crew were more informal though I was addressed as "Sir" throughout the flight. In general, the crew was cheery, friendly and in good sprits.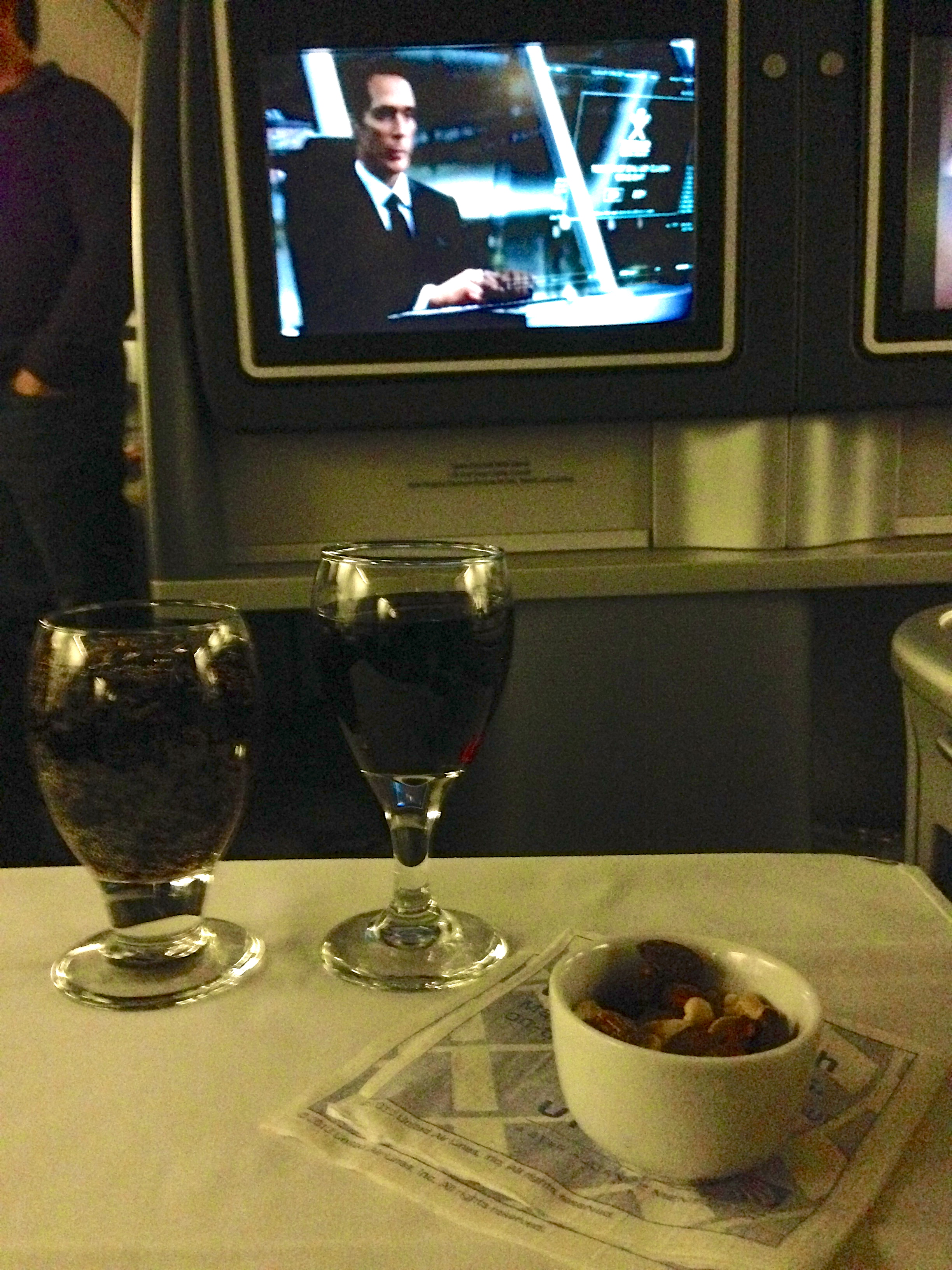 The evening's meal started with pre-dinner cocktails and warm nuts. A variety of spirits were available and I opted for a glass of red wine and a Diet Coke.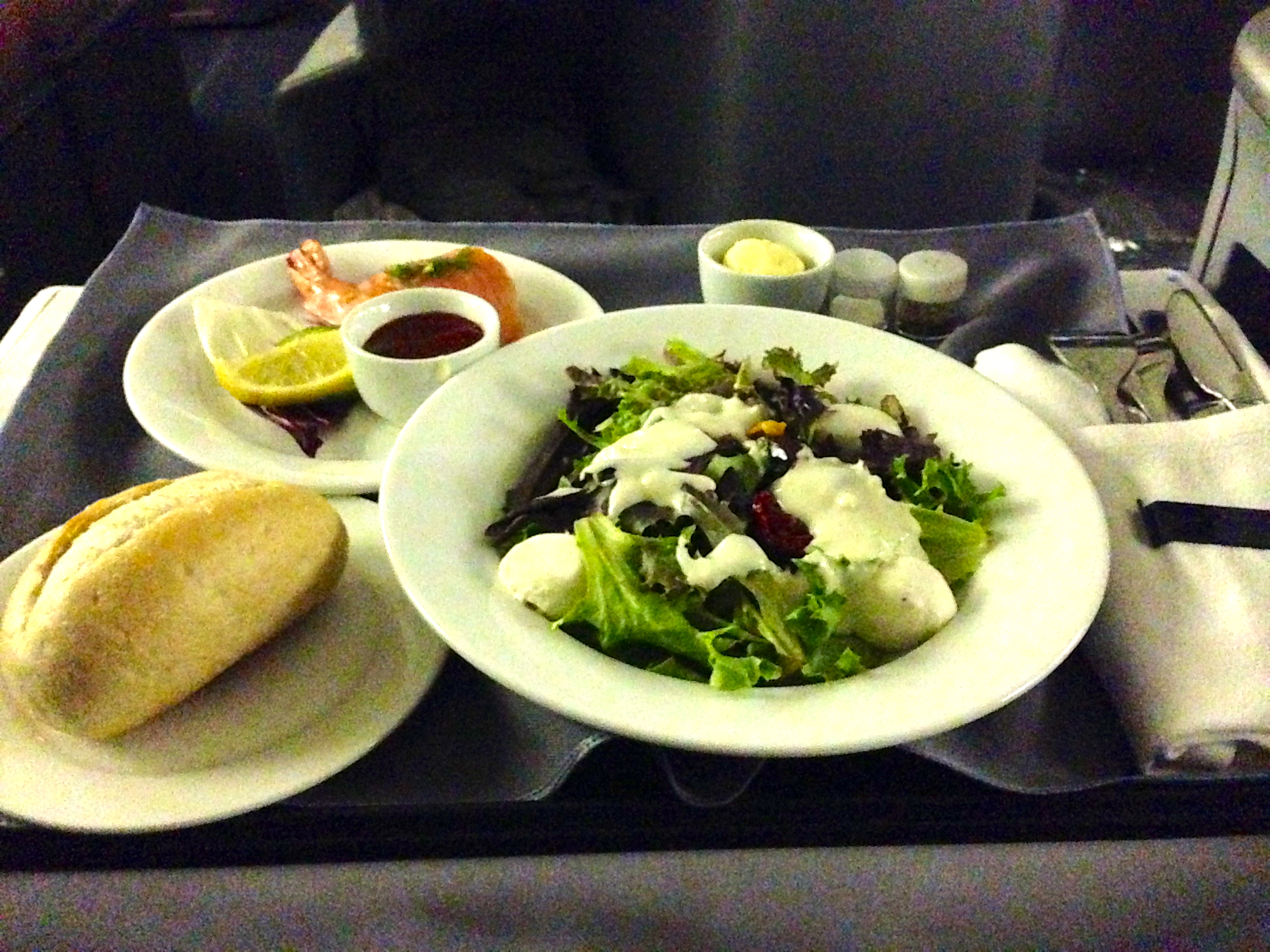 The chilled appetizer consisted of smoked salmon and shrimp. It was served along with a fresh seasonal greens salad with roasted tomatoes, Kalamata olives, baby mozzarella and a choice of blue cheese or balsamic vinaigrette dressing. Bread was served on a separate plate. The presentation of both the appetizer and salad was simple. Although the starters weren't all that creative, I still found them satisfying and executed well.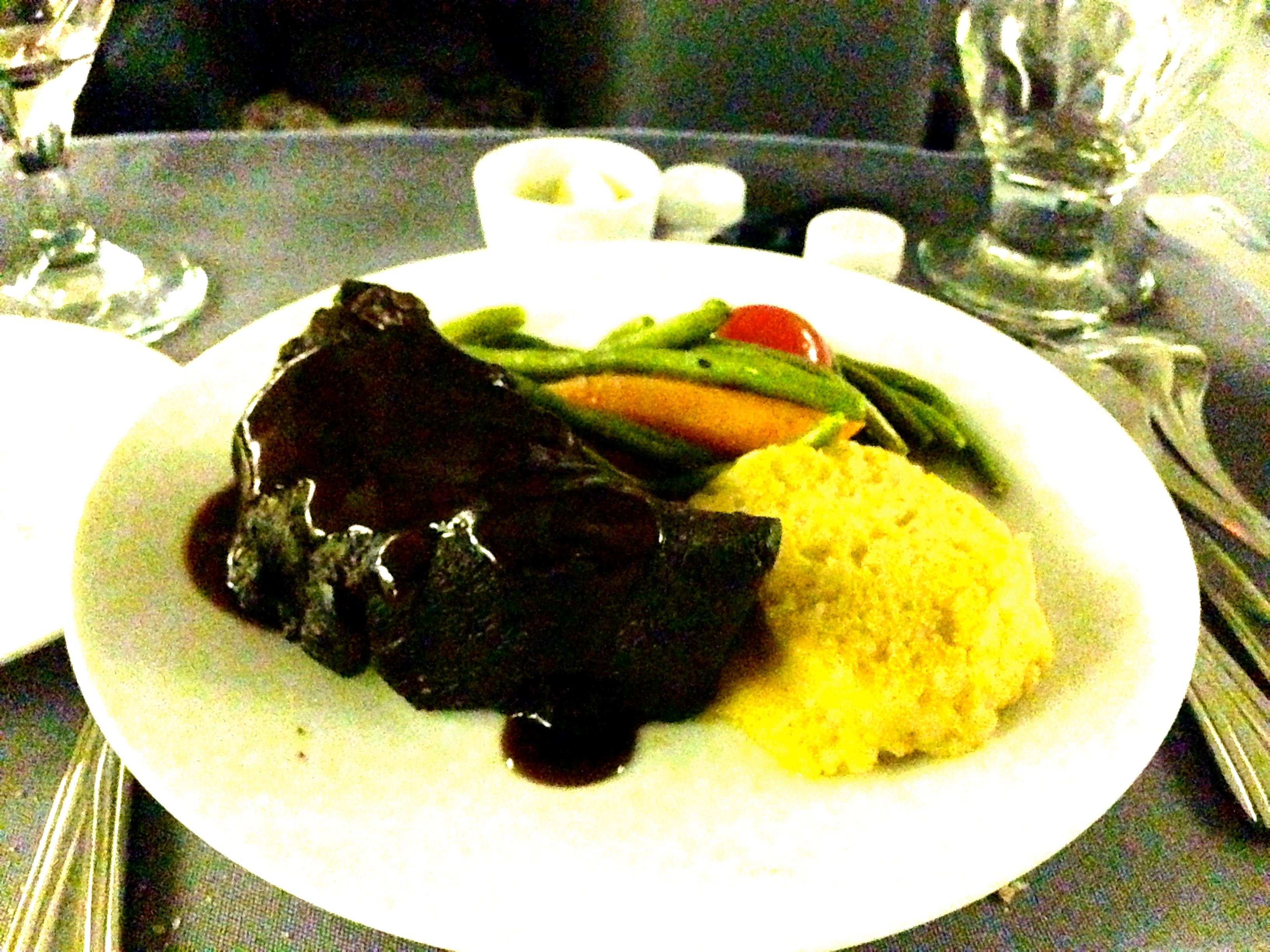 For my main course, I selected the short rib of beef which was served with a red wine sauce, mashed potatoes, green beans and carrots. As is typical of "airline steak," the meat was dry and a bit stringy. My Partner F selected the fillet of salmon with lump crabmeat and unfortunately that entrée suffered the same overly dry fate. That said, the accompanying vegetables were nicely cooked, flavorful and not soggy.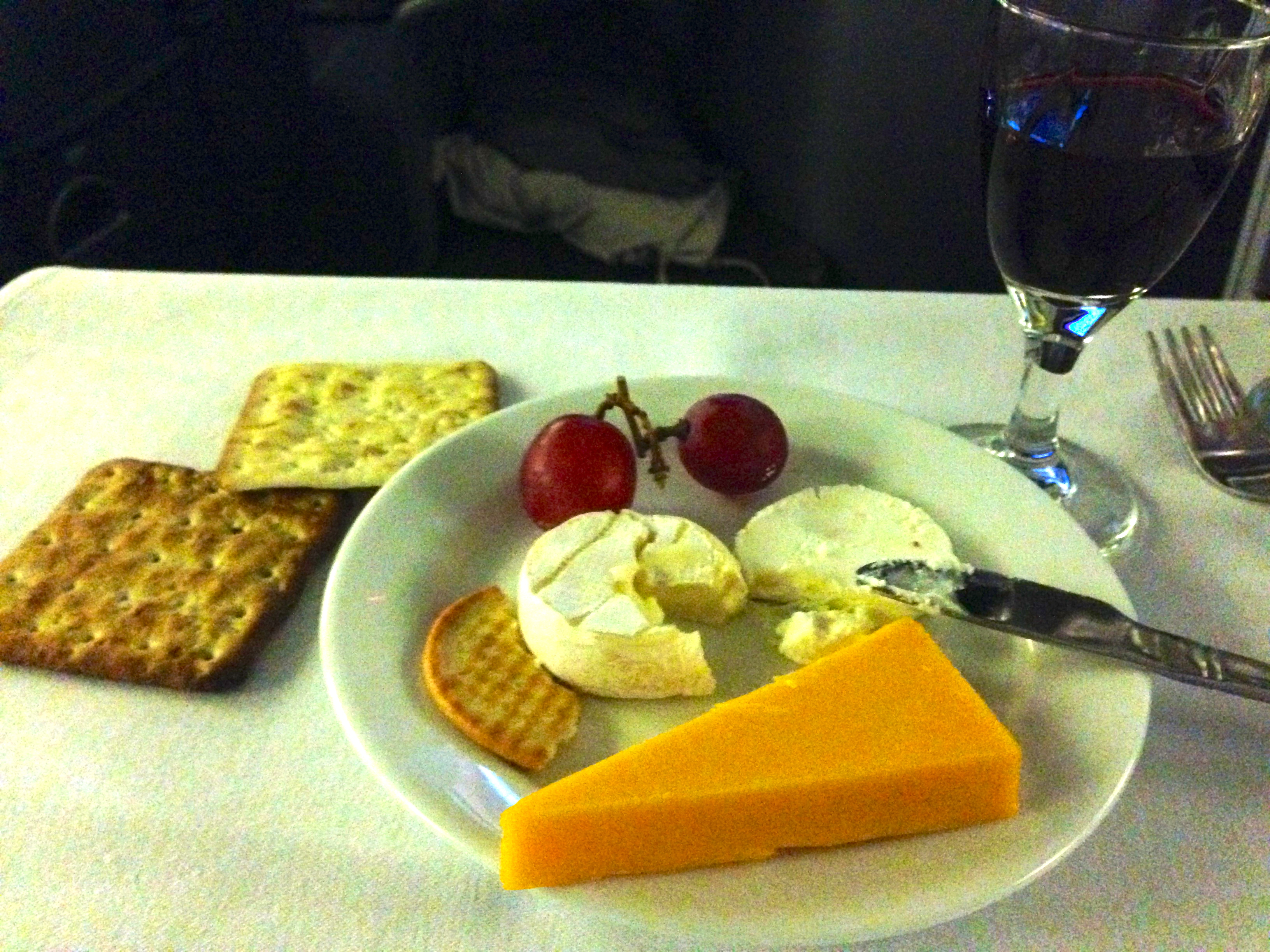 I wrapped up my meal with a fairly standard selection of cheeses …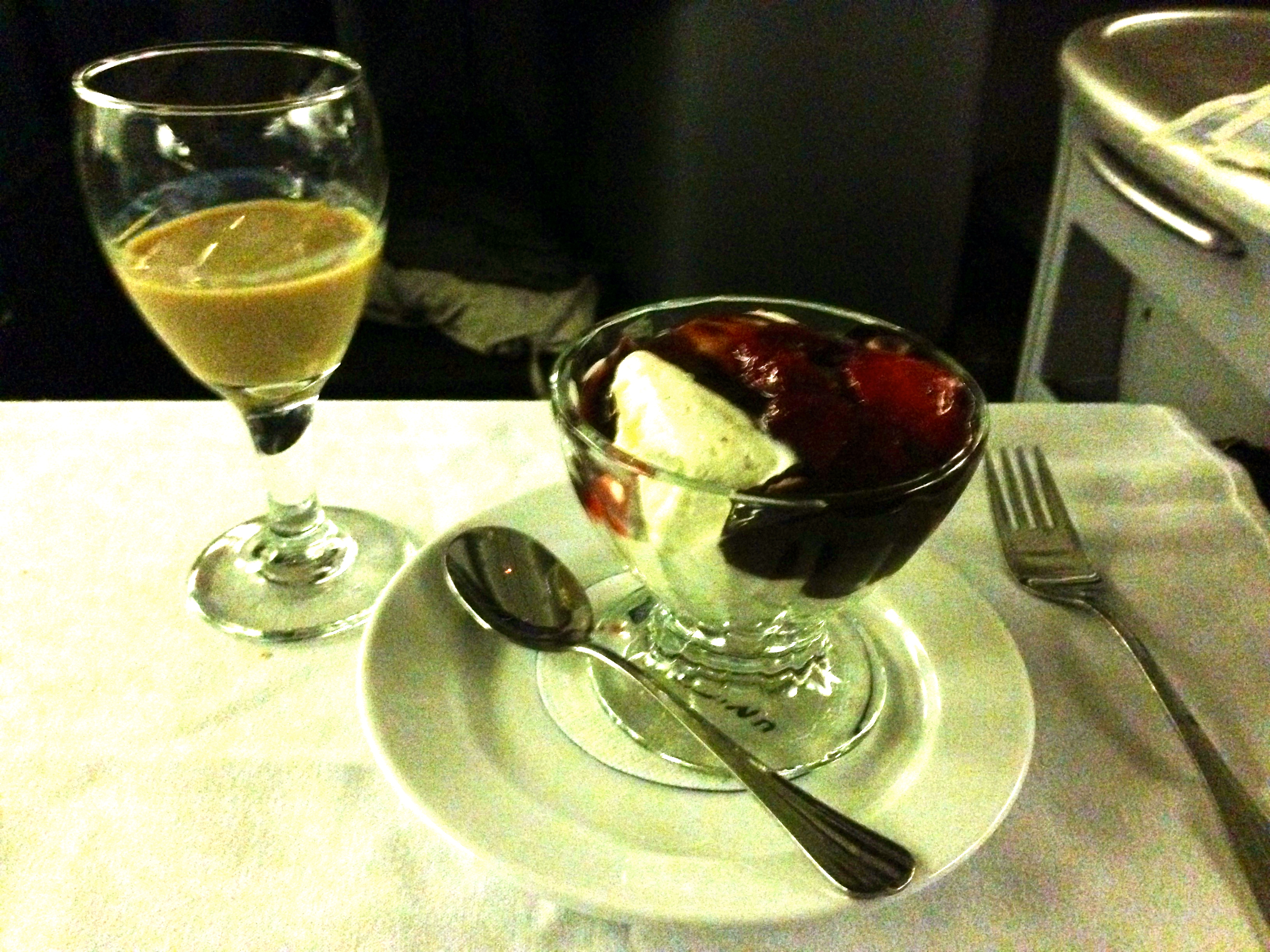 … along with a customized ice cream sundae (I went the strawberries and chocolate route). I have to admit, there's always something fun about having ice cream while flying at 40,000 feet.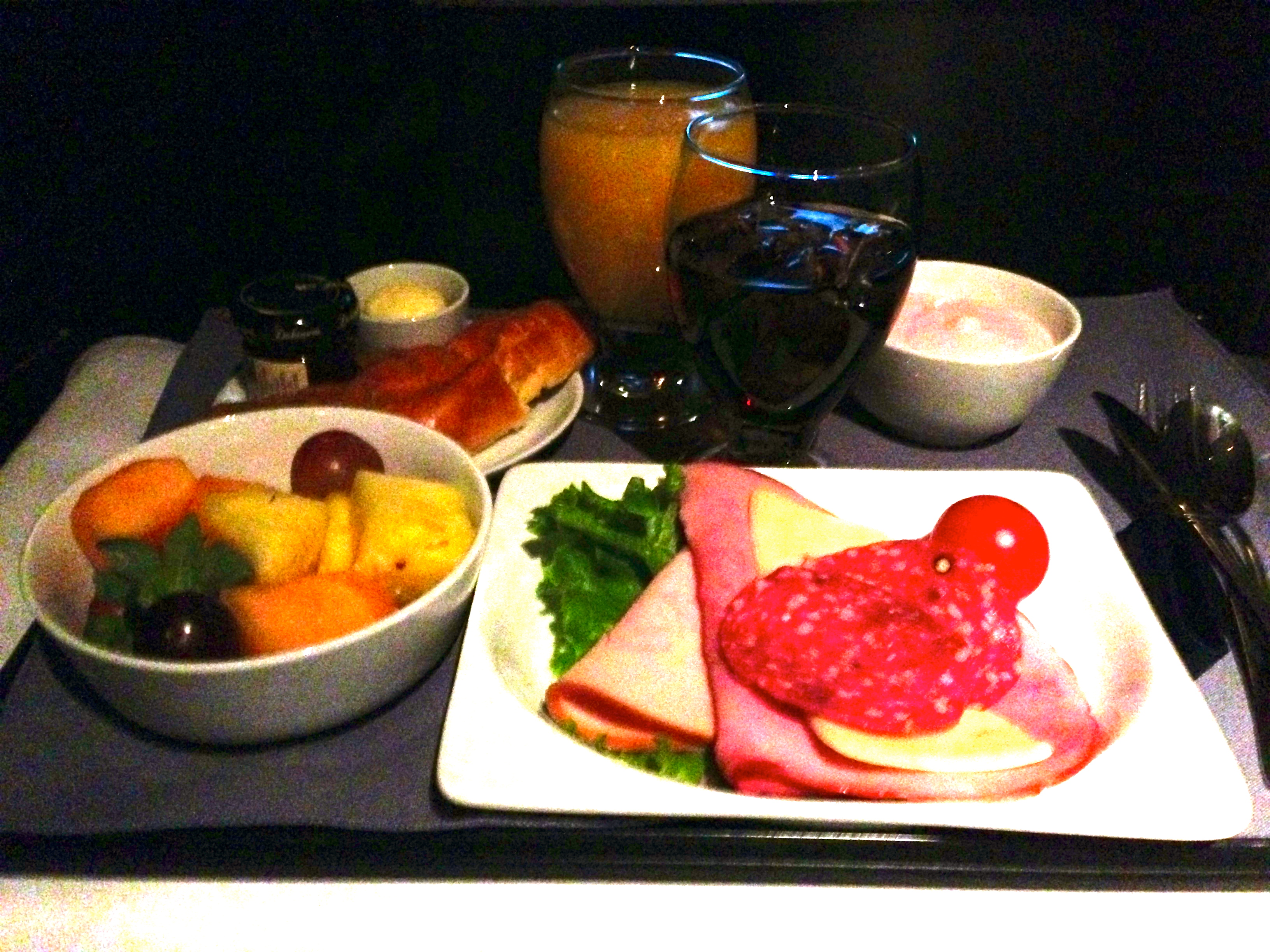 Prior to landing in Amsterdam, a light breakfast was served. The chilled deli selection consisted of Swiss cheese, Black Forest ham, Genoa salami and turkey. Fresh fruit, a croissant and yogurt rounded out the meal.
United BusinessFirst also offers an Executive Dining option that allows you to be served your main meal followed by dessert based on your own schedule.
Turning to Lufthansa, I've heard others comment that Business Class service on the German carrier, while efficient, can sometimes be less personable and even "robotic" in nature. On our flight from Munich to Chicago, I noticed that several members of the crew, although professional, seemed to lack a "warm and fuzzy" quality. Fortunately, the Flight Attendant serving our seats provided us with a great deal of personal attention and was quite engaging and attentive.
Our experience on this flight may have actually been an early "trial run" of Lufthansa's Business Class Signature Service. This concept has each flight attendant focusing on only a limited number of passengers in an effort to personalize the in-flight experience. Blogger Lufthansa Flyer wrote a more detailed post on the Lufthansa Business Class Signature Service, which is continuing to roll out in additional markets.
I kicked off dinner with cocktails and found that Lufthansa's spirits menu was more extensive than United's.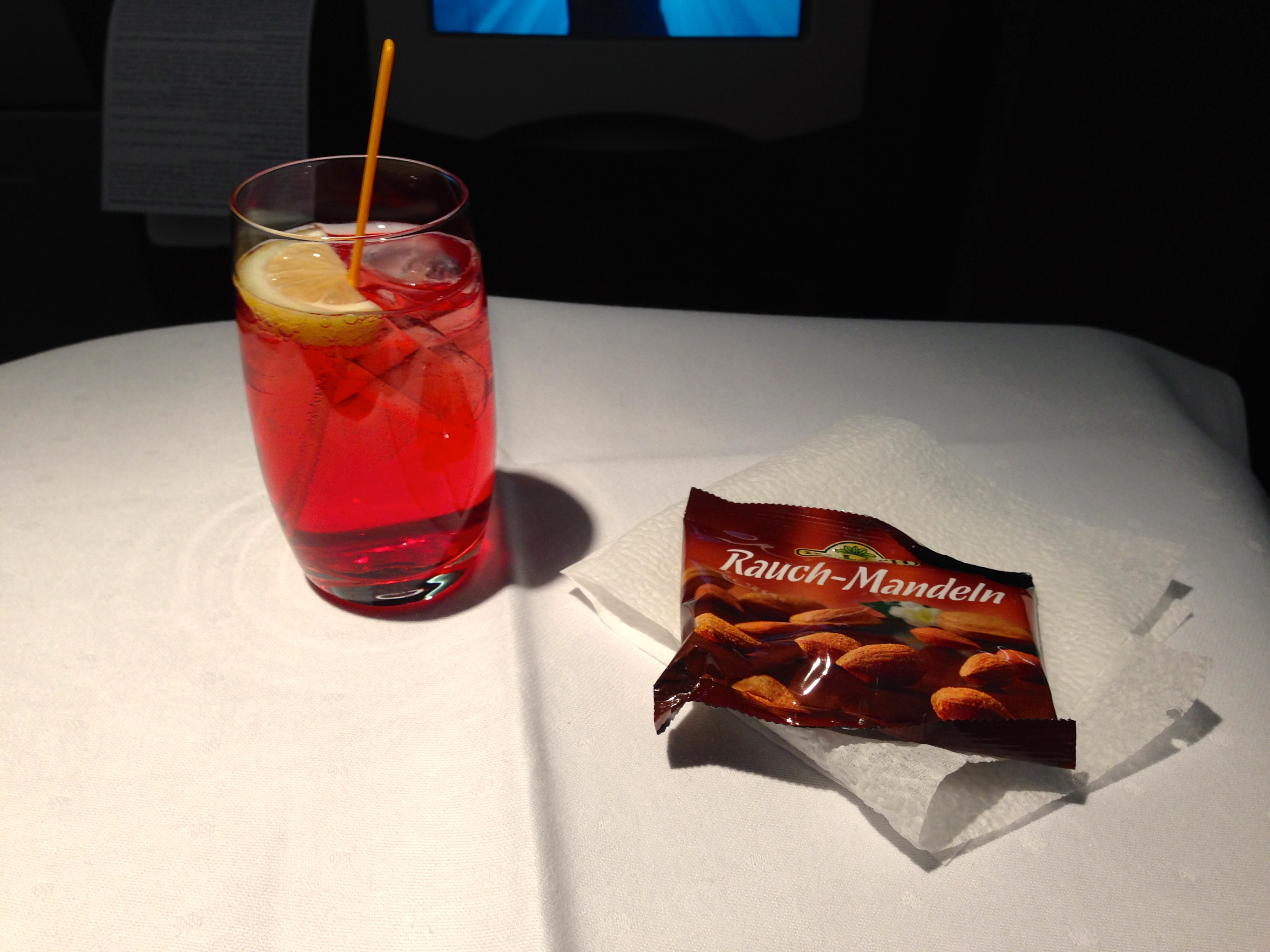 Drinks were served off of a cart and I opted for a Campari and Soda. However, I was surprised that packaged nuts, in contrast to the warmed option served by United, accompanied the cocktails.
Appetizers consisted of Aniseed marinated Salmon with Potato Salad, Basil Vinaigrette and Cream Cheese Mousse with Chives.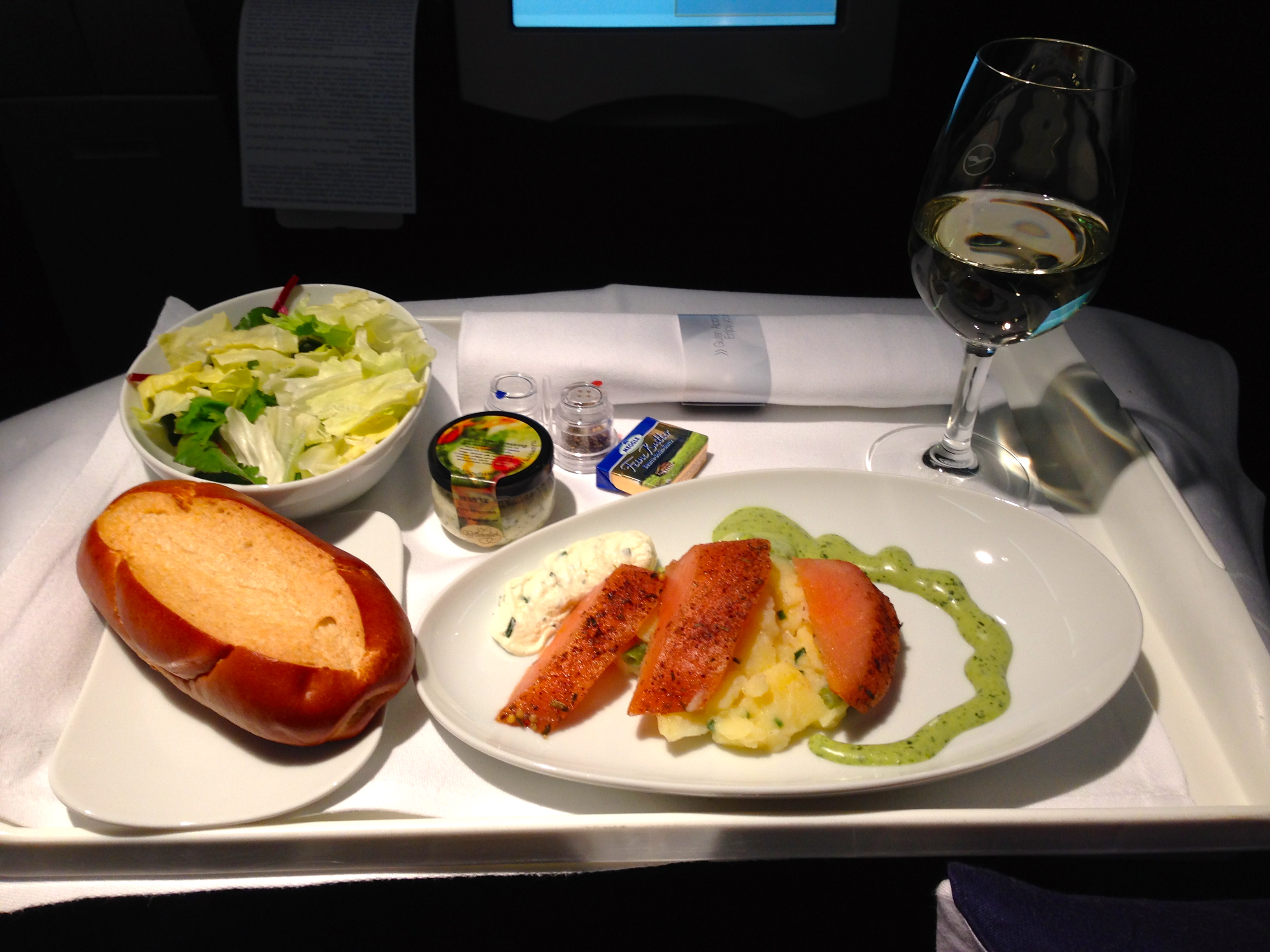 The small Seasonal Leaf Salad was less "hearty" than United's option. However, it's simple presentation was actually a nice compliment to the more creative appetizer. The quality of Lufthansa's bread selection was better than that of United's. I chose the Pretzel Roll which was served on a separate plate.
Since I was having trouble selecting a wine to go with dinner, the Flight Attendant cheerfully suggested that I have a "wine flight" and served me all the options that were being offered that evening.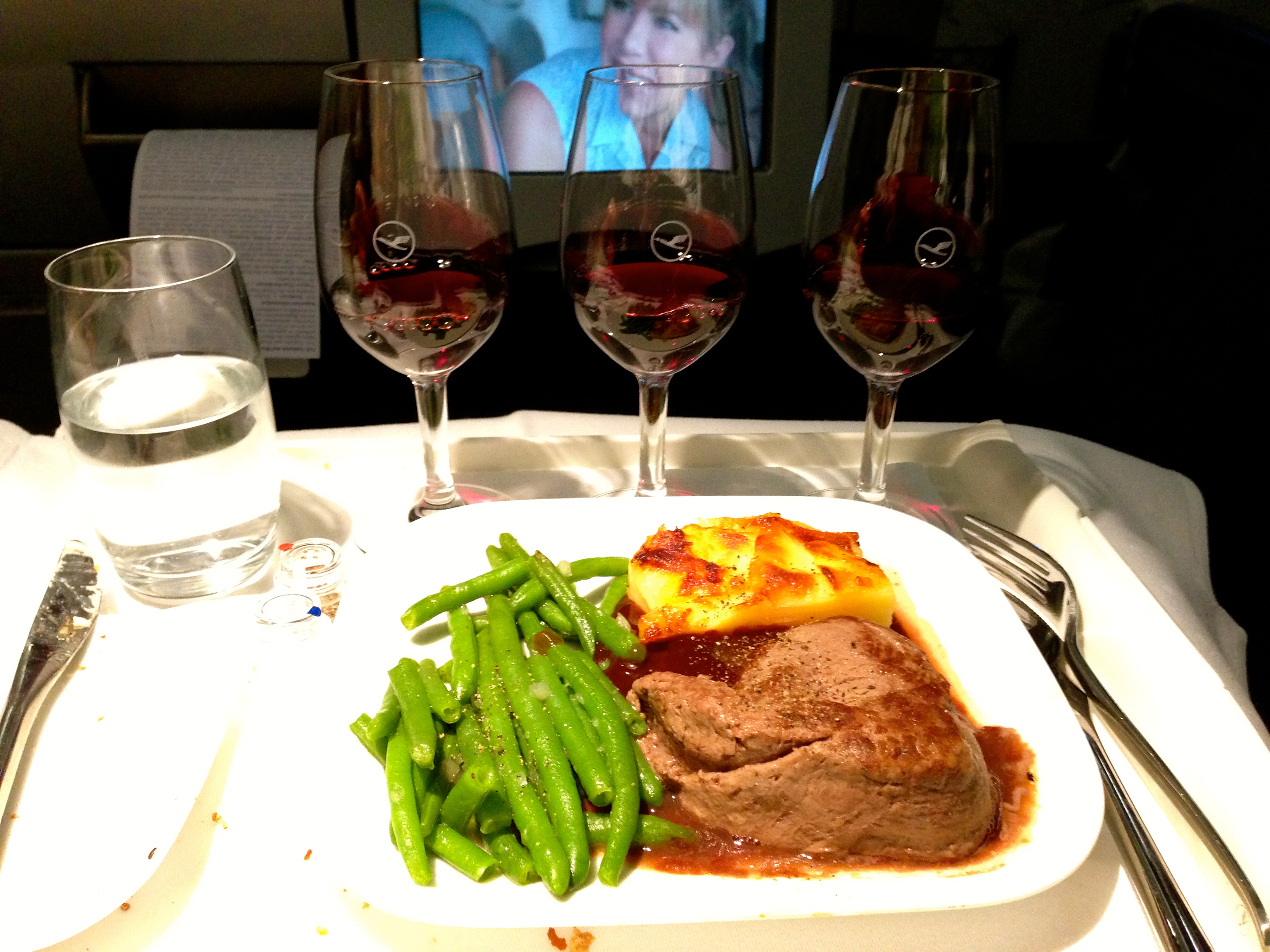 Just as on my inbound United flight, I went for the beef option and chose the Fried Tenderloin with Chocolate Red Wine Sauce, Potatoes us Gratin and Green Beans. Although the beans were a bit soggy, I found the meat sauce and the potatoes to be rich and highly satisfying. In contrast to United's beef option, Lufthansa's tenderloin was juicy and flavorful. However, it was served a bit more on the rare side than some diners might enjoy. That said, I prefer my meat "Joan Crawford bloody" (just watch Mommie Dearest and you'll know what I mean) so I thoroughly enjoyed my meal.
A cheese plate, that was a bit more refined than United's course, was served to wrap up dinner.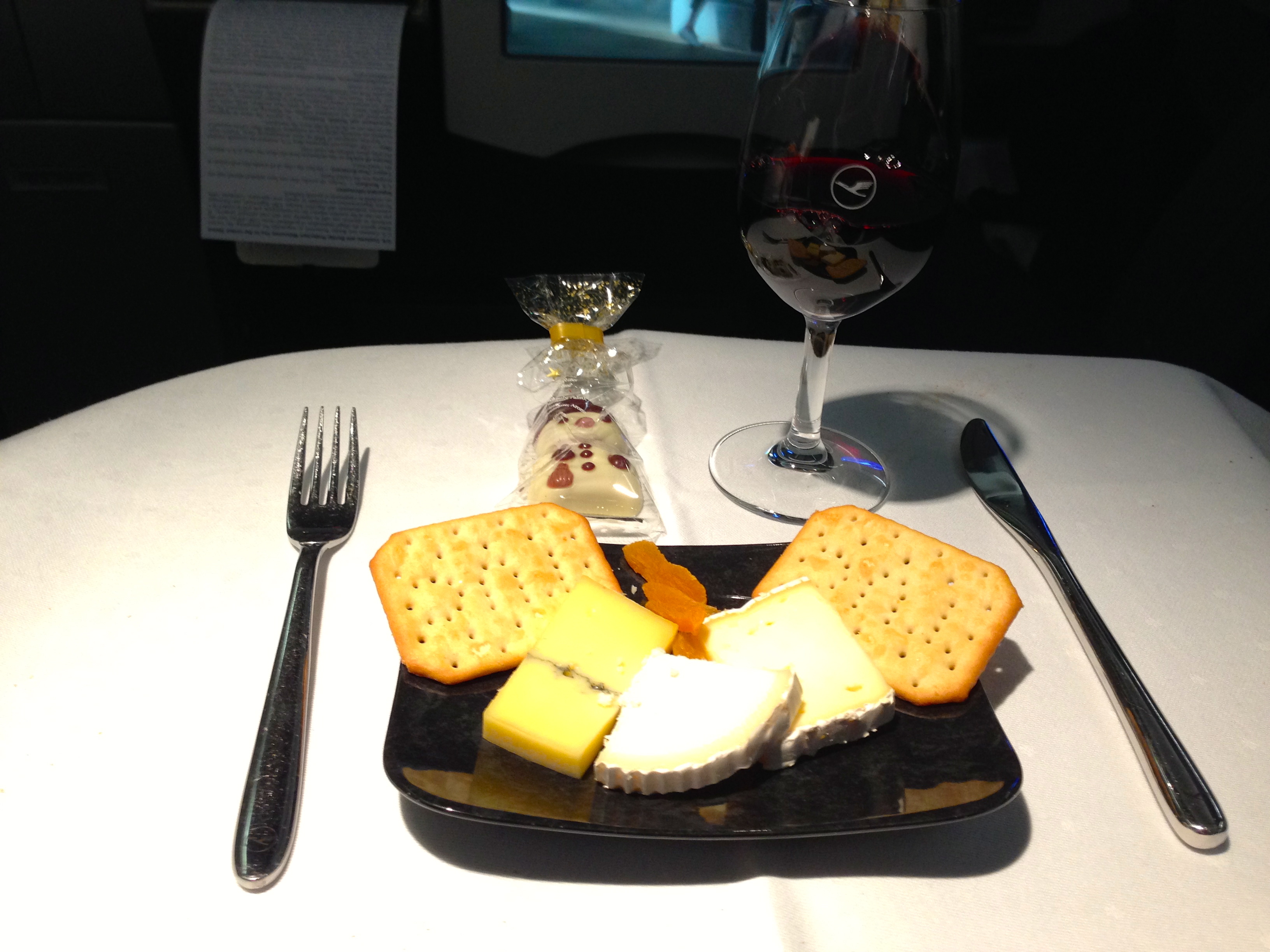 The selection for the evening consisted of Ashed Goat Cheese, Morbier and natural Yogurt Cheese with dried Apricots.
Dessert was a Mascarpone Pear Cake with Passion Fruit Sauce.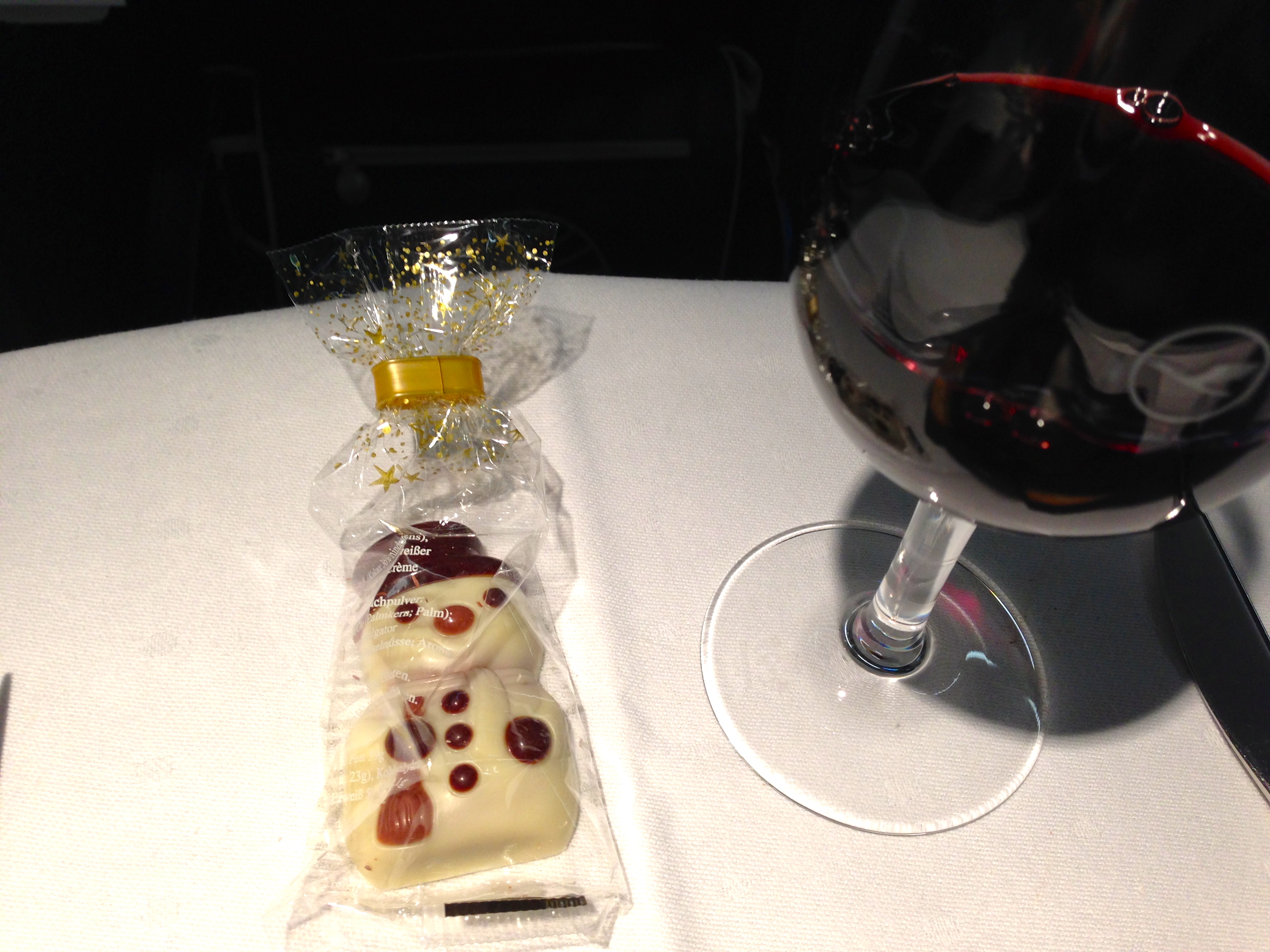 Unfortunately, the pastry was so delicious that I had scarfed it down before remembering to take a picture. Therefore, you'll all just have to settle for this photo of my Lufthansa Chocolate Snowman which was all that remained of the dessert course.
Since our flight was landing in the late afternoon in Chicago, Lufthansa served a pre-landing meal that was much heartier than the breakfast option provided on United.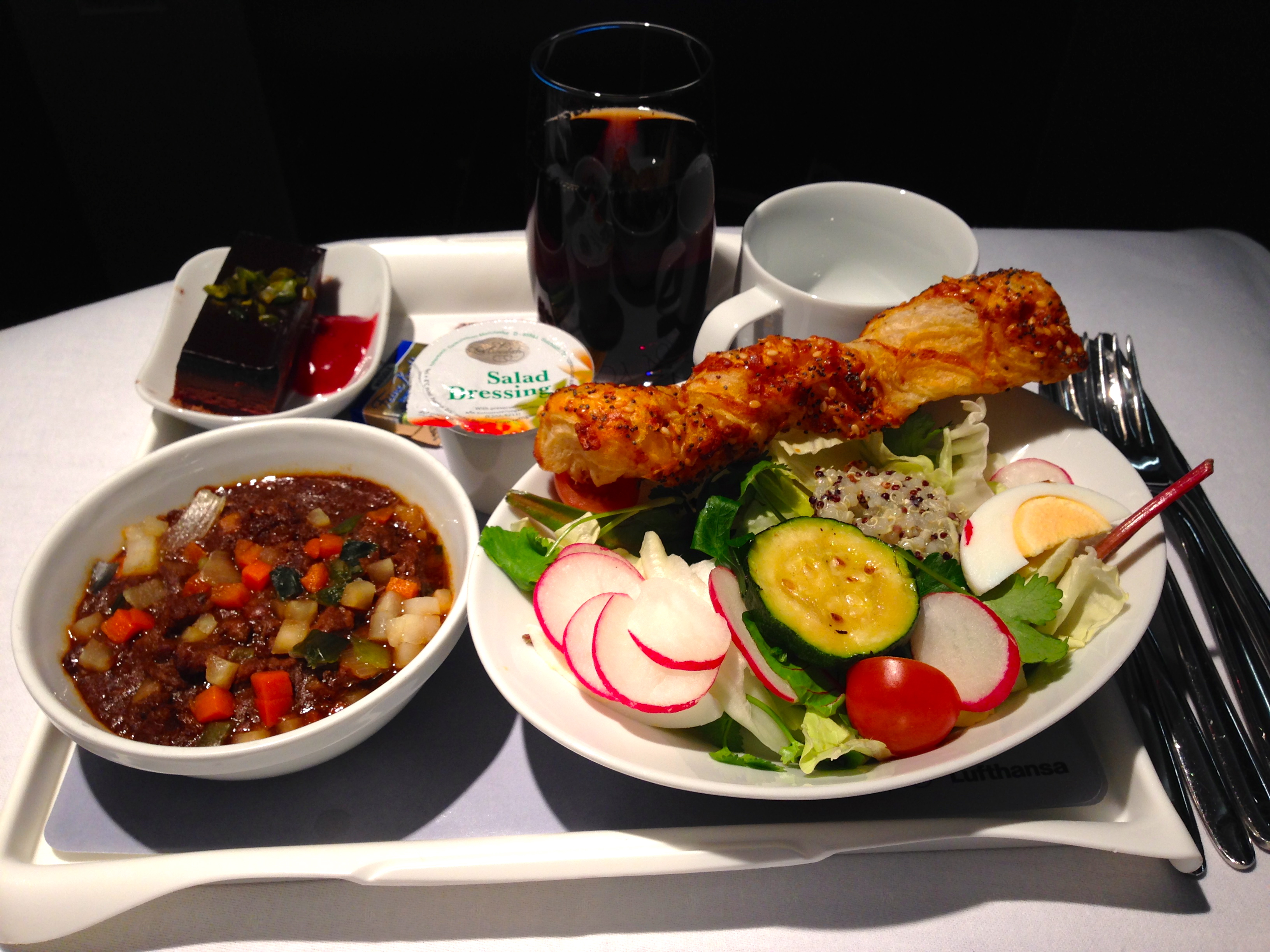 A hearty Belgian Goulash Soup with Apple Wedges accompanied a Mixed Leaf Salad with Quinoa, boiled Egg, Zucchini, Cherry Tomato and Red Radish served with Yogurt Lime Dressing. A savory Bread Twist and Chocolate Raspberry Cake rounded out the meal.
Just like on United, Lufthansa offers an "Express Service" meal option for those passengers who prefer more time for working or sleeping. The multi-course meal consists of a cold entrée, appetizer, salad, cheese and dessert upon request.
Conclusion – Comparing Lufthansa and United Airlines Business Class
Service on both airlines was generally friendly. However, I have to give the edge to Lufthansa which seemed to offer a more personalized and warmer experience. That said, since the United leg of my journey was an overnight flight, some allowance needs to be made for the fact that the Flight Attendant team was likely moving expeditiously through the service in order to maximize their passengers' sleeping time.
When it comes to food and drink, Lufthansa also takes the lead. The quality, variety and creativity of the meal selections were definitely a notch above that of United. Although I would place my hometown carrier's meal service in the "not bad" category, it was hard getting past the more "institutional kitchen" flavor of the food options.

Where the Friendly Skies comes out ahead is in its "hard product." I much preferred United's true 180 degree lie-flat seat to the "angled" lie-flat seat on Lufthansa. United's BusinessFirst seat offers you the best shot at getting an uninterrupted block of sleep on an overnight flight. That said, Lufthansa's new business class might soon level the playing field.
How about you? What's your favorite Business Class product?