Set me free, why don't you baby?
Get out of my life, why don't you baby?
'Cause you don't really love me
You just keep me hangin' on
– Said The Supremes (and Barclaycard)
Yes, this song pretty much describes my relationship with the US Airways Premier World MasterCard. I never planned on maintaining a long-term relationship with this card. When I applied for it, I fully intended to take a very mercenary SWAT-team like approach to owning the card – swoop in, meet my minimum spend, collect my bonus miles and cancel the card before the next year's annual fee kicked in. However, Barclaycard had other plans for me …
So why collect miles on an airline I never fly?
US Airways is the primary carrier for a lot of people – just not for me. To this day, I've never set foot on US Airways metal. However, at the time I originally applied for the US Airways MasterCard, the airline was, along with my primary carrier United, a member of the Star Alliance. This fit in very neatly with my "miles & points accumulation & redemption" (aka Pointing) objectives. In addition, US Airways' Dividend Miles frequent flyer program offered a number of "sweet spots" on its award chart (e.g. only 90,000 miles to China, Hong Kong, Korea or Japan) and historically the program regularly offered 100% bonuses for either purchasing or transferring miles. I looked on the Dividend Miles program as a way to diversify my Pointing efforts and protect myself against potential devaluations (like United's earlier in the year!).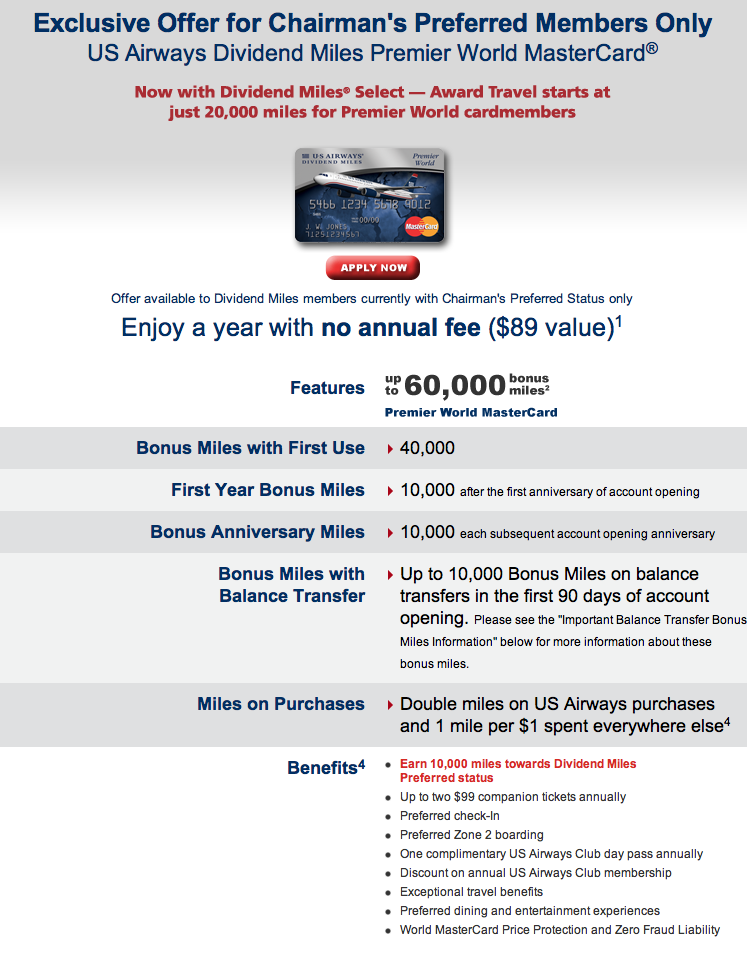 Note: This offer is no longer available.
In the end, as I outlined in an earlier post on this subject, I opted for a signup offer that not only gave me 40,000 miles after my first purchase but also 10,000 miles after the first anniversary of account opening, an additional 10,000 miles on each subsequent account opening anniversary AND waived the first year's annual fee. Barclaycard had me hooked.
For the times (and airline alliances) they are a-changin'
However, a few months after receiving my card, US Airways and American airlines announced plans to merge. Upon hearing this news, I naturally assumed that the days of the mileage gravy train I was riding were numbered and that within a year or so I would lose these great benefits. Sooner or later I'd have to say buh-bye to my US Airways MasterCard. However, it looks like I have a reprieve.
The argument for holding on to my card
This week, I received an email that officially announced the news that US Airways & American Airlines would be merging their frequent flyer programs in the second quarter of 2015. The companies provided a timeline for the key integration events.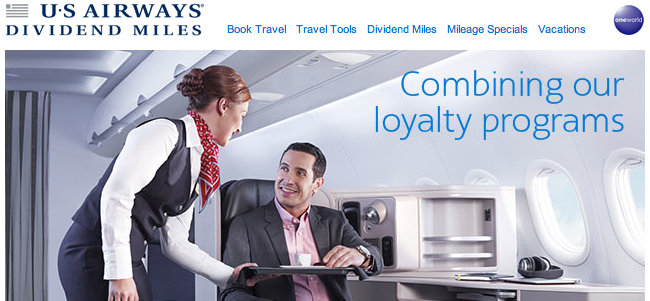 Once the programs merge, my existing Dividend Miles will be converted into American AAdvantage miles. This upcoming event is what served as the catalyst for me to encourage (umm … push) my Partner F to simultaneously apply for both a Citi Platinum Select / AAdvantageWorld MasterCard and the US Airways Premier World MasterCard. I go into more detail on this particular Pointing strategy in my earlier post: Combining American and US Airways Miles – Taking Advantage of Reaping Dividend Miles. Post-merger, the US Airways MasterCard will become an American Airlines AAdvantage MasterCard and will be closed to new applications. Therefore, the clock is ticking on this particular offer.
However, the US Airways MasterCard isn't going away quietly. I received another email this week that provided me with a pretty lucrative bonus mile offer.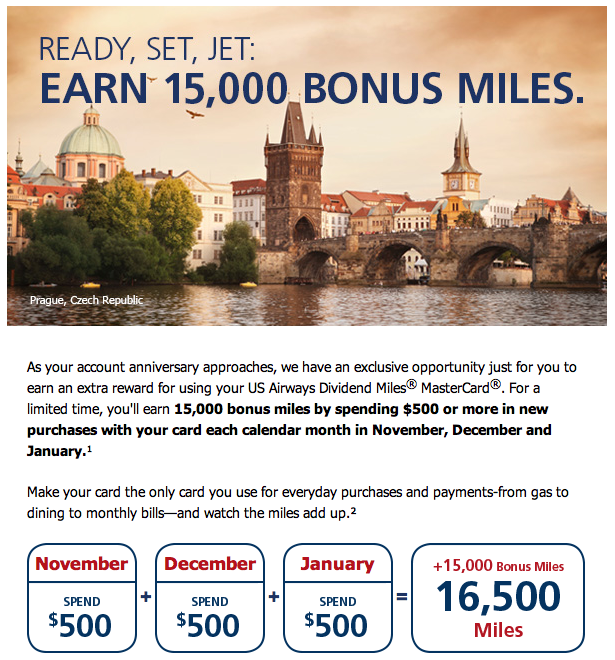 By spending a minimum of $500 per month on the card over the next three months, I'll receive 15,000 bonus miles. The timing is "perfect" (for BarclayCard that is) in that my annual fee will be coming due in the middle of this period. That creates quite the incentive for holding on to the card for another year.
Finally, rounding out this AAdvantage / Dividend Miles charm offensive was a third email.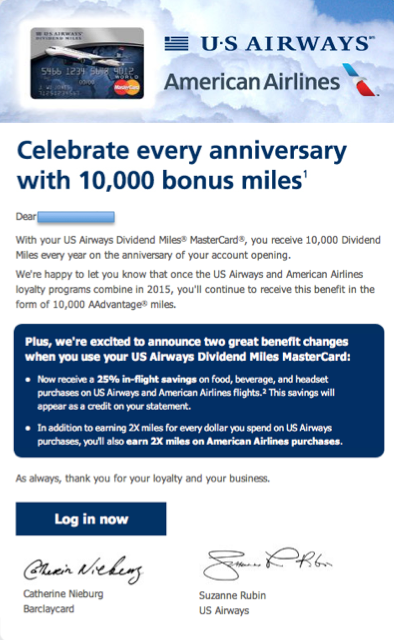 BarclayCard will be continuing my anniversary bonus and provide me with 10,000 AAdvantage miles annually.
Taken together, these developments build a pretty compelling case for holding on to my card. The value of the bonus miles that I'll be receiving justifies the cost of the annual fee. In addition, the big bump I'll be receiving in a major loyalty "currency" like AAdvantage miles fits into my broader Pointing strategies and provide me with another option for mixing and matching awards.
The Moral of the Story
These are factors that I considered in making the decision to keep my US Airways MasterCard. All of these changes also emphasize the importance of regularly monitoring the shifting landscape of the miles and points world. You need to be prepared to assess how much value you're receiving from your cards and make adjustments to "what's in your wallet" as appropriate.
How about you? How do you decide whether to "keep or cancel?"
Disclaimer: Please bear in mind that I am NOT a professional financial advisor by any means.  My discussion of credit card strategies or other financial matters are based on my own personal experiences and financial situation. In addition, I am not an employee of any of the financial institutions that issue the cards discussed nor do I receive any compensation for discussing these products. The reader is solely responsible for any financial actions that he/she may choose to undertake. Make sure you read of the "fine print" in the Terms & Conditions for all of the offers mentioned.