Okay, I know my use of alliteration for the title of this blog post really massacred the English language. But hey, I hope I caught your attention! After a heavy day in search of "Rooms with a View" and partaking of Florence's various cultural offerings, a guy's gotta eat. So, if you're famished in Florence and foraging for food (sorry, I just can't stop), here are a few ideas:
Trattoria Le Antiche Carrozze
Address: Piazza di Santa Trinita – 50123 Florence
Tel: +39 055 2658156
Website: http://www.leantichecarrozze.it/en-index.php
TripAdvisor Reviews: http://www.tripadvisor.com/Restaurant_Review-g187895-d812542-Reviews-Le_Antiche_Carrozze-Florence_Tuscany.html
This centrally located trattoria has been around since 1875. During our last two trips to Florence our daily activities seemed to regularly bring us within close proximity to this restaurant. We've eaten here several times and this place has become a favorite "go to" option for a reasonably priced, no-fuss, quality meal. The menu offers a wide variety of classic Italian, Tuscan and pizza options in a traditional and rustic setting.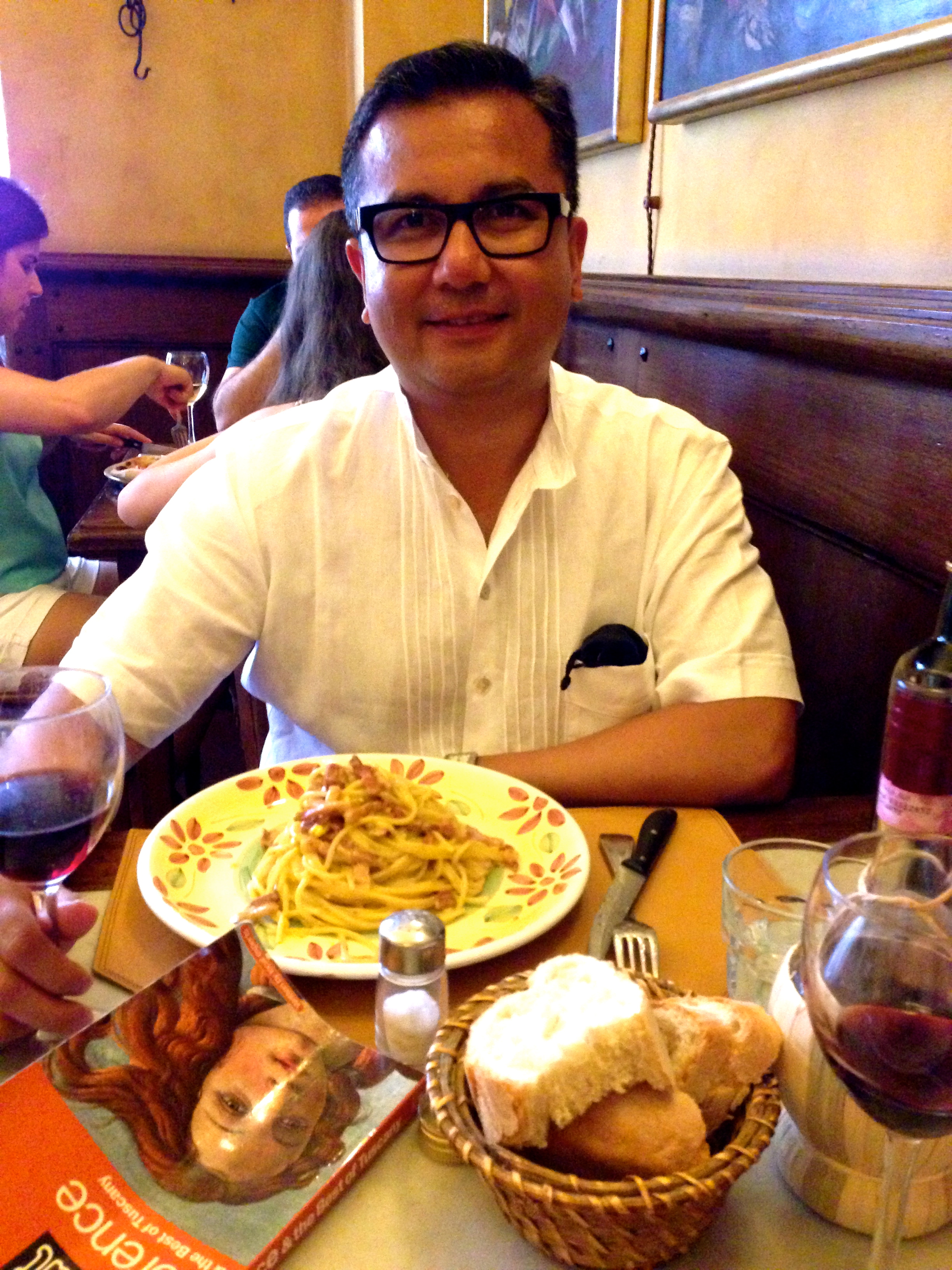 After you're done carbo-loading, you can stroll across the Piazza to the nearby Salvatore Ferragamo Shoe Museum where you can burn off some calories by wandering through the displays that take you on a journey through the history of footwear.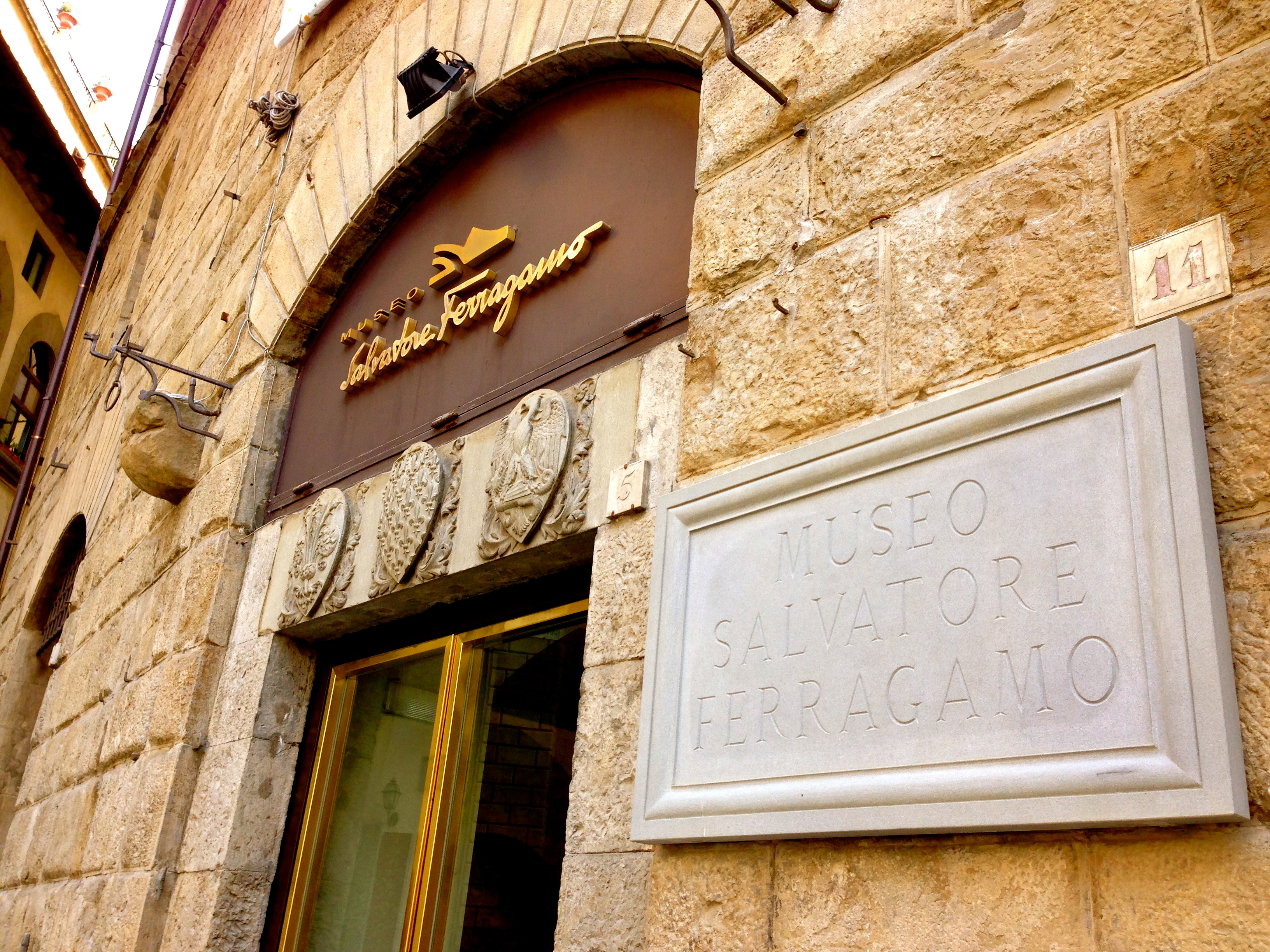 Alternatively, you can take a quick air-conditioned Disco Nap while watching the surreal, Tim Burton-esque animated short film White Shoe which was inspired by the life and work of the famous designer.
Ristorante Il Latini
Address: via dei Palchetti 6/r (Palazzo Rucellai) – 50123 Florence
Tel: +39 055 210916
Website: http://www.illatini.com/?lang=en
TripAdvisor Reviews: http://www.tripadvisor.com/Restaurant_Review-g187895-d1088252-Reviews-Da_il_Latini-Florence_Tuscany.html#REVIEWS
Il Latini is another restaurant that we've visited on each of our recent trips to Florence. The key to enjoying this place is to view it as a fun, albeit somewhat touristy, "food experience."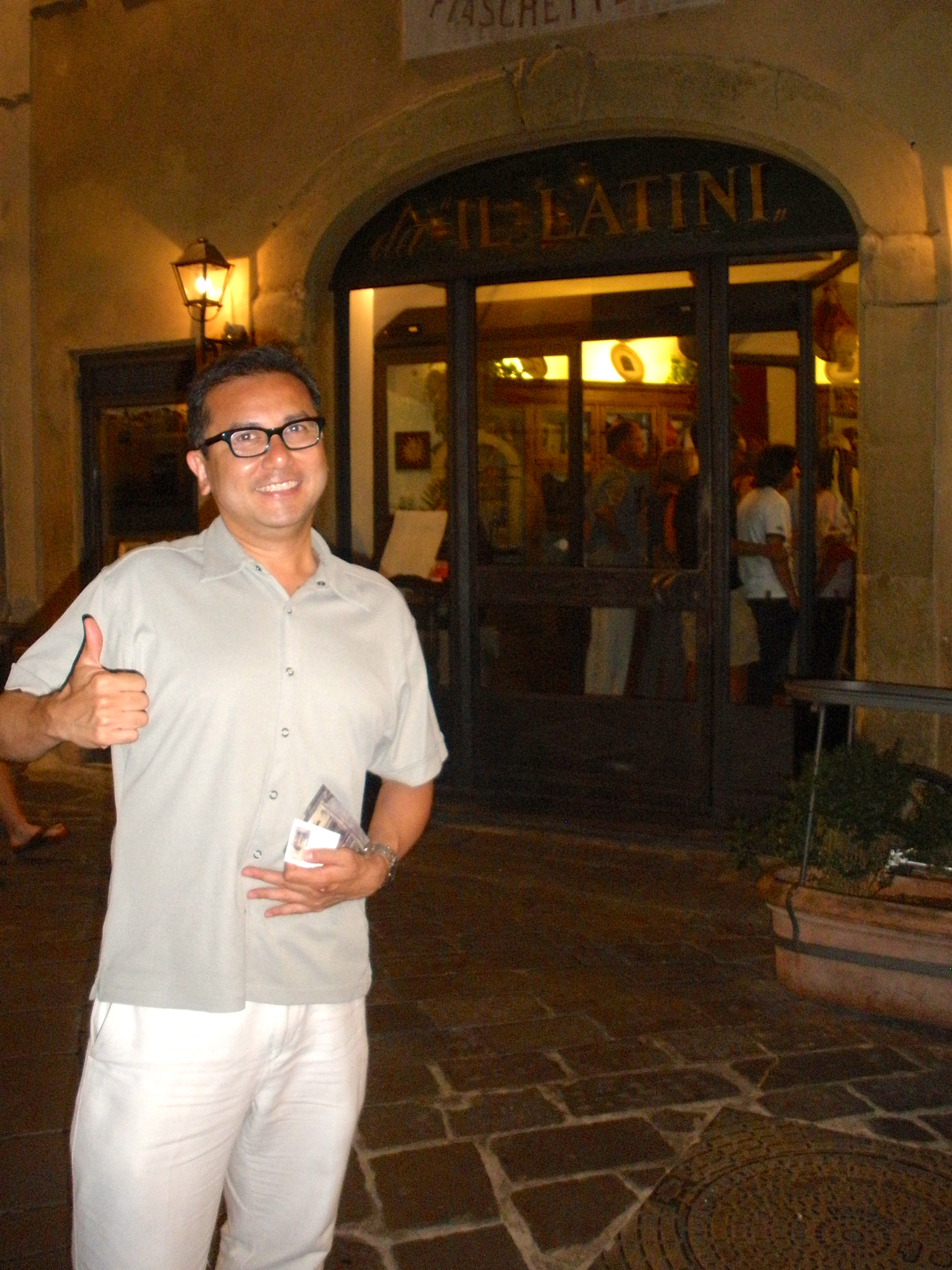 Reservations are recommended. However, this place is pretty big and it seems that even if you don't book in advance, most patrons are accommodated in a reasonable amount of time.
The "experience" begins when you see the big crowd milling about the entrance to the restaurant. Even arriving with reservations, you'll need to navigate your way to the front in order to provide your name and the number of people in your party. Although the scene may initially seem quite chaotic, the staff does a pretty efficient job of getting their guests checked in and seated.
Unless you're part of a group of four people or more, you should expect to be seated at a large communal table with other guests. The meal is served "family style" and the interesting conversations you strike up with your fellow international patrons contributes to the festive atmosphere in the restaurant.
There's really not a formal "menu" at Il Latini. Rather, the waiter comes out and starts talking through some options of what's available in terms of appetizers, pasta and a main course. Your server will question you in a friendly and informal way about your food likes and dislikes and come up with some suggestions for your table. That said, vegetarians may be out of luck as the selections tend to be a bit "meat heavy" …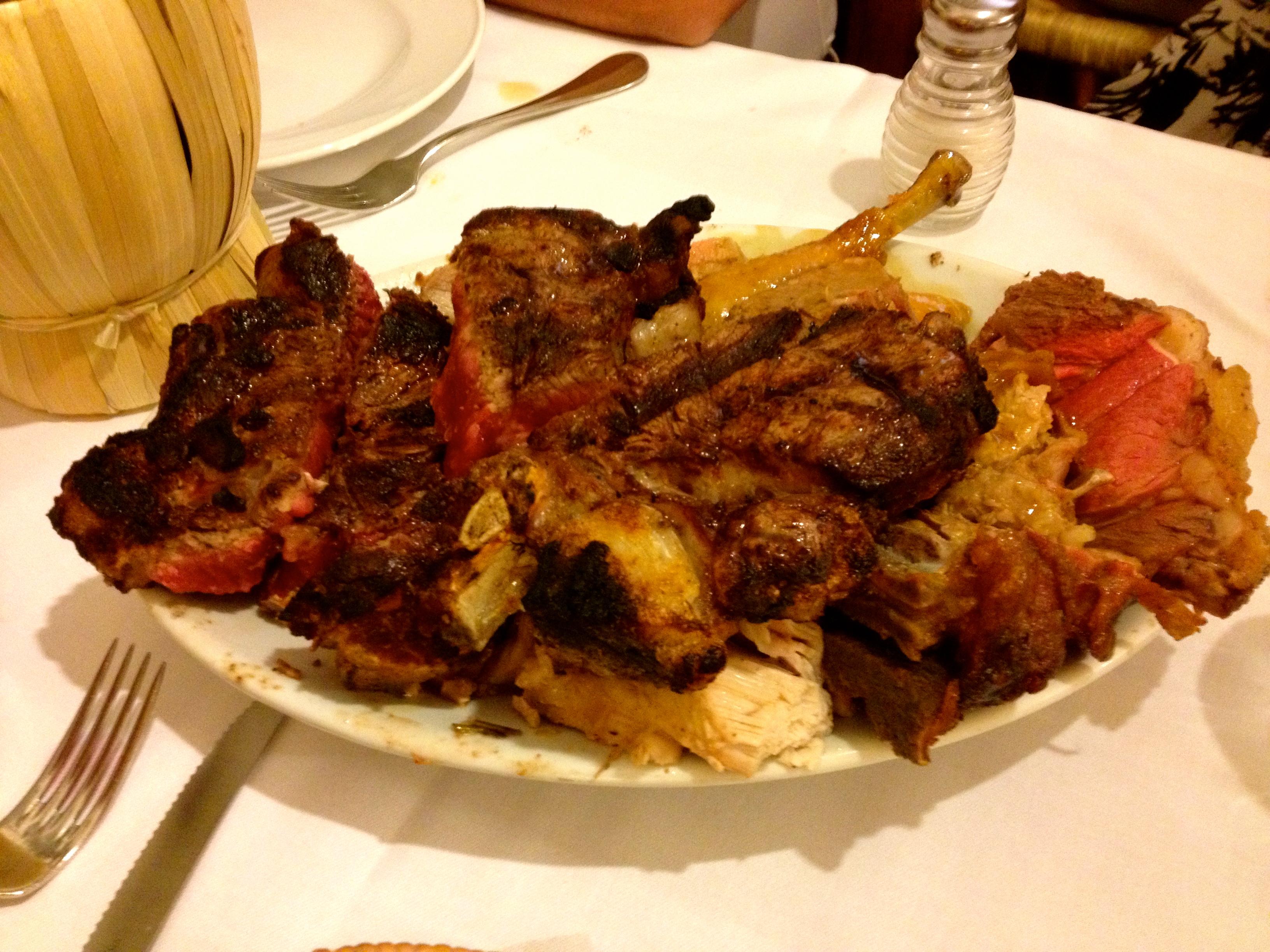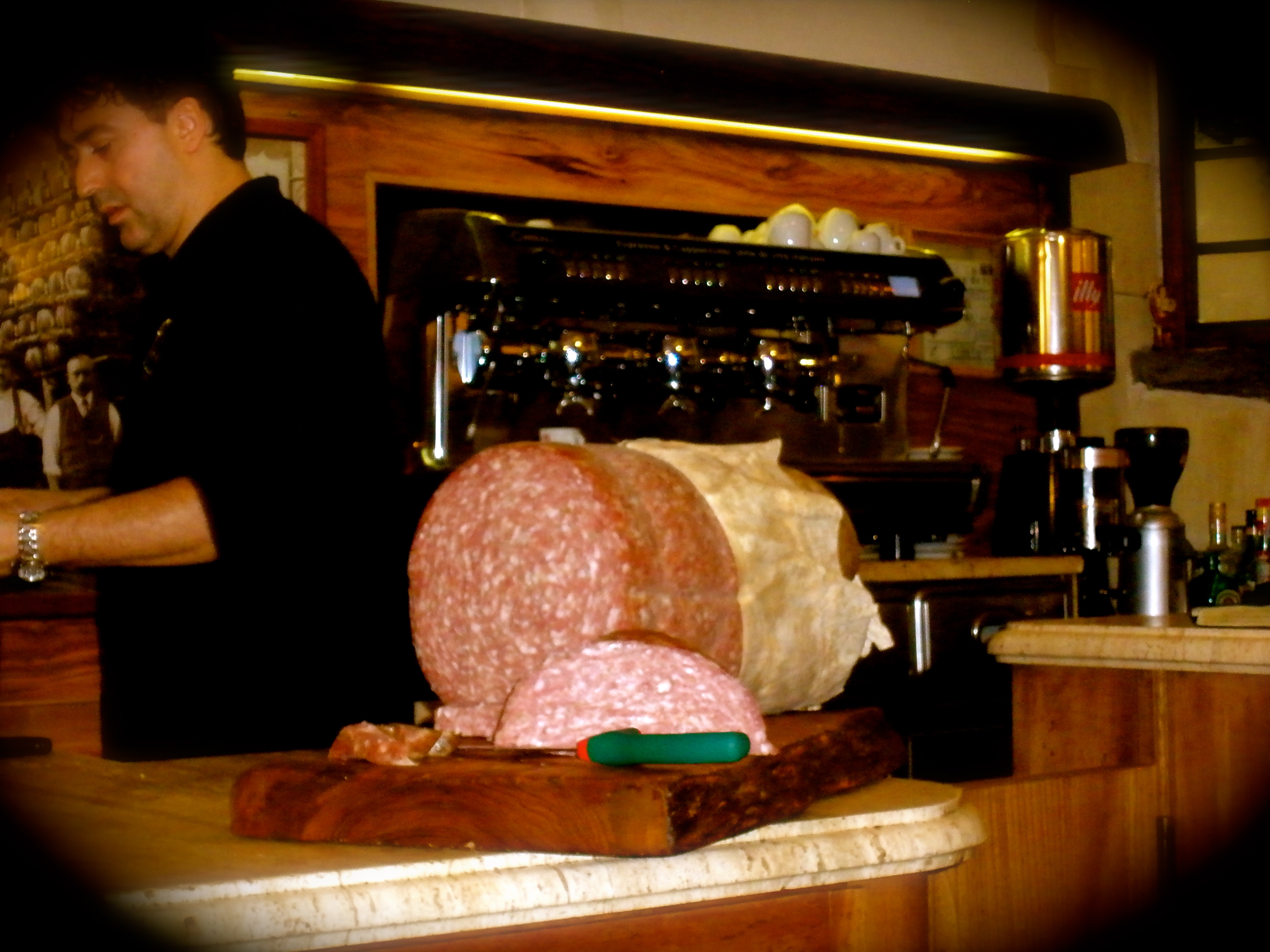 The meal wraps up with some dessert options, biscotti and a round of liqueurs. Portions are extremely generous and you will definitely NOT leave hungry! We stuck with the house wine and the meal was priced in an "all-inclusive" fashion. The waiter kind of "eyeballed" our jug of wine to see how much we consumed. However, my sense was that at the end of the day we were each charged a fixed price of about 50+ Euros per person. Upon request, it should be possible to order from a traditional menu and upgrade your wine selections for an additional charge.
Ristorante Caffe Pitti
Address: Piazza Pitti, 9, Florence (across the street from the Palazzo Pitti)
Tel: +39 055 2399863
Website: http://www.caffepitti.it/index-en.php
TripAdvisor Reviews: http://www.tripadvisor.com/Restaurant_Review-g187895-d1518916-Reviews-Ristorante_Caffe_Pitti-Florence_Tuscany.html
We discovered the Caffe Pitti when were looking for a quick place to grab a bite to eat prior to a concert that we were attending just across the street at the Palazzo Pitti.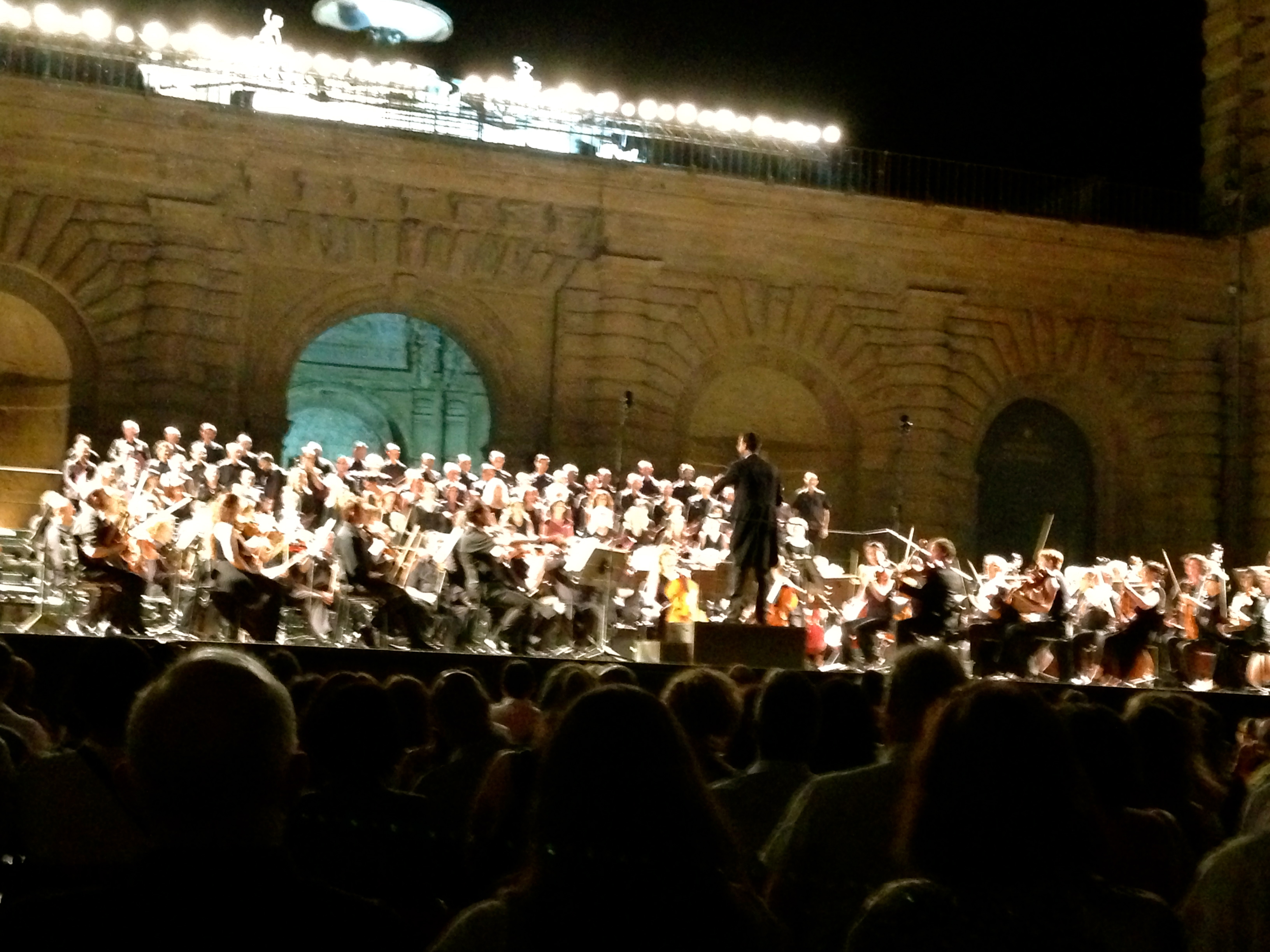 The restaurant's food was well-prepared and high quality – a real surprise given that it's located so close to a major tourist attraction.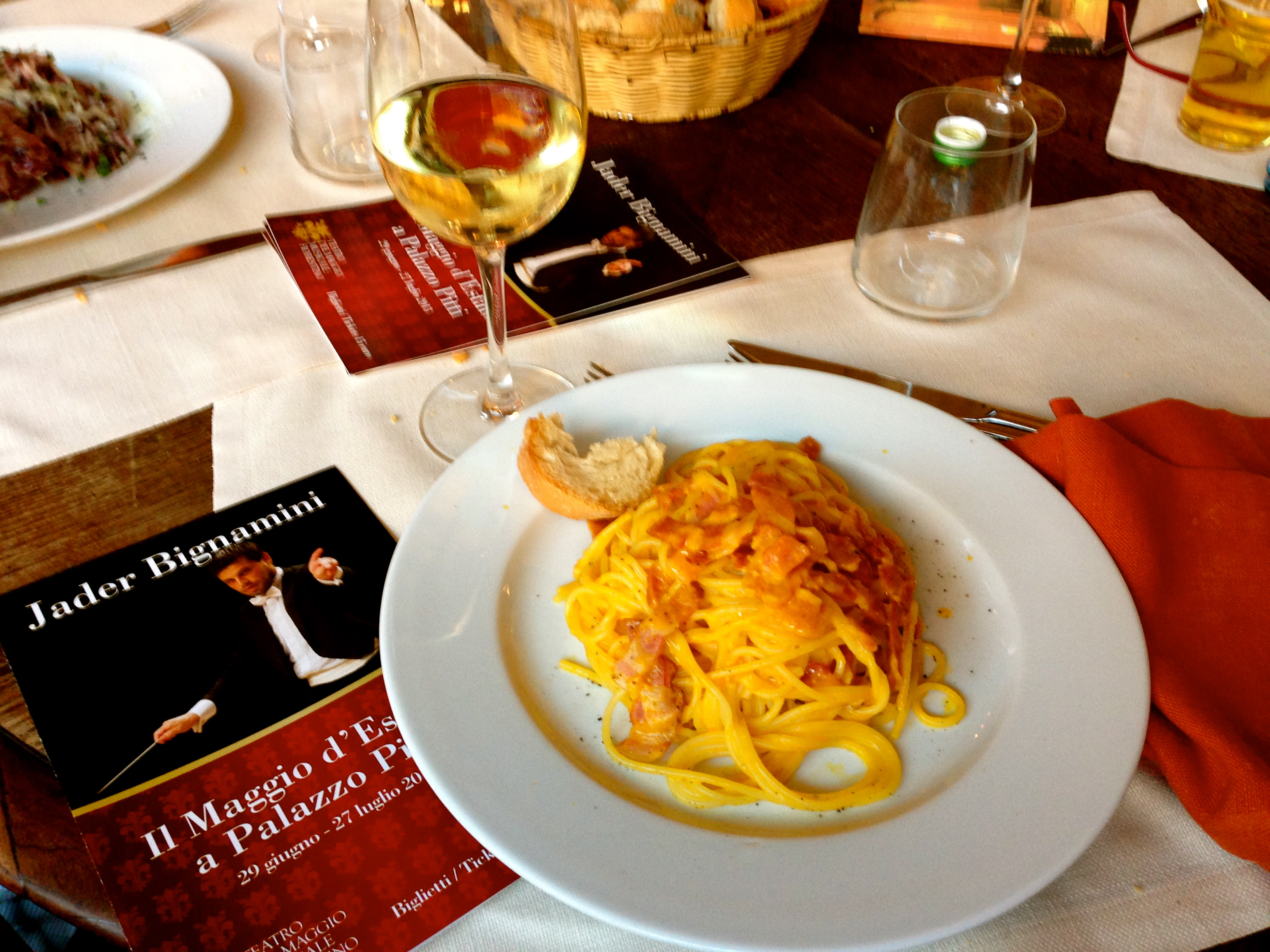 However, what distinguished this venue is that it specializes in truffle dishes and even operates a store where the restaurant's products may be purchased.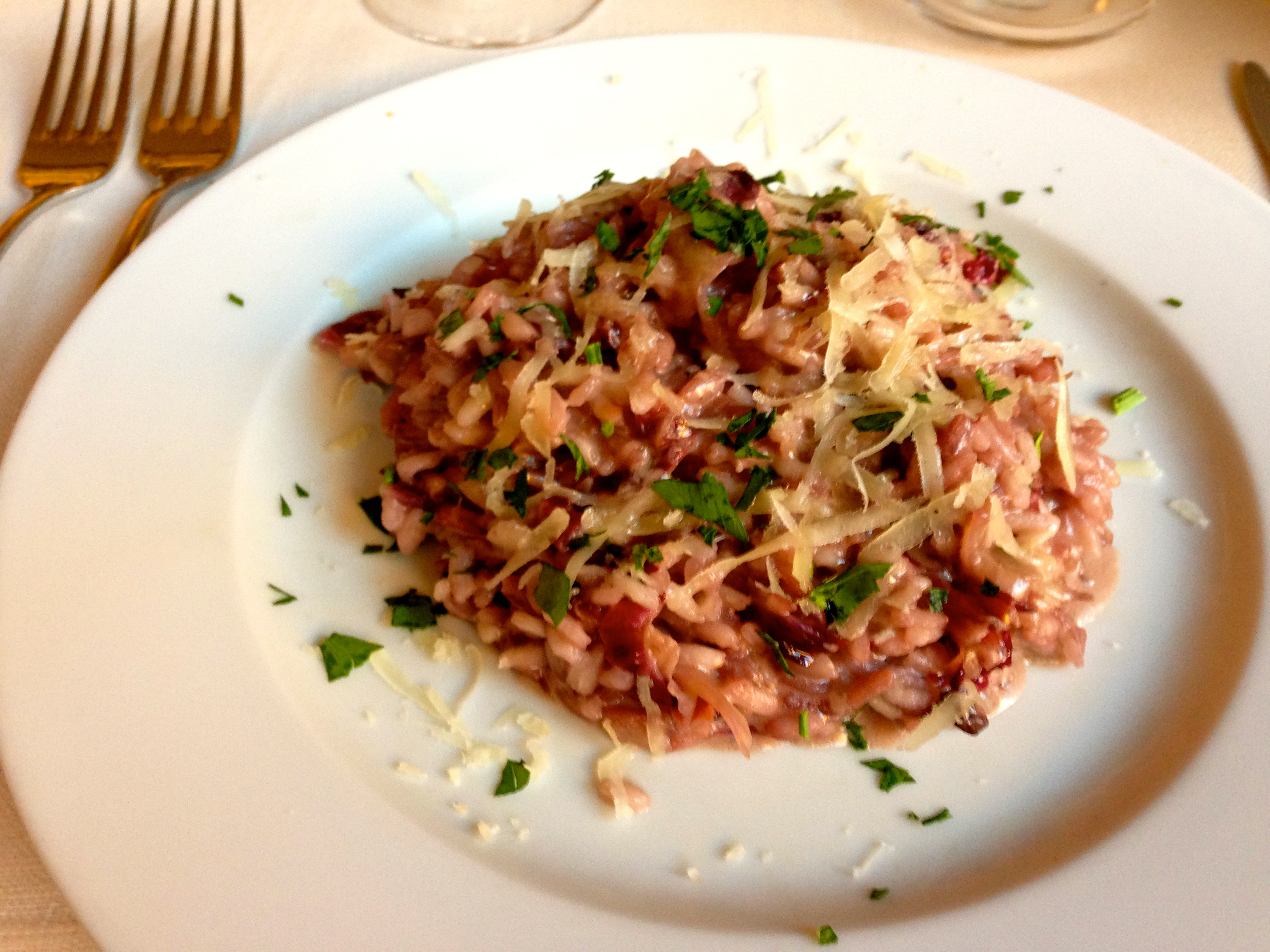 We didn't have time to linger on this particular visit. However, you can be sure we'll make it a point to work our way through the entire truffle menu the next time we're in Florence!
Golden View Open Bar
Address: Via de Bardi, 64/58, 50125 Florence (within view of the Ponte Vecchio)
Tel: +39 055 214502
Website: http://www.goldenviewopenbar.com
TripAdvisor Reviews: http://www.tripadvisor.com/Restaurant_Review-g187895-d798550-Reviews-Golden_View_Open_Bar-Florence_Tuscany.html
The very un-Italian sounding name of this establishment actually perfectly describes the views that are the focal point the restaurant. The Golden View Open Bar is located in the shadow of the Ponte Vecchio with the famous bridge framed dramatically by the dining's room large picture windows.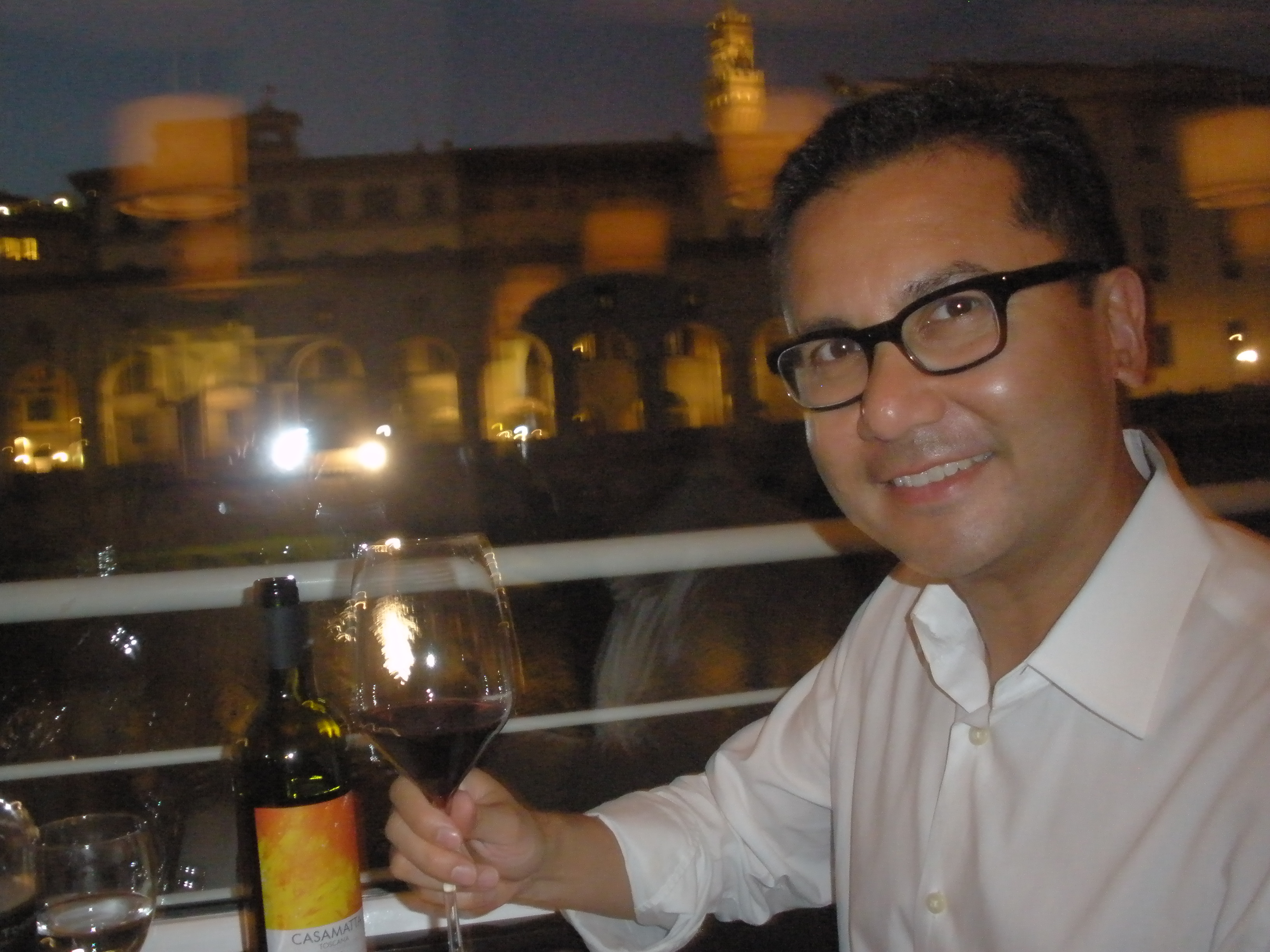 The restaurant's interior is ultramodern and its stark white interior serves as a neutral backdrop for the views outside. Of course, I did feel a bit worried that my deliciously prepared spaghetti pomodoro might cause some serious "splatter damage" during our meal.
Adding to the ambiance are the jazz performances that are held nightly (except on Tuesdays and Thursdays) starting at 9:00 pm.
Grom
Address: Via del Campanile angolo via delle Oche – 50012 Florence
Tel: +39 055 216158
Website: http://www.grom.it/eng/
TripAdvisor Reviews: http://www.tripadvisor.com/Restaurant_Review-g187895-d783320-Reviews-Grom-Florence_Tuscany.html
What's a trip to Italy without gelato?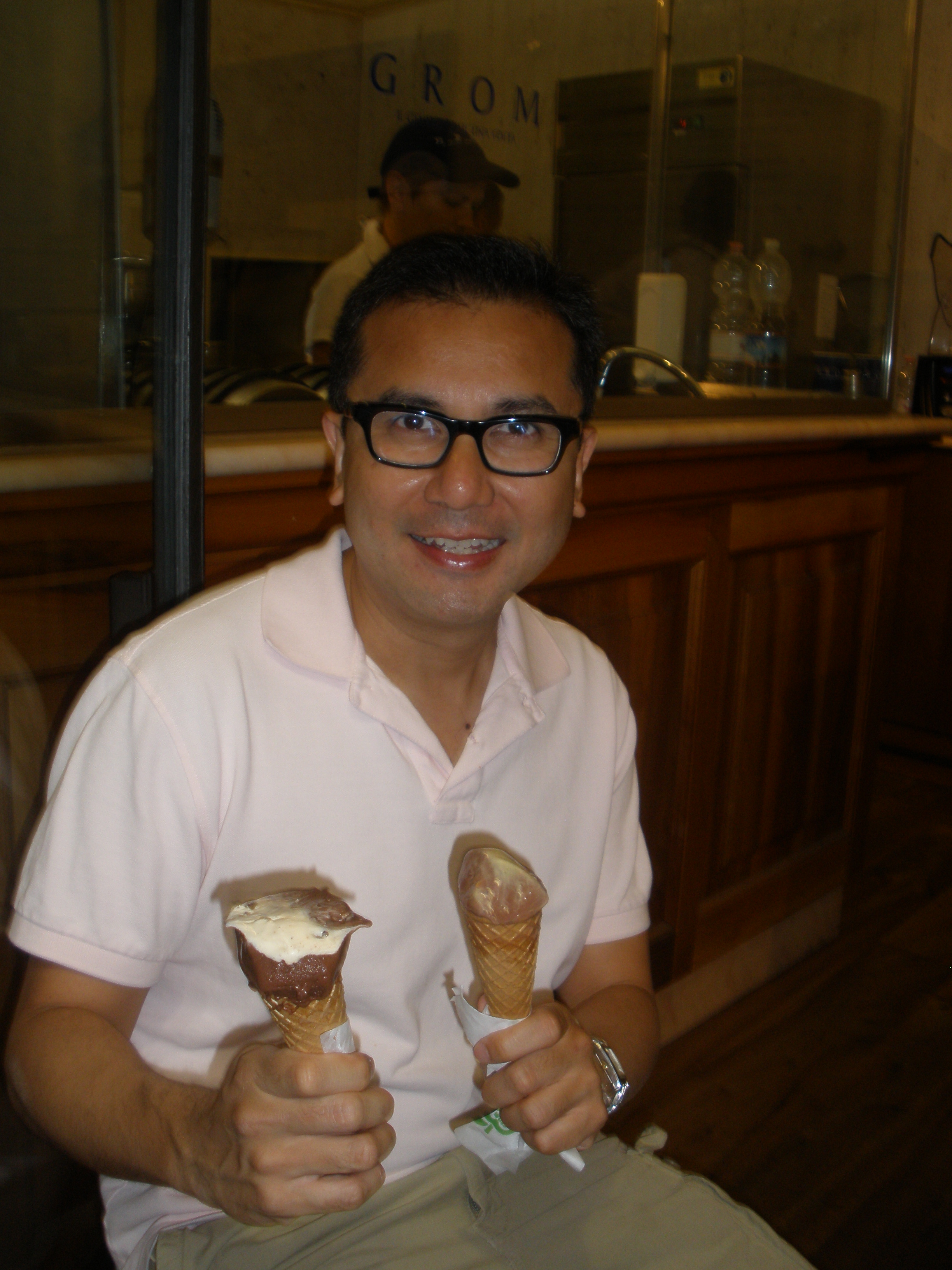 In order for us stay to true to our "gelato-a-day" program we were pleased that this branch of the high-end ice cream chain was located just down the street from the Hotel Brunelleschi which was our base of operations during our stay in Florence.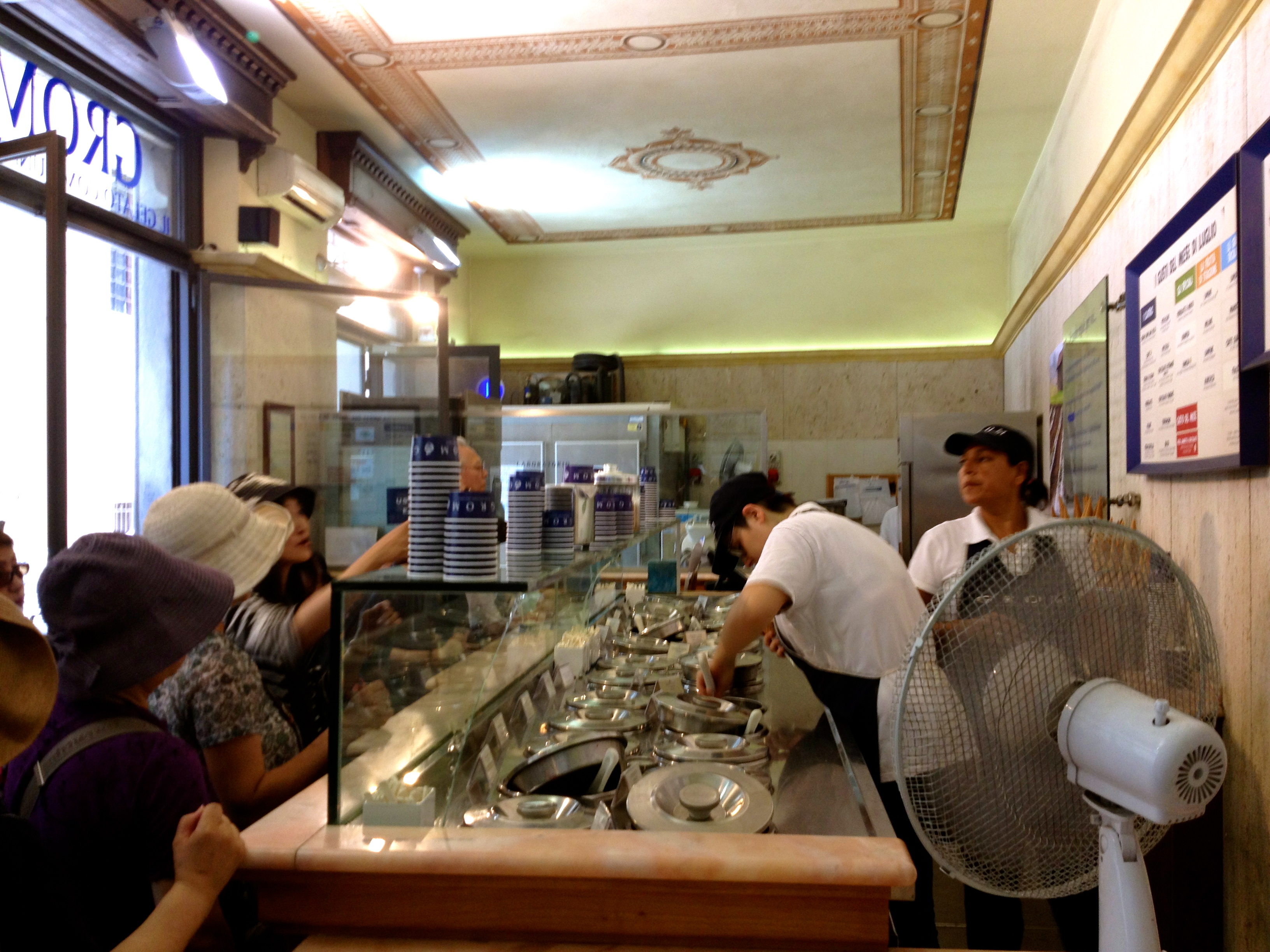 Although the gelato at Grom isn't cheap, the variety of flavors and the quality of the ingredients justify the higher prices and waiting in the ever present long lines snaking out of the store.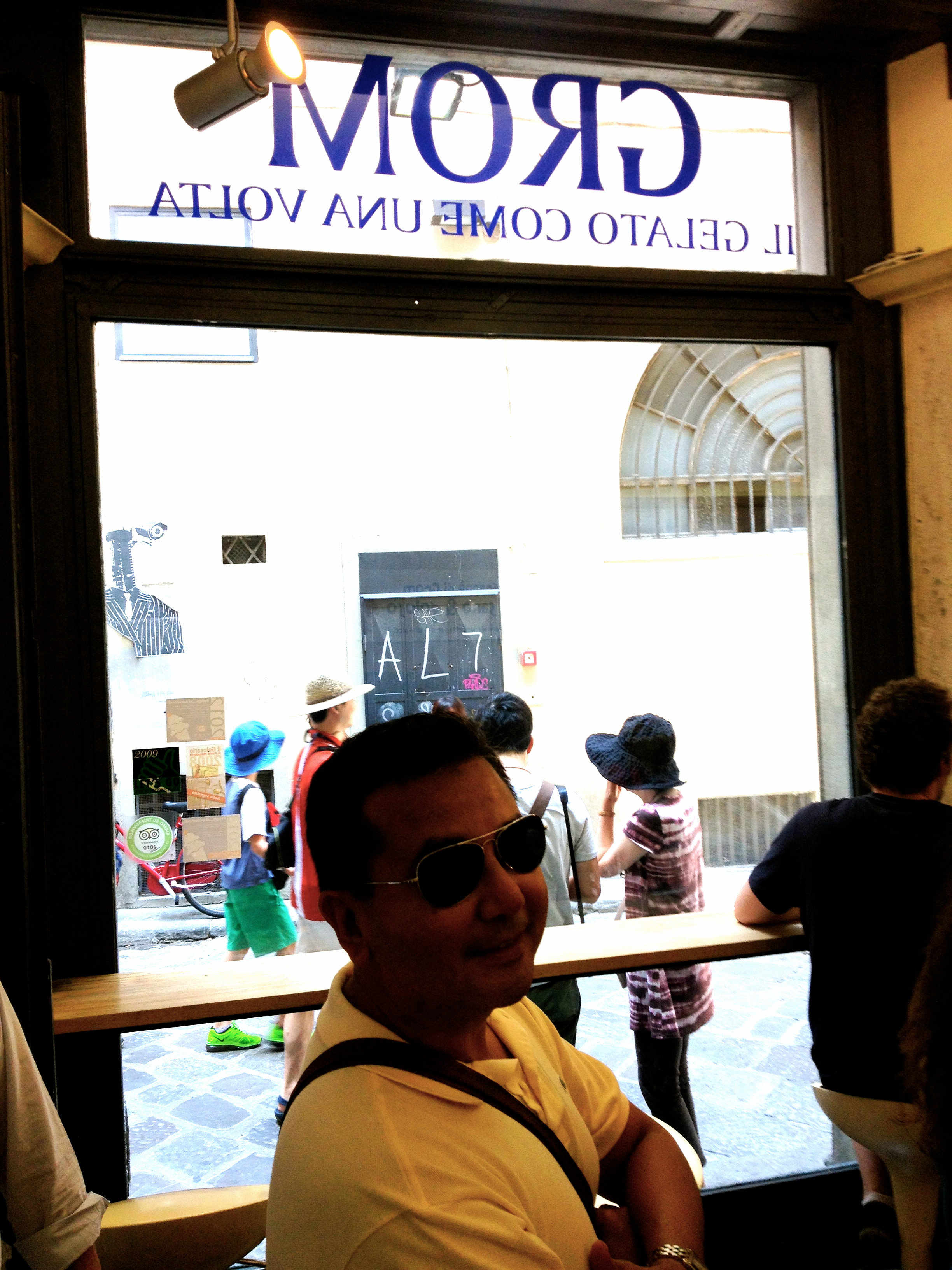 Fortunately, you won't have to go too long without a Grom fix as you continue your travels since the chain maintains branches in all of the major Italian cities as well as in New York, Malibu, Paris, Tokyo and Osaka.
Do you have a favorite dining spot in Florence? I'd love to hear about it!