Summer has finally kicked off here in my hometown of Chicago. Just as every diehard Cubs fan believes that THIS YEAR could be the one where we make it to the World Series, the start of the summer offers the hope of limitless possibilities. Of course, the potential for scoring some significant Miles & Points (what I like to call Pointing) is a bit more realistic than my Cubbies hitting those elusive home runs.
The key to successful Pointing is to build Miles & Points accumulation into your daily routine. One such method is to use Online Shopping Portals to purchase items that are already on your shopping list.
Many of the major airlines and hotel chains maintain sites that enable the shopper to earn points by patronizing a variety of online retailers. In order to use a shopping portal, you simply login with your loyalty number, identify an online retailer that's of interest to you and "click through" to the retailer's regular website where you complete the transaction as you normally would. The portal notes the transaction and awards you bonus points for the purchase. Although you can use any card to make your purchase, you can maximize your Pointing by paying with your favorite awards earning credit card. In other words, you earn points from shopping through the portal AND points associated with the card that you're using.
Some of the major Online Shopping Portals include the following:
Air Canada
American Airlines
Amtrak
British Airways
Chase Ultimate Rewards
Delta
Hawaiian Airlines
Hilton
Marriott
Southwest
United
In addition, many online retailers periodically offer extra bonus points and the Shopping Portals run special spending promotions. For example, through June 15 United's MileagePlus Shopping portal is awarding up to 2500 bonus award miles for hitting certain spending goals.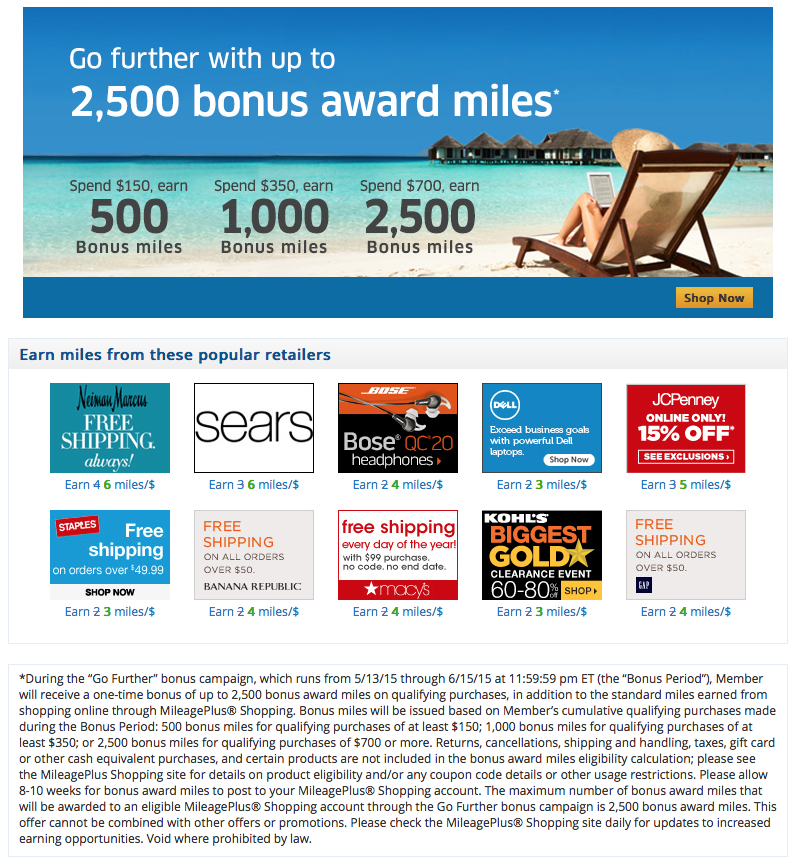 As you can see below, you can quickly rack up bonus award miles by shopping through an online portal.

To determine which retailers offer the best bonuses, I find EVreward.com to be a very helpful resource. This online directory of shopping sites allows you to make side-by-side comparisons of your various rewards options.
With the Father's Day, Graduation and Wedding gift-buying season upon us, this would be the perfect time to try out an Online Shopping Portal. Have you ever used an Online Shopping Portal as a part of your Pointing efforts? What has been your experience?