A couple of weeks ago I discussed how you can use the Big Three Points Currencies to hedge against future loyalty program devaluations (see this post for more details).  However, once you've figured out your travel style and goals (see my earlier post on What Kind of Pointer Are You), how do you actually go about collecting all of those miles and points?
Many of the frequent flyer points that I accumulate are earned not by "time in the air" but through credit card spending that funds my account balances with the major points currencies.  Over the last several years, the emergence of credit cards associated with pretty much every airline or hotel brand has provided the consumer with a multitude of Pointing vehicles and opportunities. In addition, credit card "Sign Up" bonuses can yield a healthy kick start to an average traveller's mileage balances.
However, any discussion of credit cards must first start with a discussion of financial responsibility. I take a very conservative approach to my use of credit cards.  I always pay my balance off in full every month and keep a close watch on my credit score.  I take a very thoughtful and strategic approach to choosing the credit cards I apply for and the timing of when I apply for those cards. The maintenance of a strong personal financial situation and responsible spending habits create a "virtuous cycle" that's a very important part of an overall Pointing strategy.
There's an astonishing array of points earning cards available in the credit card universe. However, to get us started I'd like to start with three "workhorse" cards that can serve as the foundation for your Pointing efforts.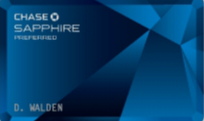 What makes this card a cornerstone of my personal Pointing strategies is that it rewards me with 2X points in the categories that account for the largest portion of my personal spending – Dining and Travel.  For example, I use this card to pay for my monthly public transportation fare cards in addition to the taxis that I take when it's raining and I'm too much of a wimp to wait for the bus.  I also receive double points on Uber – the on demand car service (more on this latest obsession of mine in a future post). Once I get to the office I'll charge my morning bagel followed by mid-day slice of pizza and get double points as I do it.  The card earns 1 point per $1 dollar spent on all other purchases.
Using this card earns Ultimate Rewards points which can be transferred on a 1:1 basis into the mileage programs of United Airlines, British Airways, Southwest Airlines and Korean Air.  Alternatively, you can transfer your Ultimate Rewards points into the loyalty programs of Marriott, Hyatt, Ritz-Carlton, Priority Club (Holiday Inn and Intercontinental) and Amtrak. Another great travel benefit of this card is that when any I book my travel through the Ultimate Rewards website I get 3 points for every dollar that I spend. In addition, the card doesn't charge you foreign transaction fees on any purchases that are made outside of the United States.
Finally, the Chase Sapphire Preferred will award you with a 7% Annual Points Dividend on all points that you have earned on purchases over the course of the year (including on points that you've redeemed for awards).  Signing up for this card will also give you a big boost of 40,000 Ultimate Rewards points once you've met the minimum spending requirements of $3,000 in the first 3 months of card ownership. Annual Fee: $90 (waived the first year).
Starwood Preferred Guest American Express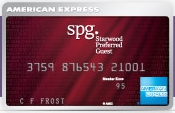 I've been a Starwood Preferred Guest (SPG) member for several years and carry the hotel loyalty program's branded American Express Card.  Although I've collected Starpoints in the past and have used them to redeem a number hotel awards, this is one program that I haven't been paying a lot of attention to lately. However, as I outlined in my earlier post, Starwood Starpoints Starstruck, there are tremendous redemption opportunities available through this program.
I guess a big reason why I hadn't gone out of my way to put spend on this card was that it didn't offer any category bonuses (e.g. Dining, Travel, etc.) like my Chase Sapphire Preferred.  However, the ability to transfer points into a wide variety of frequent flyer programs provides much of the same flexibility at the Ultimate Rewards program.
Plus, for every 20,000 Starpoints you transfer you receive an additional 5,000 points. This means that you're effectively earning a 25% bonus on everything you spend on the card if you intend to use your Starpoints for airline awards. You should note though that in order to maximize your bonus you need to transfer your Starpoints in 20,000 point increments. For example, if you transferred 100,000 Starpoints in a single transaction you would only receive a 5,000 point bonus.  On the other hand, if you broke up the transaction into five 20,000 point transfers you would receive a total of 25,000 bonus points!
Another think to keep in mind is that, unlike the Ultimate Rewards program, points transfers are not instantaneous (e.g. it make take anywhere from a few days to a week or more for the points to credit to your airline's frequent flyer account). Also, the card DOES charge foreign transaction fees so this might be the best card to use on a trip abroad.
The Starwood Preferred Guest American Express Card will award you 10,000 Starpoints on your first purchase on the card and another 15,000 Starpoints after you send $5,000 in purchases on the card within the first six months of card membership. In addition, you receive two stay credits and five night credits annually towards elite qualification for the hotel's loyalty program. Annual Fee: $65 (waived the first year).
American Express Premier Rewards Gold Card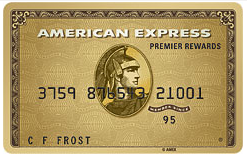 Finally, what rounds out what's in my (now very crowded) wallet, is my Premier Rewards Gold Card that earns Membership Rewards points.  American Express offers a number of different cards that earn this Points Currency.  However, this particular card earns such spending category bonuses as: triple points on airfare purchased directly from airlines, double points gas on purchased from gas stations and double points on groceries purchased from supermarkets.  In addition, you receive 15,000 bonus points for spending $30,000 annually on the card.  Unfortunately, like the Starwood Amex, this card charges foreign transaction fees so it's the one that I usually leave at home when I'm travelling overseas.
The American Express Premier Rewards Gold Card will award you 25,000 Membership Rewards points once you spend $2,000 within the first three months of card membership.  Annual Fee: $175 (waived the first year).
These are all credit card products that I currently own. What's great about these cards is they not only provide coverage across the Three Major Points Currencies, but they also allow you to reap bonuses on pretty much all of the categories that are included in your daily spending patterns. Stay tuned for a future post where I'll discuss how I structure my card usage to optimize my category bonuses. How about you? What's in your wallet?
Disclaimer: Please bear in mind that I am NOT a professional financial advisor by any means.  My discussion of credit card strategies or other financial matters are based on my own personal experiences and financial situation. In addition, I am not an employee of any of the financial institutions that issue the cards discussed nor do I receive any compensation for discussing these products (note: I do receive a referral bonus if you sign up for Uber at the link I have included in this article). The reader is solely responsible for any financial actions that he/she may choose to undertake.