Agatha Christie does a great job of situating Hercule Poirot in some pretty luxurious locations. Whether its's a carriage on the Orient Express, a Nile steamer or a secluded Black Sea resort, if you're going to have a murder you might as well have someplace comfortable for the great French … sorry Belgian … detective to interrogate the suspects.
It's that combination of 1920's glamour in a spectacular setting that characterized our stay at the Hotel Marincanto in Positano this past July.  Minus, of course, a dagger embellished body lying face down in the lobby.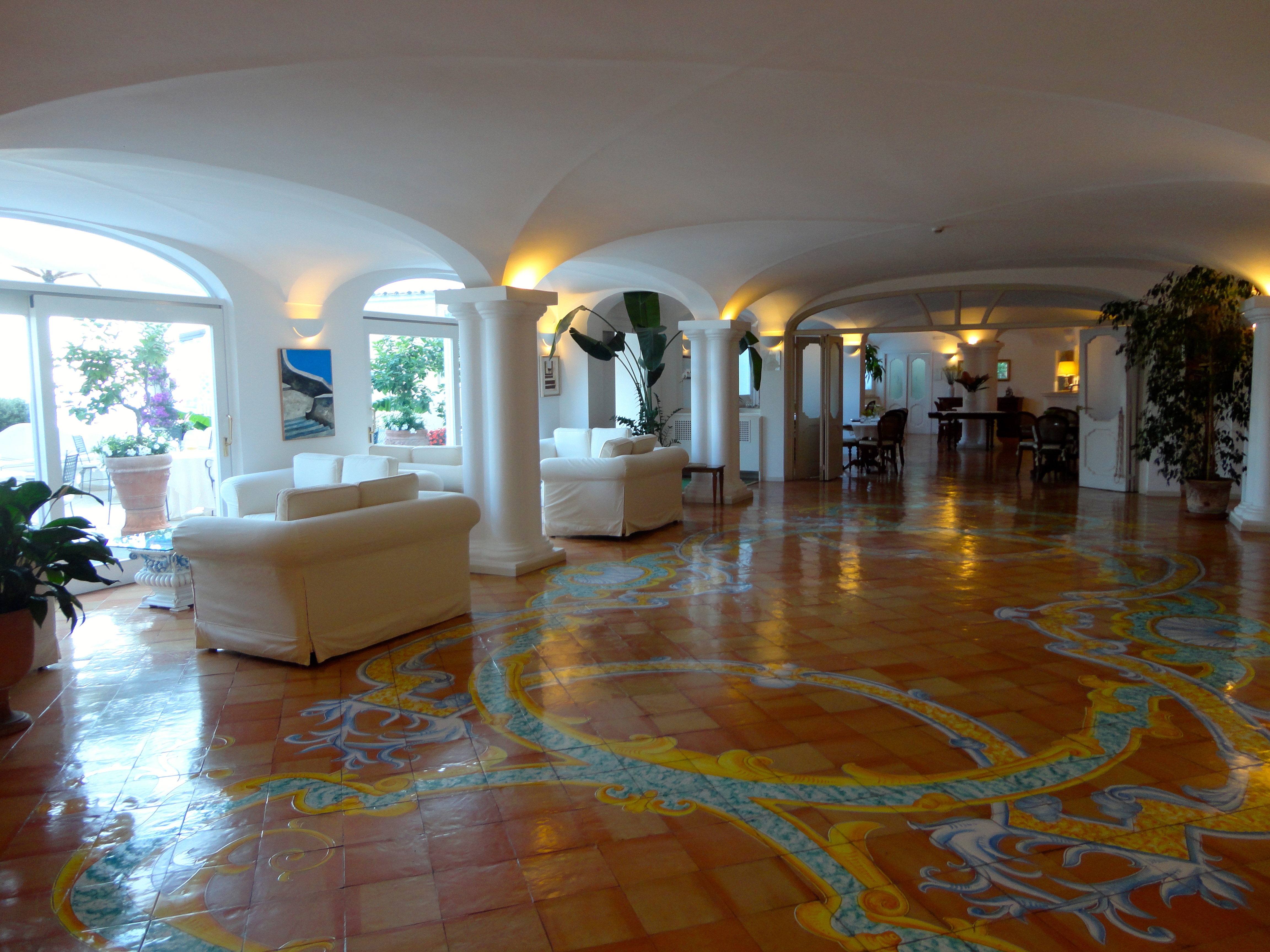 Our driver Salvatore "Junior" (check out my earlier post on Driving Mr. Daisy for more details on our tour of the Amalfi Coast the day before) dropped us off at the hotel and we made our way from the street level entrance into a small glass-walled elevator that brought us down to the main reception area.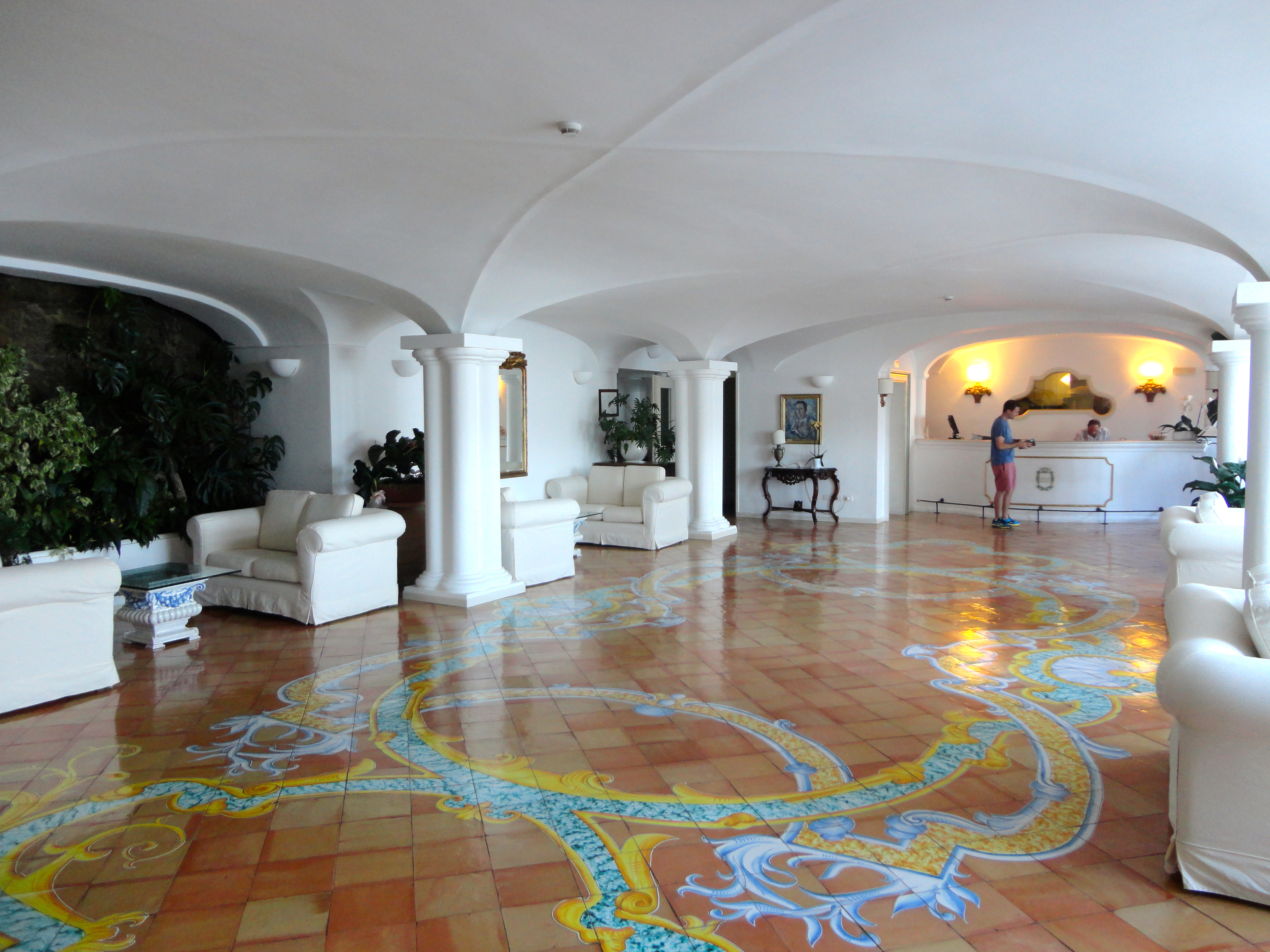 Our check-in experience began with a warm welcome from Enza who was manning the front desk that afternoon.  Enza was bright, enthusiastic and promised that she would make our stay very special as we were there to celebrate a "Signature Birthday" for my Partner F. As we arrived, another guest was saying good-bye and declaring that this was her third time staying at the the hotel and that her stay was absolutely perfect … a very promising sign! Note: This was in contrast to our previous check-in at the Hilton Sorrento Palace (See my Staging Hotel post for more details.).
We arrived around noon and Enza informed us that our room would not be ready for about about an hour.  We stored our bags and took the opportunity to start familiarizing ourself with our surroundings and decided to enjoy the sun on one of the hotel's numerous outdoor terraces.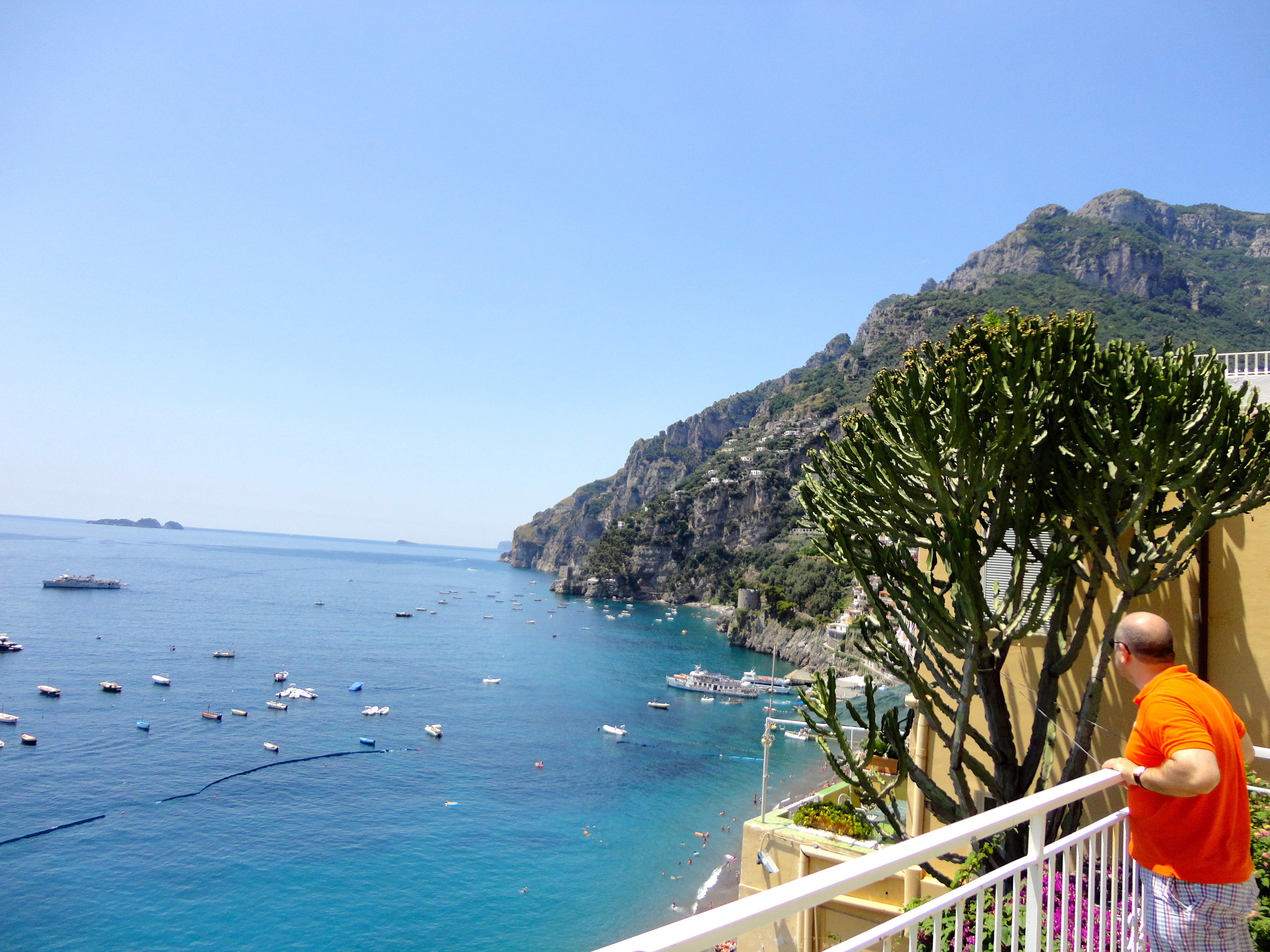 As soon as we walked outside the spectacular views confirmed that we picked the right hotel for our stay in Positano. We had to wait about 1.5 hours until our room was ready.  However, we had arrived early and I can think of worse places to cool our heels.
We reserved a Junior Suite and were assigned Room 212.  Shortly after settling in, Enza sent a small welcome gift to our room …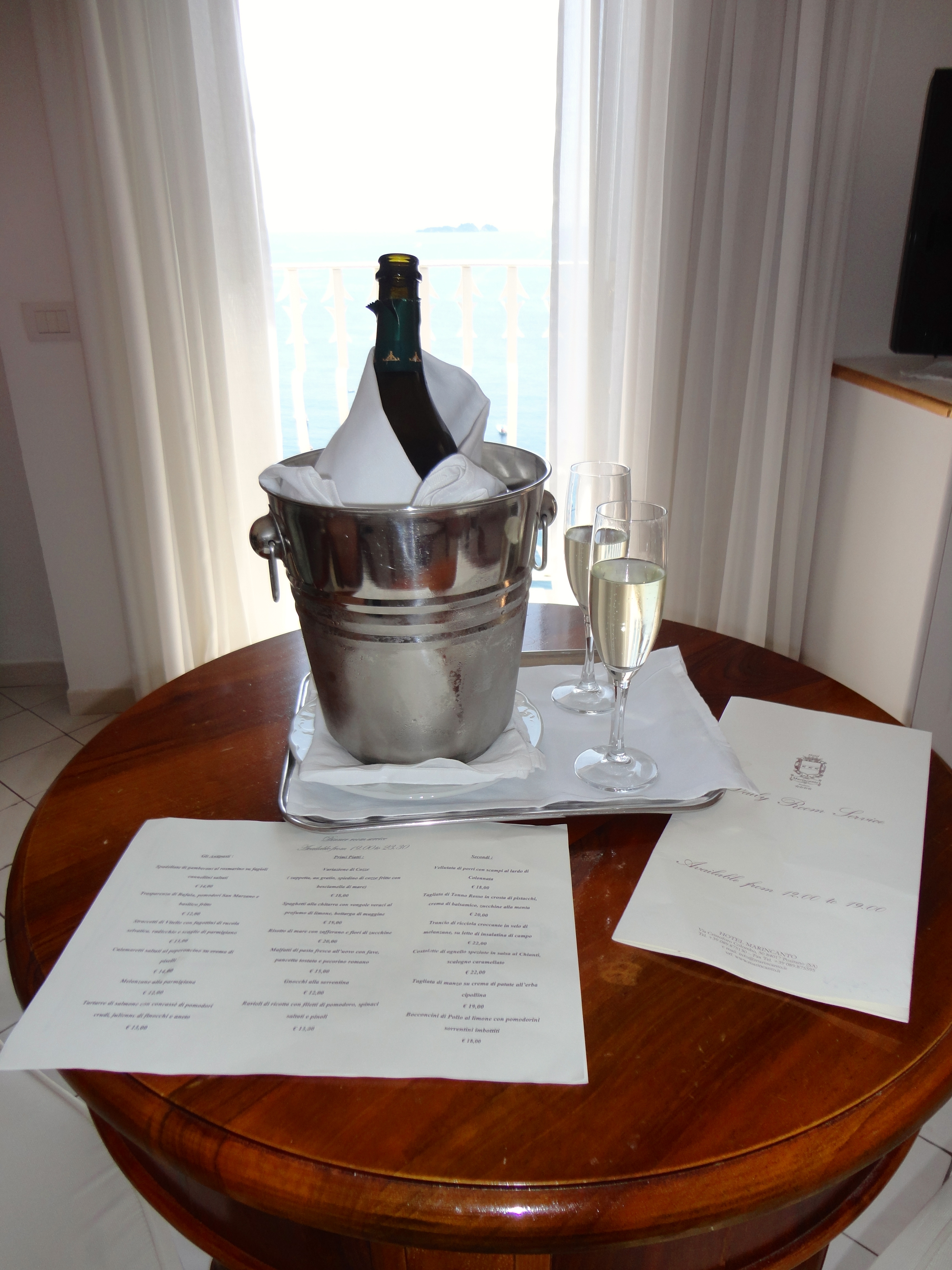 … which after consumption sparked the need for an afternoon nap.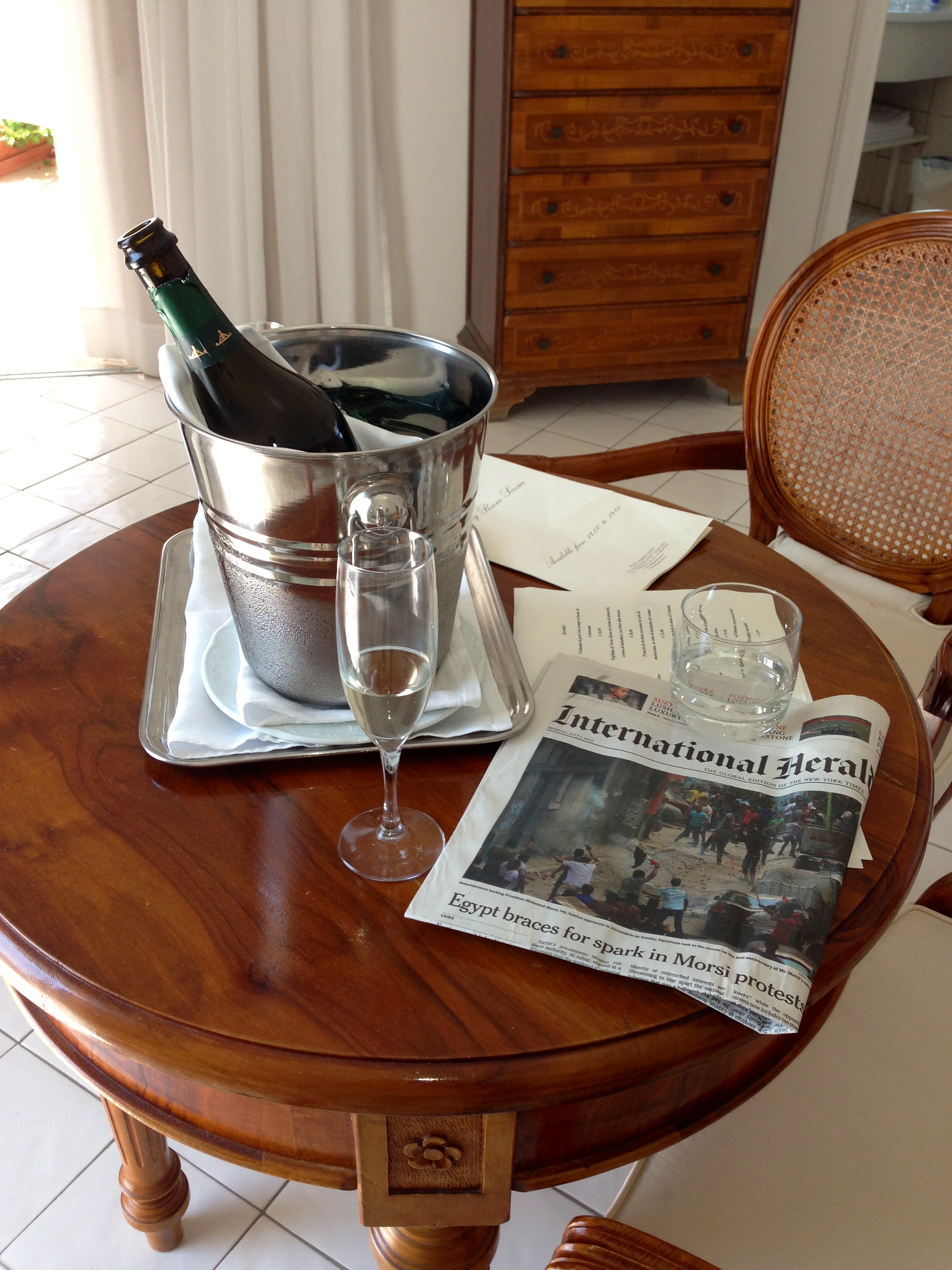 It's a good thing that our room was comfortable! Our Junior Suite included a small table and two chairs and an antique chest of drawers,which along with a hallway closet, provided ample storage space.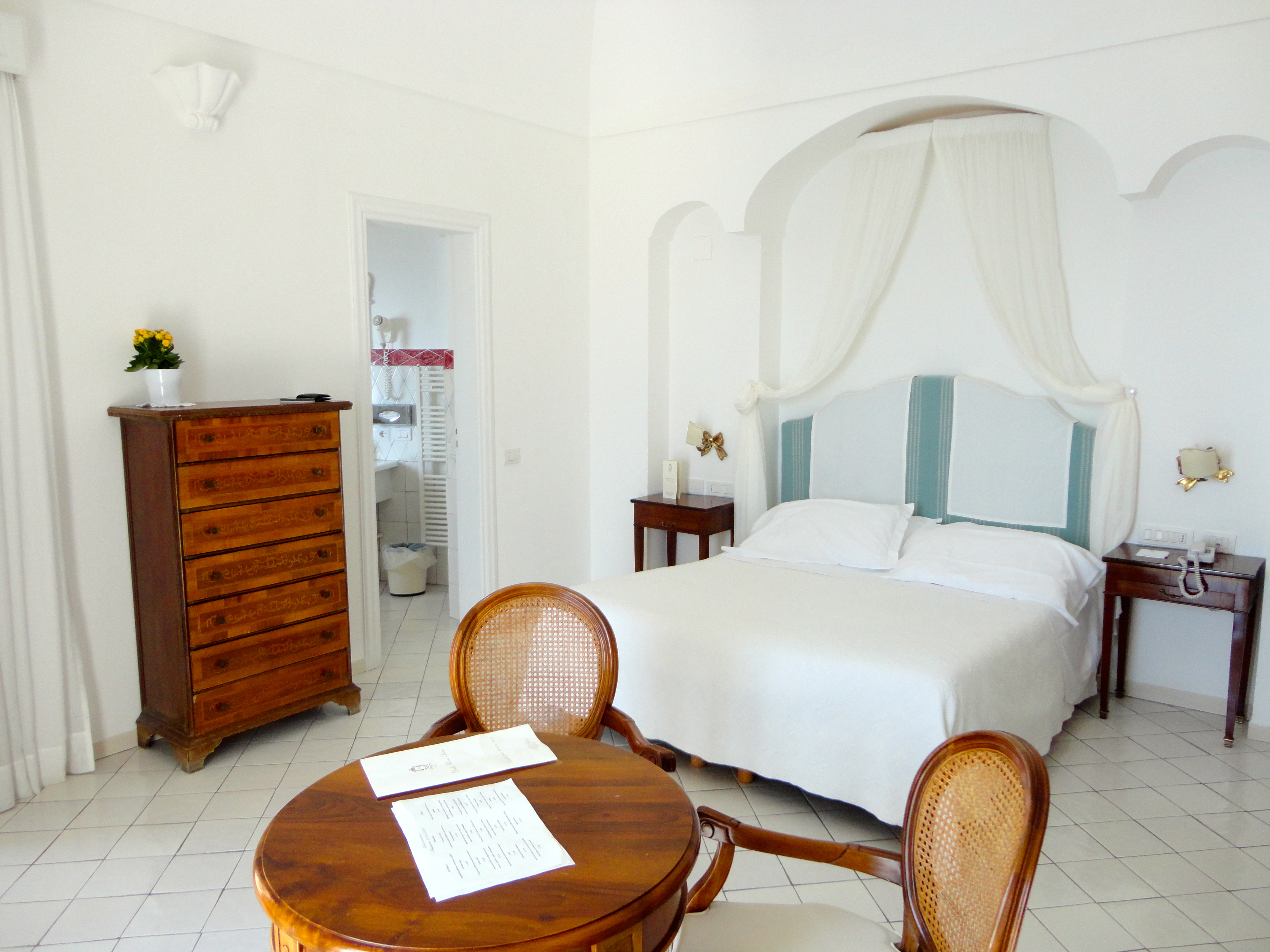 The room also featured two generously scaled arm chairs …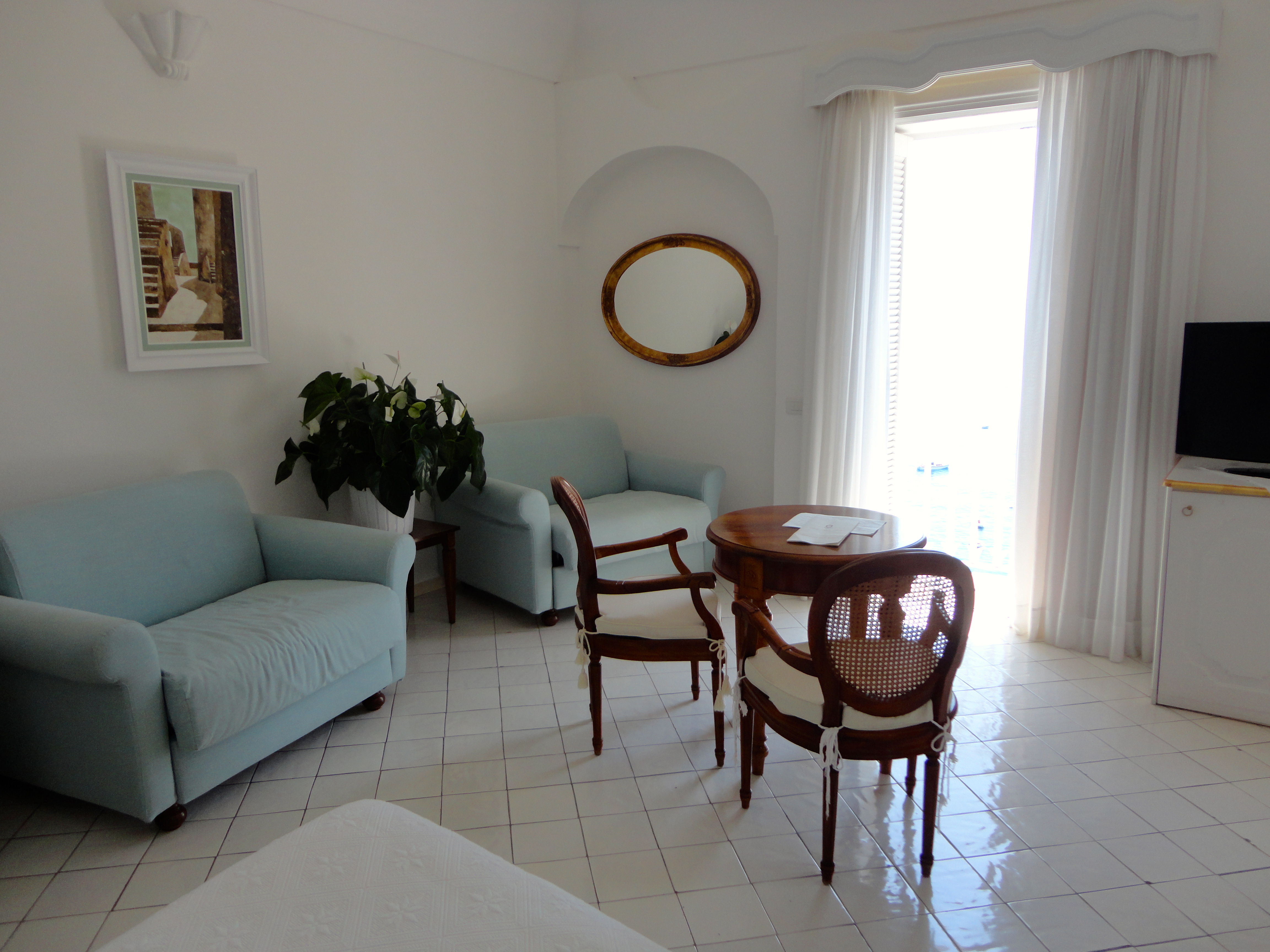 … a flat-screen television, DVD player and refrigerator.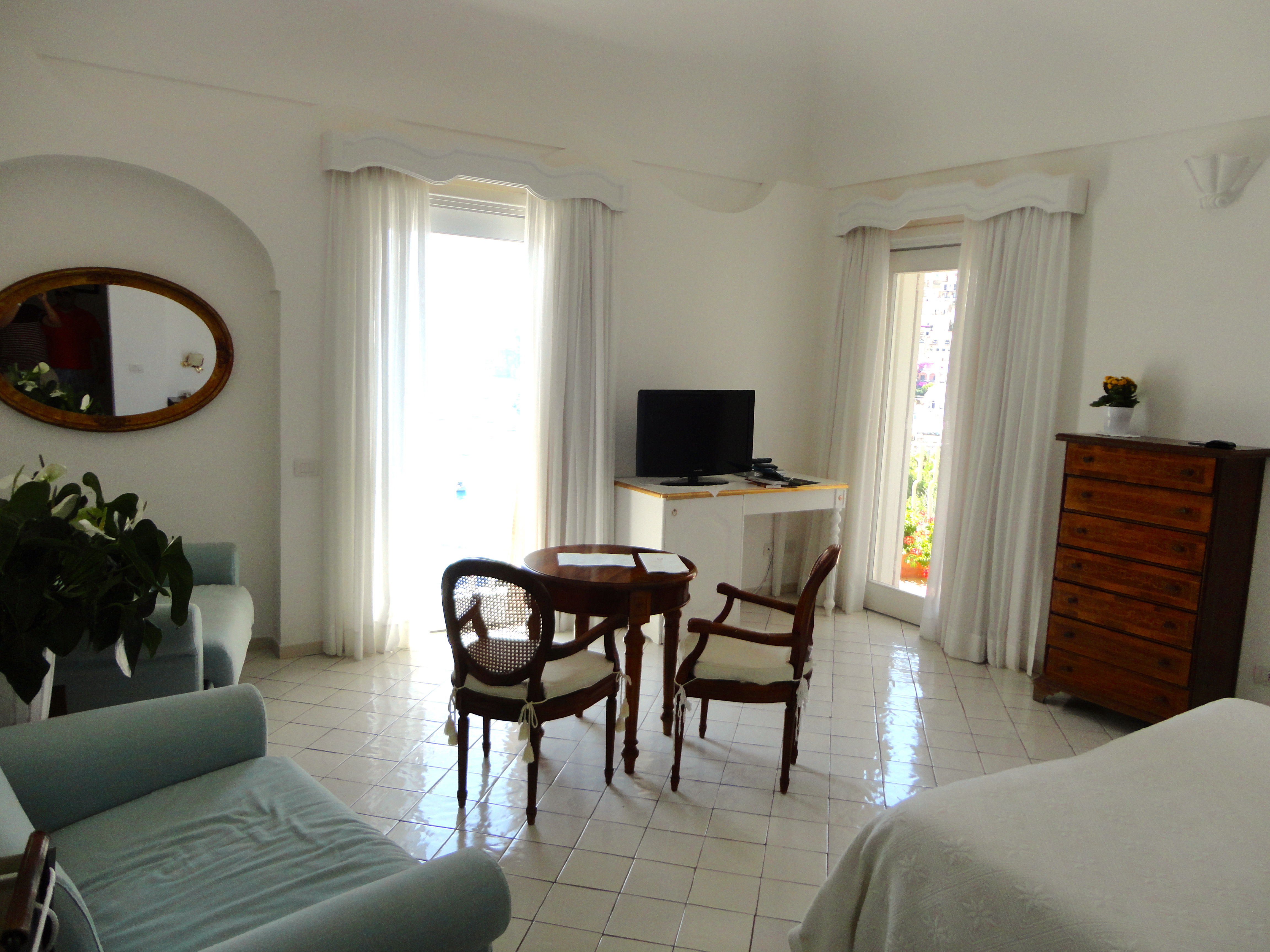 Wi-Fi is available throughout the hotel.  However, I found that signal strength and speed was a bit spotty (though still functional) in our room.
The bathroom was spacious and had a picture window that opened onto the room's terrace.  This ensuite doesn't have a tub. However, the water pressure in the shower was strong and the towels and bathrobes passed the "generous, white and fluffy" test.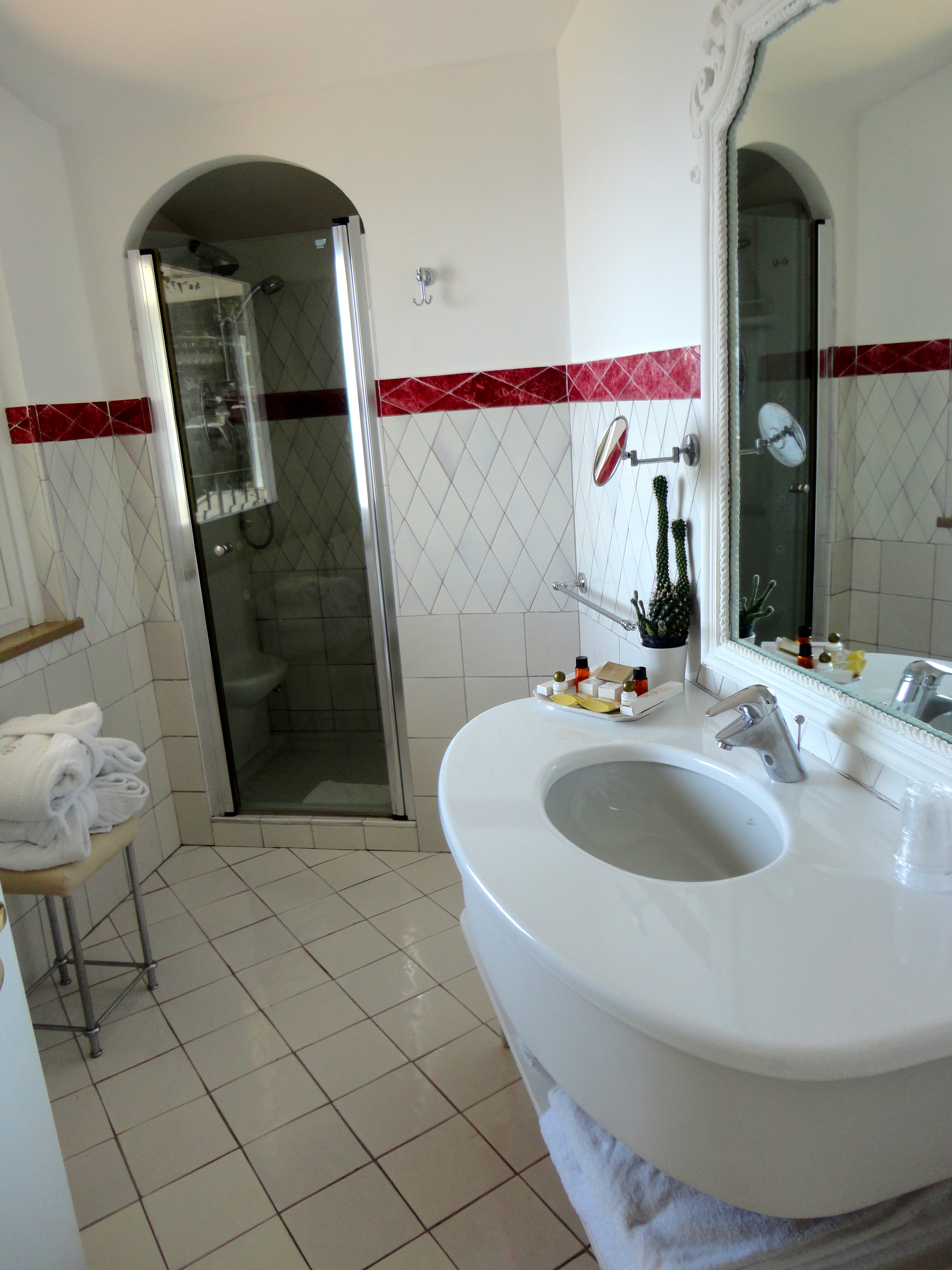 Although I found the facilities to be very clean, I do have to admit that the shower stall could have stood with a bit of "freshening up" … perhaps some new grout and a new shower head would do the trick.
The queen sized bed was comfortable.  However, you should be forewarned that the bed is unusually short (e.g., my Partner F and I are far from being long-legged and we found that we each "just fit" lenghthwise on the mattress.).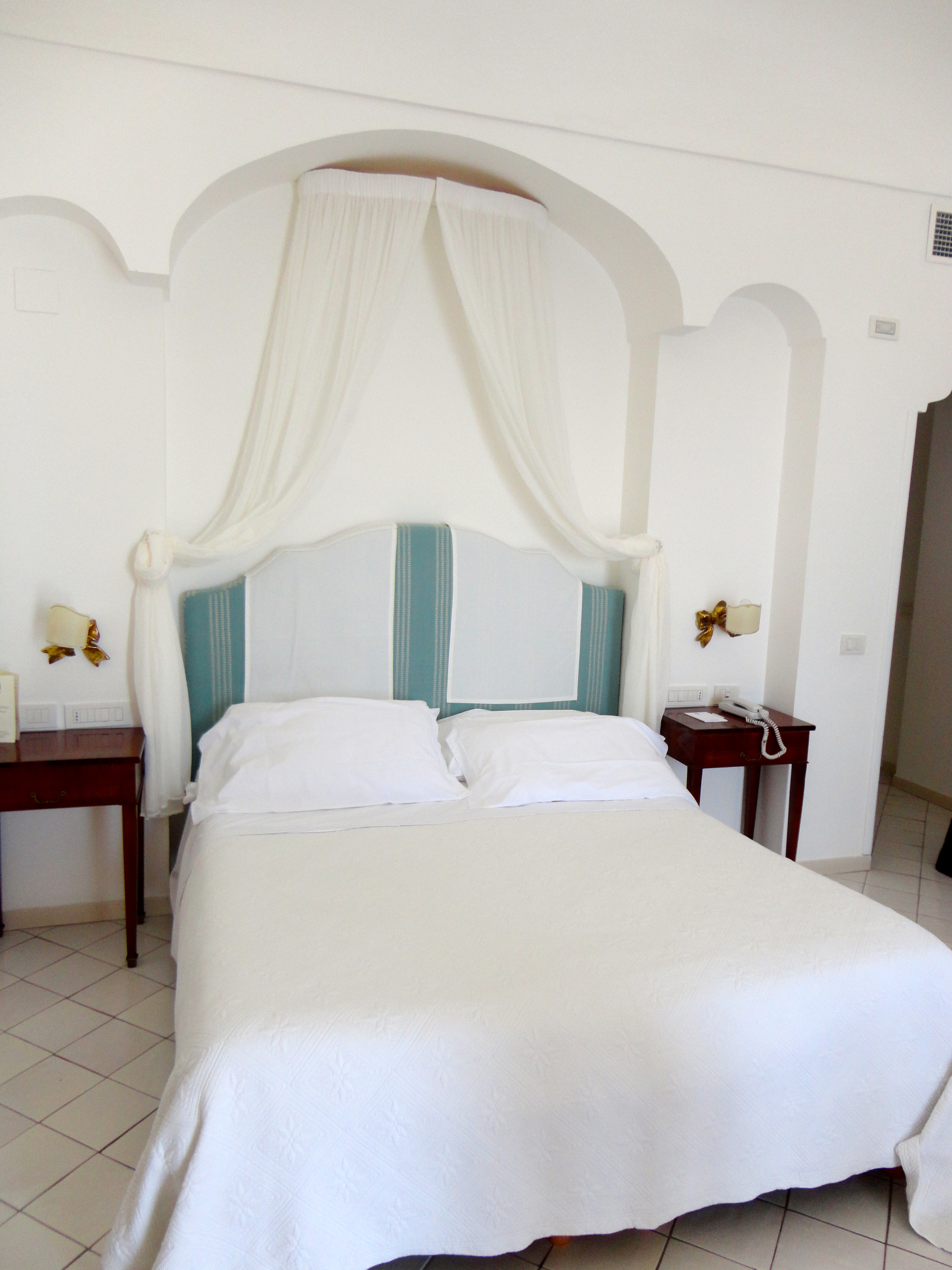 Along with the rest of the hotel, the room featured vaulted, high ceilings, tile floors and bright white-washed walls that wonderfully framed the blue ocean visible from the Juliet balcony at the foot of the bed.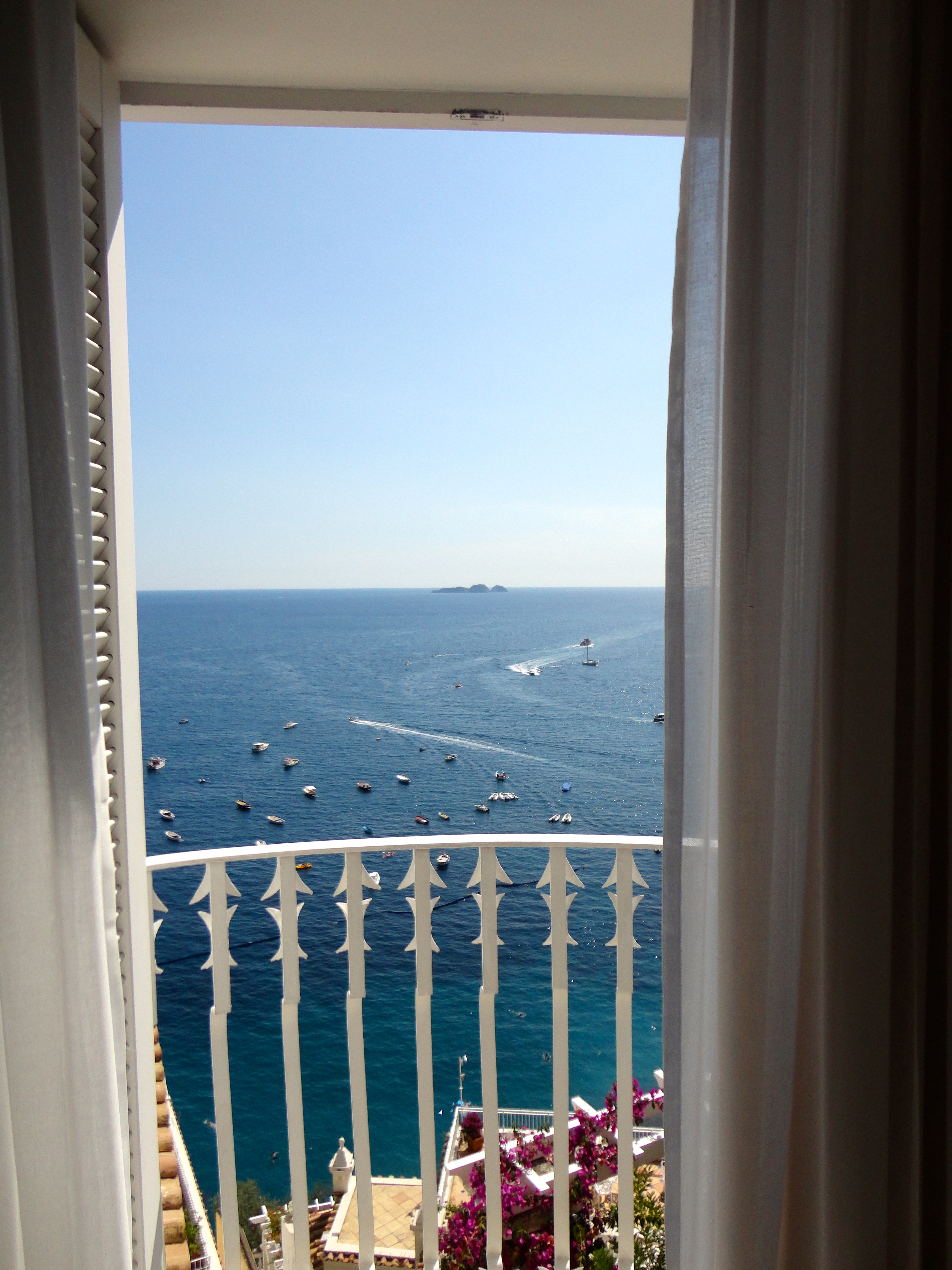 At night we would leave the window open and go to sleep listening to the sounds of the waves washing up on the shoreline below.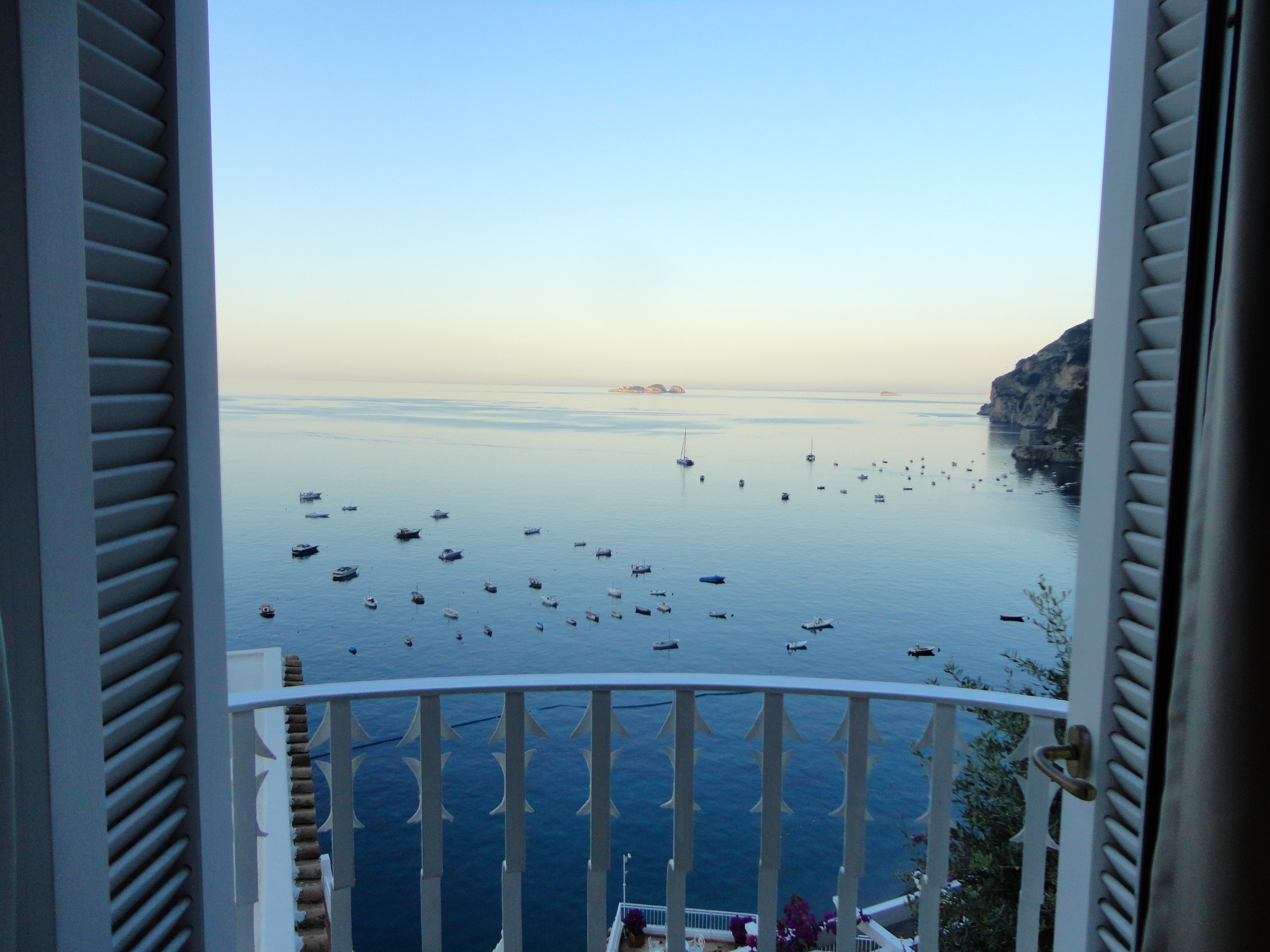 In addition to the Juliet balcony, we enjoyed the room's small private terrace …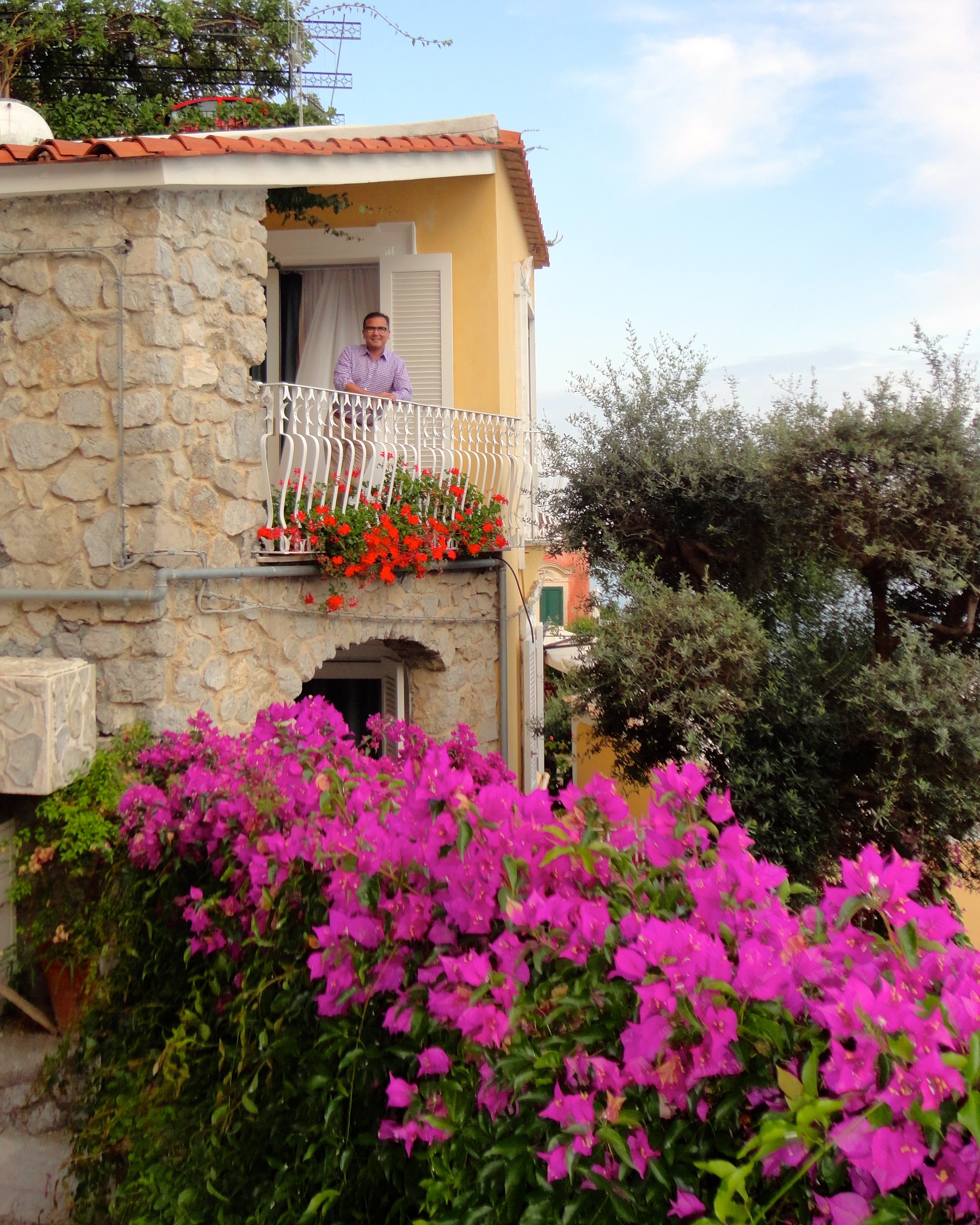 That included a table and two chairs …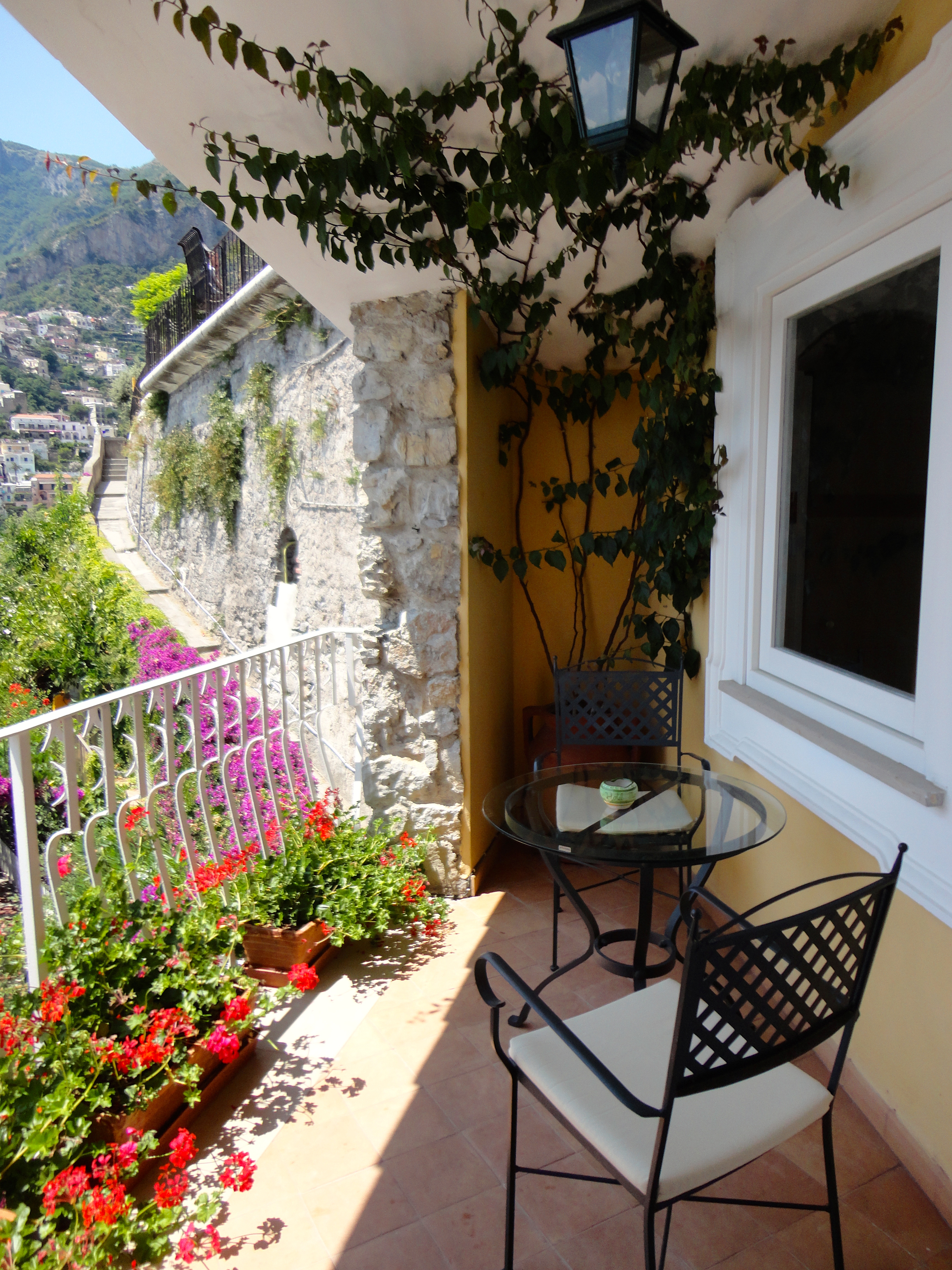 Note: There's a small walking path right below the terrace which somewhat reduces the privacy and seclusion of the room.  However, there isn't a lot of foot traffic on the path.  In addition the view you get from the terrace greatly compensates for this minor issue …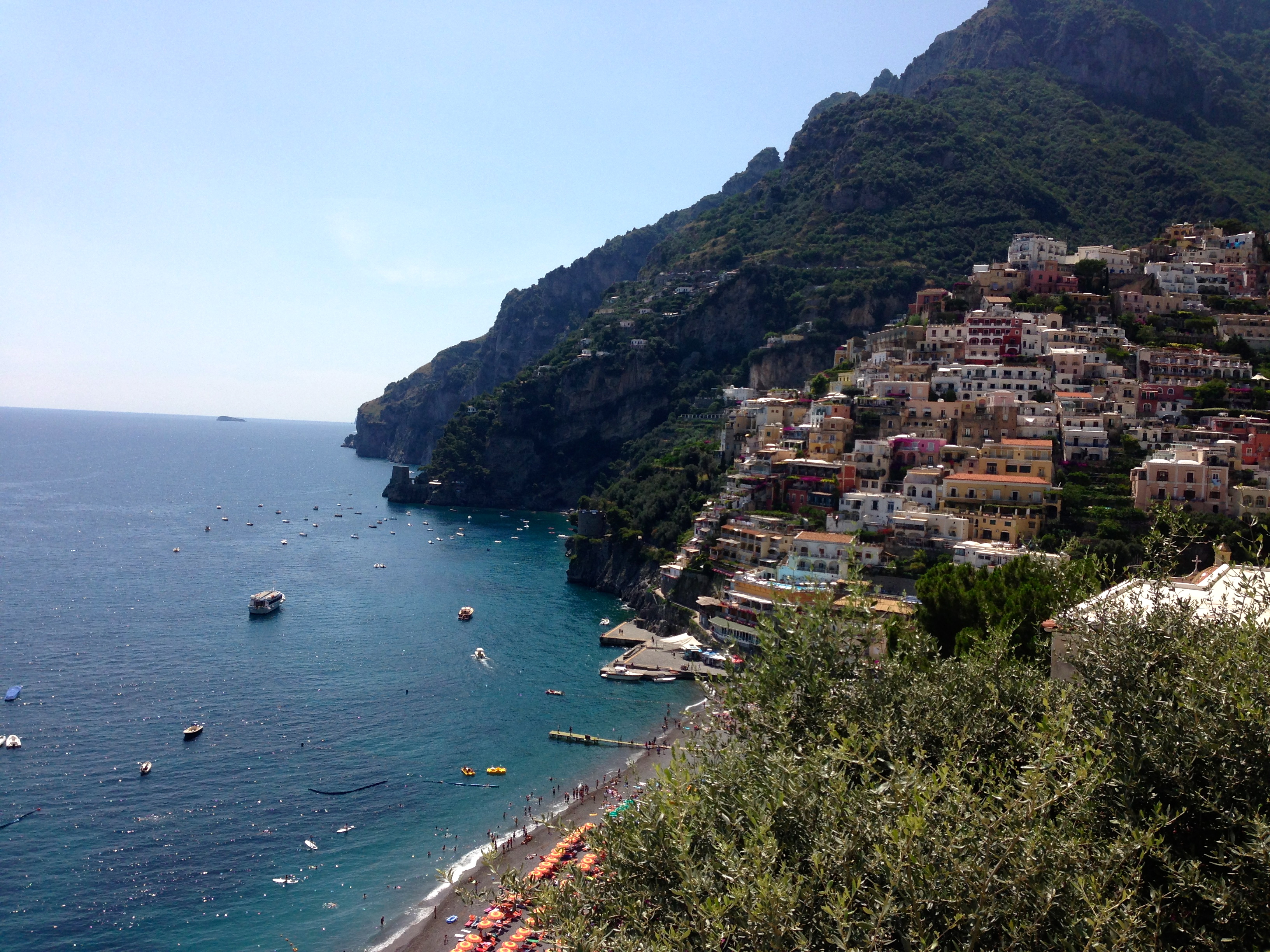 … now there's a vista that's truly toast-worthy!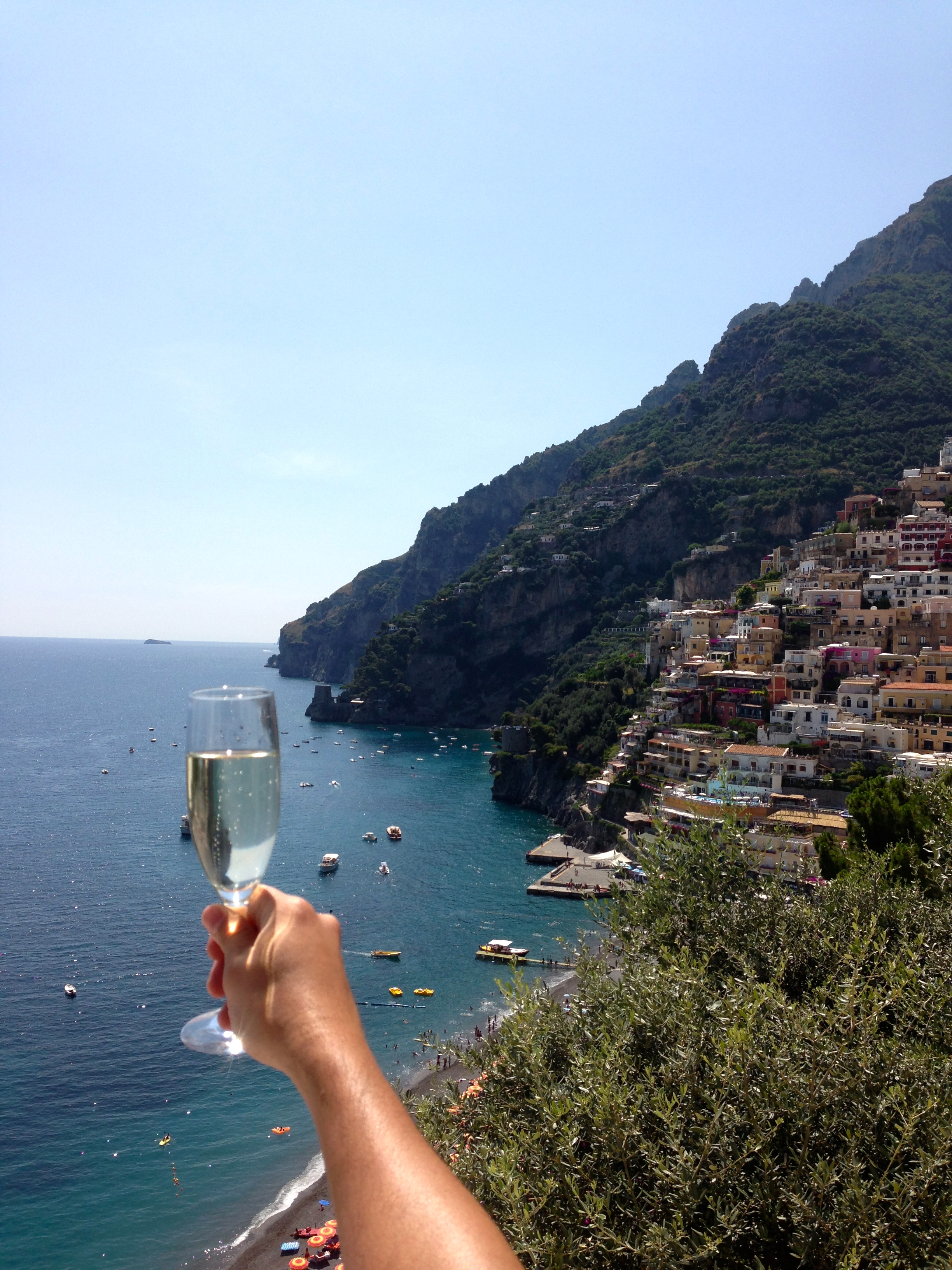 The terrace was also where I enjoyed my daily limoncello nightcap.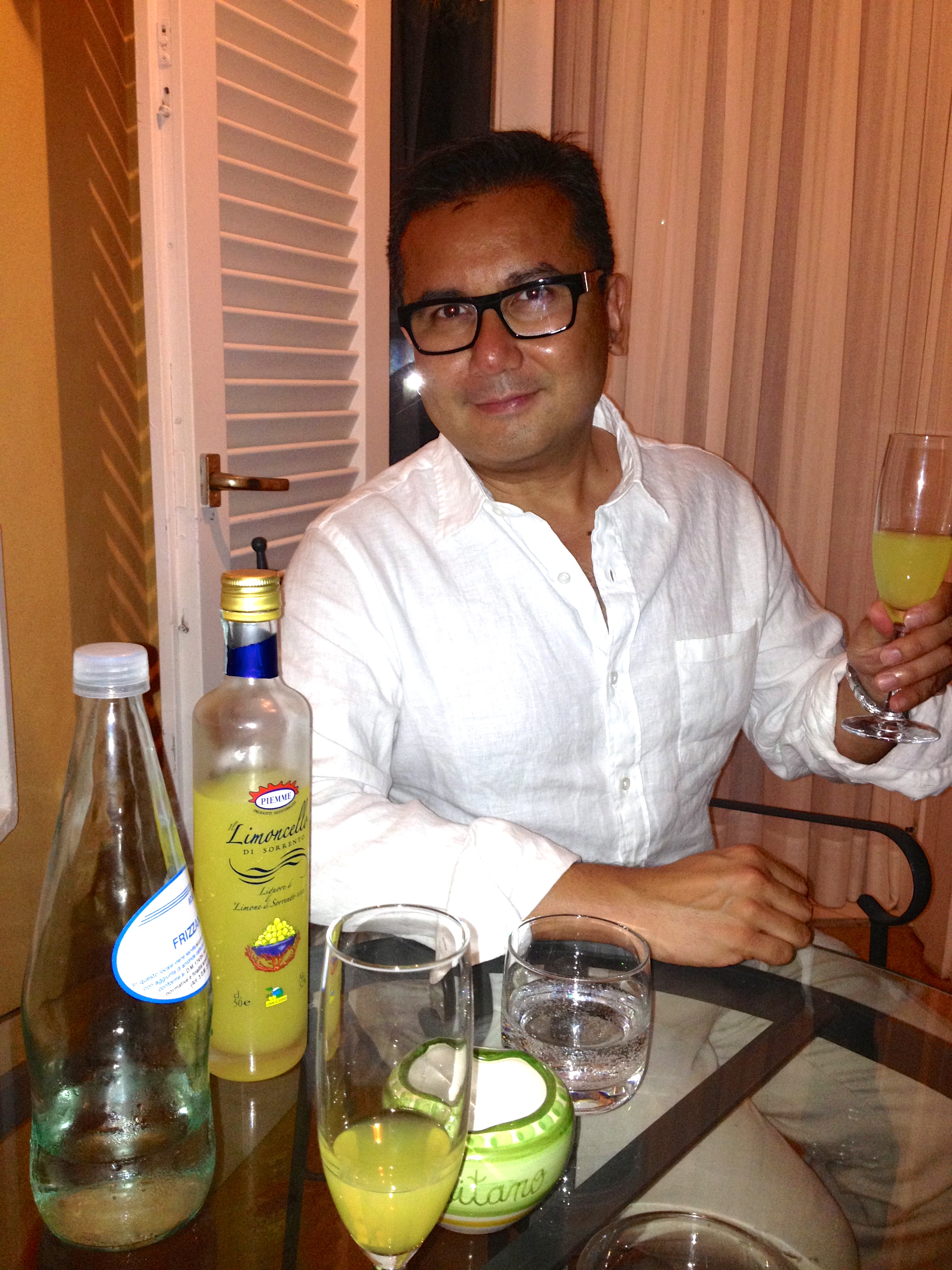 Of course, following an evening filled with wine, prosecco and limoncello, it was nice to know that a buffet breakfast was included in our room rate.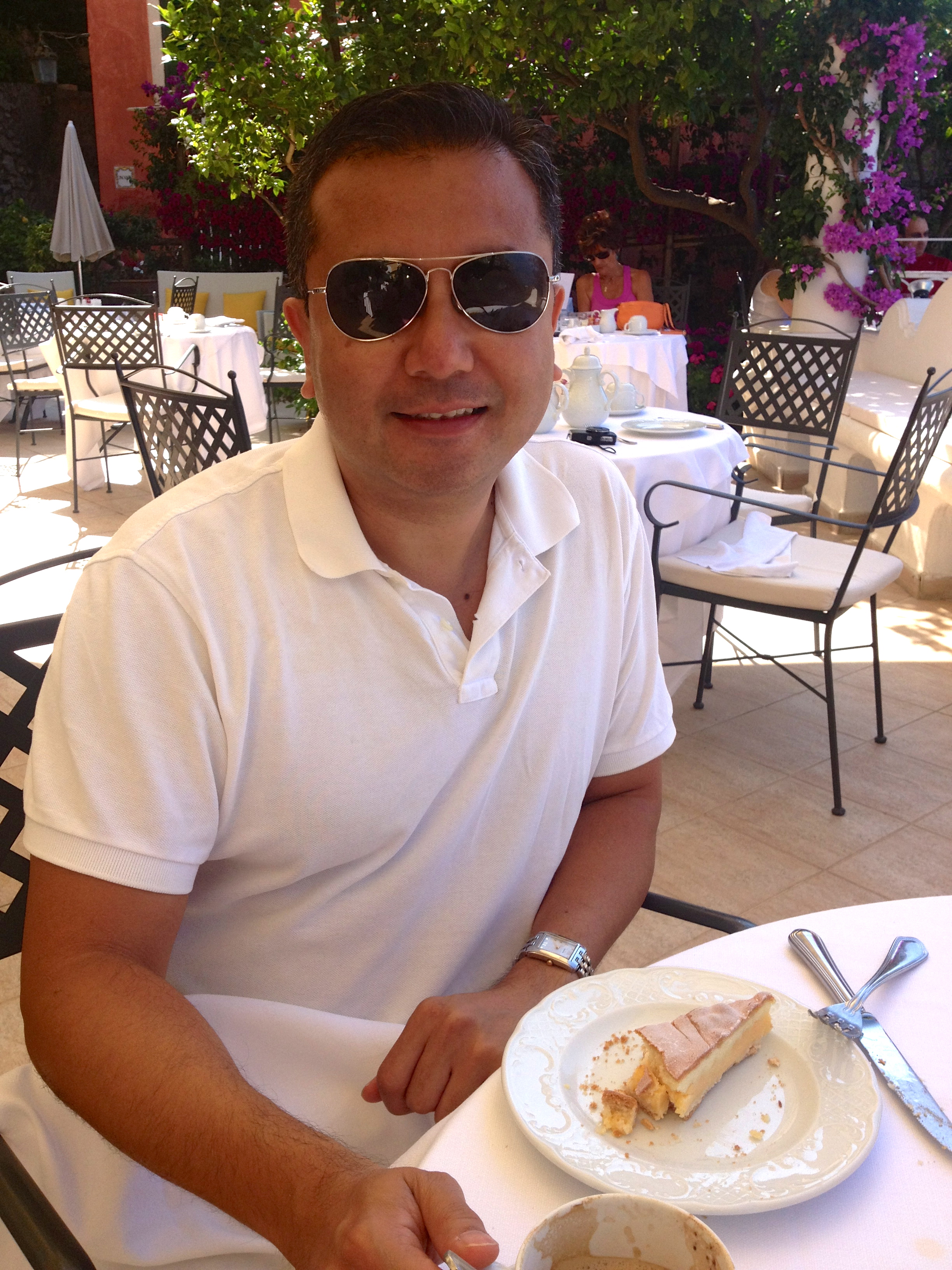 Along with my morning cappuccino, I was able to fill up on fruit and cereal …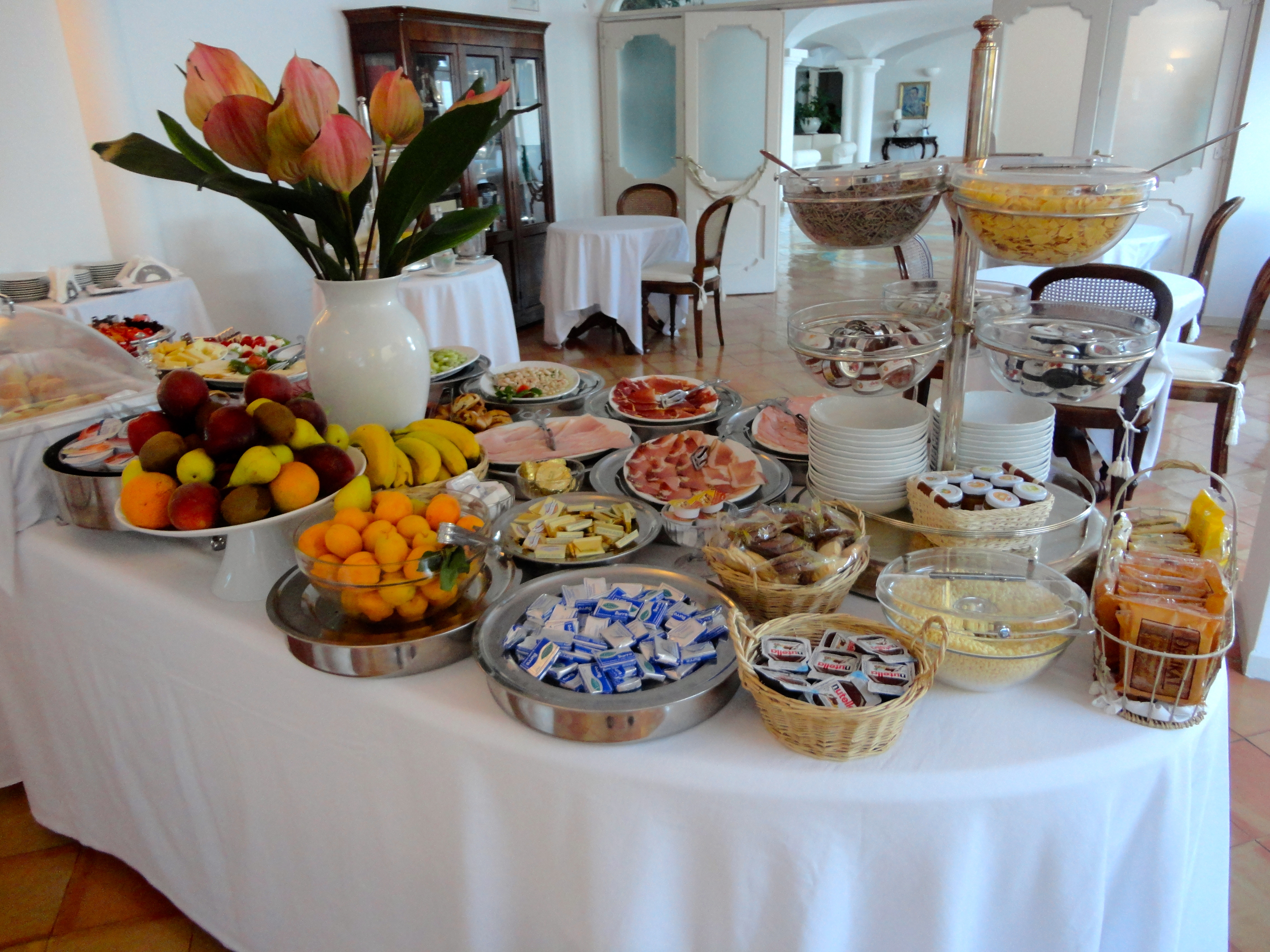 … cheese and a wide variety of Italian cured meats …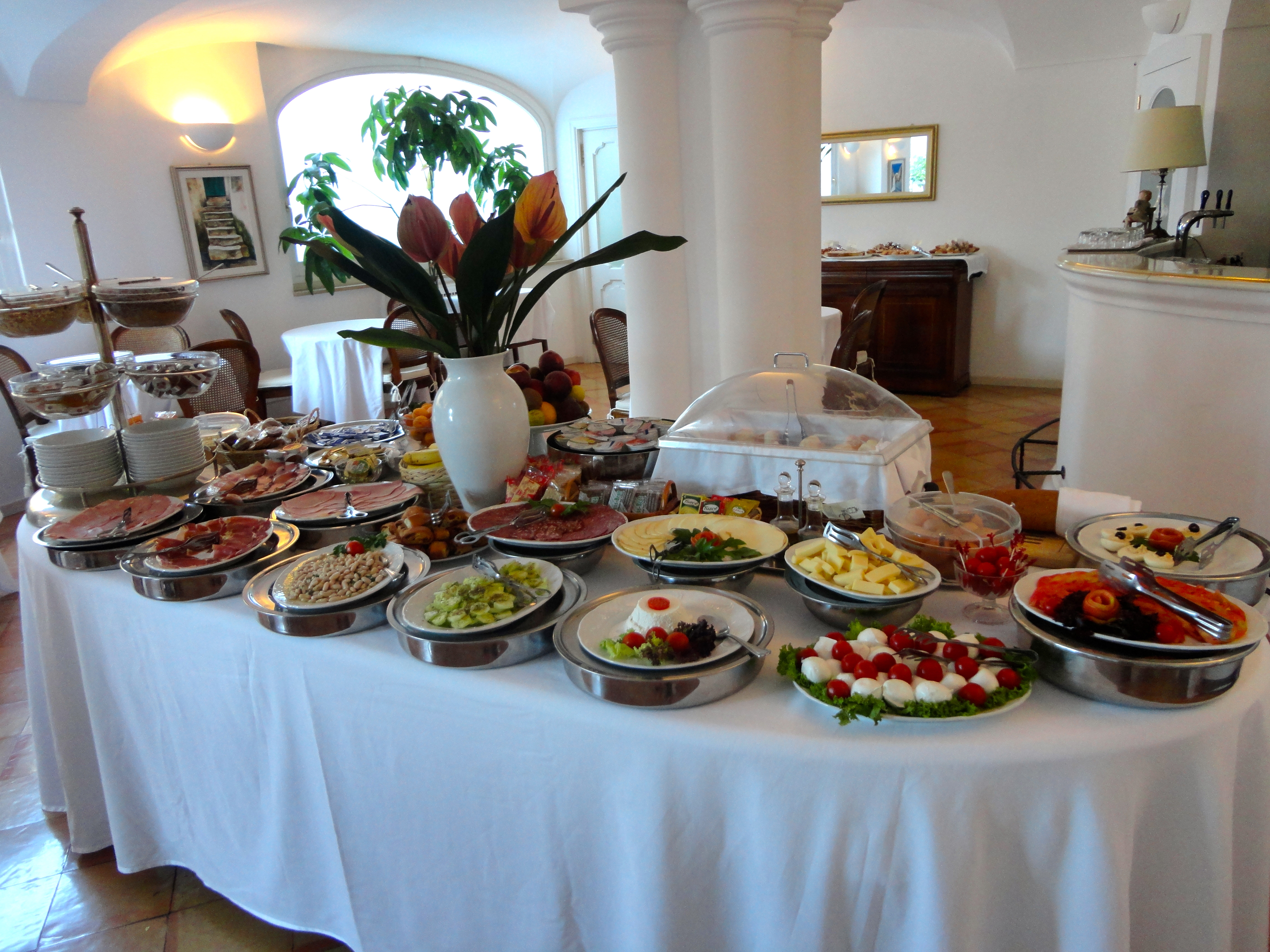 … and pastries!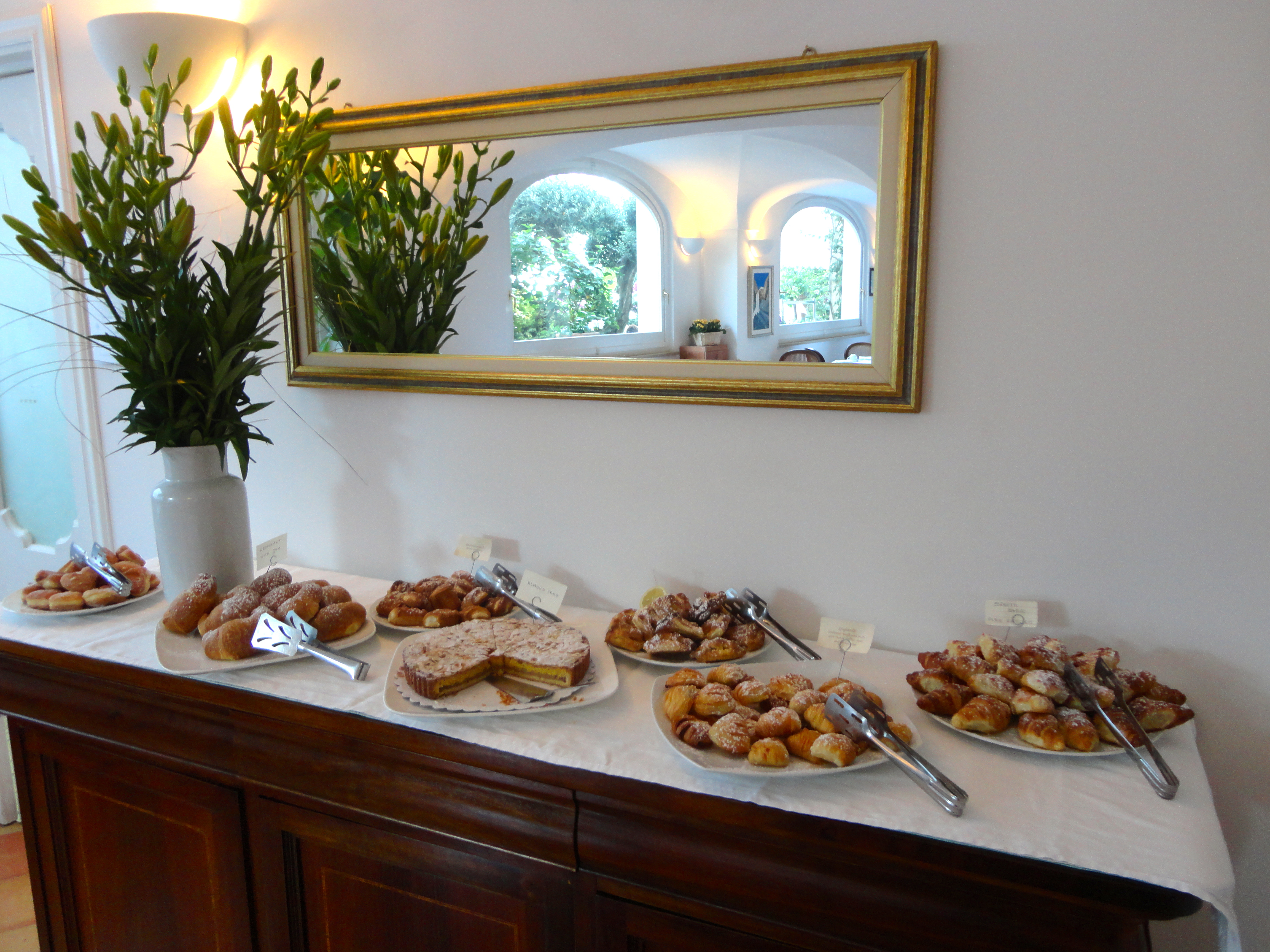 On a rainy day, we could have eaten indoors.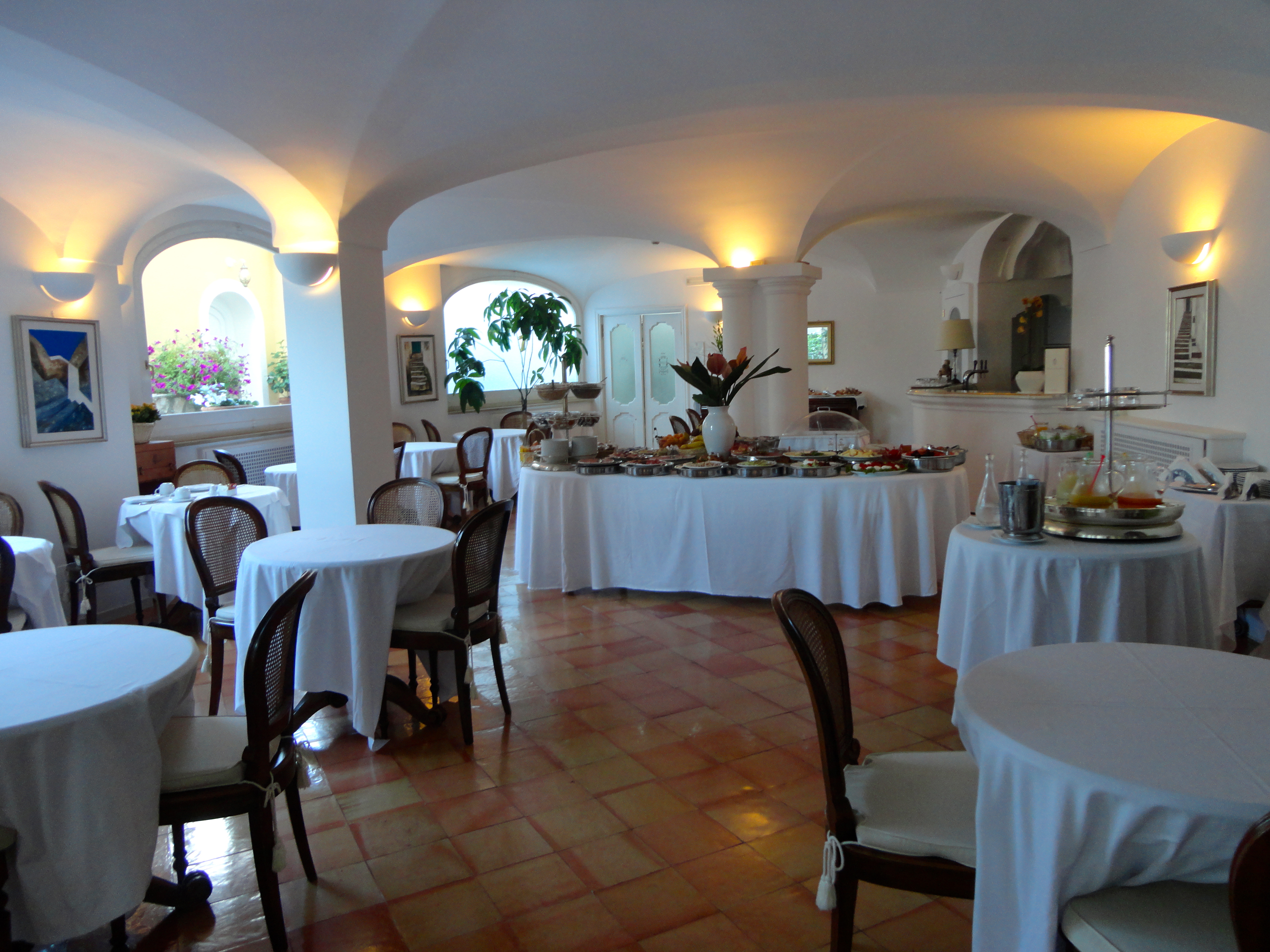 However, we were fortunate that the perfect July weather allowed up to enjoy our morning meal alfresco everyday on the Marincanto's dining terrace.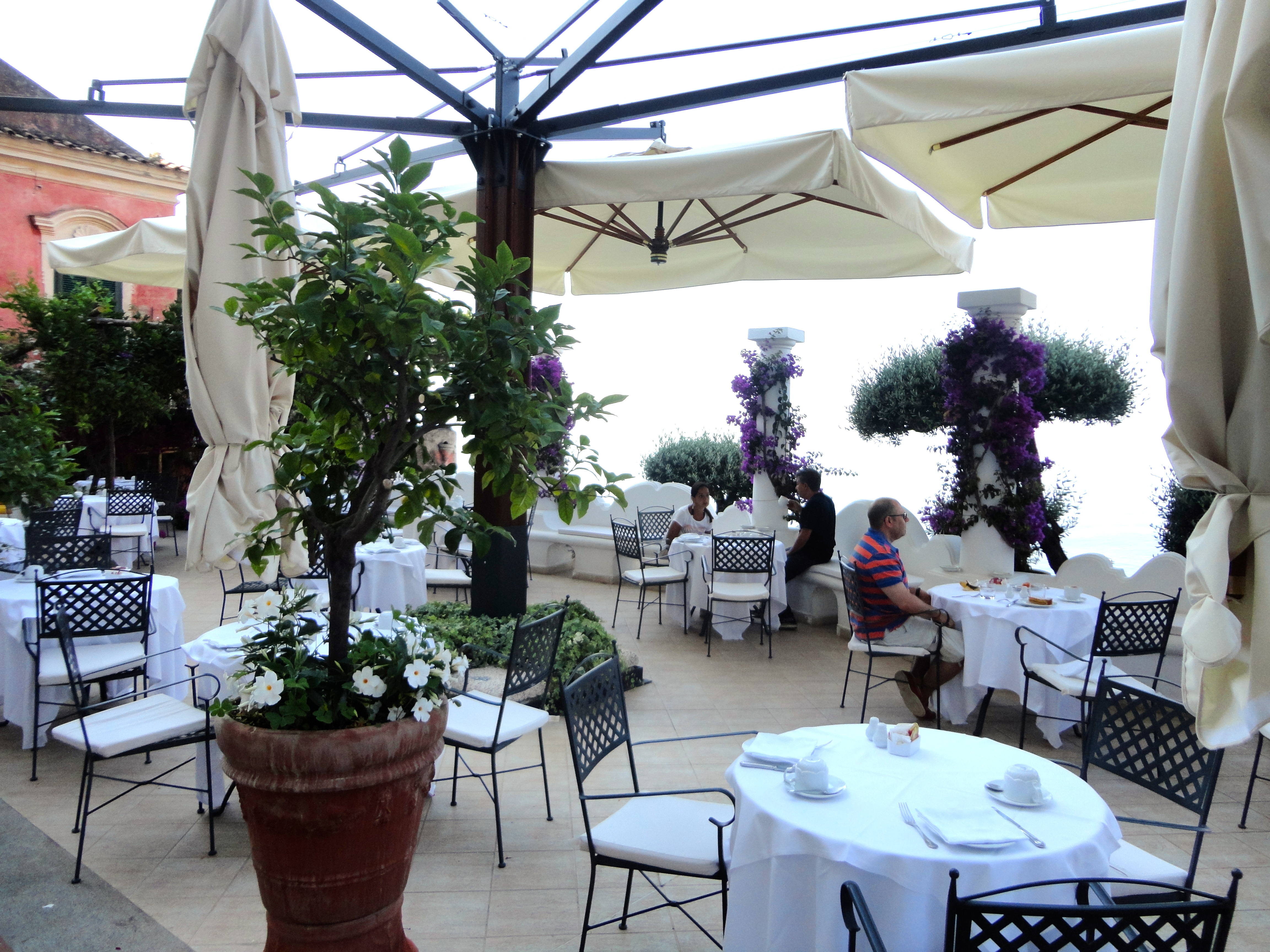 The hotel's other outdoor features include an infinity pool and private sun deck.  However, we skipped those amenities on this trip and made the LONG TREK DOWNSTAIRS …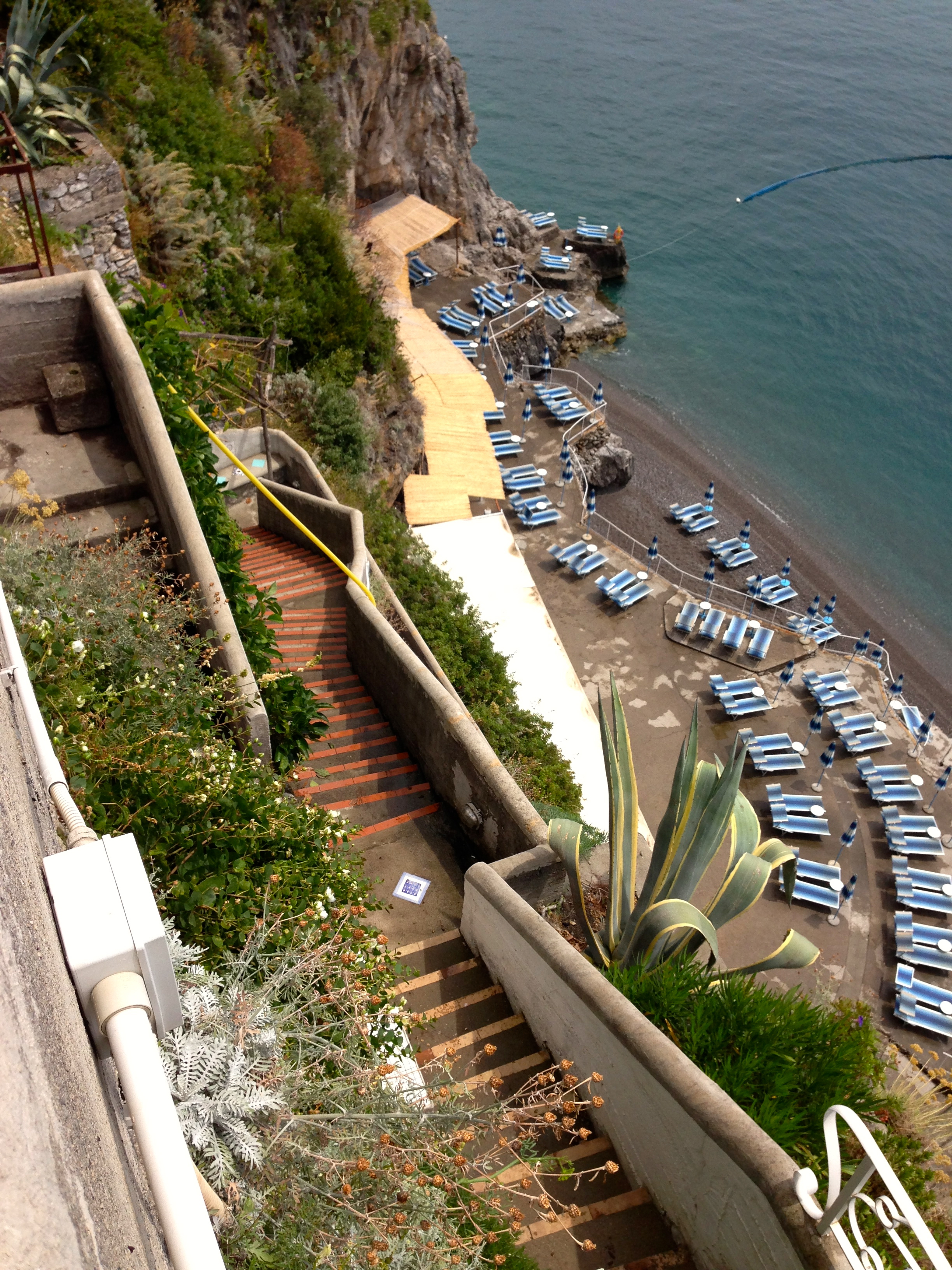 To the pebble beach at the base of the cliffs below the hotel.  The facilities "downstairs" include a beach club which provided toilets and changing rooms, rented beach chairs and featured a restaurant …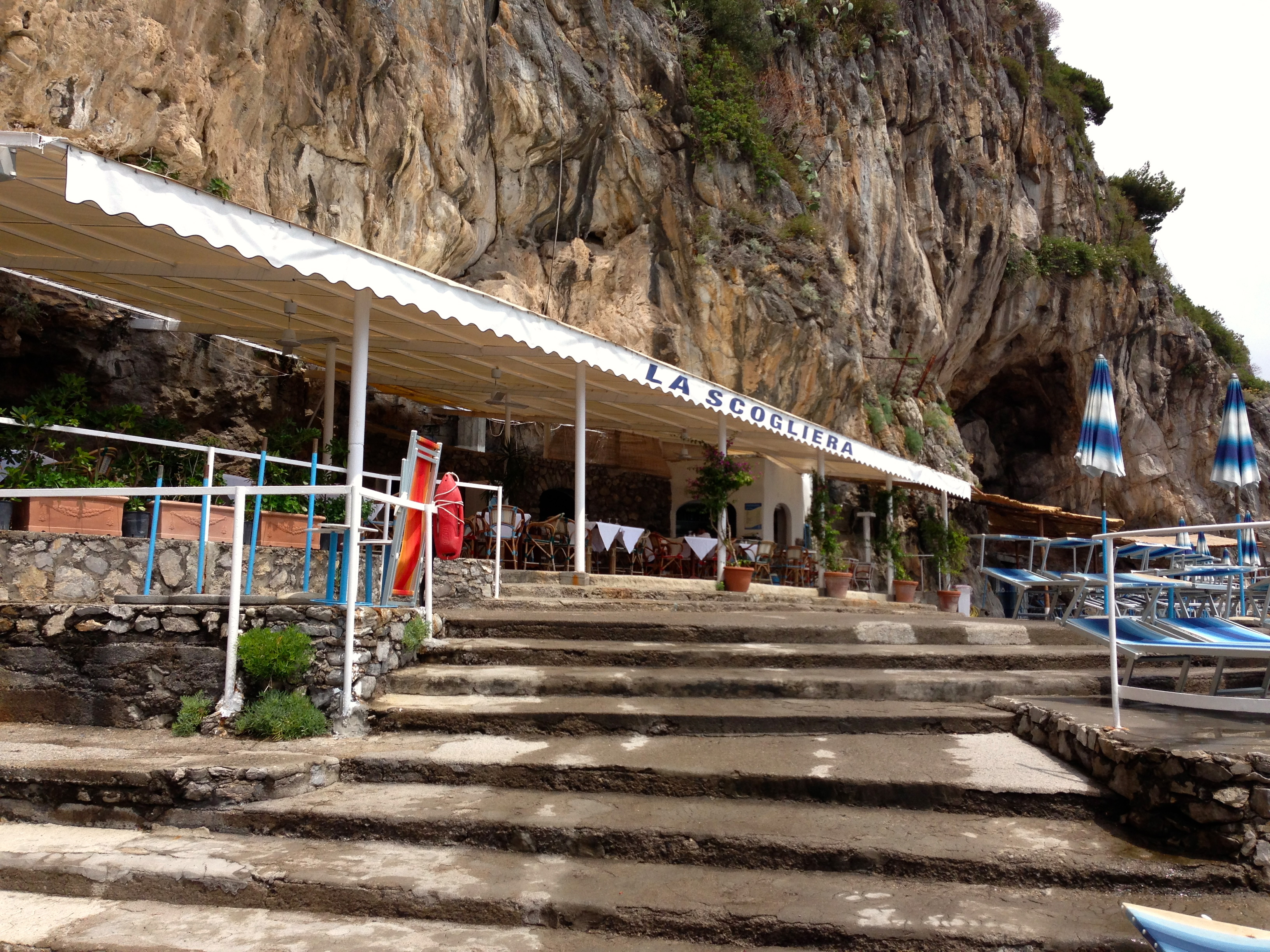 Where we enjoyed some great oceanside lunches …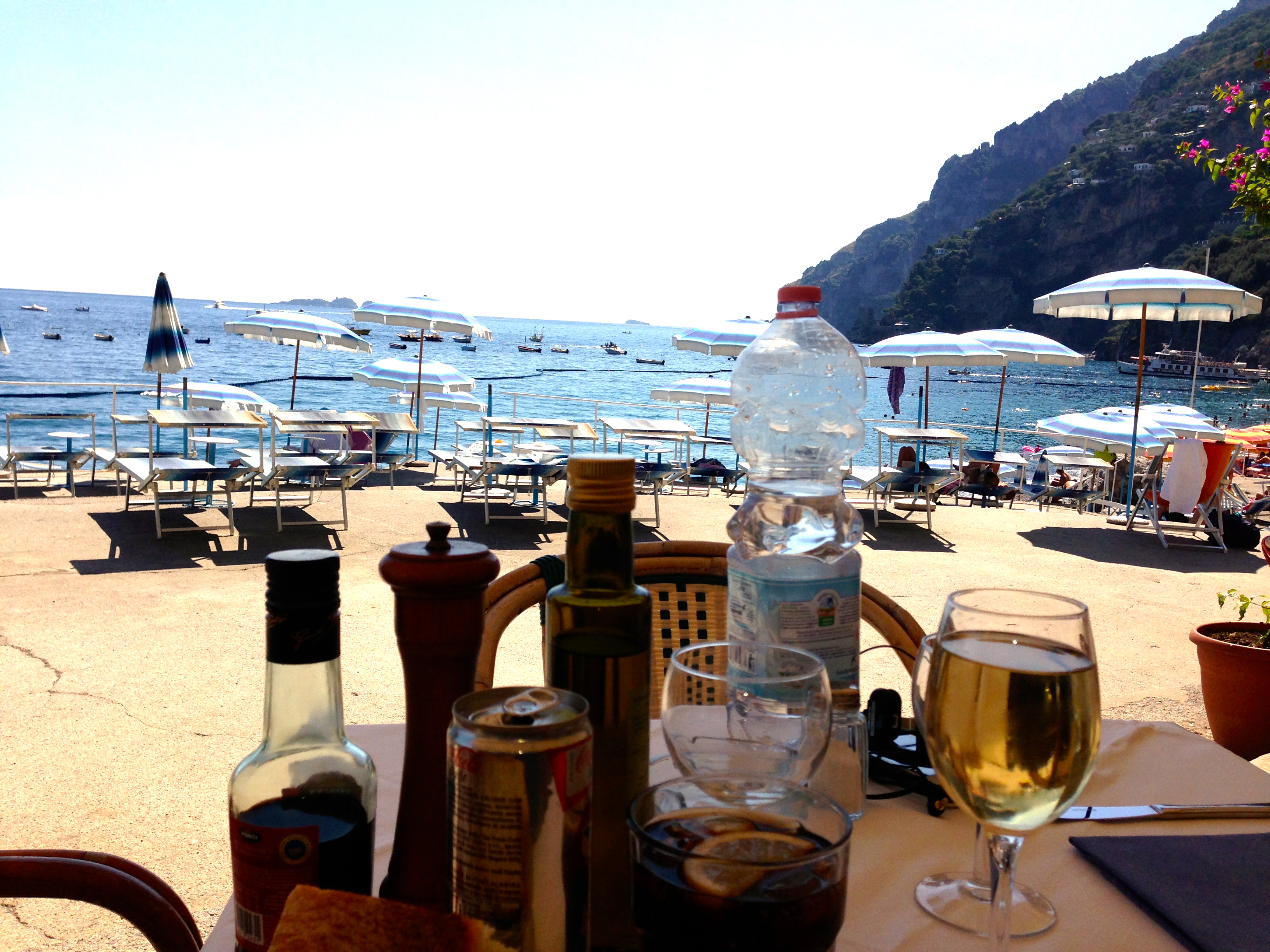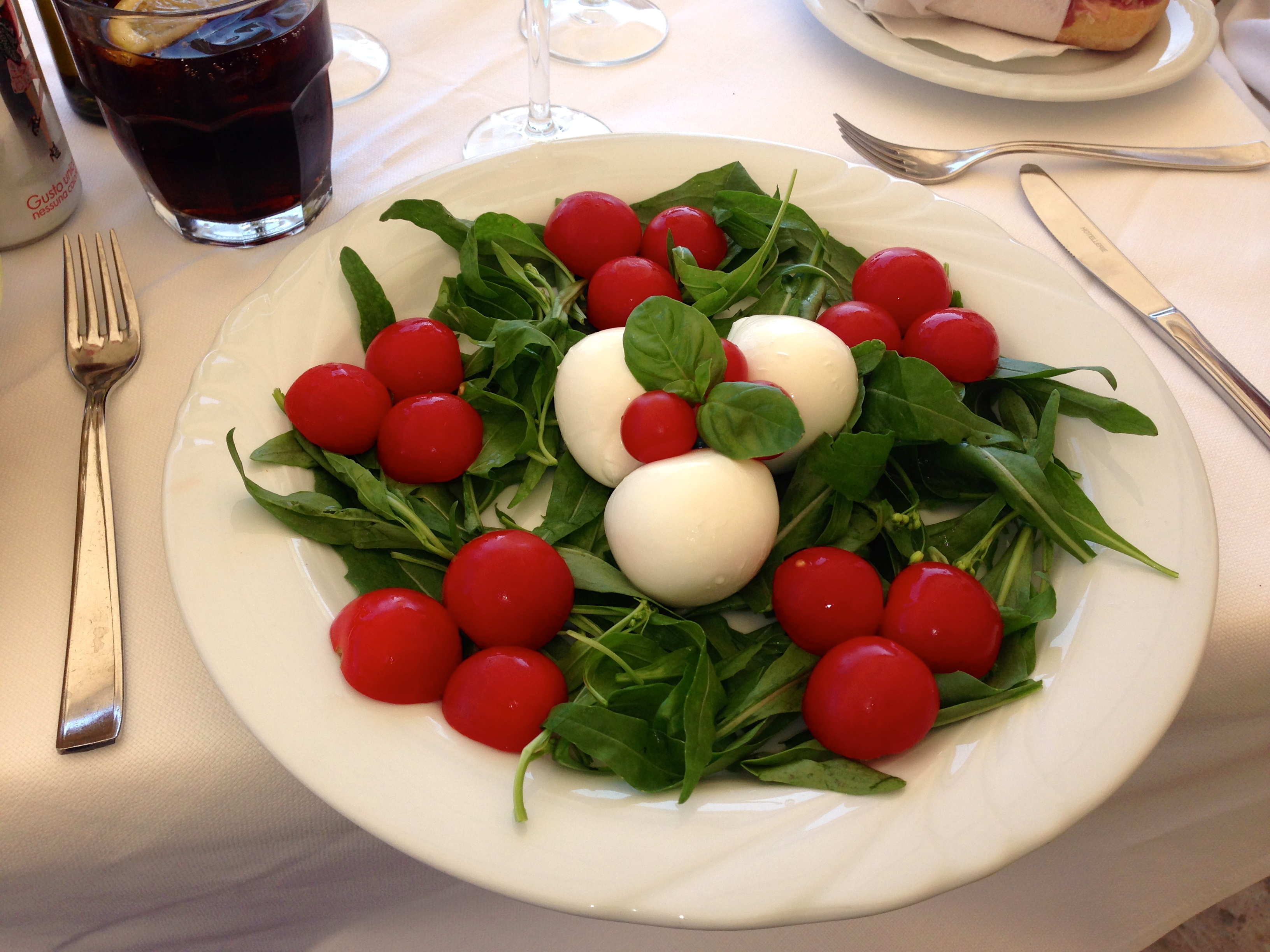 … and spent a couple of lazy days drinking Campari and sodas as we watched the yachts bobbing in the water.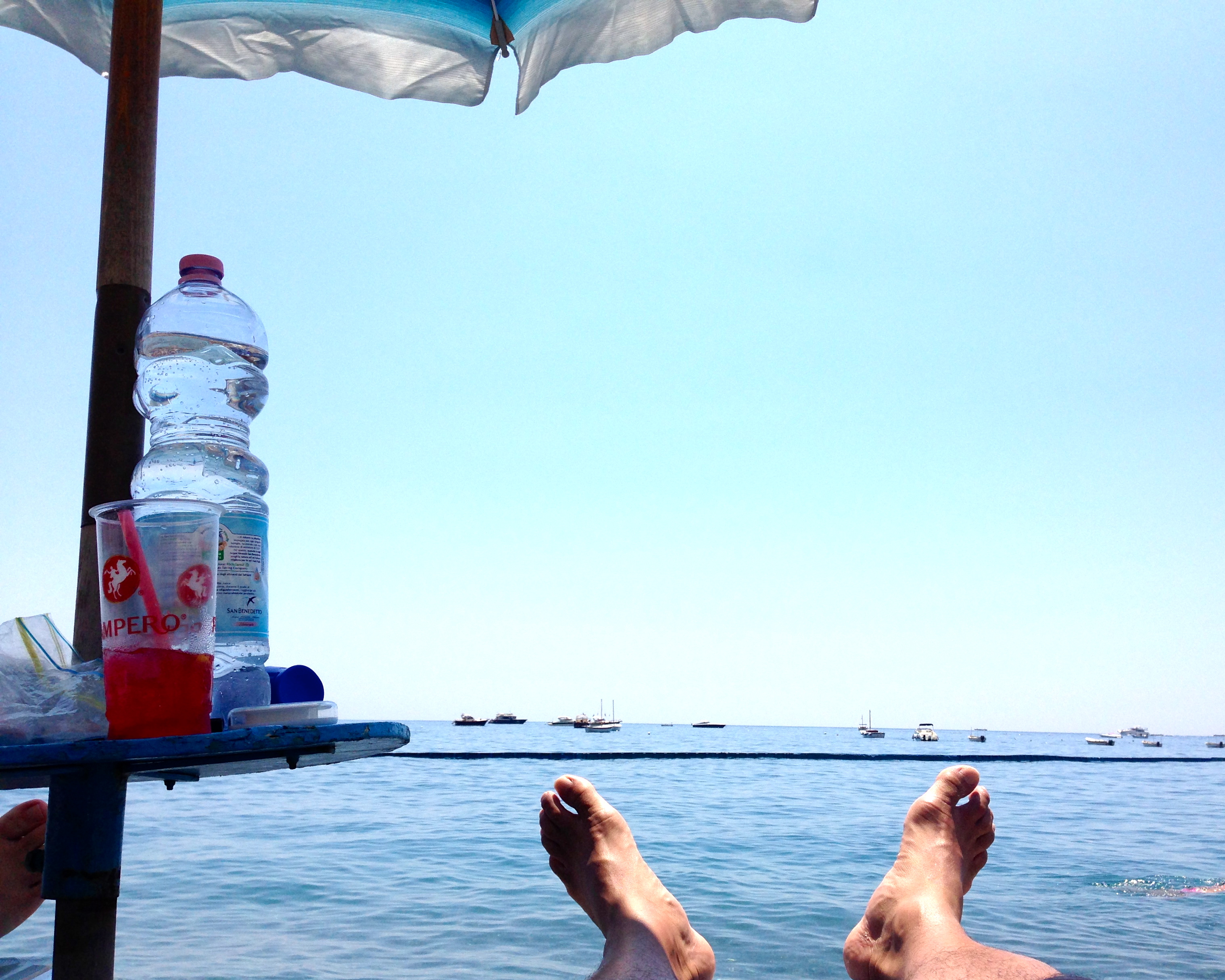 We really enjoyed our stay and will likely make the Hotel Marincanto our "go to" choice for lodging on future trips to Positano.  The Marincanto is conveniently located just down the street from some interesting shops and only a five minute walk to the center of town.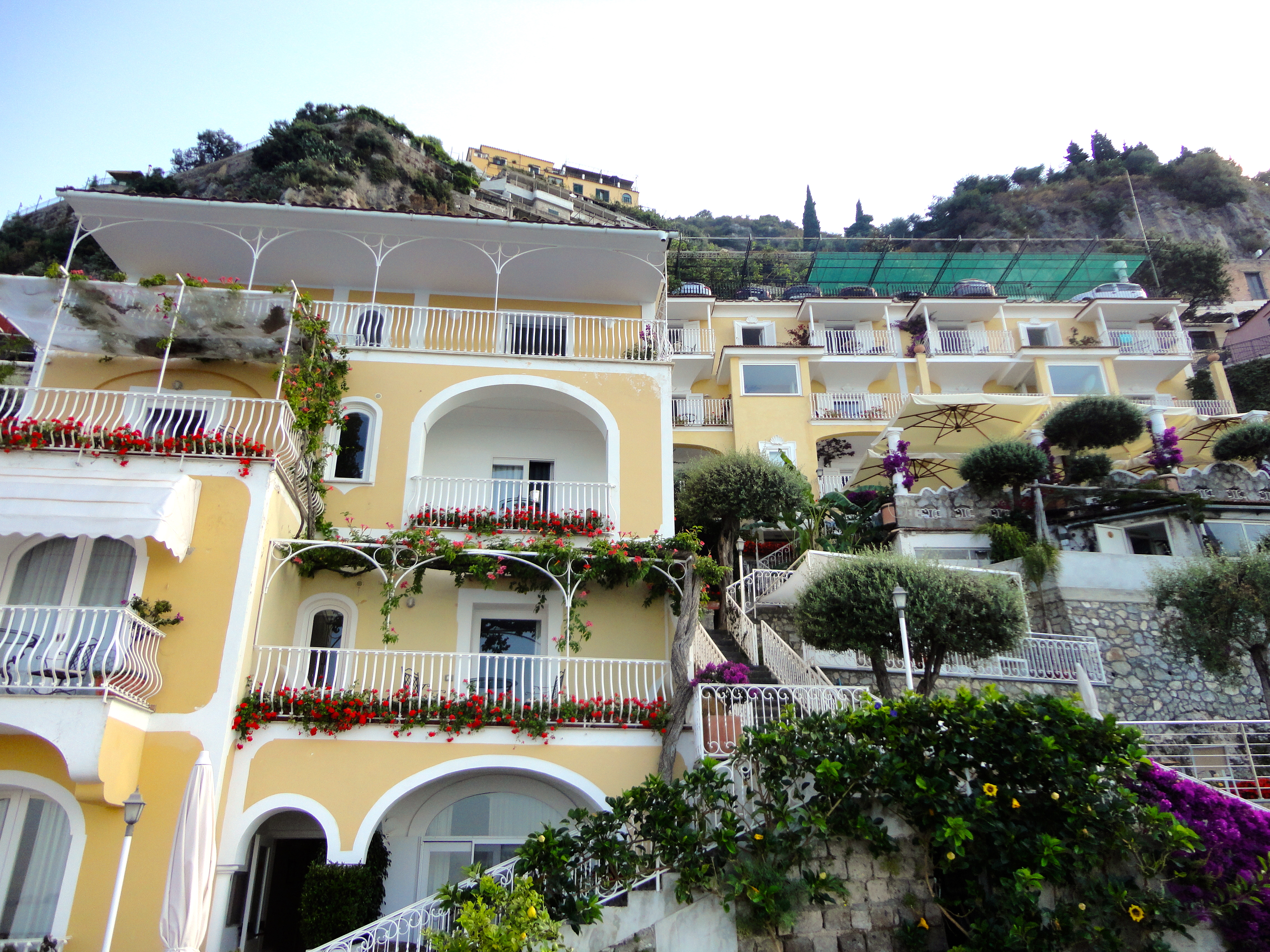 There are certainly more exclusive and famous options for hotels in Positano.  However, the Hotel Marincanto offers distinct character, Mediterranean charm, spectacular views and upscale amenities at a price point that, while not inexpensive, puts it in the category of "attainable luxury."  More importantly, the Marincanto's entire staff creates a warm and welcoming atmosphere for all of its guests.
That said, I was somewhat "disappointed" that our stay at the Hotel Marincanto was noticeably free from Agatha Christie-style drama.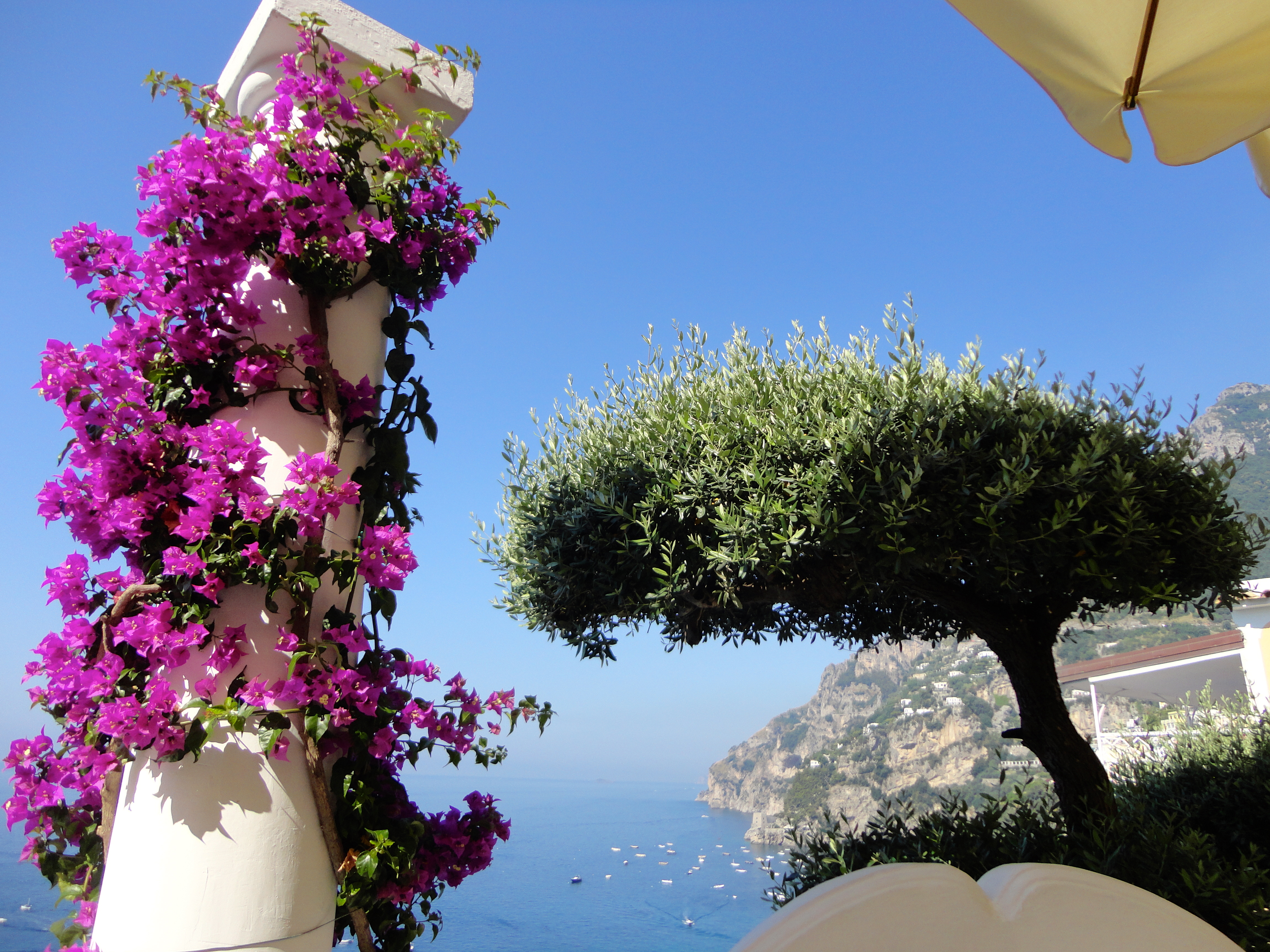 I guess, we'll just have to save the murder, intrigue and international espionage for our next visit …
How about you? Have you ever stayed at a hotel where your "room with a view" simply took your breath away?