I have to admit that I knew I would not be a very fun person after our transatlantic flight. We were on the way to Italy for our vacation this past summer. Even after I stuffed myself with hardboiled eggs and consumed large quantities of Diet Coke in the Lufthansa Business Class Lounge during our layover (see my Lufthansa Lounge Lizard post for more details), I was still not "all there" once I hit the ground.
In addition, I had booked us on an all day tour the following day.  Since I knew we would feel like zombies on our first day in Italy and would be out and about on the second, I didn't want to book a hotel that was  "too nice" since we wouldn't be spending all that much time on the property to enjoy it.  We just needed a good place to sleep off our jet lag. It's at this phase of the trip where a "staging hotel" comes in handy.
Of course, I still wanted to be comfortable and didn't want any "surprises." Staying at one of the major international hotel chains fits these parameters since you have a reasonable assurance of consistency associated with a "brand name" hotel.  I chose the Hilton Sorrento Palace for this reason.  In addition, I was able to cash in 100,000 HHonors points that paid for our two-night stay.

Source: Hilton Sorrento Palace
The Hilton Sorrento Palace is a large conference hotel situated in the hills above Sorrento. It's about a 12-15 minute easy walk to the center of town. However, bear in mind that your return journey will involve a modest uphill climb.
The hotel's public spaces have a funky "late 60s Mad Men vibe" …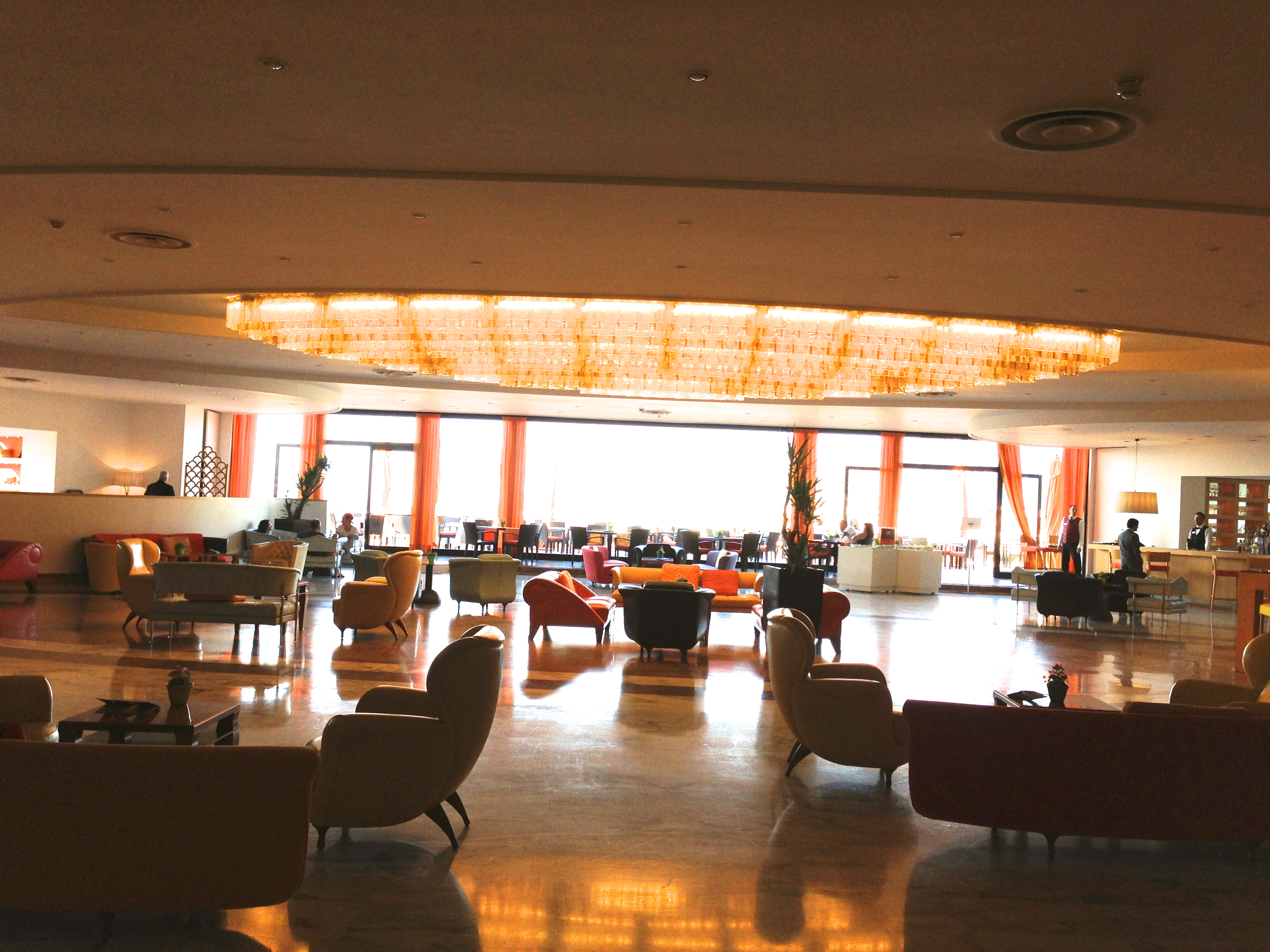 Including this fire pit area (anyone spot Hugh Hefner or Sean Connery here?)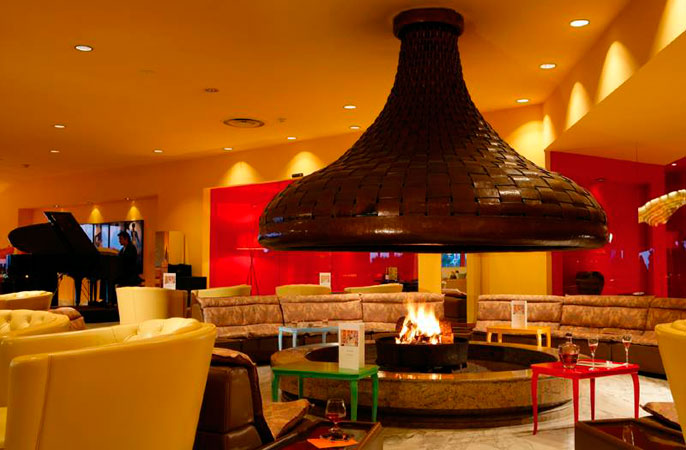 Source: Hilton Sorrento Palace
We arrived at the hotel around 3:00 pm and were pleased that our room was ready for us.  Although the check in procedure was efficient I found that our the Front Desk Clerk seemed to be in a mood that bordered on "surly."  Although he wasn't rude, we didn't experience a "warm Italian welcome."  On the other hand, his colleague next to him who was checking in some other guests seemed animated and friendly.  Maybe our guy was just having a bad day.
I currently have Hilton HHonors Gold Status that I received from holding the Hilton HHonors Surpass American Express card (see my earlier Hot for Hilton post for more details on why I applied for the card and my Burn Points Baby Burn and Starwood Starpoints Starstruck posts for how my Pointing strategy has changed since then).   As a Gold Member I received the following Welcome Amenity in our room: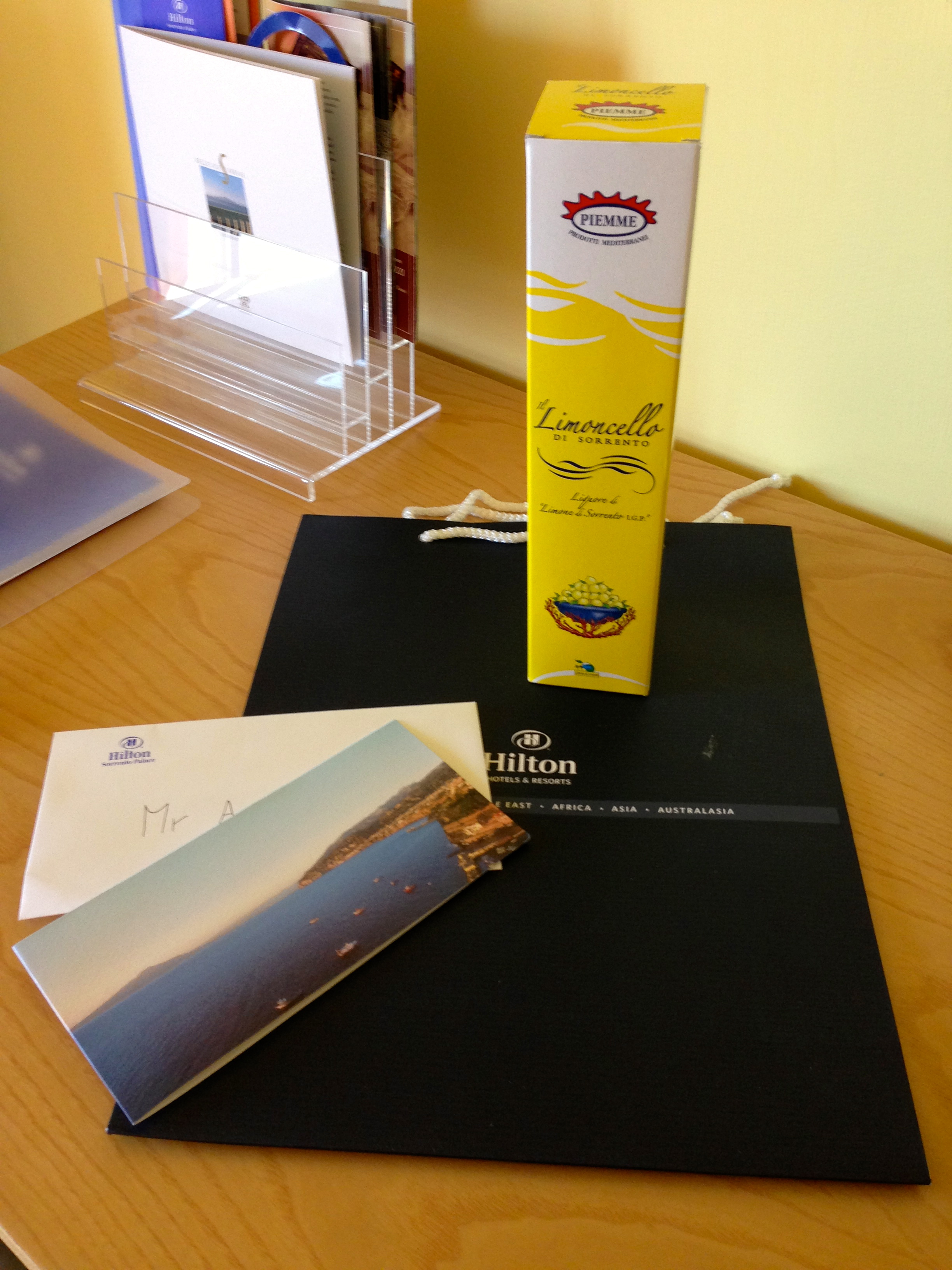 Receiving a full bottle of Limoncello was a nice touch and I was able to enjoy this Amalfi Coast specialty as a nightcap on every evening of our Italian vacation.  We also received two bottles of water in the room.  However, the hotel neglected to include bottle openers (sigh … details).
As a Gold Member I was also upgraded to a Sea View room …

Source: Hilton Sorrento Palace
… which featured a balcony with two chairs, a small table and this great view of Vesuvius: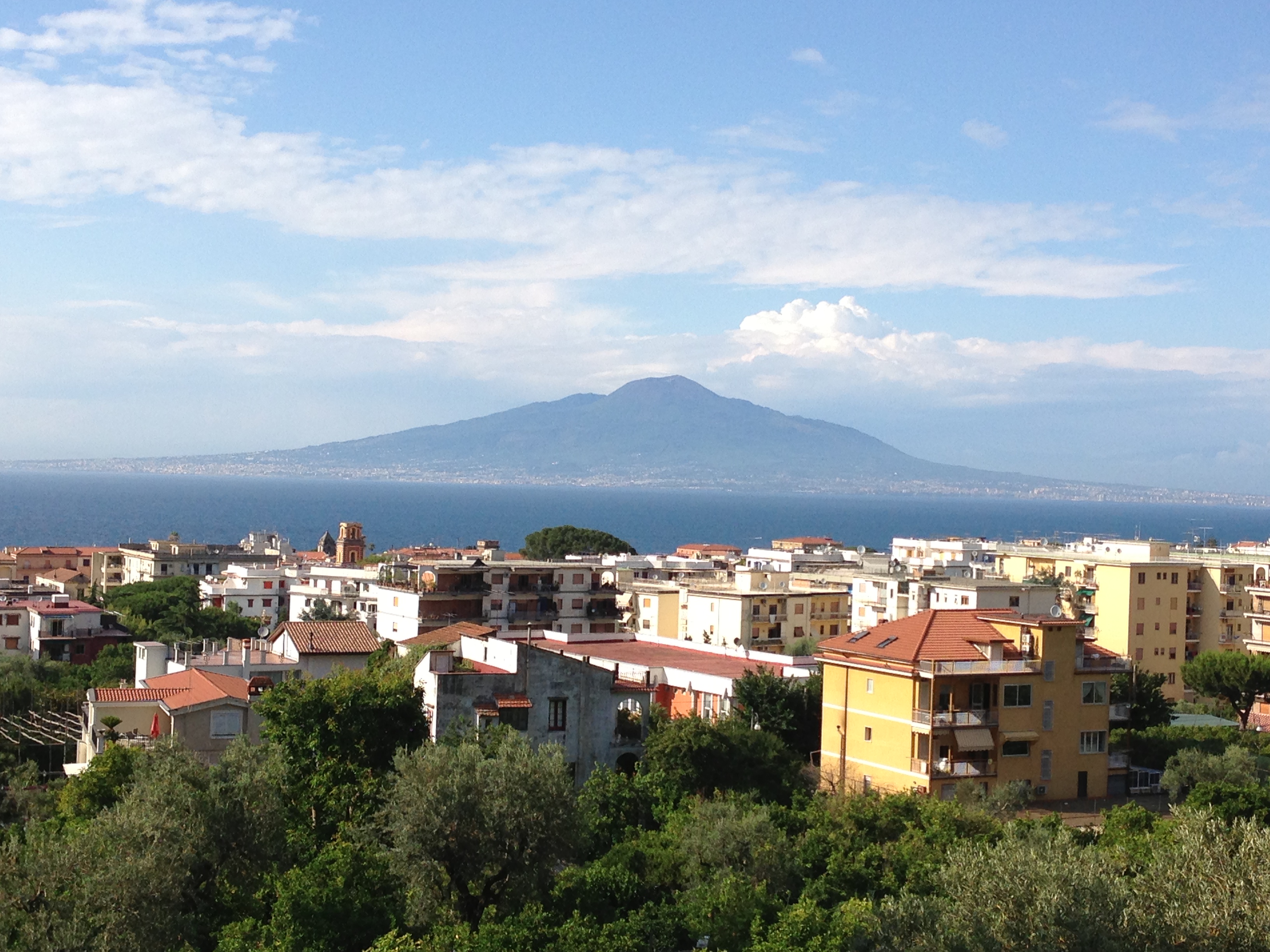 The room was clean and fresh and featured a refrigerator / mini bar which had enough spare space to include a few of your own things (e.g., my bottle of Limoncello!).  The housekeeping service seemed pretty efficient and our room was made up relatively early in the day.  The bathroom was spacious and the shower provided good water pressure.
The signal for the in room Wi-Fi was a bit spotty and it required you to register each device for 24 hours of access.  This is important to know since if you try to access your iPhone, iPad and laptop in the room you'll be charged 7.50 Euros for each device per day.  Fortunately, the free Wi-Fi in the lobby was pretty speedy and I was able to get my internet access charges waived because of my HHonors Gold Status.
Another nice benefit of my Gold Status was access to the hotel's Pompeii Executive Lounge …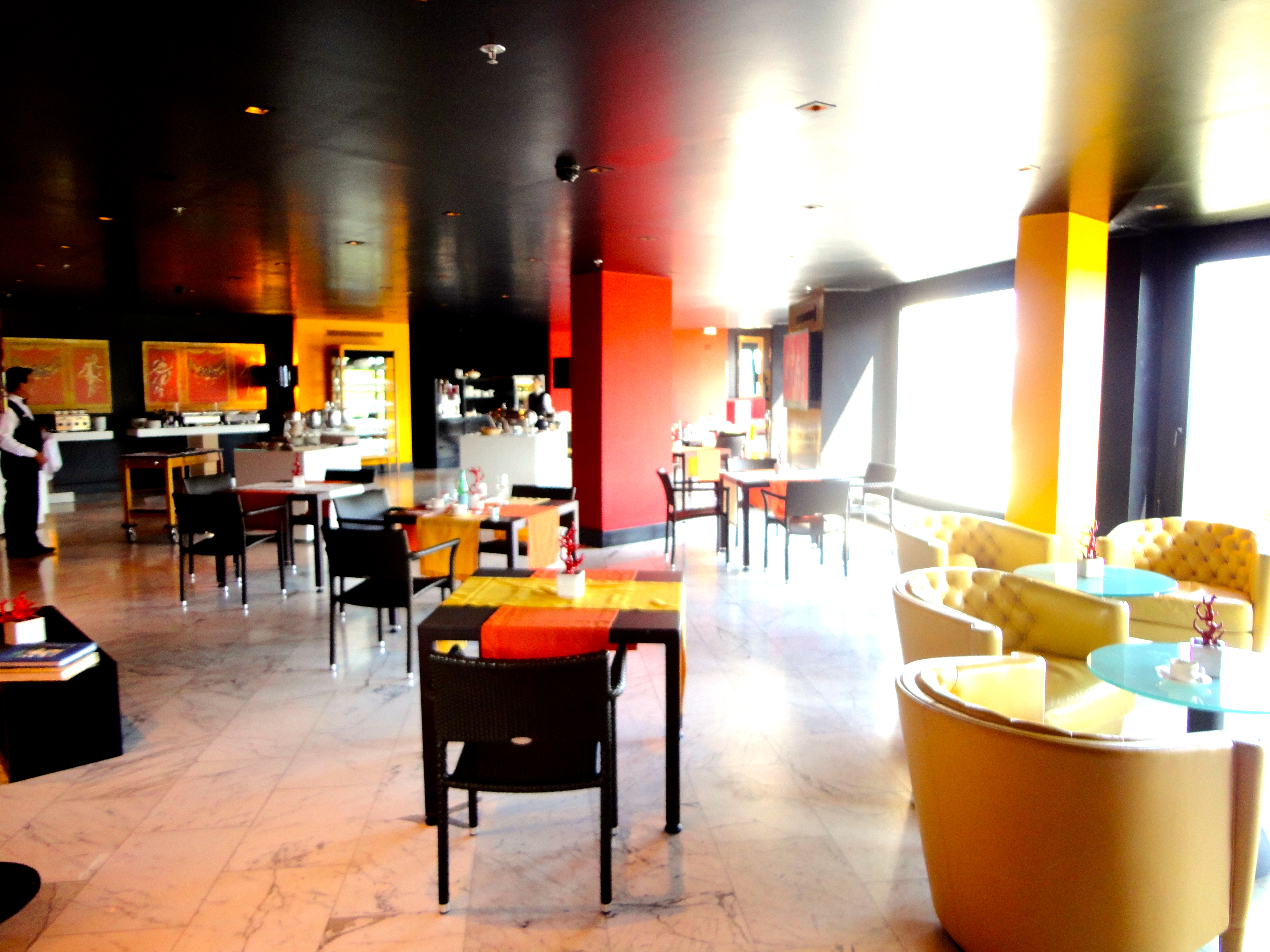 … which provided a Full American and Continental Breakfast daily from 7:00 am to 10:00 am and Evening Snacks from 6:00 pm to 8:00 pm.  Breakfast offerings included bacon, sausage, eggs, cold cuts and assorted breads and fruit.  Coffee and prosecco (mimosas anyone?) were readily available. The lounge also featured a well-stocked cooler filled with beer, assorted juices and soft drinks.  I was so relieved to have a source for my much needed afternoon … and morning … Diet Coke fix!  The Lounge also had access to a large outdoor terrace with great views where you could enjoy your breakfast or drinks.
You also benefited from a sweeping panoramic view of the Bay of Naples from the expansive terrace bar and restaurant that opens up just beyond the hotel lobby.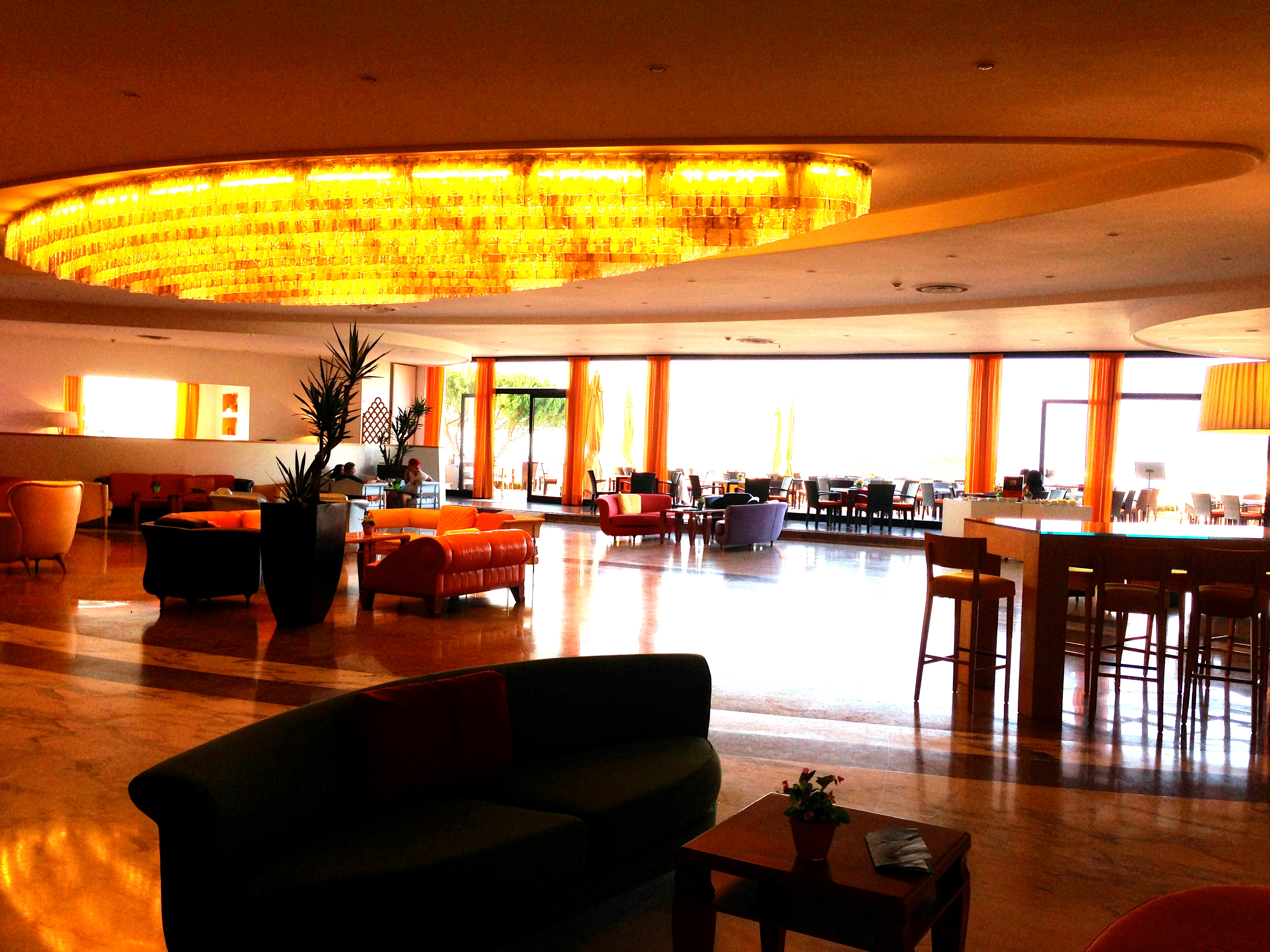 The meal was perfectly fine, though nothing special.  However, unfortunately it seemed as if the waitstaff had taken "surly lessons" from the guy handling our check-in earlier in the day.  That said, we were seated at a table just at the edge of the terrace where we were able to enjoy watching dusk transform into night and the lights of Naples start to flicker on.
Source: Hilton Sorrento Palace
As we were wrapping up our meal we saw a series of sky lanterns rise up from the waters' edge and drift up into the twilight.  The effect was magical and served as a pleasant way to wrap up our first day in Italy.
Despite the service hiccups we encountered during our stay, I would probably stay at the Hilton Sorrento Palace again.  The hotel is a clean and comfortable place to sleep off your jet lag after a long transatlantic flight.  In addition, the Hilton Sorrento Palace features a large pool area that we didn't use on this visit but seemed like a nice amenity.  The hotel is also conveniently located near the Pompeii archeological sites and Sorrento would be a great jumping off point for a day trip to Capri.  The "stage is set."  Now we're ready to explore the Amalfi Coast … stay tuned!