The Amalfi Coast is known for it's spectacular scenery.  When we made plans to visit this region of Italy over the summer I had visions of us tooling around in an Alfa Romeo convertible, sporting dark glasses and taking each hairpin turn with my hands up in the air yelling at the top of my lungs "I've never felt so alive!"
Of course, once I snapped out of this daydream, I realized that the reality of a drive up the Amalfi Coast would be quite different.  You see, I haven't driven a car for ten years (yes, I am a creature of my urban environment).  Therefore, chauffeuring responsibilities would have had to fall to my Partner F who himself is a bit of a nervous driver.
Instead of a glamorous Grace Kelly / Cary Grant cliffside, coastal jaunt á la To Catch A Thief …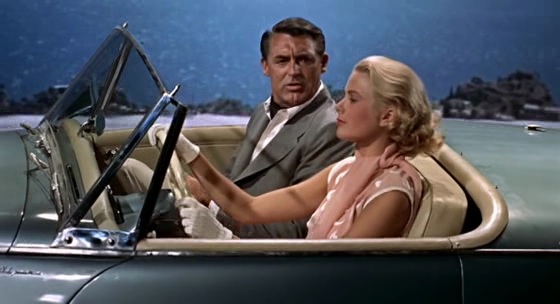 Our journey would most likely end up resembling a white-knuckle ride with Woody Allen driving in … well, any movie in which Woody Allen has to get behind the wheel of a car …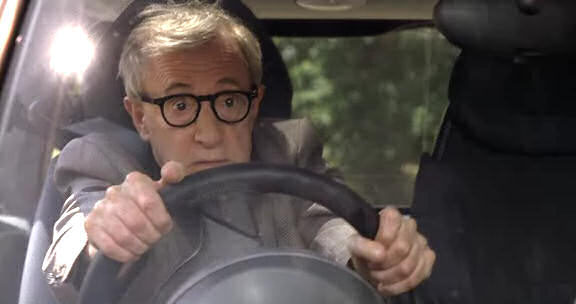 Therefore, I decided to hire a private driver for our tour of the Amalfi Coast.  I did quite a bit of research and decided on Simply Amalfi tours.  I was impressed by the company's excellent recommendations on TripAdvisor.  In addition, I was able to use Simply Amalfi for our car transfers during our stay in addition to a full day tour of the Amalfi Coast.
I was impressed by the responsiveness and thoroughness of the company's American co-owner Katharine Johnson.  Our interaction began with a series of email exchanges to outline our options. Katharine was great in providing some very detailed sample itineraries that could be customized to our personal interests.  She was extremely helpful and patient throughout the entire planning process and responded to my email inquiries very quickly.  I ended up hiring Simply Amalfi for the following elements of our trip:
Private Car Transfer from Naples Airport to Sorrento (See my earlier post on our stay at the Hilton Sorrento Palace for my review of the hotel)
Day Long Private Car Tour of the Amalfi Coast
Private Car Transfer from Sorrento to Positano
Private Car Transfer from Positano to Naples Train Station
After landing in Naples (see my earlier post on Flying Lufthansa Intra-Europe for more details on our flight to Italy), Salvatore "Junior," the nephew of Katharine and Simply Amalfi's other co-owner Salvatore Mocerino, was waiting for us at the airport.  Salvatore helped us with our luggage and we boarded a comfortable and spacious mini-van for our private car transfer to Sorrento.  I had indicated in my earlier communication to Katharine that I was very interested in seeing some "great views" on our trip. Therefore, it was nice that Salvatore picked up on this and volunteered to stop off for a couple of "photo ops" on the way to our hotel.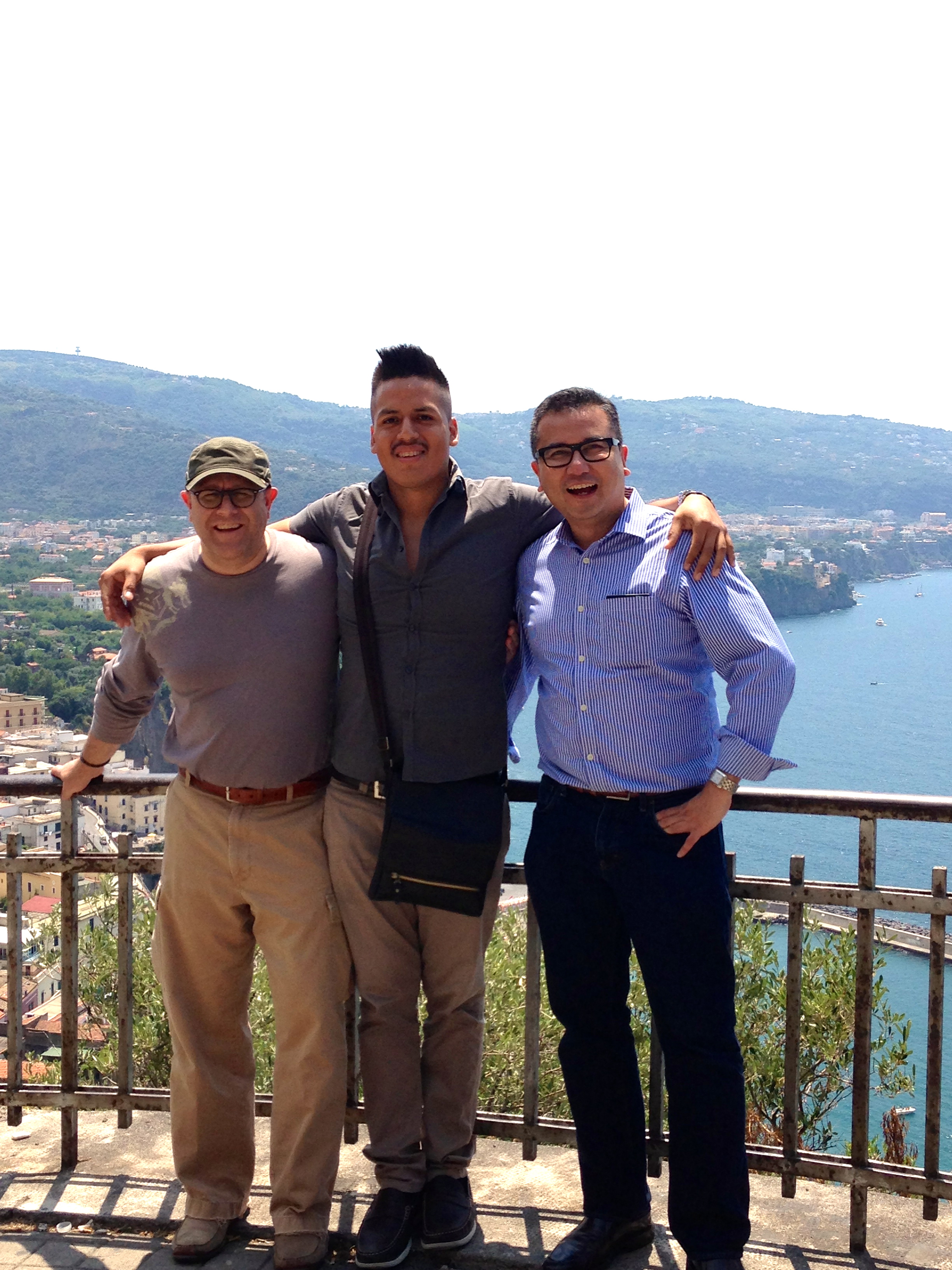 Our Private Amalfi Coast Driver – Salvatore "Junior"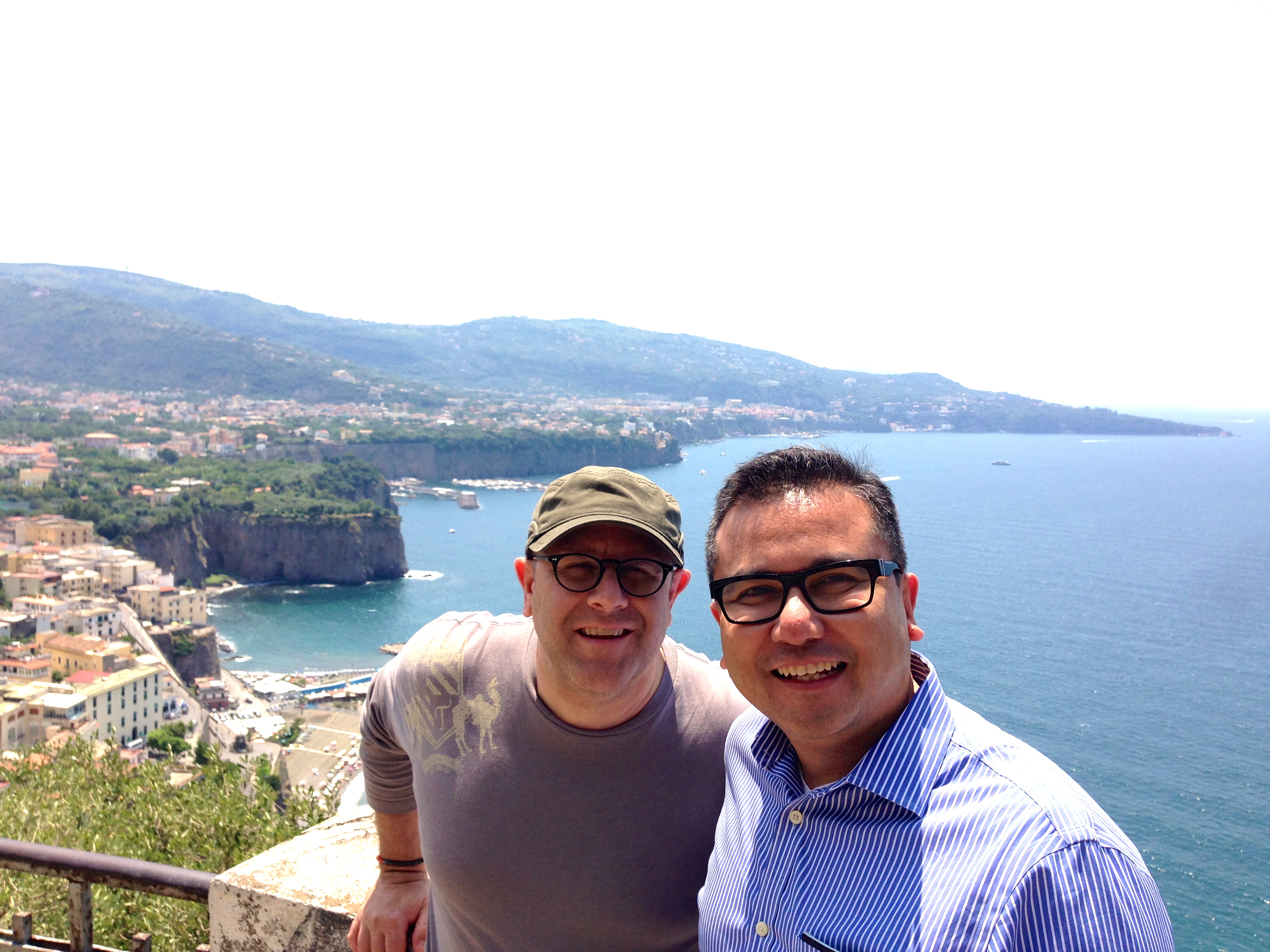 Our First View of Sorrento
The next morning, Salvatore was right on time to pick us up for our private car tour of the Amalfi Coast.  Our first stop was a pretty overlook where we were able to catch some great views of the island of Capri …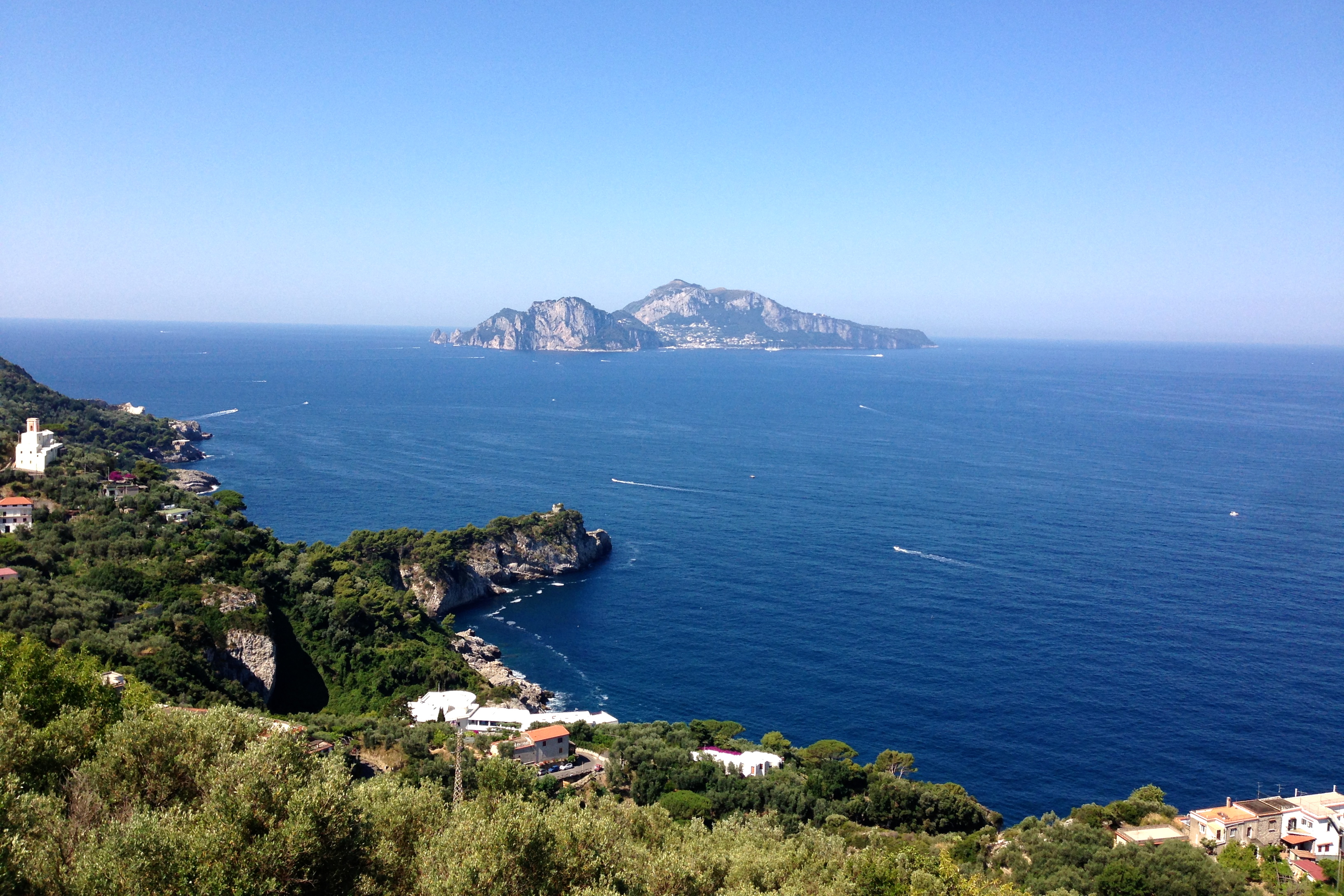 … and the Bay of Naples and Vesuvius.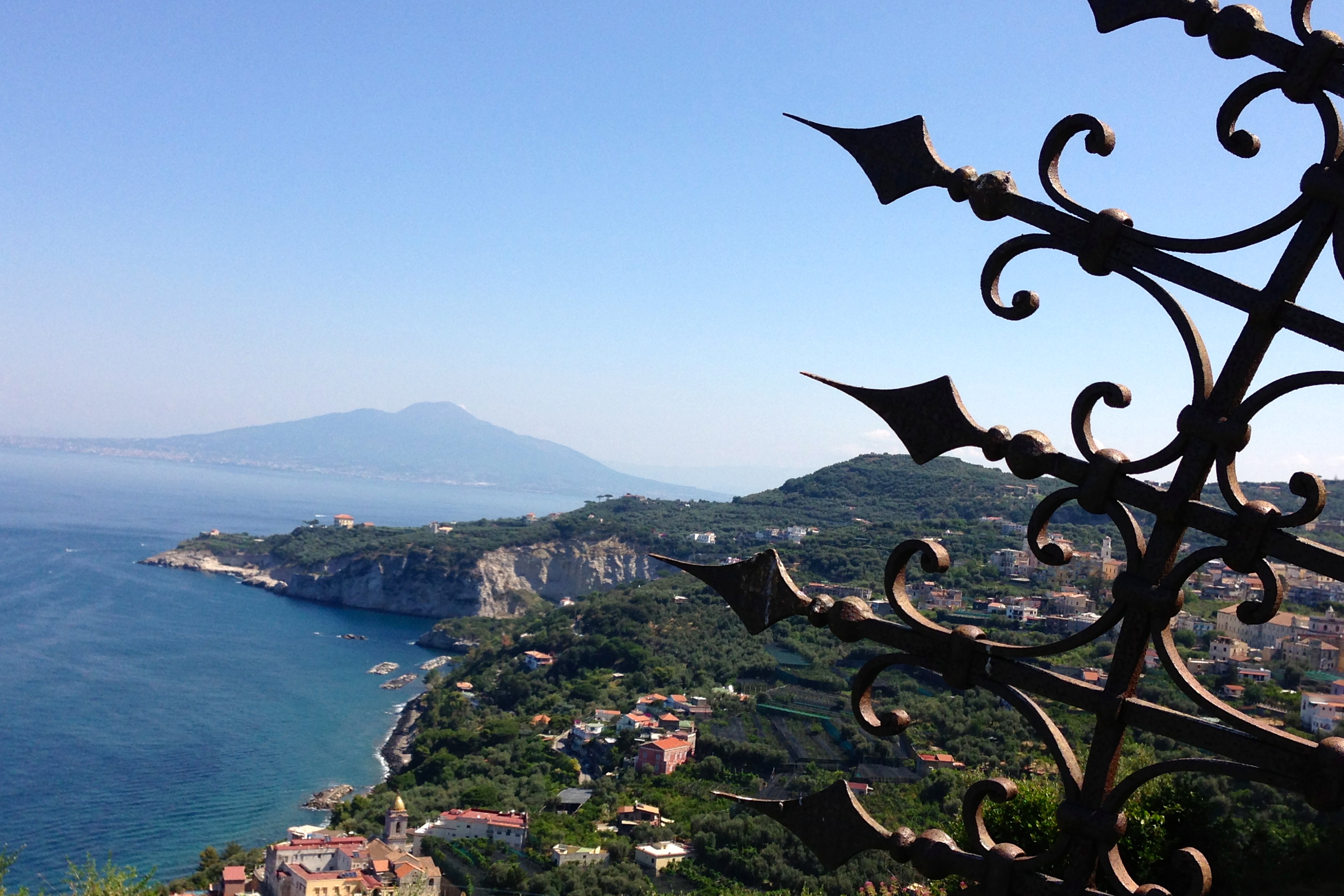 We were feeling a bit peckish so we stopped under a few olive trees for a snack.
We were a bit early in the olive picking season so we came up empty-handed.
The drive continued and we were treated to some spectacular coastal views. Salvatore was great at pointing out the key sights along the way such as a rock formation that looked like the head of the Italian general and politician Giuseppe Garibaldi and the private island that once belonged to ballet great Rudolph Nureyev. After passing a sign spray-painted onto to the cliffs that encouragingly said that "You Will Never Walk Alone" we soon came up on Positano.
Since we struck out on a snack during our "olive stop" we were treated to our first taste of a lemon granita. This treat featured real bits of lemon and was so sweet and cold and refreshing on the very hot day that we were touring.  Of course, while we were there, we managed to make a new friend at a roadside fruit stand …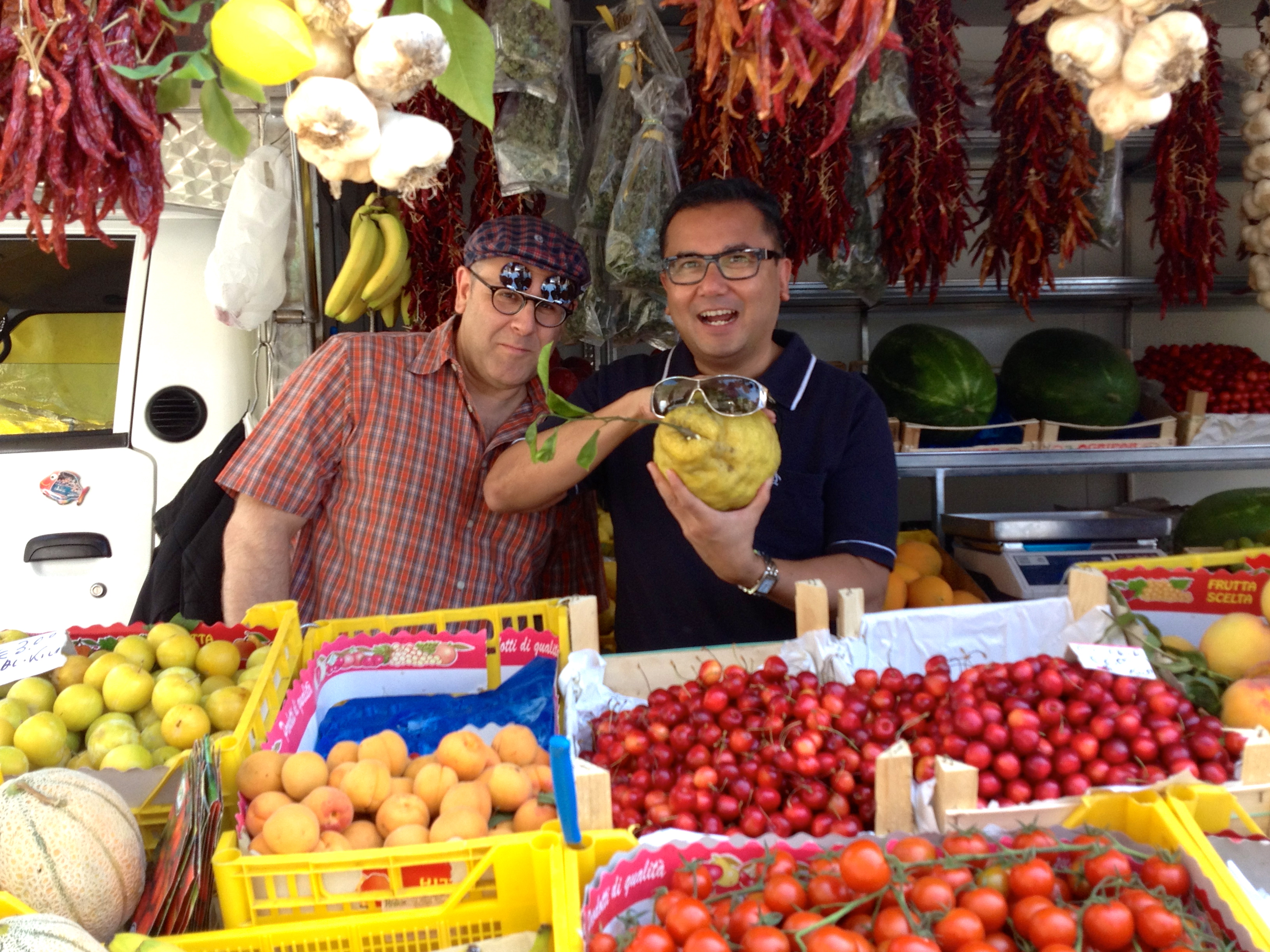 Since Salvatore was friends with the owner of the stand, we were able to get this great shot despite the large and clearly labeled sign that said "NO PHOTOs!"
While here, we were treated to some great views of Positano …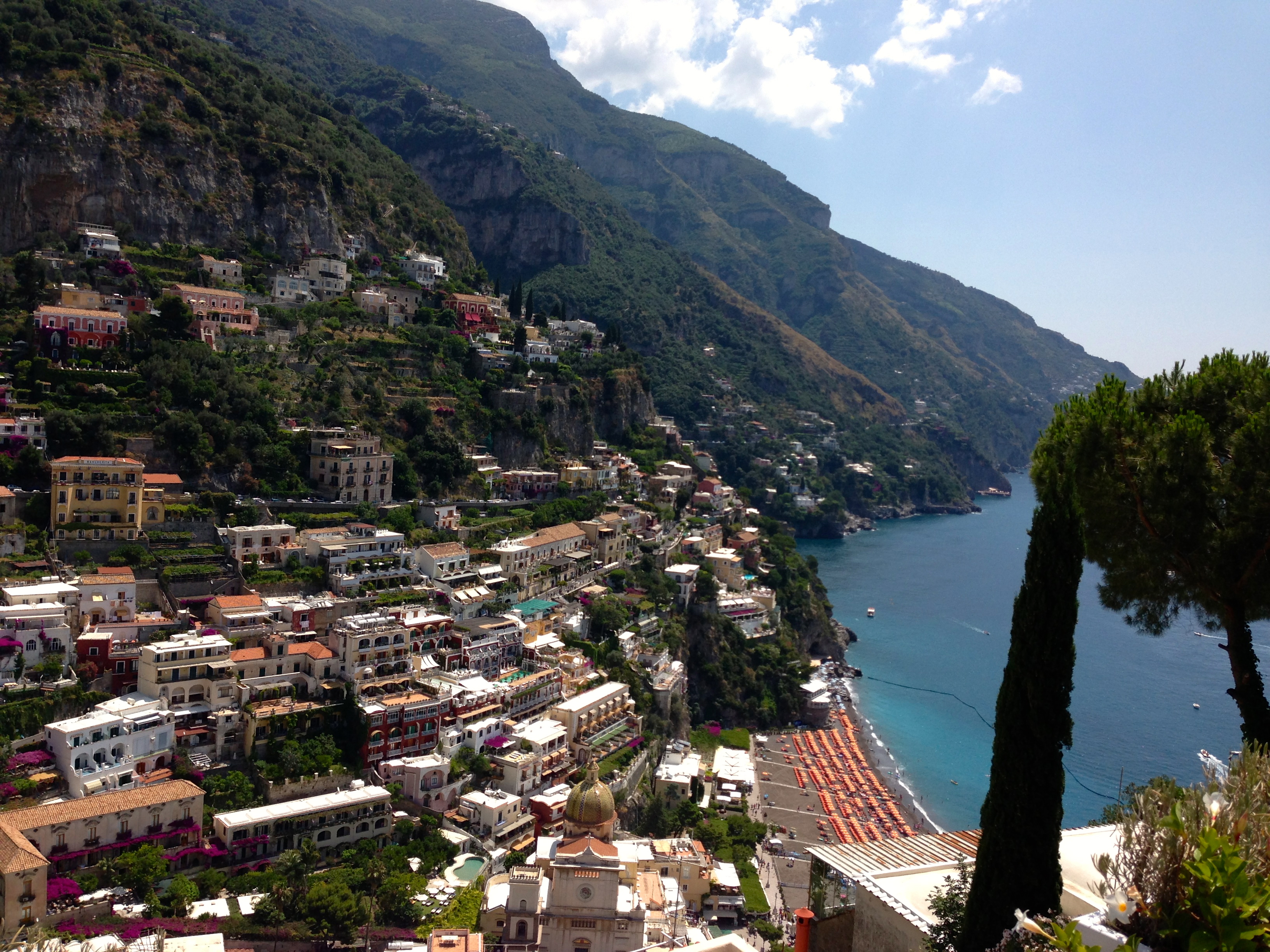 … Both coming …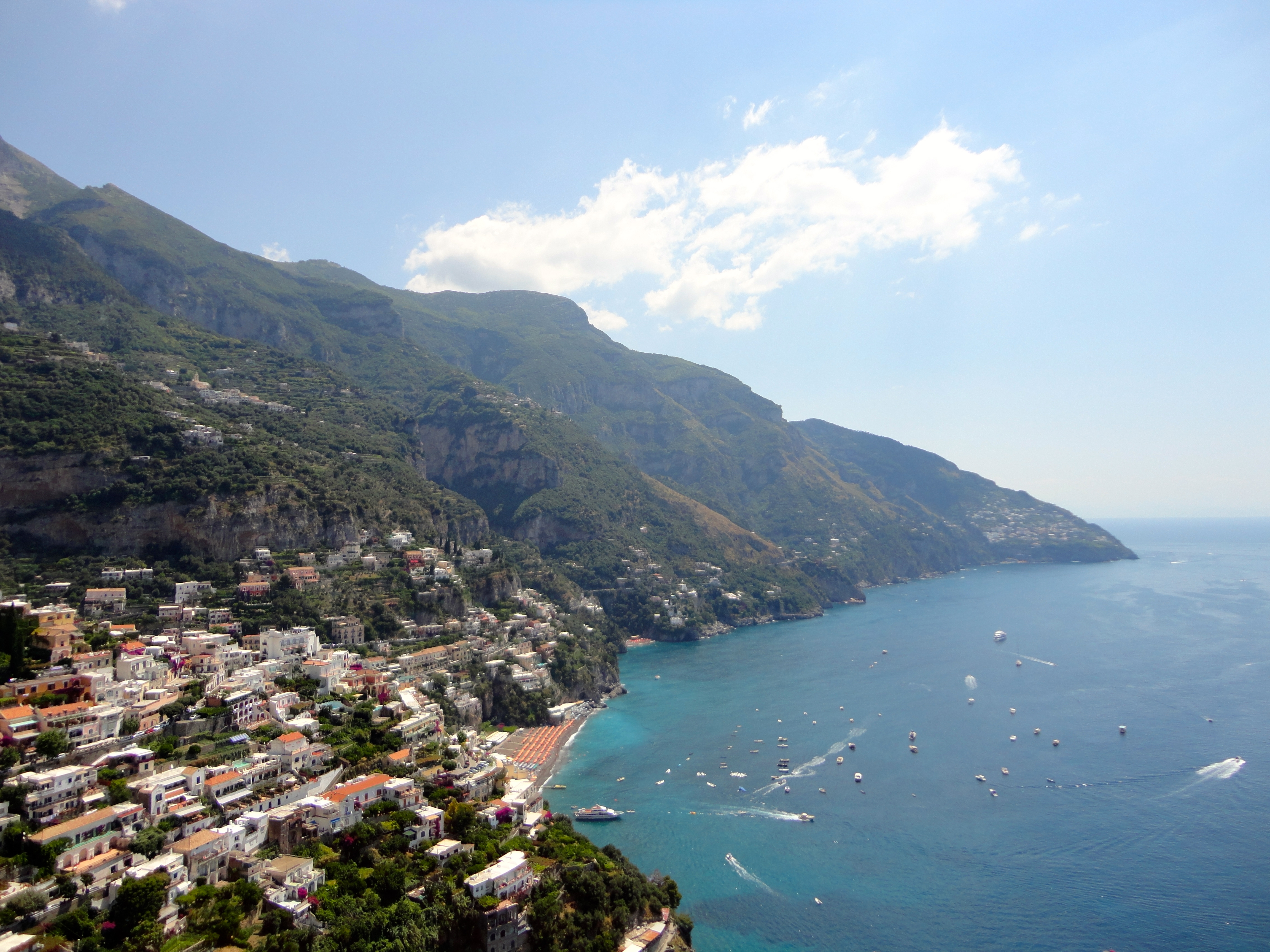 … and going.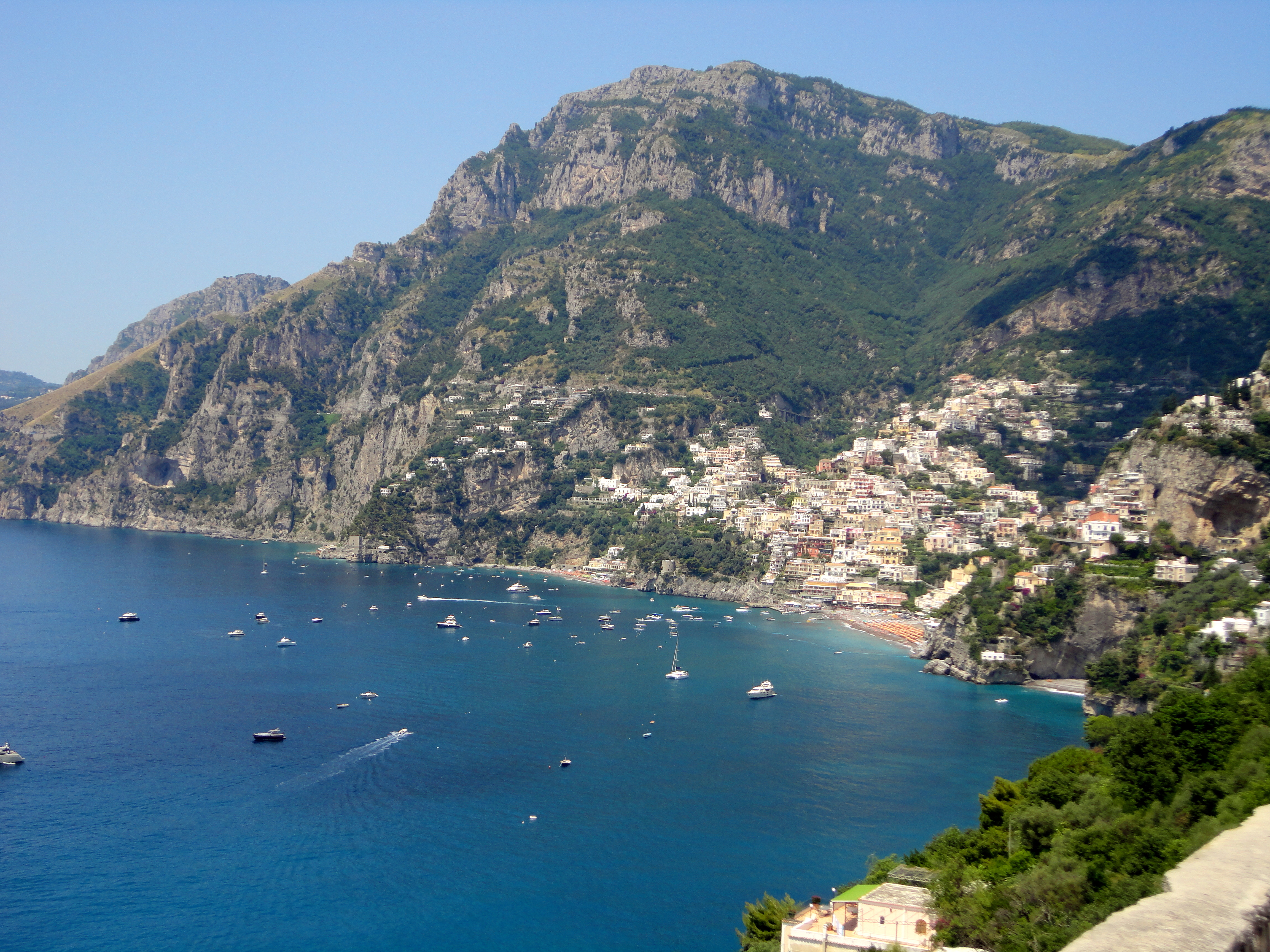 The beauty of Positano was simply surreal and this preview made me feel really happy that we'd be making the town our base of operations for the rest of our stay on the Amalfi Coast.  Stay tuned for more details in a future blog post!
After leaving Positano, we passed a grotto that featured a model of the town in miniature …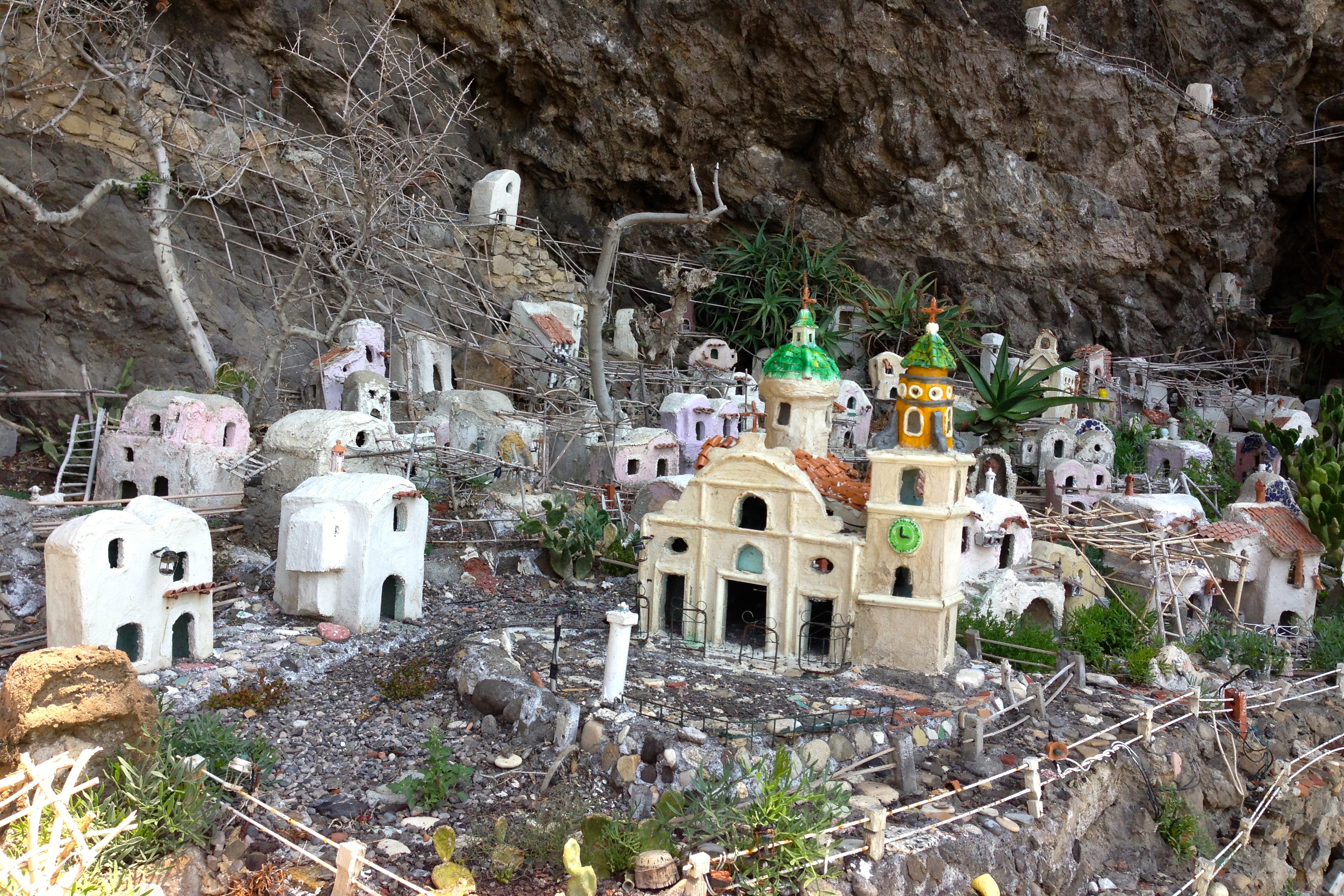 …  and a quick view of the site of the Emerald Grotto.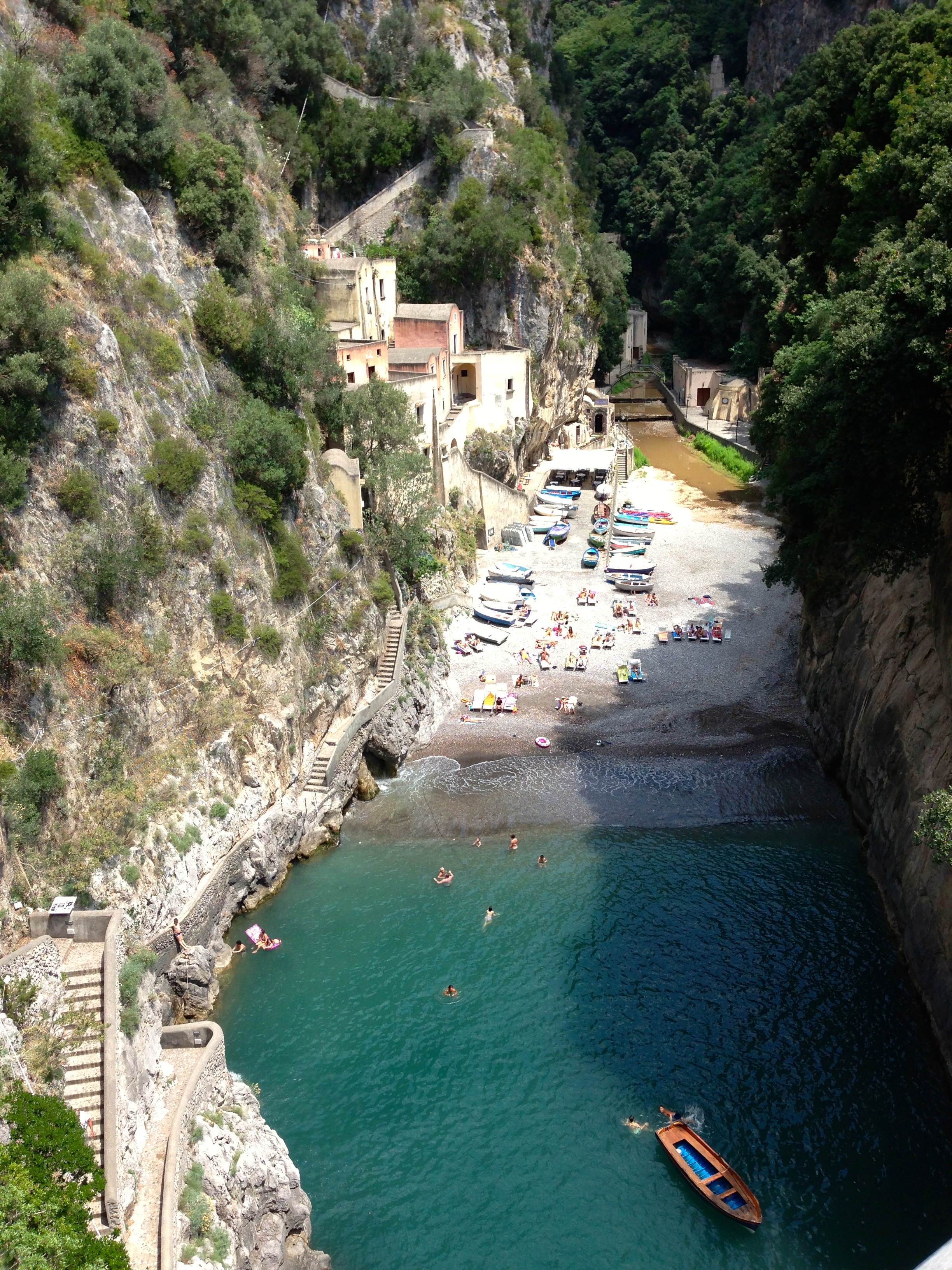 We continued on to the town of Amalfi where Salvatore helped us get our bearings and pointed out the Cathedral of San Andrea situated in the town center …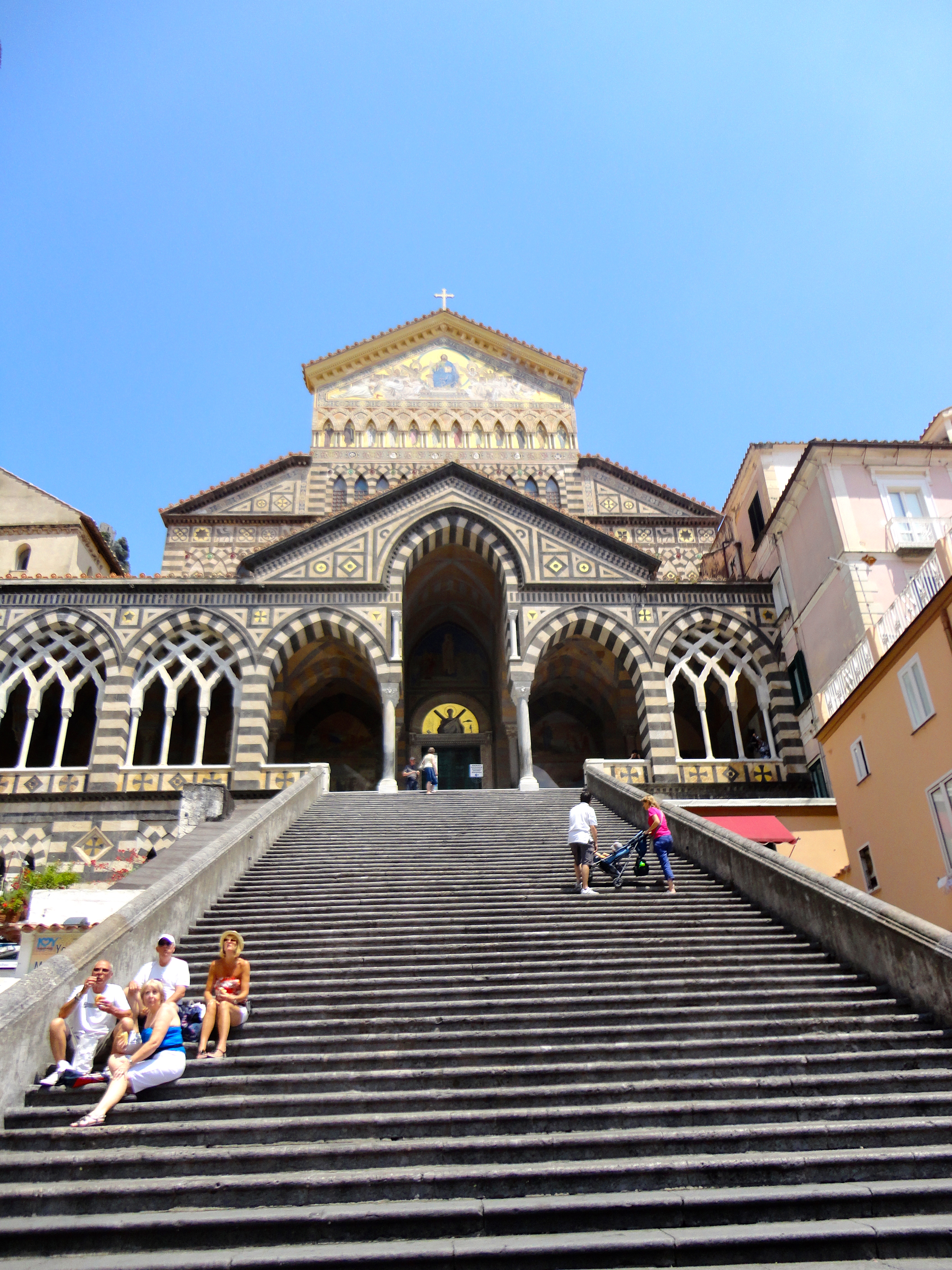 … and brought us to a local restaurant, La Taverna di Masaniello, for lunch. The restaurant is highly rated by TripAdvisor and we treated ourselves to a great meal of pasta with olives (alla puttanesca) and eggplant (alla siciliana). We then had some free time in Amalfi to explore the town on our own and get in a bit of shopping as well as a stop for some gelato!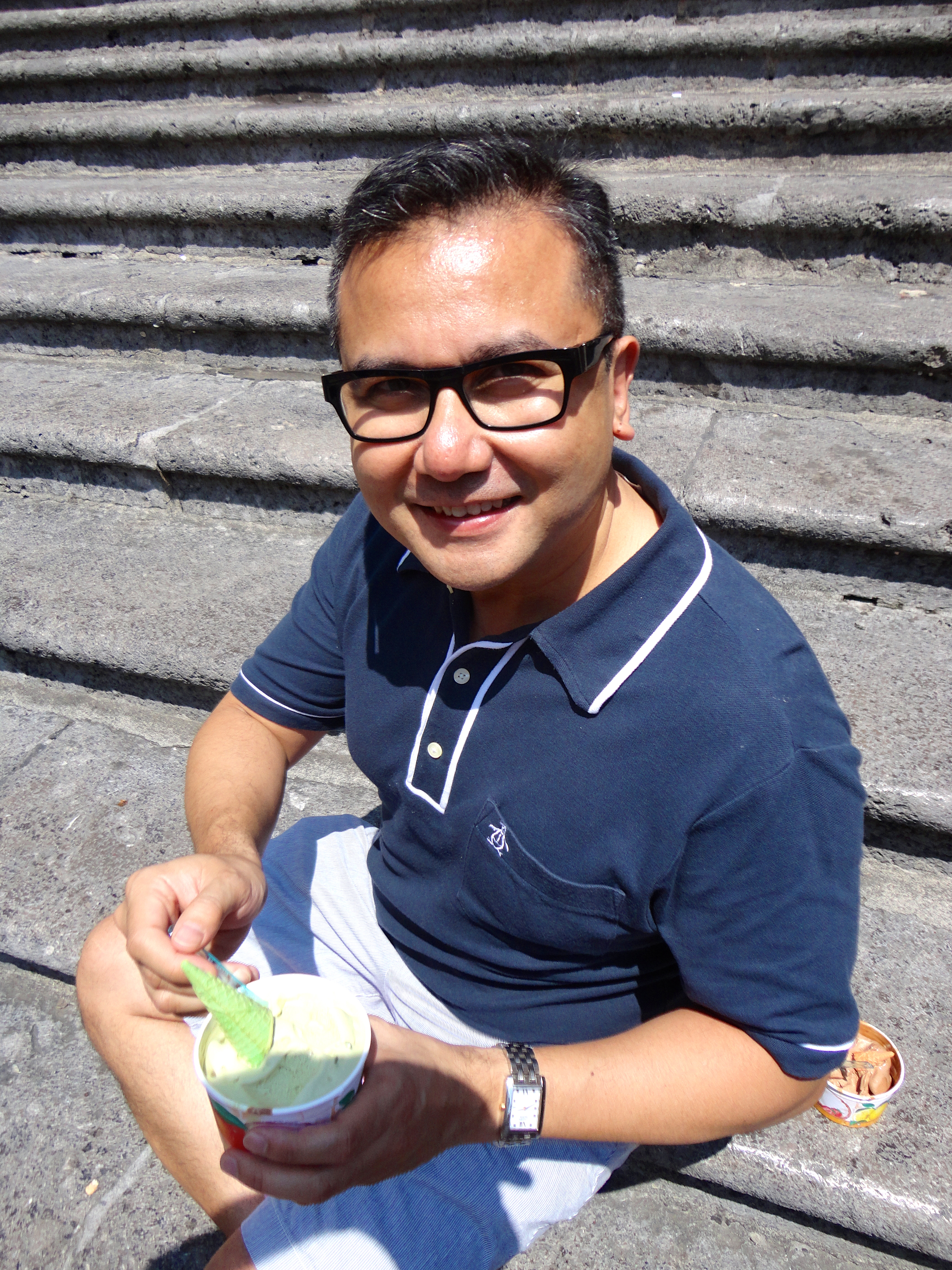 We reconnected with Salvatore at our designated meeting point in the town square …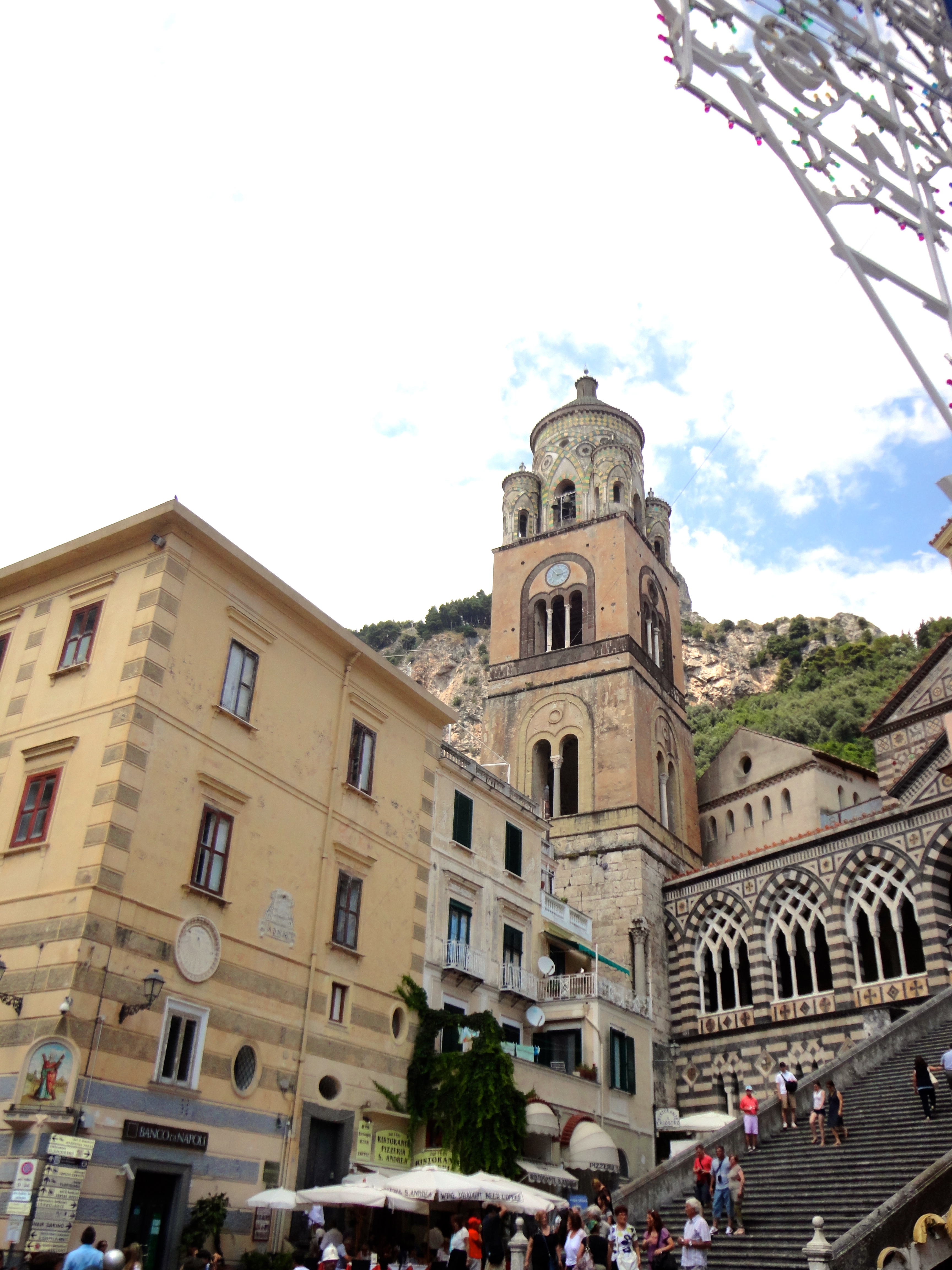 And bid farewell to Amalfi as we continued our drive.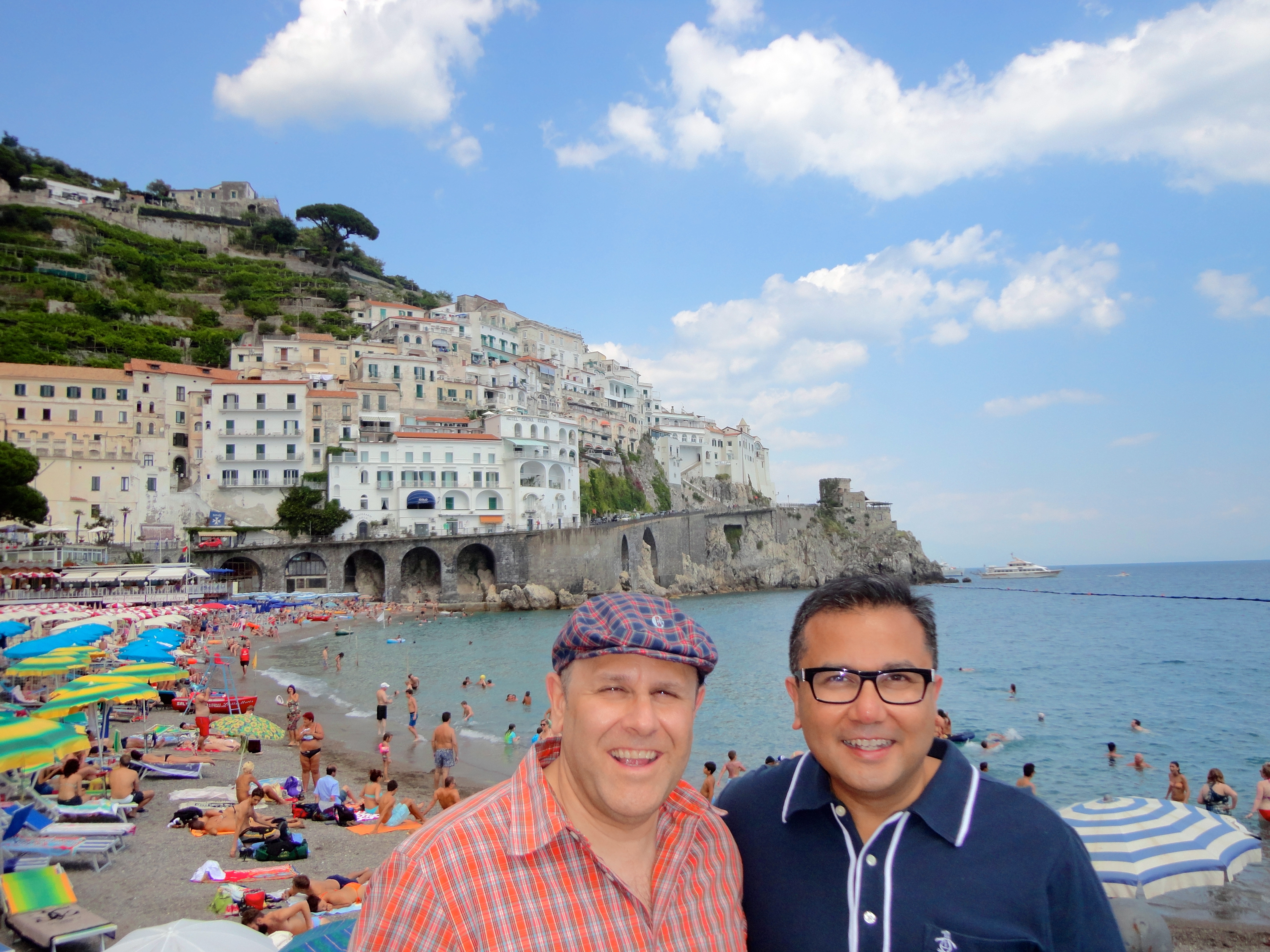 Although, we enjoyed our stop in Amalfi, it was a pleasure to get back out on the road to enjoy the countryside. Salvatore drove us through the scenic Valley of the Dragon up to a secluded hill town called Scala.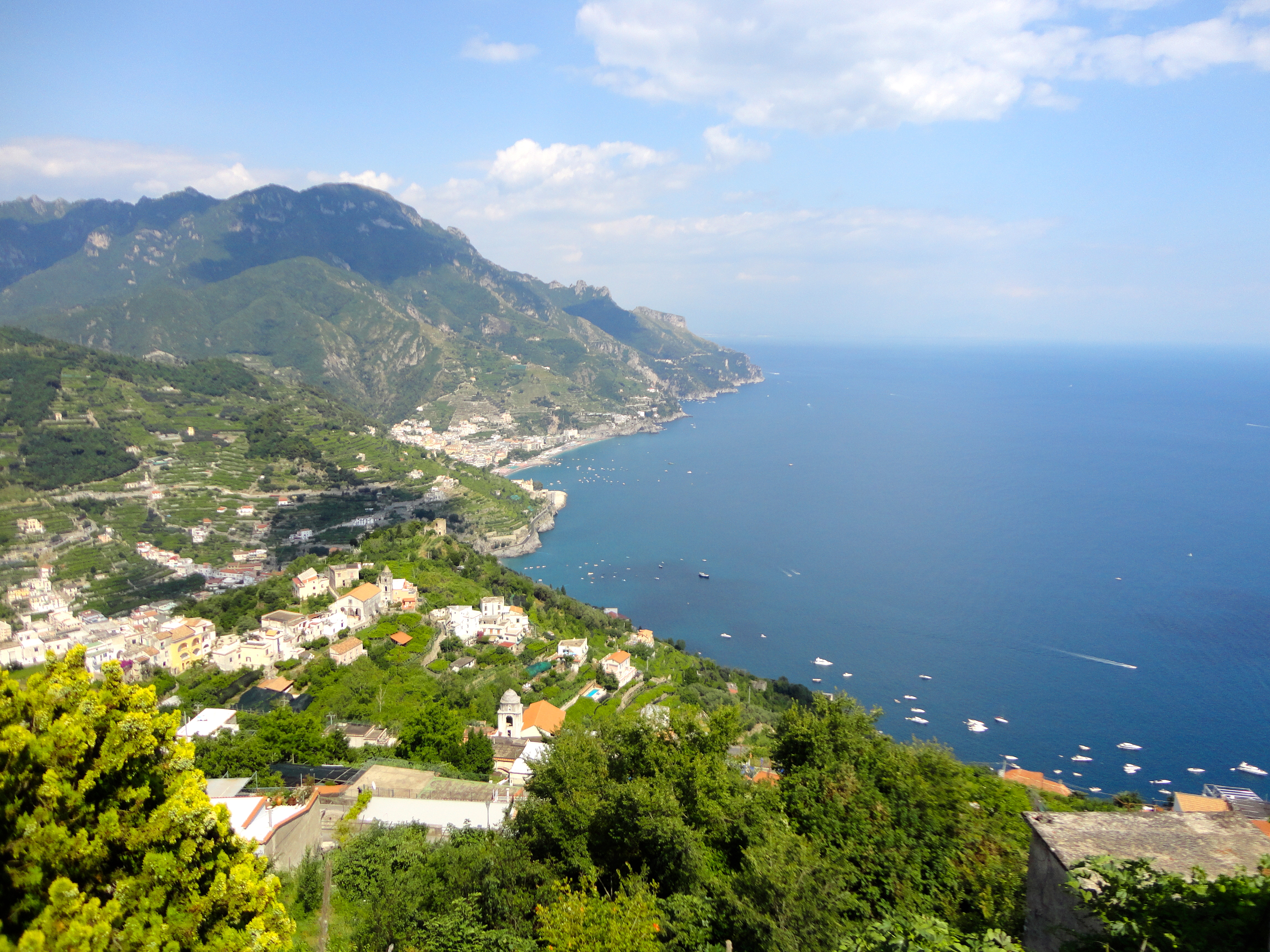 What was distinctive about this stop was the noticeable LACK of tourists.  We had had this scenic overlook all to ourselves … except for a solitary municipal worker who was on his smoke break as we took in the views.

The last stop on our private tour was Ravello which is known as the "City of Music."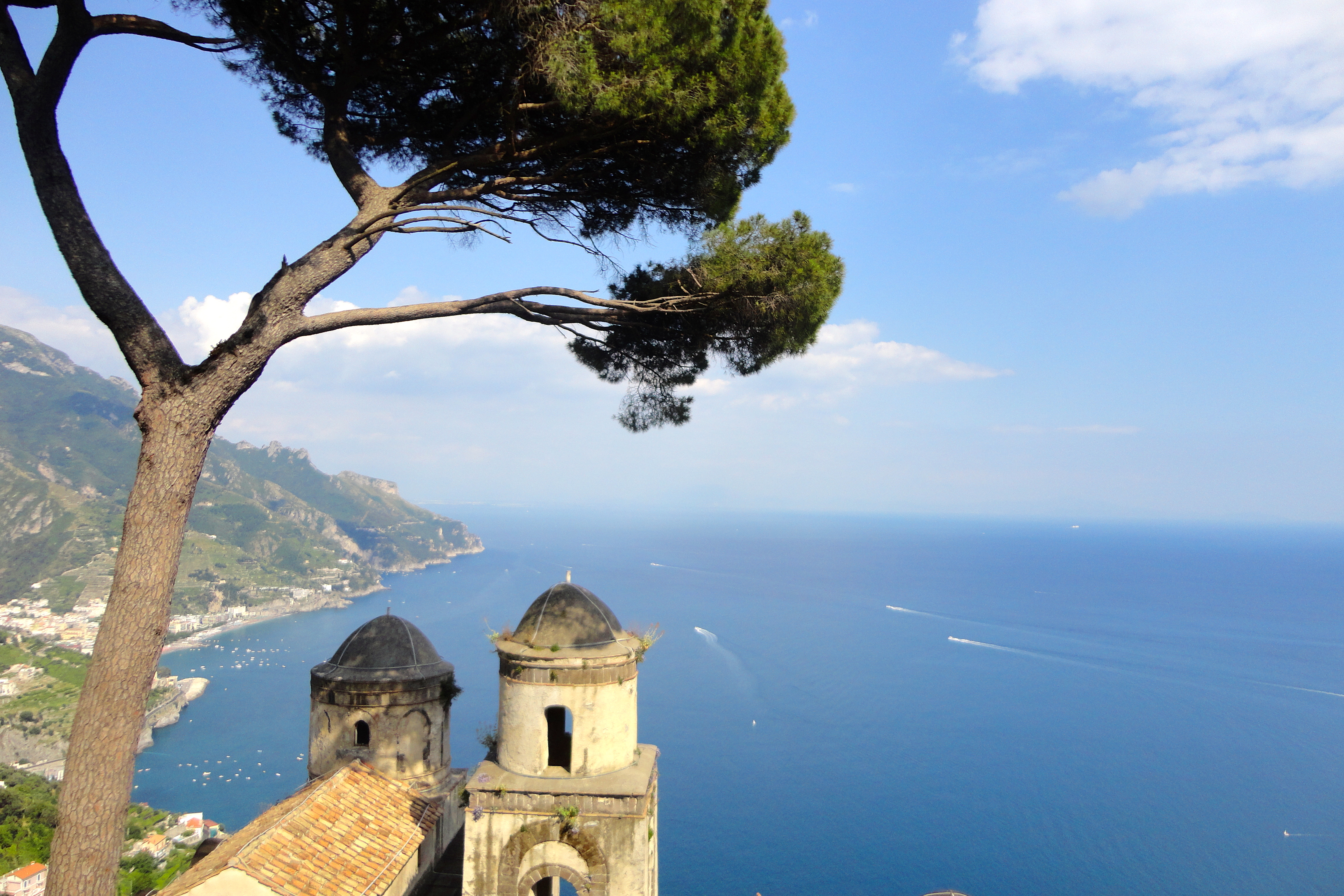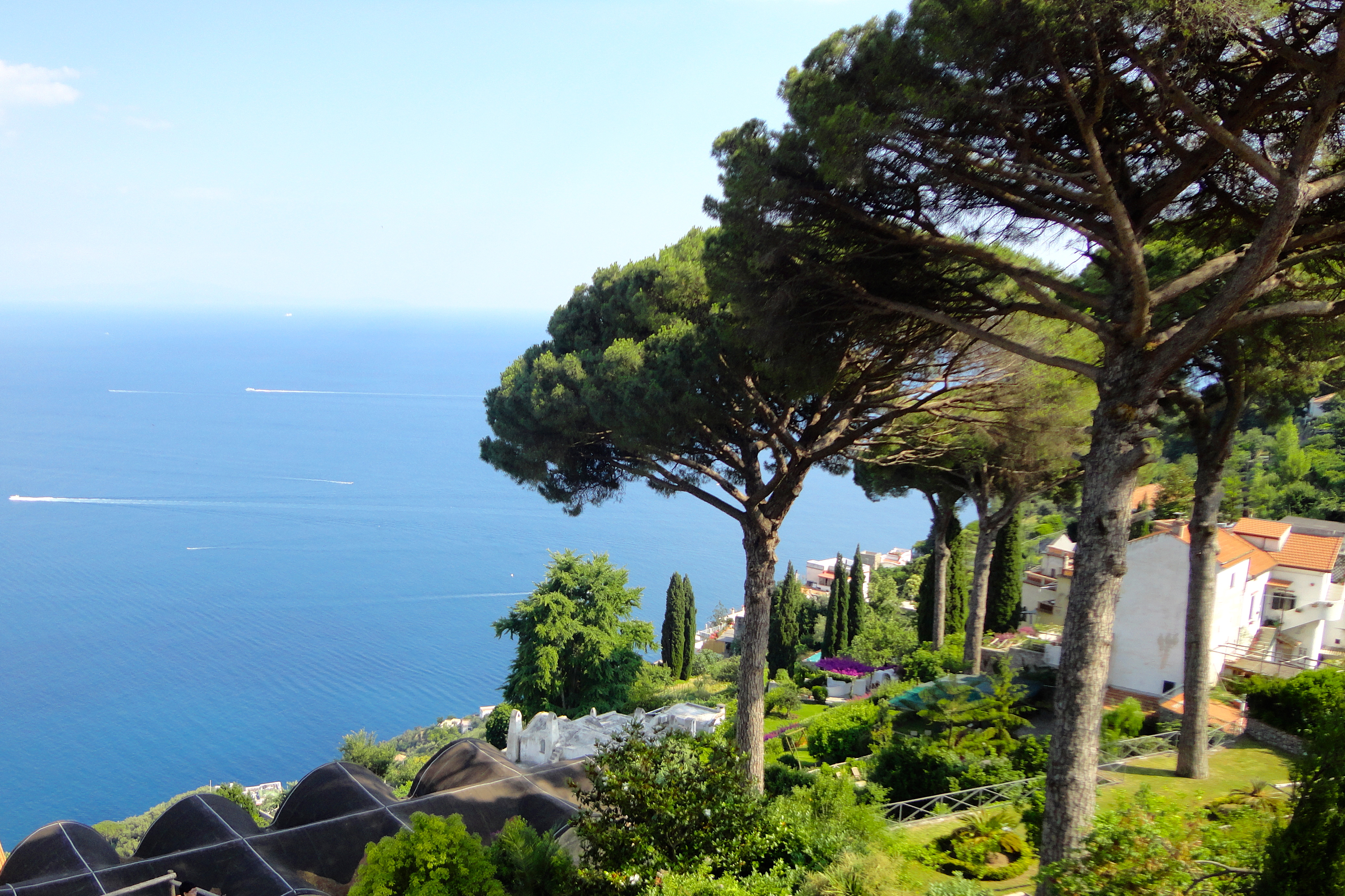 The town is quiet and elegant and I could see spending a few days here on a future trip in order attend its famous Summer Music Festival. Some of the concerts take place at this beautiful venue overlooking the ocean on the grounds of the Villa Rufulo …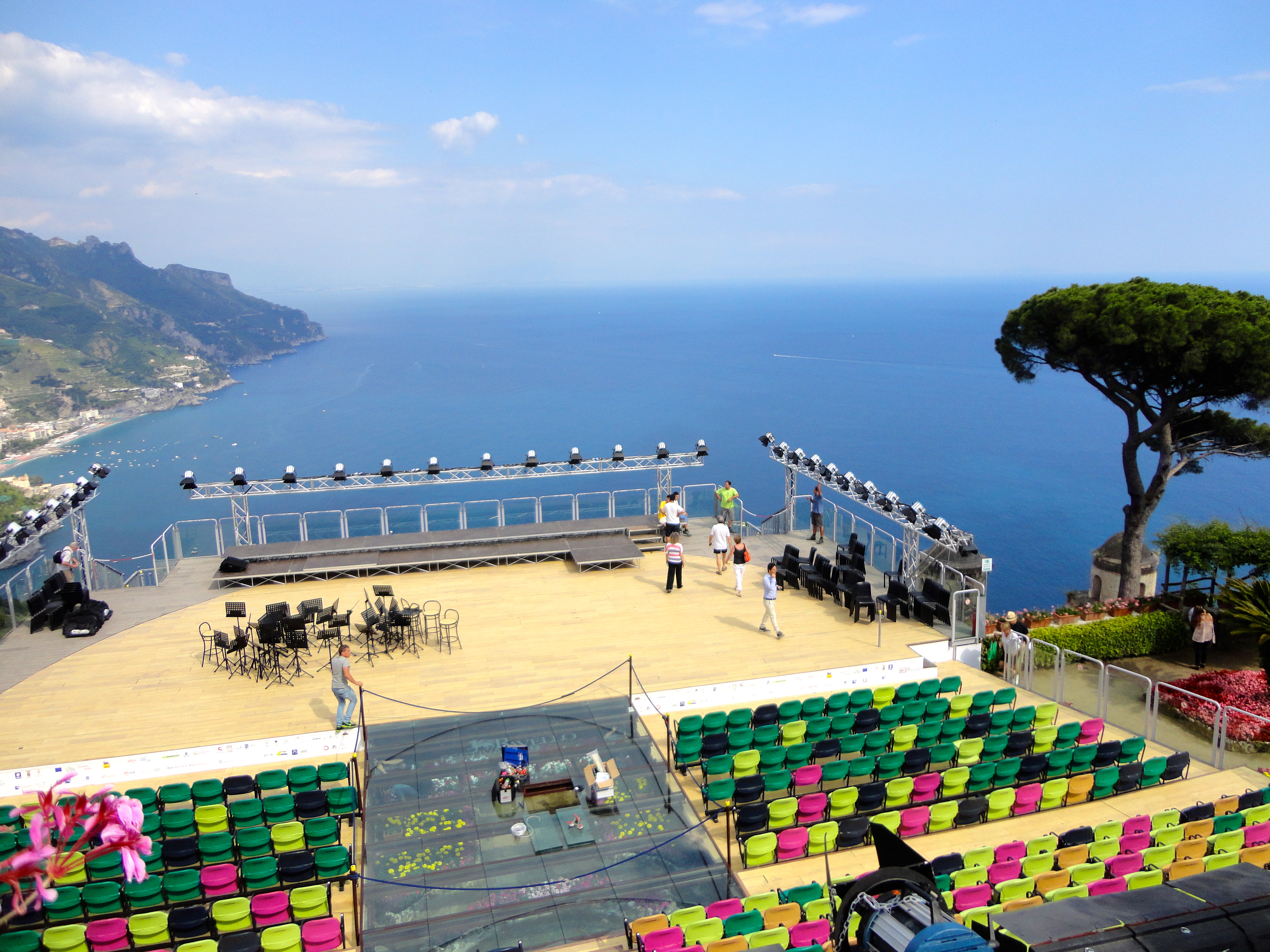 The magnificence of the setting got my creative juices flowing and inspired me to take the stage …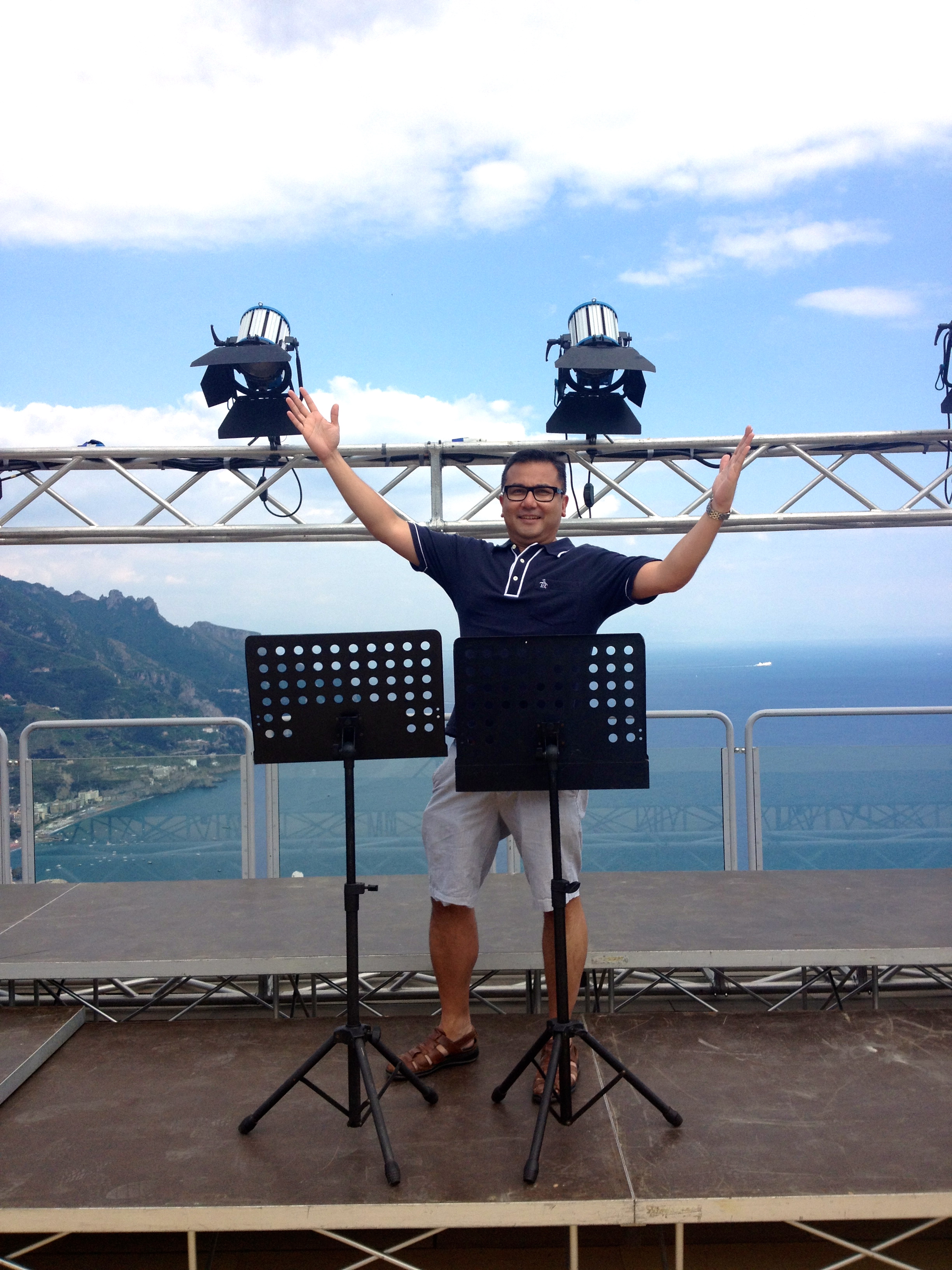 Don't worry, I won't be quitting my day job any time soon!
What's great about hiring a private driver is that throughout the day we were on "our time."  Salvatore made sure to communicate that we could personalize our experience to our own preferences.  We had the freedom to stop and linger whenever and wherever we wanted. Having Salvatore with us was like having a good friend take us out for the day.
Throughout our trip, Salvatore was enthusiastic and professional.  Even after the "formal" part of tour was completed, Salvatore remained engaged and personable.  For example, once we ran out of "touristy" subjects to cover, we launched into a great discussion of Italian pop music (e.g., Did you know that there is a famous Italian cover version of Crowded House's song Don't Dream It's Over?).  Even stuck in rush hour traffic on the way back to Sorrento the time seemed to fly by.
On our last day, Salvatore was also our driver for our private car transfer from Positano to the Naples train station.  Professional to the very end, Salvatore helped us with our luggage and guided us to the train platform.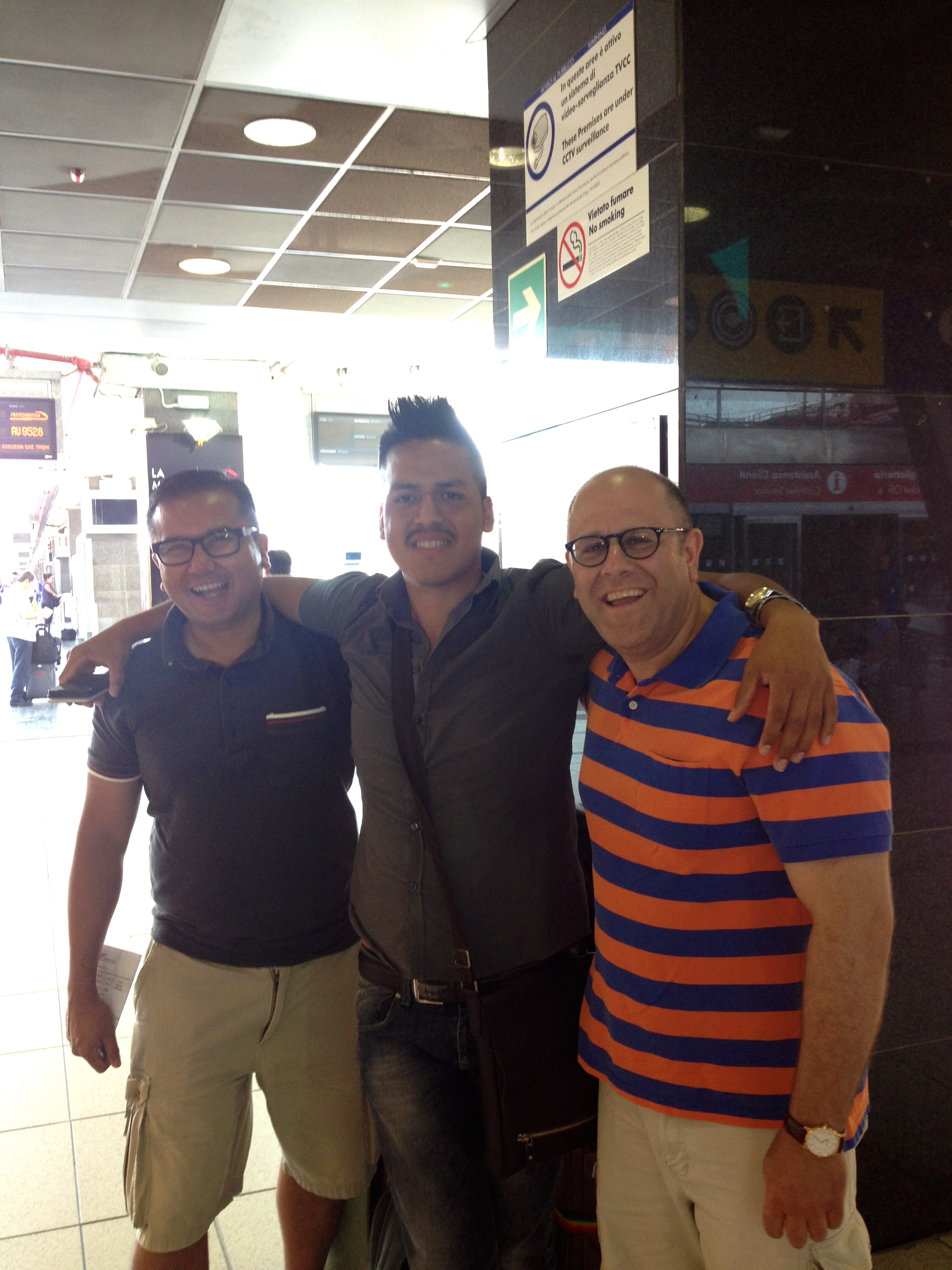 I was extremely pleased by the service we received from Simply Amalfi.  Working with this company took the worry out of the travel logistics involved in touring the Amalfi Coast. I wouldn't hesitate to call on Simply Amalfi to manage my transportation needs on any future trips to the Amalfi Coast.  For example, I could see using the company to organize a trip revolving around the Ravello Music Festival or perhaps for a day outing to go swimming at the Emerald Grotto.  In addition, Katharine would also be able to organize transportation and a private guide for an outing that would include a visit to the Pompeii archeological site followed by a tour of the local wine country.  In order to make the most of your experience, my advice would be to opt for a full day tour (or perhaps a series of full day tours).  It's best not to try to cram too much into a few hours since being too "rushed" will likely detract from your experience.
Hiring a private driver wasn't too much of a stretch for me.  Back home, when F isn't driving me around, I'm hailing a cab or ordering an Uber or one of its variations.  Yes, in many ways I'm the Jessica Tandy character in the film Driving Miss Daisy.  That said, the biggest benefit of having a private driver on the Amalfi Coast is that it allowed us to enjoy the spectacular scenery without having to worry about driving our rental car off a cliff. Isn't NOT careening off a steep precipice worth the extra money?
What about you? On vacation have you ever hired a private tour guide or driver for your trip? What was your experience?