As I indicated in an earlier post, a few weeks ago, my Partner F and I cashed in 270,000 United MileagePlus miles for two First Class Tickets to Europe. Our itinerary gave us the chance to not only fly Lufthansa for the first time but also sample THREE of the airline's service classes.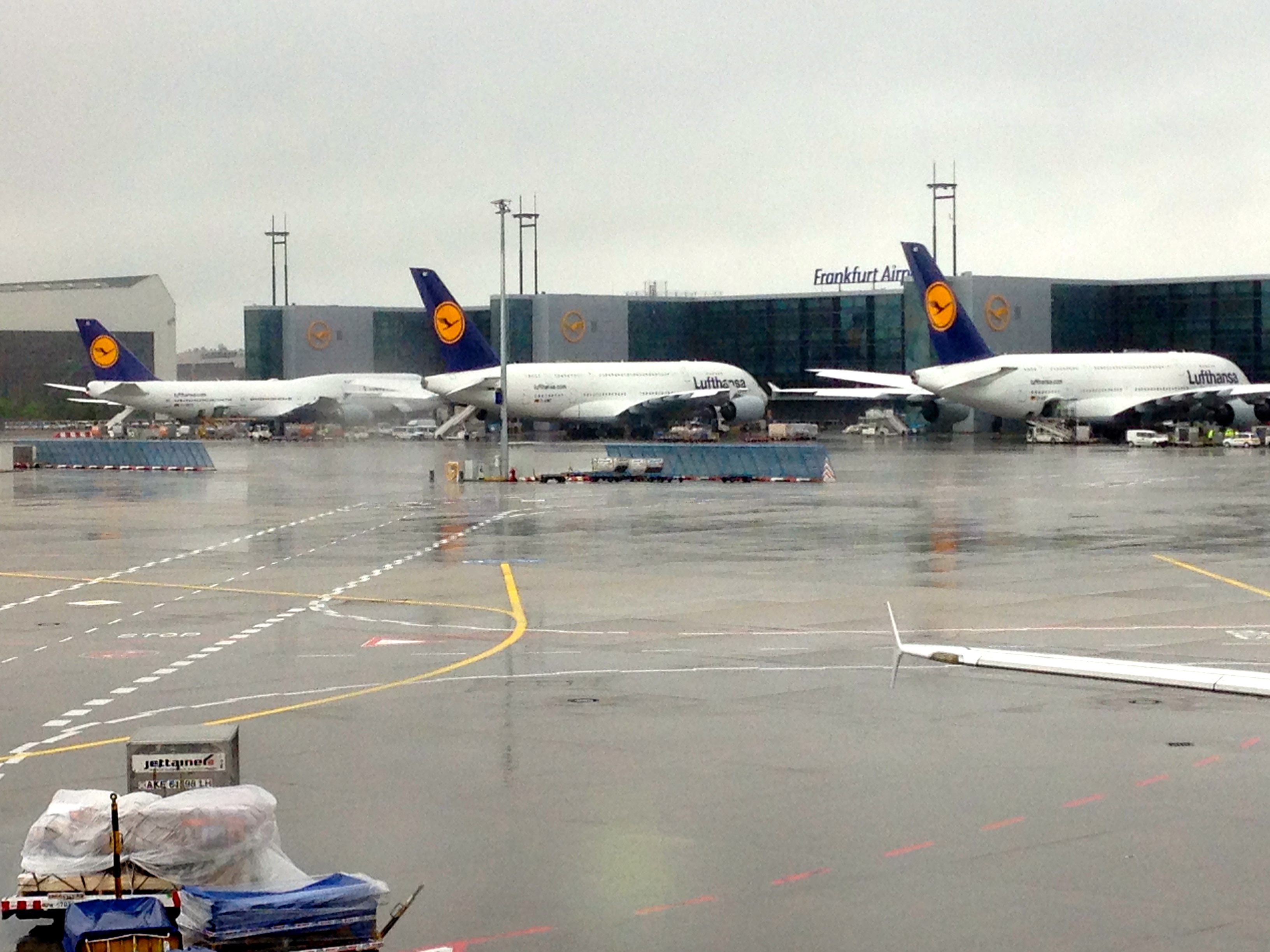 We fly United Airlines pretty much exclusively. Although my service experience with UAL has had its ups and downs in the past, I've generally been satisfied with the airline's performance over the last year or so.  That said, when it comes to most U.S. carriers I've learned to "manage my expectations" in an effort to avoid disappointment and reduce the possibility of having one of those "air rage" moments that might result in a full ground stop of traffic at O'Hare.
Therefore, I was pleasantly surprised by how civilized our experience was on our three intra-European hops on Lufthansa.  For this trip we flew Frankfurt to Naples and London to Frankfurt in Business Class and Florence to London (via Frankfurt) in Economy.
Service
I guess I was expecting service on Lufthansa to be stiff, formal and well …. maybe just wee bit authoritative.  Predictably, I didn't experience any informal folksy Southwest Airlines-style "friendliness" on any of my Lufthansa flights (e.g., there was no hint of a German version of "y'all" or "honey" during my interactions with the flight attendants).  However, on all three of my Lufthansa flights I found the entire crew to be highly professional, genuine and earnest in their desire to provide great customer service.  For example, in the Business Class cabin the flight attendant serving the bread basket implored "Don't be shy, feel free to take another roll if you'd like" ("… why I don't mind if I do, you can never have too many pretzel rolls in one sitting"). This same sense of graciousness was also present when we flew Economy. When F asked if there was any chamomile tea available, the Flight Attendant answered, "Are you not feeling well?  We don't have any in Economy but I will get you some.  I shall have it made for you."  Which brings me to another point … we were actually FED on all of our flights.
Food
Although, each of our flights was under two hours, Lufthansa managed to get us fed before landing.  In Business Class, we had a nice selection of cold cuts and cheese: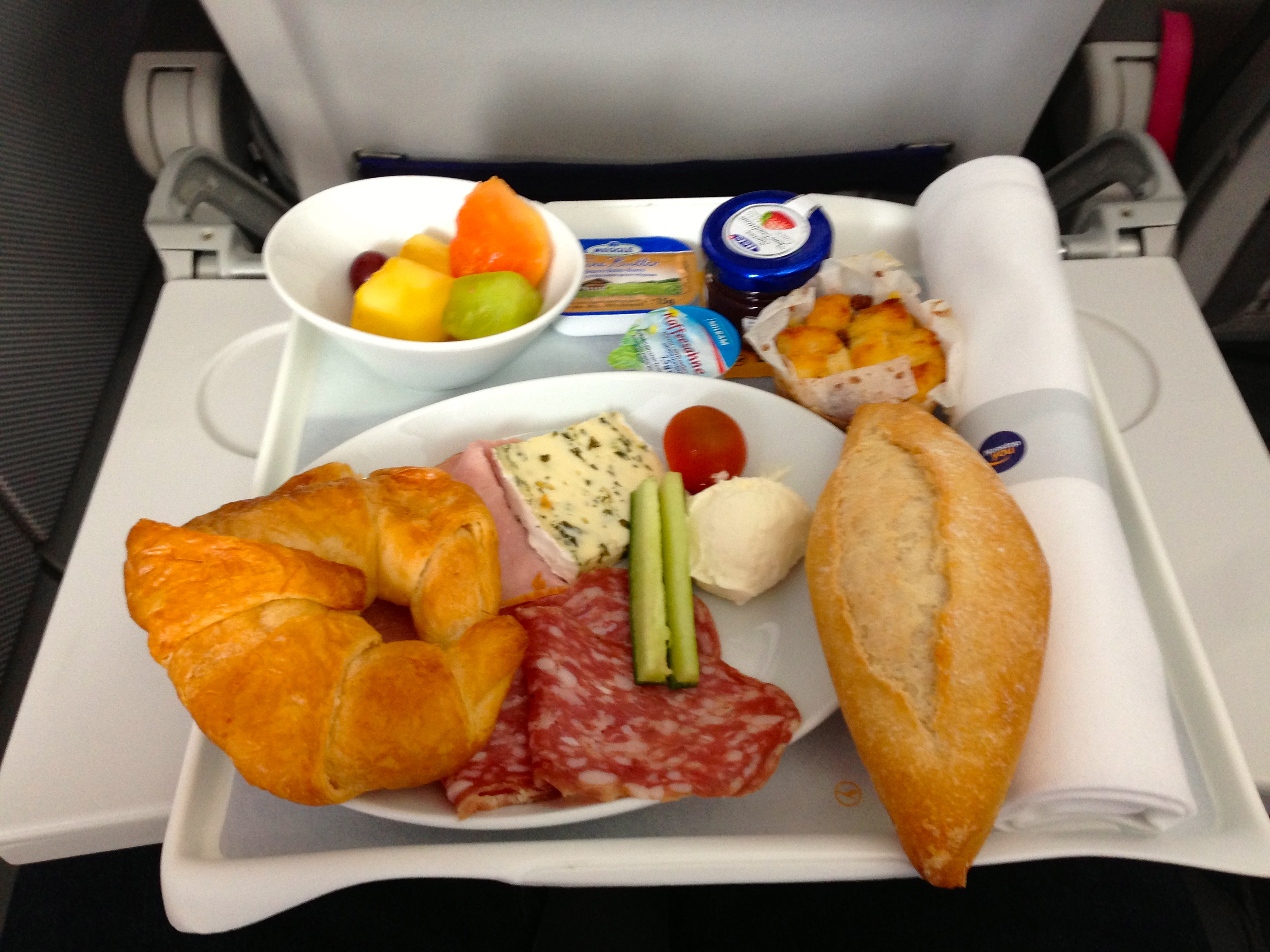 Business Class Meal – Frankfurt to Naples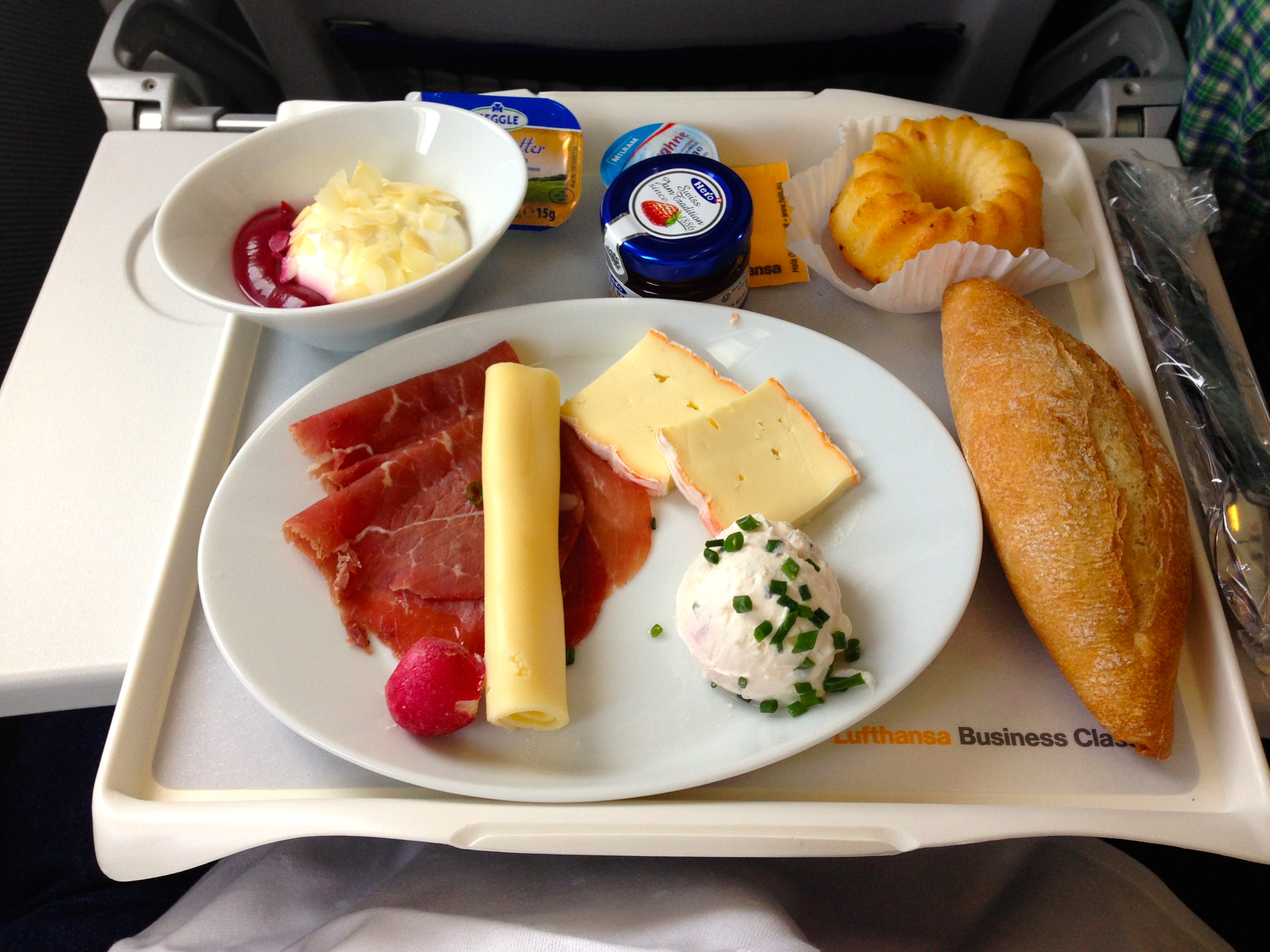 Business Class Meal – London to Frankfurt
While in Economy we got a nice egg and cheese sandwich: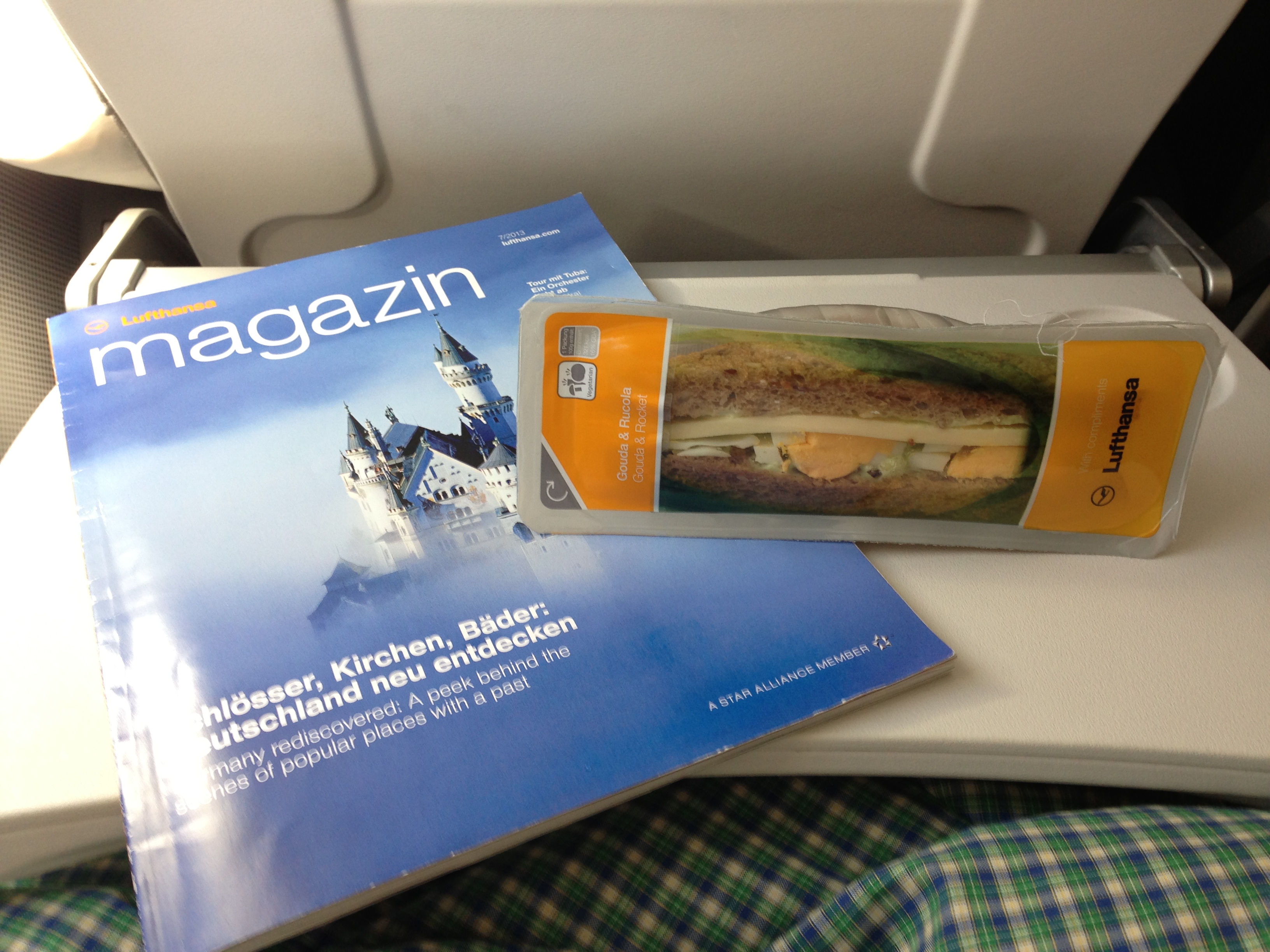 Economy Class Meal – Florence to Frankfurt 
Even on our short Economy flight to London we received this little snack: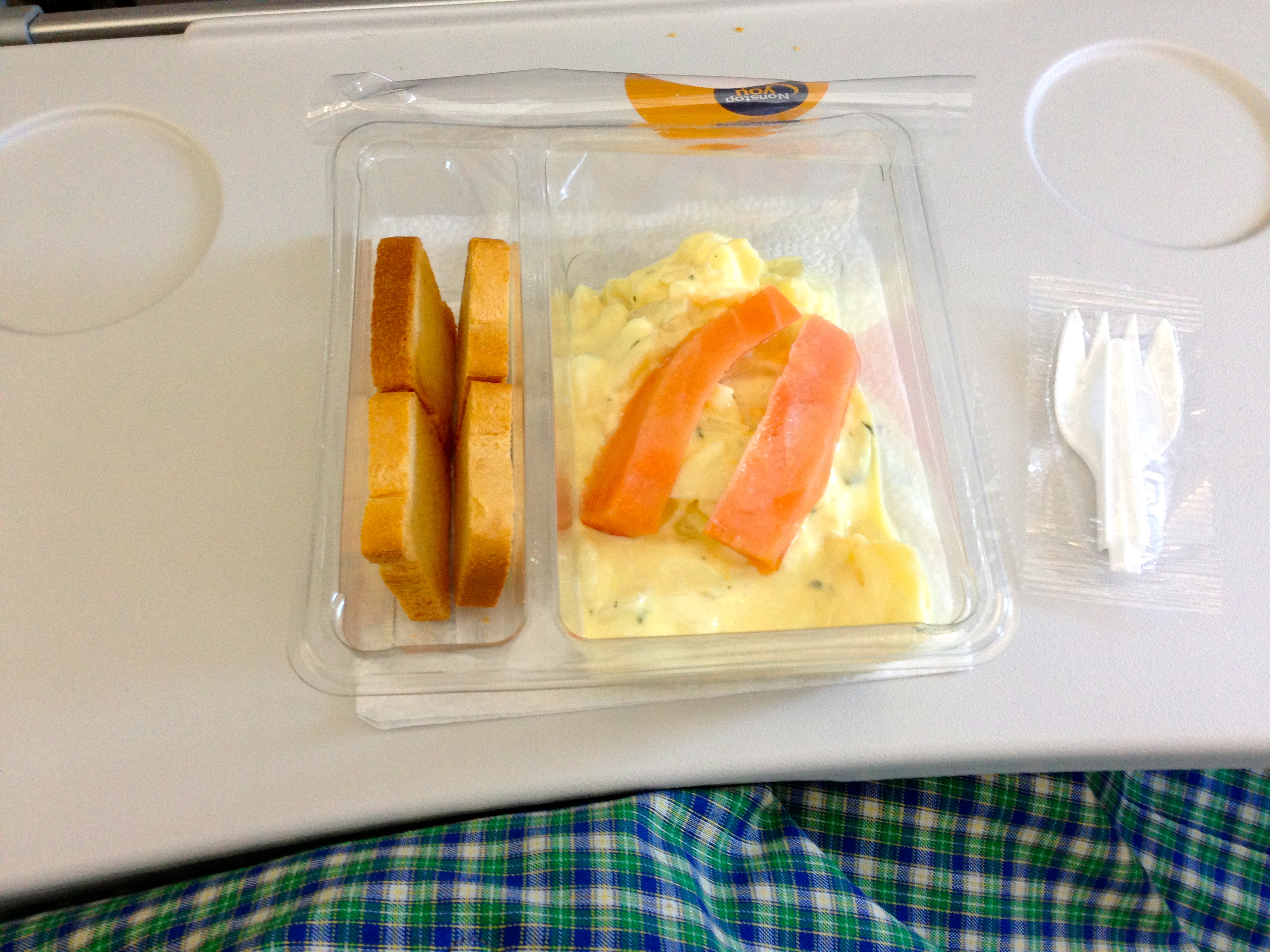 Economy Class Meal – Frankfurt to London
As you can see, my trust in Lufthansa was so high that I was confident enough of the quality of the food to wolf down a Coach Class, mayonnaise laden, egg salad concoction with a side of smoked salmon in the middle of July without batting an eye.
Seat
What's interesting about Lufthansa's seating on its short and medium haul flights is that the seat is exactly the same.  The only difference is that in Business Class the airline blocks the middle seat so that you have more elbow room:

Source: Lufthansa Business Class
The seats themselves sport a "slimline" design that is designed to provide you with more legroom.  For example, the magazine rack on the seat is shifted up and away from your legs creating more space.  There are also nice little touches such as a little hook on the seat in front of you where you can hang your jacket.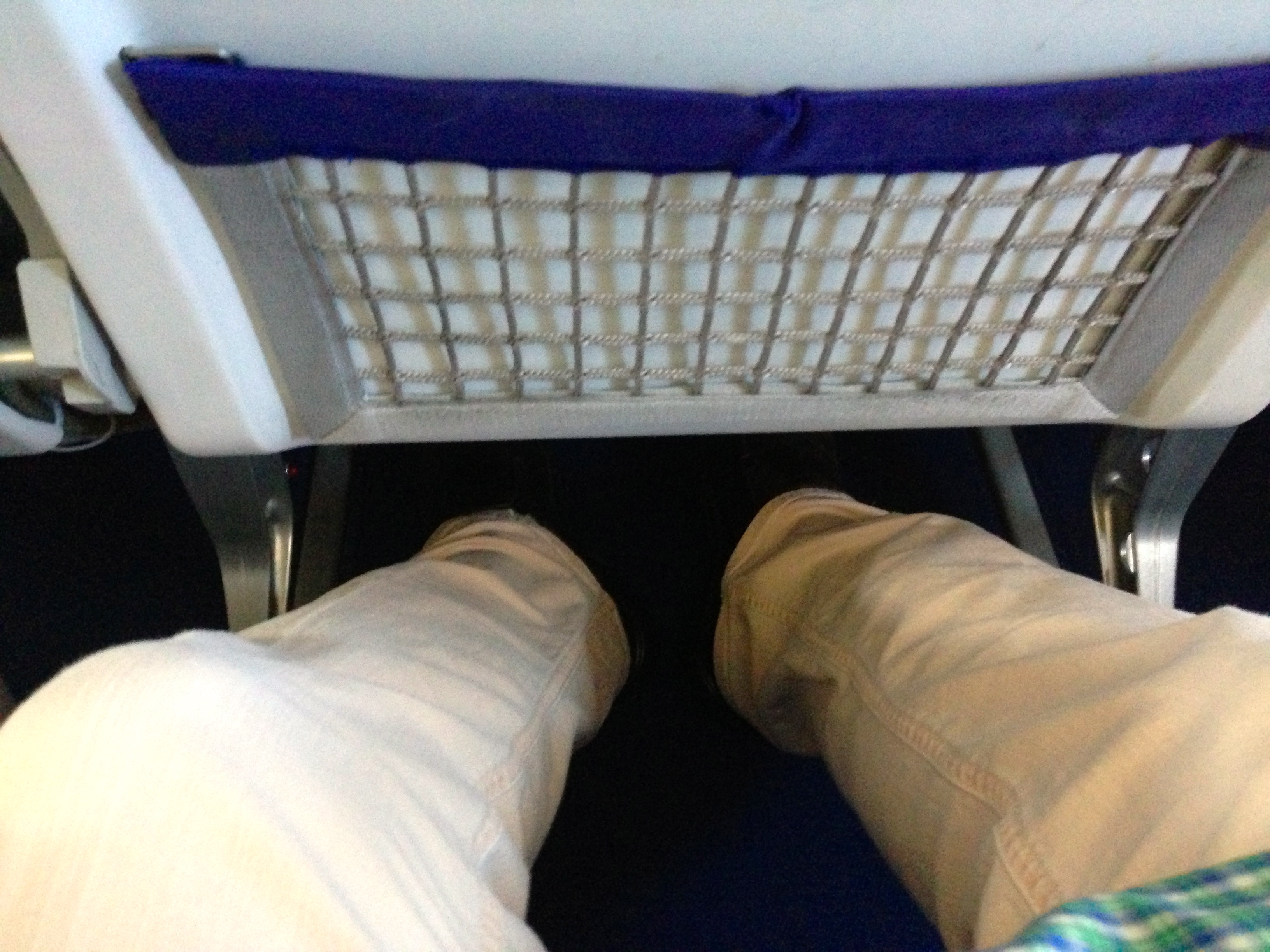 As "slim" as these seats are (e.g., minimal cushions), they are still surprisingly comfortable. However, I could see how for a flight longer than two hours you may be wishing for padding in (ahem) a few more places.  That's getting to the bottom of it, isn't it?
Spork 2.0
Finally, in a testimony to the longstanding tradition of high quality German engineering, I'd like to make note of this little baby that accompanied my egg salad and salmon snack: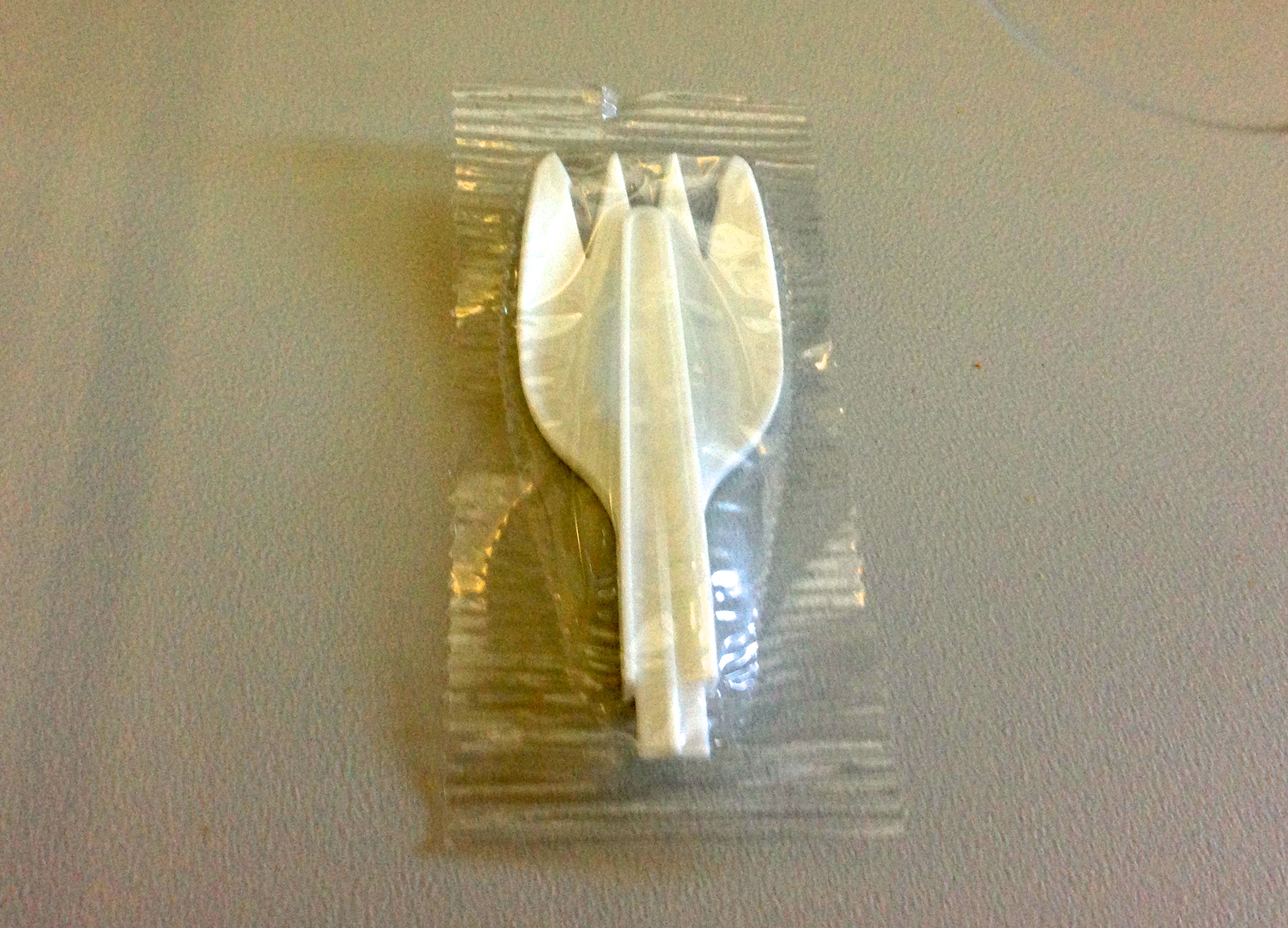 Is that cool or what?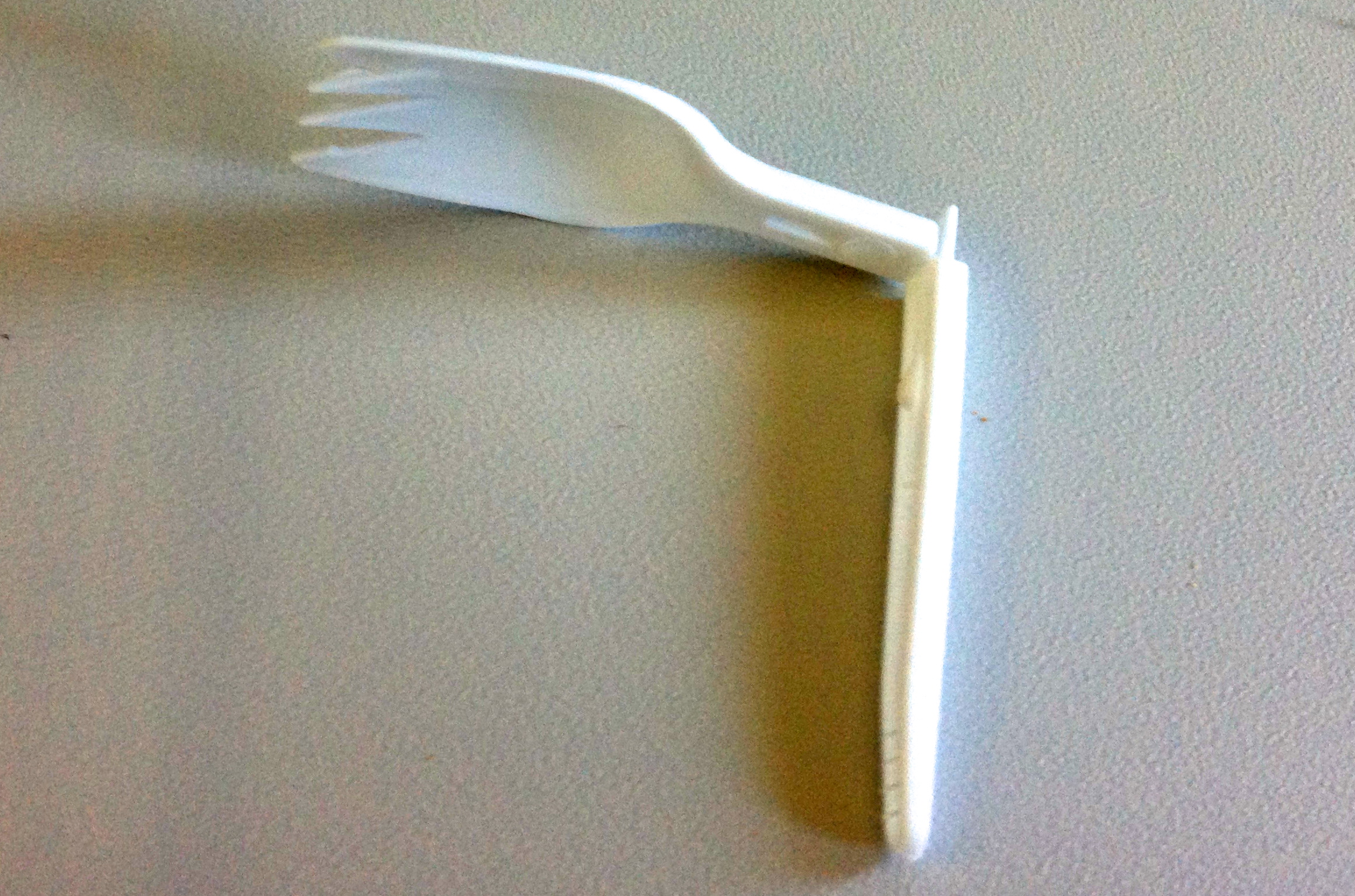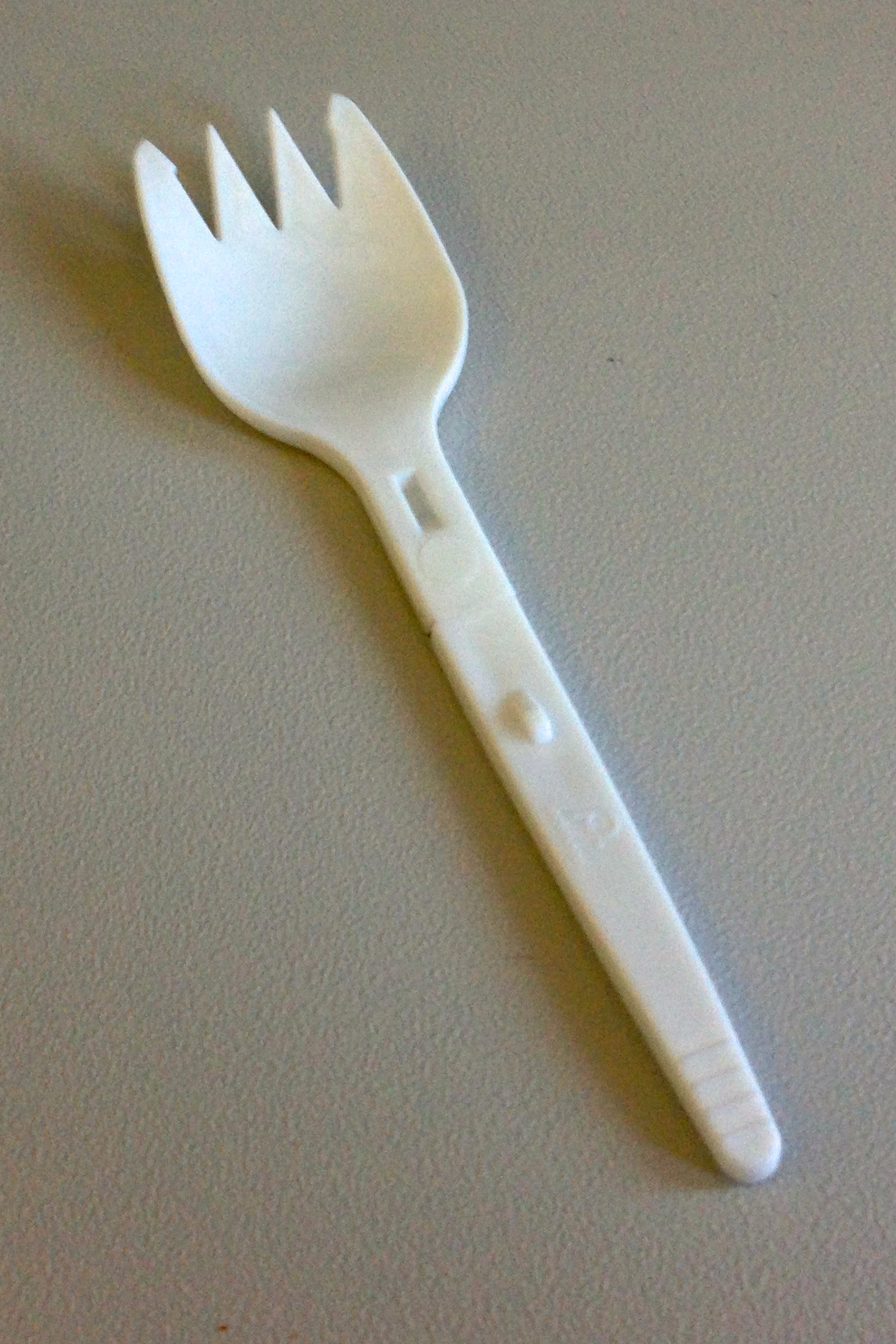 Of course, there's much more to my first experience with Lufthansa than plastic serving utensils.  Keep an eye out for this upcoming post:
My Experience as a Lufthansa Lounge Lizard – A Reason to Stay Grounded
In that post I'll be talking about Lufthansa's Ground Services, which include not only their Business Class Lounges but also the world-renowned Lufthansa First Class Terminal.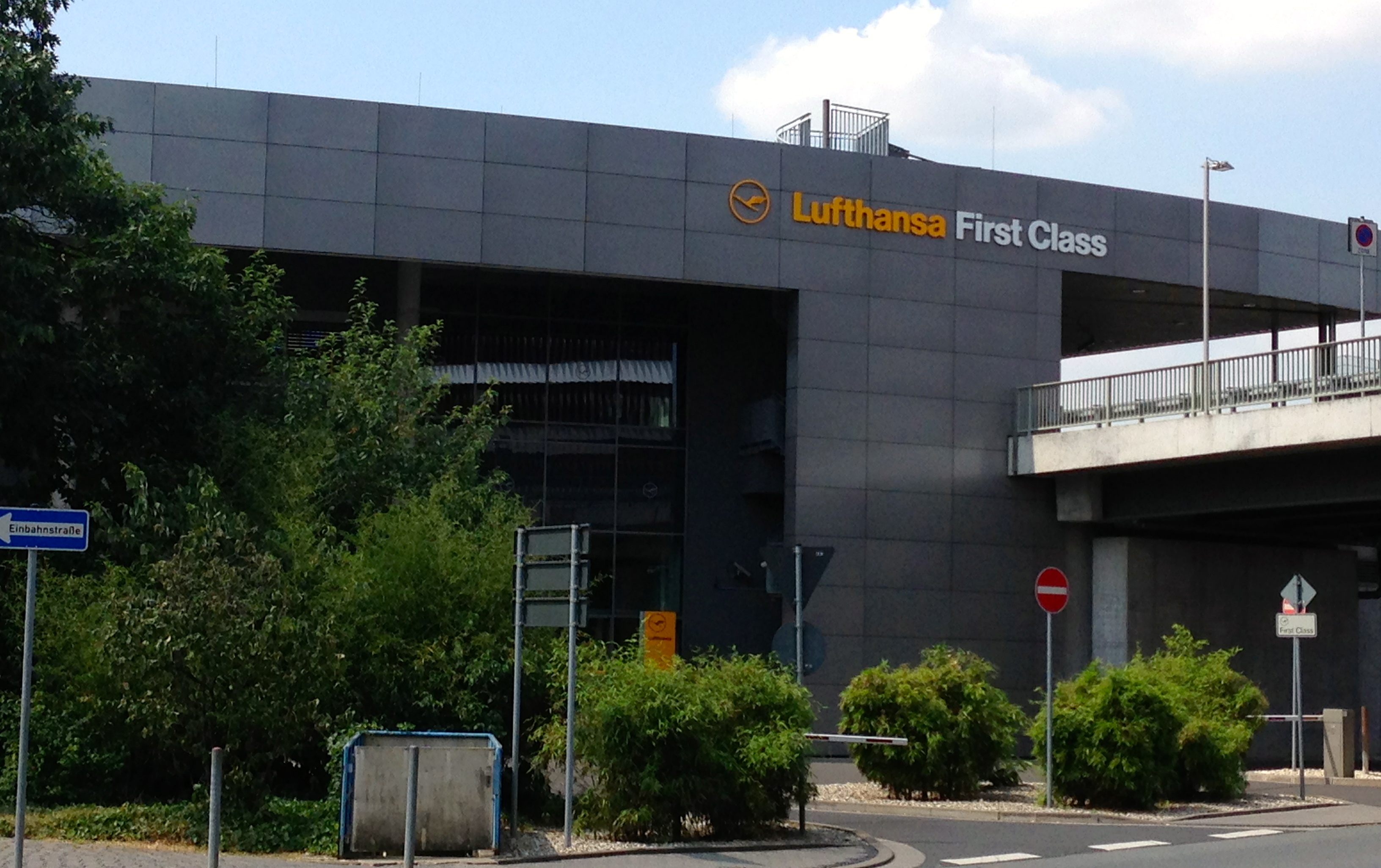 You'll need to jump through a few hoops (actually, it's more like skirting around a few fences) to gain access.  However, I'd be happy to show you the way. And of course, there's Lufthansa First Class and that famed "Bed in the Sky"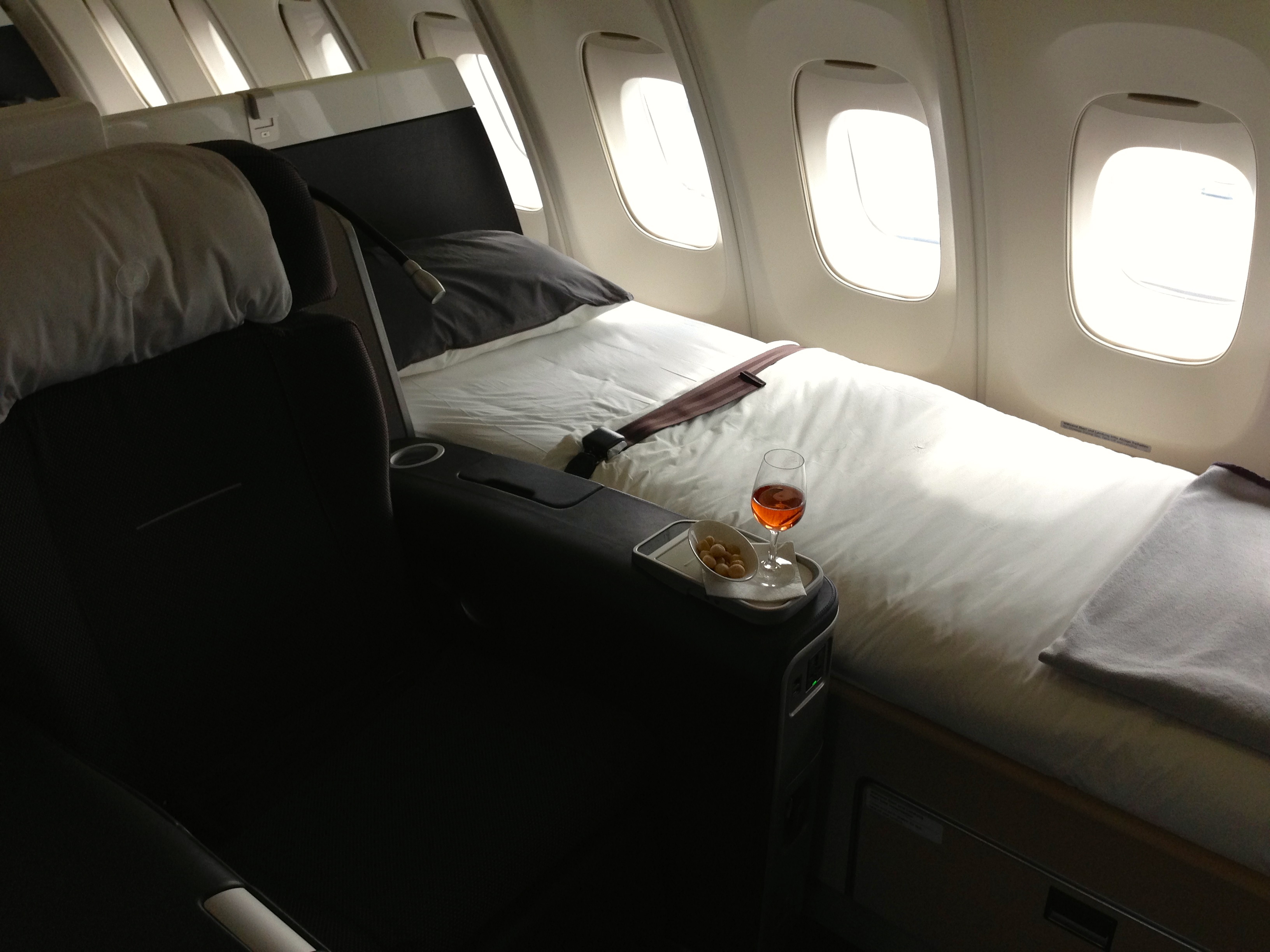 Stay tuned folks …