Let the gushing over Lufthansa continue. My last two posts covered our recent experiences with Lufthansa's short haul Intra-European service and a couple of the airline's lounges in Frankfurt.  However, at the end of our recent European vacation, we upped the ante and had the opportunity to try out Lufthansa's First Class Services.
We had originally been booked to fly home on Air Canada from London in Economy.  Since I was hoping to switch into a premium cabin for our journey home I regularly checked for award availability on United's reservation site in the hope that something would turn up.  Most airlines start to release more award space as a flight's departure date approaches. At some point, the airlines' computer programs make the determination that it is unlikely that they will be able sell the seat to a "paying" customer and release space into the award inventory.
As I was doing my research, I spotted that one possible routing home would be to fly Lufthansa from London to Chicago via Frankfurt.  Although this option involved some minor backtracking, I realized that this itinerary opened up the possibility of not only flying home via Lufthansa First Class but also the opportunity to experience the Lufthansa First Class Terminal.
It's actually quite easy to get a seat in Lufthansa First Class.  All you need is about $9000 per person for a one way ticket. Of course, the OTHER option is to do what we did and cash in some frequent flyer points.  Lufthansa is a member of the Star Alliance so we were able to use United's MileagePlus program to secure two First Class award seats home to Chicago for a total of 135,000 miles.  One thing to keep in mind about Lufthansa is that the airline only releases First Class award space to its Star Alliance partners at the most 15 days in advance of departure.  In my case, I was able to book our tickets 9 days before we left.
Lufthansa's First Class Service and Lounges were awarded the independent Skytrax airline rating institute's top Five Star ranking in 2013. Our First Class tickets provided access to Lufthansa's First Class Lounge in the airport. However, I had my sights set on a much loftier goal. Specifically, I wanted to experience the Lufthansa First Class Terminal (FCT).  As you can see from the map below, the FCT is a standalone BUILDING dedicated solely to Lufthansa's First Class and Top Tier HON Circle Frequent Flyer passengers.

In order to access the FCT you need to actually leave the main airport terminal.  After our connecting flight from London landed in Frankfurt, we followed the signs to Baggage Claim.  Since we had arrived from another EU country, there was not a need to clear customs.  However, we did still have to get our passports stamped by German Border control.
Our bags were checked all the way through to our final destination of Chicago.  Therefore, we didn't have to stop by Baggage Claim. We proceeded to the Exit and turned LEFT after exiting the building.  My Partner F started to get a little nervous since it wasn't exactly clear just where the FCT was located.  However, in advance of our journey I had done EXTENSIVE research on how to get to the FCT.  Specifically, the travel blogger universe was a great resource in obtaining step-by-step directions for getting to the FCT. I knew the drill:
After Baggage Claim EXIT the terminal and TURN LEFT. Walk past the taxi ranks. Walk past the place the break area where the taxi drivers are smoking. After about maybe a 5 minute walk you will see this …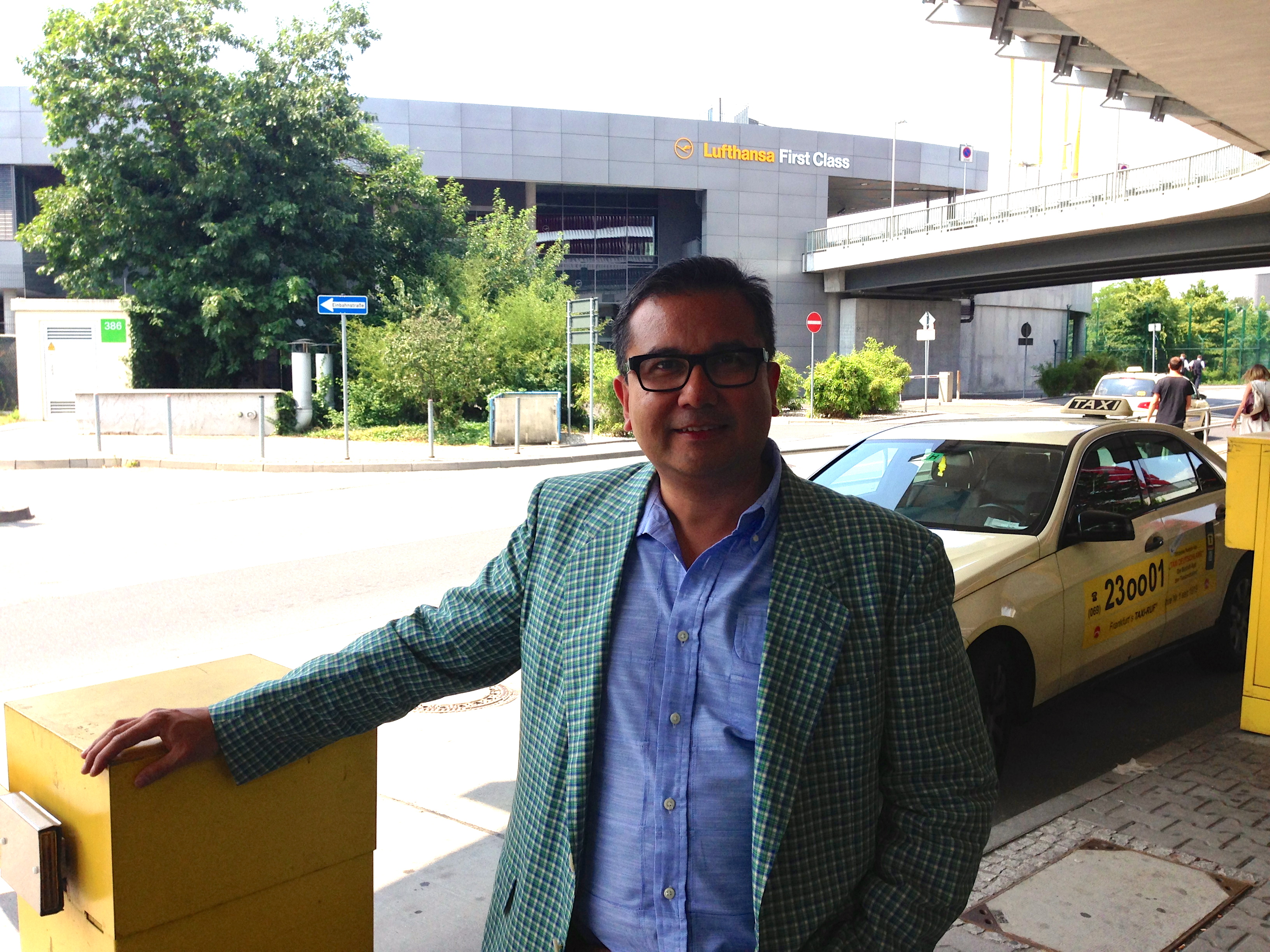 There's a Main Entrance on the upper level where people arriving at the FCT by car, taxi or limo are greeted.  However, once you cross the street ( … and shimmy around that traffic gate) ….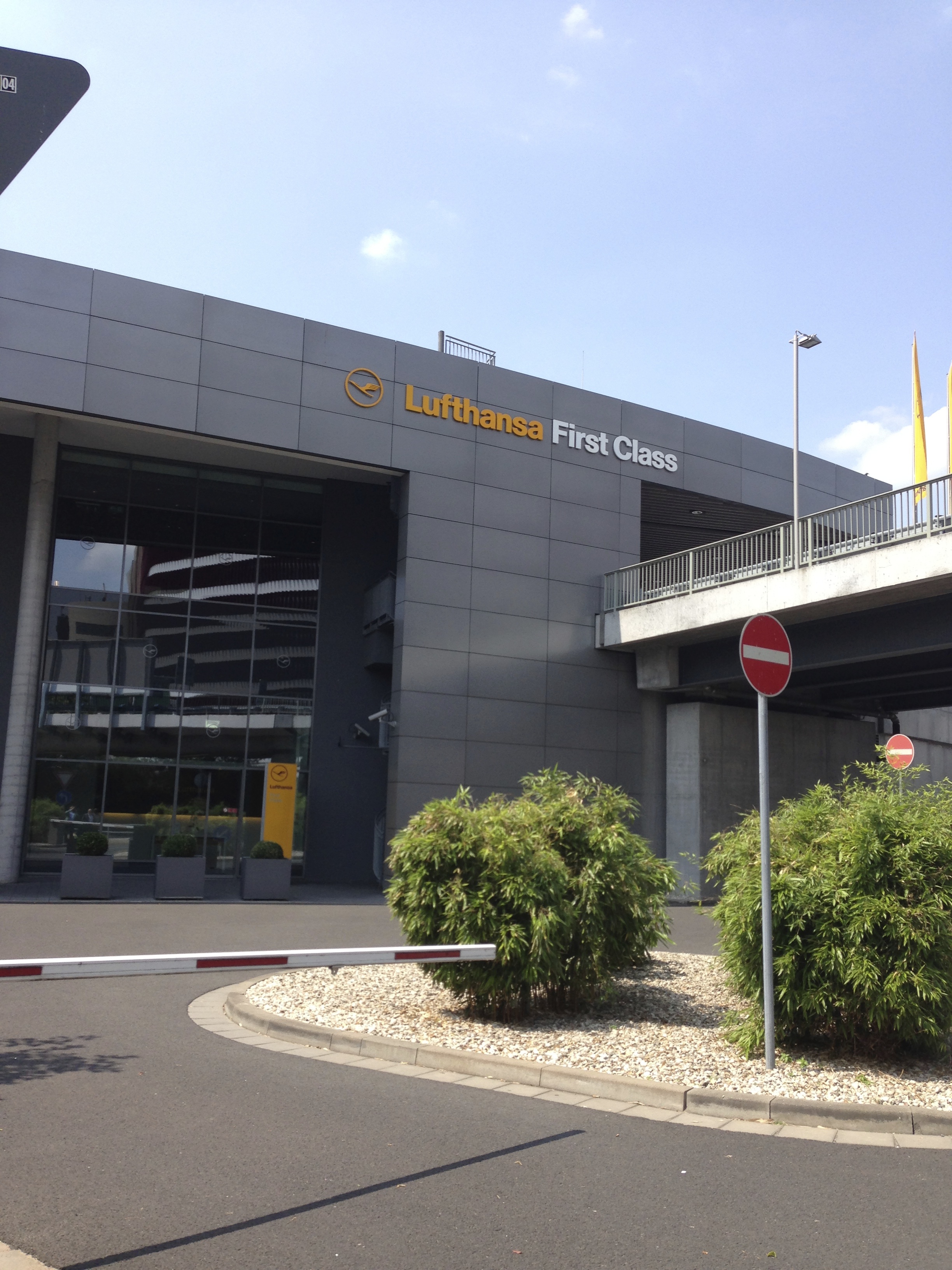 …. You will see a small (usually unmanned) reception area.  Turn to your left and you will see an elevator that will take you up to the FCT.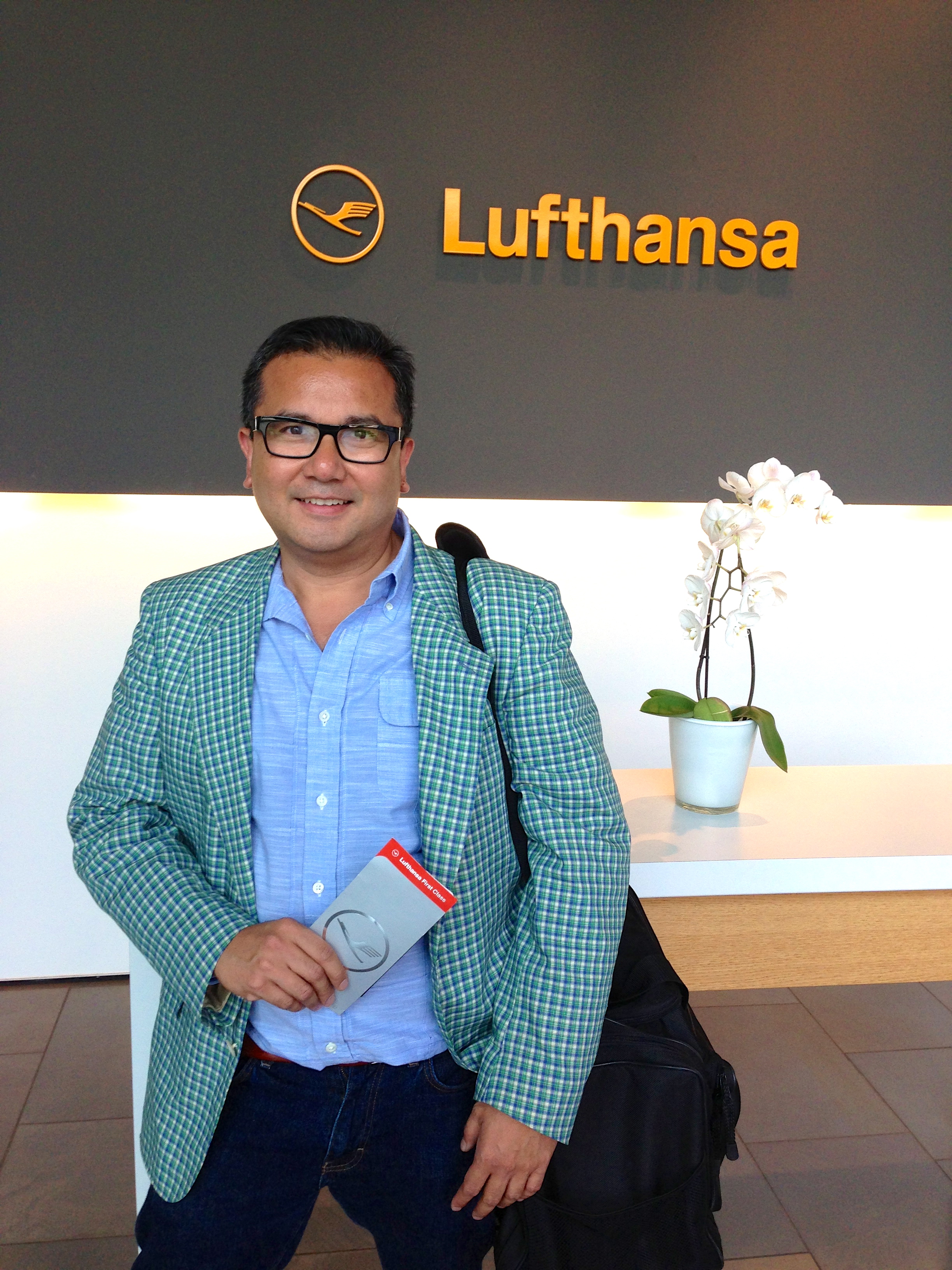 Now here's where it gets good.  Do you remember that scene from Willy Wonka and the Chocolate Factory (the original one with Gene Wilder and not the kinda scary version with Johnny Depp) where you get that first glimpse of the magic that lies within (here's a link to that scene to get a sense of what I'm talking about)?
However, instead of some Ooompa Loompas, we were greeted by at pair of tall, blonde and angular Personal Assistants… lets just call them Hans and Franz ….who warmly greeted us to the FCT.  We were first guided to a private security screening area (no lines … just us!) and then our passports were collected.  We were told that one of our Assistants would come find us once our flight was ready to board. Not needing to avail ourselves of the private Duty Free shop, our Assistants gave us a tour of the FCT and let us loose to enjoy the facility.
There are a number of comfortable lounge areas spread throughout the FCT …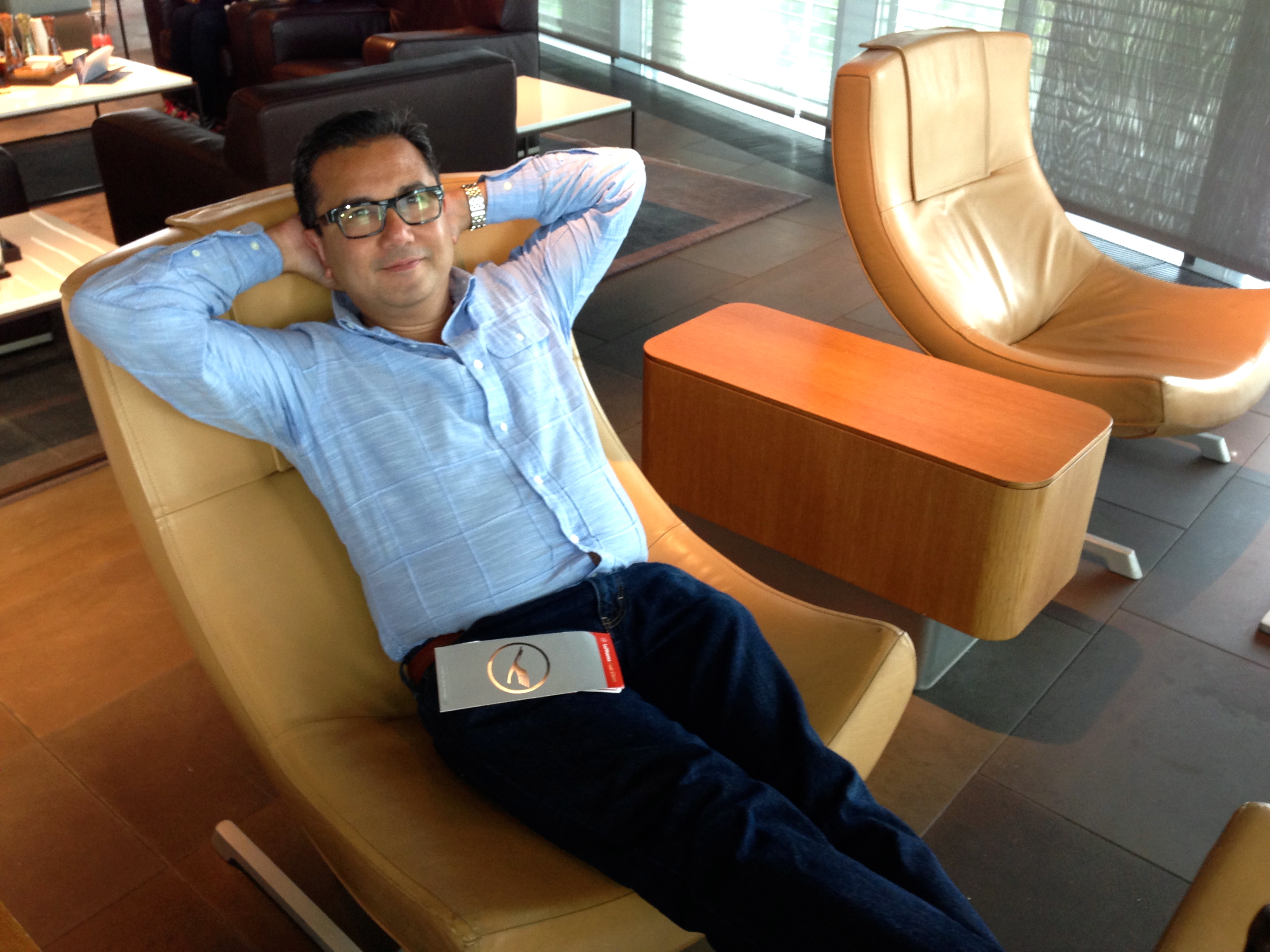 … with a lot of great snacks within easy reach …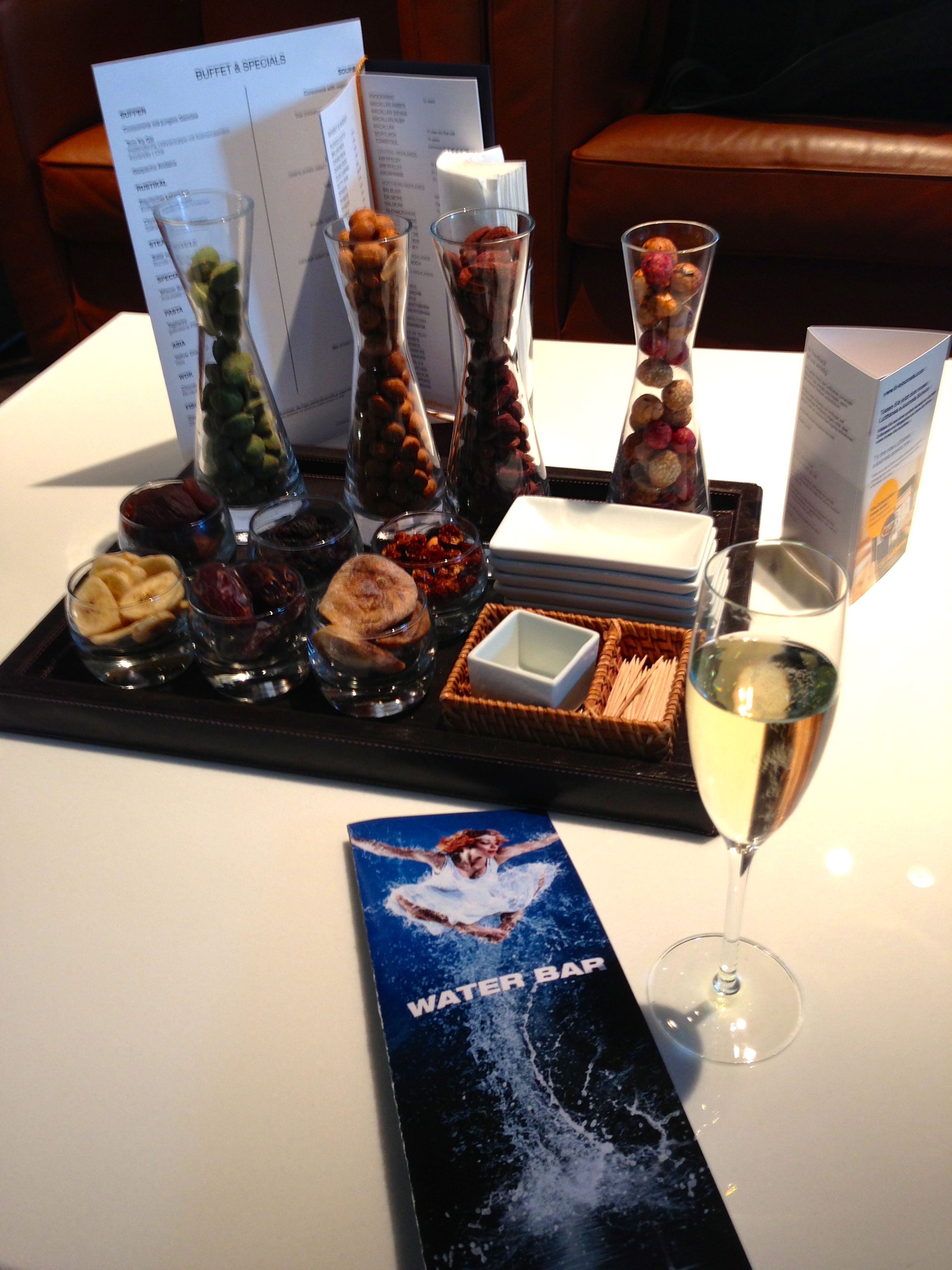 Of course, I thought it was a bit ironic that I was drinking champagne as I thumbed through the Water Bar menu.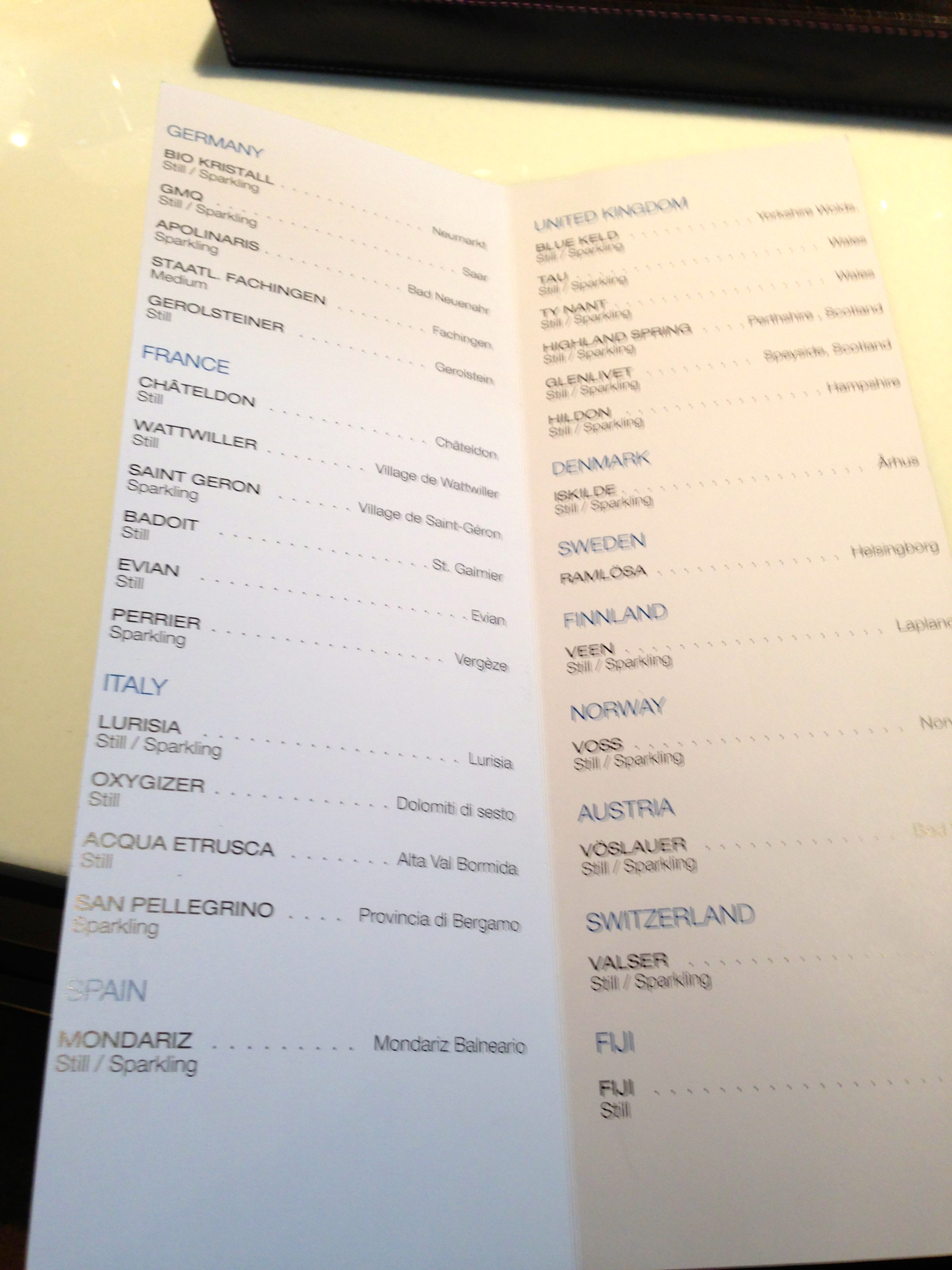 There was a full bar which featured just about ANYTHING you could possibly want to drink  ….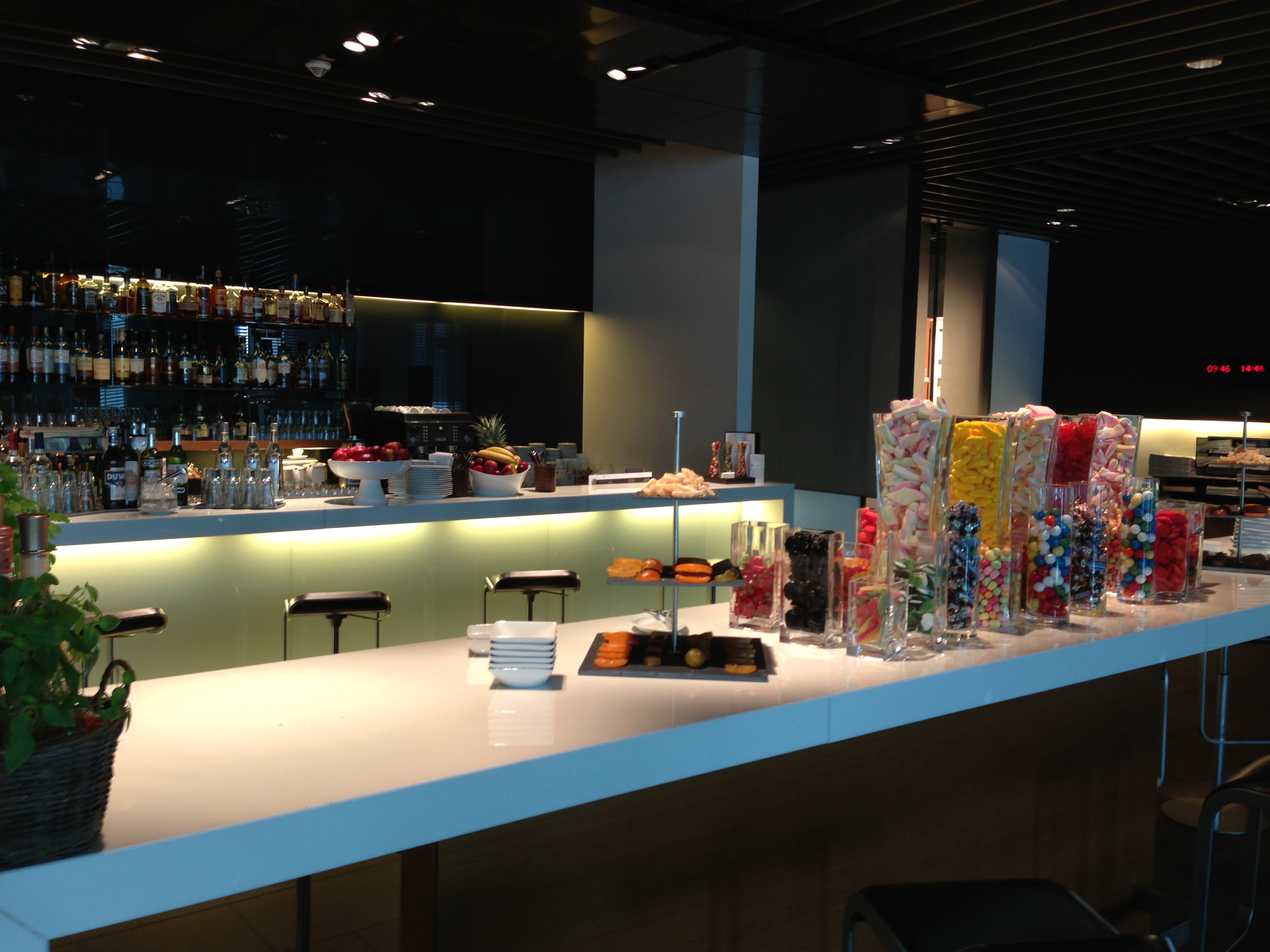 … along with a pretty outrageous candy selection if you have a Sweet Tooth (umm, just where are those Oompa Loompas?) …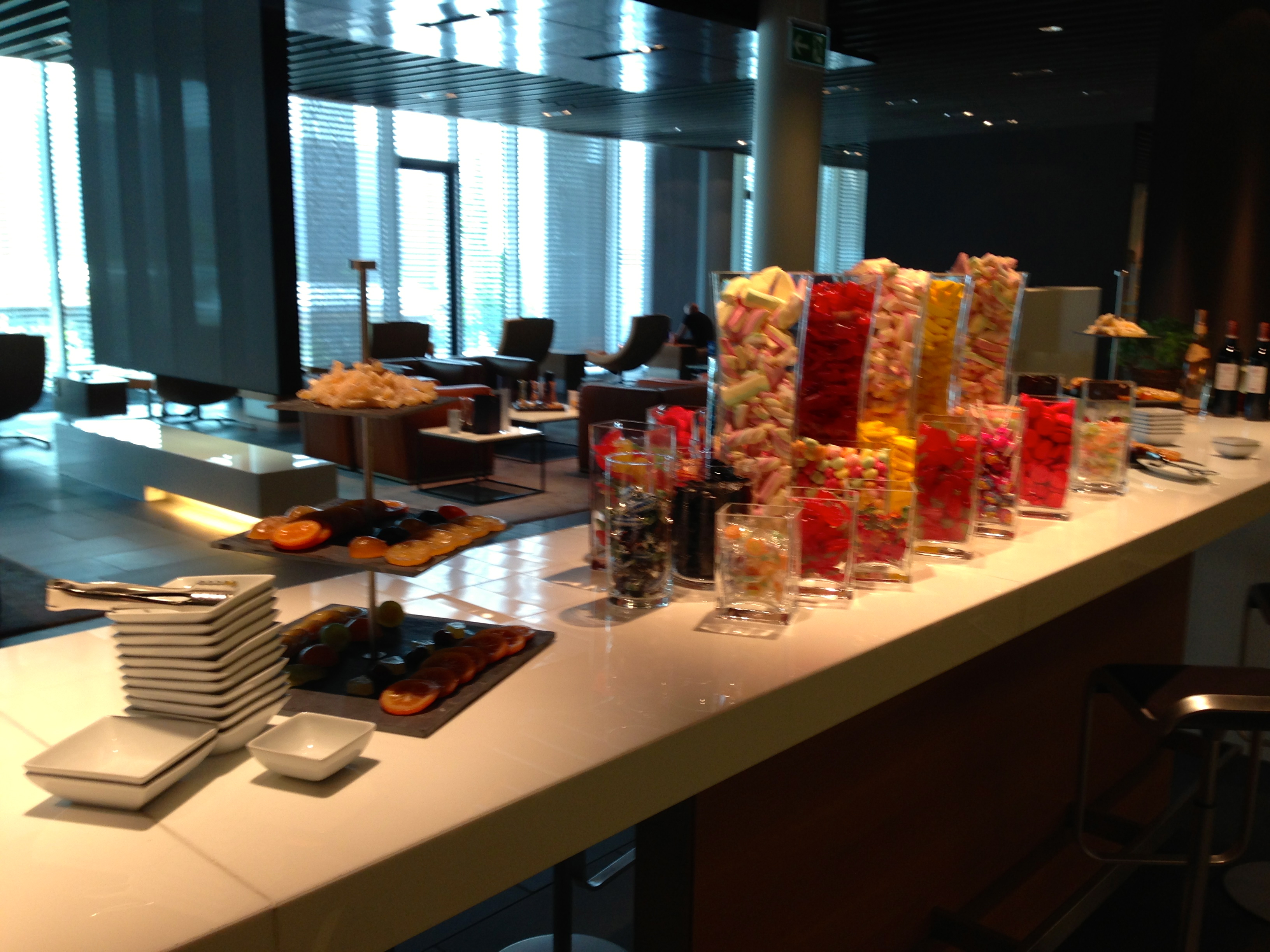 F booked a Quiet Room with a daybed to take a disco nap (after I was done with my photo op) …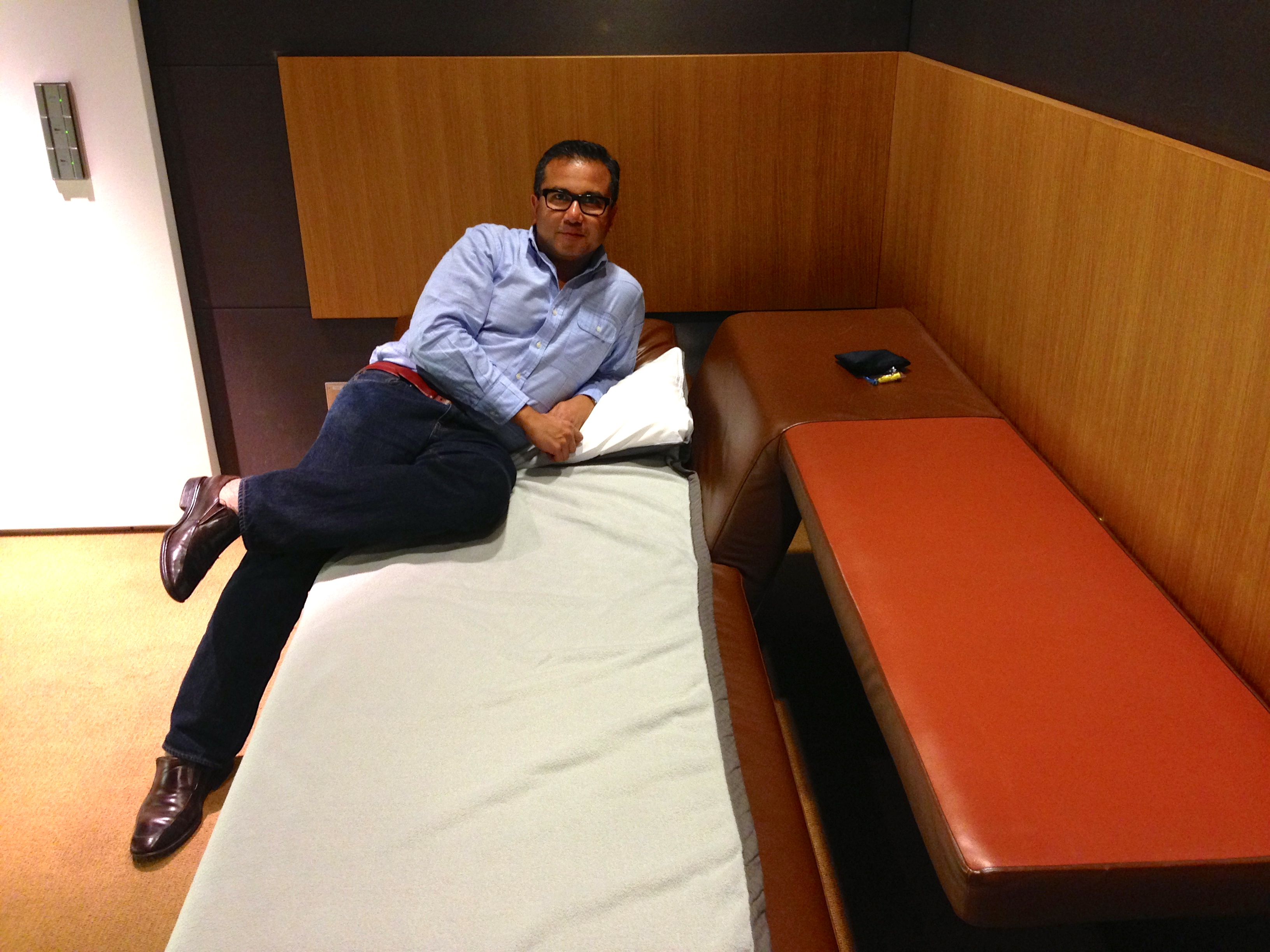 Meanwhile, I took off to book a Shower Room to freshen up …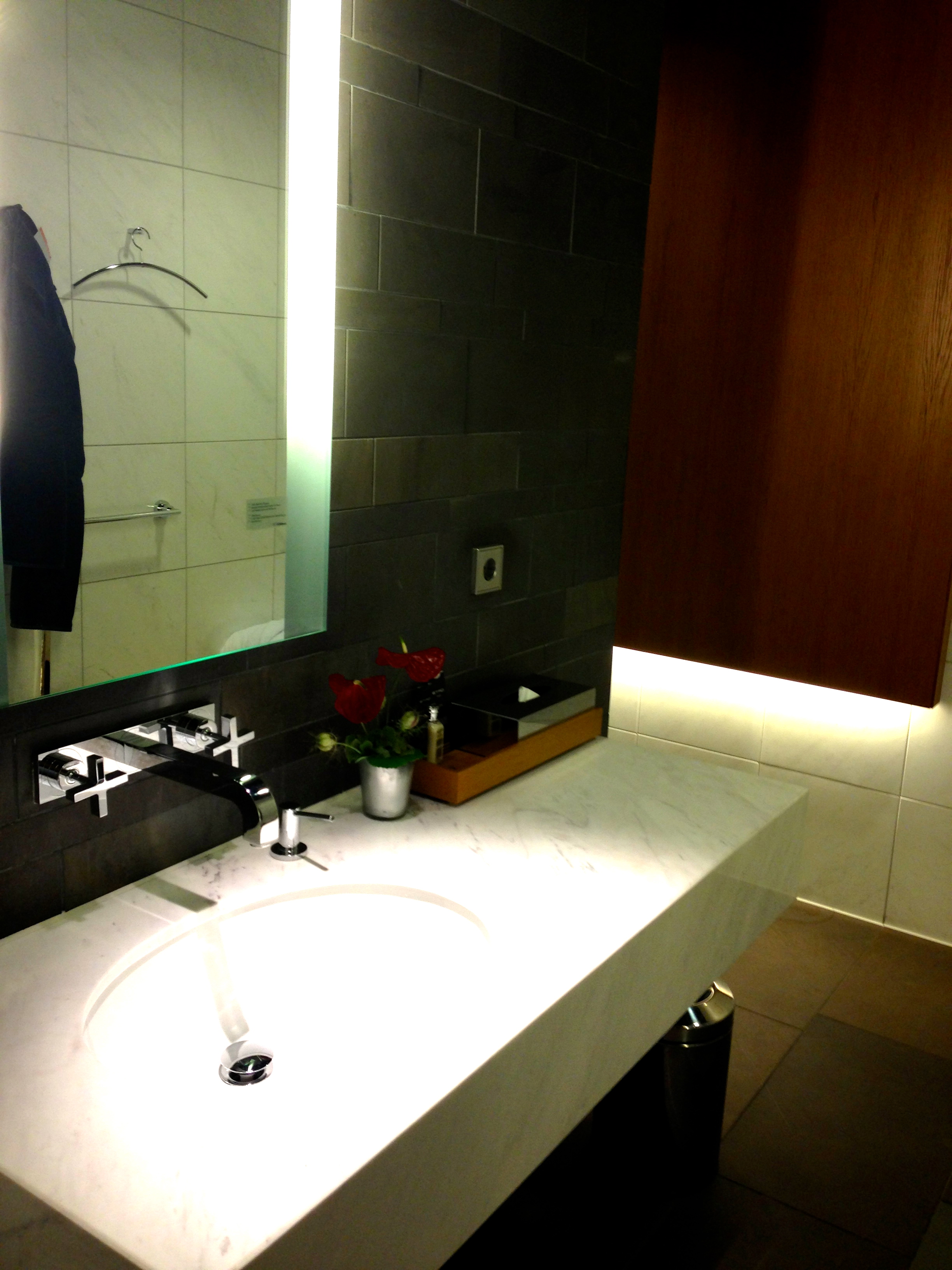 Unfortunately, the hot water heaters were out of order in the FCT that day.  However, that development didn't dampen my spirits since after a "brisk and refreshing" cold shower I was able to get one of these …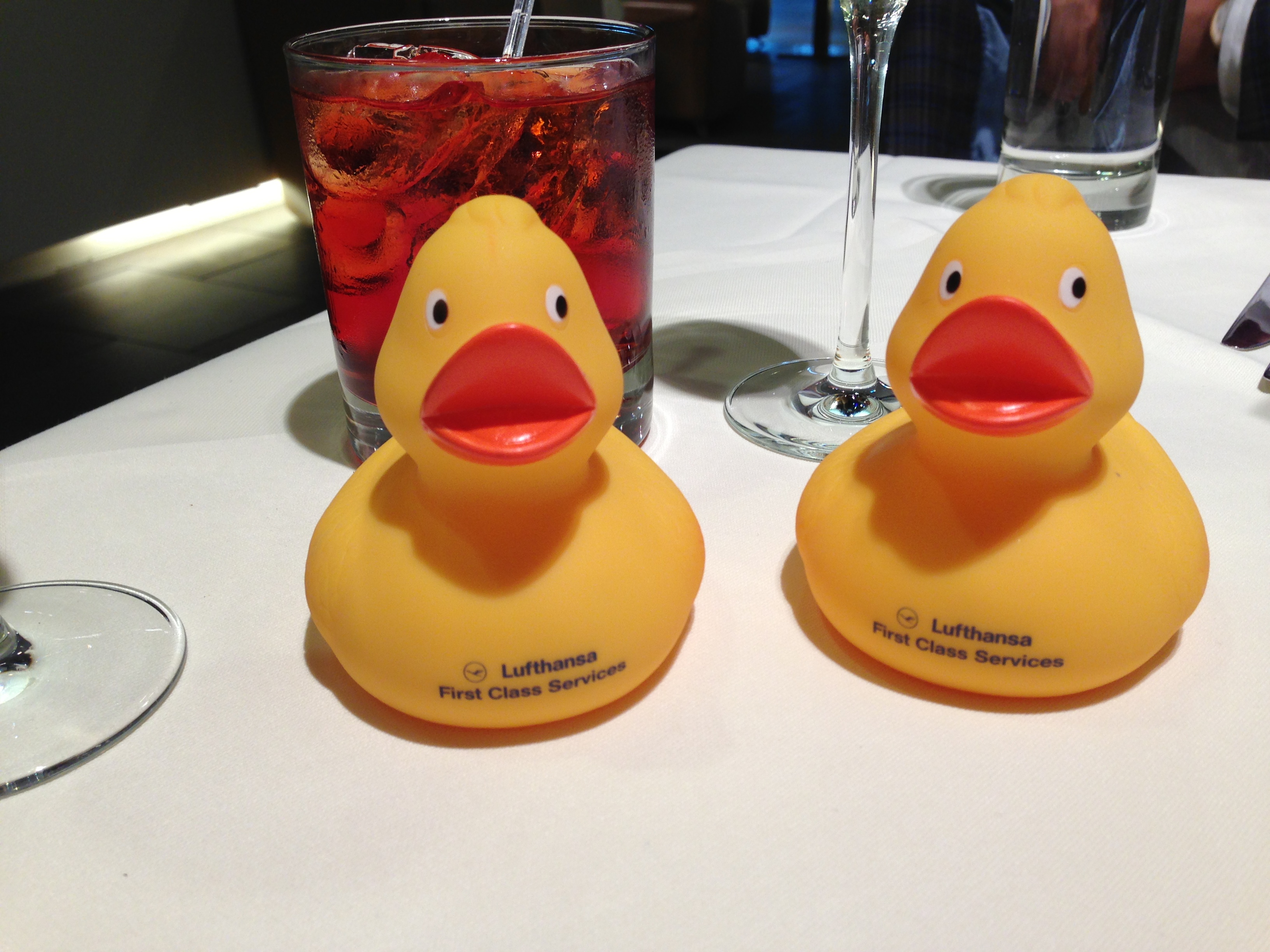 The Lufthansa First Class Rubber Ducky is a "must have" tchotchke in the world of the miles and points fanatic. I made F get one as well since I didn't want mine to get lonely.  Note: On this particular day the Duckies were under lock and key so we did have to ask the Shower Room Attendant for one (hey, persistence pays off!).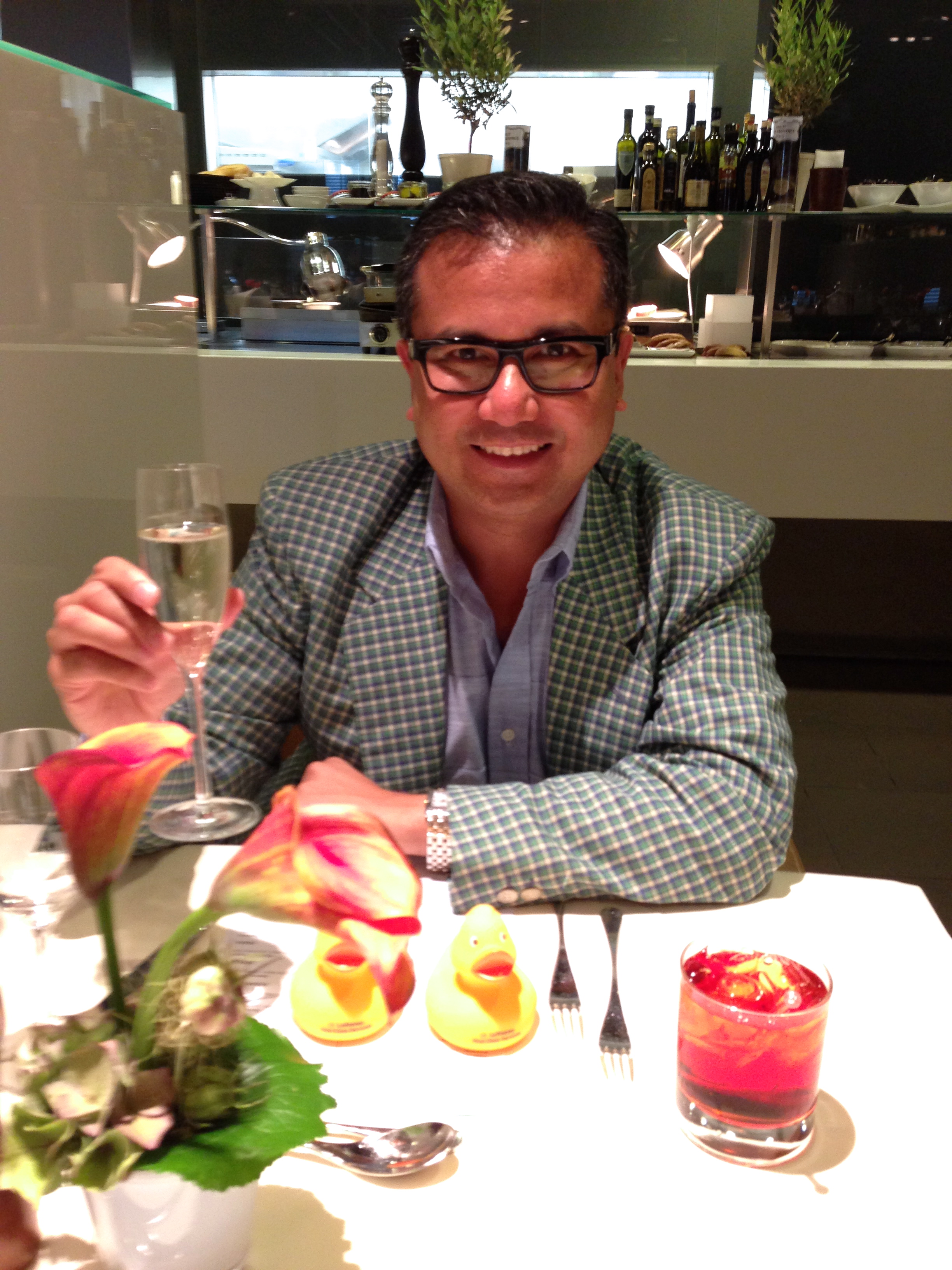 Rubber Duckies procured, F and I went for a bite to eat in the FCT's restaurant. A nice buffet was available …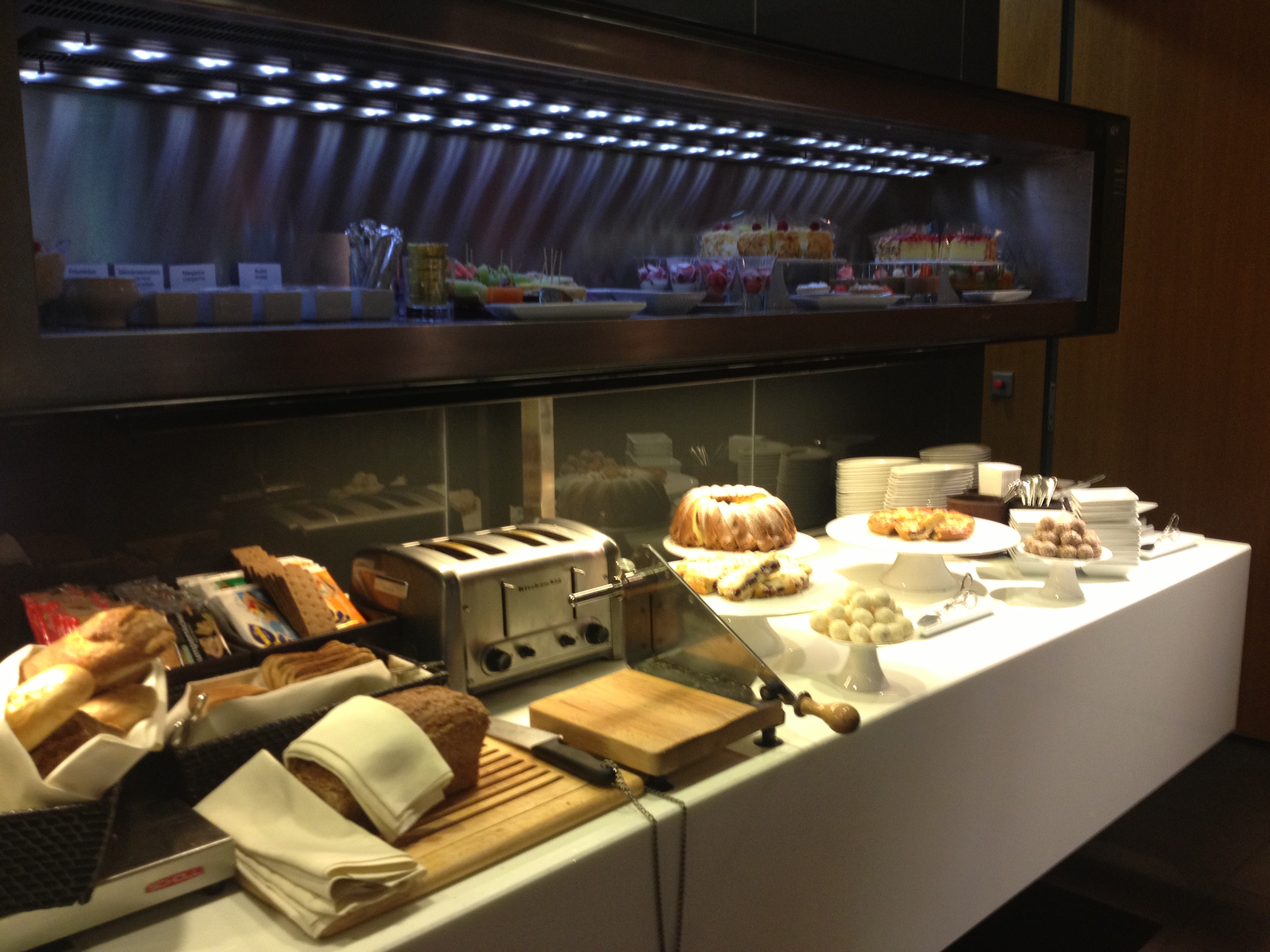 However, F and I decided to order from the menu.  The waiter asked us what type of champagne we'd like with our meal and I think he was a little disappointed that we ordered the prosecco since he very politely inquired … "Aren't you sure you wouldn't like to take a look at our champagne menu? We have some very fine ones available."  At this point, F and I were feeling a little overwhelmed and since we were still in an Italy state of mind and didn't want a fancier bottle to go to waste … we went for the "cheap stuff"! Oh yes, you get a full bottle along with your meal …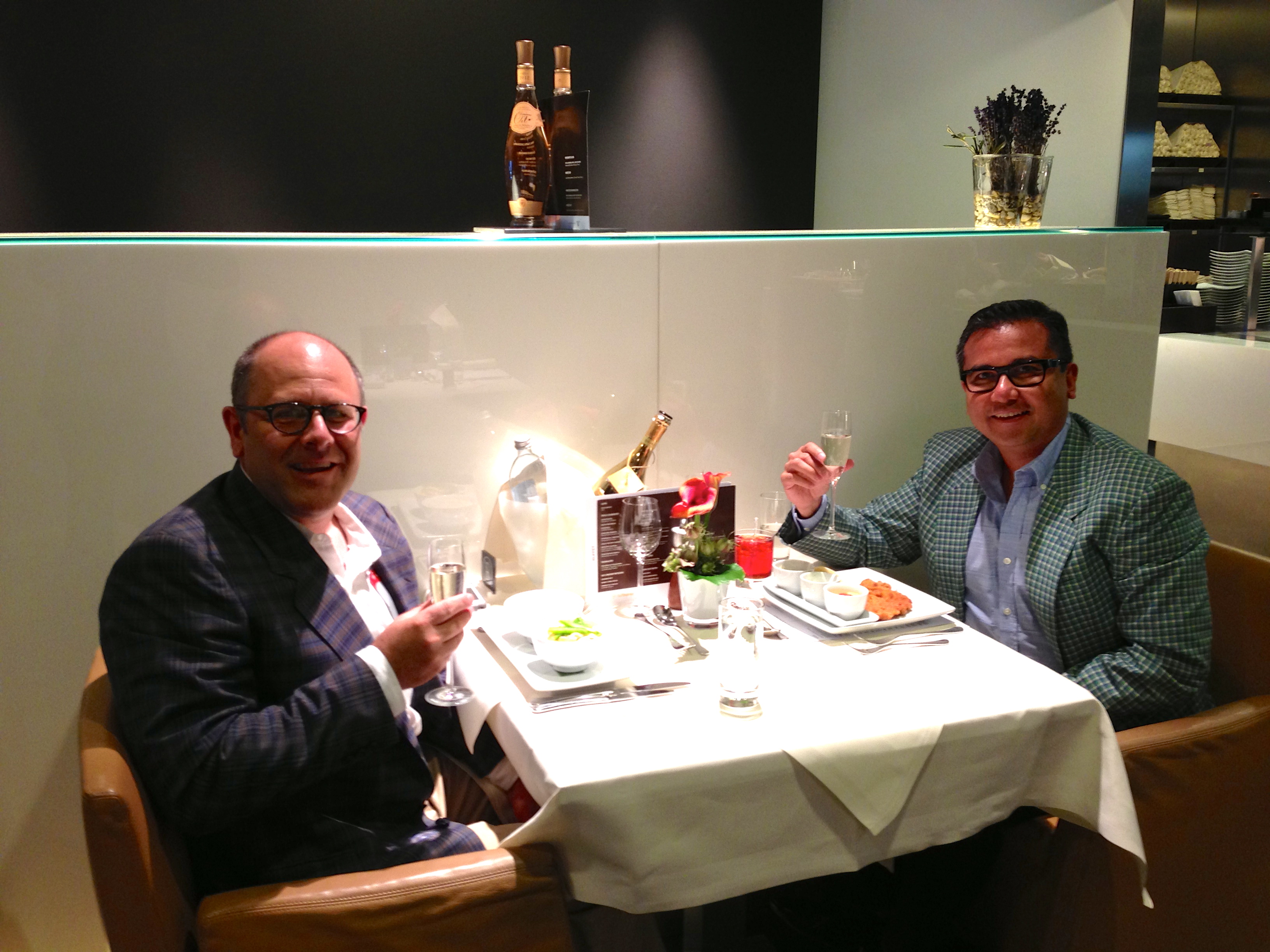 F ordered a very nicely prepared chicken curry …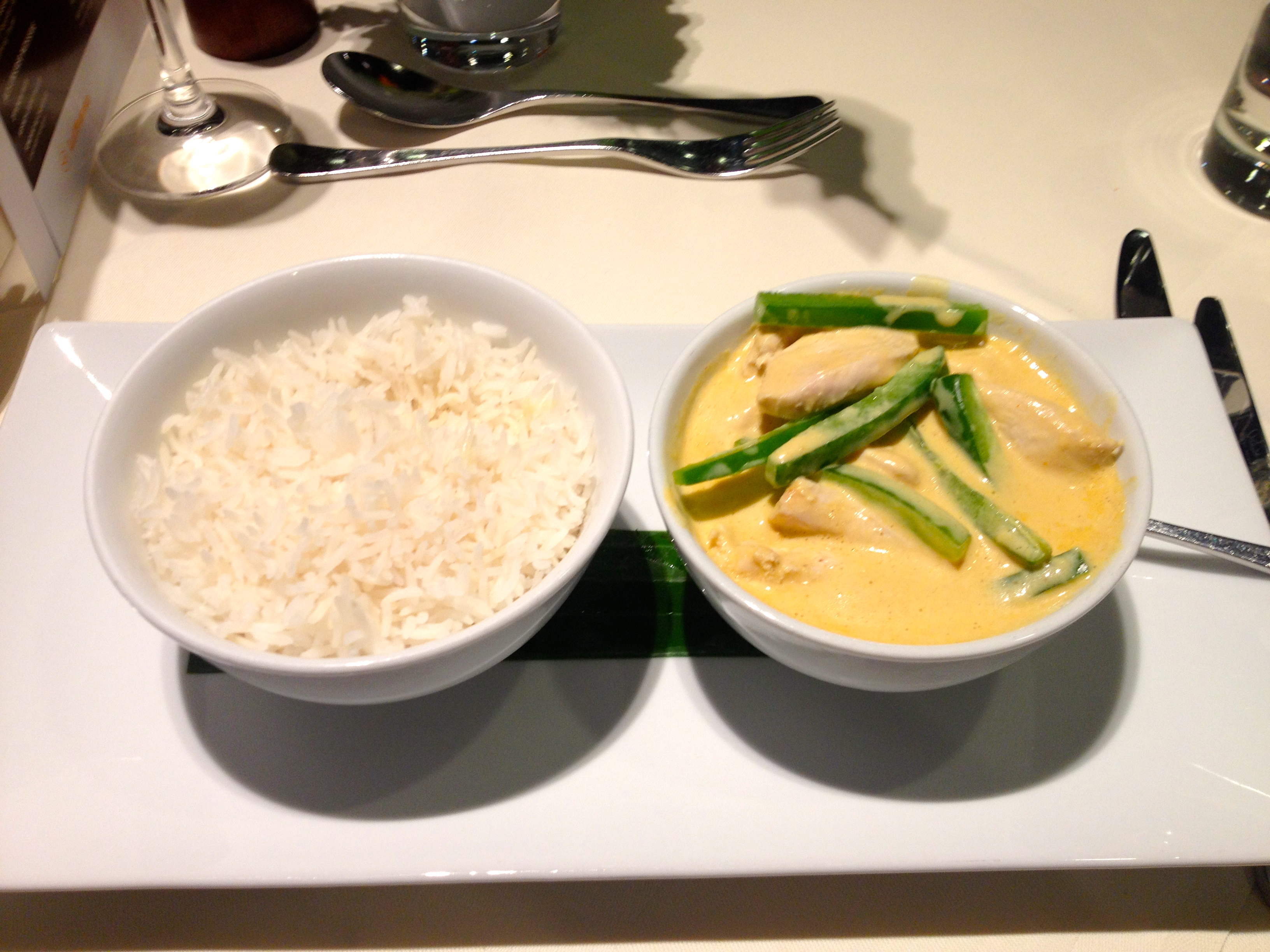 And since we were in a German-speaking country, I went for the Wienerschnitzel …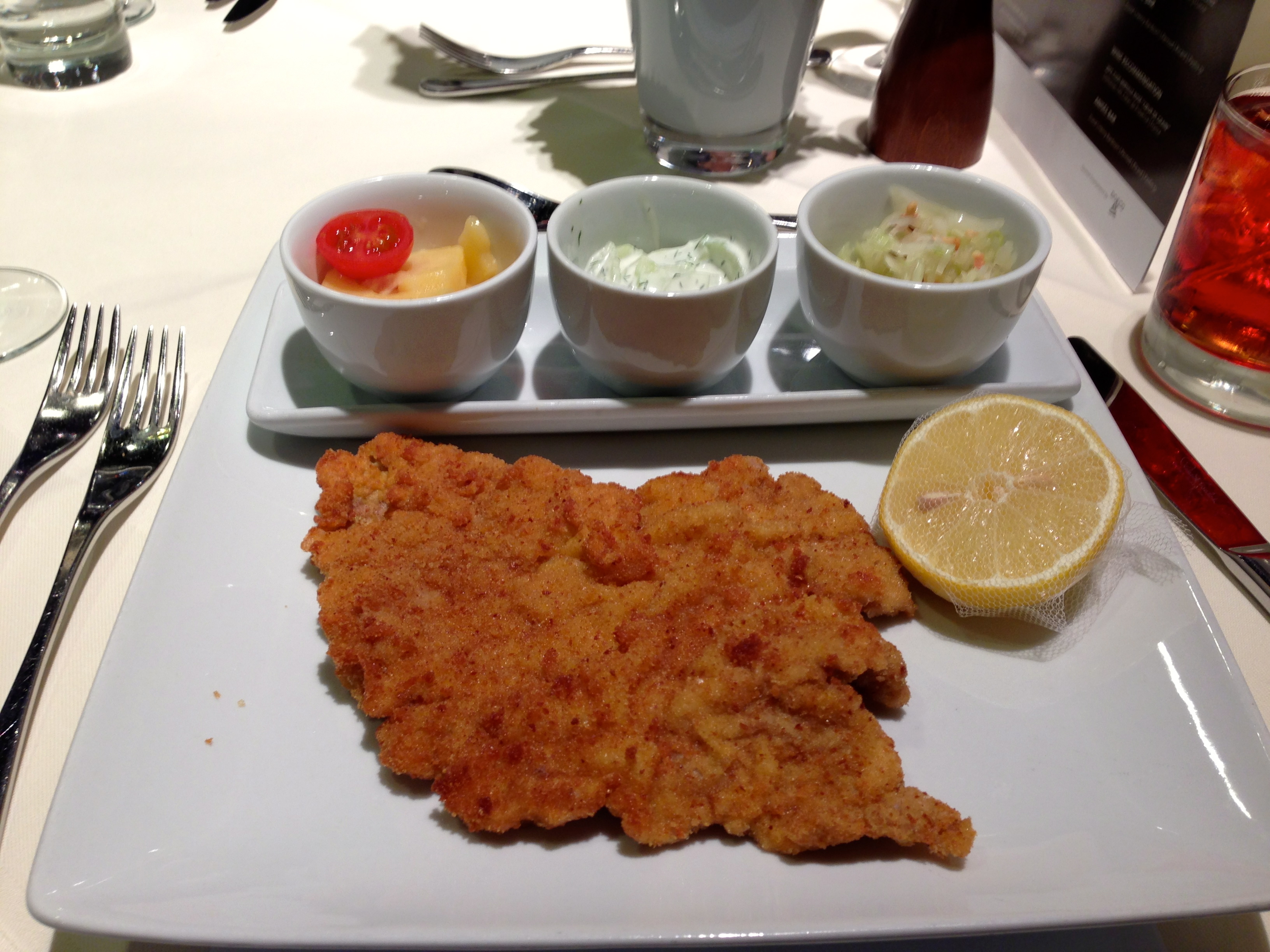 And finished off our meal with some strudel for dessert …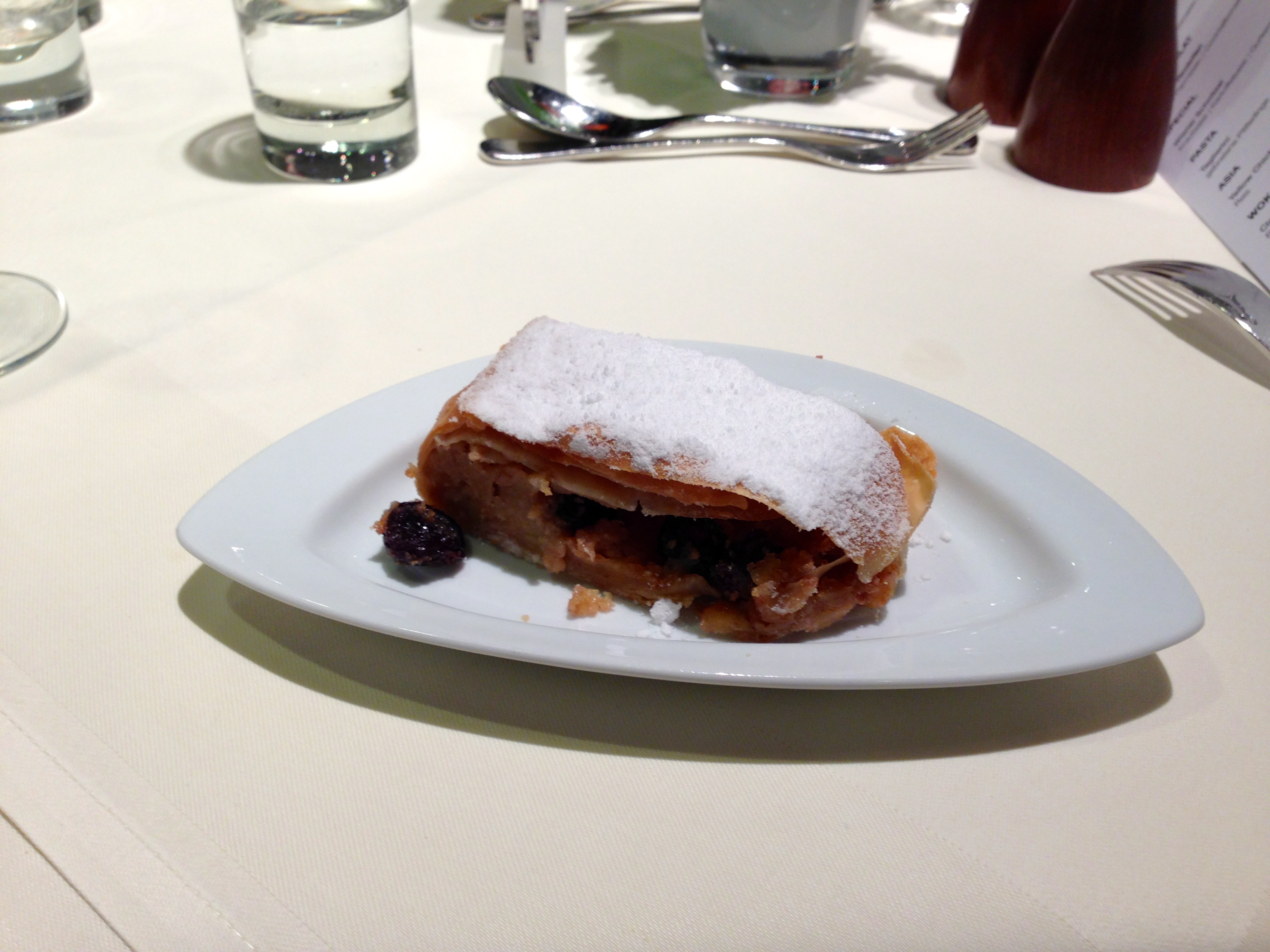 All the food was fresh and excellently prepared.  As we were wrapping up our meal, we were approached by Hans (or was it Franz?) who indicated that they were having a shift change (blush, I built a 5-hour layover into our itinerary so we could maximum our time in the FCT).  He introduced us to … let's call her Helga … who would be taking over as our Personal Assistant.
It was Helga, who then came to collect us in the Lounge when it was time to board our flight.  She accompanied us downstairs to another private area that had a dedicated Passport Control station where our documents were stamped and we were escorted to a waiting Mercedes Benz.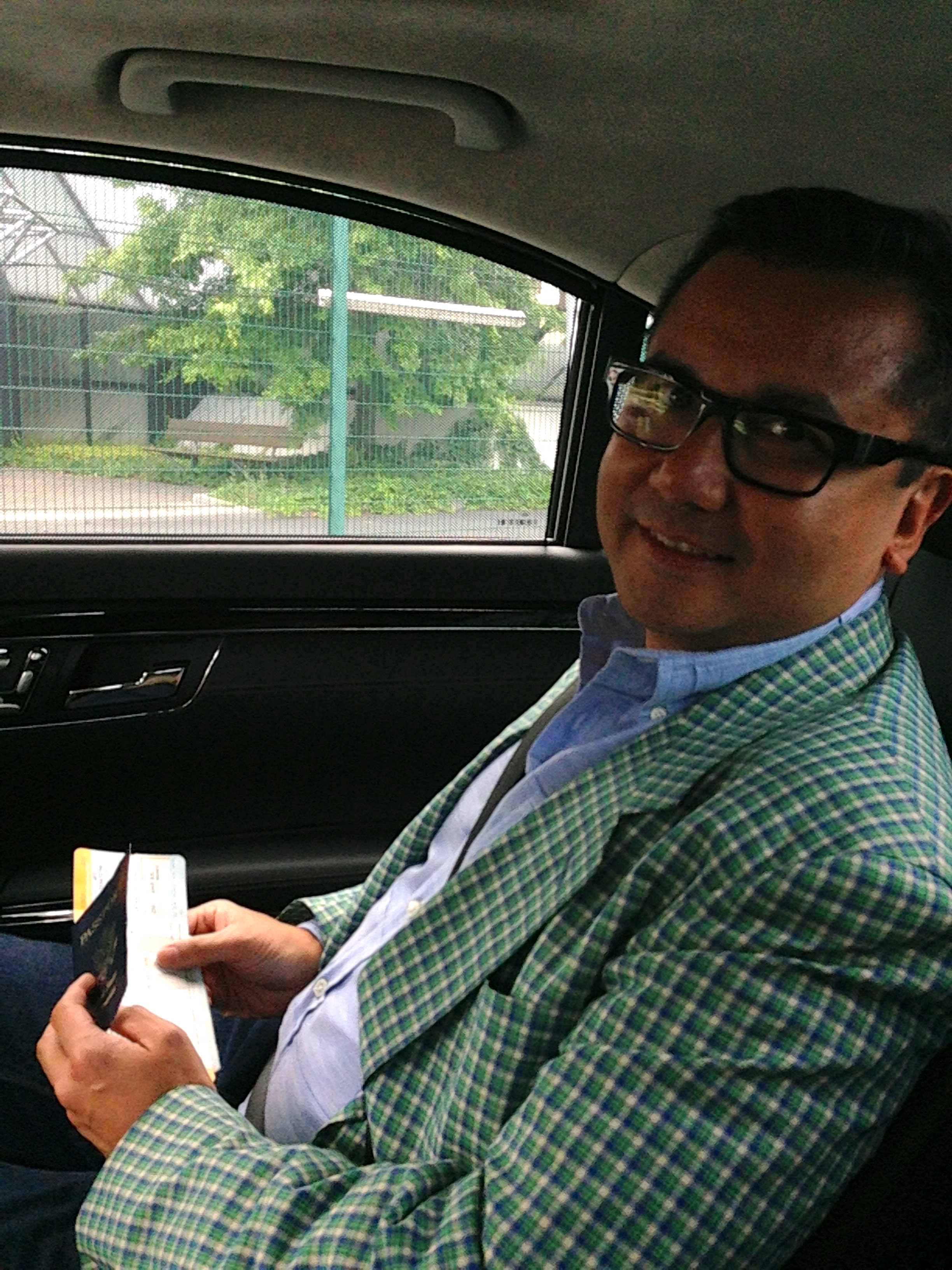 We were then driven out to the tarmac where we parked alongside the 747 that would take us home to Chicago.  The driver escorted us to a private elevator that exited onto the jet bridge.  General boarding was wrapping up at this point so he brought us directly to the aircraft door and we were on the plane in no time.
Of course, the fun was only beginning.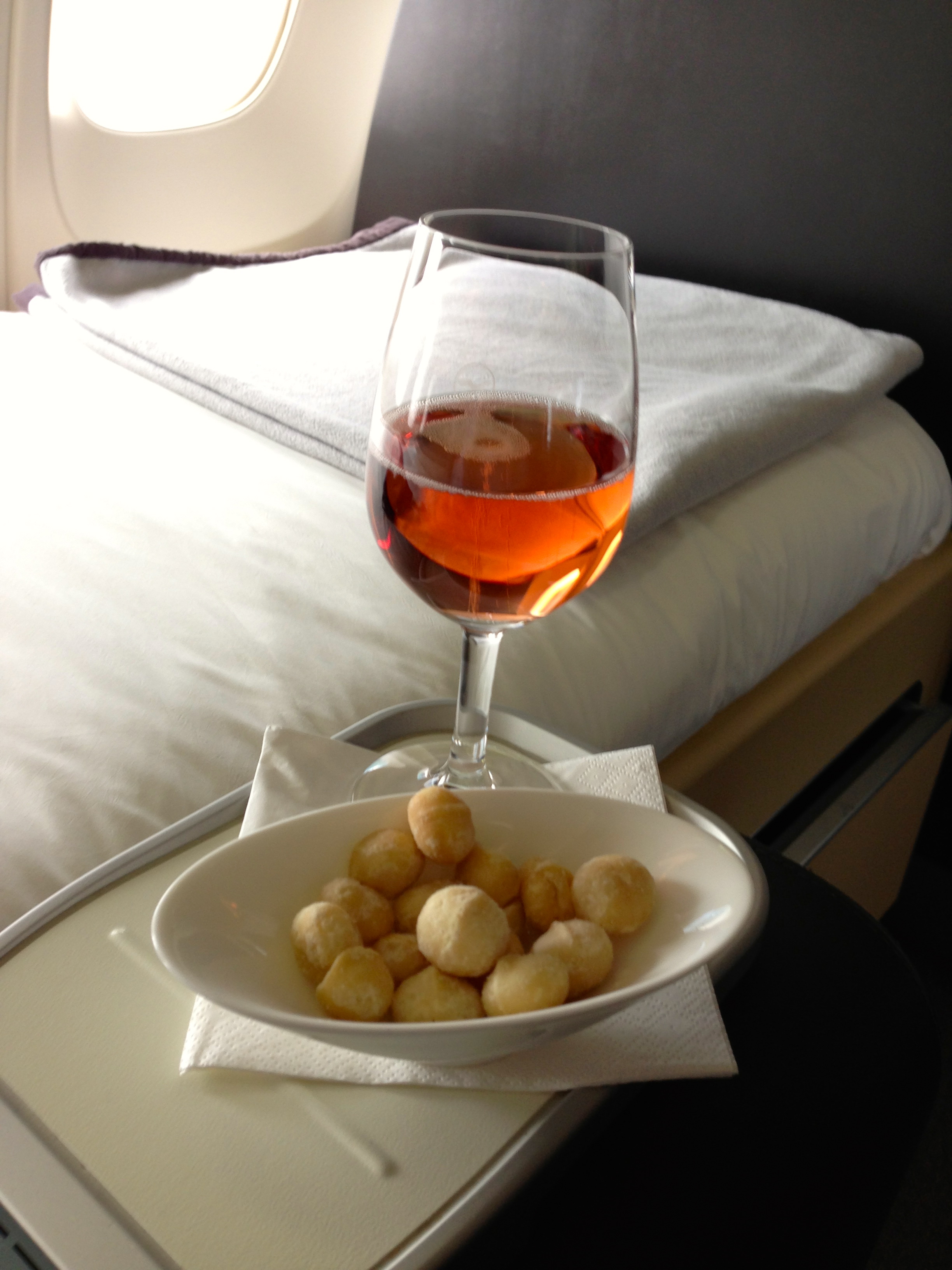 Keep any eye out for my next post in which I describe our first experience with Lufthansa First Class.