Diet Coke. A comfy chair. Wi-Fi.  Preferably in that order. My needs are simple.  And those are the needs I sought to fulfill after my Partner F and I landed in Frankfurt on the first leg our recent European adventure.  As soon as we exited the plane we were off in search of the airport lounges.
We arrived at the new A-Plus Pier in Terminal 1.  This concourse went into operation on October 10, 2012 and is home to some of Lufthansa's newest and largest airport lounges. Since we had arrived in United First Class and were continuing on Lufthansa in Business Class we were entitled to use the airline's Business Class Lounge near Gate A13 and the Duty Free Shop. Here's a map of Lufthansa's lounge locations in Frankfurt:

Source: Lufthansa Lounges in Frankfurt
The lounge is just under a year old and features the "new" design that was developed through extensive focus groups and customer feedback. Although it's now missing that "new lounge smell," I found the space light, airy and efficient.  The use of materials such as leather and oak serve to soften the design's modern edges.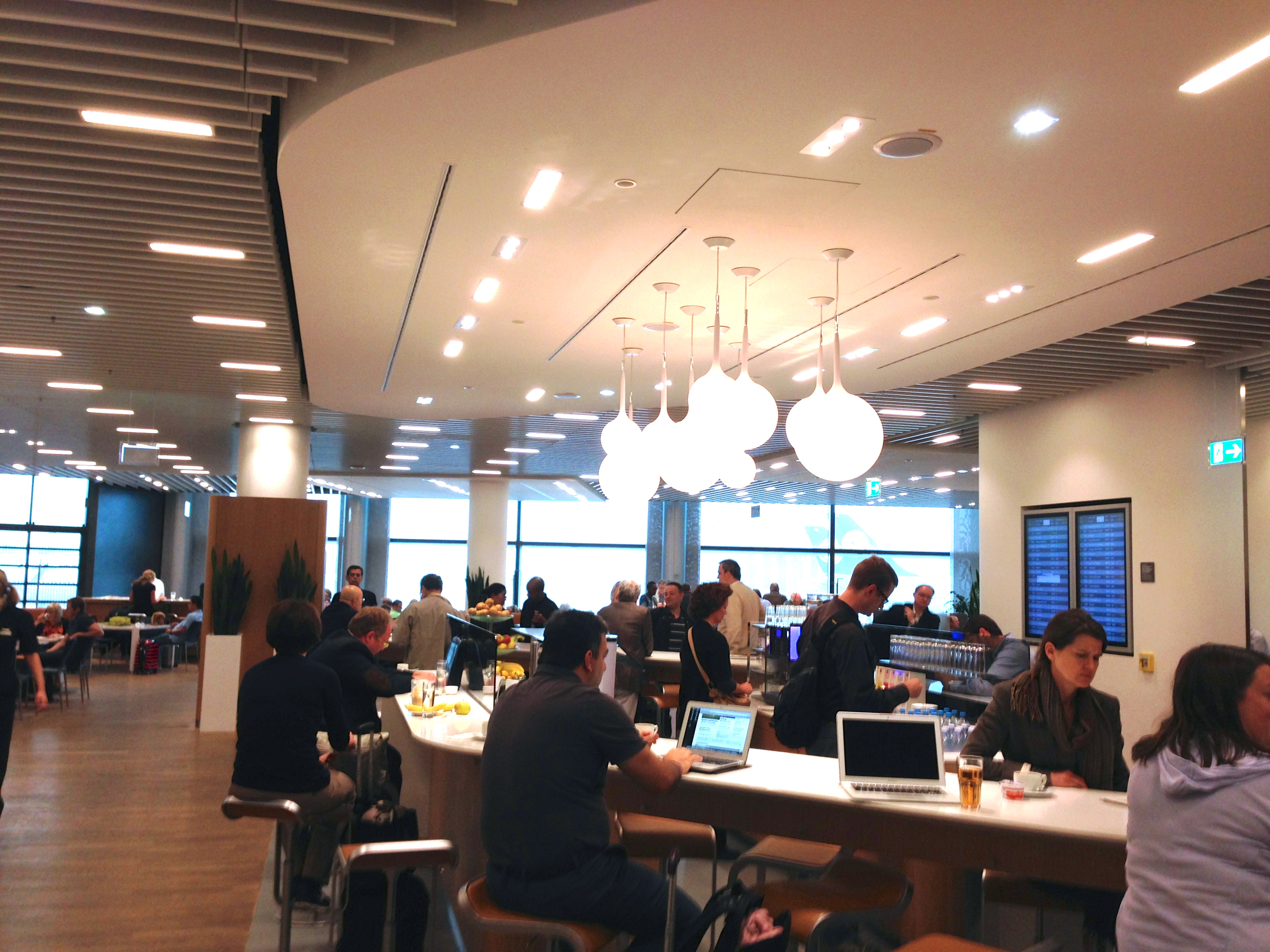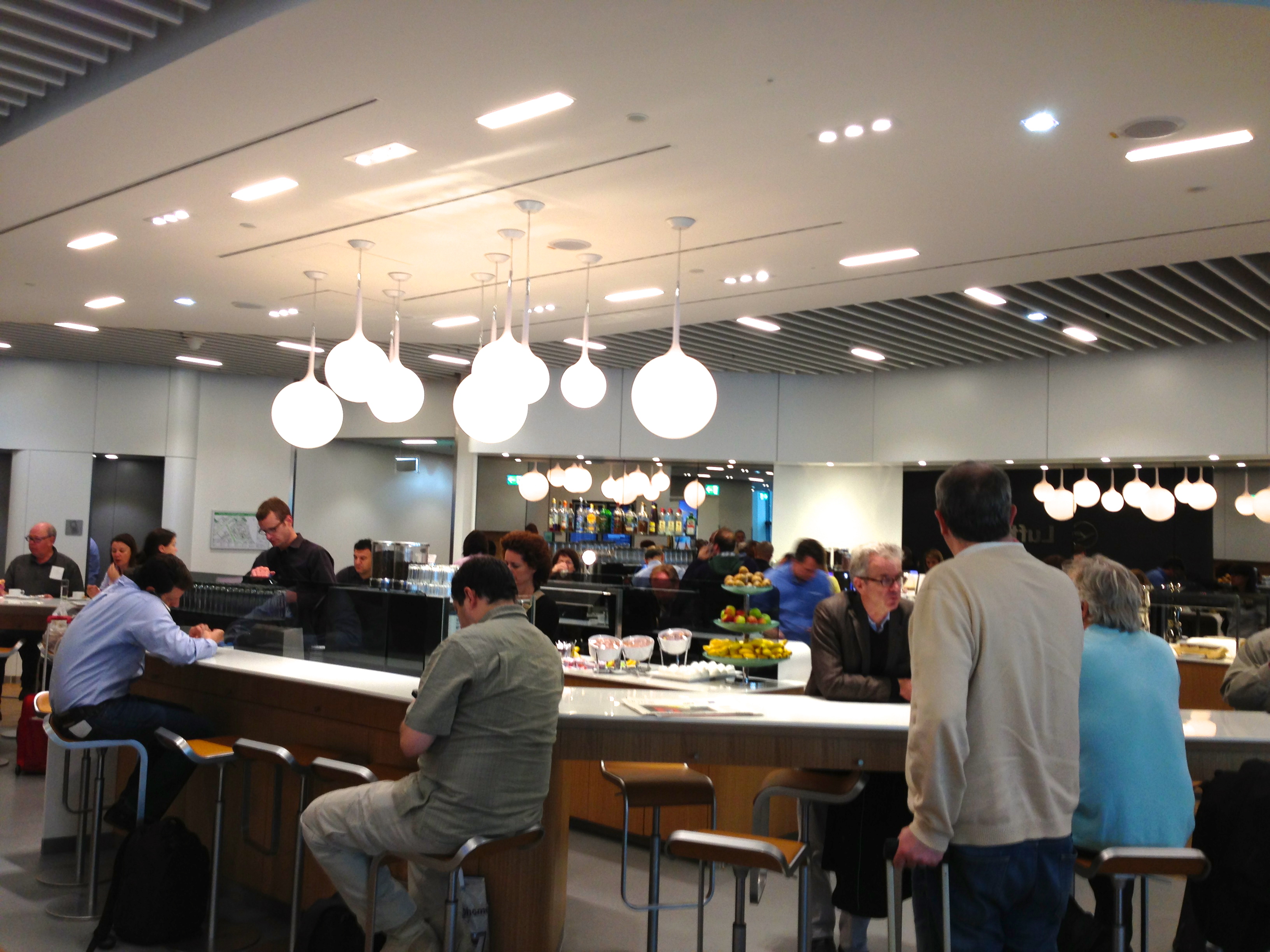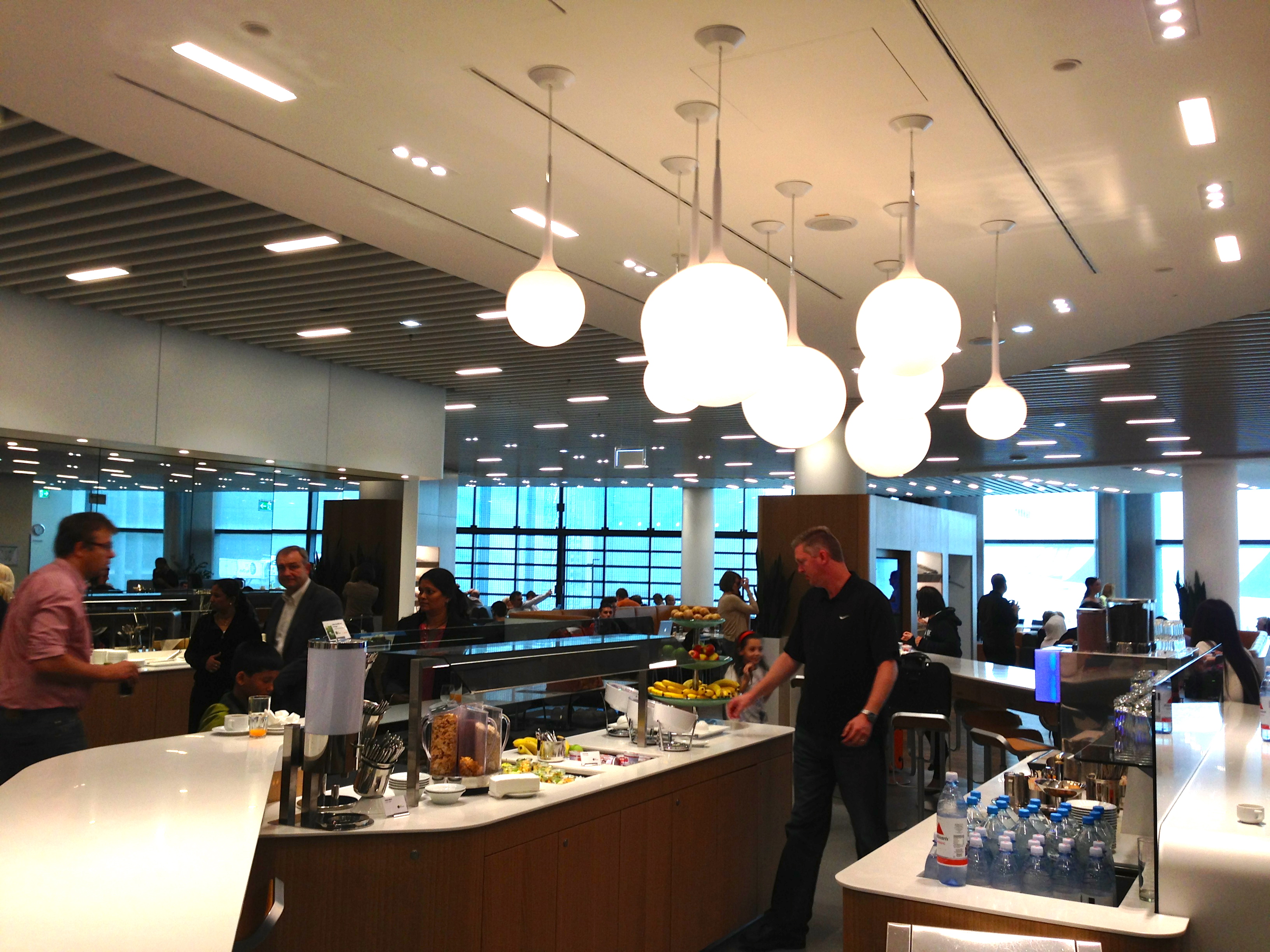 Of course, all that thoughtful design went unnoticed as my caffeine levels started to drop and simultaneously my "snippy-ness" quotient began to rise.  Thankfully, the lounge's extensive self-service food and beverage options came to the rescue.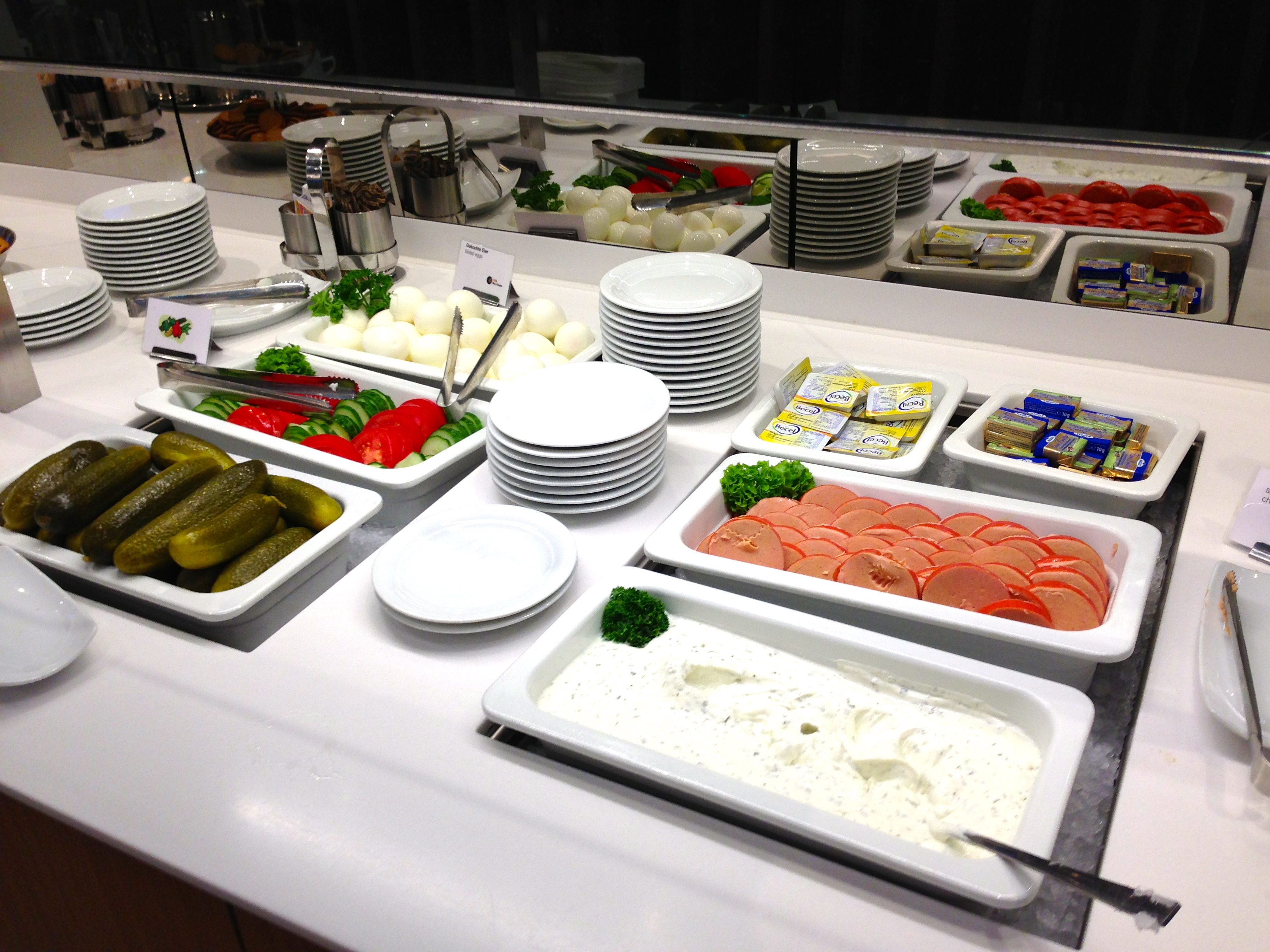 I skipped the wine and champagne … too early in the morning … even for me!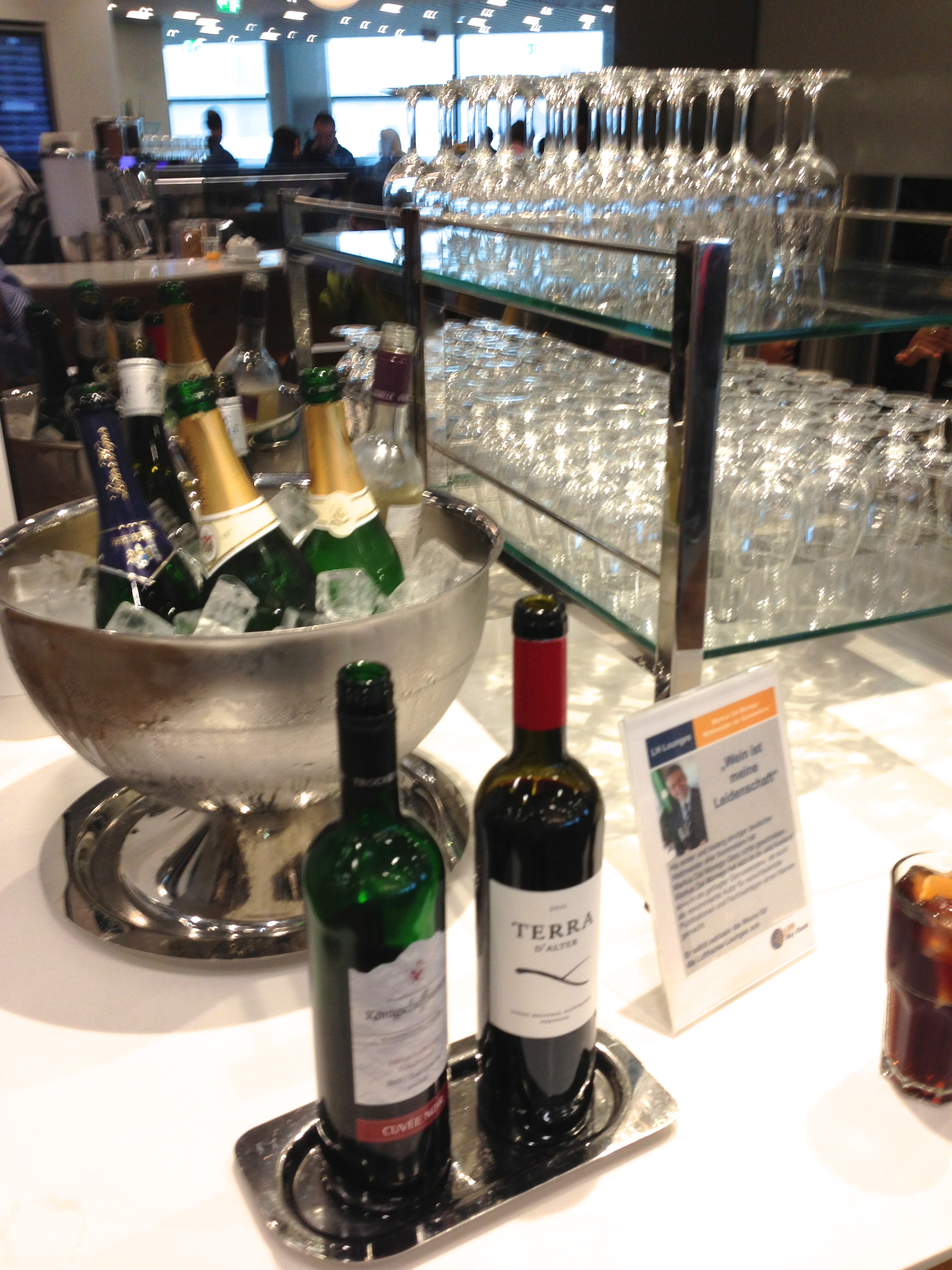 … and parked myself under the Diet Coke dispenser.  I was starting to feel human again ….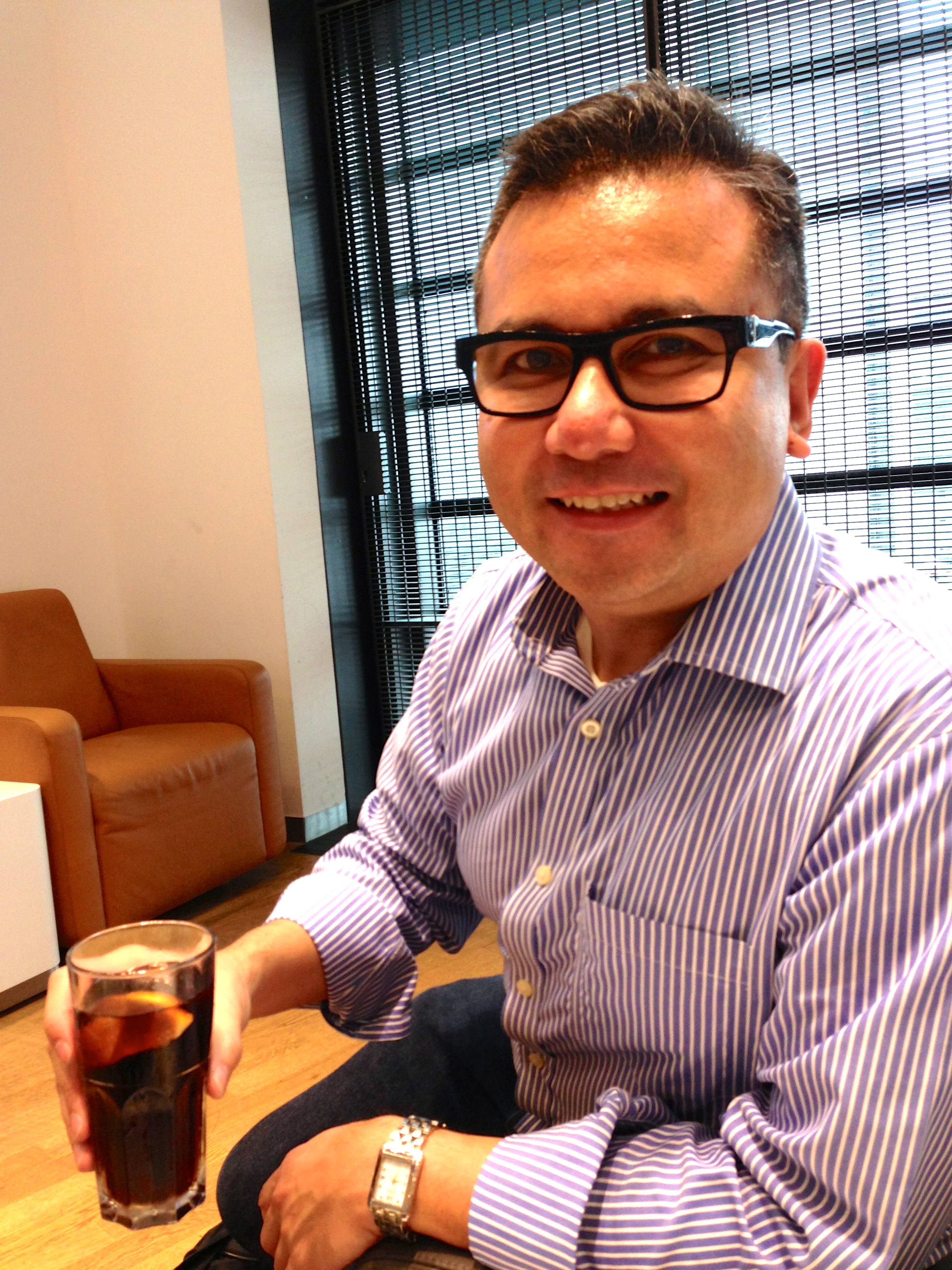 Of course, during this whole time my Partner F respectfully kept his distance.  F has learned (through trial and error) that in my jet lagged state it was probably best to NOT ask the question "Do you REALLY need another hard boiled egg?!?!"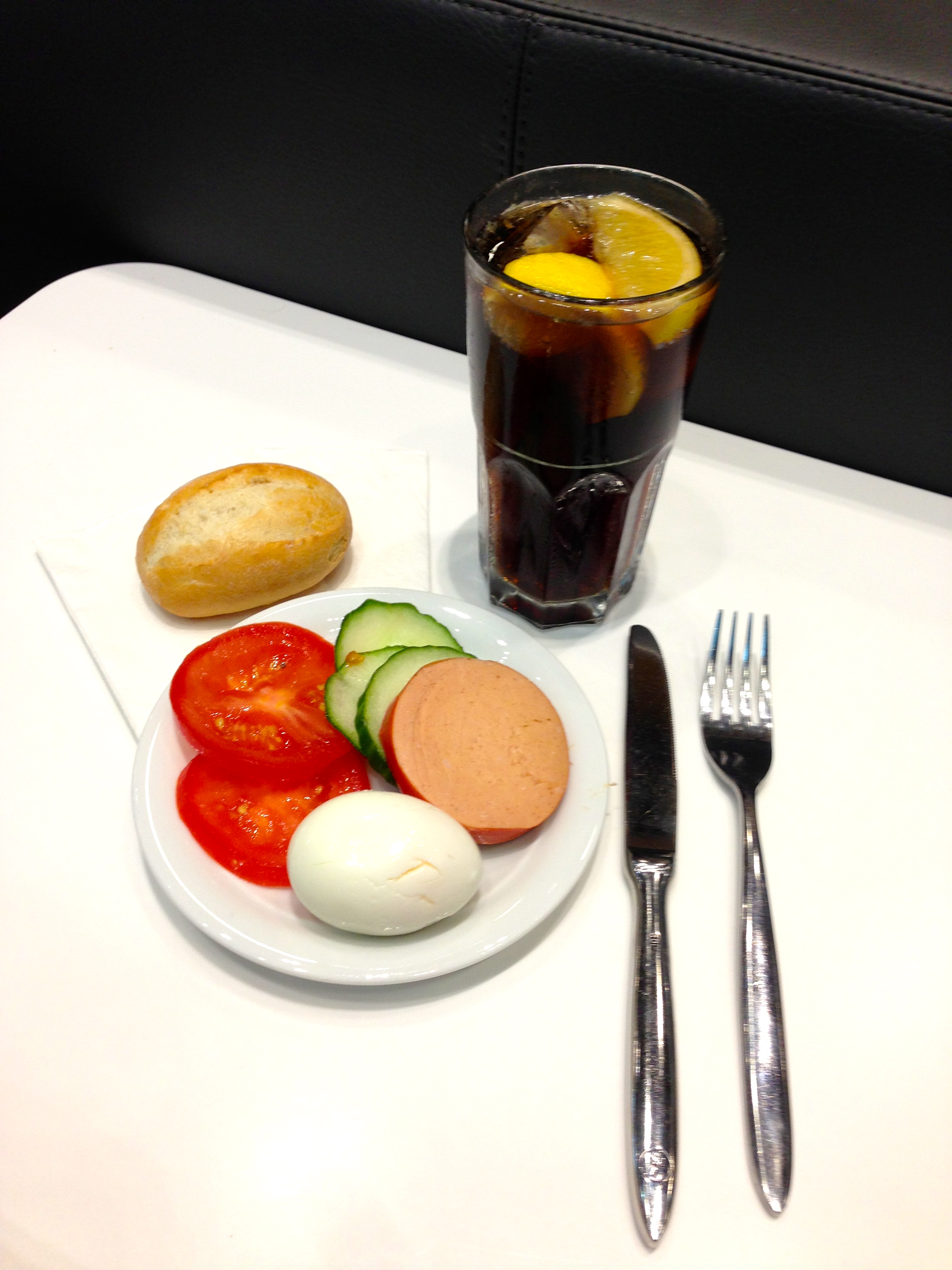 The lounge was VERY busy when we entered.  However, with so many people coming and going, we didn't have too much trouble finding a pair of comfortable leather chairs where we could "nest" during our four hour layover.  With my first two basic needs met, I was then able to enjoy the lounge's speedy (and free) Wi-Fi to incessantly Facebook.
In addition, to food, drink, comfy chairs and Wi-Fi, this Lufthansa lounge also provides the weary traveler with shower facilities and even a "quiet space" with chaise lounges were you can take a "disco nap" as you await your next flight.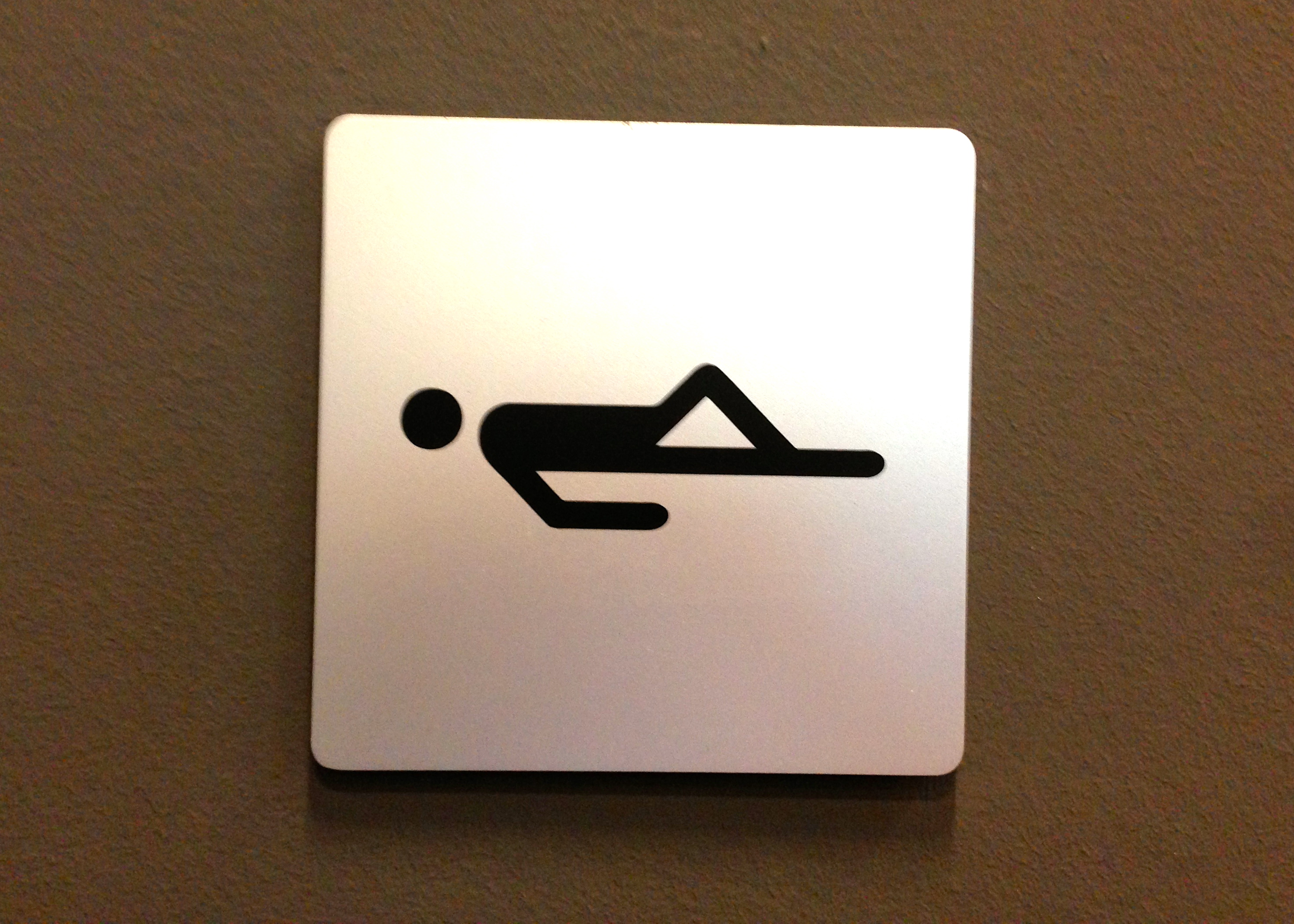 About a week later, on our flight from Florence to London, we again transited through Frankfurt and were able to sample another Lufthansa lounge.  This time, we were leaving out of the B Concourse so we popped into the lounge near Gates B24-B28.  On this leg of the journey we were traveling in Economy and wouldn't have ordinarily had access to the lounge.  However, since we are both card-carrying members of the United Club Visa, we were granted access to the Lufthansa Business Class lounge (note: Only primary card members are allowed entry using this method – no guests).
The look and feel of this lounge was slightly different from our first experience.  This area of the airport wasn't as busy which probably explained why the lounge was so empty while we were there.  Although this particular lounge was a bit darker than the first, it seemed to project a "warmer" atmosphere through its more earthy color palette.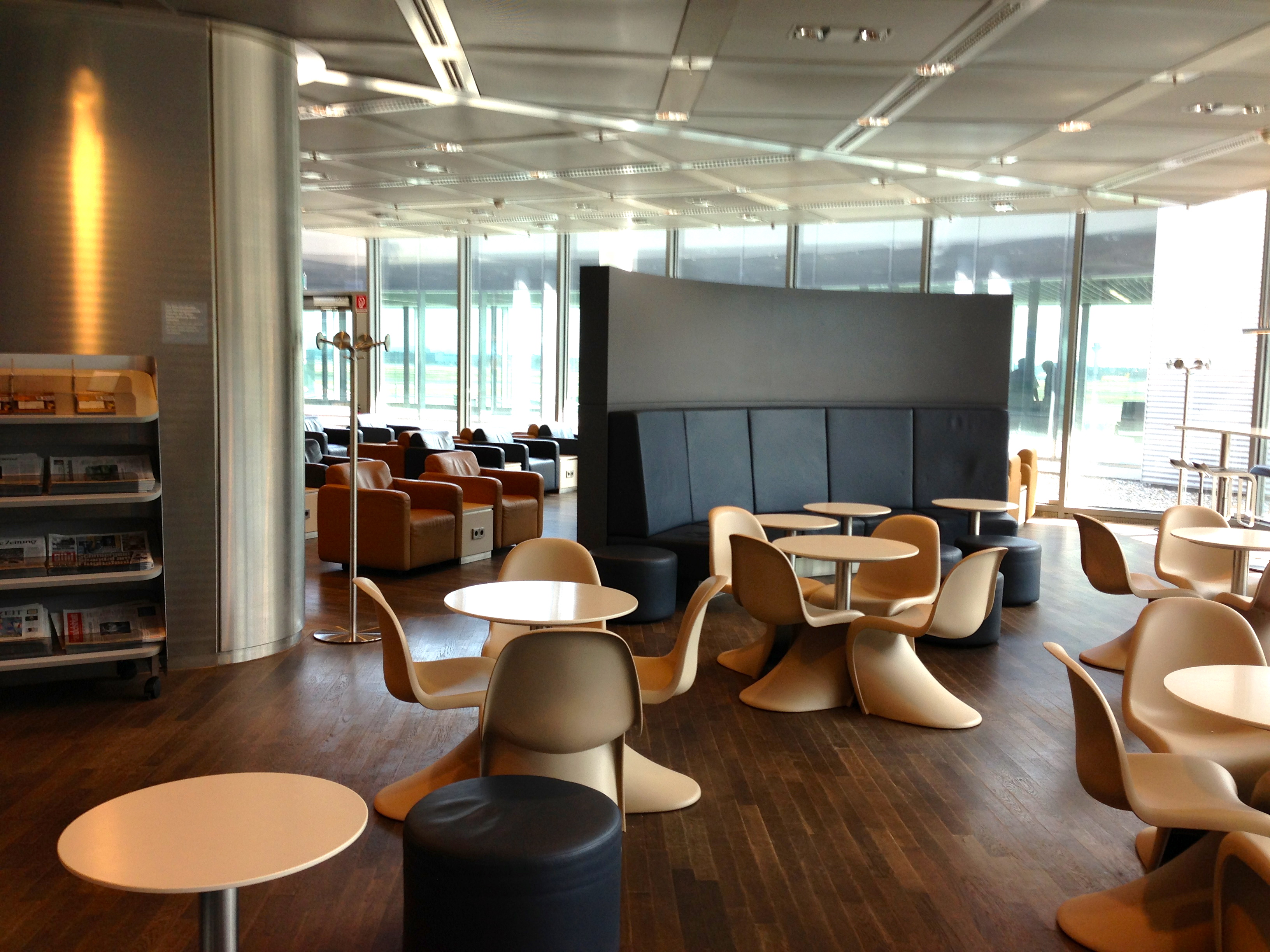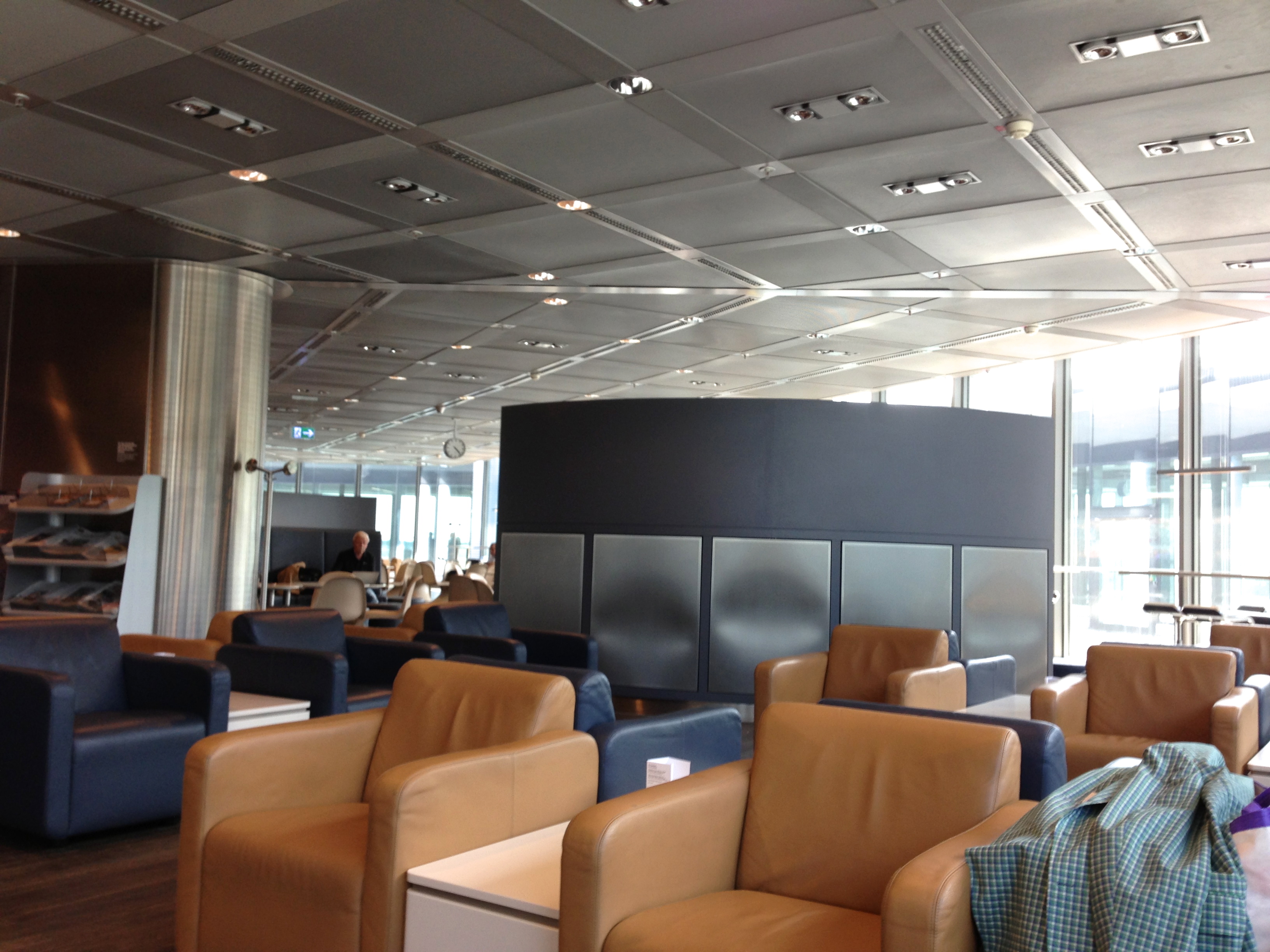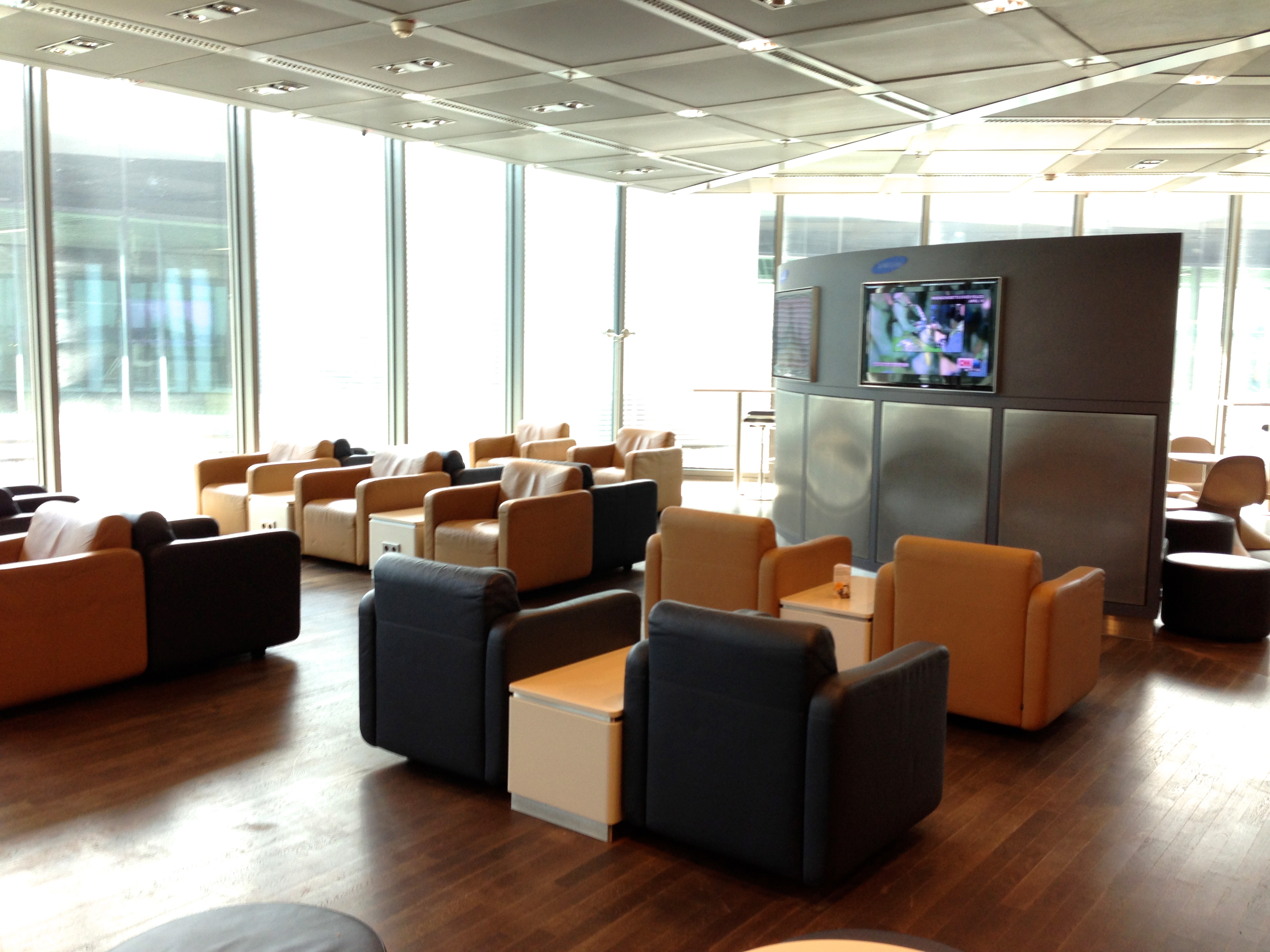 The self-service food and beverage offerings were nicely presented …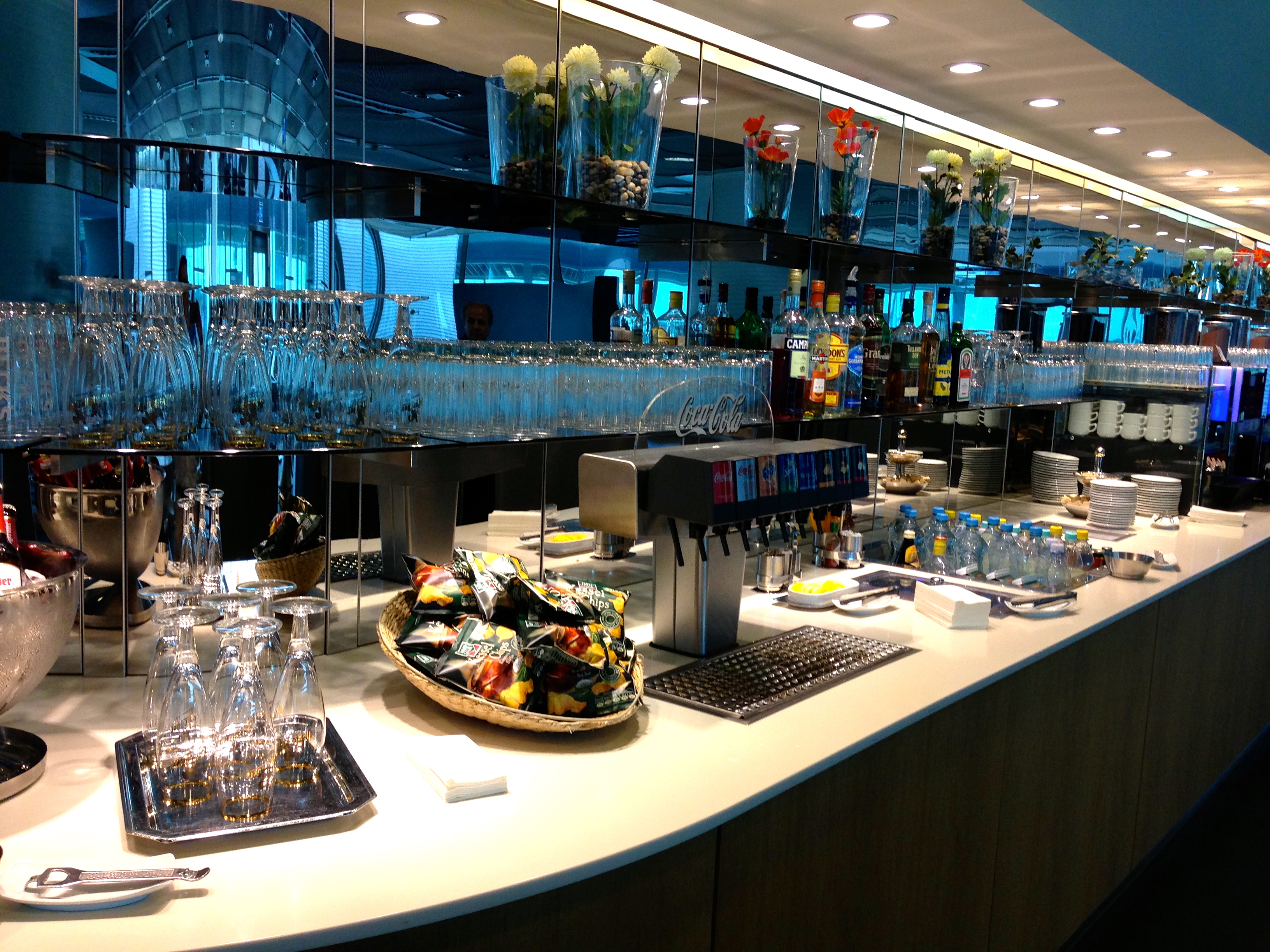 And I was pleasantly surprised that hot dogs were being served!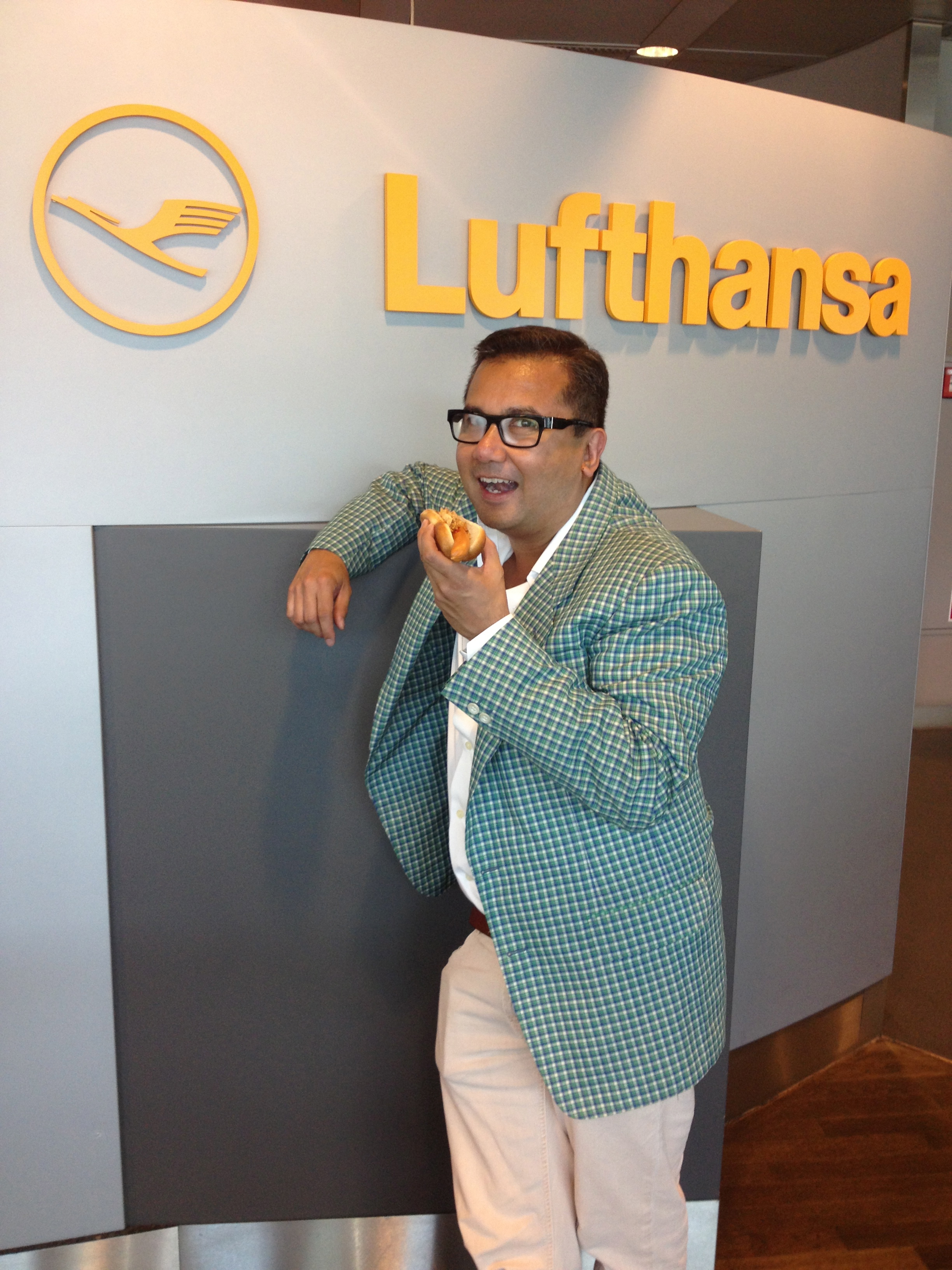 However, I unfortunately realized only after the fact that I was eating a TURKEY wiener (insert HORRIFIED look here) ….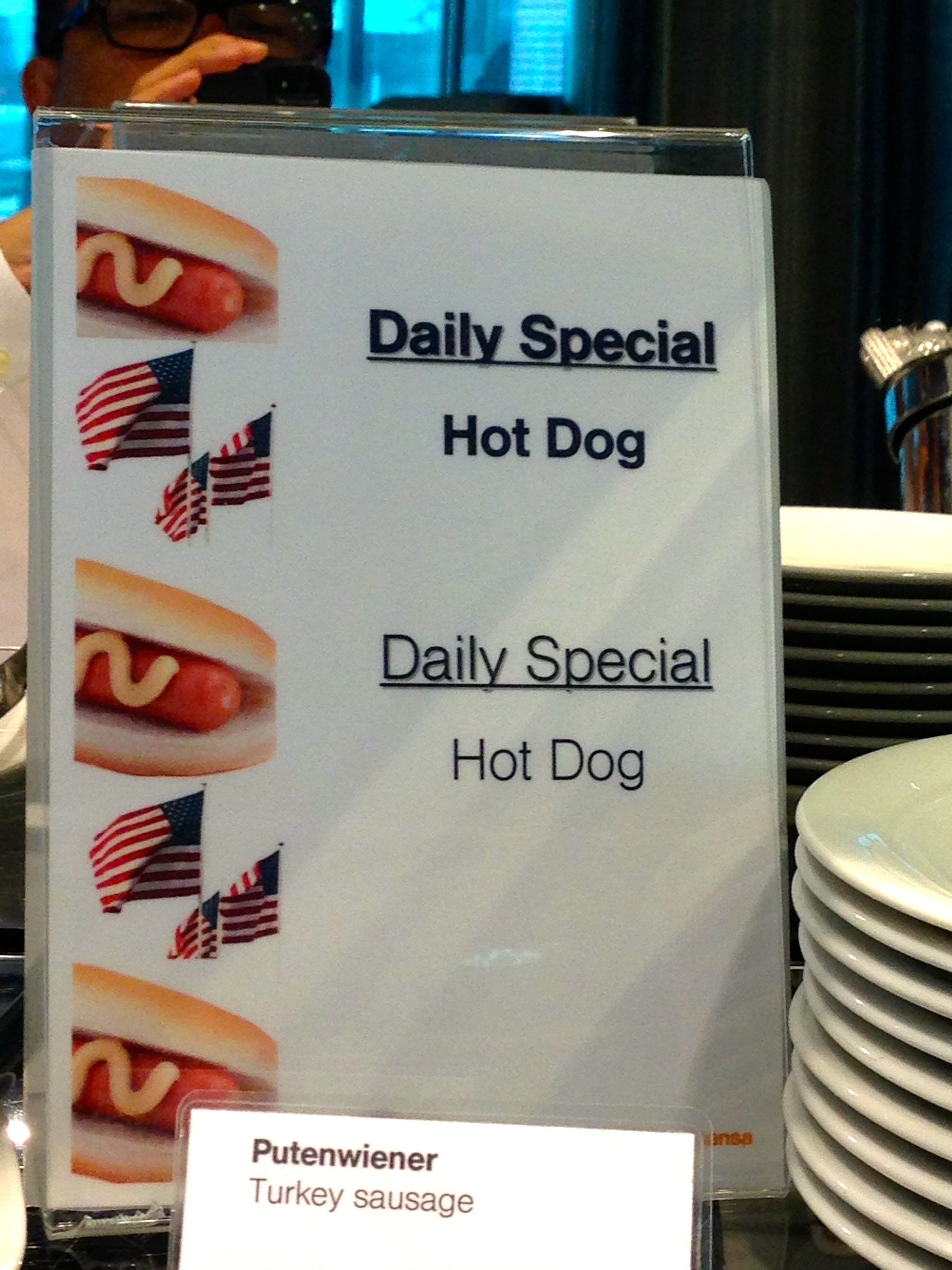 You just don't do that to a Chicago guy!
In my last post I wrote about the great experience I had on a couple of Lufthansa's Intra-European flights.  That experience continued on the ground, as the Business Class lounges are very much an extension of the airline's brand, aesthetics and service culture.  Of course, the Business Class lounges are just the tip of the iceberg for Lufthansa's Premium Services.  In my next post I'll talk about my experience with Lufthansa's First Class services … starting with the famed First Class Terminal in Frankfurt.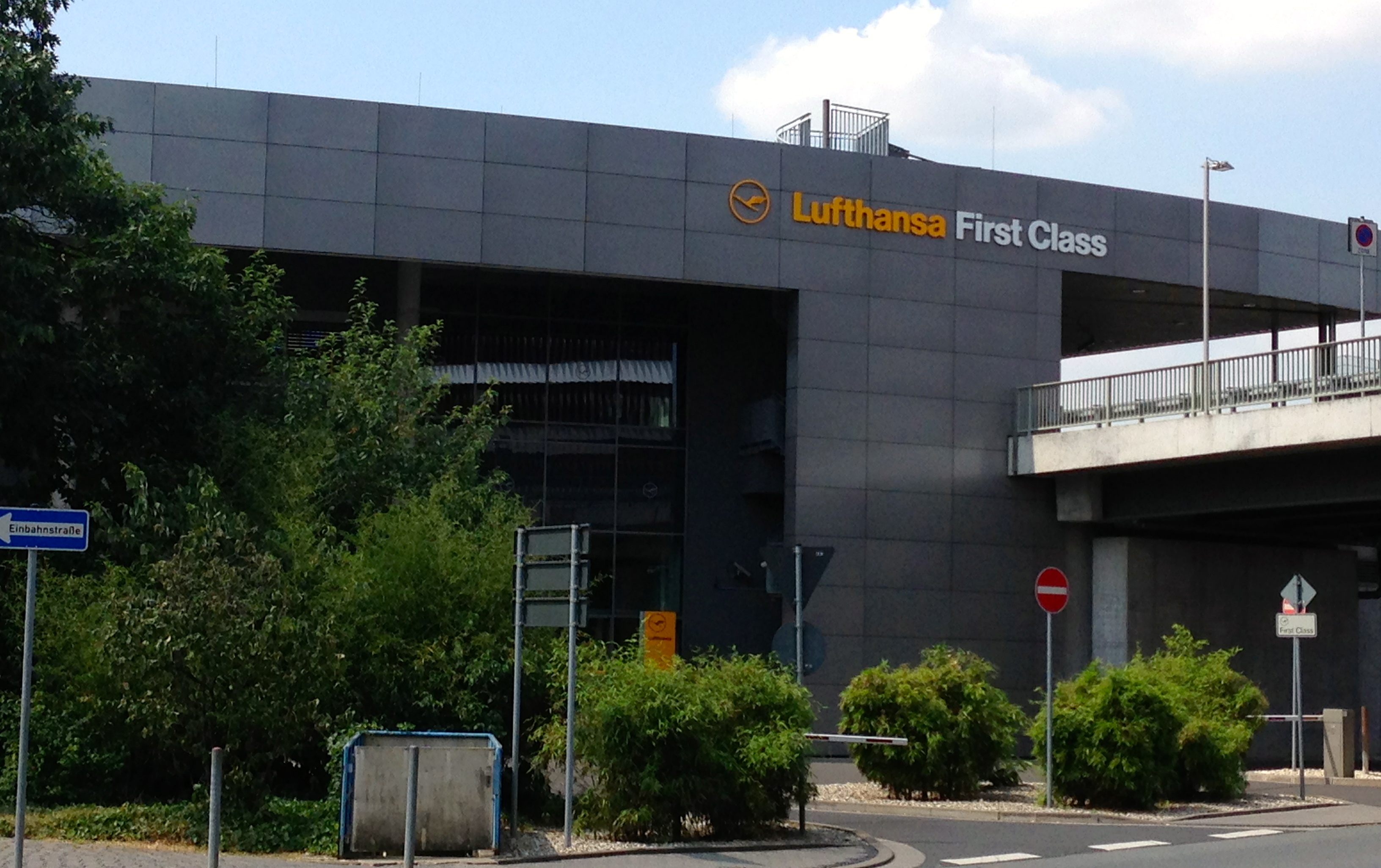 Stay tuned …