Our private Mercedes dropped us off at the 747-400 that would be taking My Partner F and I home on the last leg of our European Summer Vacation.  Our itinerary was Frankfurt to Chicago to Reality. Since this was our first experience with Lufthansa First Class, my mind was still reeling from the great experience that we had in the First Class Terminal (see my last post for details).
After the driver escorted us to the doorway of the aircraft, we realized that boarding of the flight was well underway.  We made our way through the Business Class cabin to the stairway that led us to First Class.  I've flown on the upper deck of a 747 before (years ago in United Business Class on a flight from Los Angeles to Sydney).  There's always something special about being up there.  The cabin isn't that large so you immediately get a sense of privacy and exclusivity as soon as you enter.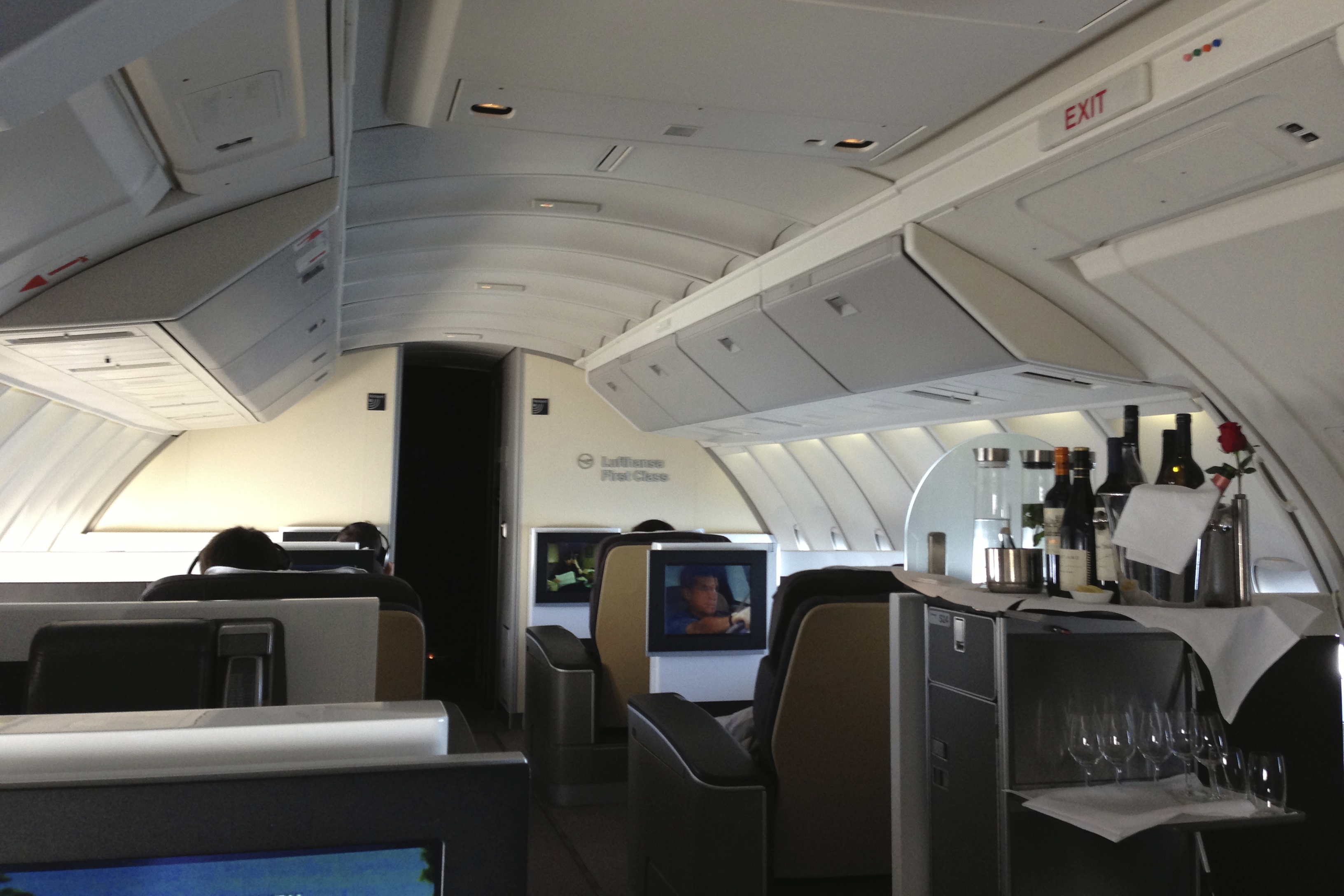 On the 747-400, the upper deck of the Lufthansa First Class Cabin consists of only 8 seats.  A German couple and their two teenage kids occupied the four seats in front of us.  In back of us was a woman who had just been upgraded from Business Class (lucky her!).
When we entered the cabin, the Flight Attendant hung up our jackets and offered to stow our carry on baggage for us.  She took our cases to a small storage area just off to the side of galley. Although there was a nice storage compartment near the base of my seat, space for our carry-ons was limited.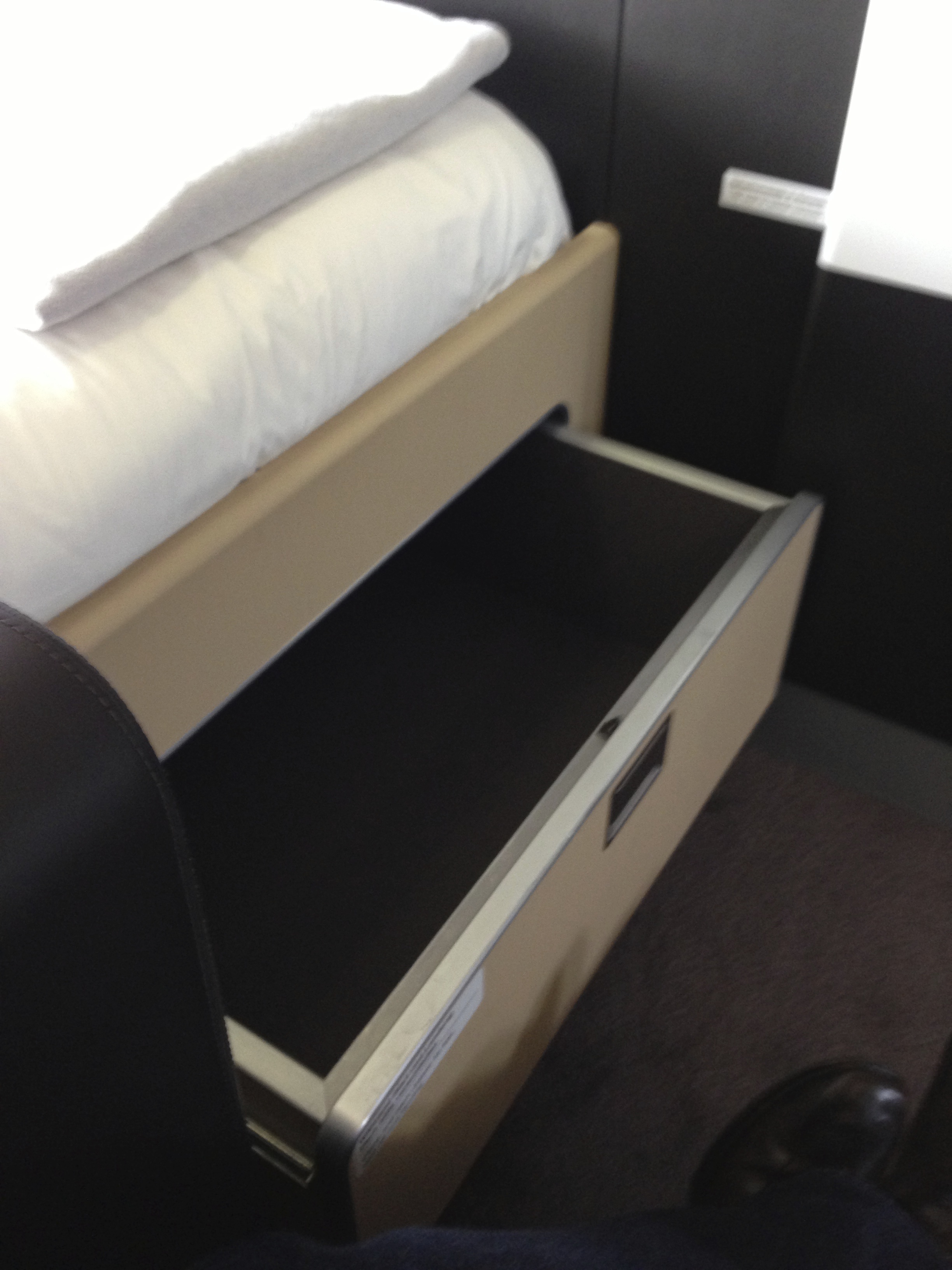 Now about that seat … here's where things start to get pleasantly surreal.  This particular flight featured Lufthansa's New First Class design.  Note: You can check to see whether or not your individual flight will be sporting the New First Class cabin by checking out this link on Lufthansa's website. On the 747-400, each First Class passenger receives both a comfortable and spacious recliner AND their own full-sized bed!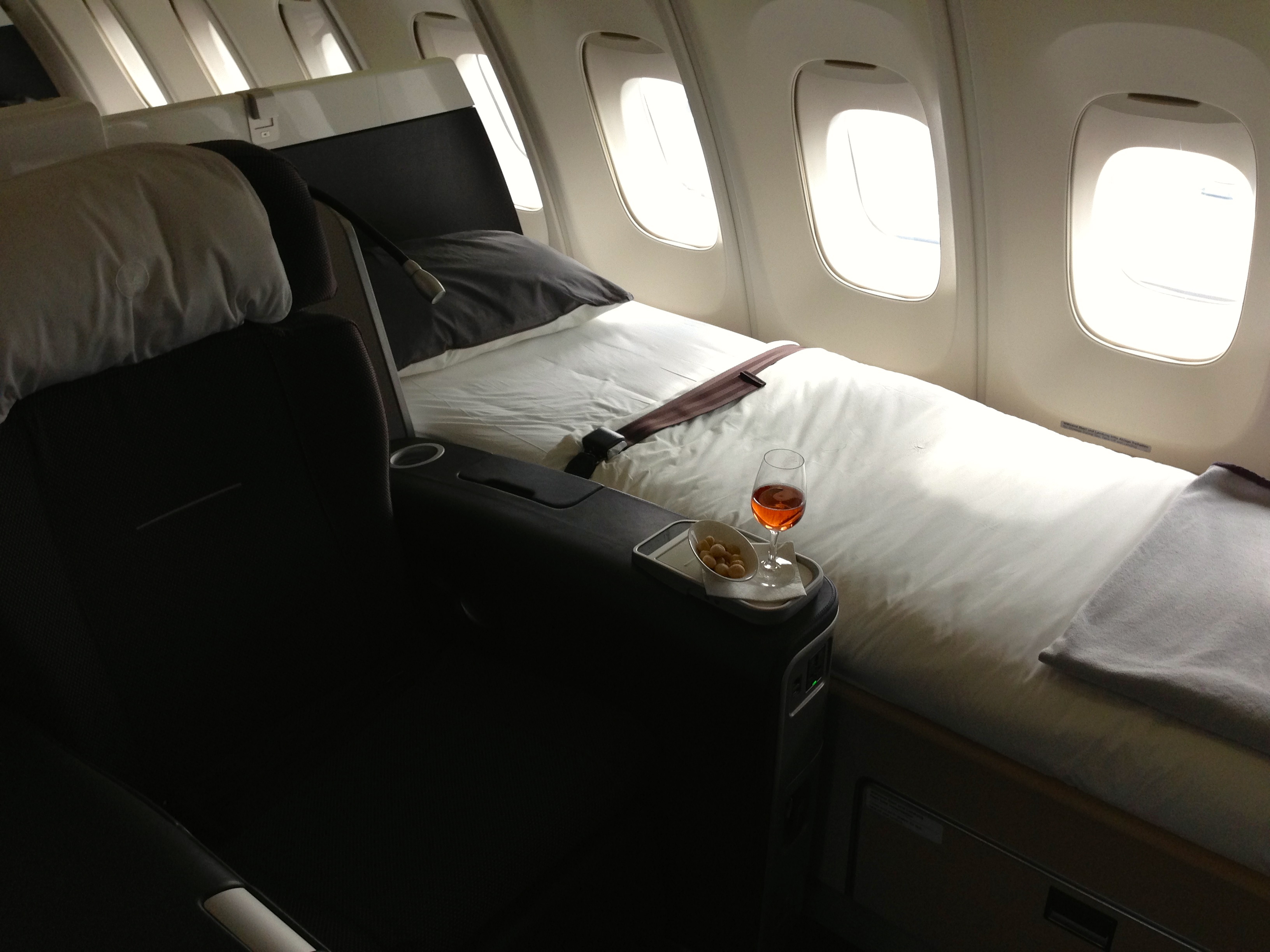 The In-Flight Entertainment screen was large.  However, I found the offerings to be a bit limited.  That said, I really didn't spend much time on this flight watching videos since I wanted to focus as much of my attention as I could on the service experience.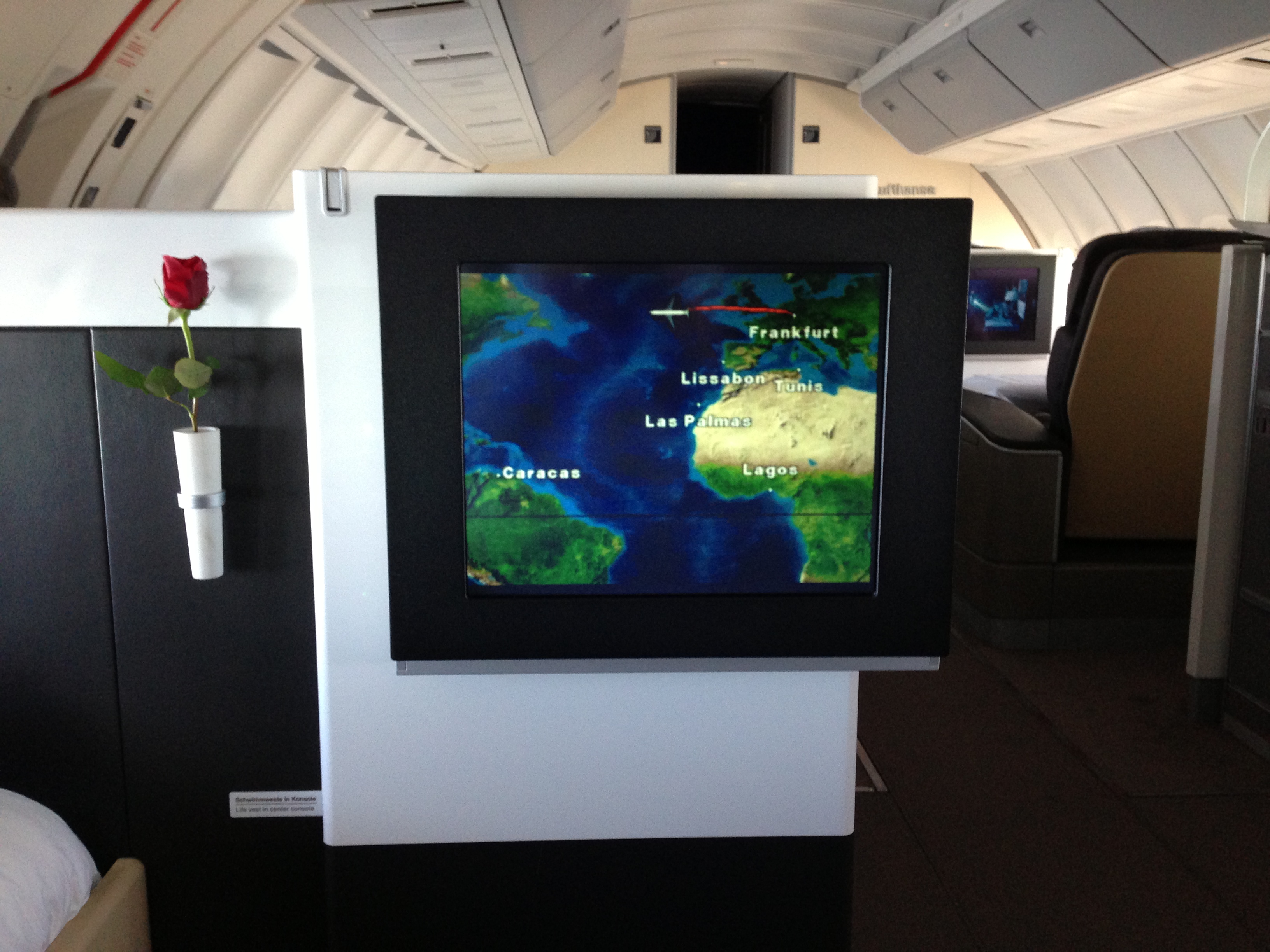 As we settled into our seats, the Flight Attendant offered me a glass of 2005 "Comptes de Champagne Rosé Brut, Champagne Taittinger and a dish of macadamia nuts as my pre-departure snack.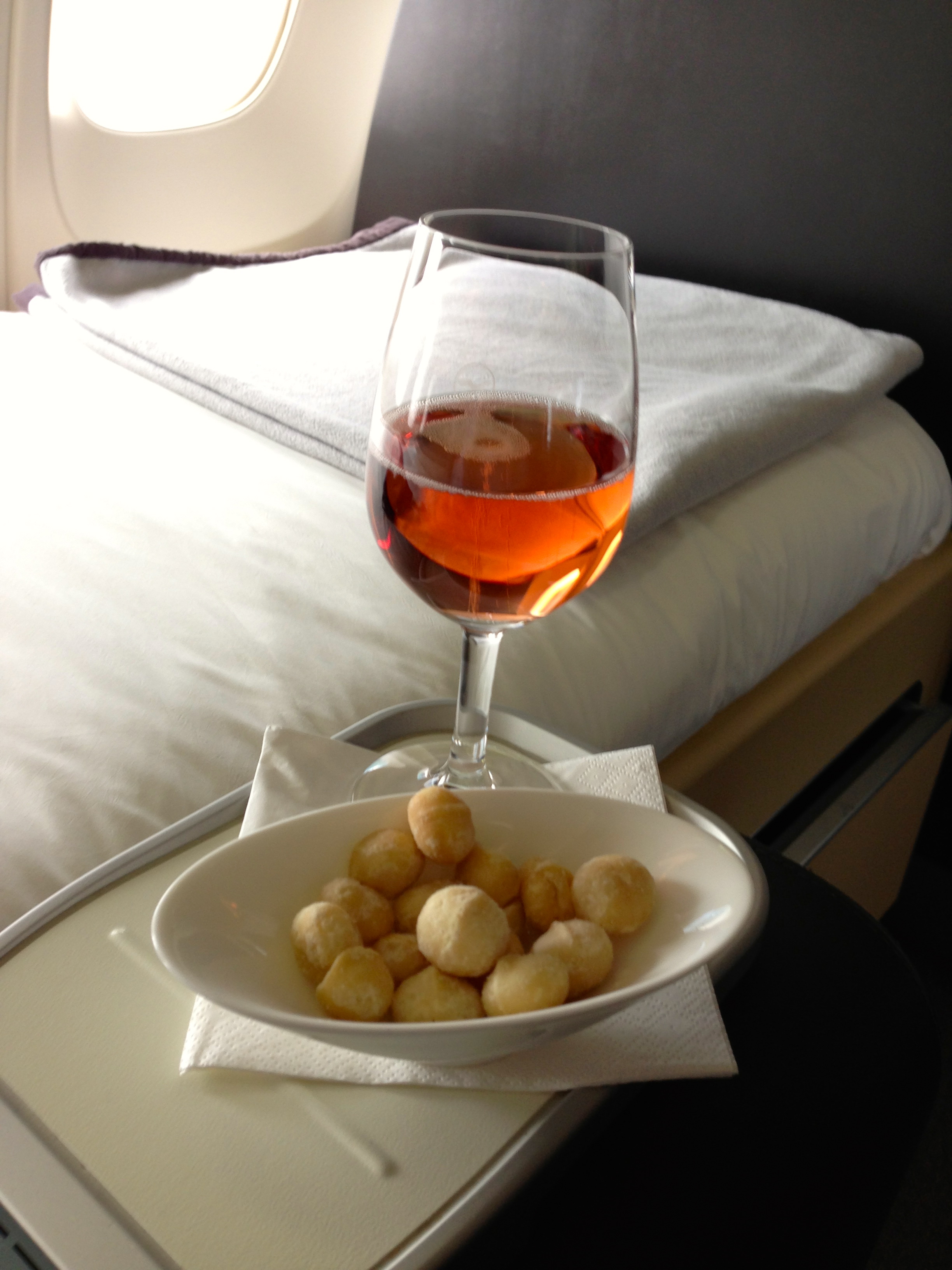 Soon after that, the Purser (who sounded remarkably like a German version of Julie Hagerty from Airplane!) stopped by each individual seat to personally welcome us aboard and handed me menus (separate ones for wine and the food) on which had been written my name.  What impressed me was the tone and body language she used in addressing each of us.  She kneeled slightly so she could speak to each passenger at eye level and communicated a genuine sense of warmth and graciousness.
After we were airborne, the in-flight meal service began. There were two Flight Attendants working our cabin.  We really only saw one since there seemed to be a division of responsibilities with one FA working the "front of the house" while the other worked "behind the scenes."
First, we were offered a rose scented warm towel (one of the nicest I've ever had) to freshen up.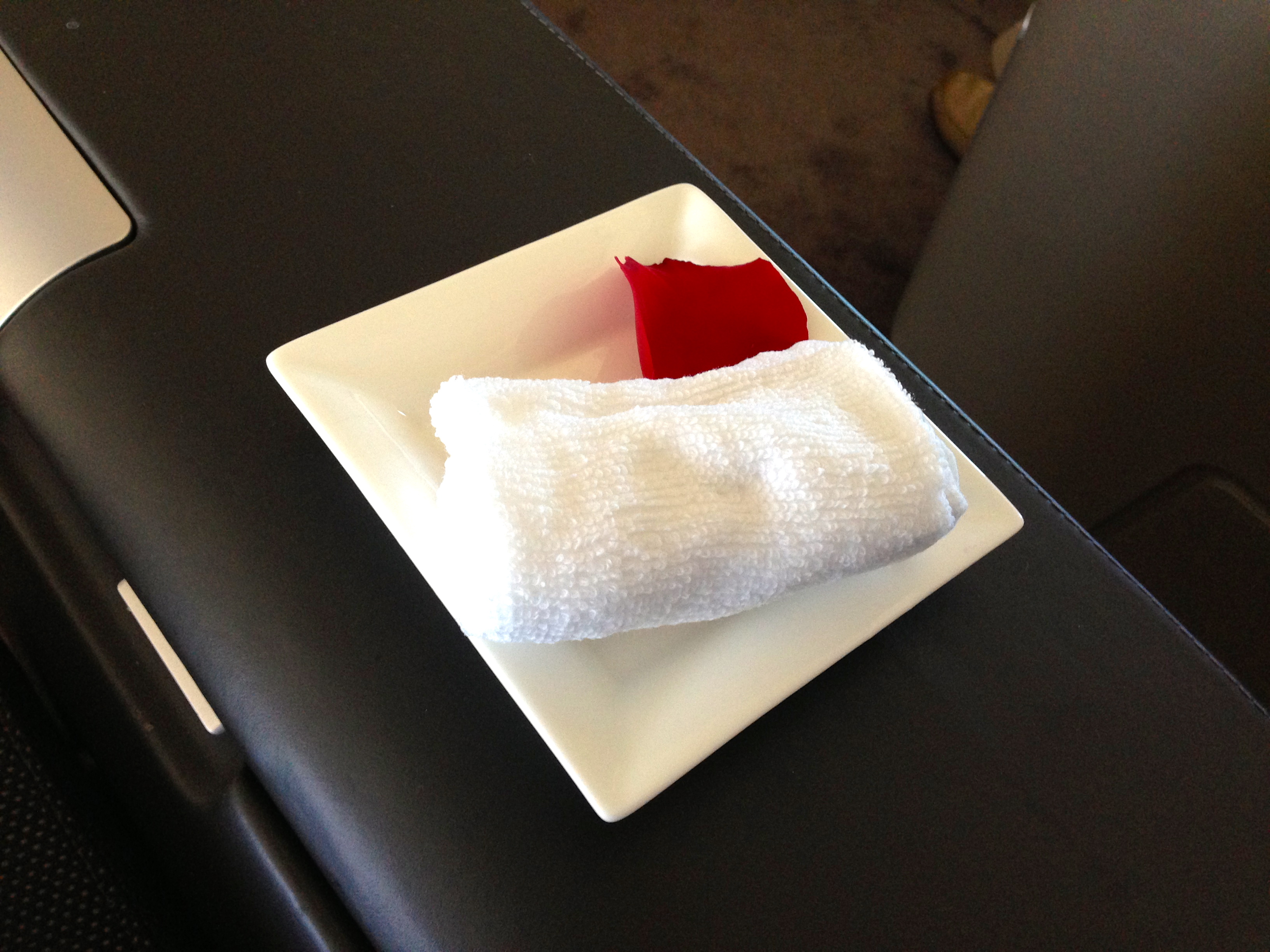 Next came the drinks … Coke Zero and a 2010 Pouilly-Fuissé, Cristophe Cordier Chardonnay to start.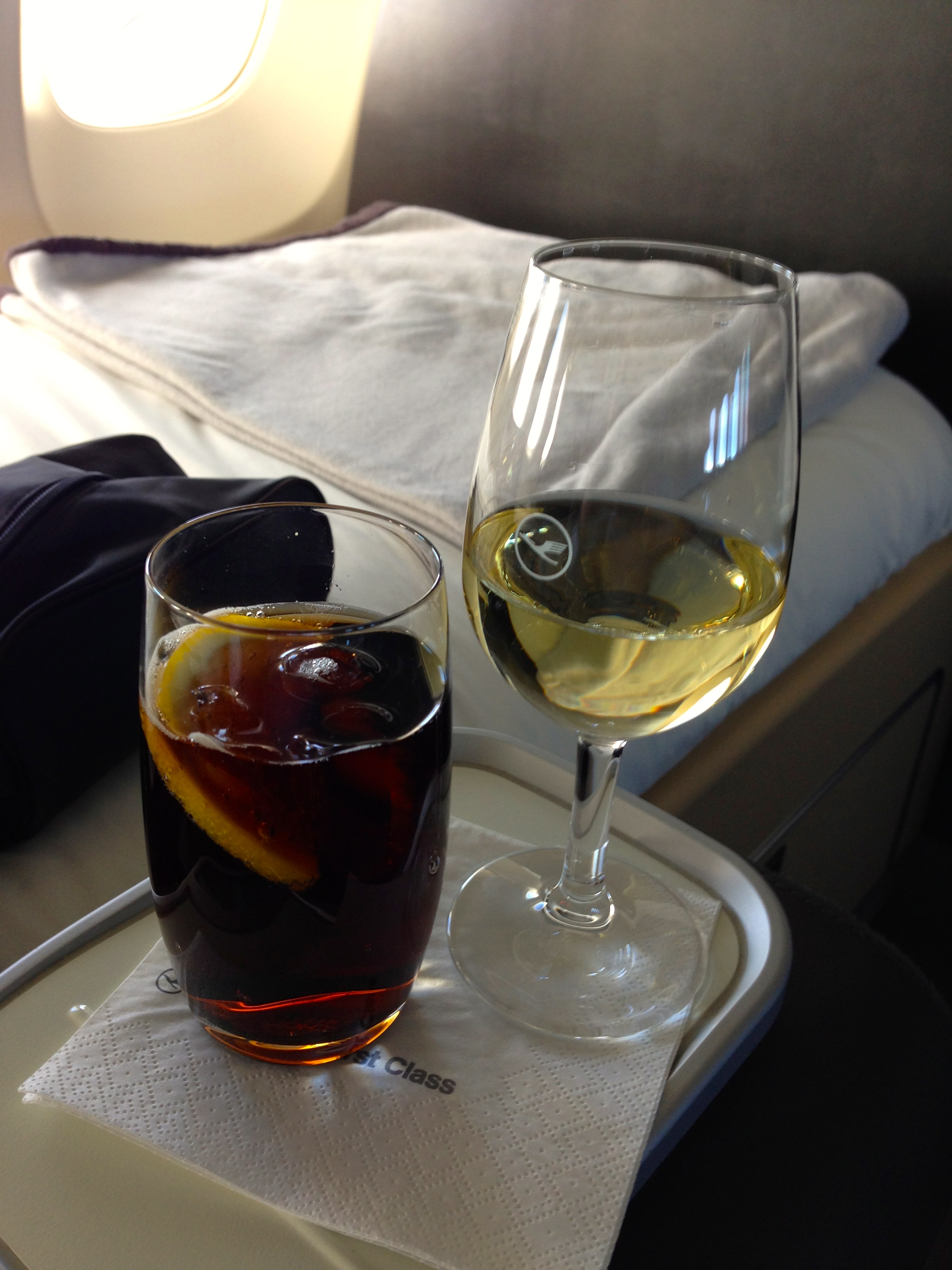 Next up, was an amuse-bouche consisting of a ground oxtail purée served with a savory mousse foam covered in a mystery orange sauce (sorry folks, my description not Lufthansa's … I didn't quite catch the official description).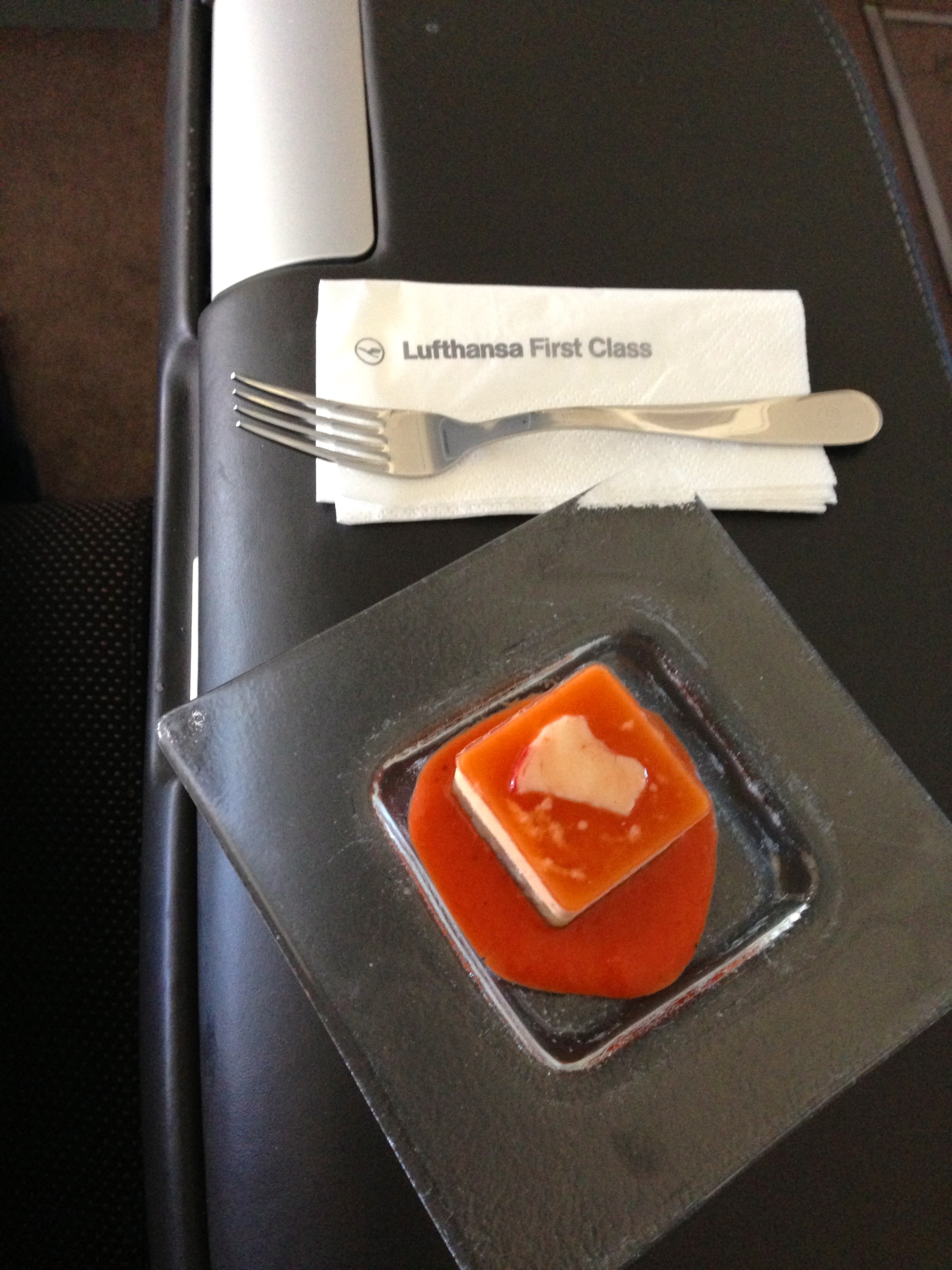 While certainly creative, the amuse-bouche didn't set off any fireworks in my opinion. It did look pretty though!
The Flight Attendant then prepared my setting for the meal.  Of course, it wouldn't be a high end dining experience if there weren't freshly cut flowers on the table.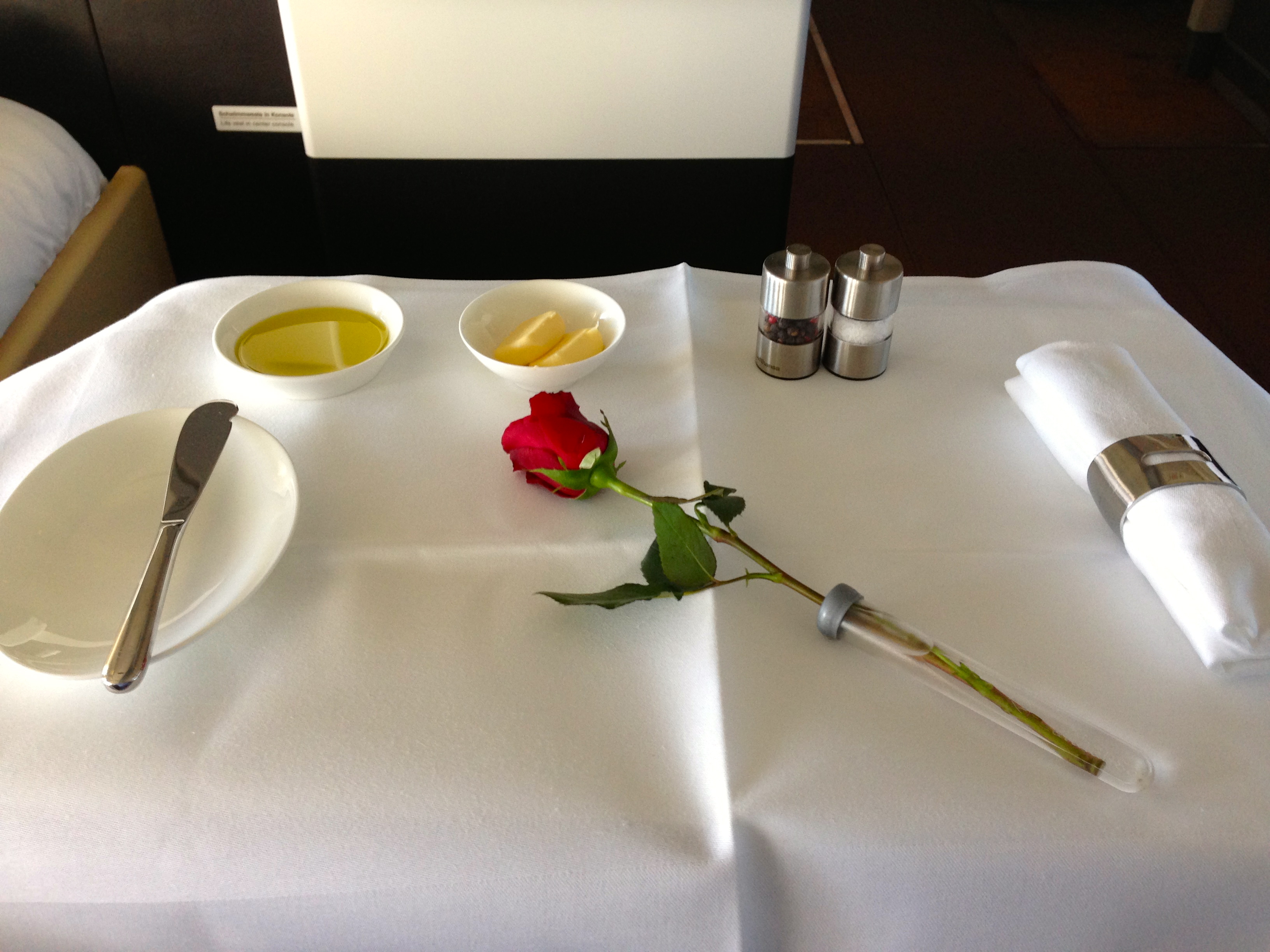 Other nice touches included a separate dipping bowl for olive oil and the individual salt and pepper shakers.  No, I didn't pocket them. I already had my Lufthansa Rubber Ducky as a souvenir!  Plus, the garlic bread wasn't too shabby either!
I also figured I'd go all out and have my first taste of Caviar with the Traditional Garnishes.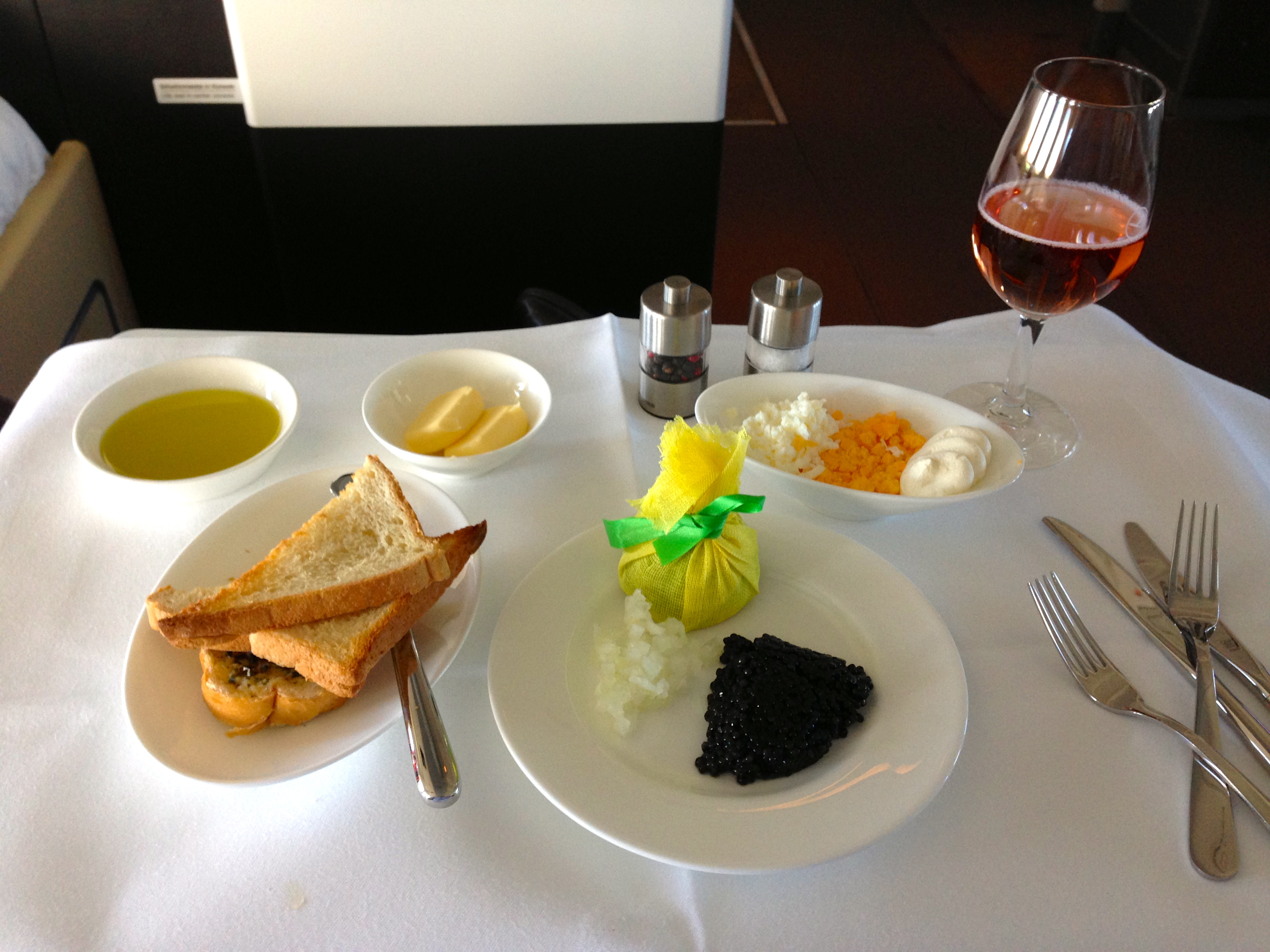 I ended up liking the caviar more than I thought I would.  This is surprising since I'm the guy who gets a bit grossed out when a dusting of tobiko ends up on my California Roll.
If that weren't enough, a Choice of Appetizers from the Service Cart was on the way.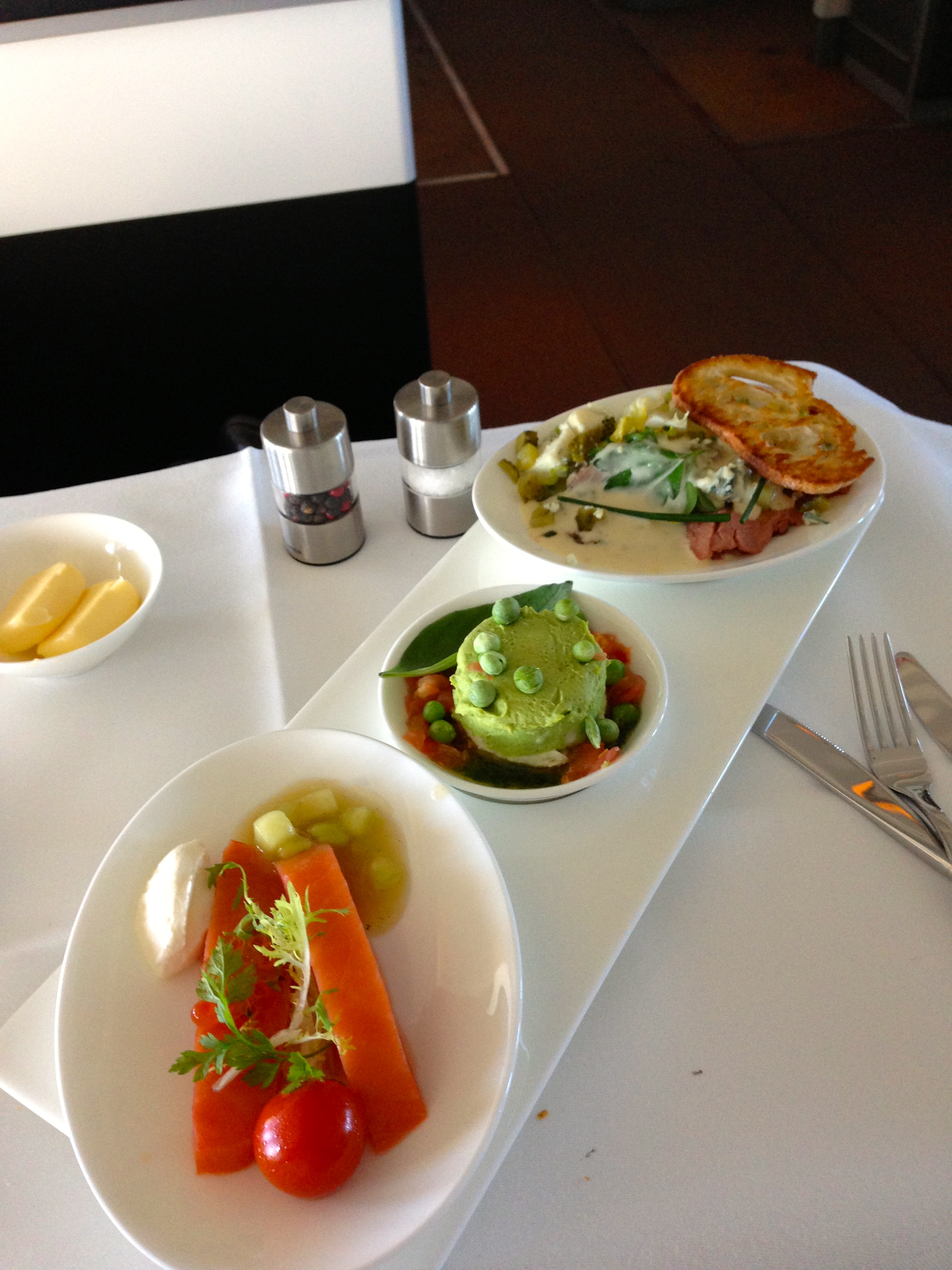 I went with the Marinated Norwegian Salmon with Lime Cream and Keta Caviar, Herb Crusted Tenderloin of Beef with Caesar Salad and Green Pea Mousse on Buffalo Mozzarella Cheese in Tomato Basil Vinaigrette.
At this point I was started to get both full AND tipsy.  Remember, we just had a meal of Wiener schnitzel with a bottle of prosecco in the First Class Terminal.  Of course, I decided to "take one for the team" and forged ahead with the Main Course.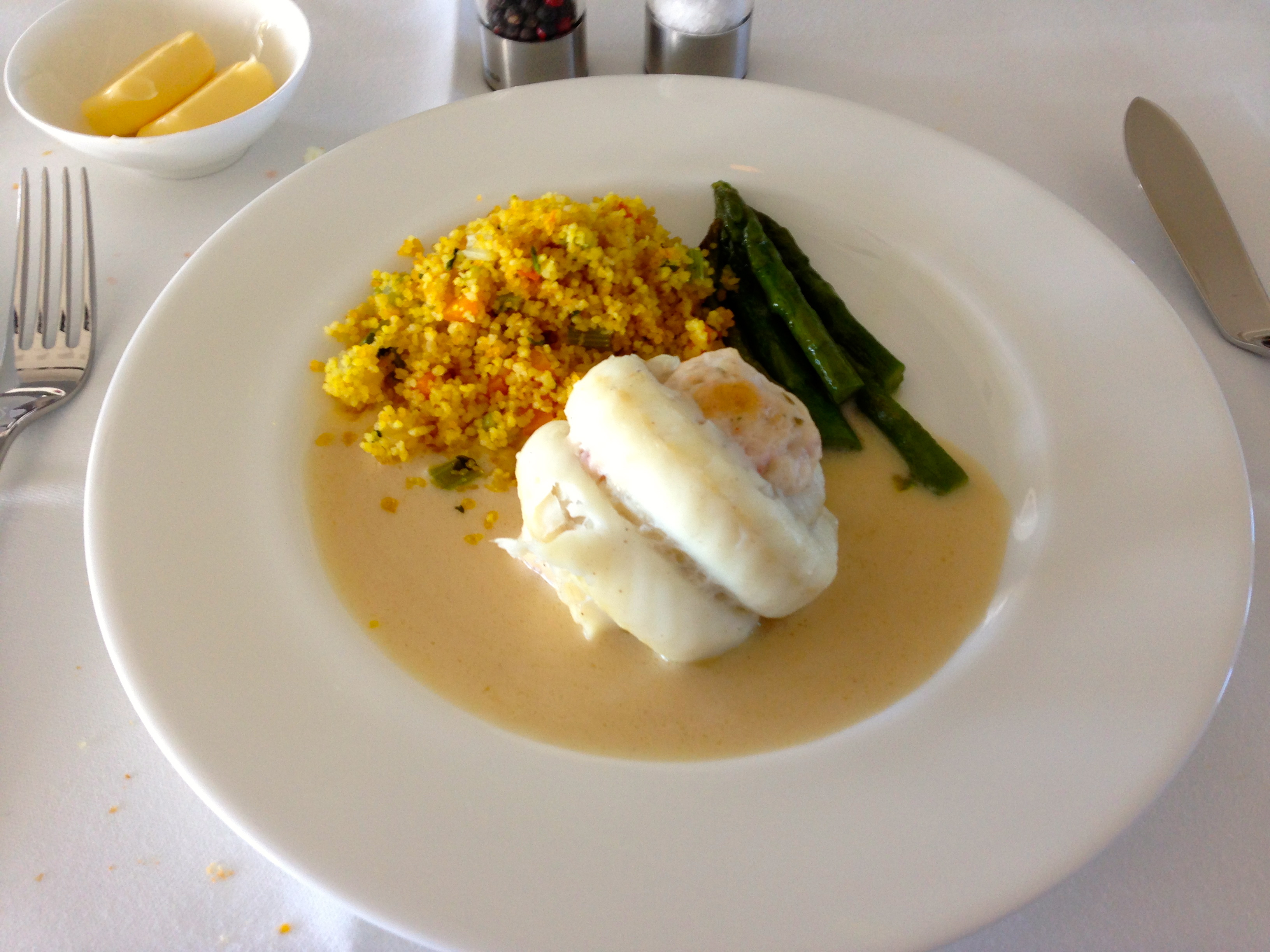 Since I wanted a "lighter" meal I opted for the fish course which consisted of Sole in Lemon Sauce filled with Lobster accompanied by Green Asparagus and Couscous.  The fish was tender and not dried out and the veggie was surprisingly fresh tasting.  However, the lobster seemed a bit chewy.  Overall, the meal had more of "neutral" flavor and consistency.  Not that I'm complaining … hey, it's still lobster at 30,000 feet!
Of course, there's always room for dessert …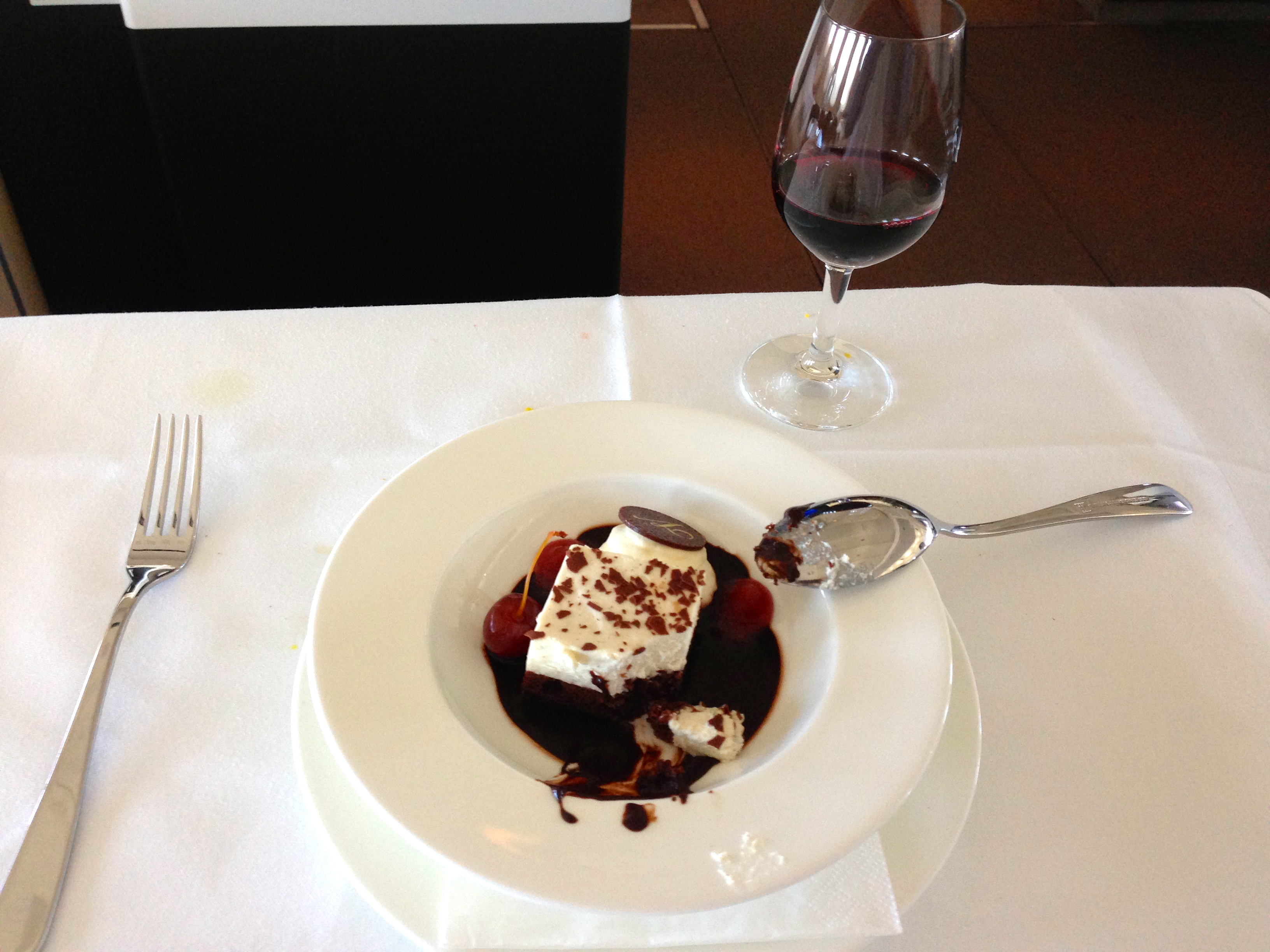 Feeling dark and luscious I went for the Black Forest Cake "Joachim Wissler" with Chocolate and Licorice Sauce and paired it (very nicely!) with some Niepoort Portwein LBV Port. I was in a full-on feeding frenzy at this point so I'm glad I was able to take a photo prior to inhaling this course.
I decided to wind things down with some Baileys and a few chocolates I chose from a selection offered by the Flight Attendant.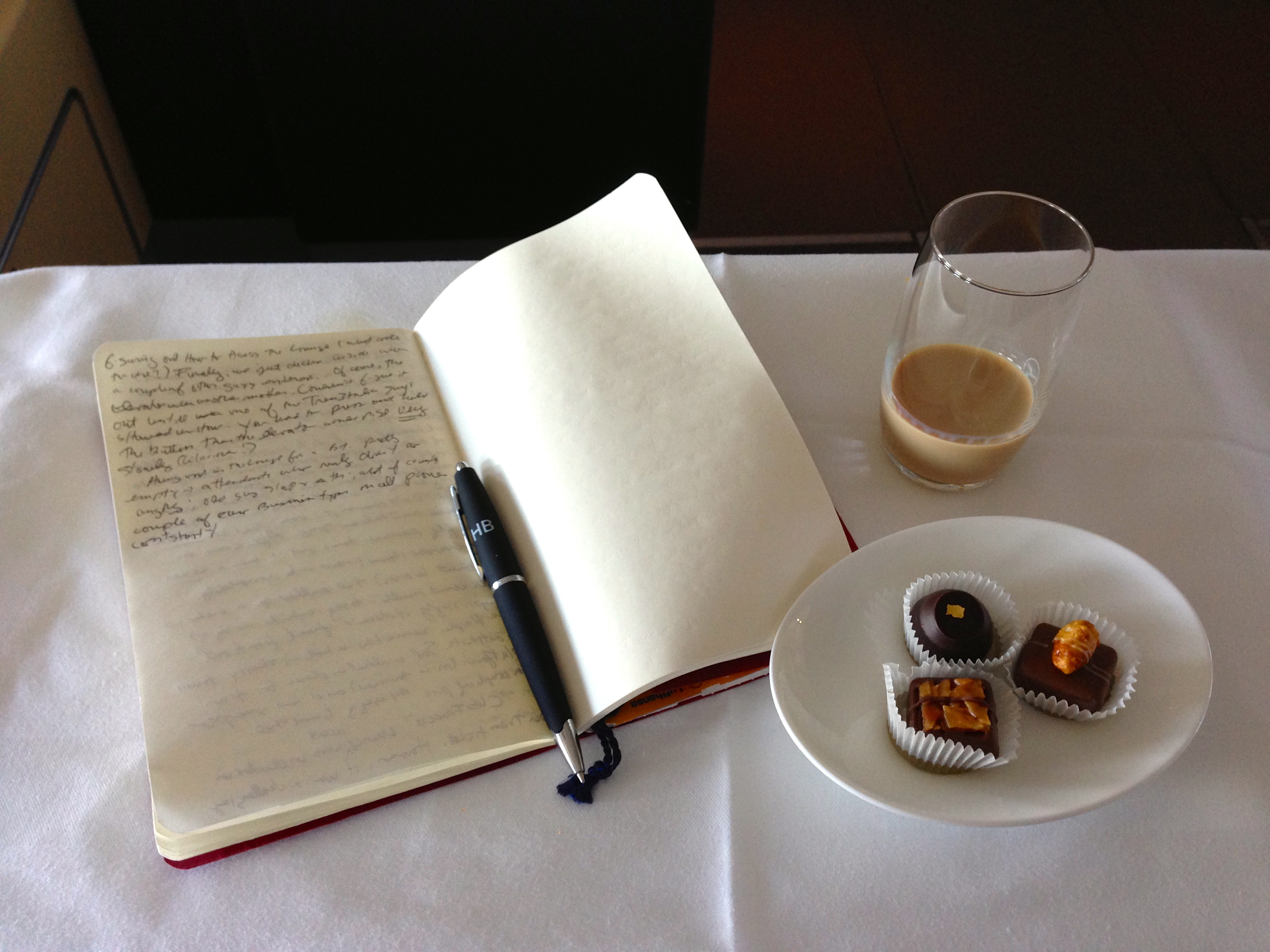 Of course, I restrained myself and maintained an appropriate sense of decorum by NOT going through the box and squeezing each piece to figure out which ones had nougat in them.
At this point, I fully intended on taking some time to write in my travel journey.  However, with my eyes getting heavy I decided it was time for a nap.  Earlier in the flight, we were offered a set of van Laack cotton pajamas consisting of a pair of beige bottoms and a button up charcoal grey top.
The PJs are pretty comfy and I've already spent a couple of lazy Sunday afternoons lounging around the condo in them.  Yes, you do get to keep them!
I've flown long haul flights in flat bed seats (both in First and Business) in the past.  However, sleeping in a true "bed in the sky" was a really new experience for me.  The mattress was firm yet comfortable.  Despite the fact that my mind was swimming with the thought that "I'm in a freaking bed at 30,000 feet" I did manage to drop off and get about 3 hours of sleep.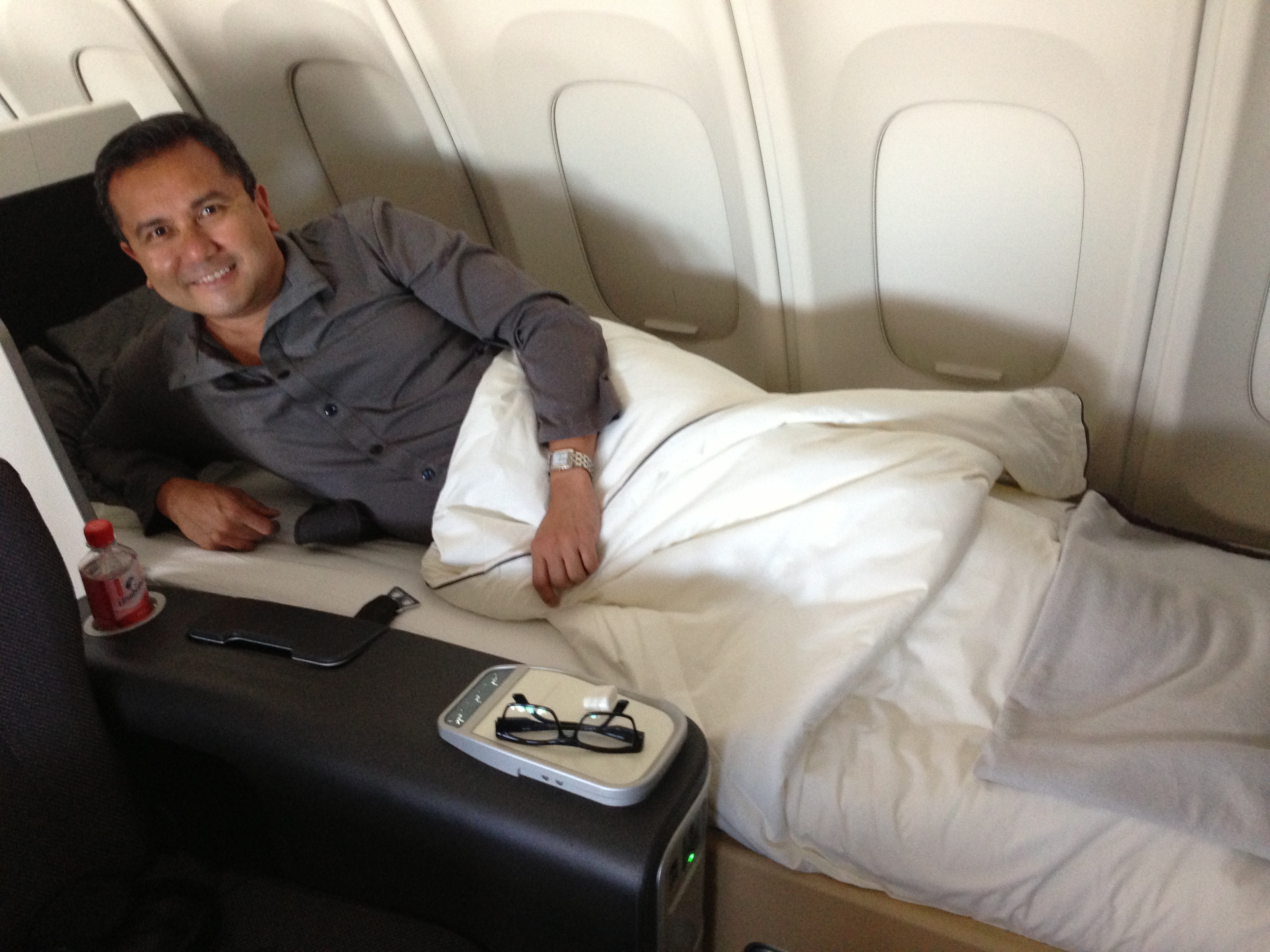 When I woke up it was, of course, time to eat again!  The Flight Attendant rolled out the Service Cart and hand assembled my customized salad selection that consisted of …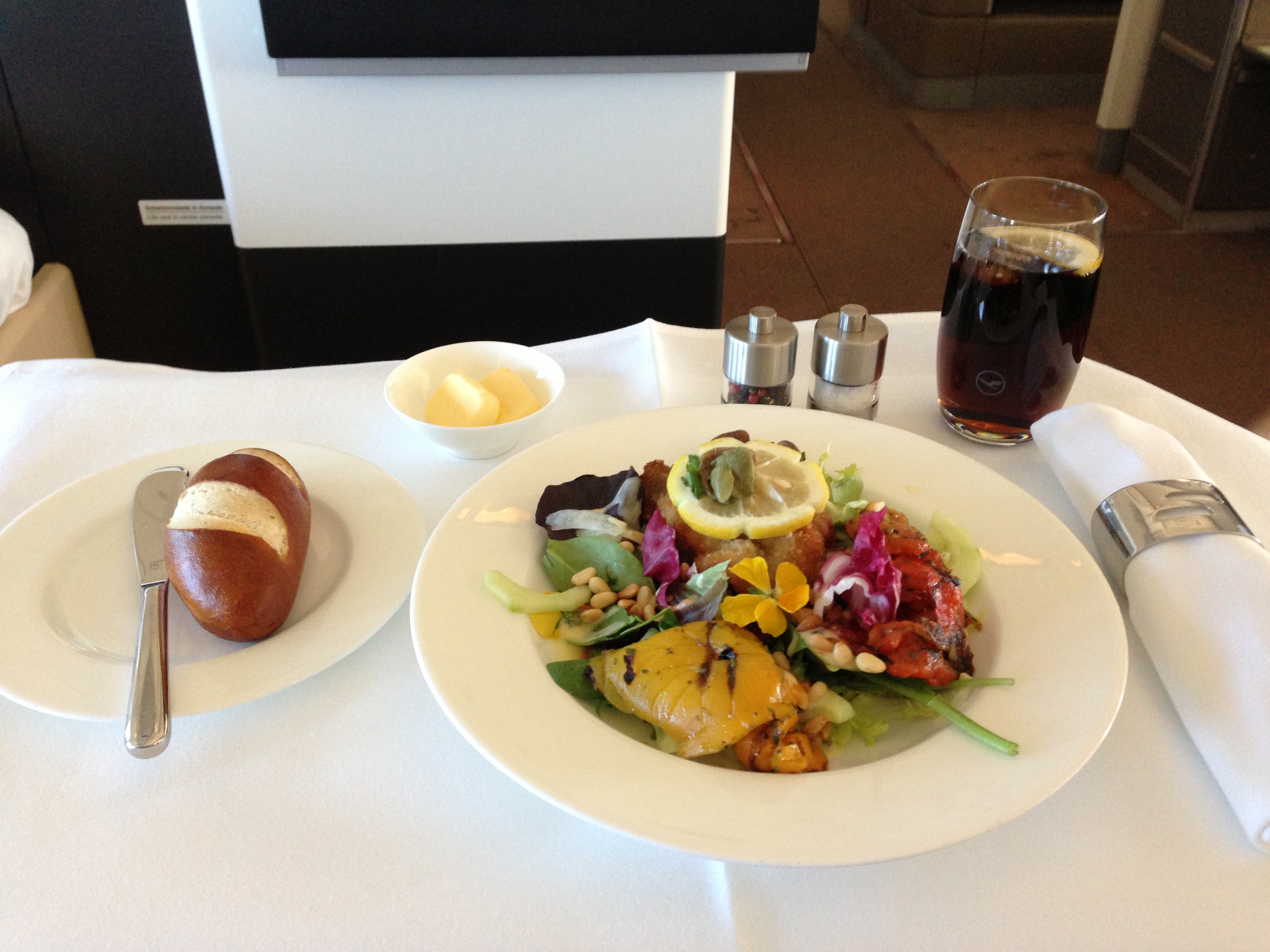 … Lettuce and Wild Herb Salad, Grilled Red and Green Bell Pepper, Olives with marinated Feta Cheese, Roasted Pine Nuts, Brown Mushrooms, Yogurt and Mango Dressing, Escalope of Veal Vienna Style and Pretzel bread.  Finished off with at Pistachio Tart with Nuts for dessert.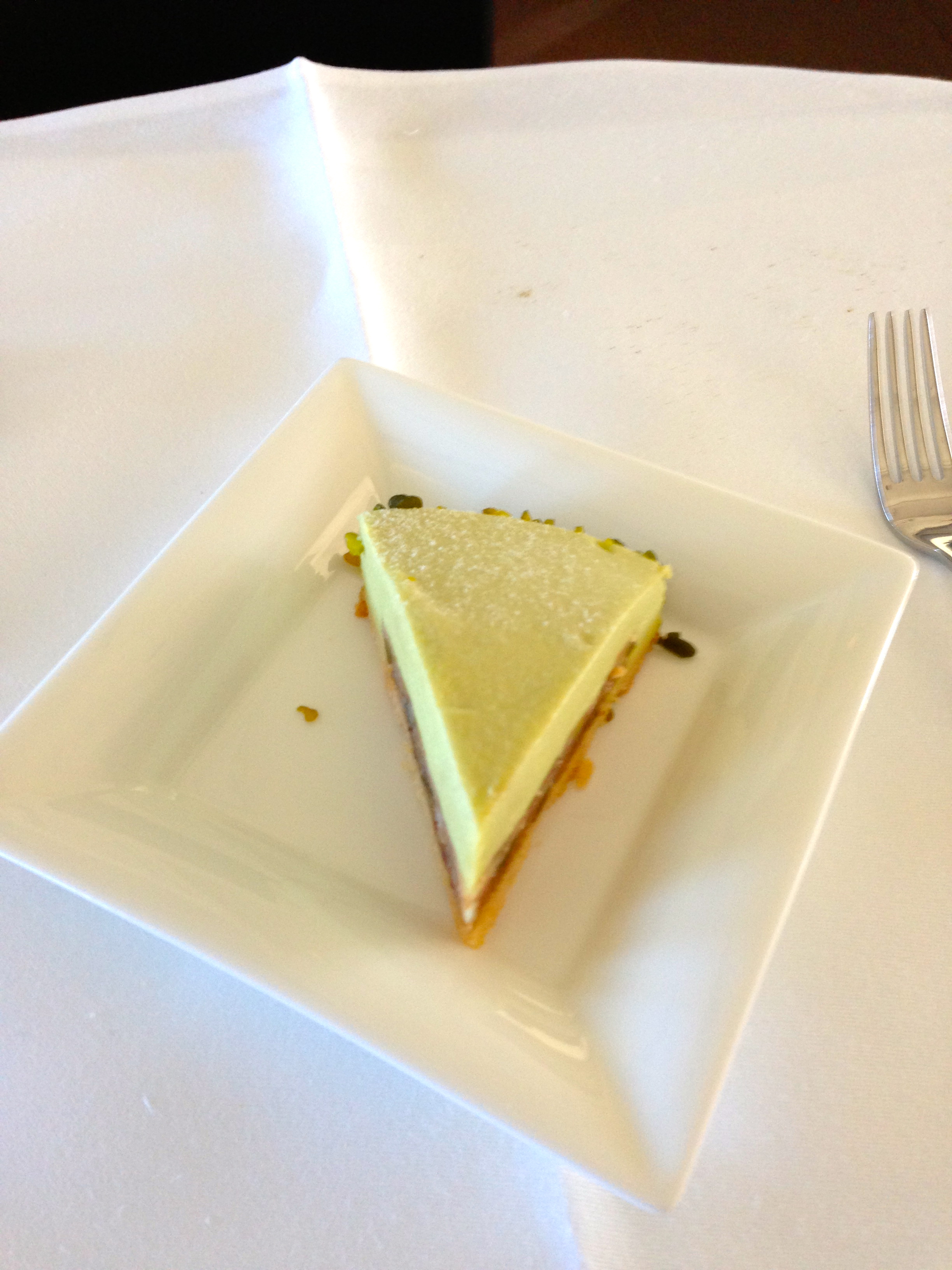 Of course, all good things must come to an end.  As our flight made its descent towards Chicago, the Purser once again came through the cabin and thanked us individually for flying with Lufthansa.  She was, yet again, waiting for us at the foot of the stairs where she held back the Business Class passengers so that we could exit the plane first.
I have to admit that I nearly froze as I approached the cabin door.  I wasn't quite ready for all of this to end. Could I really face the Real World again?  After my Lufthansa First Class experience it has been hard adjusting to normal life. I was almost late for work one day as I sat in our condo waiting for our Doorman to come collect me, escort me to a sedan and drive me to the corner.  Of course, once there I would expect to see my personal Chicago City Bus patiently awaiting my arrival … and of course breakfast would be served onboard.
Sigh, that's just not going to happen is it? Well, I guess I better start collecting some more miles and points! The love affair with Lufthansa continues. Can't wait for our Second Honeymoon.