Wikipedia has this to say about a Kitty:
1) May refer to Cat (animal), a small carnivorous mammal of the subspecies Felis silvestris catus
2) In poker terminology, a pool of money built by collecting small amounts from certain pots, often used to buy refreshments, cards, and so on
3) In Pointing terminology, refers to the place where travel fanatics like me stash their hard earned miles and points
Yes, I have a Kitty (refer to Definition #3 above).  As a matter of fact, I have several Kitties where I store the miles and points I've accumulated.  Oh, and to help fund the dream vacation I mentioned in my last post, I even tapped into the Kitty maintained by my Partner F. You see, in the world of Pointing it pays to diversify AND join forces to achieve your travel goals.
For F and I, United is our preferred airline.  The carrier's MileagePlus program is one of the industry's most versatile frequent flyer programs.  Here's what is currently in our MileagePlus Kitties:
Me:      100,323 Miles
F:           95,103 Miles
How did we get here? Well, part of those balances came by travel the old-fashioned way – BITS ("Butt-in-the-Seat").  However, the vast majority of those miles were earned through the use of miles and points earning credit cards.  Check out my earlier post on What's In My Wallet – My Workhorse Cards for how your everyday spending can rack up your points totals pretty quickly.
In that post, you'll see that MileagePlus isn't the only program that we're using.  Another foundation of our Pointing strategies is the Chase Sapphire Ultimate Rewards program. Here's what is currently in our Ultimate Rewards Kitties:
Me:      22,051 Points
F:         71,143 Points
Ultimate Rewards points are incredibly useful in that they can be transferred to a wide array of airline and hotel programs. There are a lot of options for how you can structure an award.  In other words, there's more than one way to skin a cat. Ewww … probably not the best analogy to use in feline-themed blog post.
So, how would this all work if you wanted to structure an award?  Well, let's say that F and I wanted to spend Valentine's Day in Paris.  Two Business class tickets require 200,000 MileagePlus miles total.  In fact, here's what's available (check out how much these tickets REALLY cost!).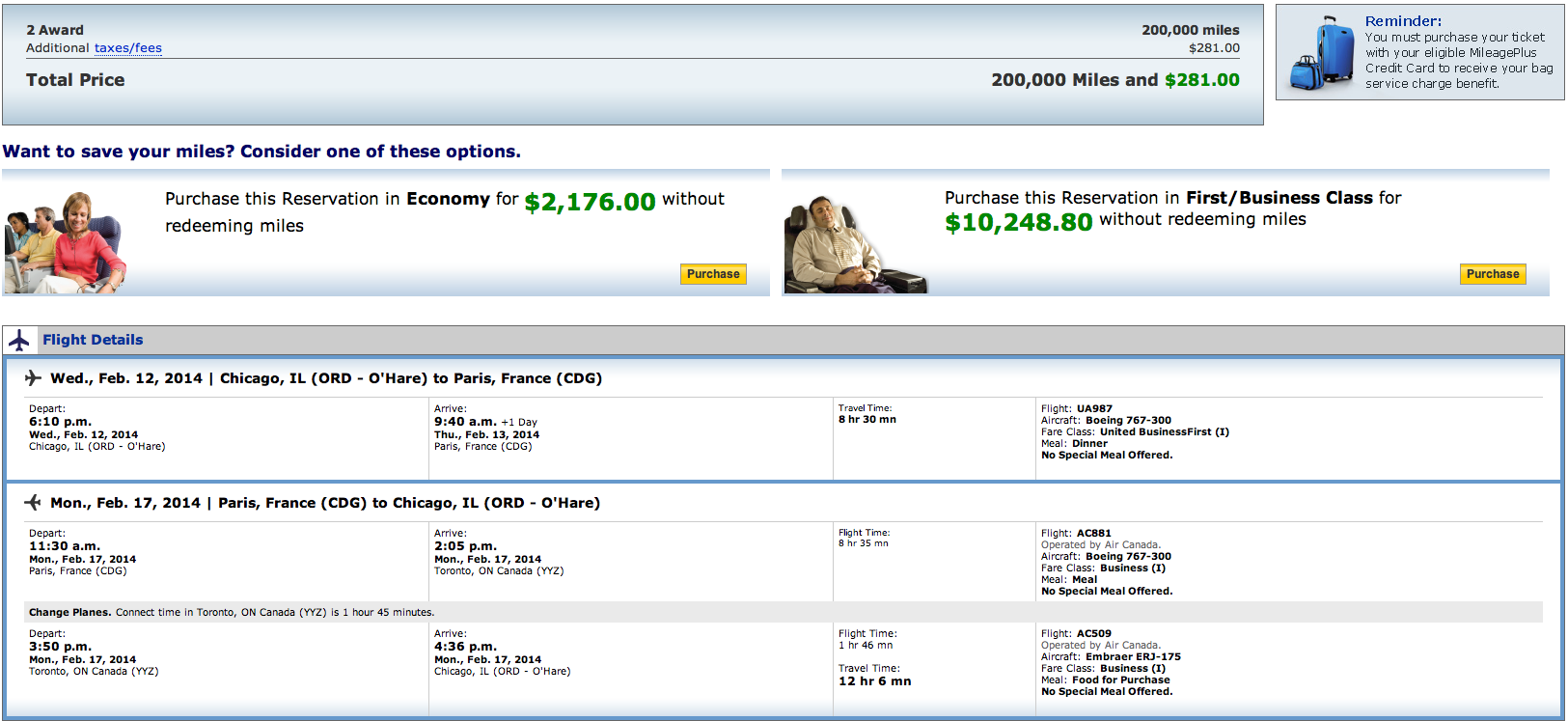 Since we need to top off F's account he could transfer 5,000 Ultimate Rewards points on a 1:1 basis into his MileagePlus account.  This would give us enough miles to book those two Business Class tickets.
Of course, we'll need a place to stay.  So, with the remaining miles we could book 4 nights at the Park Hyatt Paris for 88,000 points by transferring what we need from our Ultimate Rewards accounts into our Hyatt Gold Passport hotel programs.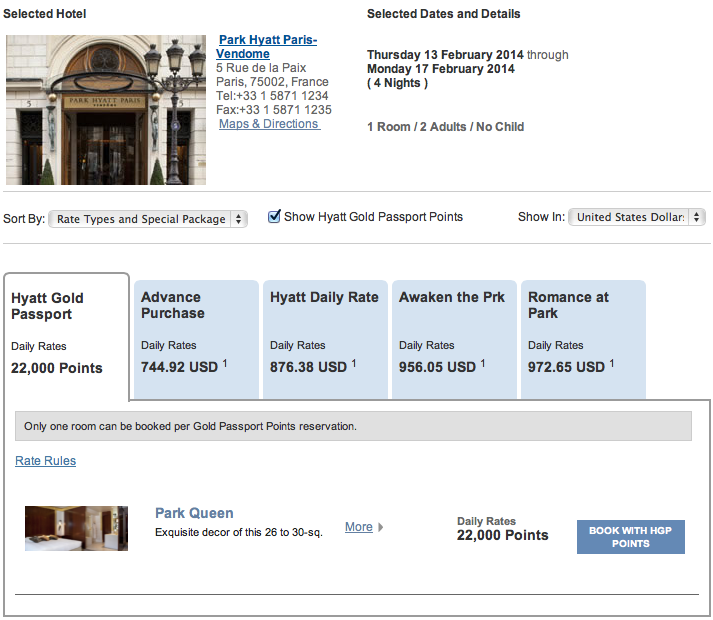 As this example shows, you can mix and match airline and hotel programs by using a combination of both MileagePlus miles and Ultimate Rewards points.  In addition, since United is a member of the Star Alliance airline network, you're not restricted to just one airline.
In general, premium cabin awards get you the most bang for the point buck. However, although, F and I have enough points for 2 Business Class awards, I think we'll be holding out for First Class. You see, for "only" 17,500 more points per person we can go from …
This (United Business Class)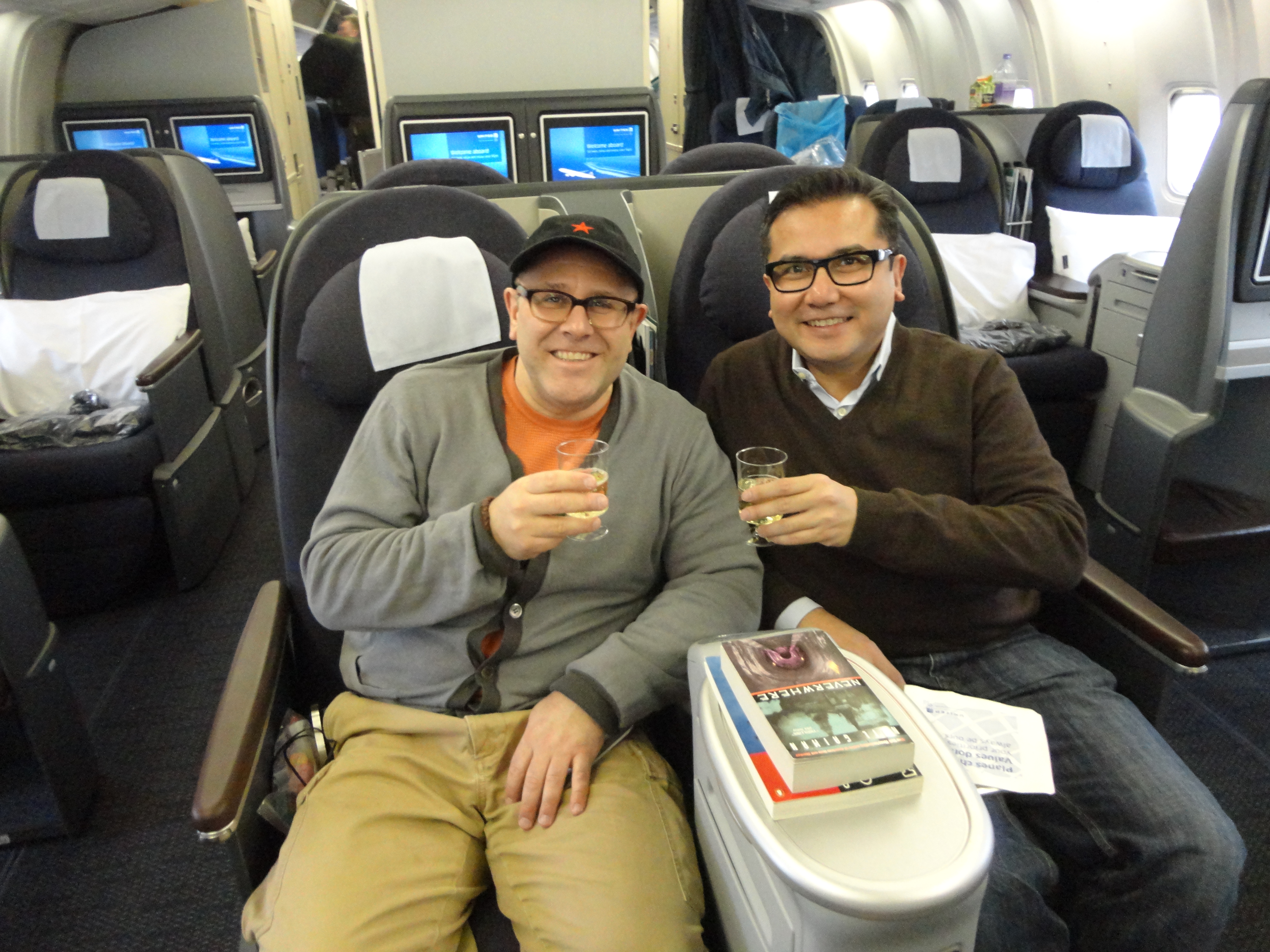 To This (United First Class)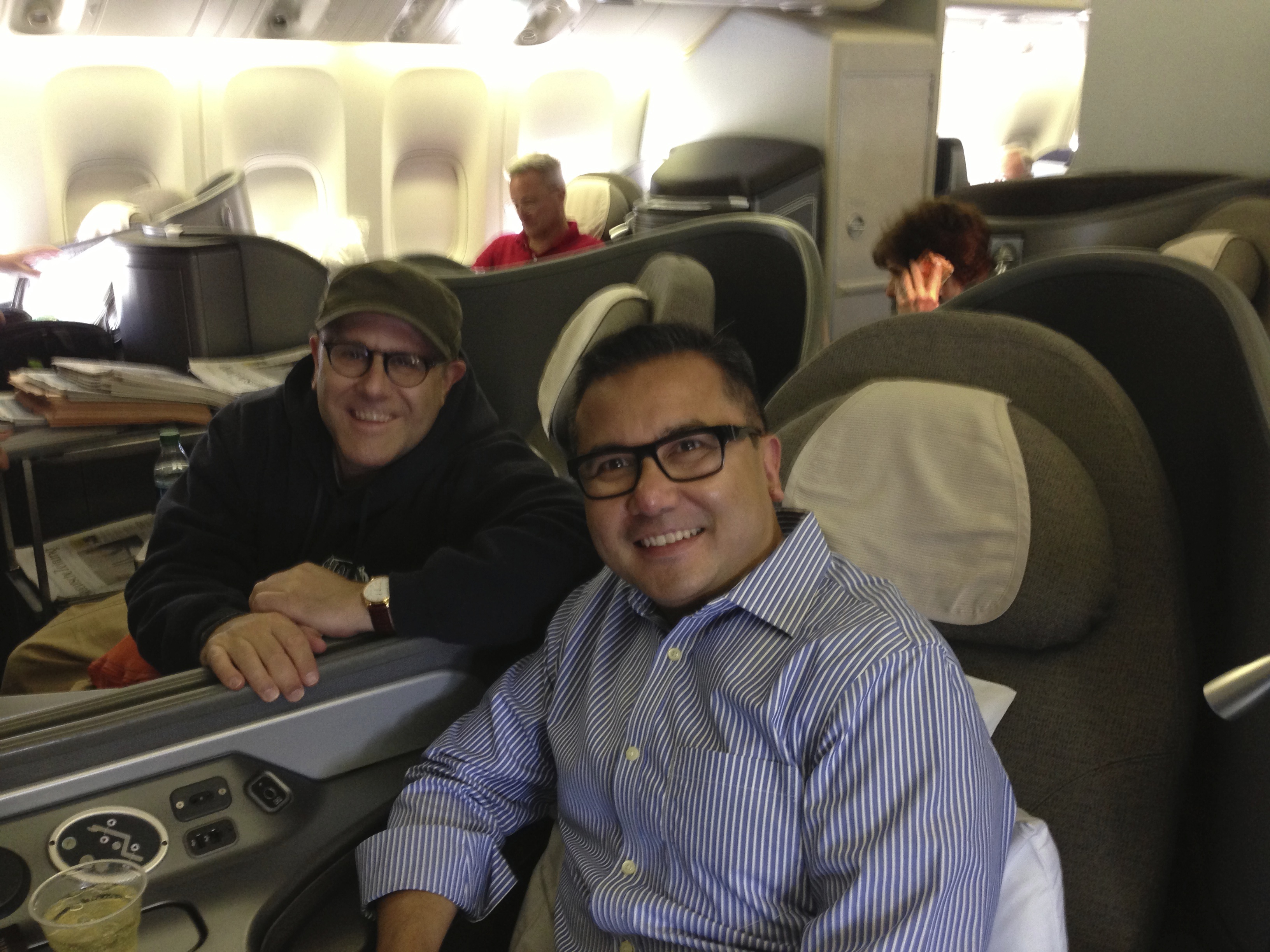 Or if you play your cards right … Maybe THIS (Lufthansa First Class)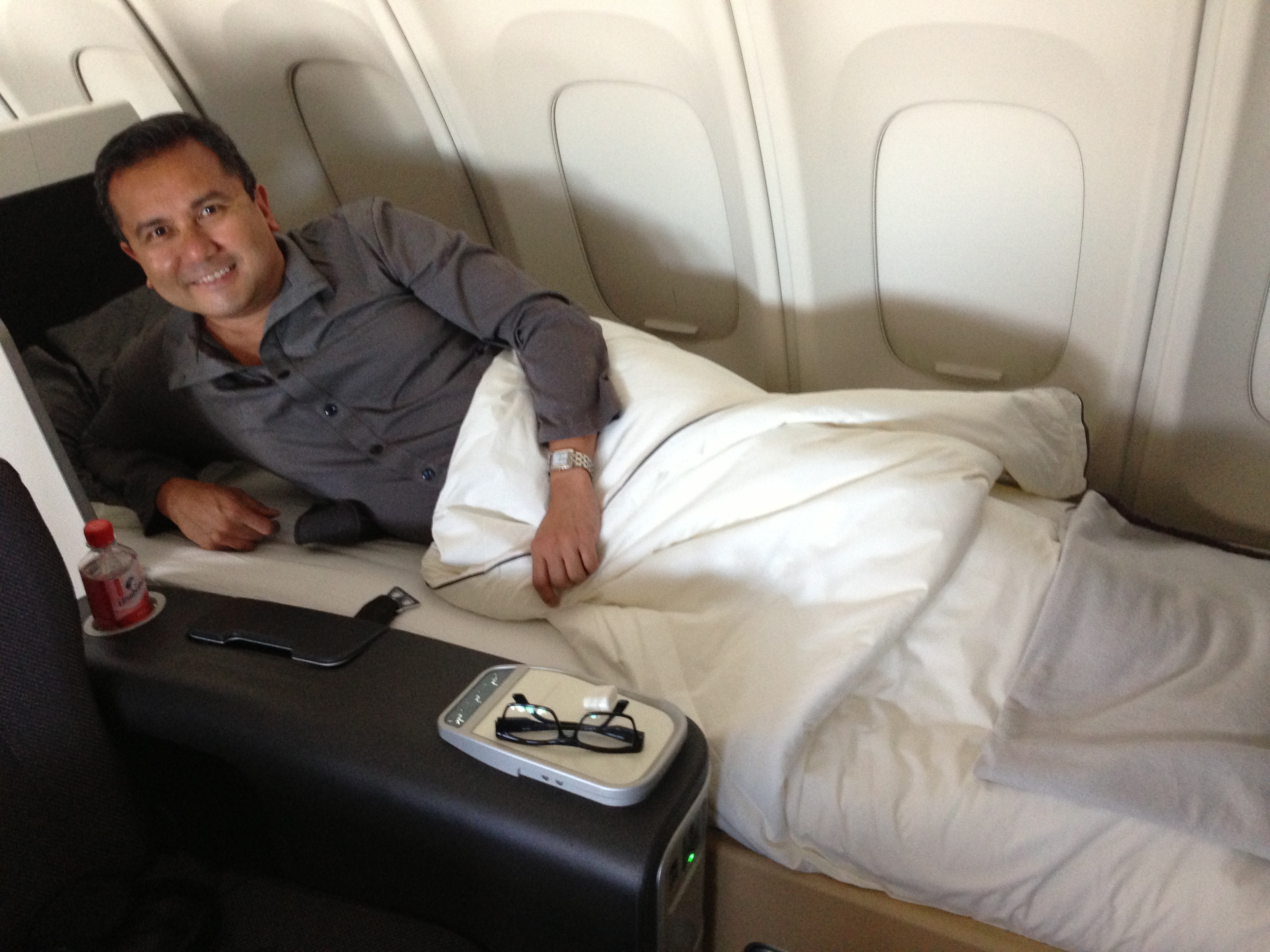 A redemption on Lufthansa First Class is the "Great White Whale Award" for many in the miles and points world.  It's out there …. But you have to jump through a few hoops (or be lost at sea for several years) to achieve it (sorry for going overboard with the Moby Dick references).  I'll recount how I was able to do this in a future post so stay tuned!
However, there's a new award redemption which I predict will be the next "must have" for miles and points collectors. Eva Air (of Taiwan) has recently joined the Star Alliance.  As a result you should be able to redeem for awards for this ….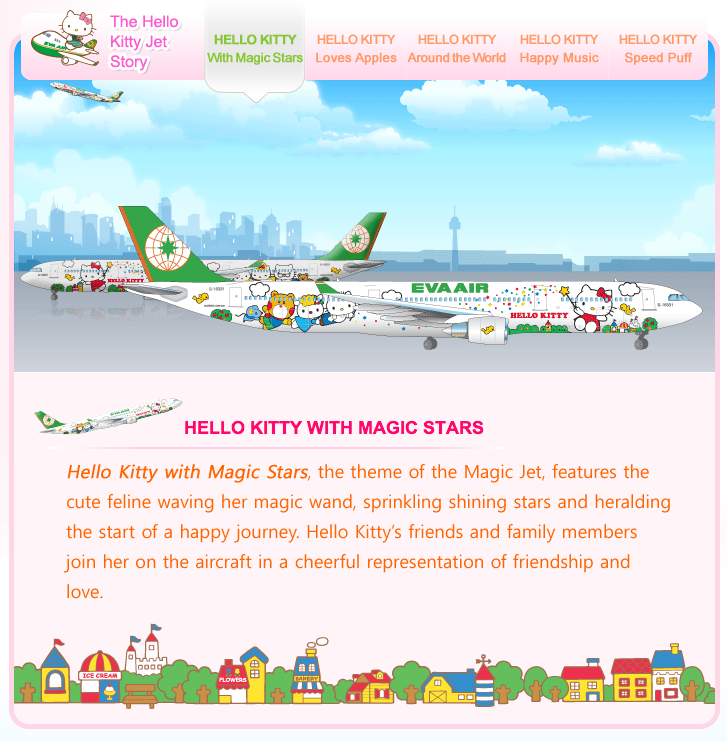 I MUST fly this plane one day.  Of course, I do need to warn you.  Five minutes listening to the Hello Kitty music on the website is equivalent to riding Disney's It's A Small World ride for 10 hours. You will NOT be able to get this tune out of your head. You'll also have an incredible urge to eat cotton candy and sushi formed into "cute" shapes. Mmmm … pass the goldfish shaped wasabi … I think it's time for lunch!