I love flying in a premium cabin.  In particular, the comfort of a spacious seat on a long flight makes the travel experience so much more civilized.  In addition, the ability to get some true sleep on an overnight flight allows you to arrive at your destination refreshed and ready to hit the ground running.  Avoiding that first "jet lag" day really helps to make the most of the limited amount of vacation time that a lot of us have.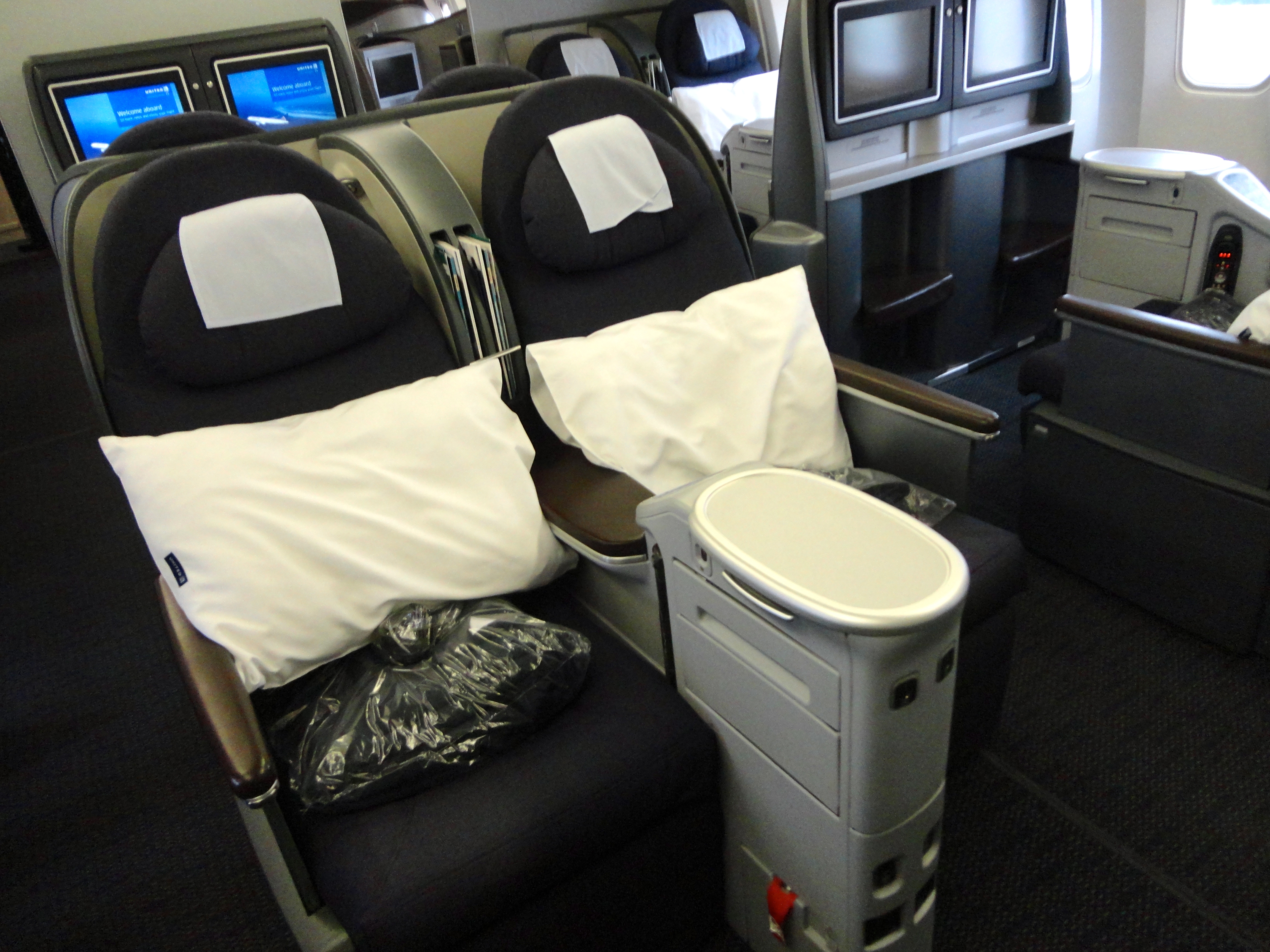 The price of comfort doesn't come cheaply, though. For example, for my upcoming trip to London a round-trip Business Class fare from my hometown of Chicago is currently priced at $6353.  There's no way I could afford to spend that much money out-of-pocket. These high prices combined with my desire to fly "in front" are what motivate me in my Miles & Points accumulation (or as I like to call it, Pointing) efforts.
However, last summer I redeemed a large part of our household Miles & Points balance for a great trip to Italy and London.  In addition, earlier in the year I used up another big block of miles to book us for a winter trip to Thailand.  This "earn and burn" strategy is very much a part of my Pointing philosophy in the wake of a series of major loyalty program devaluations this year. Unfortunately, these great award redemptions also mean that our stock of miles and points are at an all time low. What then, are our options for flying in a little more comfort for our next flight?
The Myth of Sweet Talking Your Way Into Business Class
There's a longstanding belief that by "dressing nicely and asking politely" that you can charm a gate agent into upgrading you into a premium cabin.  I actually was able to do this a LONG time ago (e.g,, back when Friends wasn't running in syndication yet).  However, given the economic pressure under which most airlines are operating today, this method of scoring an upgrade is more of an exception rather than the rule. It fact, it may be more appropriate to include "sweet talking your way into an upgrade" in the "urban travel myth" category.
How Do People REALLY Get Upgraded?
Occasionally, your airline may oversell the Economy class cabin and as a result bump someone up to First or Business class. Alternatively, the carrier may offer a premium class seat in compensation for taking a later flight.  However, these types of situations only arise opportunistically as a result of operational issues and overbooking of a flight.  Most often, unsold space in First or Business Class is given to elite status members of the airline's frequent flyer program.
Buying Your Way Into Business Class
So what are the options for a no-status leisure traveler for upgrading your Economy class ticket? Well, some airlines offer the possibility of using your frequent flyer miles to upgrade into the next class of service. For example, on our upcoming trip to London on United, I could potentially use 20,000 MileagePlus miles each-way for an upgrade from Economy to Business Class.

As you can see, this option involves a co-pay of $550 each way in addition to the miles.  According to The Points Guy, a leading blogger, MileagePlus miles are valued at 1.5 cents per mile. Therefore, in actuality you're paying out $550 + $300 (the value of your MileagePlus points) for a total of $850 for your one-way upgrade for your overnight transatlantic flight (note: in addition to the amount that you paid for your original Economy Class ticket).
Alternatively, you can wait until online check-in for your flight opens up. Airlines will sometimes offer you the opportunity to "buy up" at a discounted rate (without having to use your miles) if they have not yet sold out (or otherwise distributed upgrades to their elite flyers) their premium cabins.  We actually used this method to "splurge" on an upgrade for a New Year's Eve flight to London two years ago for about $630 per person.
Bidding Your Way Into Business Class
A growing trend among major airlines is to "auction" off upgrades to their Business Class cabins.  For example, just last month, Air Berlin announced its "airberlin exquisite" program. This follows on the heels of Austrian Airlines' Smart Upgrade program, which I had already been aware of. As I continued to do a little more research on this subject, it turns out that quite a few other airlines have already rolled out similar upgrade auction programs.  Blogger Bethaney over at Flashpacker Family has in fact compiled a pretty comprehensive List of Airlines That Allow Bidding for Business Class Upgrades. Other carriers in which I'm particularly interested include: Aer Lingus, American Airlines, El Al, KLM, Virgin Atlantic and Virgin Australia. In terms of crafting a bid for these auctions, I'd likely use the numbers I referenced in my United Airline example above as a "what it costs and what I might be willing to pay" benchmark (e.g., something in the $500-800 range for an overnight transatlantic flight).
Would You Really Pay for a "Bump Up"?
Nevertheless, the upgrade options I've discussed don't come cheaply.  At the end of the day you'll have to be the judge of just how much value you put into having a comfy Business Class seat.  Perhaps, a more cost-effective option for dealing with a long flight would be an investment in a high-quality air pillow and a travel companion who doesn't mind you curling up next to them at night.
How about you? Would you be willing to pay for an upgrade and if so for how much?