I love the romance of train travel in Europe.  There's something magical about the concept of seeing the countryside glide by as you listen to the clickety-clack of the wheels on the rails. Hoping to catch a whiff of the nostalgia associated with rail days gone by, I booked my Partner F and I two tickets in Executive Class on Trenitalia's Frecciarossa express train service between Naples and Florence.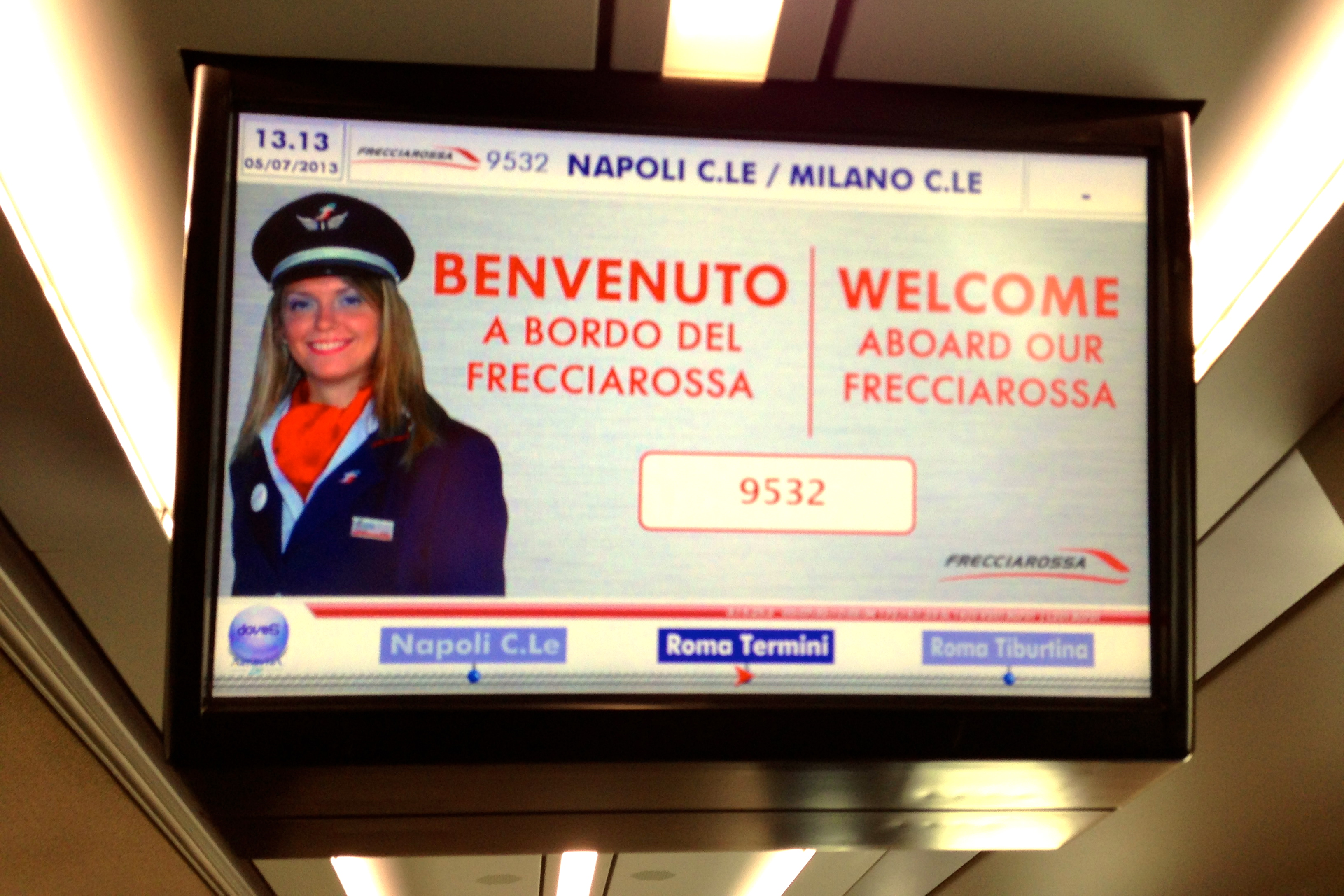 However, in the 21st Century the high-speed train networks knitting the Continent together result in a travel experience that's more Star Wars than Orient Express. Although our journey was fast and comfortable, I wouldn't necessarily put our experience in the "luxury" category. That said, we did get some fun "Facebook shots" out of the deal. Oh yeah, and there was that nice plate of microwave pasta …
Last summer we spent a relaxing week on the Amalfi Coast.  After a wonderful stay at the Hotel Marincanto (see my review Hercule Poirot Should Have Slept Here for more details), we reluctantly bid Positano good-bye. Our driver Salvatore Jr. (see my earlier post on Driving Mr. Daisy for the highlights of the day we spent with him) dropped us off at Napoli Centrale where we were due to catch our train to Florence.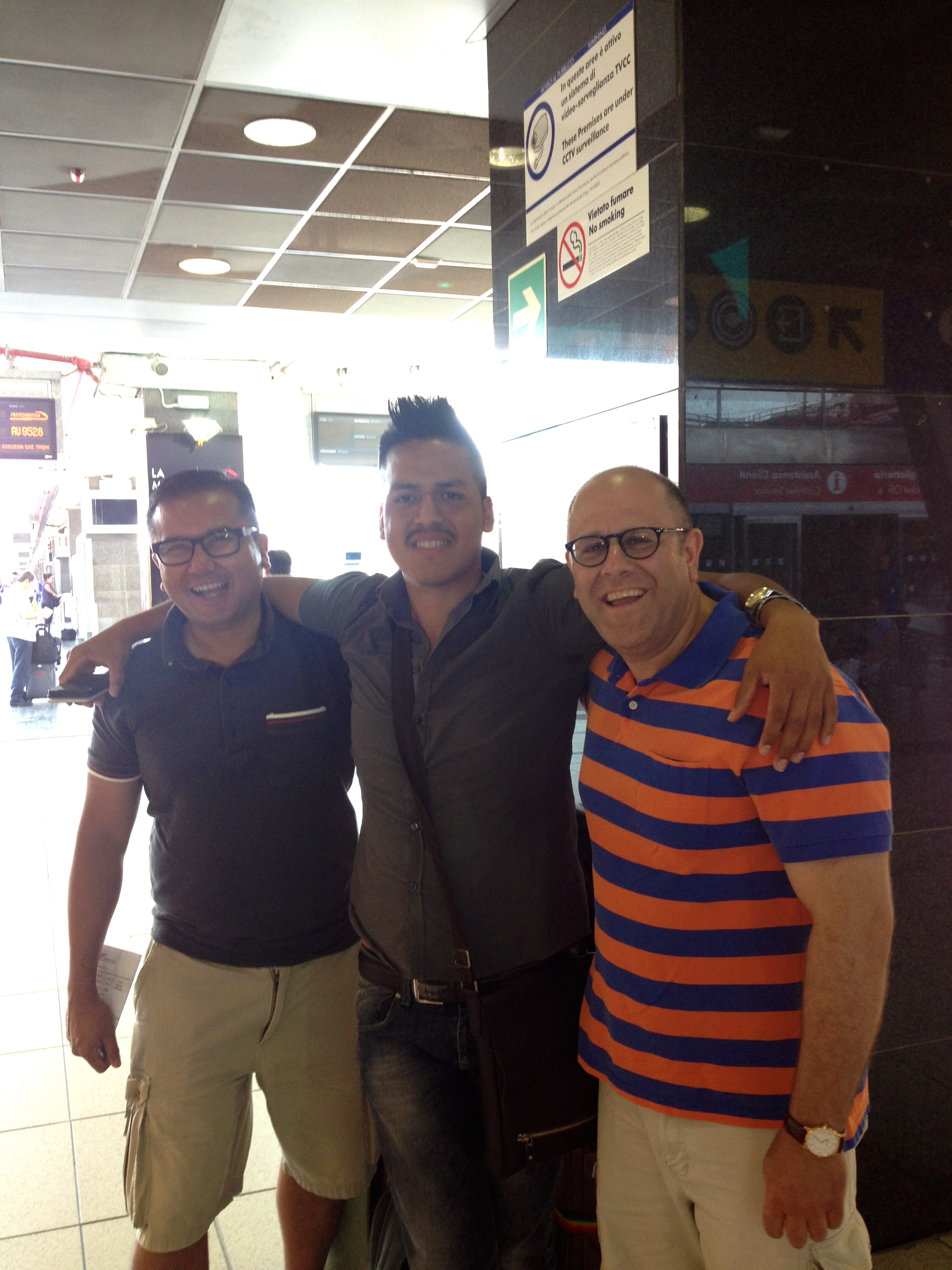 Our Executive Class ticket included access to the station's FrecciaClub lounge. However, getting into the lounge required jumping through a few hoops.  The club was located a level above the station's main floor. I sent my Partner F upstairs to get the lay of the land. After ringing the doorbell several times, it seemed that "no one was home." I then spotted an elevator entrance that required a key card or PIN code to use. I tried punching in the various Ticket Codes and other numbers on the printout of my reservation but to no avail.  Finally, two business guys exited the elevator lobby so we just ducked inside. Of course, once inside I couldn't figure out how to work the lift! Finally, a friendly station attendant informed me that I had to press and hold the elevator button to get it work. Things just got even more comical from there since the elevator cab literally crawled its way up to the second level.  Now realistically, most people would have given up much earlier.  However, I love a good business class lounge and  … well dammit … I was going to get in! Was it worth it? Well, here's what awaited us …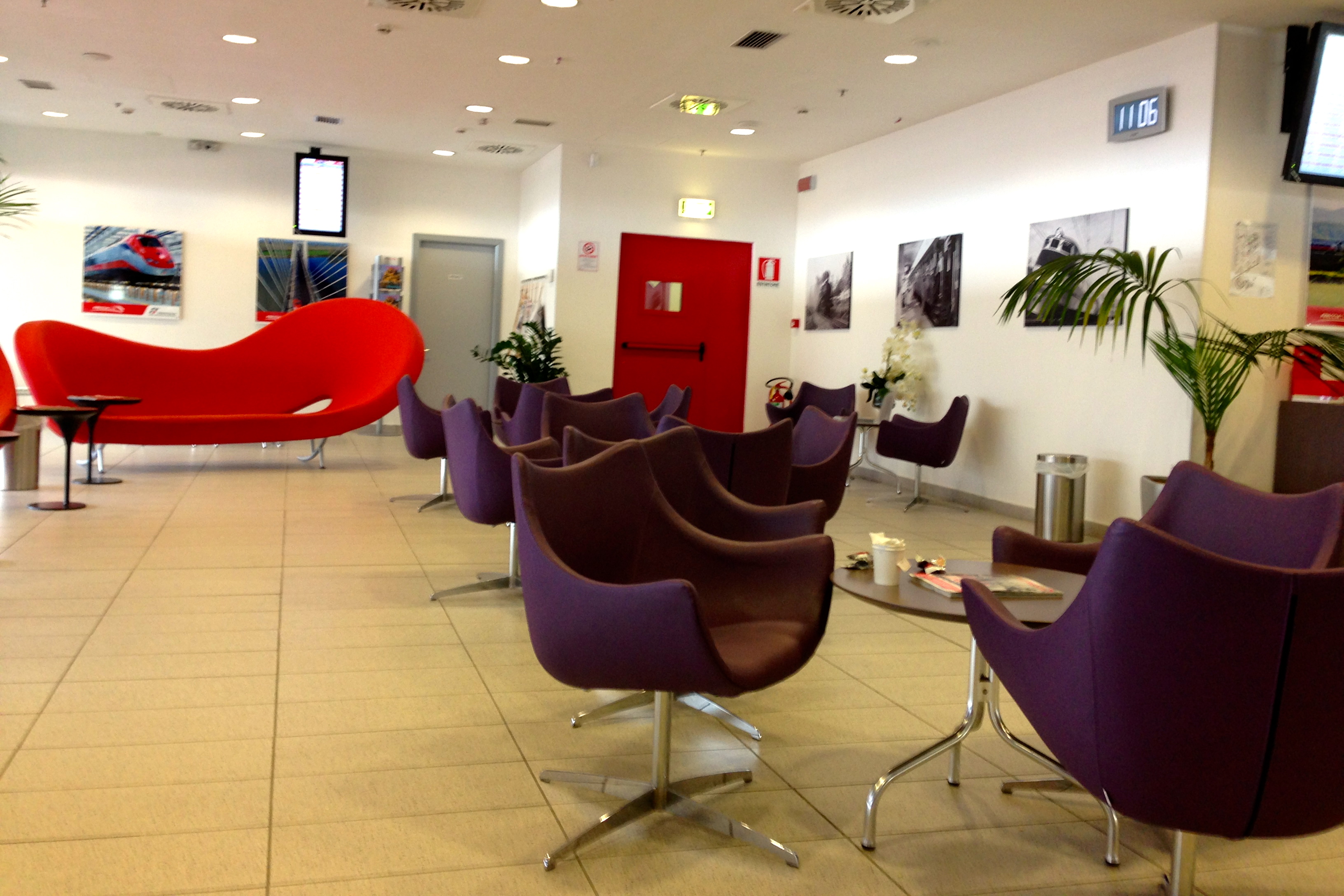 The room was bright and airy and featured some funky oversized modern furniture. An espresso machine, cookies and crackers as well as complimentary cold drinks were available.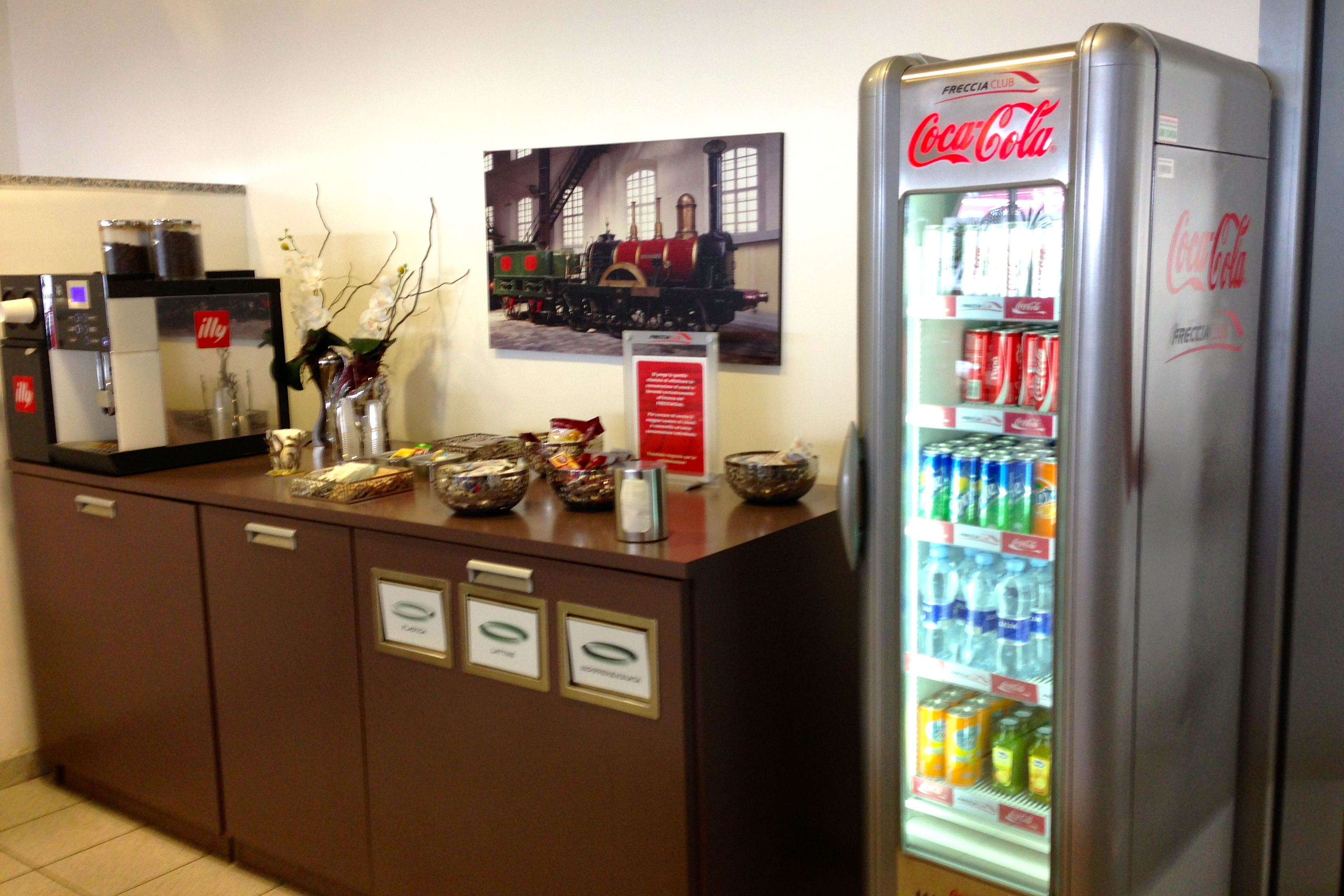 After relaxing a bit, we decided to make our way out to the train since we didn't want to risk any elevator snafus that might occur as we tried to exit the lounge which frankly left me feeling a bit … well, you fill in the blank …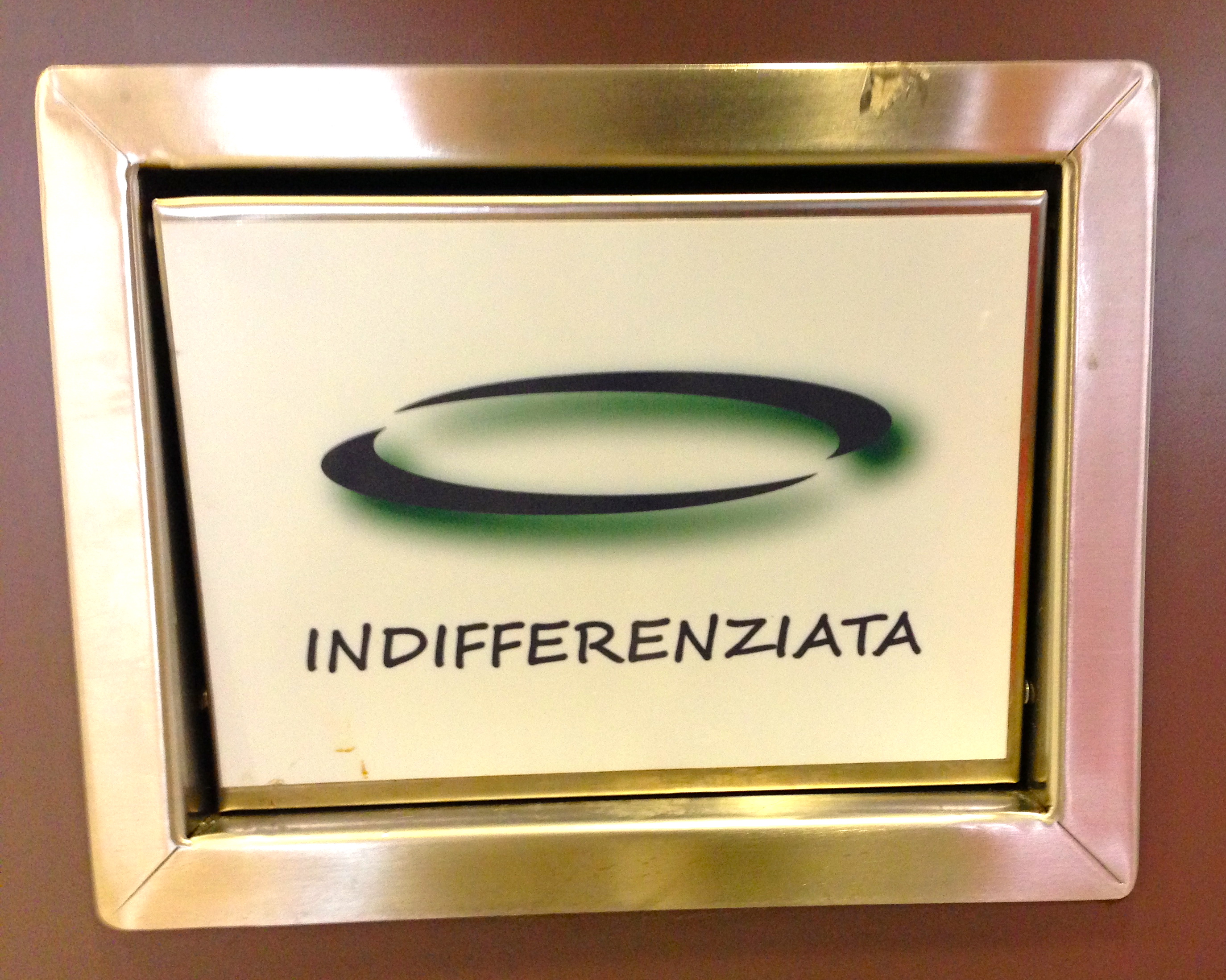 Trenitalia, Italy's national railway company, operates the premier ETR500 Frecciarossa (meaning Red Arrow in Italian) high-speed trains on its main Naples-Rome-Florence-Bologna-Milan-Turin route.  The train can reach speeds of 300 kilometers per hour (186 miles per hour) and the journey between Naples and Florence only took 2 hours and 51 minutes.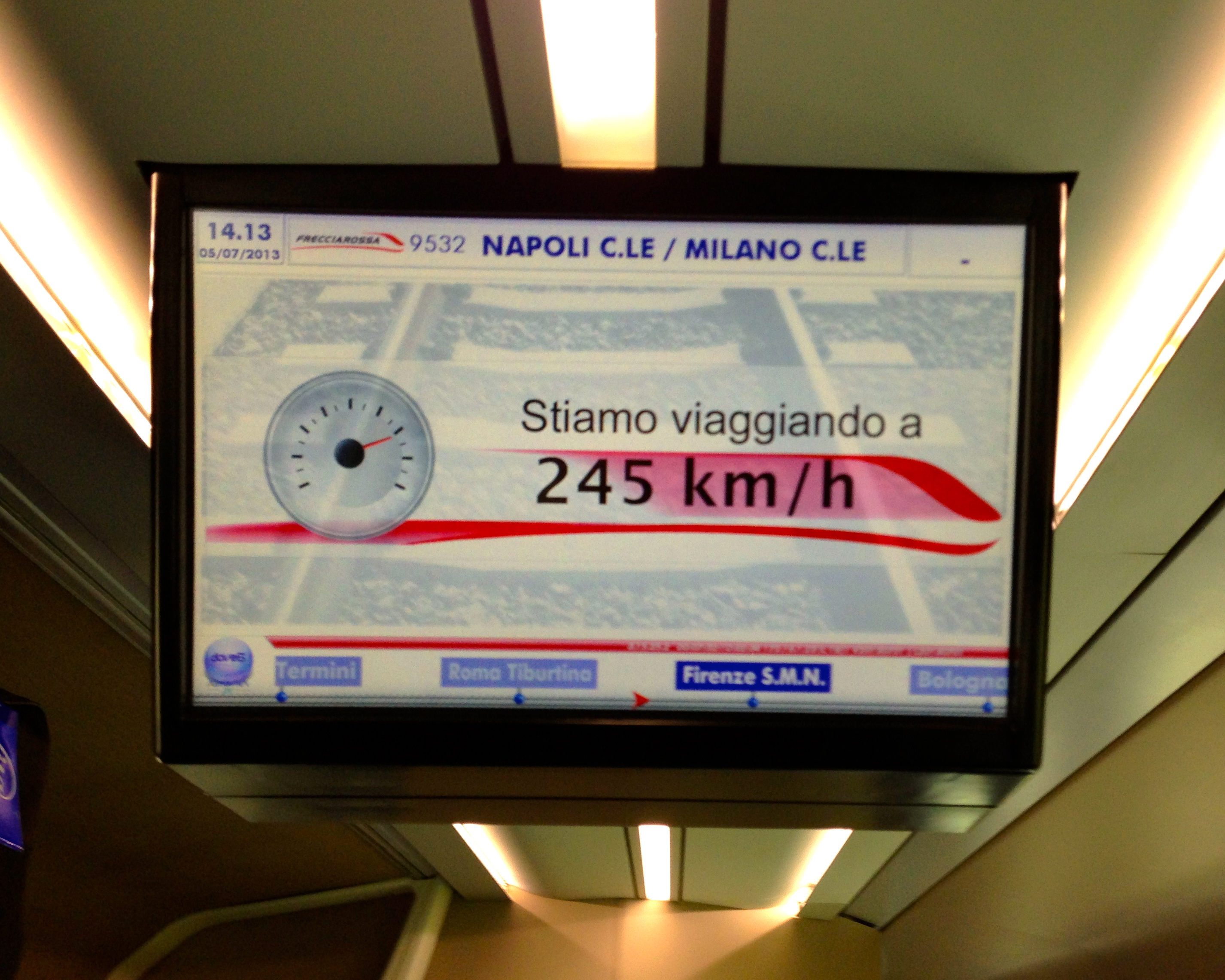 The train features a restaurant car as well as free Wi-Fi. The Frecciarossa offers Standard Class (Second Class), Premium Class (Second Class but with leather seats and a "Welcome Drink") and Business Class (First Class – like Premium Class but with a little more leg room).  However, on this journey we decided to splurge and traveled in Executive Class.  What do you get for the extra money? Well, for starters there is that "Welcome Drink" along with a few nibbles …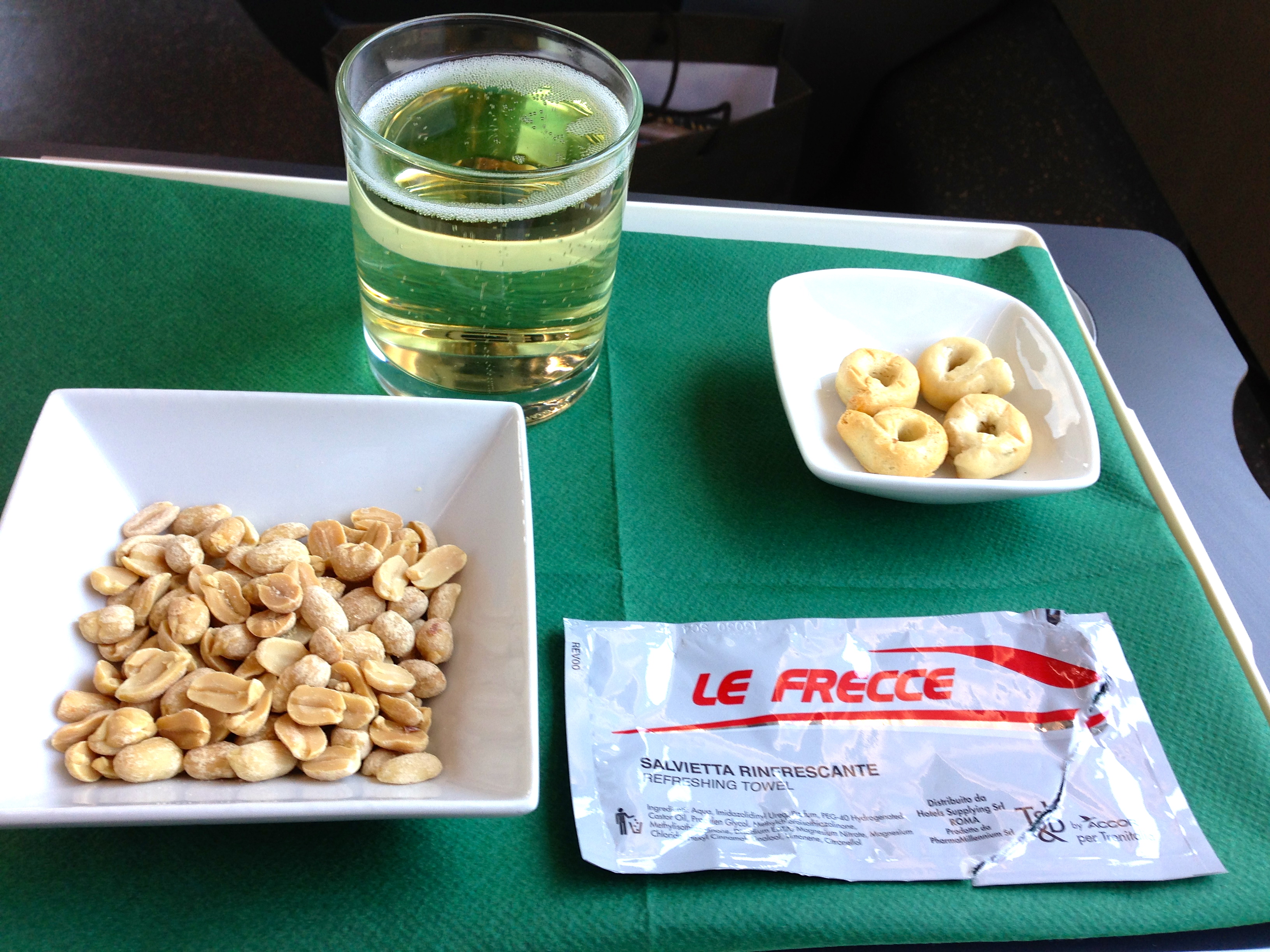 After we passed Rome, a hot meal was served …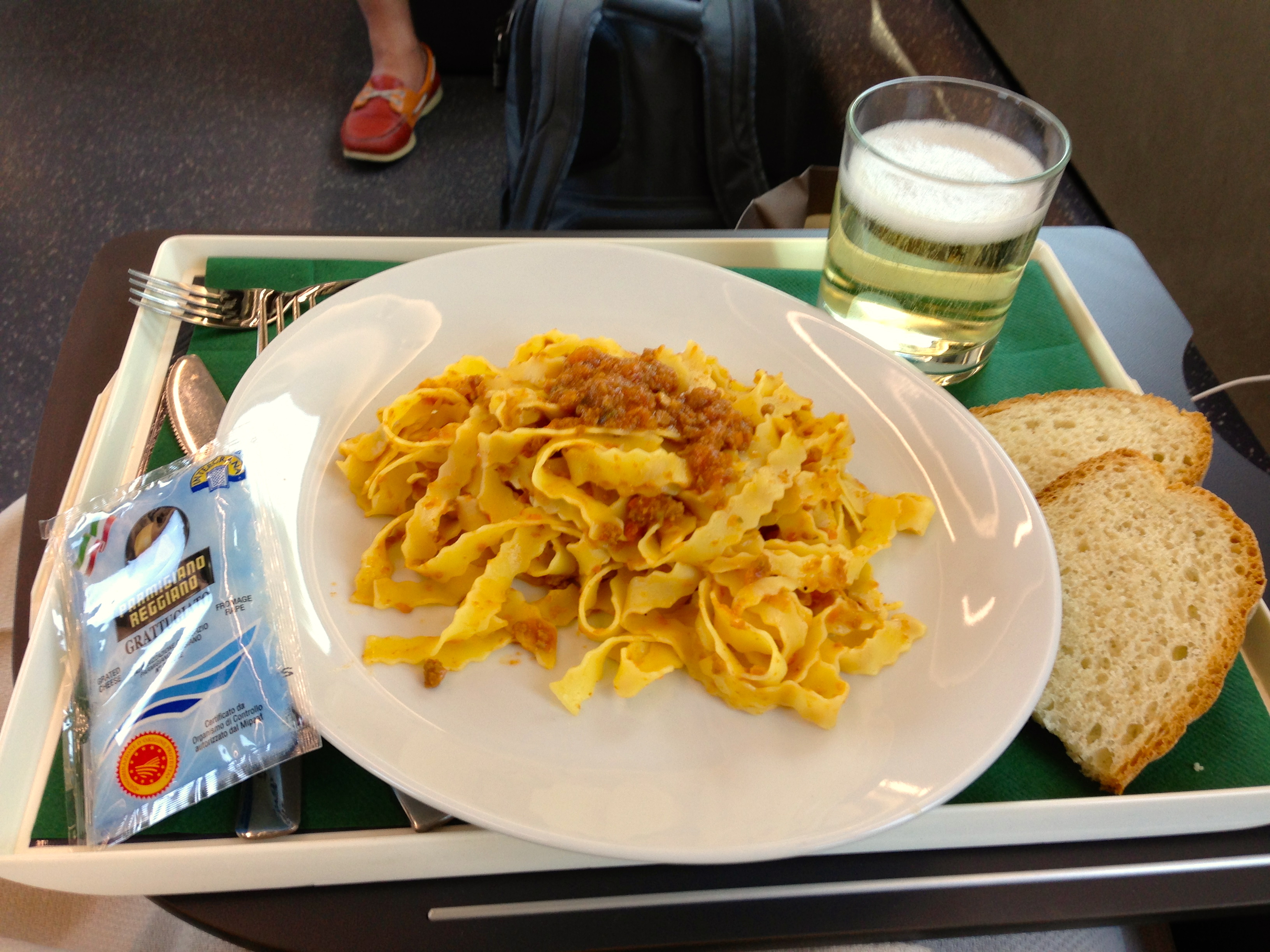 Sigh, believe it or not even the folks at Lean Cuisine could probably teach these guys a lesson or two. Thankfully, Trenitalia was pretty generous with their prosecco pours.
A special feature of our car was a private conference room …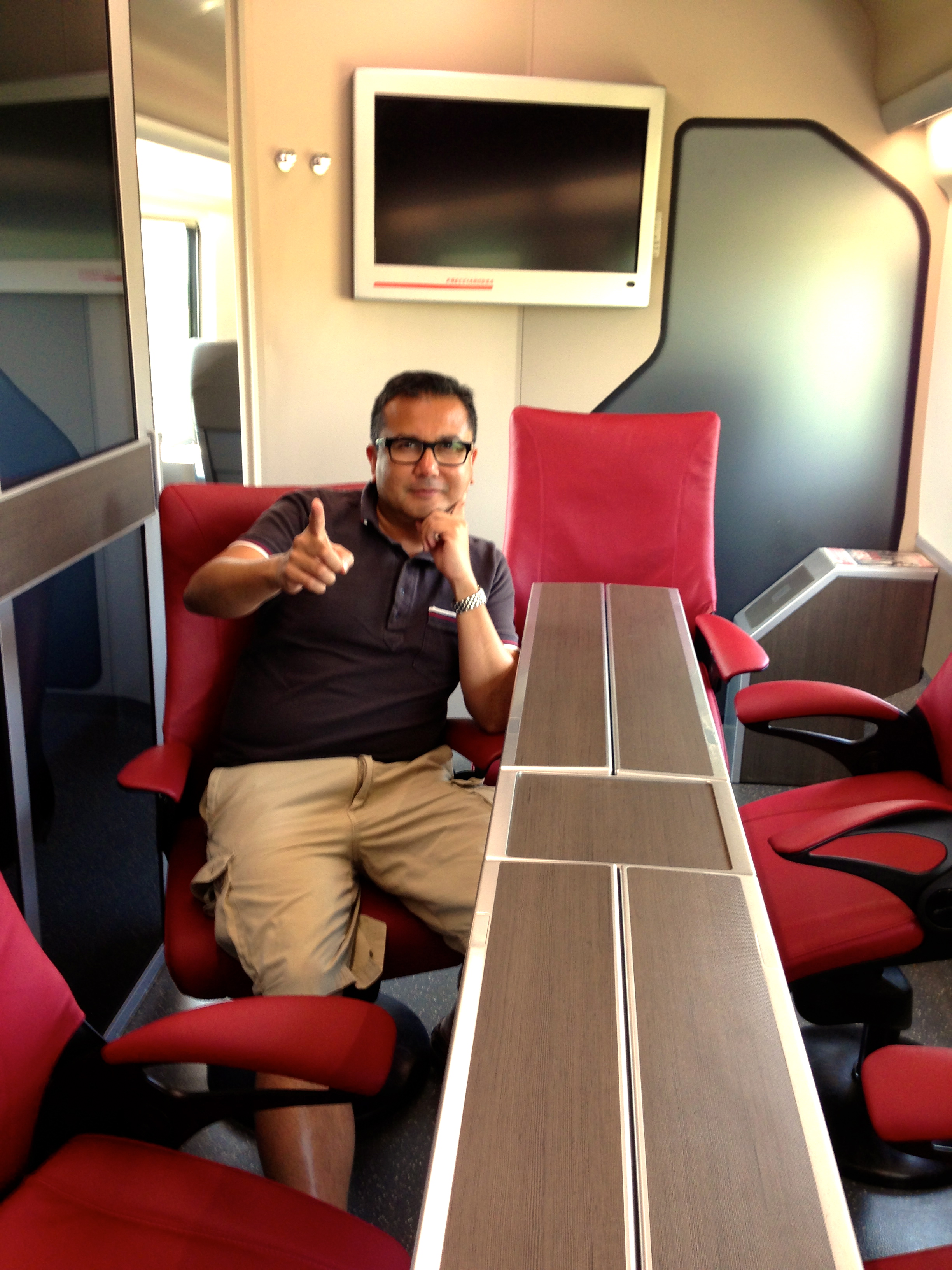 After I was done pretending to address the Board of PepsiCo, the cabin attendant promptly locked up the room … and later used it to take a nap. With nothing left to amuse ourselves, we settled into our seats which admittedly were very comfortable …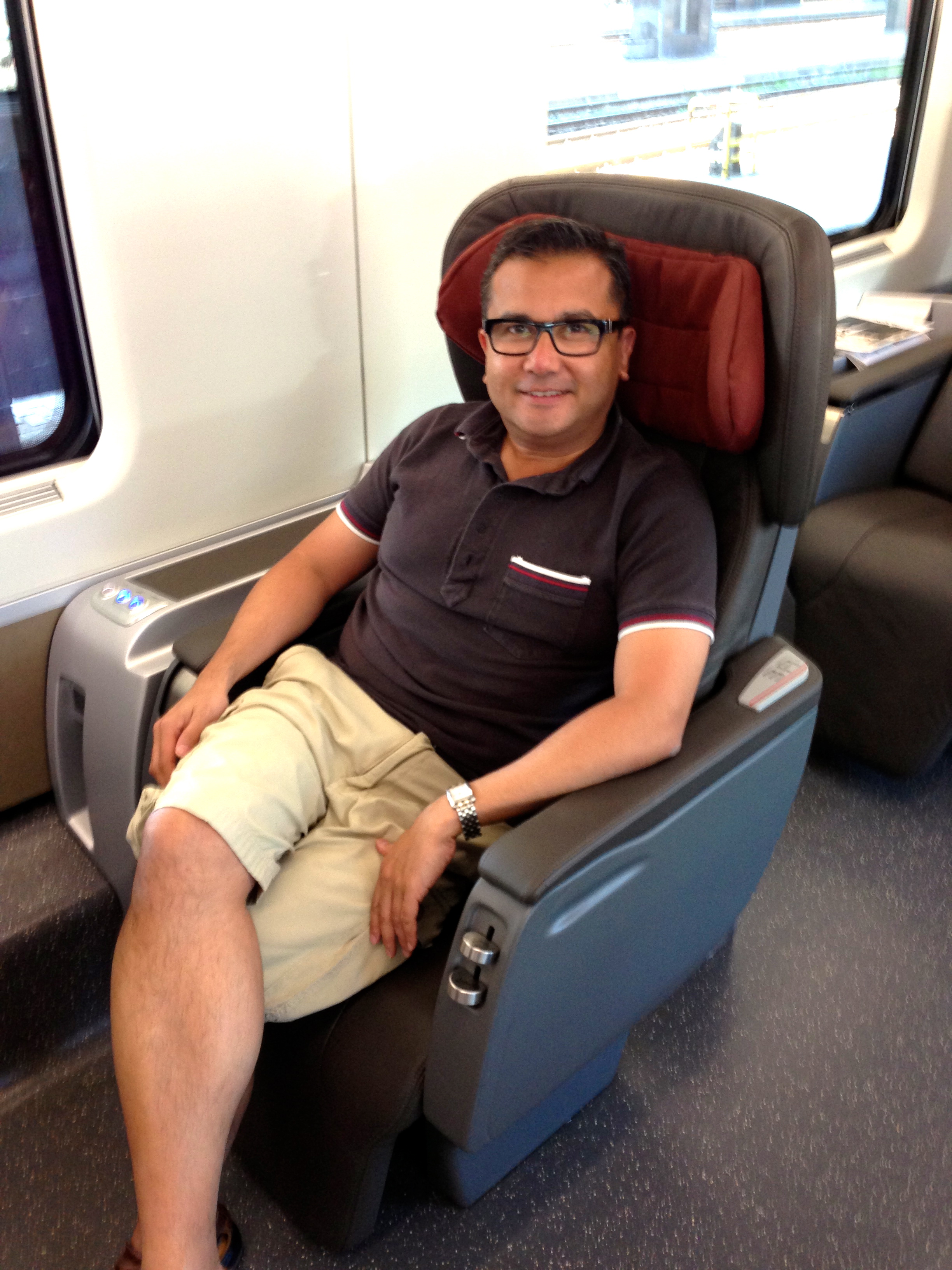 … and offered a ridiculous amount of leg room.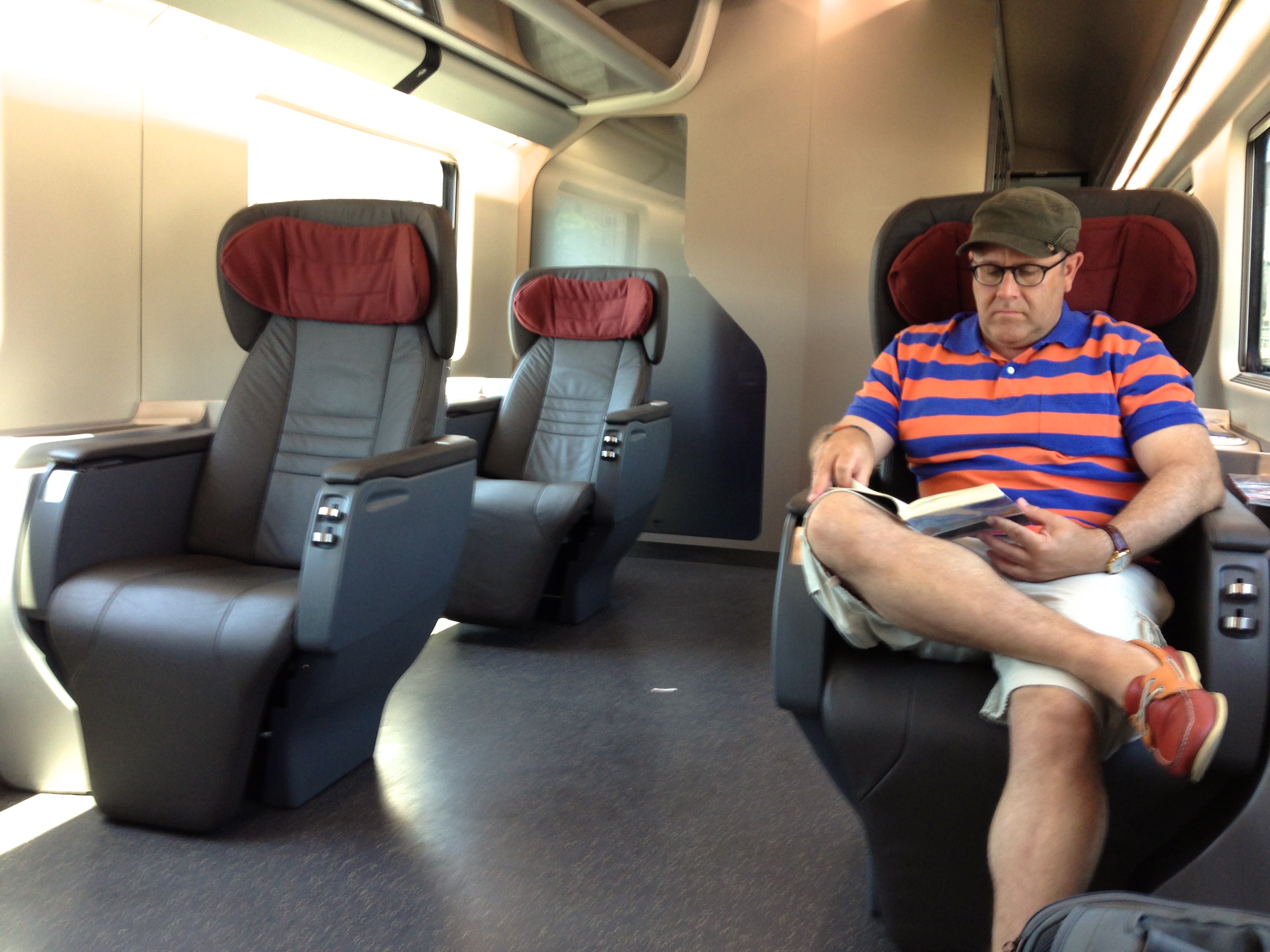 At this Point I asked F to leave the train car so that I could enjoy the exclusivity of the space all to myself.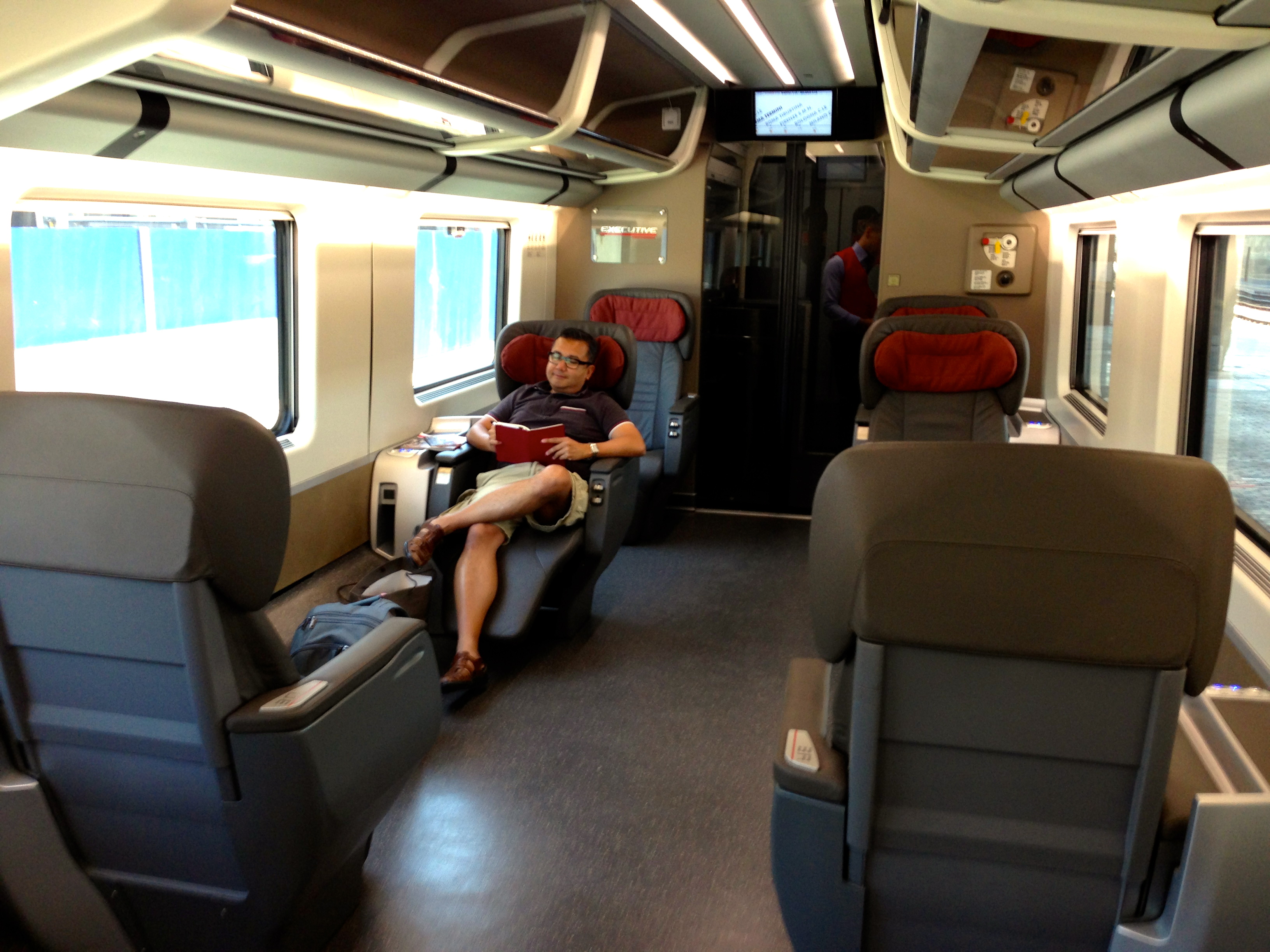 All in all, our journey in Frecciarossa Executive Class was comfortable.  The train staff was polite and the cabin clean, modern and quiet.  That said, while Executive Class was a fun novelty, I don't think I'd pay the premium to experience it again and would likely just opt for "regular" Business Class on my next trip. In fact, the quality of most European trains is so high that riding in Second Class isn't second rate at all.
How about you? What has been your experience with European train travel?