One of the great things about my Miles & Points collecting hobby (what I like to call Pointing), is that it has enabled my Partner F and me to establish an annual tradition of "getting away from it all." Each year, after celebrating Christmas with families, we jet off to some fun location to spend some quality "couple time" together. Cashing in our Points Kitty has taken us on some pretty awesome vacations over the years.
One such trip involved spending a few days in Amsterdam before making our way to Paris to ring in the New Year. I recently wrote about our Business Class experience on United Airlines and Lufthansa. Once we made it across the Atlantic, we mixed and matched award redemptions from each of our hotel accounts to take care of our accommodations. The first stop on this journey was the DoubleTree by Hilton Amsterdam Centraal Station hotel.
After landing at Amsterdam's Schipol Airport, we took the direct train link to Centraal Station, the city's main rail and public transport hub. As its name implies, the DoubleTree is a convenient five minute walk from the station (turn left upon exiting the building).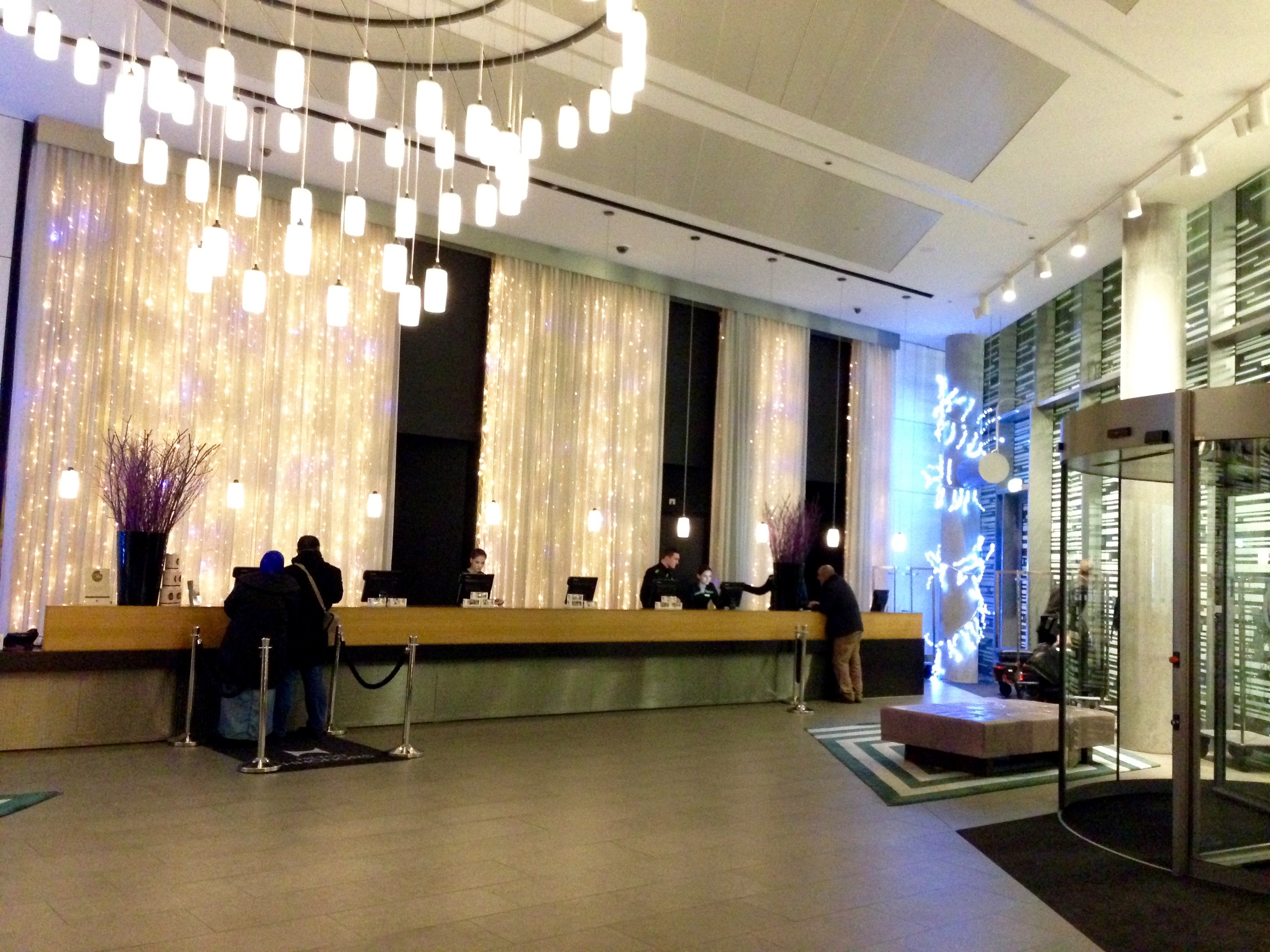 The Doubletree's lobby was bright and modern. We arrived at the hotel mid-morning and were pleased to learn that our room was ready. However, as the official check-in time wasn't until 3:00 pm, we were informed that it would cost 40 Euros to occupy our room early. Although, we were a bit put off by the extra charge (most hotels have provided me with an early-check in as a courtesy if the room is available), we wanted to just get settled right away so we accepted the offer. Fortunately, this charge never ended up appearing on our final bill. Nevertheless, the hotel's Front Desk staff was helpful, professional and efficient. We also received a pair of the Doubletree's signature warm chocolate chip cookies upon check in.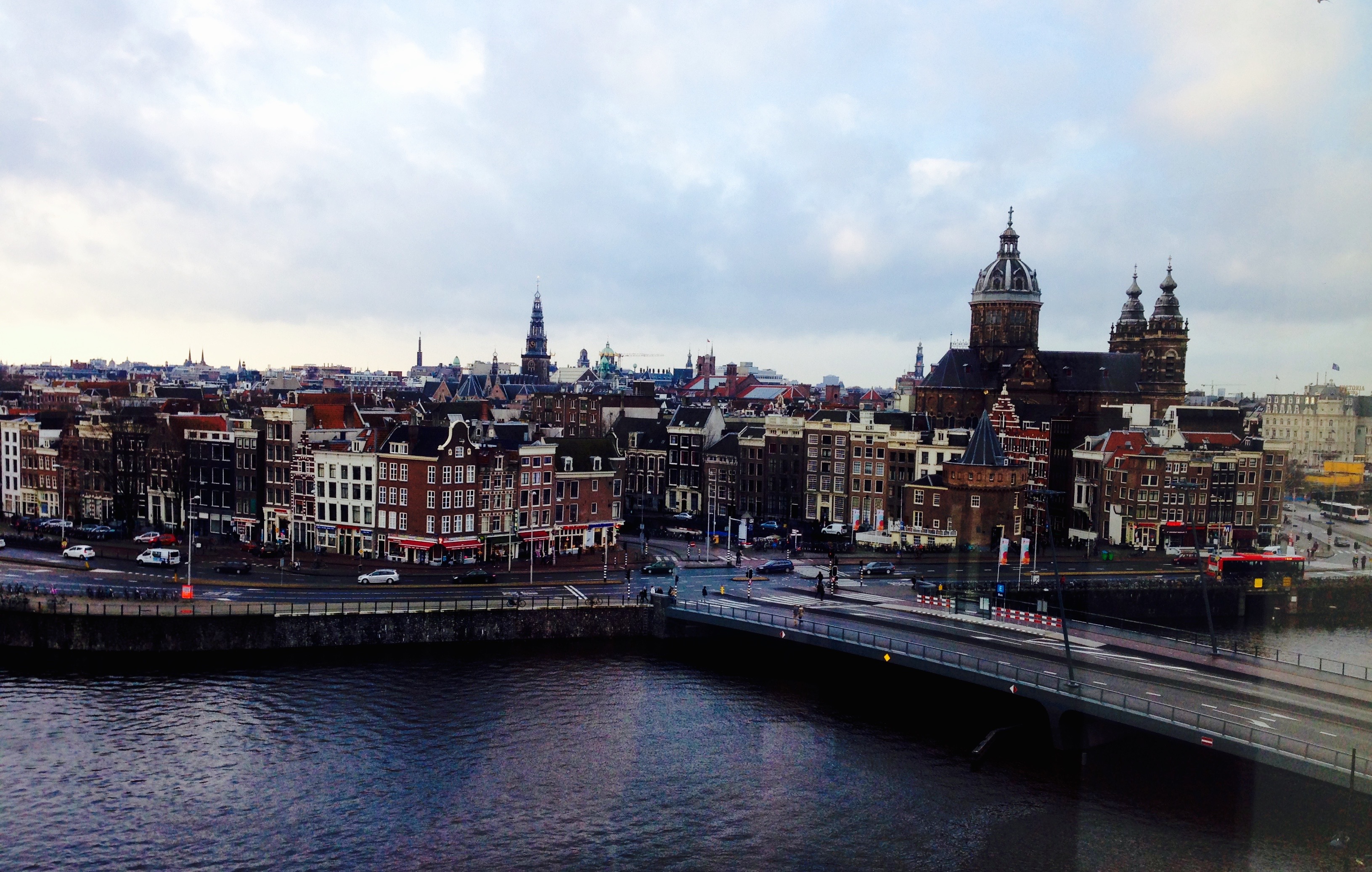 Our room featured floor-to-ceiling windows overlooking the River IJ and an unobstructed view of the Amsterdam cityscape. Tripadvisor reports that these rooms are preferable to other options that face the noisy railroad tracks of the Centraal Station next door.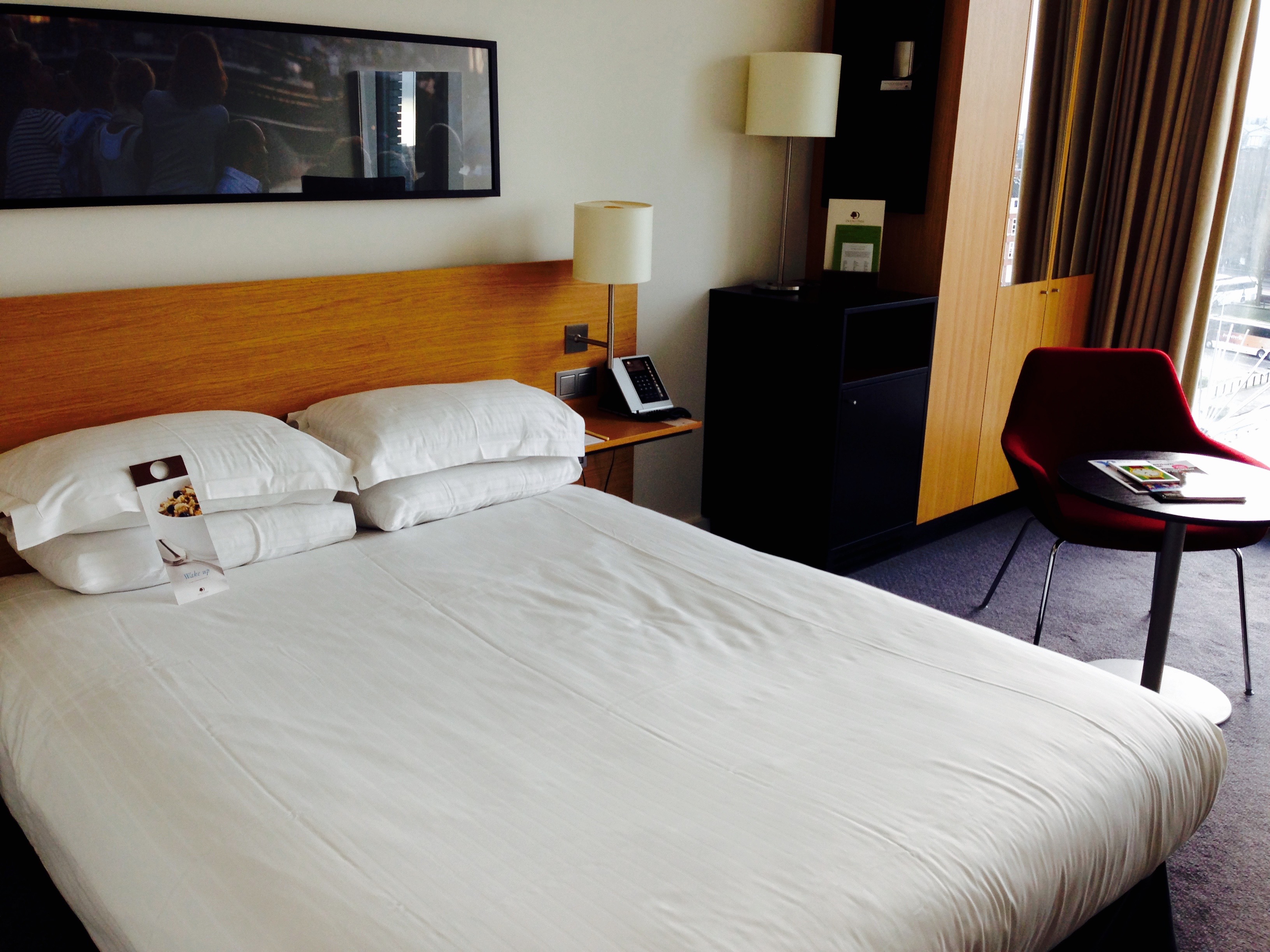 The room's furnishings sported clean modern lines and made efficient use of the room's space. A compact easy chair was paired with a small coffee table. Our Queen-sized bed was firm yet comfortable.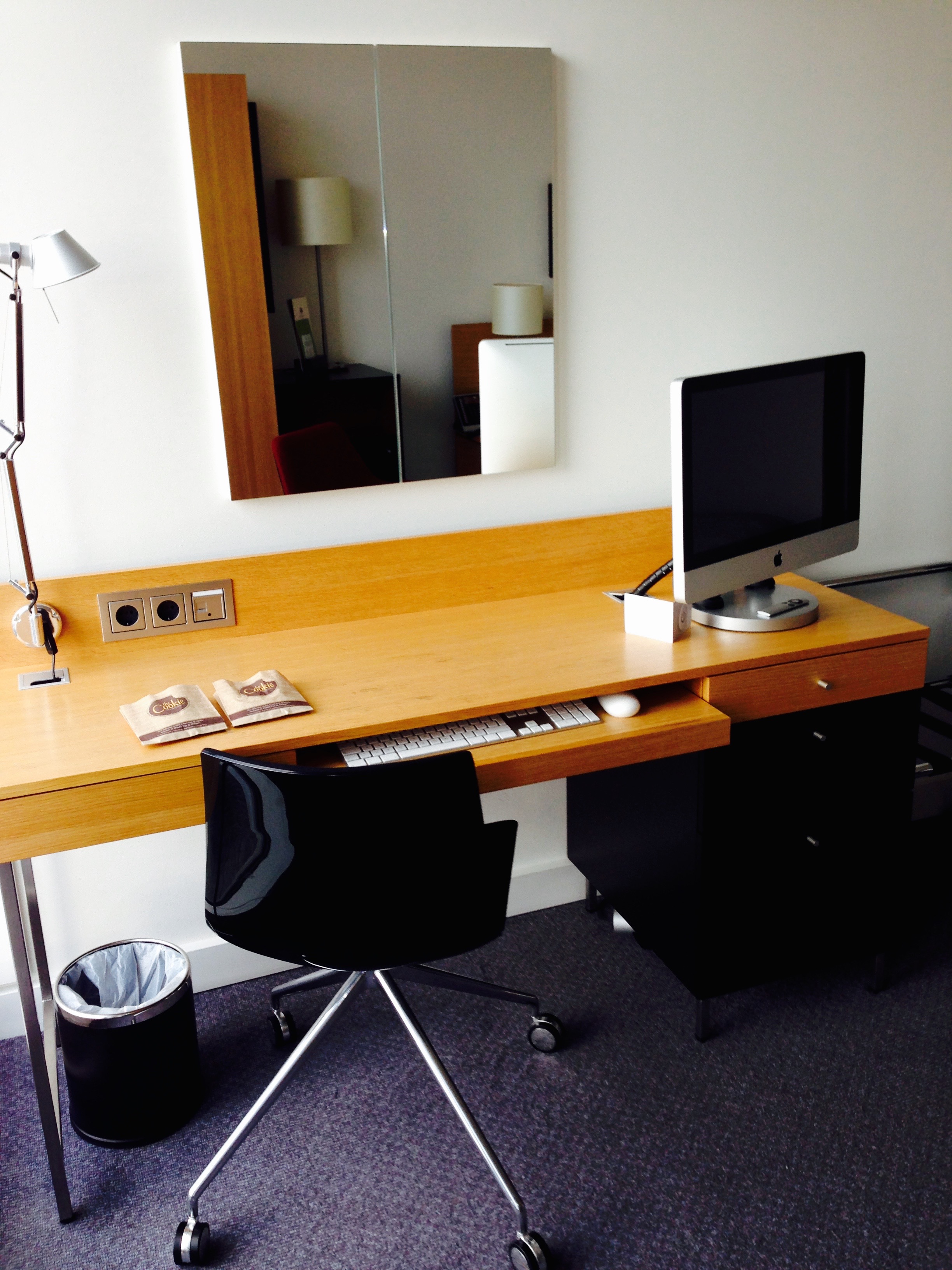 A desk provided sufficient though not overly generous work space. A nice feature of the room was the iMac which in addition to providing internet access served as the room's television.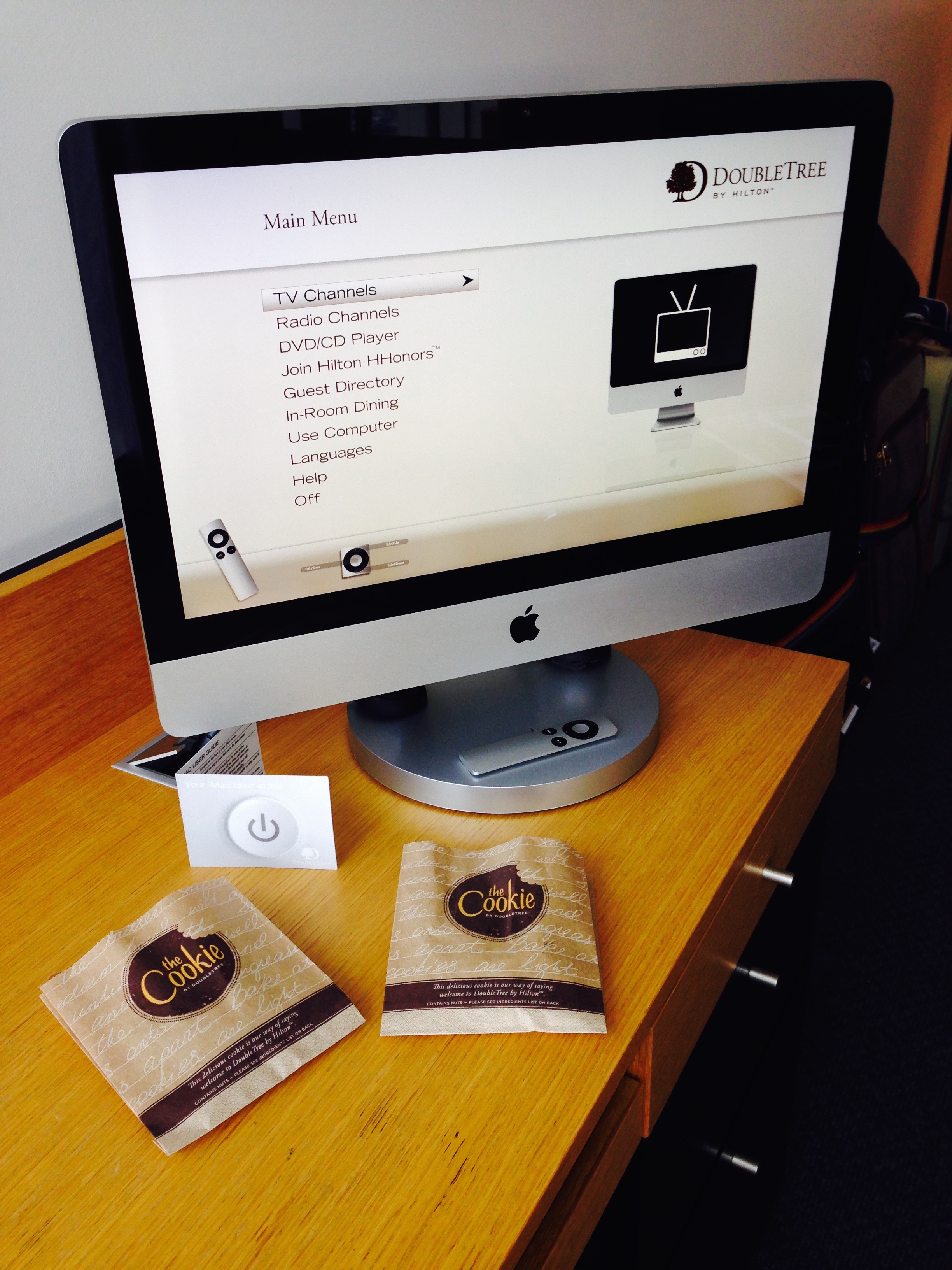 Wi-Fi in the room and throughout the hotel was speedy and we encountered no access issues during our stay.
As with many boutique style hotels in Europe, the bathroom was highly space efficient. Though small, the room seemed to stop just shy of feeling cramped.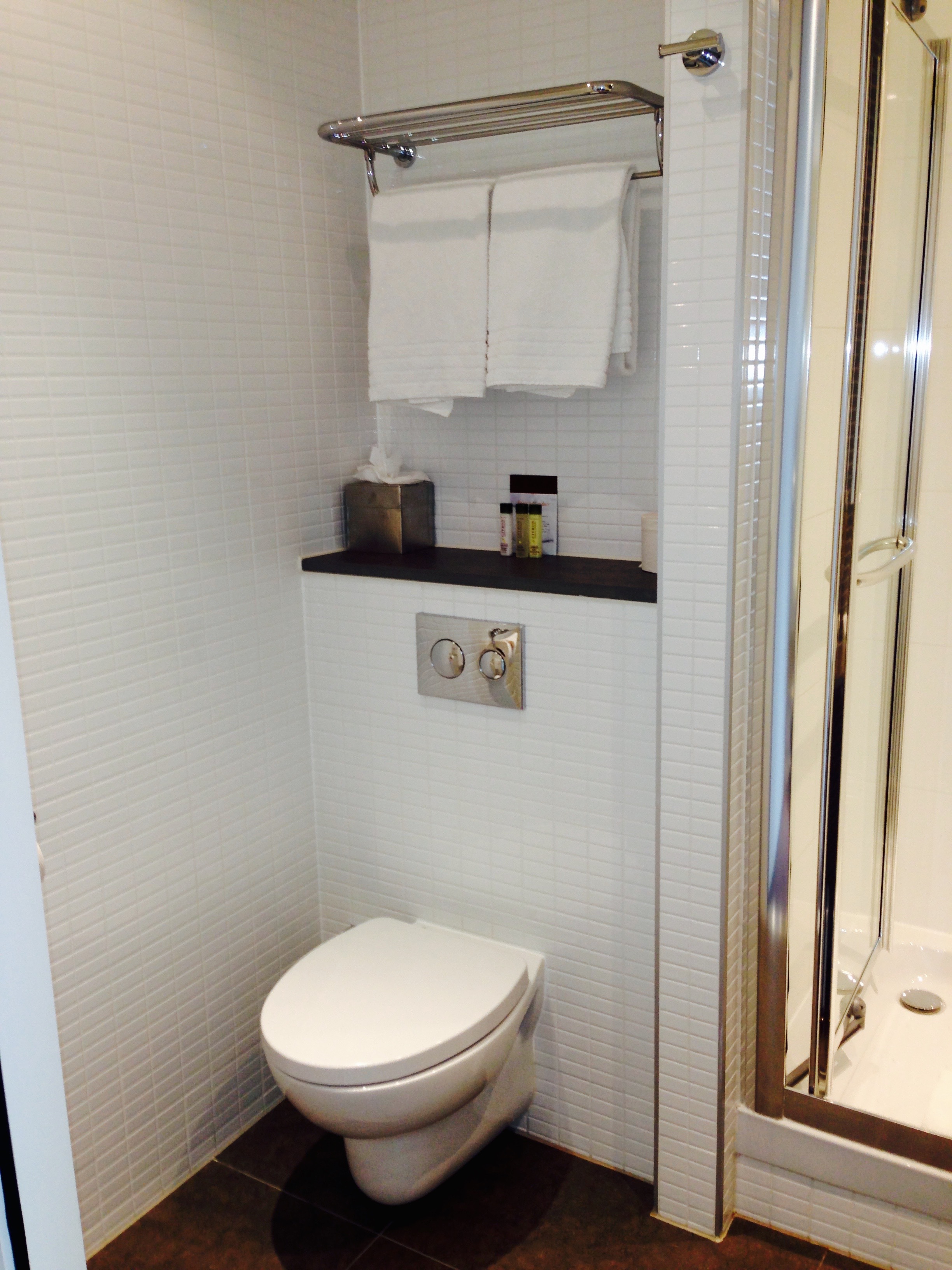 Although our room lacked a tub, the shower stall was clean, updated and provided strong water pressure.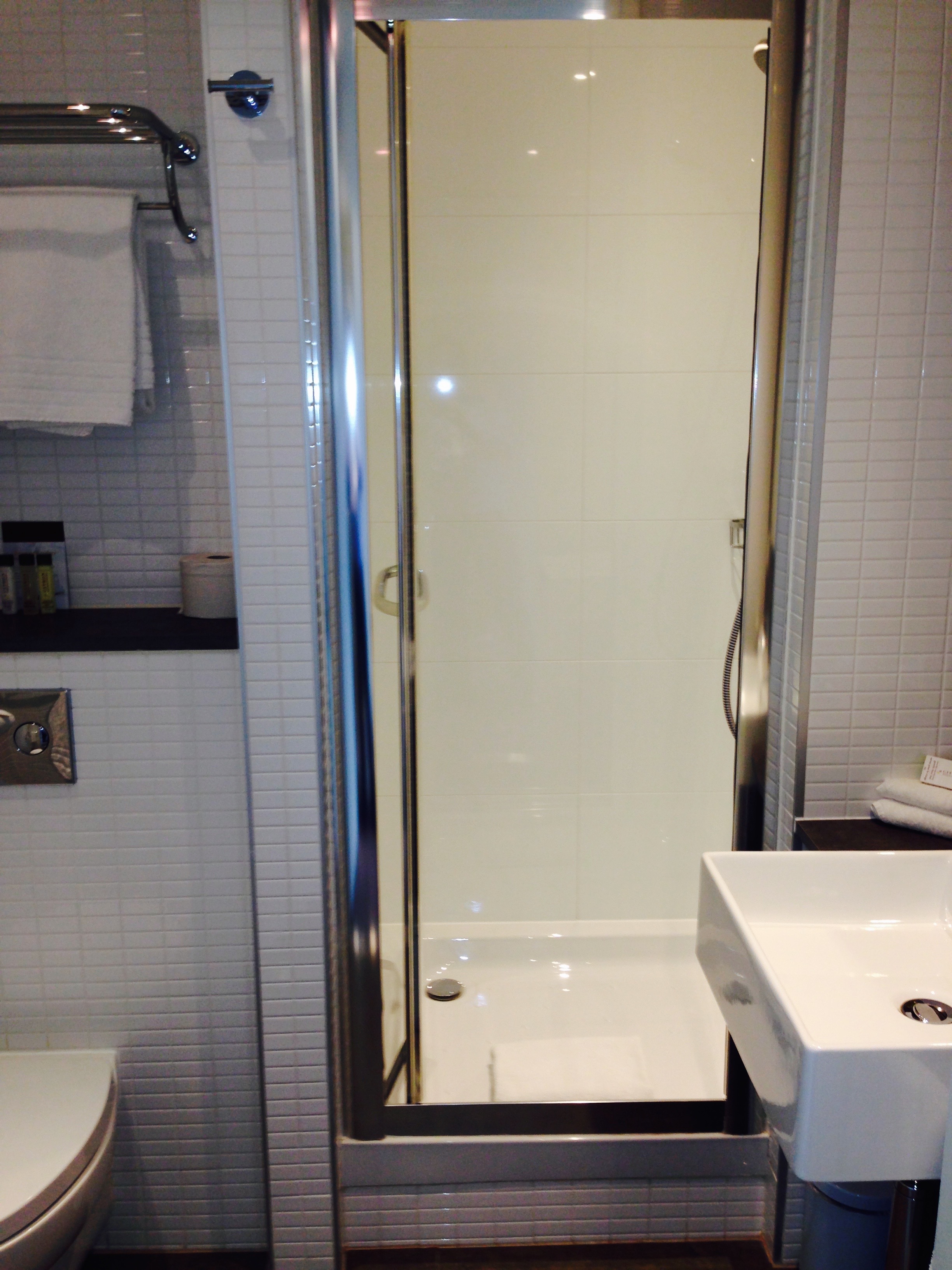 During our stay, we had lunch in the hotel's Lobby Bar which served drinks and light meals. We were pleased by the healthy, well-prepared and hearty portions of our selections.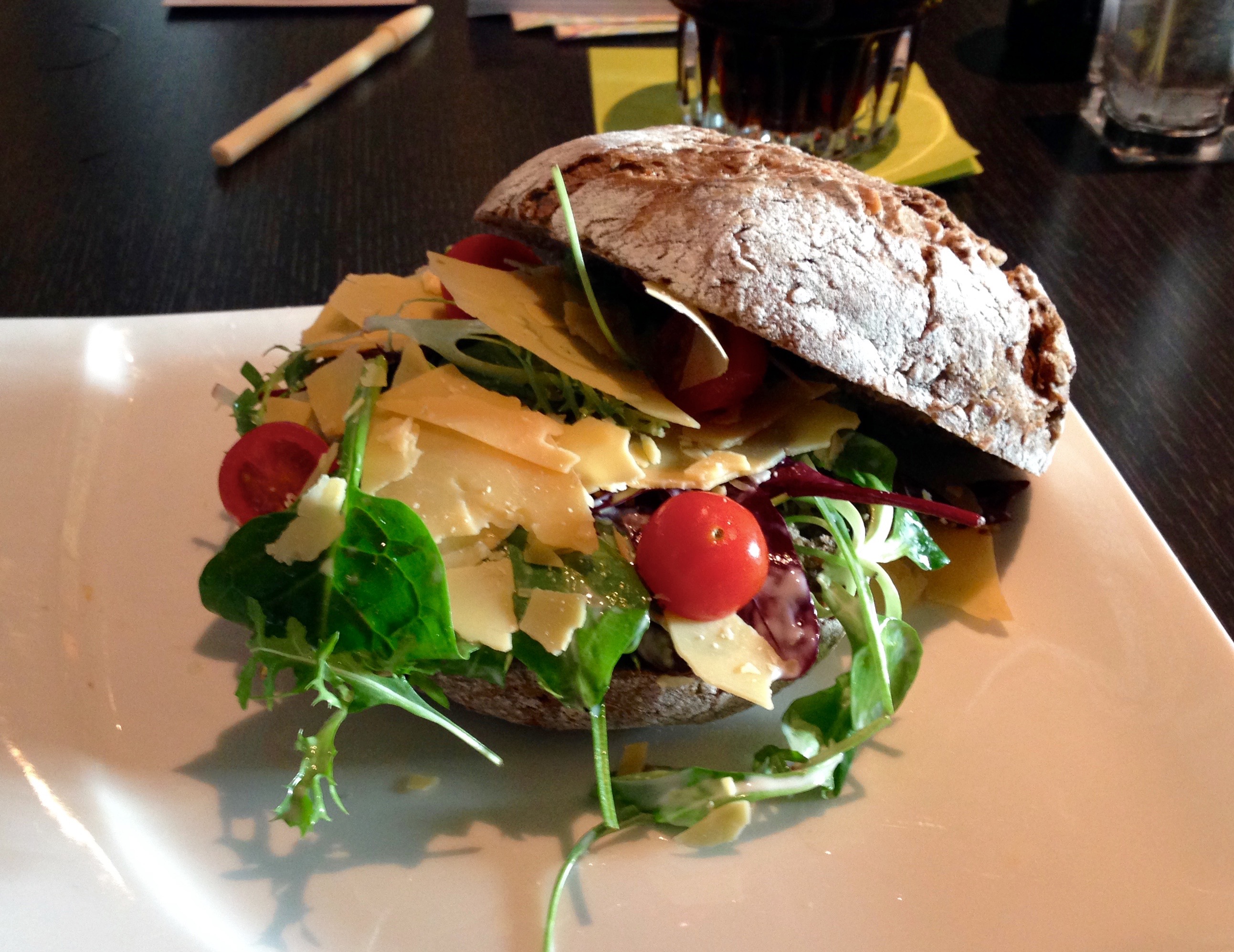 The space's sleek dark wood finishes still managed to impart a warm feel to the space.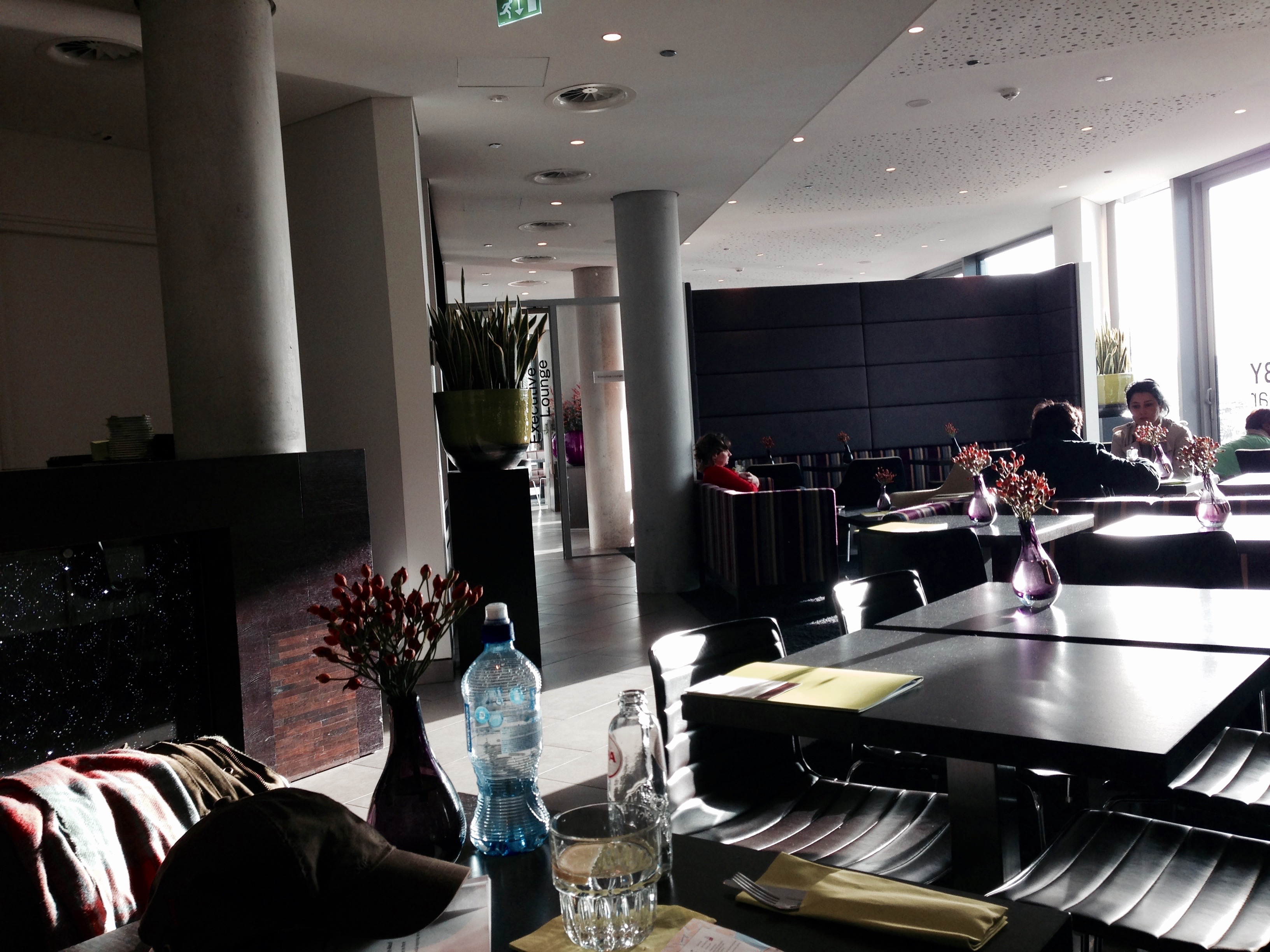 In addition, the room's "Library Wall" seemed to encourage lingering with a glass of wine or a warm beverage.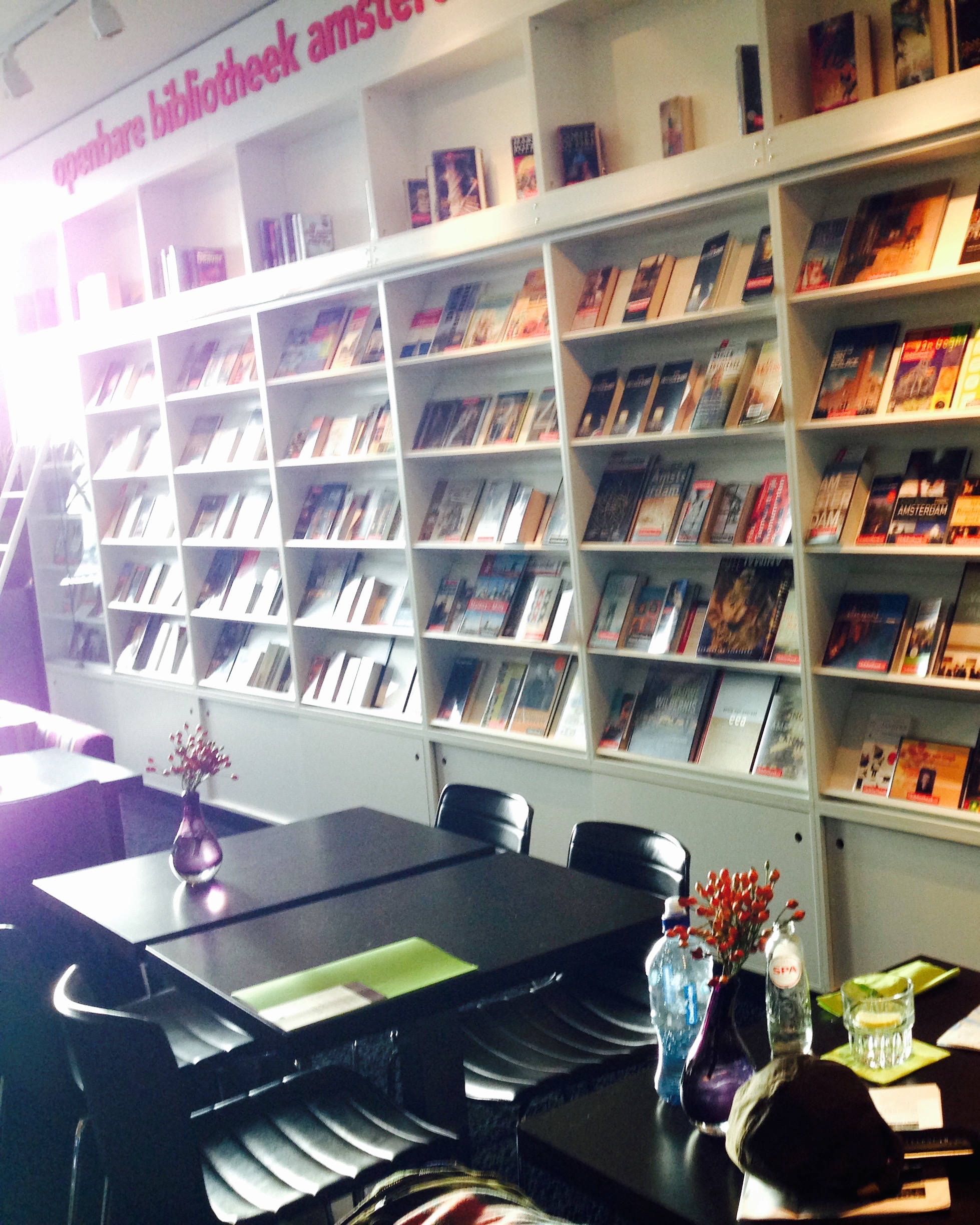 We also had access to the hotel's Executive Lounge.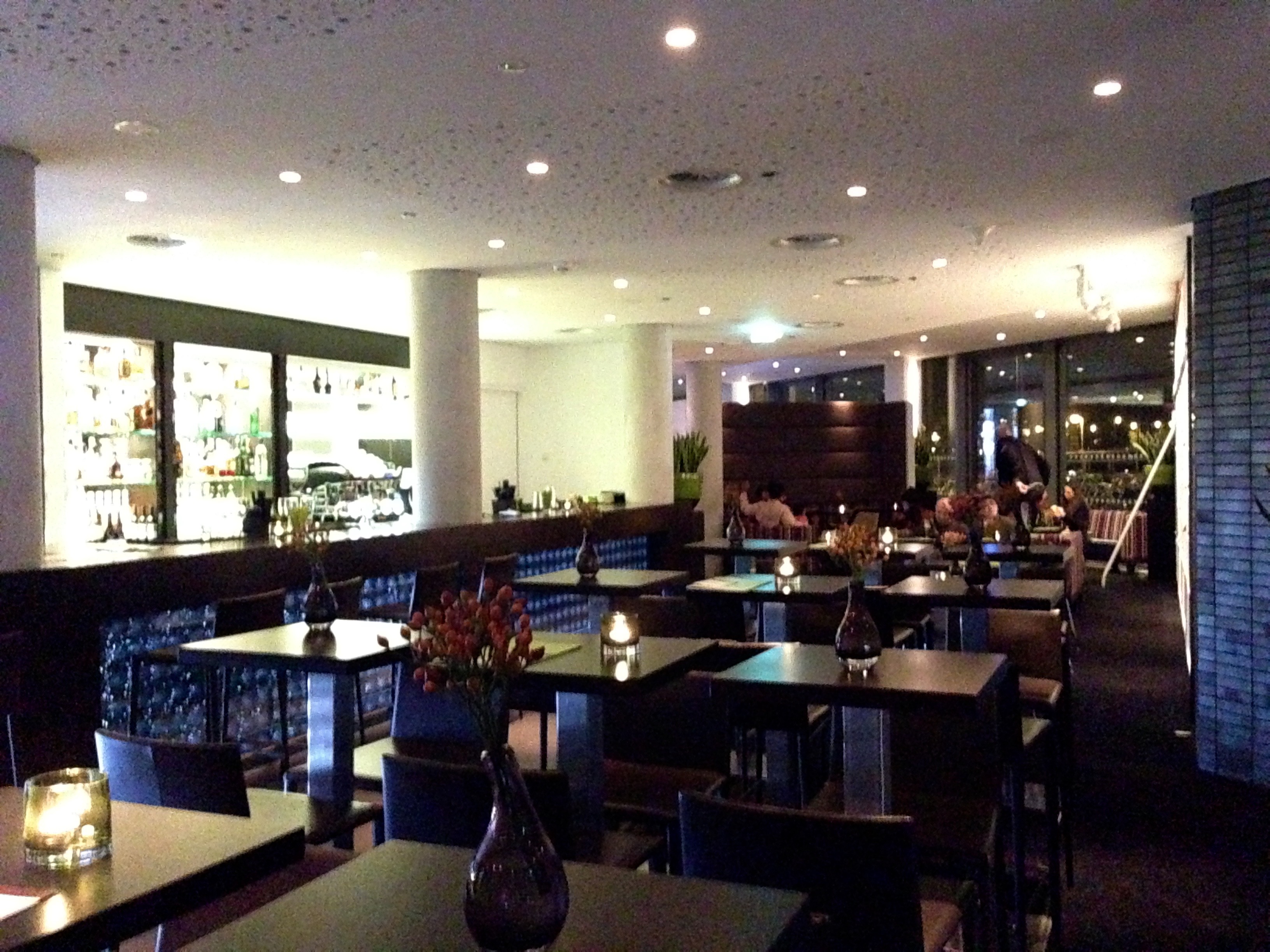 Like the other public spaces in the hotel, the Lounge featured large picture windows that gave the room an open and airy feel. Pastries and cold cuts were offered for breakfast in the morning. Wine and simple hot appetizers and snacks were available in the evening.
Other dining options include the hotel's City Cafe for a more substantial meal as well as a Starbucks located on premises.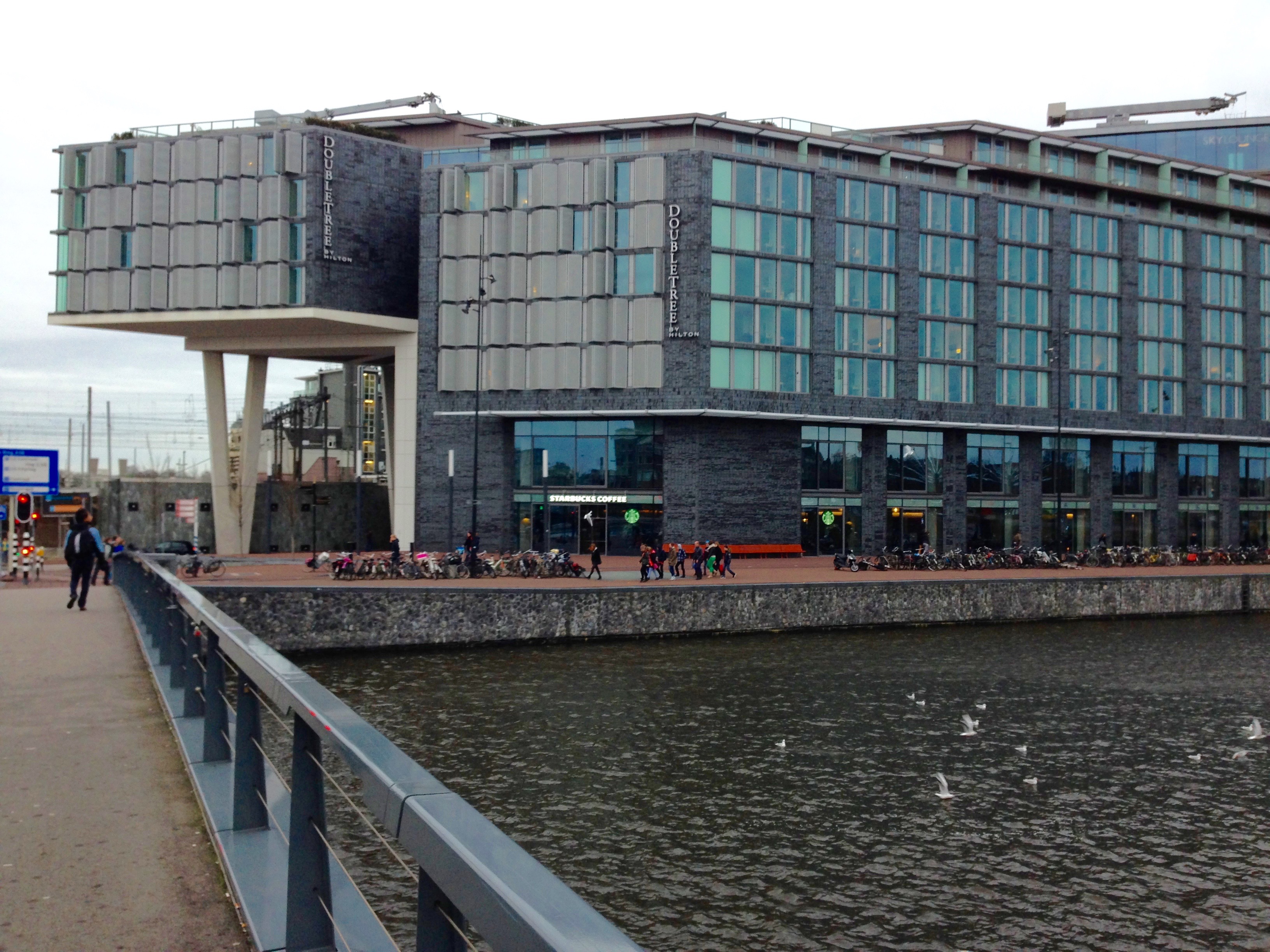 Overall we enjoyed our stay at the Doubletree by Hilton Amsterdam Centraal Station. The hotel was modern, clean and comfortable. The service was also professional and efficient. However, although the hotel was very well situated from a public transportation perspective, we felt that the Doubletree's location put it on the outer edge of "tourist Amsterdam." In addition, the five minute walk from Centraal Station could prove difficult if you're traveling with a significant amount of luggage.
How about you? Any recommendations for other places to stay in Amsterdam?